Benjamin Moore Simply White (OC-117) is a magical crisp off-white and was Benjamin Moore's 2016 color of the year. We use this color all the time, and it is beautiful.
According to the rules of whites, you should never use such a light paint color in a dimly lit room, but somehow it shines like a beacon. When we first tried it in a house with low light (at the homeowner's request), we didn't believe it, but it worked.
In the last year we experimented with Simply White and pushed it to its limits. We tried Simply White in several projects (including my house). It rarely "shadows out" in the corners as we would expect with such a light and crisp color. Now we are ready to show you our results, and they are gorgeous.
*This post contains affiliate links for products I use and love. If you click on some links and make a purchase, I will get a small commission at no cost to you. This helps pay for the costs of the blog so I can continue to offer great content to our readers.
All color reviews feature our color consulting projects, and many of our photos come from our satisfied clients!
Simply White LRV
Simply White has an LRV of 91.7 which makes it a bright white.  This crisp off-white paint color has lots of yellow, making it light up a room.  LRV is short for Light Reflectance Value, which measures how light (LRV=100) or dark (LRV=0) a color is.
Is Benjamin Moore Simply White warm or cool?
Simply White is a warm white. I love recommending this white when clients want to paint a whole room or open-concept living space white. While some white paints can look too stark or cold in large applications, Simply White doesn't. It adds beautiful warmth to just about any room.
What are the undertones of Simply White?
Simply White has strong yellow undertones. In bright, natural sunlight the undertones virtually disappear. In a darker room they brighten a room and make it shine through the dinge. You can read more about how lighting affects Simply White later on in this post.
Is BM Simply White too yellow?
It depends on the room you're using it in. The yellow undertones are barely visible in rooms with lots of natural light. The yellow undertones make Simply White so great for darker rooms – it truly glows on the wall and brightens up the room without making it look yellow.
Does simply white look dingy?
While some white colors can start to look dingy as a room gets darker, Simply White does not. Normally, you should never use such a light color in a dimly lit room. But Simply White's yellow undertones help it shine even in darker spaces. 
When we first tried Simply White in a house with low light (at a client's request), we didn't think it would work. But we were very pleasantly surprised. It has since become one of our favorite white paints for dark rooms, and we've done a lot of experimenting with it – including in my own home!
My open-concept living room, for example, features Simply White walls and an Extra white ceiling. Simply White looks lovely paired with the Sherwin-Williams Cyberspace accent wall pictured below.
When should I use Simply White?
Use Simply White to update a room with crisp, clean, and bright hard finishes. It is a beautiful color for interior walls, ceilings, and trim, and gorgeous as a cabinet color.
Are Simply White kitchen cabinets a good idea?
Yes, Simply White is a great option for white kitchen cabinets. All-white kitchens are beautiful, but they can sometimes feel a little cold if there is too much white. Using Simply White paint for the cabinets adds a lovely warmth.
Simply White also pairs well with darker cabinet colors, making it a great option for tuxedo kitchens. Using Simply White for upper cabinets and a warm blue-green like Farrow & Ball Hague Blue or a medium gray like Benjamin Moore Chelsea Gray would look lovely.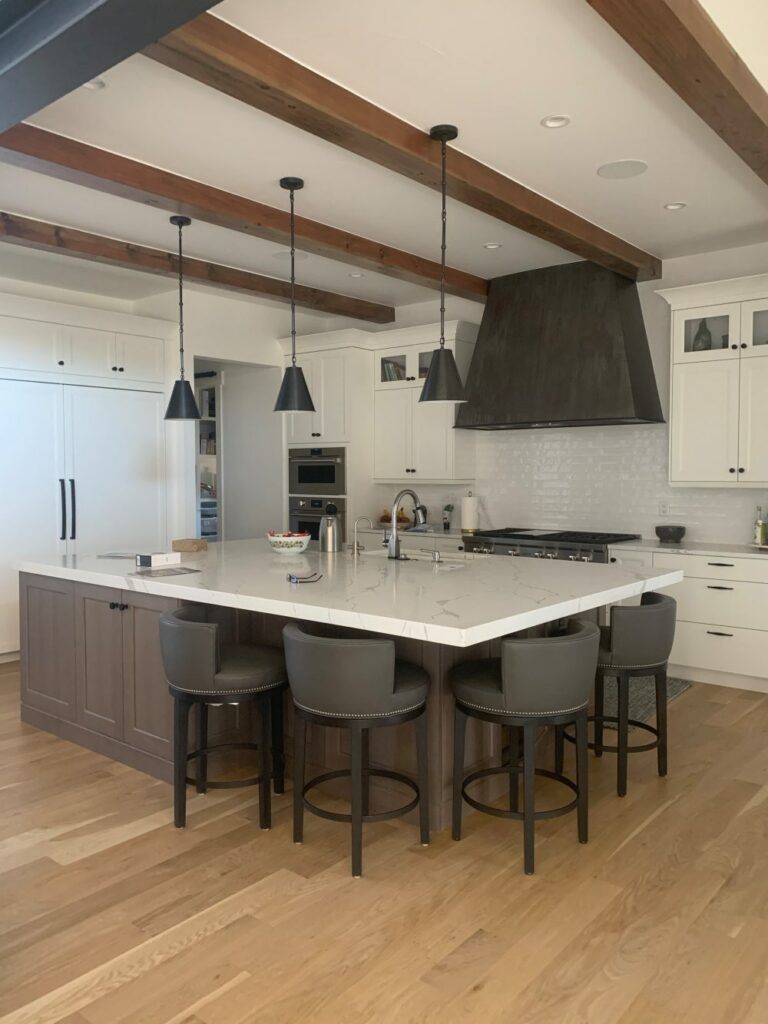 Does Simply White work for open-concept living spaces?
Simply White can be an excellent choice for open-concept homes! This paint color works well in most natural light; it's a versatile option for a home with various open living spaces.
You can see Simply White in action in this client's home. The trim and walls in this open-concept space were initially painted with Benjamin Moore Chantilly Lace. The room was dark enough that Chantilly Lace looked a little dingy. We left the trim as-is but repainted the walls with Simply White, and the room now feels warm and inviting. 
We like Simply White as a whole-house color so much that we based a whole color palette on it, pairing Simply White with hues like Benjamin Moore Gray Mist (a lovely warm gray), Iced Marble (a gorgeous blue-green), and Wrought Iron (a deep charcoal gray). Explore the Simply White whole-house color palette.
Best trim and ceiling colors to pair with Simply White
My favorite placement for Simply White is to paint the ceiling, walls, and trim the same color but with shifting sheens for a subtle movement of color. The ceiling is flat, the trim is satin, and the walls can be painted eggshell.
If you want more contrast, pick a clean white for the trim and ceiling, such as BM Chantilly Lace or BM Oxford White.  I like to use the exact trim and ceiling whites in a room. They should be lighter than the wall color.
Don't use blue-white colors such as BM White Diamond or BM Decorator's White for trim and ceilings because they will look discordant with Simply White.
When paired with Simply White walls, darker whites, such as BM White Dove, Cloud White, or BM Swiss Coffee, will look dingy as trim and ceilings.
When should I avoid Simply White?
Don't use this white color if you have earthy finishes with pink-beige undertones, such as travertine or tile, with a Tuscan look. The pink-beige undertones clash with Simply White's yellow undertones. You'll be left feeling like something is off but not knowing why.
Avoid Simply White with Carrara marble; working with such a warm paint color is too cold.
If your house has this type of tile or granite (below), you should not use Simply White.  This was an after photo of one of our projects. These gorgeous cabinets were painted with BM Chelsea Gray; trim and ceiling are BM White Dove. The walls are Classic Gray.
If your floor looks like this, don't paint walls or trim Simply White. This floor is beautifully paired with BM White Dove trim and BM Rockport Gray walls.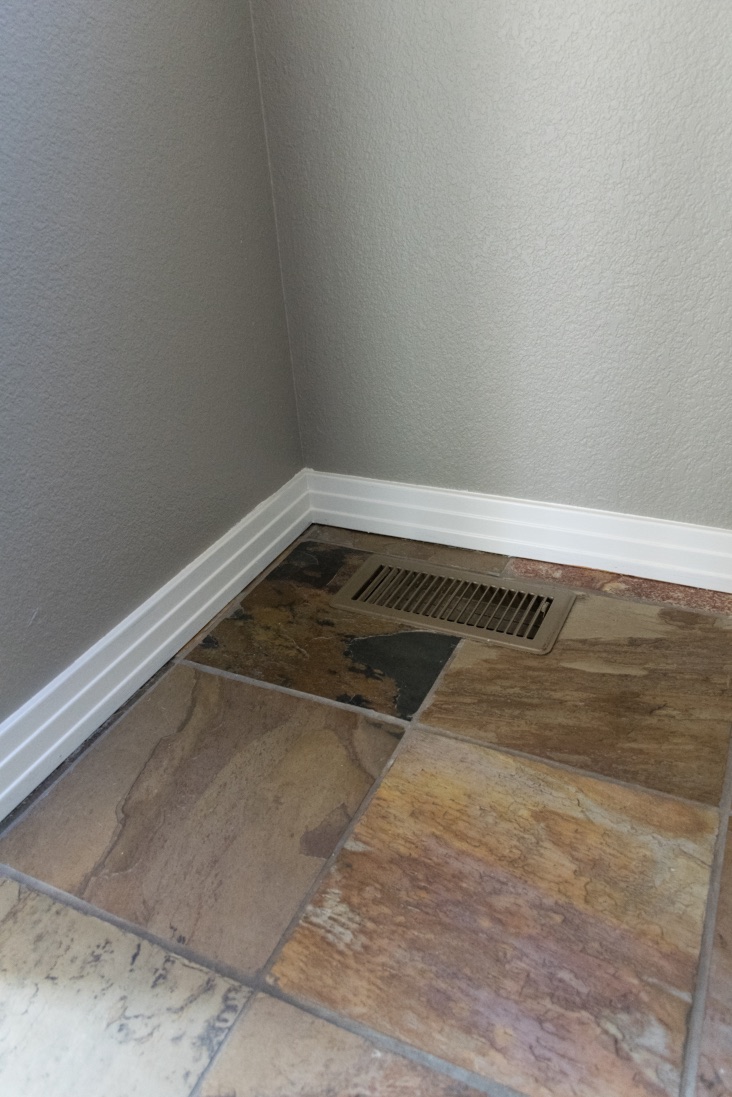 Don't pair this white paint color with very cool whites such as BM Decorator's White or BM White Diamond because they will look discordant with the warmth of Simply White.  The colors are ok together in natural light, but they can look off at night with artificial light.  I paired SW Extra White (a blue-white) trim and ceiling with Simply White in my house because I couldn't afford to repaint my ceiling and trim.  It's ok, but not perfect.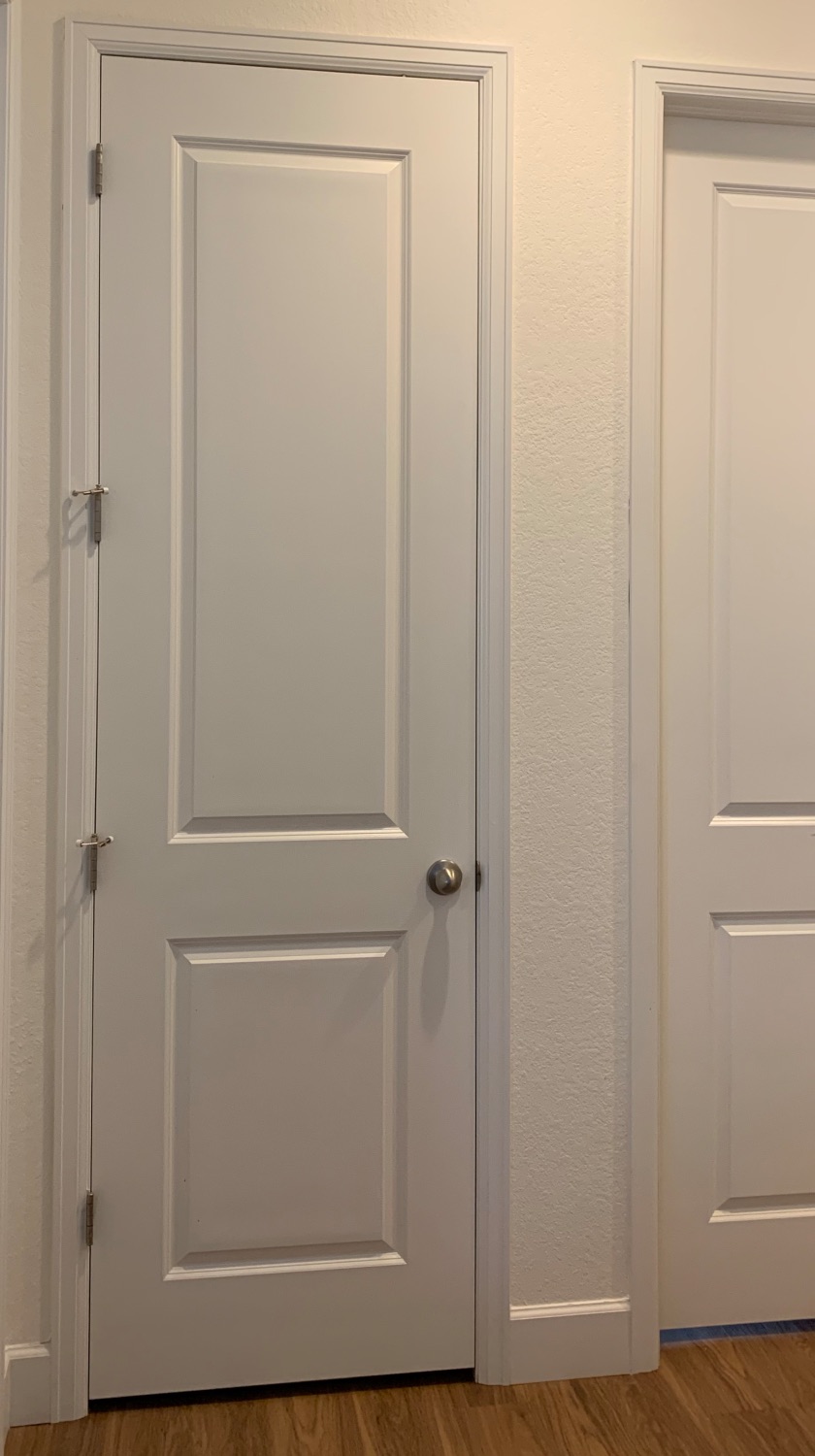 How does Simply White change with light?
Simply White has strong yellow undertones that disappear in a bright, naturally-lit space but peek through as the light is darker.
Simply White In an East-Facing Room
The following photo was taken at 9:00 AM in an east-facing exposure with a covered porch.  The room is light and bright, and the Simply White wall color looks like a clean white.
This next photo is the same room taken at 3:09 PM, as the sun has moved to the other side of the house. The room has less light, and the yellow undertones start to peek through. Still beautiful!
The following photo is of the kitchen in my new house.  We moved into the house 18 months ago, and originally it was painted SW Agreeable Gray, which looked dingy.  We repainted it with SW White Duck, which looked nice.  Next was my Simply White experiment, and it is my favorite!
This photo shows the backlit east-facing windows in the morning, and the Simply White still looks great.
The following photo is of the butler's pantry going into the dining room (Granite Peak) with an east exposure in the morning:
Simply White With Warm Lighting
Most of us turn the lights on at some point in the evening.  This photo shows a lighted hallway with Simply White walls and Extra White door and trim.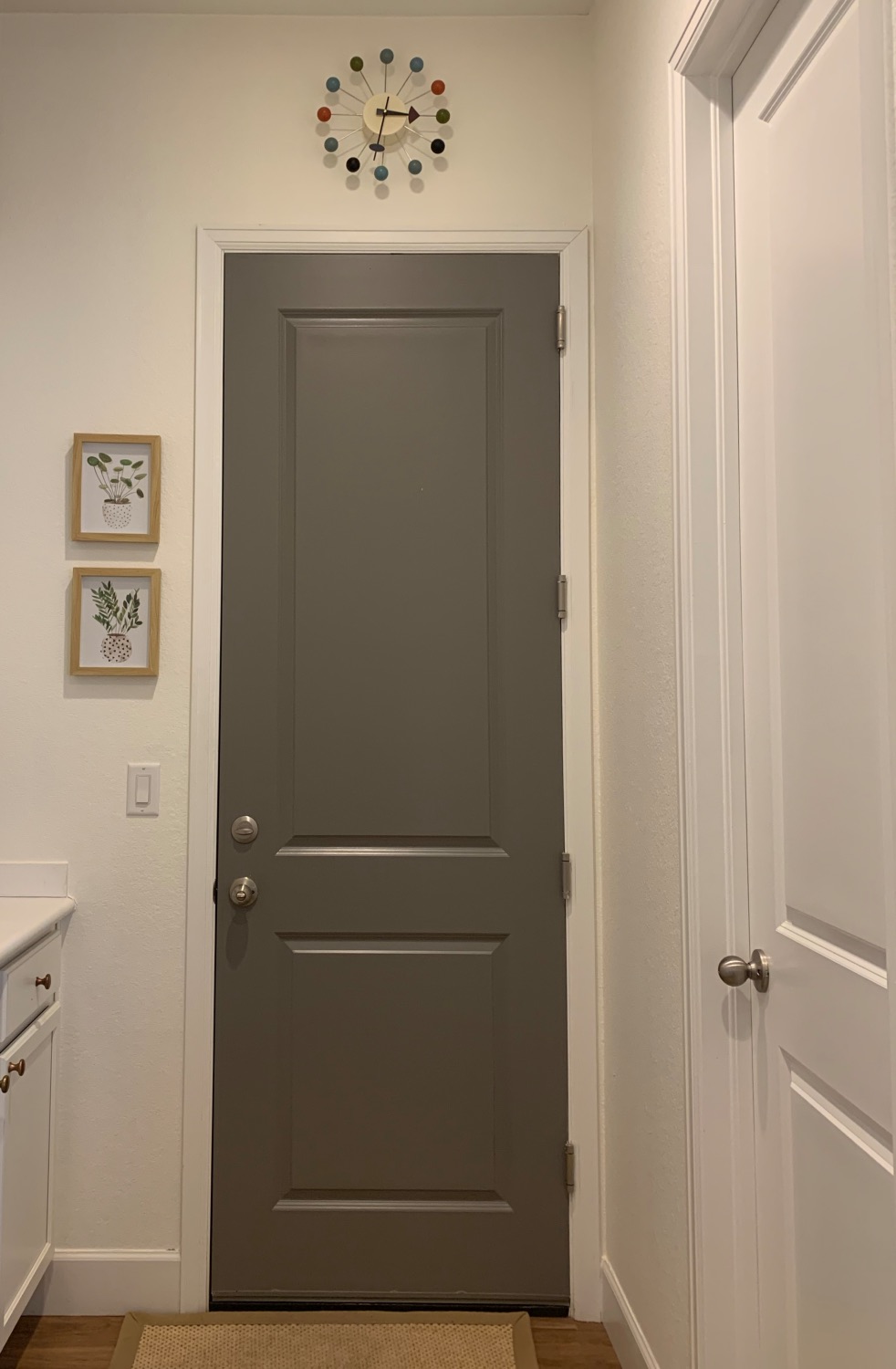 Simply White can look great in every exposure- north, south, east or west. In darker rooms it will flash more yellow (but in a pretty and very light way).
Simply White In a Northwest Facing Room
Here are photos of spaces with northwest exposure, one of the trickiest lights. Light from the north is cool, and the west light starts darker in the morning and gets lighter in the afternoon. Even though you may be looking at east windows, the light is coming from the west with a covered back porch. These photos were taken in the morning when the light was lowest. Again, these photos have not been re-touched for color or light.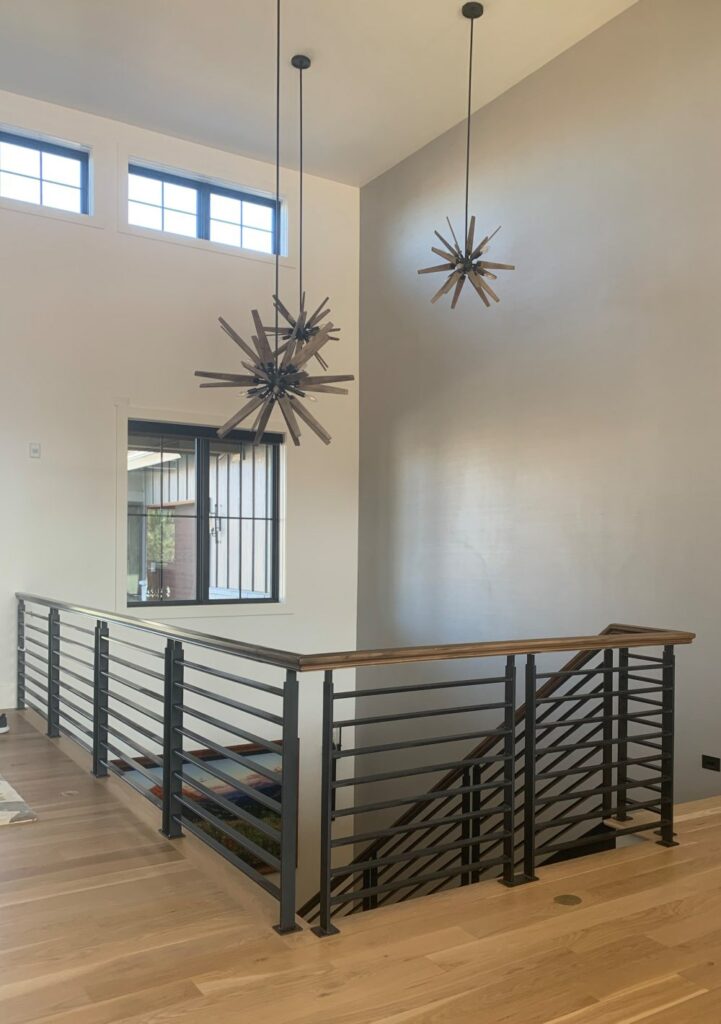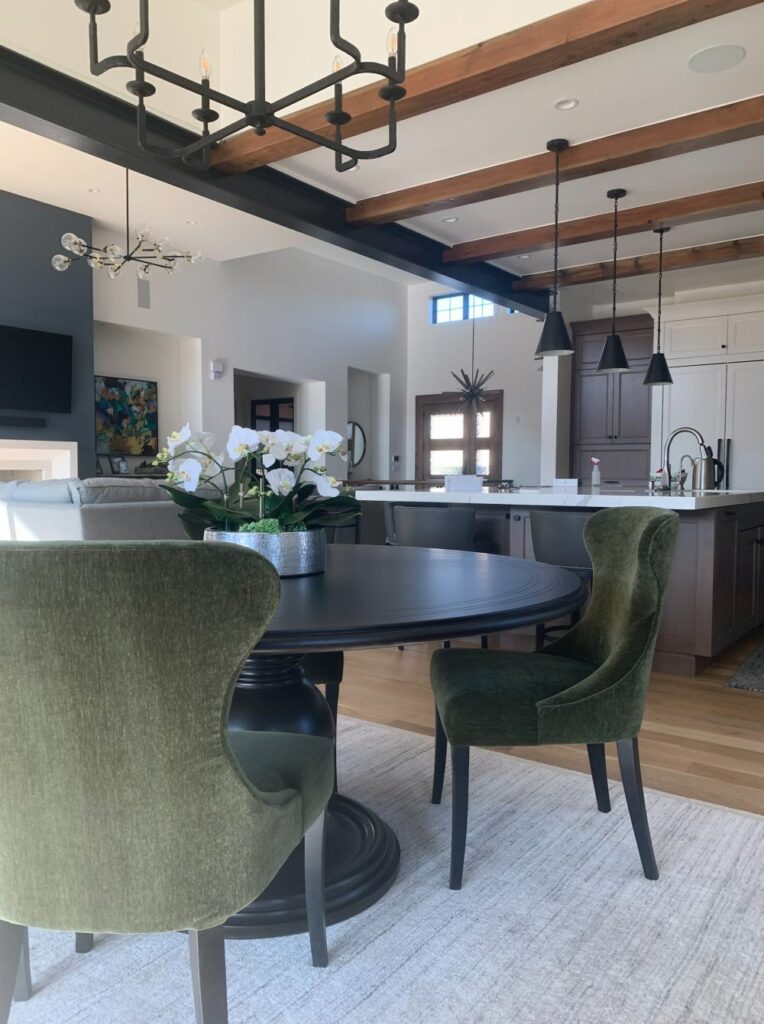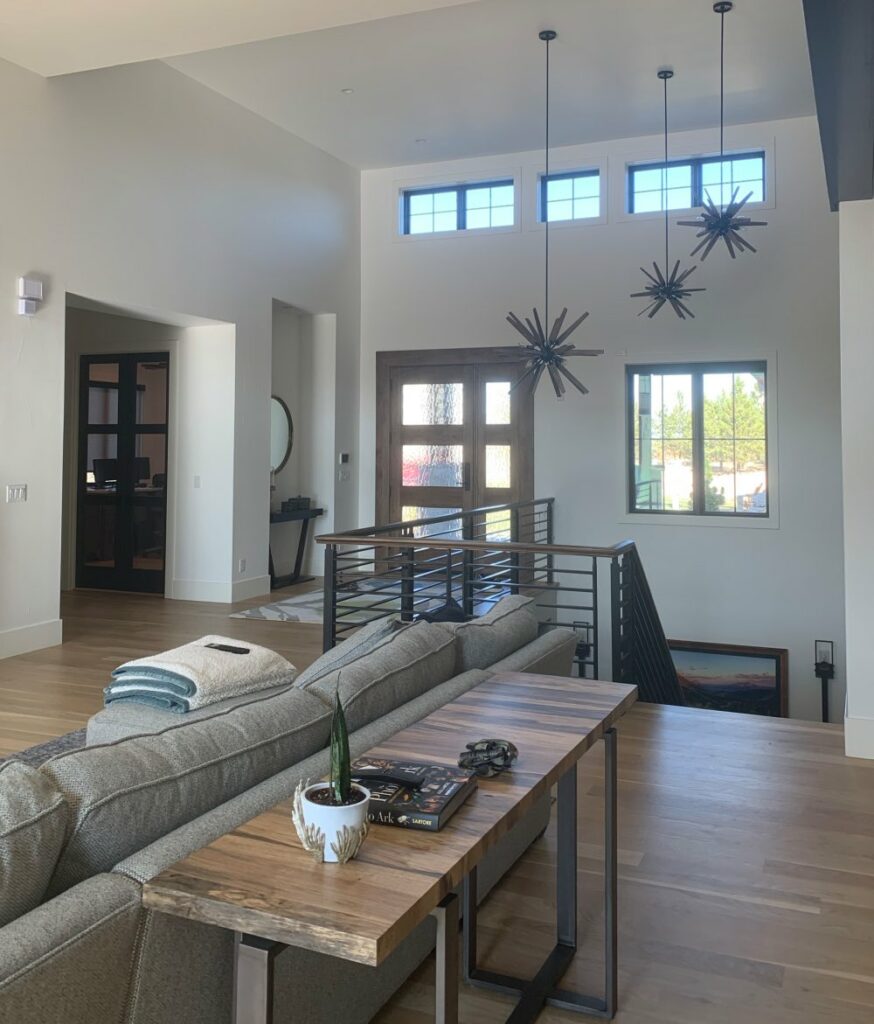 This photo was taken in the afternoon with West exposure. I love how the light streams in from a small sidelight window from an entry that faces west.
Can I use Simply White for exteriors?
The answer is… it depends.  What makes Simply White so beautiful for interiors is that it has low pigment, which means that when you use it outside, you may need to paint an extra coat or two, increasing the paint job's price.  If you decide to use Simply White outside, consider primer first. Also, Simply White is pretty bright for an exterior.  It could end up looking like a primer.
There are always exceptions to the rules. We used Simply White exterior paint for the trim on this house, but it worked because we paired it with a clean and crisp yellow. The brick was painted, so there were minimal earthy finishes. The house was surrounded by large trees with lots of shade. We wrote about this house here.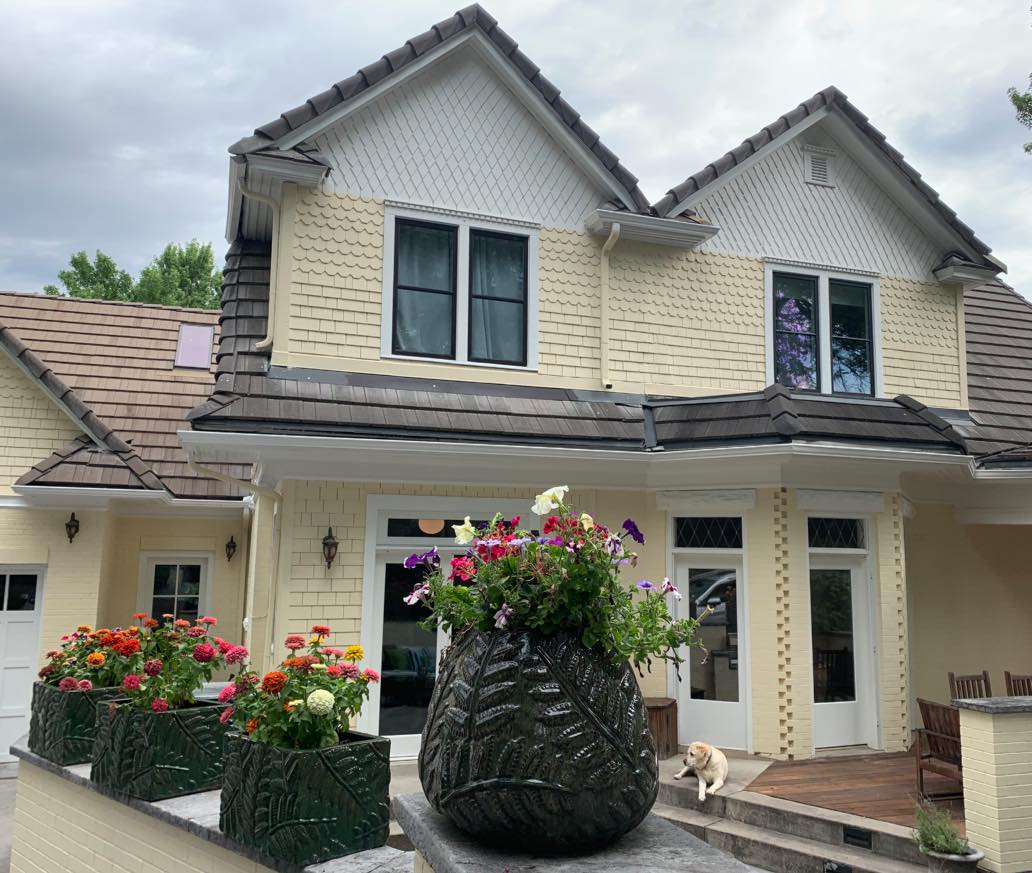 Simply White vs. Other Popular White Paints
Choosing the right white paint for your home might be one of the most stressful paint decisions you'll have to make (at least, that's what we hear from our clients!). Use this guide to compare Simply White to other popular white paint colors.
Simply White vs. Cloud White
Simply White and Benjamin Moore Cloud White are both warm white paint colors, but Simply White is brighter than Cloud White. Simply White has an LRV of 91.7, while Cloud White has an LRV of 87.4. Cloud White is also creamier than Simply White, and taupe-ish undertones. Learn more about Cloud white in our color review here.
Simply White vs. White Dove
Simply White is much warmer than Benjamin Moore White Dove. White Dove is more muted than Simply, even though it has subtle yellow undertones. It has an LRV of 85, so it is darker than Simply White. Although they are both warm colors, White Dove is cooler than Simply White. Learn more about White Dove in the color review here.
Simply White vs Chantilly Lace
Benjamin Moore Chantilly Lace is a mostly clean white with very slight blue undertones, which most people never see. It is much crisper than Simply White and will never look yellow. Chantilly Lace is a popular choice for trim and ceilings because of its clean undertones. Learn more about Chantilly Lace here.
Simply White vs Swiss Coffee
Benjamin Moore Swiss Coffee is a darker white than Simply White. It is a warm white, getting its warmth from subtle green and yellow undertones. It's much darker than Simply White, with an LRV of 83.9.
Simply White vs Alabaster
While Sherwin-Williams Alabaster is a warm white like Simply White, it's a different color. Alabaster is darker, with an LRV of 82, and also has strong yellow undertones. It's muddier than Simply, which isn't a bad thing, just a different tool.
Can my painter match Simply White to Sherwin Williams?
The simple answer is NO! You can't match Simply White. Many have tried, and few have ever succeeded. This was a new build where the painter talked the homeowner into copying Simply White. It turned green, and the painter had to repaint it with the real Simply White. This was a costly mistake for the homeowner and the painter because the house had to be repainted. It always goes green, like in the photo below.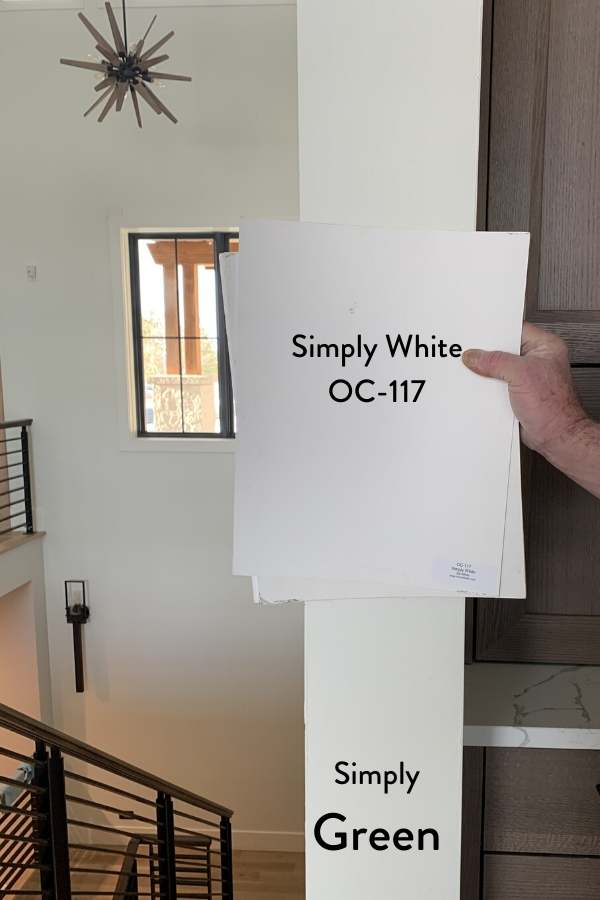 Don't paint match if you're looking for the Sherwin-Williams color closest to Simply White. Instead, use SW Pure White. It's not the same and behaves a bit differently, but it is a nice color, and your house will not go green.
Learn more about matching paint colors here.
What is the best way to test Simply White?
As always, don't forget to test your paint colors! The easiest way to sample any paint color is via SAMPLIZE. Their peel-and-stick paint samples are easy to use and true to color. With Samplize you can easily see how different shades look on your unique wall.
Get 10% off your Samplize order today by using the code "ColorConcierge10" at checkout. Order today and get samples tomorrow!
If you'd like to test the colors that we mentioned in this post, link below for the Samplize samples:
Key Learning Points
Simply White is simply gorgeous! You can use it in bright rooms, poorly lit rooms, and with crisp, clean hard finishes. Don't use Simply White with earthy Tuscan tile or stone such as Travertine.
No matter what, don't forget to test your paint colors as a standard best practice. Whenever I test my paint colors, they are perfect, and when I don't test them, they turn out wrong. Learn how to test your paint colors here.
Online Color Consulting
If you still need help with paint colors, check out our Online Color Consulting packages or an In-Person Color Consultation in the Denver Metro area.
If you liked this post, don't forget to pin it!
Related Posts
Our 5 Favorite Benjamin Moore Whites
Benjamin Moore Chantilly Lace Color Review
Benjamin Moore White Dove Color Review
Benjamin Moore Cloud White Color Review
The 6 Best White Paint Colors For Dark Rooms
We love your comments! Please note that the blog is meant as general advice, and it is not possible to give out specific answers to your paint questions. If you want more specific advice, please consider purchasing a color consultation. Thank you for your understanding.