We love white paint colors, but crisp whites can look dreary in dark rooms.  This post shares our 6 favorite whites for dark rooms and how to pick them. Since we published the post on "Our 5 Favorite Benjamin Moore Whites (and how to use them)", we had lots of questions about white paint colors for dark rooms.
Why Can't I Paint a Dark Room Bright White?
The most counterintuitive tip is that you need lots of light for white paint to look good.  If you have a dark room, white gets shaded in the corners and turns into a dingy gray.
Bright whites are like a mirror.  They can reflect the grass in your backyard, or your neighbor's red siding. WAR STORY:  I painted my bright South facing Laundry Room Extra White.  It looked glorious until the house went up next door and blocked the light.  The house next door was green, and then so was that room.  Photos can't describe how awful it was.
If your room is north facing, the light can be blue, which gives your whites a blue cast.
If you have earthy finishes such as granite countertops, an adjacent blue white or clean white can look fluorescent.  Use warm whites in rooms with earthy finishes.
One more thing… we do not recommend that you try to paint match these Benjamin Moore paints with Sherwin-Williams, Behr or any other manufacturer.  Paint color formulas are difficult to duplicate, and whites are especially hard to get right.  Read more about paint matching here.  White paint colors such as Classic Gray and Pale Oak are especially hard to duplicate.
How Do I Pick the Best White Paint for My Dark Room?
The best way to brighten your home with white is to use a darker warm white paint (or a light greige).  It will read like a white without looking sad and dingy.
This may seem like opposite bizzarro world, but the darker white paint colors act less like a mirror and prevent dingy "shadowing".
Favorite White Paint for Rooms with Low Light
These darker white paint colors will still read like a white in a dark room.  Trust us!  No matter what, we always recommend that you test your paint colors on the walls.  For instructions on how to test your paint colors, click here.
Benjamin Moore Classic Gray, OC-23
We use this white paint color over and over in our practice, and it's one of my favorites.  Read our Classic Gray Color Review here.
This is a very light gray with green undertones that sometimes flash violet.  It's a light color but with enough substance that will make it look good in a room with low light.
We updated this gorgeous Open Concept area with Classic Gray, and it looked like a new house.  The home was surrounded by trees and other houses and had few windows.
Less stuff always makes a home look and feel brighter.  The space was also decluttered by Minimal Makeover in Boulder, Colorado for a more expansive feel.
Benjamin Moore Pale Oak, OC-20
A friend of mine once said that Pale Oak was like a warm hug for your room, and she was right!  Pale Oak is a soft white paint with warm taupe undertones.  This paint color is exceptional if you have lots of trees, shrubs and greenery outside your window.
Benjamin Moore White Dove, OC-17 OR Swiss Coffee, OC-45
White Dove is a lovely grayed out white paint color, and also a favorite for trim.  I would not use a lighter white than White Dove in a darker or North facing room.  Swiss Coffee is also a great choice, and slightly warmer than White Dove.
We like to use a warm white paint such as White Dove to cool the tile with dated earthy finishes.  This white paint color ties in well with the earthy tile and makes it look intentional.  It pairs well with old-fashioned beige tile with pink undertones as in the bathroom below.
Benjamin Moore Ballet White, OC-9
I used Ballet White in this Zen Bedroom specifically because the window had cool North Facing light and a great big evergreen pine tree outside.  It was creamy and beautiful and perfect. The warmth and red in the paint counteracted the green from outside. This is also a great paint color for homes with earthy finishes such as granite.
Sherwin Williams White Duck SW 7010
Gorgeous White Duck saved the day in the main floor of my new home.  The common areas have lots of windows, but they face east and I have a roof cover over my back porch.
The light is bright in the afternoon, and dark after 1:00 PM.  The builder painted the walls with Sherwin Williams Agreeable Gray, and this beautiful paint color made my home look like a jail.
A couple of coats of White Duck, and it looks light and bright and lovely!
Benjamin Moore Simply White (OC-117)
I added this color almost a year after I wrote this article.  According to the rules of color selection, you should never use such a light color in a dimly lit room, but somehow it shines like a beacon.  When we first tried it in a house with low light (at the request of the homeowner), we didn't believe it, but it worked.  Since then we have experimented alot, including in my house.  I painted my kitchen (shown with White Duck above) Simply White.  Below I show the attached open concept living room with Simply White.
Originally it was painted SW Agreeable Gray, which looked dingy.  We repainted with SW White Duck (as shown above), which looked nice.  Next was my Simply White experiment, and it is my favorite!  You can learn more about Simply White in the detailed Simply White Paint Color Review with LOTS of un-retouched photos to show how the color behaves in low light, brighter light and artificial light.
The Best White Paint Colors
(1) White Duck, SW 7010 / (2) Classic Gray, BM OC-23 / (3) Swiss Coffee, BM OC-45 / (4) White Dove, BM OC-17 / (5) Pale Oak, BM OC-20 / (6) Ballet White, BM OC-5
The Verdict
If you want the modern look of white walls and you have lower light conditions, consider a darker white paint color.  It will read white without the shadows and reflection that you would get from a clean or crisp white paint.
NEED HELP PICKING PAINT COLORS?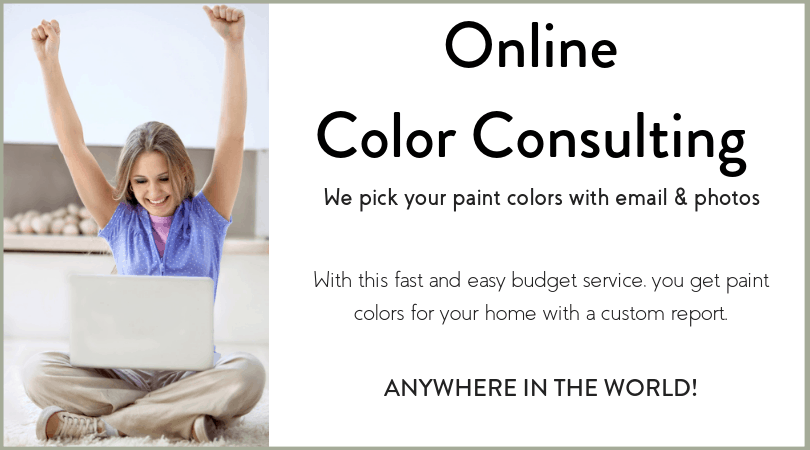 Related Posts
Our 5 Favorite Benjamin Moore Whites
Benjamin Moore Chantilly Lace Color Review
Benjamin Moore White Dove Color Review
Benjamin Moore Simply White Color Review
Benjamin Moore Cloud White Color Review
We love your comments! Please note that the blog is meant as general advice, and it is not possible to give out specific answers to your paint questions.  If you want more specific advice, please consider purchasing a color consultation. Thank you for your understanding.