Learn all about Benjamin Moore Swiss Coffee (OC-45) in this paint color review.
Benjamin Moore Swiss Coffee is a beautiful, complex darker off-white paint color that has a warm undertone. It's a popular choice for interior walls, trim, and cabinets because it pairs well with a variety of other colors and can complement both classic and modern design styles.
Swiss Coffee works well with many hard finishes, including natural wood, many granite countertops and even modern glossy white surfaces (as long as they are warm). It's one of those colors that we love to use when updating a client's home that was built during the Tuscan design era in the 90s and early 2000s.
That's exactly what we did for the client's home featured further down in this post. Their beautiful Colorado home was a bit dated, with granite finishes and lots of earthy tile. The homeowners wanted a color scheme that would complement the existing finishes because they had no interest in renovating.
Swiss Coffee was the winner, pairing well with the various colors in their home and changing from room to room with the natural light.
Keep reading for our full Benjamin Moore Swiss Coffee review and to get inspired by our client's Swiss Coffee palette.
*This post contains affiliate links for products I use and love. If you click on some links and make a purchase, I will get a small commission at no cost to you. This helps pay for the costs of the blog, so I can continue to offer great content to our readers. What is the LRV of BM Swiss Coffee?
Swiss Coffee (sample) has an LRV of 82, which makes it a darker, off-white paint color rather than a true white or off-white. This color has enough depth that it's a great white paint for dark rooms and rooms with cool, North-facing light.
What are the BM Swiss Coffee undertones?
Swiss Coffee has warm, invisible green undertones that lean toward yellow. The undertones give this color a cozy and inviting feel that creates a lovely atmosphere in just about any room. If you want a white room that won't look cold or stark, BM Swiss Coffee is a fantastic choice.
Is Benjamin Moore Swiss Coffee warm or cool?
Swiss Coffee is a warm paint color, thanks to its green undertones. The undertones are soft enough, however, that it is a very versatile color, pairing just as well with natural wood and terracotta tiles as it does with warm, white subway tile.
Does Swiss Coffee paint look yellow?
While BM Swiss Coffee's undertones do lean toward yellow, it is rare for this color to actually look yellow on the wall. In very warm lighting it has the potential to show a tiny bit of its yellow undertone, but it won't look like a true yellow paint color. If it's the right color for the room, it won't look yellow, just a soft wonderful warm off-white. It's the yellow in the color that lights up the room.
Which is darker, White Dove or Swiss Coffee?
White Dove and Swiss Coffee are both popular Benjamin Moore white paint colors and they're similar in a lot of ways. Swiss Coffee is just barely darker, with an LRV of 82 compared to White Dove's LRV of 83. They also have different undertones. While Swiss Coffee has invisible green undertones, White Dove (color review) has yellow undertones and is much more muted.
When should I use Benjamin Moor Swiss Coffee?
As a warm, soft white paint color, Swiss Coffee can be used in many different spaces and in many different kinds of lighting. In the client's home we're featuring in today's post, Swiss Coffee was the primary white paint in their whole-house color palette, looking just as beautiful in their great room as it does in their bathroom.
This very busy family has 2 teenage boys and several rescue pets. The parents retired from the Air Force after living all over the world serving their country. These hardworking homeowners are really focused on their family – not on home renovations! So they wanted to find paint colors that could modernize their slightly dated, Tuscan-era home.
When I toured the house, I could tell that the original designer was an artist at picking out hard finishes. Everything was beautiful and high quality and stood the test of time. The only thing that needed to be changed were the paint colors, and not even in every single room.
We updated the most frequently used common areas such as the kitchen, great room, hallways, entry, stairways and dining nook, along with a secondary seating area near the kitchen.
Even though the homeowners were open to several colors throughout the space, we picked Benjamin Moore Swiss Coffee and used it everywhere: for the cabinets, walls, ceilings and trim in different sheens. Believe me when I say it looked like a different color on every single wall, which was exactly what makes it so beautiful.
BM Swiss Coffee Living Room
This client's home featured a beautiful great room with large windows and a fireplace wall of dark wood built-ins.
One of the biggest challenges for this great room area was that the light was constantly shifting. There was tons of foliage outside, and windows that flanked the area to the west and east. That meant that there were always shadows in the space and very little natural light.
While white paint seems like a good fit to brighten a dark room, many whites end up looking dingy in rooms with less natural light. The low light rules out some of the brighter whites like Chantilly Lace (color review) and Oxford White (sample). Simply White (color review) was too stark and more creamy colors like Mascarpone (sample) were too yellow. We ended up carefully testing BM White Dove and BM Swiss Coffee and Swiss Coffee was the winner.
The warm, green undertones perfectly complemented the built-ins and the room's flooring and is warm enough to still look beautiful in the shadows.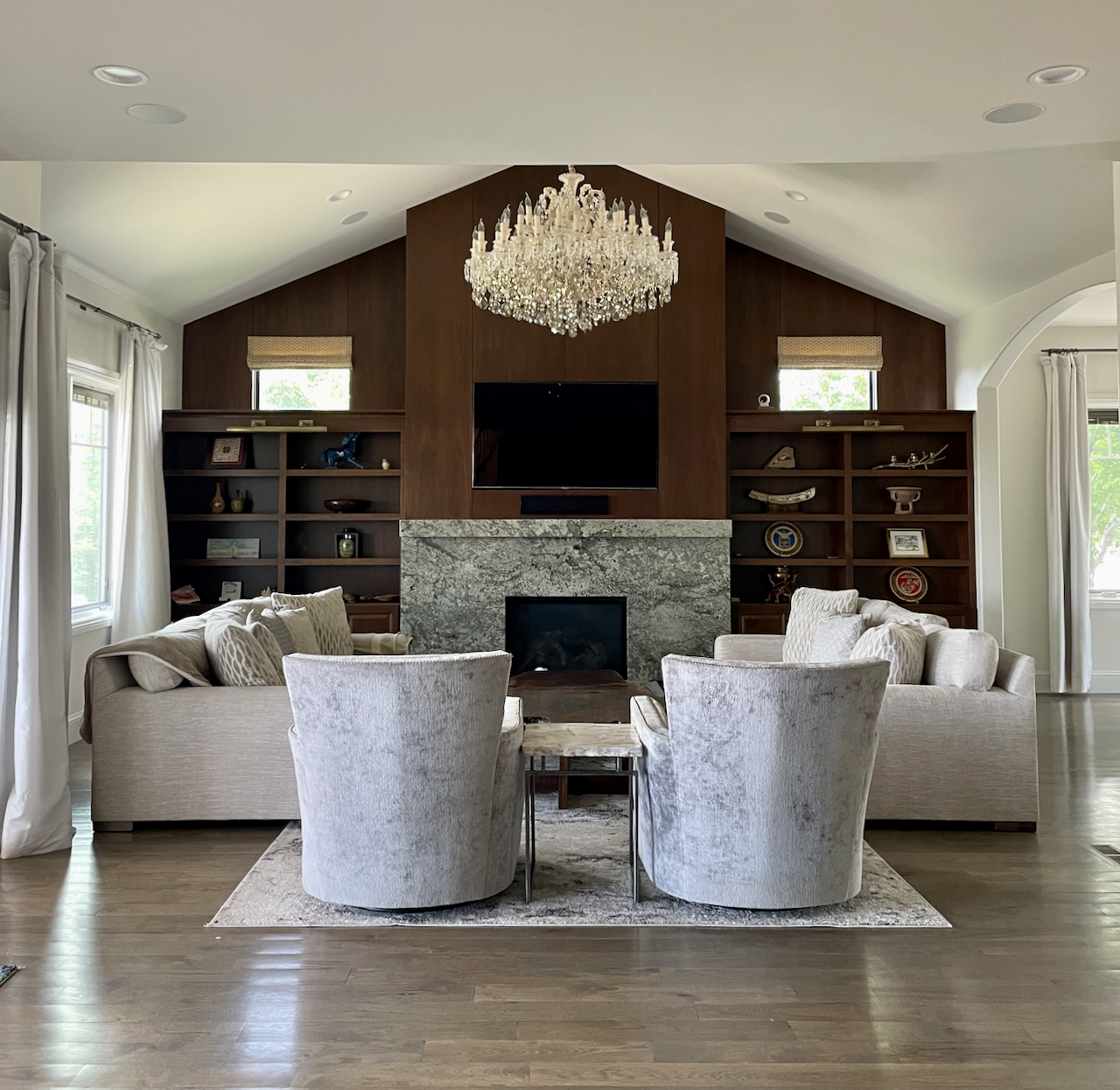 We also used Swiss Coffee in another small seating area adjacent to the kitchen of this home. It looked beautiful paired with the warm, brown wallpaper on the room's accent wall (pictured below) and helped connect the seating area to other parts of the house.
BM Swiss Coffee Kitchen & Cabinets
Swiss Coffee is a beautiful color for a kitchen. It can be used on the walls and for cabinets, offering the look of a classic white kitchen with lots of added warmth. In this client's home, mosaic terra cotta floors and rich, dark green granite countertops paired perfectly with Swiss Coffee.
(As a side note, even though it's not trending right now, I prefer granite to quartz because you can place a hot pan directly on the granite, but you can't do that with quartz. Quartz can only withstand heat up to about 400 degrees F.)
Their original cabinets were a beige color with pink/orange undertones (pictured below). It was a very outdated Tuscan look. Using Benjamin Moore Swiss Coffee paint in a satin sheen completely transformed their kitchen cabinets.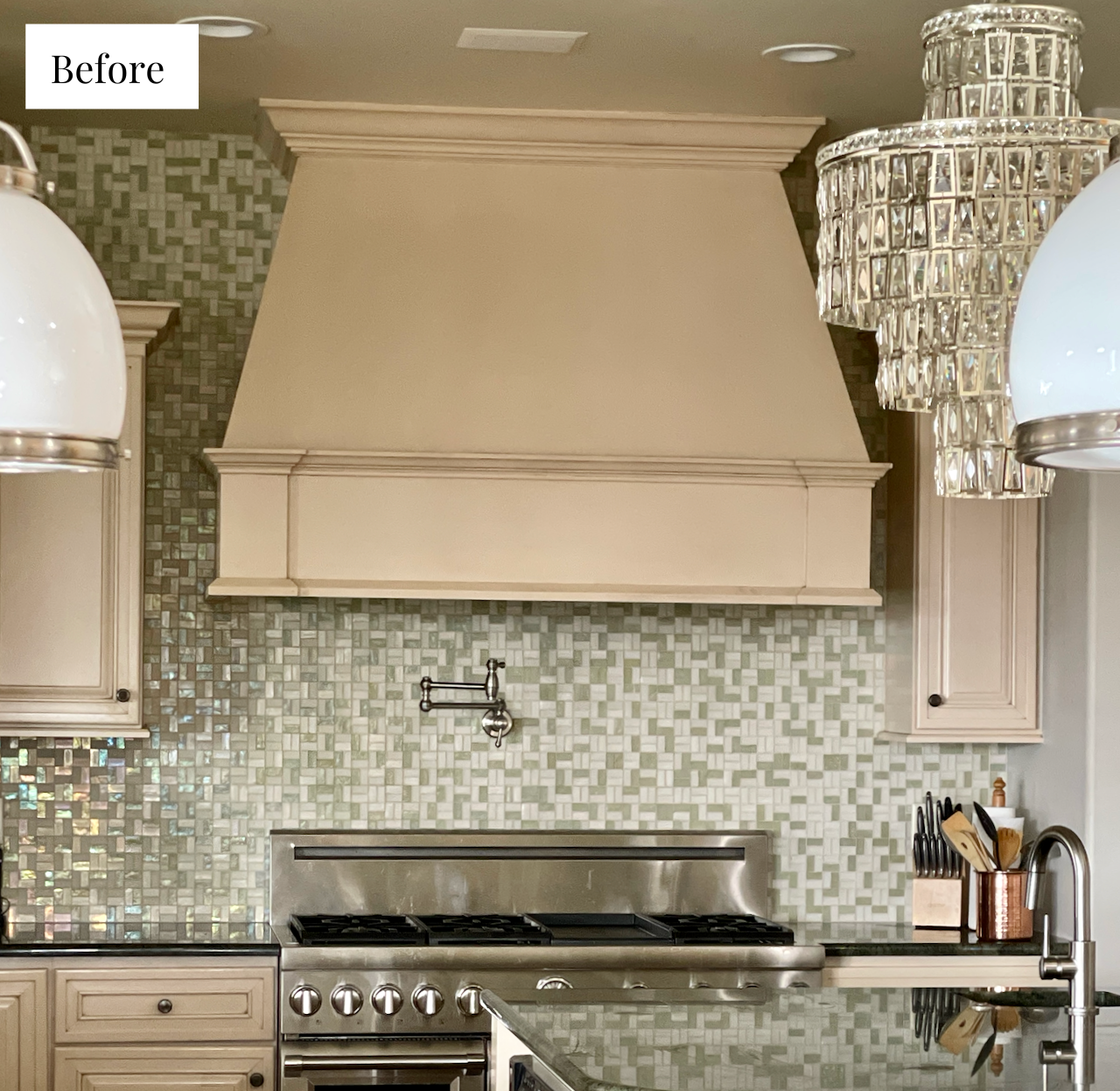 Swiss Coffee kitchen cabinets are a really beautiful choice for many kitchens. While it does pair well with earthy granite countertops, it can also be used with creamy quartz and even Calacatta marble (avoid using it with cool countertops like Carrara marble, though).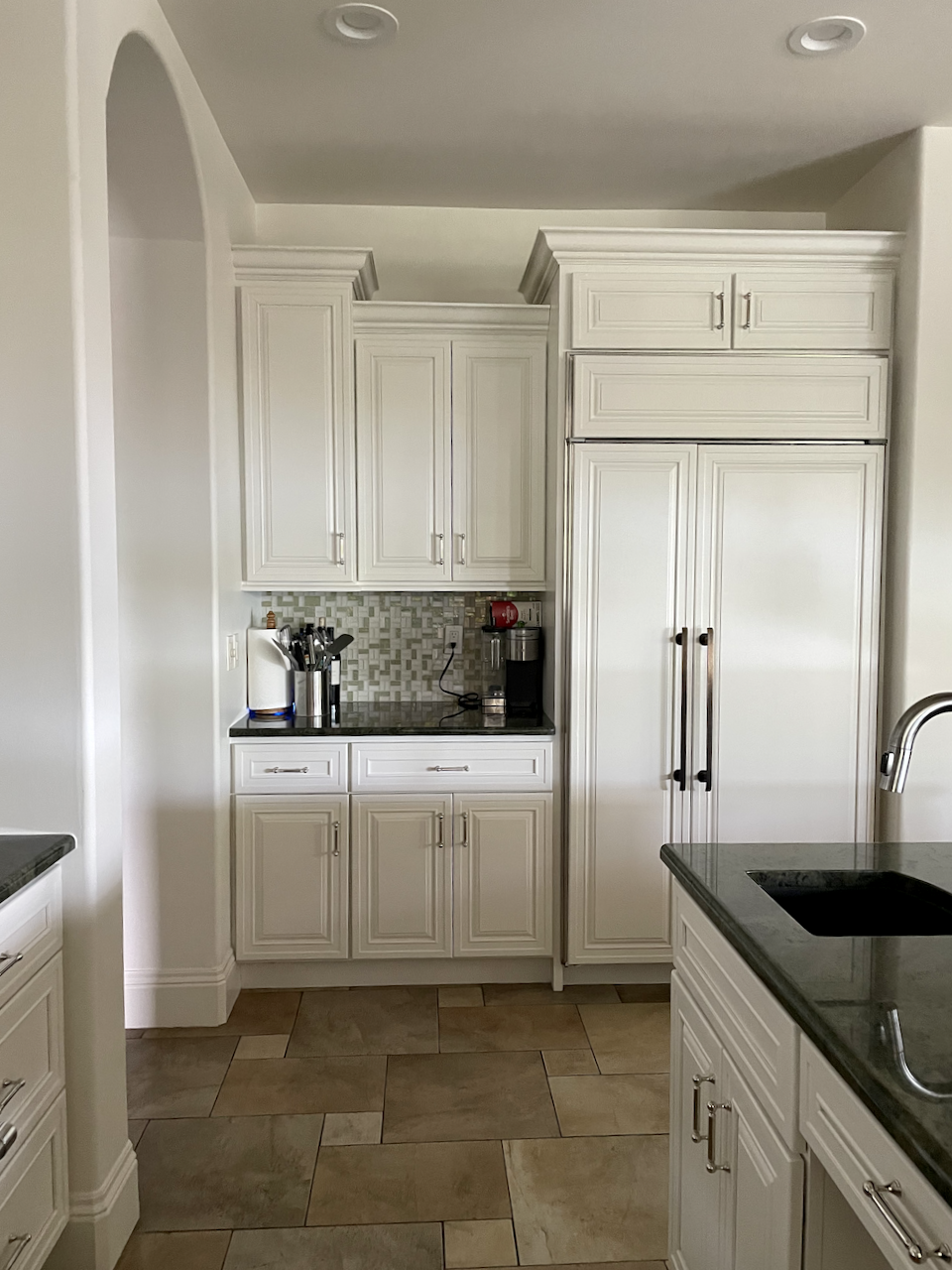 BM Swiss Coffee Bathroom
We continued the use of Swiss Coffee cabinets in the home's powder room, painting the vanity Swiss Coffee and the walls the same color. We added a vanity accent wall painted with Saybrook Sage (sample), which pairs really well with the earthy finishes of this space.
When you see Swiss Coffee contrasted against all the earthy finishes, it looks like a perfect white, not overly creamy, yellow, or too cold. That is what picking the perfect white for the space can do for your home.
When you look at this photo, Swiss Coffee doesn't shadow out in the corners, and the ceiling, walls, and trim still show contrast. The white color is the same, but the different sheens give contrast.
Is a Swiss Coffee color palette a good whole-house option?
Benjamin Moore Swiss Coffee can be a really beautiful foundation for a whole-house color scheme. In our client's home, even though they were open to using several colors throughout the space, we picked one white and used it everywhere.
Because Swiss Coffee (as with most whites) changes with the lighting of a room, it looks like a different color on every single wall. This kept the home feeling cohesive without being too monochromatic.
In addition to using Swiss Coffee for the kitchen, bathroom and living room, we also used it in the home's entryway, hallways and dining room.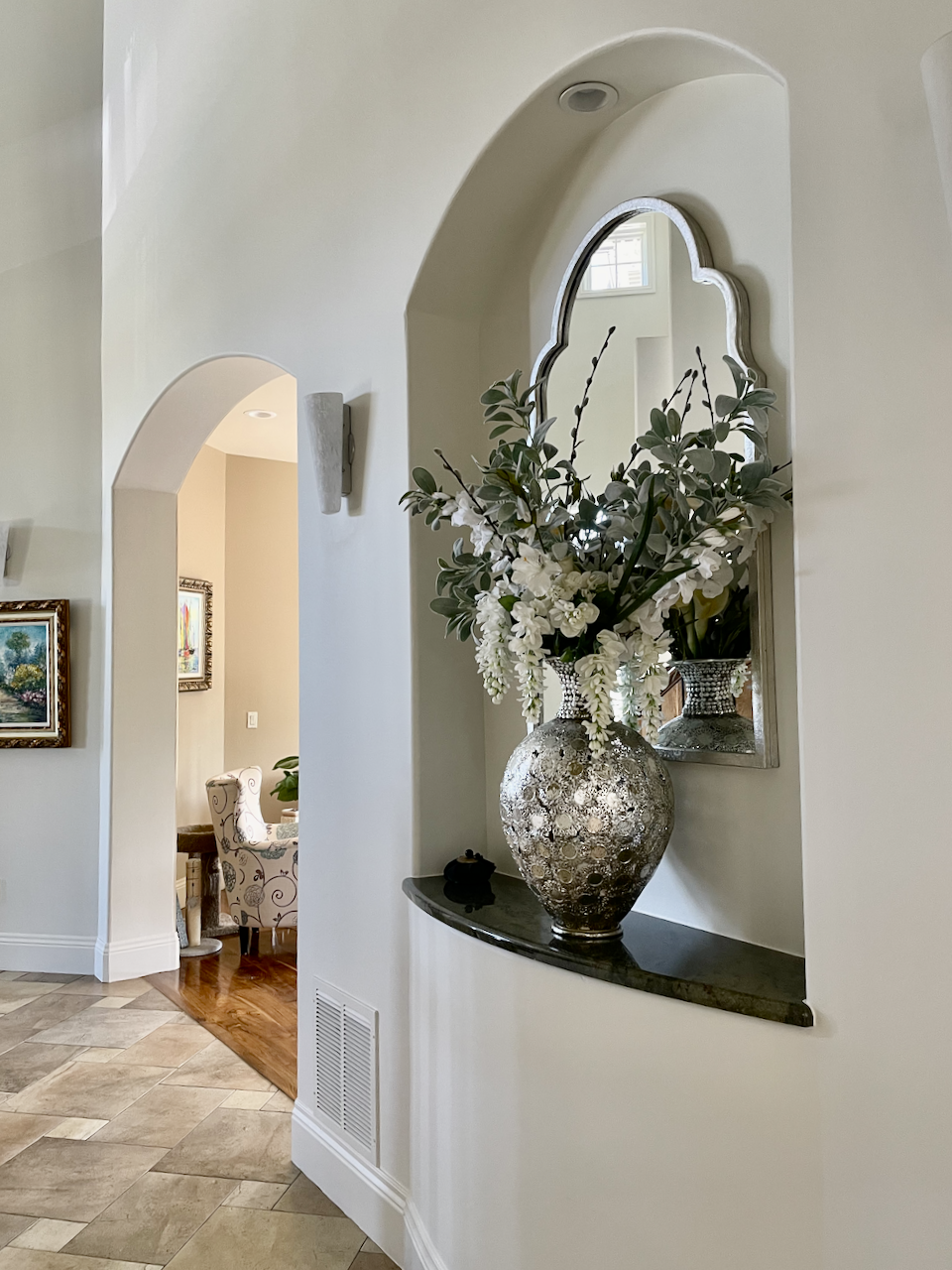 The home's entryway (pictured above) felt light and bright with Swiss Coffee walls and trim. Using Swiss Coffee on the walls of the large, open staircase made the dark wood accents look more modern and kept the space from feeling too dark.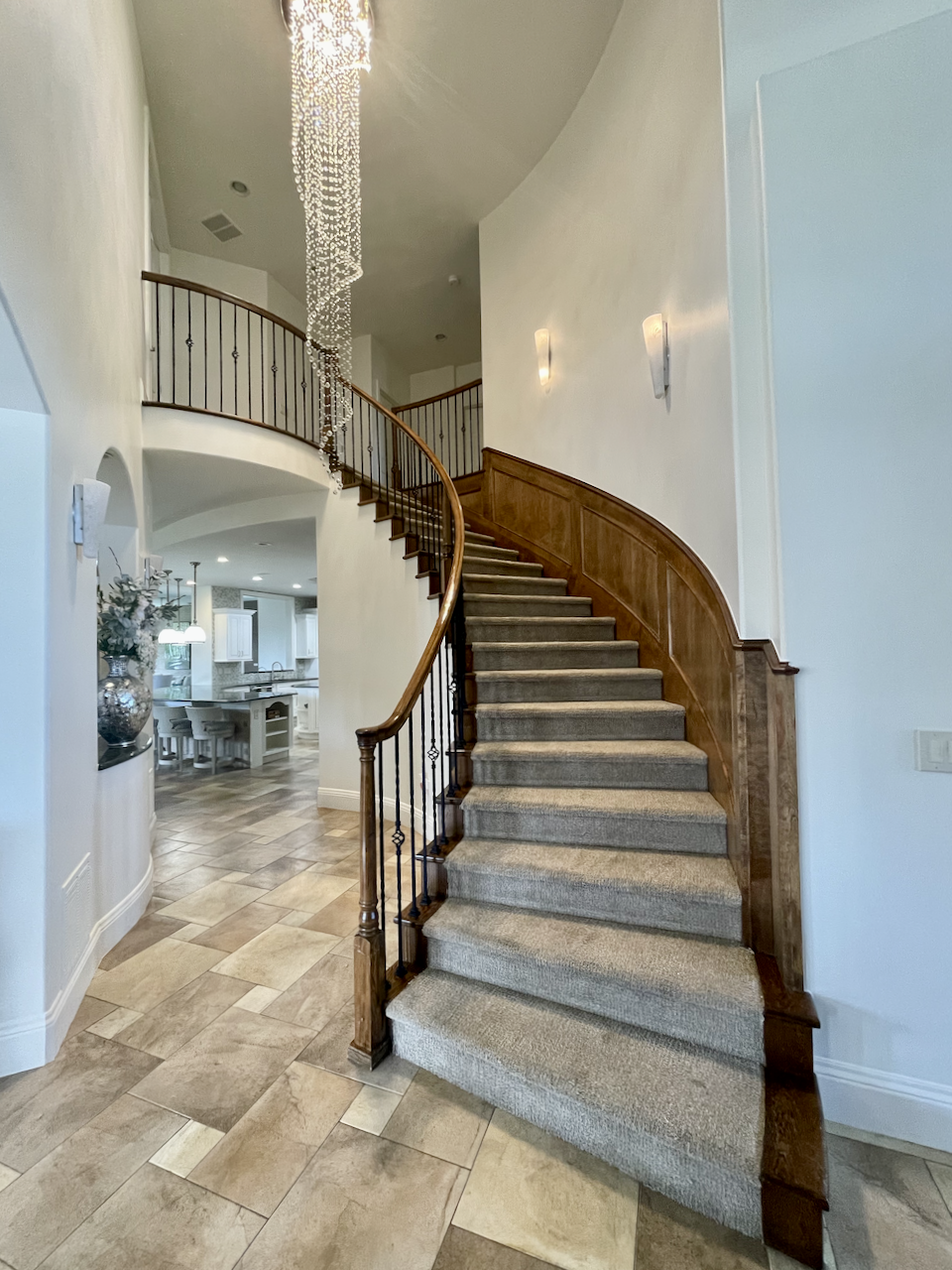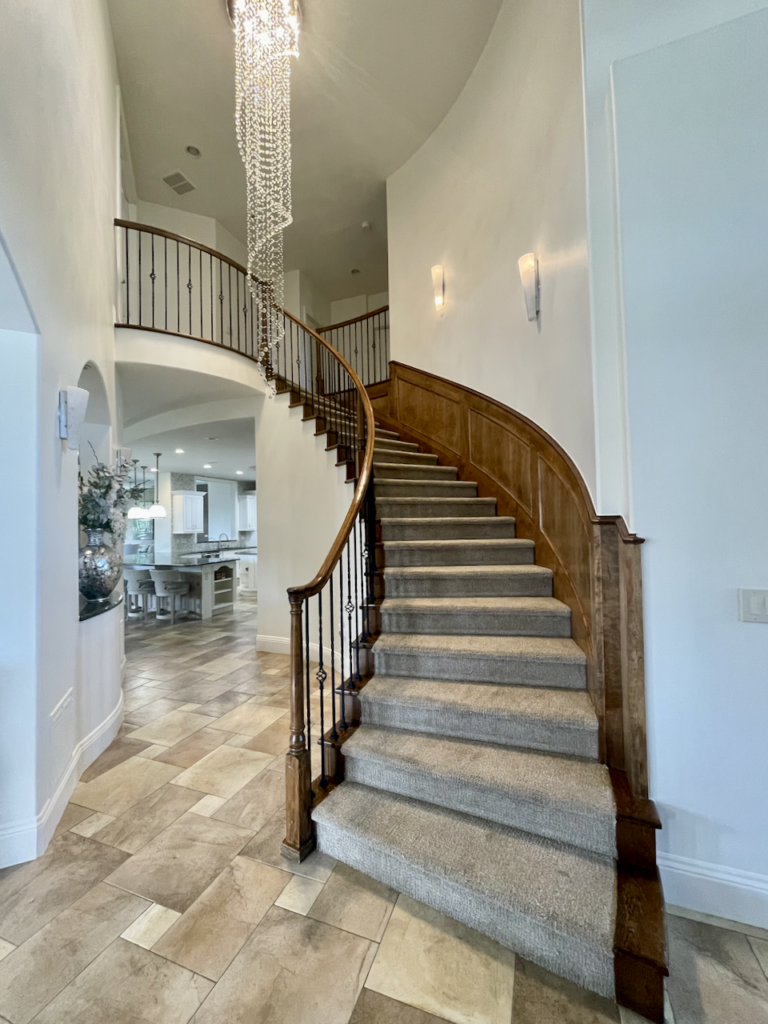 Painting a Swiss Coffee dining room helped make the space feel cohesive with the kitchen and main living areas of the home. The color helped make the room's warm, terracotta tile feel more modern.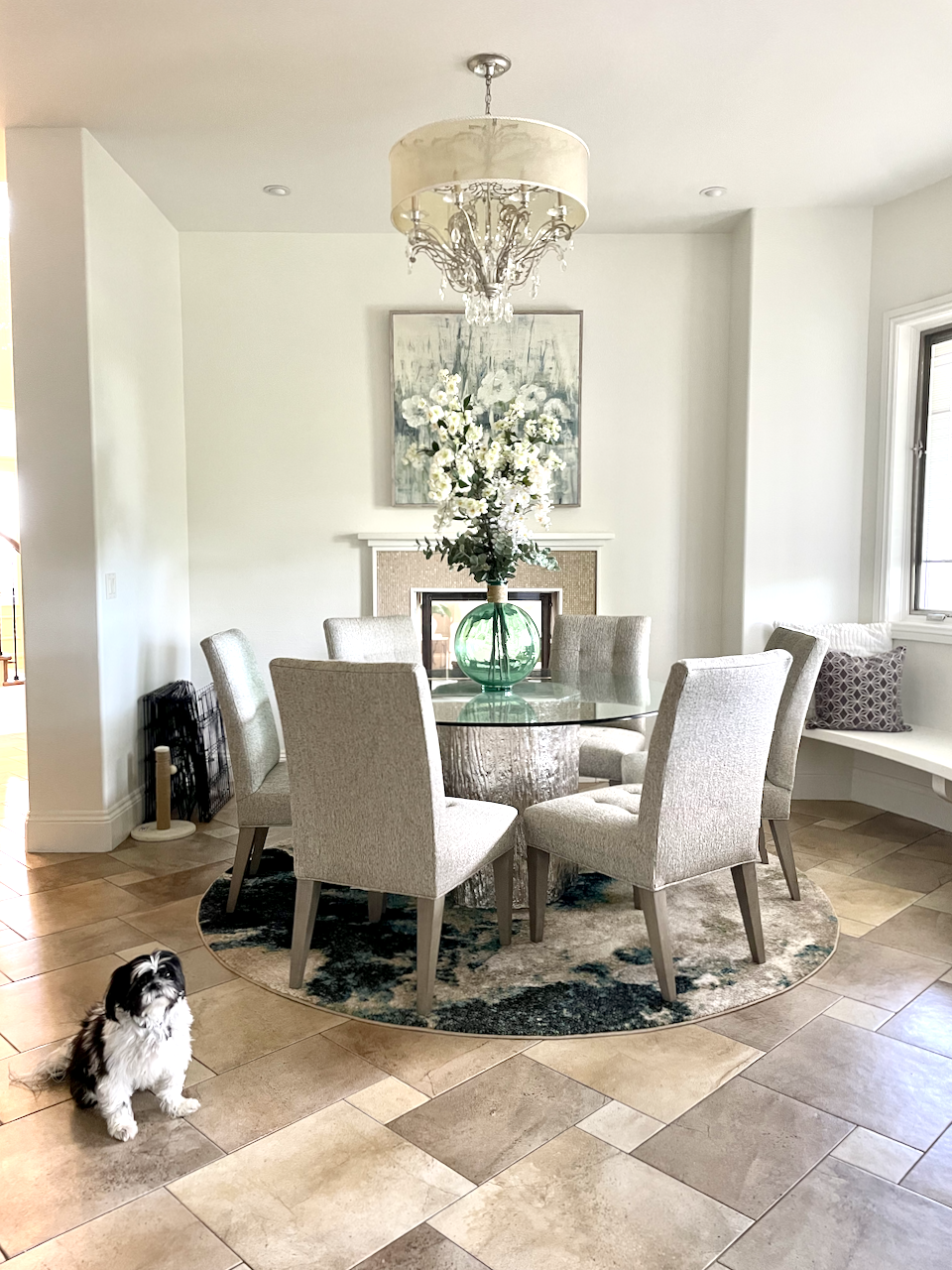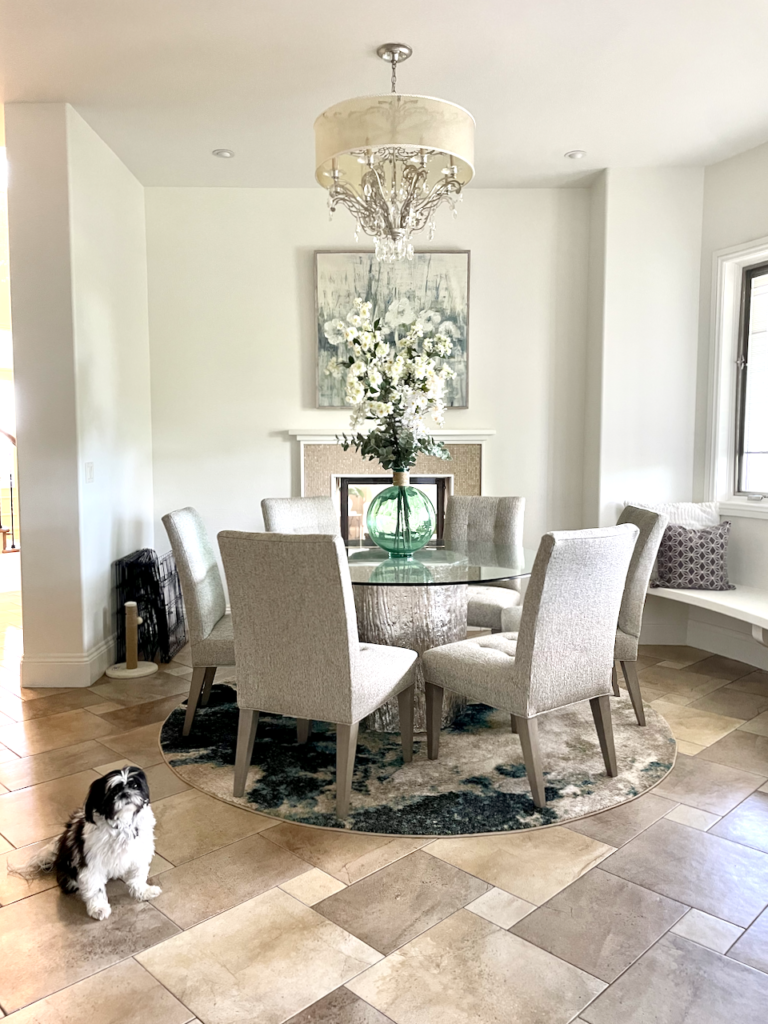 Can I try BM Swiss Coffee trim?
Swiss Coffee can be a good trim and ceiling color, but should be used carefully. If you pair a Swiss Coffee ceiling with a lighter white wall color, it will look dingy.
We like to use Swiss Coffee as trim for darker whites or use it on the walls, trim and ceiling in different sheens (like we did in our client's home) for a monochromatic look. You can learn more about choosing the right sheen for different parts of your home in our paint sheen guide.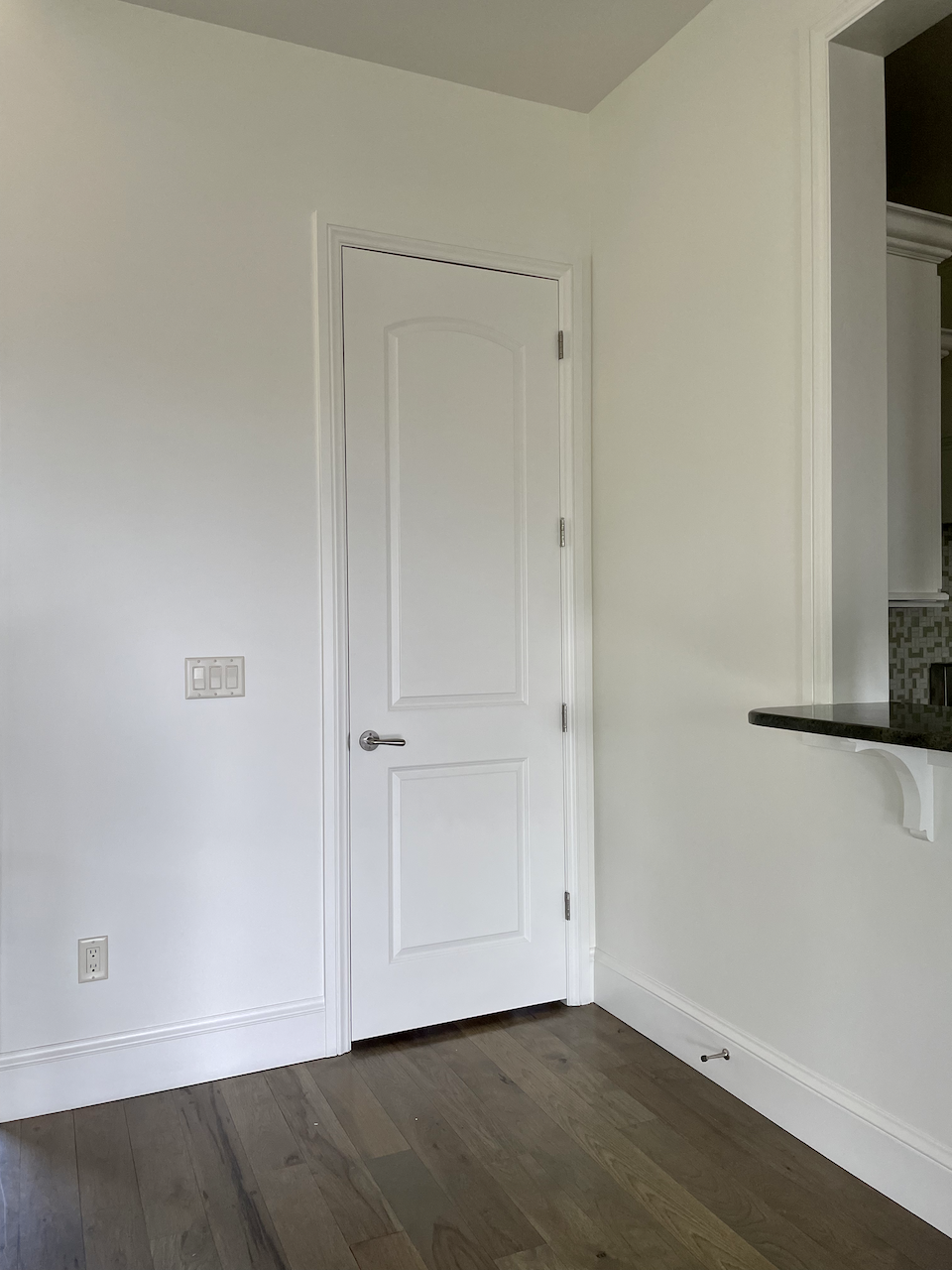 Can I use Benjamin Moore Swiss Coffee for Exteriors?
BM Swiss Coffee is a great option for a white exterior paint color. It has enough warmth and depth to not look too stark, even in bright sunlight. We especially like using Swiss Coffee as a warm white exterior trim color.
When should I avoid Benjamin Moore Swiss Coffee?
While BM Swiss Coffee is a very versatile color, there are some times to skip it. Avoid using Swiss Coffee with cooler white paint colors like SW Extra White (color review) or BM Decorator's White, or with cool white finishes like Carrara marble counters.
What are the Best Trim and Ceiling Colors For Swiss Coffee?
You can use a crisp white (as long as it doesn't have blue undertones), off-white, or creamy whites as a trim and ceiling color for Swiss Coffee walls. A monochromatic look (with shifting sheens) is also gorgeous with this color.
It pairs especially well with Chantilly Lace (sample), White Dove (sample), Simply White (sample) and Oxford White (sample) as trim and ceiling colors. 
As mentioned above, don't use with whites that have cool blue undertones like BM Decorator's White (sample), BM White Diamond (sample) or SW Extra White (sample).
This is important to note because Extra White is one of the most common trim colors in the United States. Theoretically, Extra White and Swiss Coffee are not a good pairing, but sometimes we need to compromise. If you have Extra White trim, just test, test, test to see if you are willing to live with the color combination in the lighting of your home.
What is the easiest way to sample BM Swiss Coffee?
You should always sample and test your paint colors, but it's especially important with a paint like Swiss Coffee that can look so different from room to room depending on the time of day or the amount of natural light.
The easiest way to sample Benjamin Moore Swiss Coffee (and any paint color for that matter) is via SAMPLIZE. Their peel-and-stick paint samples are easy to use and true to color.
There is no mess, and the cost is less expensive than purchasing a sample and a white poster board. Since you don't need to dispose of the paint, it's also environmentally friendly!
With Samplize you can easily see how different shades look on your unique wall. Get 10% off your Samplize order today by using the code "ColorConcierge10" at checkout. Order today and get samples tomorrow!

Benjamin Moore Swiss Coffee Alternatives
Here are some of the most popular warm white paint colors that are good alternatives to Swiss Coffee.
BM Swiss Coffee vs BM White Dove
White Dove (sample) is an iconic Benjamin Moore off-white paint color that is versatile, warm, and lovely. It has muted invisible yellow undertones compared to Swiss Coffee's brighter green undertones. White Dove has an LRV of 83, which makes it just barely lighter than Swiss Coffee.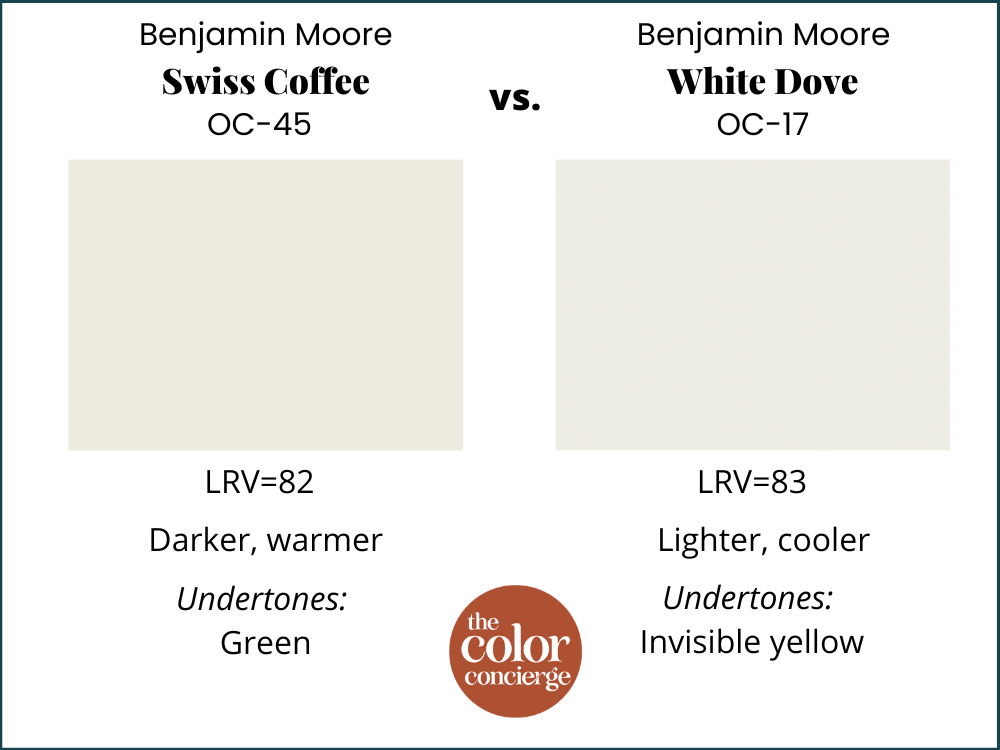 BM Swiss Coffee vs BM Cloud White
Cloud White (sample) and Swiss Coffee are fairly similar colors, but Cloud White is lighter (with an LRV of 85) and a bit cooler. Swiss Coffee has subtle green undertones that lean a bit toward yellow, so it's creamier than Cloud White, which has subtle taupe undertones.
BM Swiss Coffee vs BM Simply White
Benjamin Moore Simply White (sample) is a brighter white than Swiss Coffee, with an LRV of 89.5. It is a warm white with strong yellow undertones, so it looks more stark than Swiss Coffee.
BM Swiss Coffee vs SW Alabaster
Sherwin-Williams Alabaster (sample) and Swiss Coffee are fairly similar colors, both with an LRV of 82. Alabaster has strong yellow undertones, so while they are both warm whites Swiss Coffee is less creamy.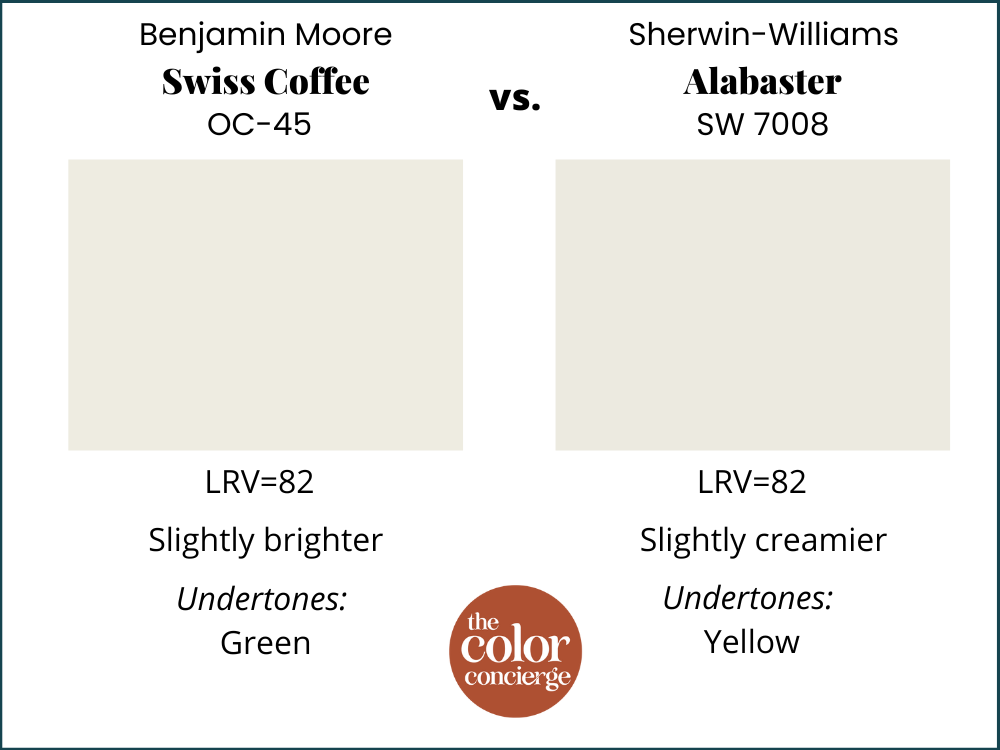 BM Swiss Coffee vs SW Greek Villa
Sherwin-Williams Greek Villa (sample) and Benjamin Moore Swiss Coffee also have the same LRV, so they are similar colors. But other properties make them look different on the wall. Greek Villa is lighter and brighter, with yellow undertones instead of green, so it looks more crisp on the wall.
What Is the Best Sherwin-Williams Swiss Coffee Alternative?
Sherwin-Williams Dover White (sample) is the closest alternative to BM Swiss Coffee. It has an LRV of 83, making it just slightly lighter than Swiss Coffee. Dover White's undertones lean more toward yellow than Swiss Coffee, but it looks similar on the wall and can be used in a lot of the same applications.  I have compared these colors again and again, and they are very close.
Key Learning Points
Benjamin Moore Swiss Coffee is one of the best white paints for single rooms and whole-house color palettes. It's a warm, versatile color that can work even in rooms with low light.
BM Swiss Coffee has soft green undertones, offering lots of warmth that won't look yellow on the wall.
Swiss Coffee can work really well in monochromatic color schemes, being used for walls, cabinets, trim, and ceilings in different sheens.
Swiss Coffee pairs well with Tuscan finishes, warm granite, and many other finishes. Avoid Swiss Coffee with cool white finishes and paint colors, though.
Remember: NEVER, EVER use paint matches from a different brand than the one specified. Results are poor and there are no standards for the sheens. Even though your painter may truly believe it can be done, don't do it. See results from paint matching here.
No matter what, always test your paint colors. It's a standard best practice. Whenever I test my paint colors, they are perfect, and when I don't test they turn out wrong. Learn how to test your paint colors here.
Online Color Consulting
Still need help picking the best paint colors? Discover our Online Color Consulting Package.
If you liked this post, don't forget to pin it!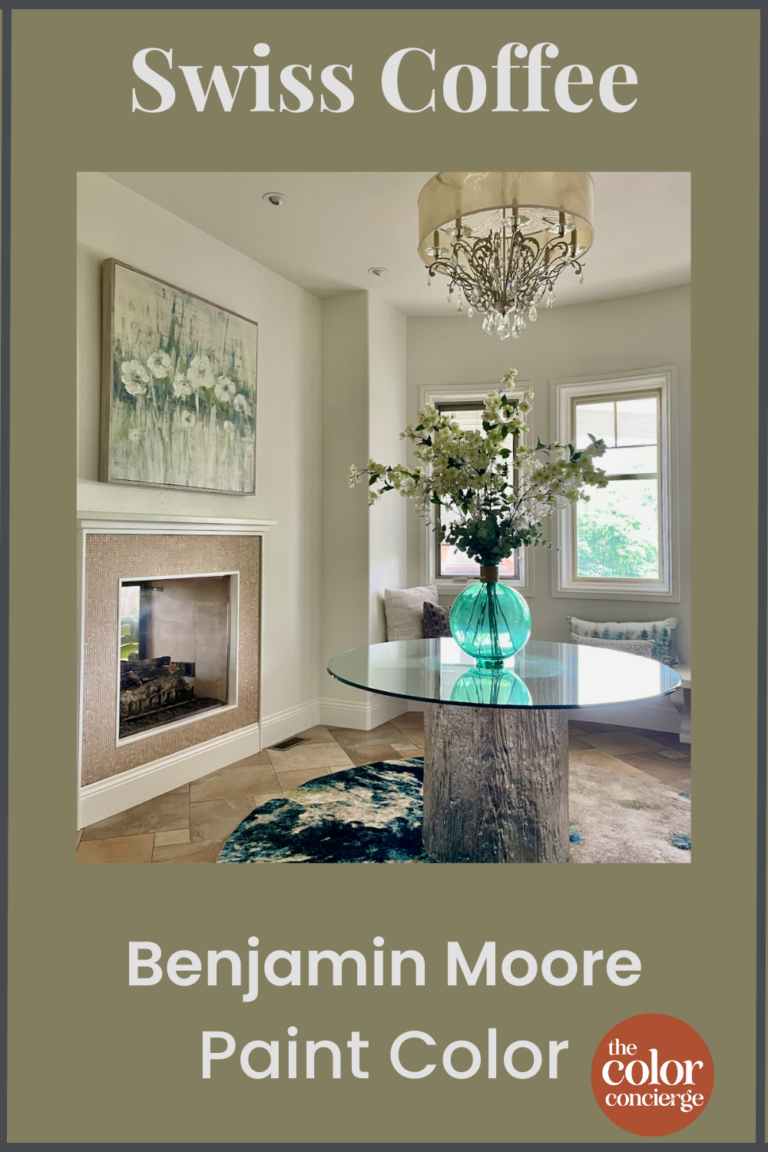 We love your comments! Please note that the blog is meant as general advice, and it is not possible to give out specific answers to your paint questions. If you want more specific advice, please consider purchasing a color consultation. Thank you for your understanding.
Related Posts