Learn all about Sherwin-Williams Alabaster (SW 7008) in this paint color review.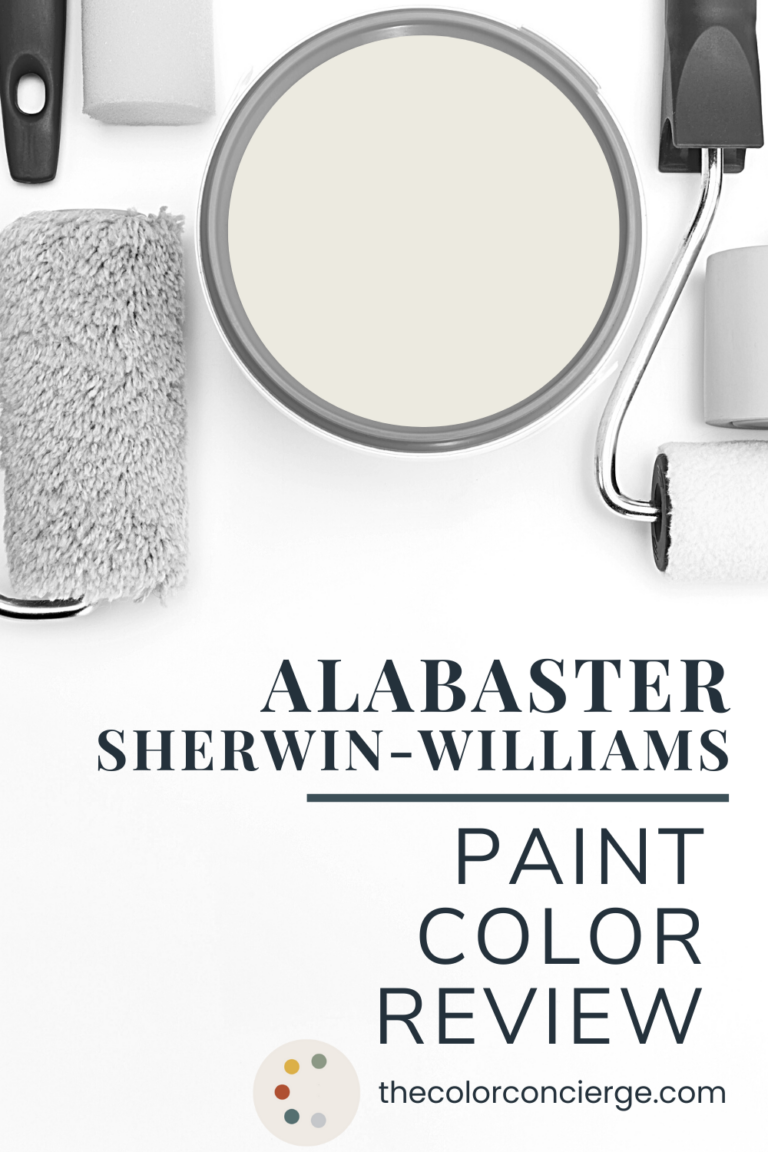 Alabaster is one of Sherwin-Williams' most famous white paint colors. For years I've resisted this color because its yellow tones are so strong – despite all of the hype around it on the internet.
As a cynic, I thought its popularity might be due to its value as a tool for bloggers to increase their traffic from Google. I've had similar thoughts about Agreeable Gray, another popular SW paint color. Although Agreeable Gray is a good paint color, its hype is over-rated online.
But I am here to say that Alabaster lives up to its hype, and I was wrong!
In the last couple of years, I've been experimenting with this color. I've used it on exteriors, cabinets, and most recently in a low-light bedroom with North-facing, tiny windows. My final verdict is that it's an amazing off-white paint color, but as with all colors, has to be used in specific applications.
Keep reading to learn more about Sherwin-Williams Alabaster and discover if this paint color is right for your next project.

*This post contains affiliate links for products I use and love. If you click on some links and make a purchase, I will get a small commission at no cost to you. This helps pay for the costs of the blog, so I can continue to offer great content to our readers.
What is the LRV of SW Alabaster?
The SW Alabaster LRV is 82, which makes it a fairly light color but not as bright as some other white paints.
What are the Sherwin-Williams Alabaster undertones?
SW Alabaster is an off-white paint color with strong yellow undertones. It is a bit grayed out, which reminds me of Benjamin Moore White Dove. It's not as grayed out as White Dove, but I'd use it in similar situations.
Is Sherwin-Williams Alabaster warm or cool?
Alabaster is a warm white, thanks to its yellow undertones. It is a great option if you're looking for a white paint color that won't look too stark (even in bright light) and will work with warm fixtures.
Is Alabaster white or cream?
Although Alabaster is technically an off-white color, you can use it as a cream color because of its strong yellow tones, especially when contrasted with cleaner and brighter whites.
When should I use Sherwin-Williams Alabaster paint?
Alabaster is a versatile, warm off-white paint color that can work well in many different applications, both inside and outside the home.
Can I use SW Alabaster as an Interior Trim Color?
Yes, Alabaster can work as an interior trim color, but only in certain situations.
I love the idea of using Alabaster for walls, trim, and ceiling in a room, shifting paint sheens to add depth and subtle contrast.
It's also appropriate if you have lots of earthy finishes such as granite and slate in your home. It is a darker white, so make sure that you use it with an even darker wall color.
It looks great as trim for darker colors in an office or dining room, especially if they also have warm undertones.
Should I try Alabaster kitchen cabinets?
Alabaster kitchen cabinets are beautiful! It is a fantastic choice for white cabinets because it offers the look of a classic kitchen while also adding lots of warmth to the space. It would also work really well as an upper cabinet color in a tuxedo kitchen, especially when paired with warm blue or gray lower cabinets.
It works perfectly with granite countertops and other earthy finishes. Next to earthy colors, it looks more like white paint than an off-white or cream. It also looks great with most quartz countertops as a creamy alternative, but I prefer it with granite.
In the kitchen pictured below the perimeter cabinets are painted with SW Alabaster paint. The color looks really lovely with the SW Pewter Green island and SW Useful Gray walls. In most kitchens, the green foliage from outside would reflect onto white cabinets, but Alabaster holds its white color very well.
Can I use Pure White cabinets with Alabaster walls?
While Alabaster makes a great cabinet paint color, it also pairs really well as a wall color with other white paint colors. I especially love the combination of SW Pure White cabinets with Alabaster walls.
In my guest bathroom pictured below, for example, the Alabaster paint looked great with the clean white counter, hex tile mosaic floor, and SW Pure White vanity cabinets. This room has very little natural light but Alabaster still worked beautifully.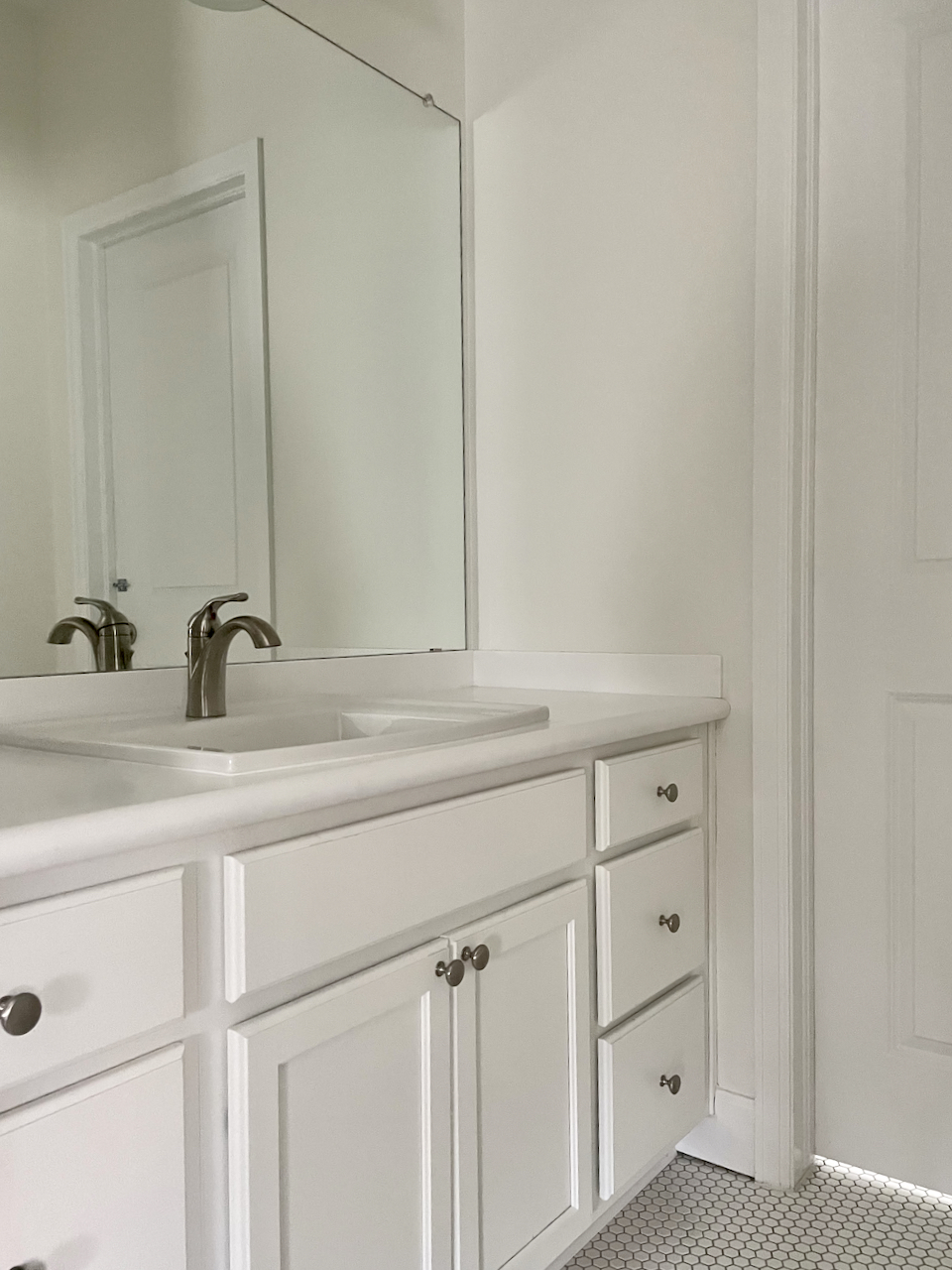 Is SW Alabaster a good bedroom color?
Absolutely! Alabaster is a great option if you want white bedroom walls but also want a calming bedroom that isn't too bright white.
I used Alabaster walls in a guest bedroom within my own home (pictured below) as an experiment. Even though the room has low light and small North facing windows, Alabaster lights up the room and doesn't shadow out in the corners. We used SW Emerald Matte paint and it looks absolutely velvety. It didn't shadow out in the corners – I will probably never paint this room again.
We paired SW Alabaster with Extra White trim and ceiling colors (because that's what I have throughout the house). While this trim color isn't ideal for Alabaster because of its cool undertones, it looked amazingly great. The Alabaster should have been too creamy, but it looks nicely balanced.
And that's good news because SW Extra White is one of the most popular trim colors in the United States, so if you live in the U.S. then there's a good chance you have Extra White trim in your home! Because repainting trim is so expensive and time-consuming, it's great when you can find wall colors that work with your existing trim.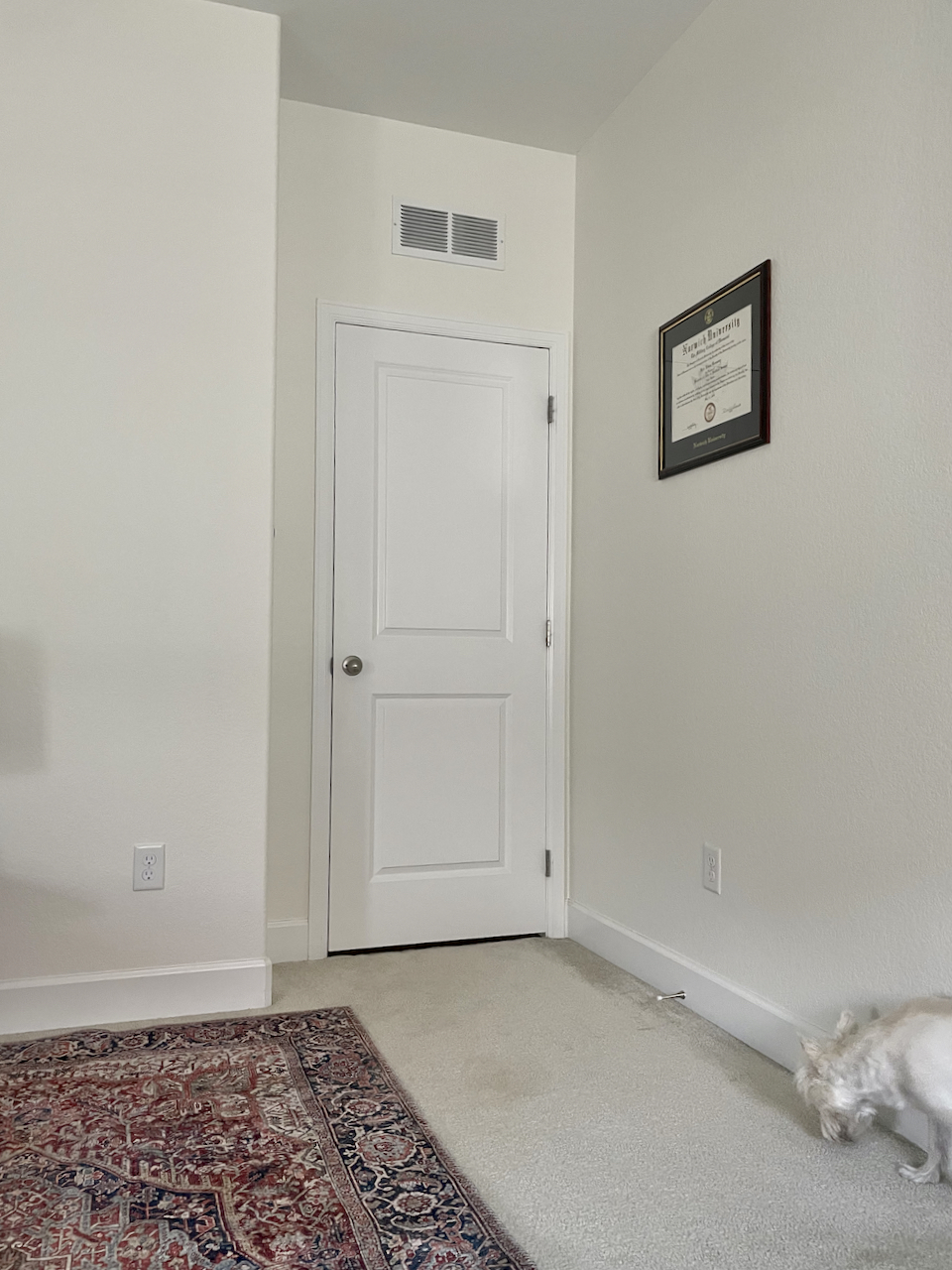 Can you use a whole-house SW Alabaster color scheme?
Yes, it can definitely work well for a whole-house color scheme! You need a good amount of light to use Alabaster as a wall color, especially in a large living space, but it's a very versatile paint color that can work in many different spaces throughout a home. We like Alabaster so much that we even designed a pre-made color palette around it.
Is SW Alabaster exterior paint a good idea?
SW Alabaster exterior paint can look really beautiful – in the right setting.
Alabaster is a very bright paint color. In the bright sunshine, it can look pretty stark, especially if you are in the southern US. My preference is to use it on homes that are surrounded by trees and in the shade. The warm, yellow undertones will brighten a shady spot.
Just like SW Pure White, this bright white is like a mirror. Don't use it when your next-door neighbor has a red or yellow house, or your white house will look pink or yellow on the neighbor's side.
As an exterior white trim color, it will look pretty stark, so don't use it with very dark colors. If you want a very crisp white trim, then Alabaster is the color for you. Even though this white is creamy, it looks very bright outside. I prefer to use it either in shady spots like the home below or with a very light body color.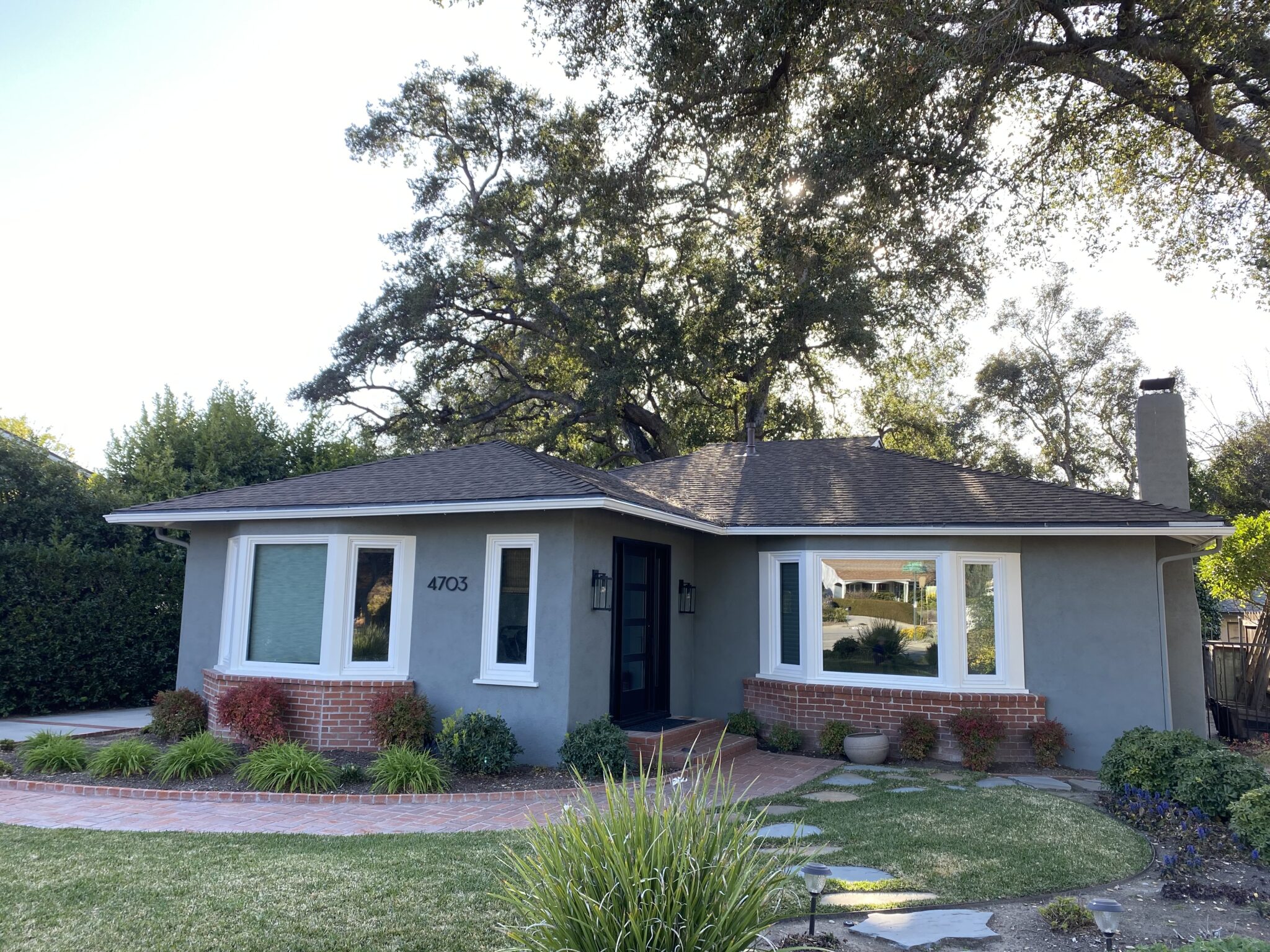 If you're using it as the foundation of an exterior white color scheme, however, Alabaster looks wonderful paired with dark accents.
Our web developer's house, for example, has Sherwin-Williams Black Magic (SW 6991) accents, which look really beautiful paired with the warm white exterior.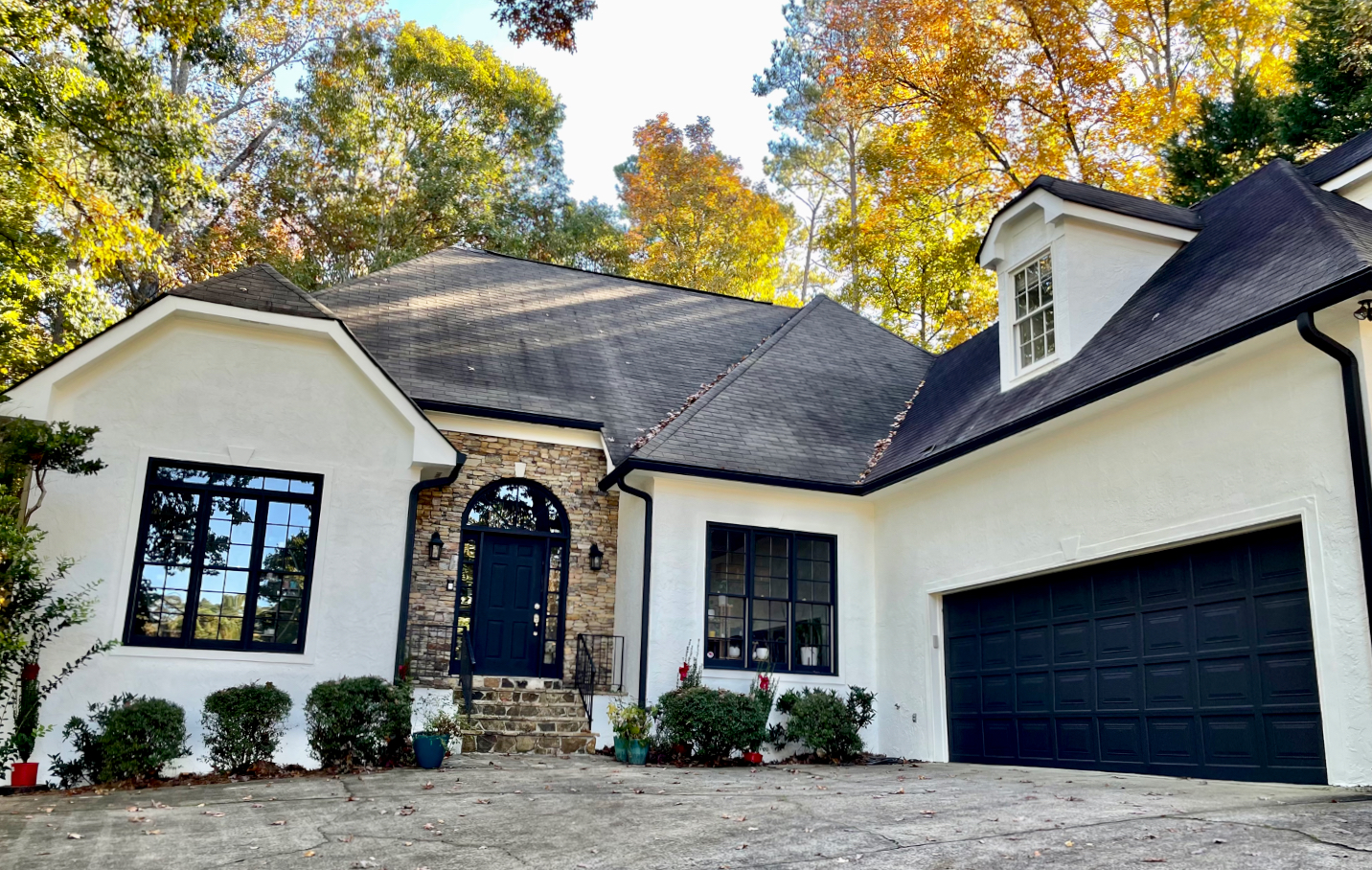 What Are the Best SW Alabaster Coordinating Colors?
Does SW Alabaster go with black paint?
We love the combination of SW Alabaster with black paint. Black and white color palettes are a classic look that is very popular in home design today. While the combination of black and white paint can end up looking too harsh, using SW Alabaster ensures the white paint looks warm and has enough pigment to not get washed out.
Alabaster pairs well with a variety of black colors, particularly those that are also slightly muted. Our favorites include SW Black Magic and SW Iron Ore. An Iron Ore front door with Alabaster walls is a particularly beautiful look that we recommend in our Alabaster pre-made paint color palette.
Does SW Alabaster go with gray?
Yes, Alabaster works really well with many gray colors. Alabaster can be used as a trim color for gray walls or used as a wall color paired with gray cabinets and other gray fixtures.
SW Alabaster looks particularly beautiful paired with muted, warm grays like SW Agreeable Gray, BM Edgecomb Gray, or BM Revere Pewter. When paired with another warm color, Alabaster will look more like a clean white.
Does SW Alabaster go with white?
Yes, Alabaster can work well with other white paints and white fixtures. There's something really lovely about a monochromatic white palette that includes slightly different hues. Alabaster offers warmth while still being a pretty muted color thanks to its grayed-out yellow undertones.
While it pairs well with warm fixtures like granite countertops and natural wood floors, it also works well with more modern clean white fixtures, like in our client's bathroom with white hex tiles and SW Pure White vanity featured above.
SW Alabaster also pairs well with other white trim colors, such as those featured in the next section below.
What are the Best Trim and Ceiling Colors For SW Alabaster?
Alabaster looks good with SW Extra White trim (even though it shouldn't!). It also pairs really well with SW High Reflective White and SW White Snow trim and ceilings. 
I also love to use Alabaster trim and ceilings with Alabaster walls. It's a lovely way to wrap a room in one color. And by using different paint sheens (typically eggshell for walls, semi-gloss for trim, and flat for ceilings), you can add a lot of texture to the room without changing colors.
What is the easiest way to sample SW Alabaster?
You should always sample and test your paint colors, but it's especially important with a white paint like SW Alabaster that can look so different from room to room depending on the time of day or the amount of natural light.
The easiest way to sample Alabaster (and any paint color for that matter) is via SAMPLIZE. Their peel-and-stick paint samples are easy to use and true to color. With Samplize you can easily see how different shades look on your unique wall.
The Best SW Alabaster Alternatives
Sherwin-Williams Alabaster vs Pure White
Alabaster is much warmer than Pure White, which has soft yellow undertones. With an LRV of 84, Pure White is also a little lighter than Alabaster, which is better for shady exteriors and interiors with lower light than Pure White.
Sherwin-Williams Alabaster vs Greek Villa
SW Greek Villa is a little bit lighter and a little bit less muted than Alabaster, with an LRV of 84. While Greek Villa also has yellow undertones, Alabaster has MUCH more yellow. They are both lovely colors and can work in similar spaces. I prefer Alabaster for darker rooms.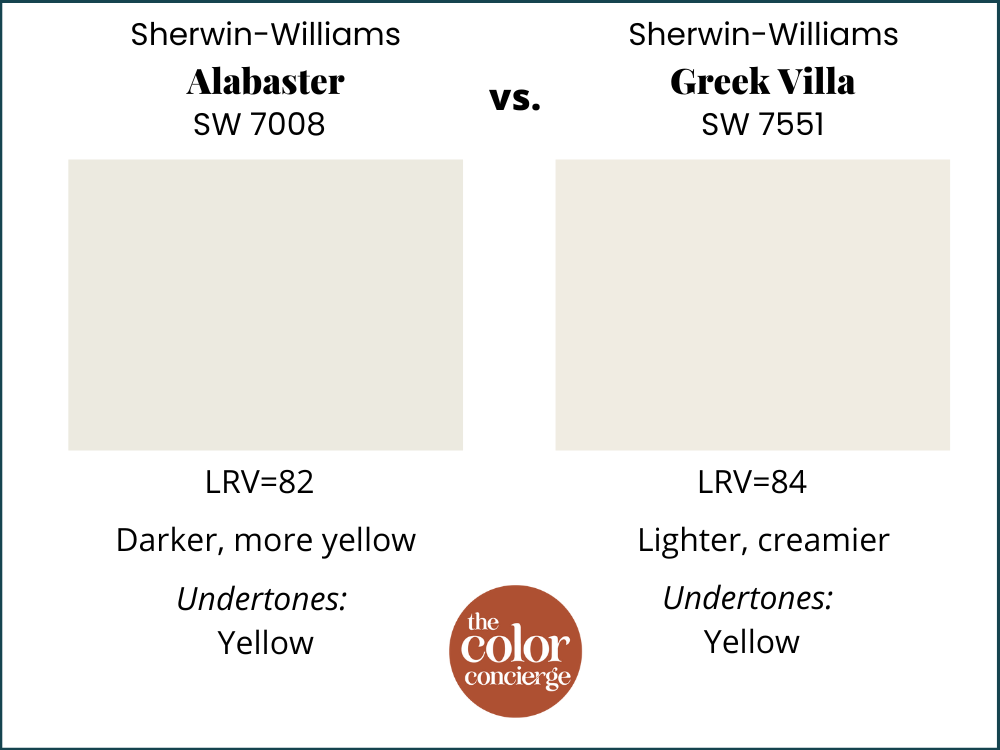 Sherwin-Williams Alabaster vs White Dove
SW Alabaster and BM White Dove are pretty similar colors, but White Dove is a bit lighter. Both colors have grayed-out yellow undertones, but White Dove is a bit more grayed-out and muted so it looks less creamy on the wall. I use both paint colors in similar situations.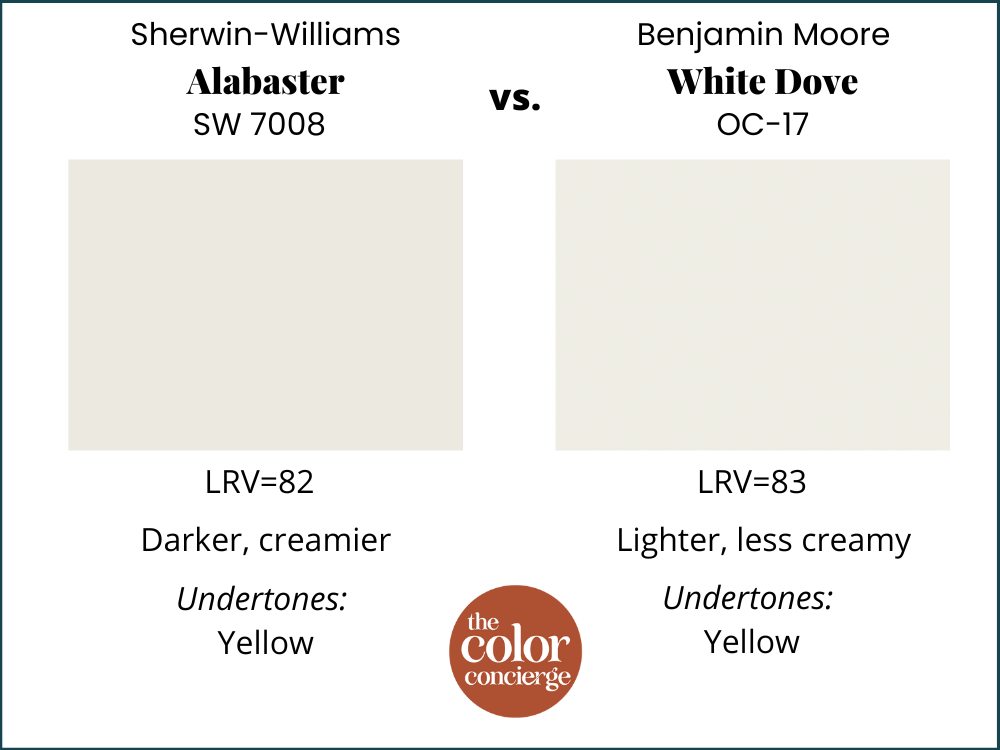 Sherwin-Williams Alabaster vs Cloud White
Alabaster and BM Cloud White seem similar, but Cloud White is lighter, with an LRV of 85. Cloud White also has taupe undertones, instead of yellow, so it looks much less creamy on the wall.
Sherwin-Williams Alabaster vs Swiss Coffee
Alabaster and Swiss Coffee are fairly similar colors, both with an LRV of 82. Swiss Coffee has subtle green undertones that lean a bit toward yellow, so it's warm but less creamy than Alabaster.
To sample this collection of white paint colors with Samplize, link to the following: Alabaster, Pure White, Swiss Coffee, Cloud White, BM White Dove, Greek Villa, and Extra White.
What is the Best Benjamin Moore SW Alabaster Alternative?
When I'm looking for a Benjamin Moore paint color to use in place of SW Alabaster, I reach for White Dove. While they're not exactly the same, they both have yellow undertones and are both similarly muted so they work well in a lot of the same applications.
Remember: NEVER, EVER use paint matches from a different brand than the one specified. Results are poor and there are no standards for the sheens. Even though your painter may truly believe it can be done, don't do it. See results from paint matching here.
No matter what, always test your paint colors. It's a standard best practice. Whenever I test my paint colors, they are perfect, and when I don't test they turn out wrong. Learn how to test your paint colors here.
Key Learning Points
Sherwin-Williams Alabaster is a beautiful, creamy white paint with strong yellow undertones. Depending on the natural light and the other colors and fixtures in a room, Alabaster can look more like a clean white or more yellow.
Alabaster works really well as a kitchen cabinet color. It offers beautiful warmth to a classic white kitchen and pairs well with granite countertops and even some quartz countertops.
Alabaster pairs well with a variety of other white paint colors. We've paired it with SW Pure White cabinets as a wall color. We also love using SW Extra White, SW High Reflective White and SW White Snow as trim and ceiling colors for Alabaster walls.
SW Alabaster exterior paint can also work really well, especially for homes in shady areas surrounded by lots of trees.
Online Color Consulting
Still need help picking the best paint colors? Discover our Online Color Consulting Package.
If you liked this post, don't forget to pin it!
We love your comments! Please note that the blog is meant as general advice, and it is not possible to give out specific answers to your paint questions. If you want more specific advice, please consider purchasing a color consultation. Thank you for your understanding.
Related Posts