Some kitchen design trends disappear just as fast as they arrive (and for good reason)! But some trends are destined to stick around for the long haul. Tuxedo kitchen cabinets are one of those trends. Still mystified by tuxedo cabinet paint pairings? Keep reading for our full guide.
Tuxedo kitchen cabinets – also known as two-toned kitchen cabinets – have truly become a new classic in kitchen design. They started to gain popularity in the early 2000s and haven't slowed down since.
If you're looking for a project that will significantly change the look of your kitchen without any demolition or extensive remodeling, then painted kitchen cabinets could be right for you!
Keep reading to learn more about this kitchen trend and how to choose the tuxedo cabinet paint pairings that are right for your home.
What Are Tuxedo Kitchen Cabinets?
Tuxedo kitchen cabinets are commonly called two-toned cabinets. While traditional tuxedo kitchens include white upper cabinets and black lower cabinets, the trend has now expanded to include other colors for the lower cabinets.
Today, you'll find tuxedo cabinet paint pairings that include blue, gray, green, and even pink or purple lower cabinets. There are nearly endless options for a kitchen with two color cabinets.
How do you place the colors in a Tuxedo Cabinet Color Scheme?
The white (or lighter) color is usually on the upper and tall refrigerator, pantry, and oven cabinets. The darker color is placed on the lower cabinets and the island.
Are tuxedo cabinets out of style?
This is a question I get all the time, and it's really no surprise. After all, kitchens have changed significantly over the last several decades. And an outdated kitchen is often one of the first signs of an older home.
But when it comes to tuxedo cabinets, they're unlikely to go out of style anytime soon. In fact, that's one of the best things about two-toned cabinets: they add interest to your kitchen without being too bold or trendy. If you choose the right colors for your space, they're sure to stand the test of time.
One of my favorite pieces about tuxedo cabinets is from interior designer Laurel Bern, who wrote a 2016 article about that year's hottest kitchen trends. Two-toned cabinets were featured then and they're still going strong six years later!
Why You Should Try Tuxedo Kitchen Cabinets
There are so many benefits to a tuxedo kitchen, both aesthetically and functionally. Some of the top reasons to try two-toned kitchen cabinets in your home include:
Play With Color – Without Going Too Bold
If you've been dreaming of a bold, colorful kitchen but have been hesitant to go for it, two-toned kitchen cabinets could be the solution. The lower cabinets add a pop of color without overdoing it, while the white upper cabinets add balance and simplicity.
Many people try to add color to their kitchen through countertops and backsplash tile, but these can become too busy really easily.
Boost Durability
If you have young kids, pets, or just a very messy chef in the house, then the idea of white kitchen cabinets may make you cringe. A tuxedo kitchen can give you the best of both worlds, with white cabinets up high and away from little hands (or paws) and dark lower cabinets that help hide daily dirt and grime more easily.
Connect Your Kitchen to the Rest of Your Home
The kitchen is the heart of many homes. There's a reason everyone seems to gather there at parties. But from a design perspective, many kitchens can feel disjointed from the colors and patterns used throughout the rest of the home.
Adding two-toned kitchen cabinets can help connect your space to the colors in the rest of your home, laying a solid foundation for a whole house color palette. I love to boost this color connection even more by using the same paint color for lower kitchen cabinets and a home's interior front door.
Make a Small Kitchen Feel Larger
A white kitchen is a classic for a reason. It's clean, and simple and offers a blank canvas for other design elements. A white kitchen also helps the cabinets recede and makes even a small kitchen look bigger.
With colorful lower cabinets in a tuxedo kitchen, you can get the benefits of a white kitchen without it being so stark.
How to Choose Tuxedo Cabinet Paint Pairings
Even if you're going with a traditional black and white tuxedo kitchen, there's a lot to think about when it comes to choosing the right cabinet paint pairings. And if you want to use a different color on your lower cabinets, then there are even more options to consider.
Use these tips to help choose the right kitchen cabinet paint colors for your home.
Start With Your White Paint for Kitchen Cabinets
In a classic tuxedo kitchen, white upper kitchen cabinets should be painted with the same white paint as your trim. You could choose a new color and paint your cabinets and trim, or you can match your existing trim in your cabinets.
In some cases, you may want to go with a slightly warmer shade of white than your trim. In my own new build home, for example, my builder gave me Sherwin-Williams Extra White trim, which has strong blue undertones. It was really too stark for the cabinets, so we went a touch warmer and picked SW Pure White cabinets.
If you have earthier finishes – like countertops and backsplash – then you'll want to go with a creamier white. The best white paints for cabinets are those that don't look too cold when paired with the rest of your kitchen finishes.
Other white paint colors that you can use for upper cabinets are BM Oxford White, Chantilly Lace, Simply White, or White Dove.
This is my current kitchen. It has SW Pure White Cabinets with Benjamin Moore Chelsea Gray lower cabinets.
We repeated the Chelsea Gray color for the interior front door, as well as the pantry door.
Choose Your Lower Cabinet Paint Colors
When it comes to choosing your lower cabinet colors in a tuxedo kitchen, you have a lot of freedom. I typically recommend mid-tone to darker colors for the bottom cabinets and also stick to muted colors. This allows you to choose from a wide variety of colors – from greens and blues to purples and even pinks – without being too over the top.
If you're designing a kitchen for a new build home, pick a paint color that is neutral enough that you can build your whole house paint color scheme around it. If you're painting kitchen cabinets in your existing home, then just pick one of the darker colors out of your palette to use on your lower cabinets.
Don't have a whole home color palette? Explore our ready-made paint color palettes before working on your kitchen.
Some ideas for lower kitchen cabinets are Benjamin Moore Chelsea Gray, Kendall Charcoal, Hale Navy, Caldwell Green, Millstone Gray, and Peale Green.
Wood lower cabinets can also be lovely.
Three Tuxedo Kitchen Examples
White Upper Cabinets with Dark Blue Lowers:
Back in 2018, I used Cyberspace for lower cabinets in my kitchen remodel project. It was in my old house, and I still miss this kitchen to this day. This project was also highlighted in my first blog post, which featured all of the timeless kitchen finishes used in this space, as designed by Megan Daughtry of Proud House Studio.
This deep, cool navy blue kitchen cabinet paint is a statement-making hue that can add a lot of depth to your kitchen. Cyberspace features strong gray undertones, keeping the blue more muted and, therefore, more versatile for kitchen cabinets.
The upper cabinets were a clean white, like Chantilly Lace, and I selected Carrara Marble. The ceilings and trim were also Chantilly Lace.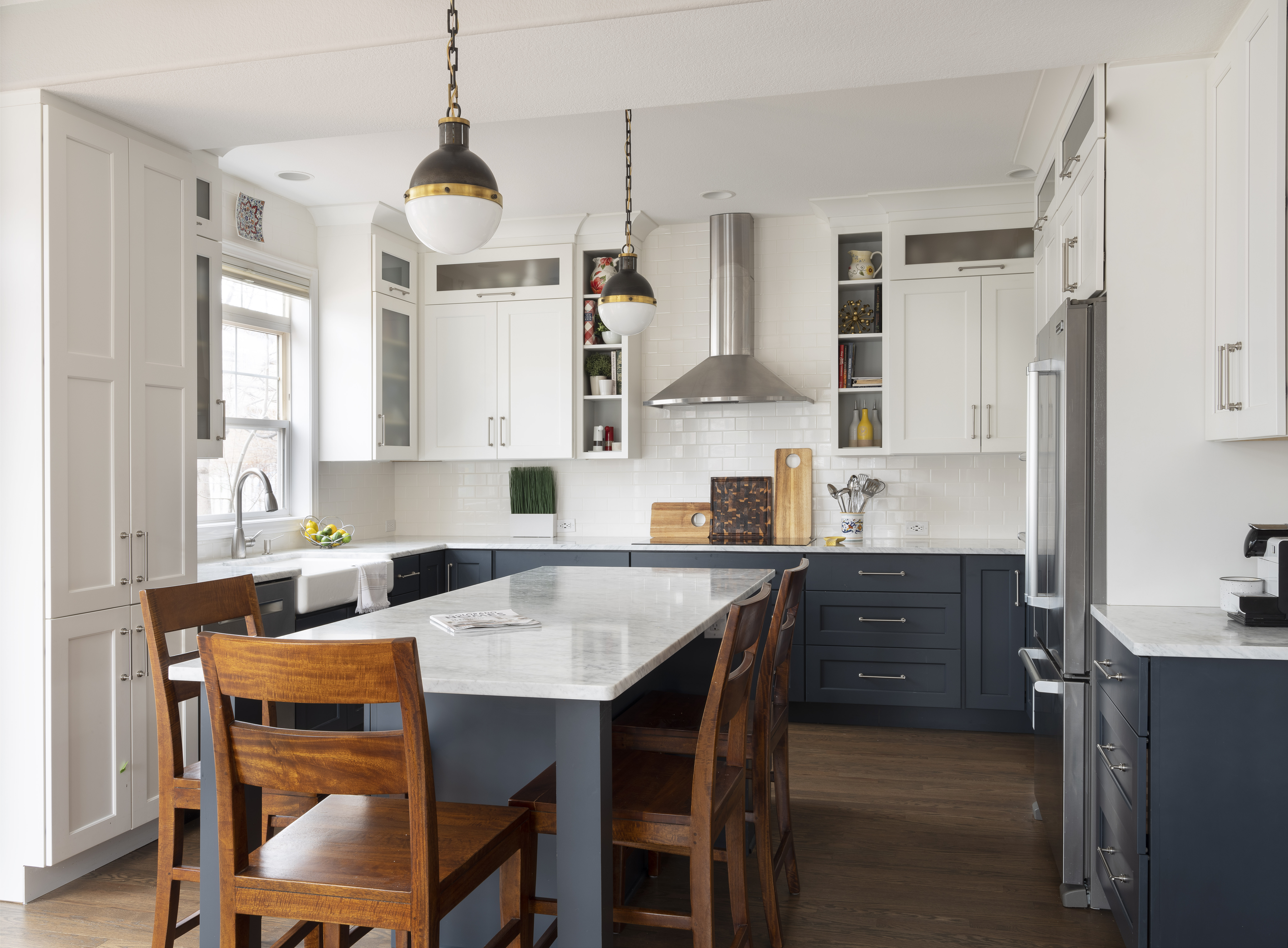 White Upper Cabinets with Dark Gray Lowers:
This is the kitchen that I designed in my current new build. It has uppers like SW Pure White and the lowers are Benjamin Moore Chelsea Gray. The countertops are Silestone Stellar Snow, and they have a sparkle!
Here is the matching interior front door:
Soft Green Upper Cabinets with Wood Lowers:
I recognize that the idea of natural wood kitchen cabinets isn't exactly groundbreaking, but hear me out. When used as part of a two-toned kitchen, natural wood lower cabinets can be really beautiful and look gorgeous.
This was a kitchen I found at an Airbnb in Paris. I love it so much! The upper cabinets are similar to BM October Mist or SW Evergreen Fog. They were so nice.
The countertop was a laminate, believe it or not. It just goes to show that you don't need to spend a fortune on a kitchen so that it looks amazing. If the colors are properly paired, then all is well.
Make Sure Your Tuxedo Cabinet Paint Pairings Work in Your Kitchen
Once you've selected the colors you want to use for your kitchen cabinets, it's important to ensure they not only work well together but work well in your space, too. That's where testing your paint comes in.
Make sure to test your paint colors in the spaces you plan to use them and to do your tests in natural light. When testing kitchen cabinet paint colors, it's also important to test the paint against your countertop and backsplash to ensure it all coordinates.
My favorite way to test paint is to purchase Peel-and-Stick paint samples from companies like Samplize. Their colors are consistent, they use real paint in an eggshell sheen, and there is no mess.
Our recommendation is to stick them onto a white poster board and move them around the room at different times of the day. Compare them to your trim, flooring, countertops, backsplash, and even your art. With a white background, you can see how the samples compare with the current color and the other finishes.
Visit the Samplize website to get samples of a broad range of paint colors and get more whole-home color palette ideas and inspiration.
The Verdict
A tuxedo kitchen is a fun, yet classic way to add a splash of color to your kitchen. Adding two-toned cabinets can give you all the benefits of a white kitchen without your space feeling too stark or cold.
And because there are so many options for lower cabinet paint colors, adding tuxedo kitchen cabinets to your home is a versatile way to make it your own.
Need help choosing tuxedo cabinet paint pairings for your home? Consider our in-person or online paint color consulting services or ready-made whole-house paint palettes.
Online Color Consulting
Still need help picking the best paint colors? Discover our Online Color Consulting Package.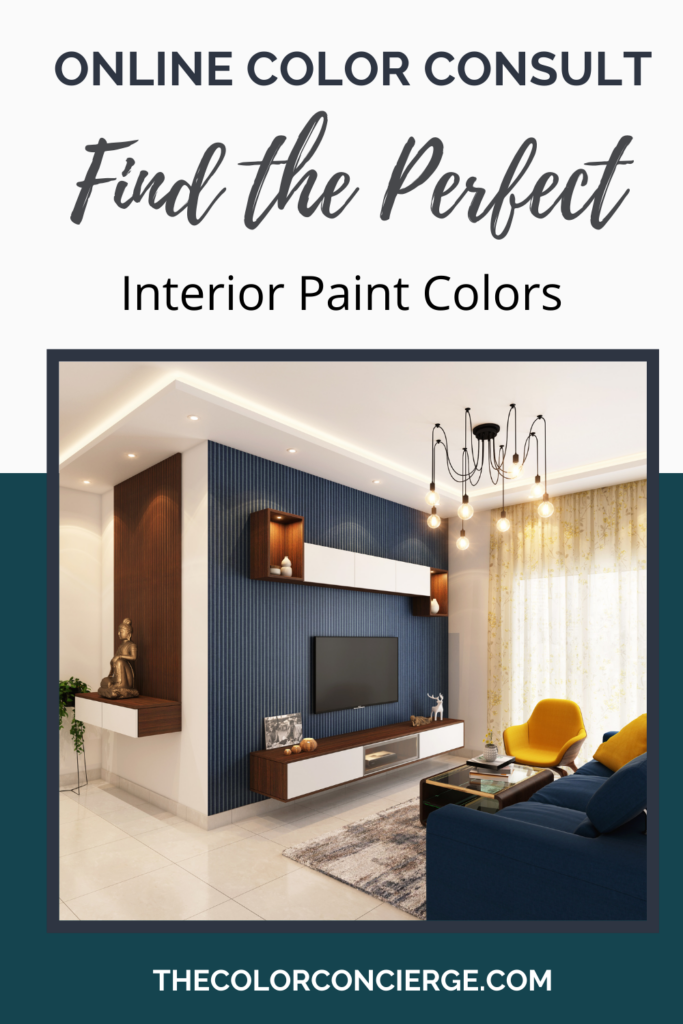 If you liked this post, don't forget to pin it!
We love your comments! Please note that the blog is meant as general advice, and it is not possible to give out specific answers to your paint questions. If you want more specific advice, please consider purchasing a color consultation. Thank you for your understanding.