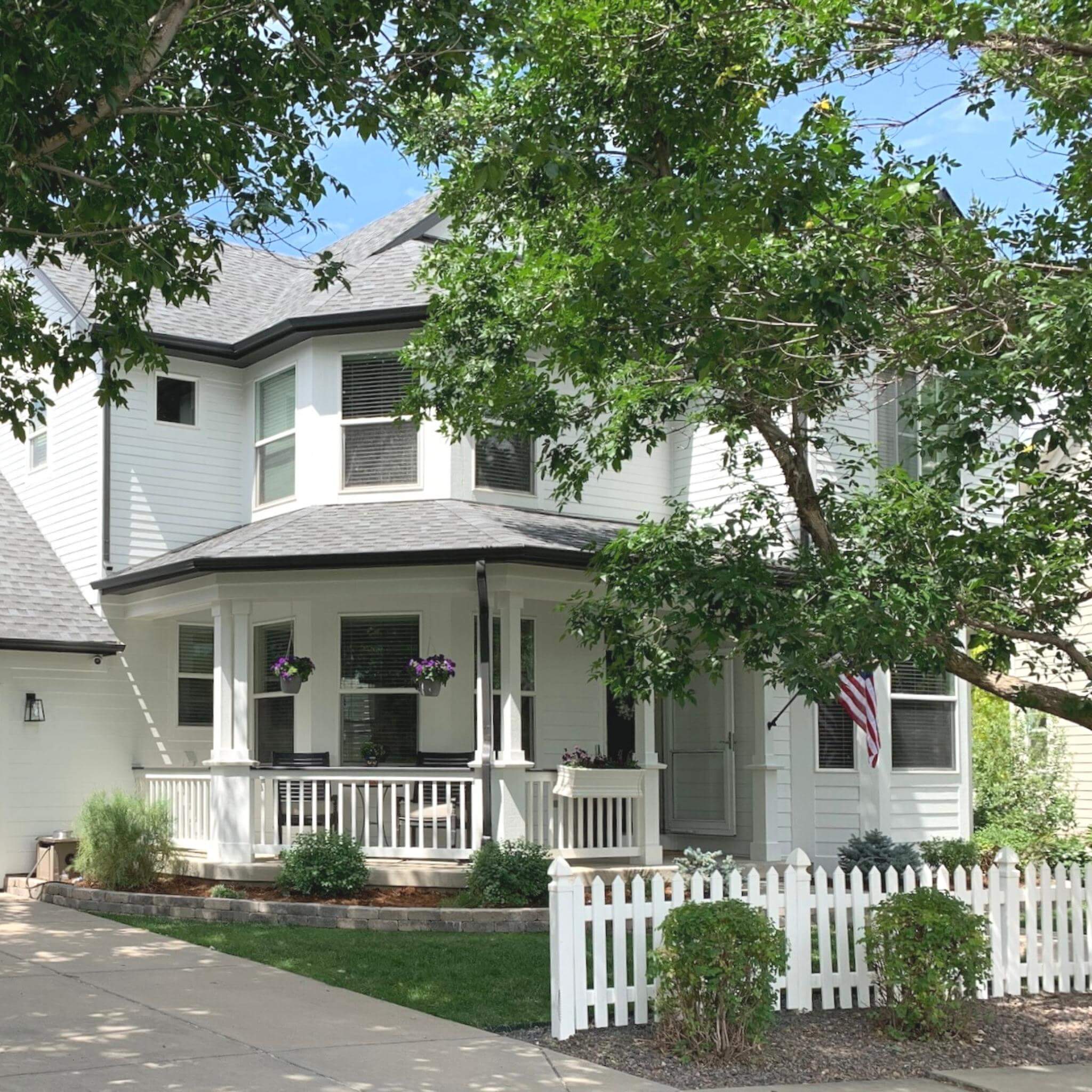 Exterior paint colors for your existing home or new build can be the most difficult decision a homeowner can make. The choices for exterior paint color combinations are endless and overwhelming.
Homeowners with existing homes are limited by their hard finishes (roofs, bricks, and stone). A production (tract) builder will usually give you choices that are curated so they don't clash with each other, but there are still pitfalls.
Exterior Finishes are the first decision homeowners make after they contract a new home, and are usually required for the building permit. My family recently started a new build, so we will take you through the process in this New Build blog series.
We chose Richmond American (not a blog sponsor) as our builder because they have a great reputation in our area, and their quality is fantastic.
Before we share some of our favorite exterior paint color schemes, let's make sure we're all on the same page about the different parts of new construction exteriors and the types of exterior finishes for homes.
Just here for the exterior paint color palettes? Click here to jump to them.
Home Exterior Definitions
Soffit – Area under the eaves
Fascia – Wood under the roofline
Siding – Wood, shingles, or composite planks that cover the exterior walls
Rainware – Gutters and downspouts used to carry water away from the house when it rains
How to Pick Exterior Paint Colors and Finishes
Guidelines for New Builds are the same as existing homes. The difference is that for new builds you need to pick hard finishes such as the roof and stone or brick. For existing homes, you are limited by the roof and stone or brick that is already in place.
So, what can you do to pick great exterior paint color combinations for your home?
Gather Inspiration
Start with a Pinterest search for exterior paint color palettes, and look for houses in the neighborhood with color palettes you like. Keep it simple. With many elements, you could pick a combo that clashes. If you have samples, look at them together in natural daylight.
Consider Your Location
When you're choosing exterior paint colors, you can't forget about the true exterior of your home: the neighborhood, land, and light around it! Make sure your color choices coordinate with your neighbors. Don't repeat their colors, and try to stick with the neighborhood theme.
It's important to keep in mind that paint colors appear four to five times brighter and more colorful outside than they do inside or on the page. One of the most common mistakes we see homeowners make is picking a color that is too bright or way too light once it's applied outside.
The way a color looks outside even depends on where you live. Heavily wooded areas with lots of green trees, for example, will reflect a lot of green light on a home, accentuating any green undertones that were already in the paint.
The strength of the sun in your area will also have an impact. A homeowner living in Florida will experience much brighter sun than one living in New York, which can make bright paints or white paints appear too overpowering. Higher altitude areas – like Colorado where The Color Concierge is based – can have the same problem.
Need specific recommendations for white exterior paint for your home? We've got a whole section dedicated to that further down this page.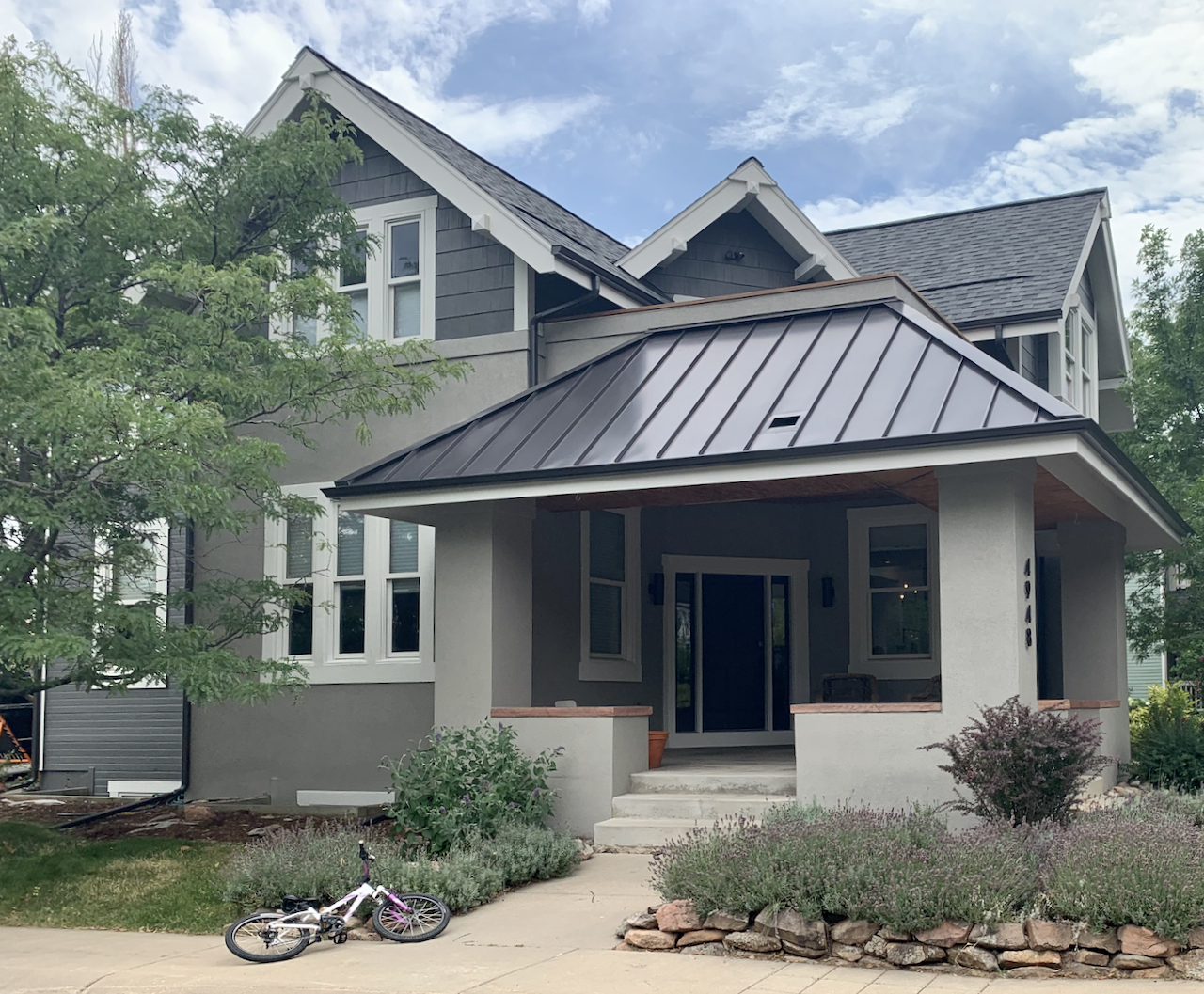 Pick Brick and Stone Exterior Finishes First
For a new build, pick your roof and stone or brick first. Limit your choices to one busy finish. For example, pick one stone only, even if two are included in the price. Pick either stone or brick, but not both. Don't feel that you have to pick stone or brick at all. Just because it's included doesn't mean you need to use it. If your stone is busy, pick a solid-colored roof.
The key is to keep patterned finishes like stone and brick fairly simple. This will make choosing exterior brick and paint color combinations easier.
Choose Exterior Paint Colors That Complement Your Stone
One of the best ways to create cohesive exterior paint color schemes is to match paint to one of the colors in the stone you've selected.
Because brick and stone are earthy finishes, you'll want to pick paint colors that are also earthy, such as warmer whites and beiges. A color like Benjamin Moore's Manchester Tan, for example, is one of the exterior paint colors that go with red brick.
Another trick for creating exterior brick and paint color combinations is to match the grout color in the brick or stone to the body color of the home.
For red brick, grout is usually a gray color with green undertones. Finding a similar paint to use on the body of the home creates a really cohesive exterior paint color palette.
Colors like Fawn Brindle by Sherwin-Williams or Rockport Gray by Benjamin Moore are good examples of grays with green undertones that are not too light for exterior applications.
For more exterior paint colors for brick homes, check out "The Best Exterior Colors for Brick Houses (and what not to do)".
Paint Colors for Different Parts of Your Home's Exterior
As we saw earlier in this post, there are several different parts of your home's exterior that will need to be painted whether you're picking new build exterior finishes or working on updating an existing home. Each piece of the exterior needs its own consideration when choosing paint colors.
Typically, you'll want to limit paint colors to one trim, a door color, a primary body color, and occasionally a second body color. If you pick a secondary body color, use it to highlight architectural features such as a gable, or for a second body material such as shingles.
Let's take a look at how to build exterior paint color combinations piece by piece.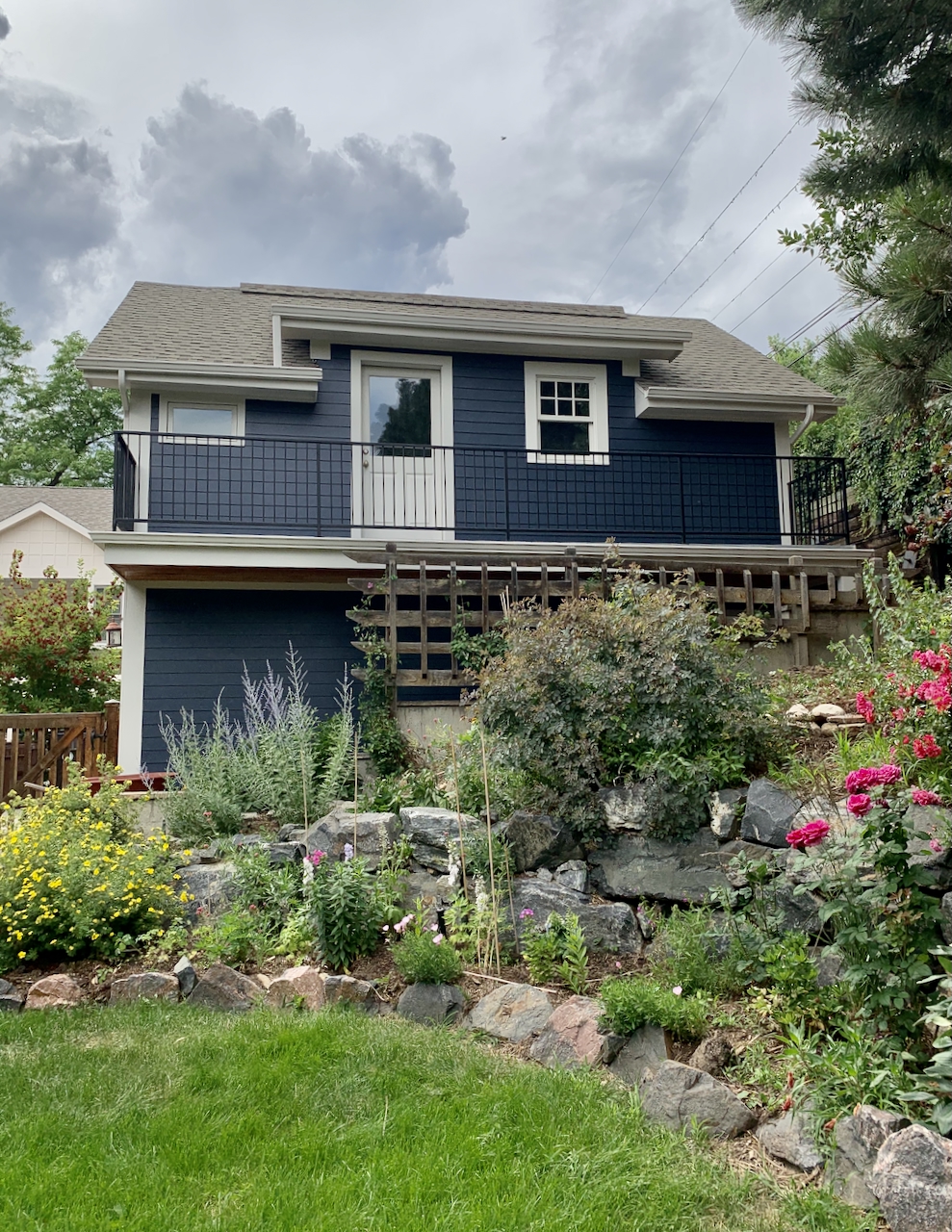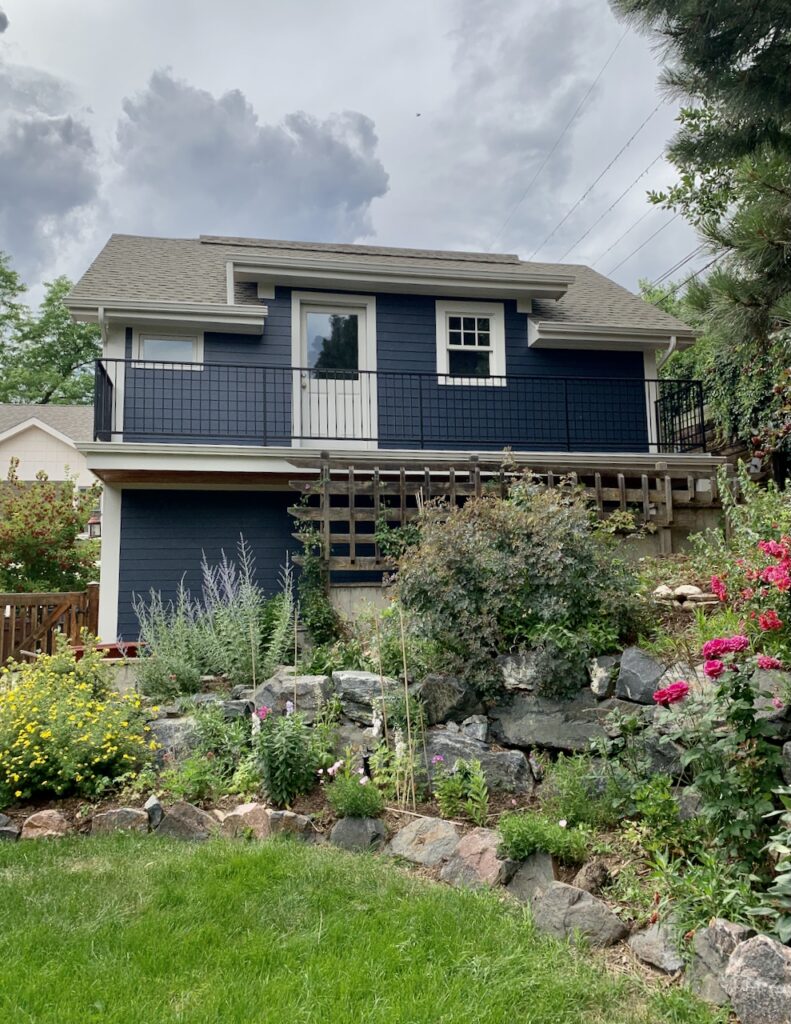 Exterior Paint Colors for Windows & Window Trim
Your home's windows have a bigger impact on your exterior paint color schemes than you might think.
A huge percentage of homes have white vinyl windows. If this is true for your home, then it's recommended to paint the trim around them white. With a light color, the frames disappear into the trim. A dark window trim with a white vinyl window accentuates the white vinyl and can look cheap.
But don't try to match the white color of your windows. Remember – light colors tend to look much brighter outside, so you can choose a slightly darker white to create a smooth transition between the windows and brick, stone, or siding.
I prefer darker and warmer whites such as Sherwin-Williams Oyster White and Zurich White for exterior white trim. In Benjamin Moore exterior paint colors, Classic Gray or Edgecomb Gray would work well as trim colors. If your siding is very light, then you can pick Sherwin-Williams Greek Villa or Benjamin Moore Swiss Coffee.
A lot of bloggers recommend Benjamin Moore White Dove or Alabaster as white trim colors. That is usually not our preference because White Dove can be over-bright outside, and Alabaster can skew yellow. This is another reason to test your paint colors very carefully.
For more ideas, check out the Best Exterior White Trim Colors.
If you have black windows, be careful when picking your window trim color. Painting your trim black could end up looking too heavy. Instead, consider white trim or using the body exterior paint color as trim for your windows. Another option is to paint the trim the body color.
Exterior Paint Colors for Fascia
The fascia should usually (though not always) be the same color as the trim or windows. Use a black roofline for a modern farmhouse look, especially white siding. A dark brown roofline can also be nice with darker earthy siding colors and rustic color palettes.
The green fascia color on this historic home matches the green roof and is muted enough to pair well with the gorgeous brick.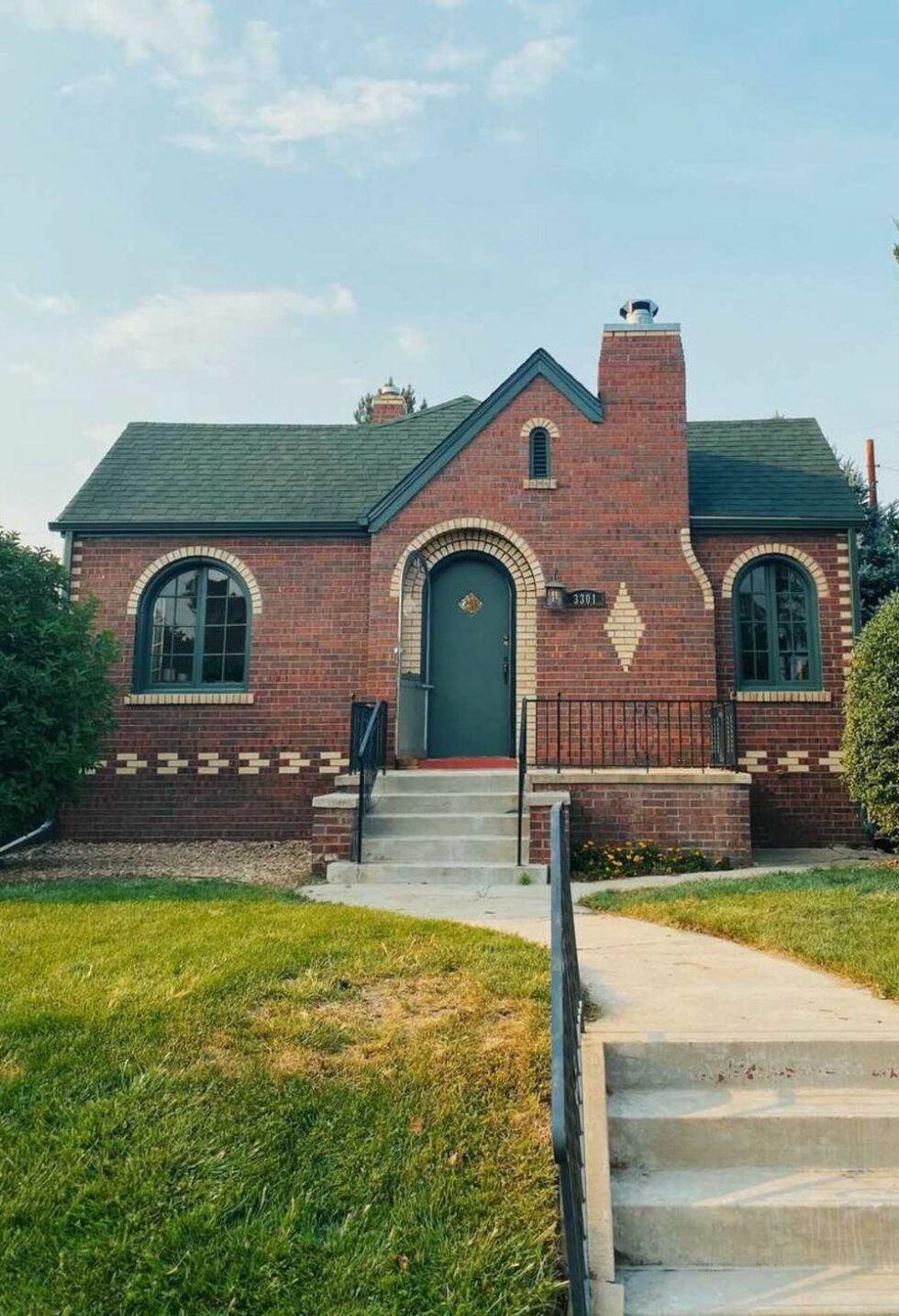 We really love white rooflines, especially since so many homes have white vinyl trim. Make sure that you pick a white color that is warmer than you think. If you paint a white that is too stark it will look blinding. Basically, if you have a white trim color inside your home, it will look over-bright outside.
Exterior Paint Colors for Soffit
If possible, paint soffits and porch ceilings the same color as the fascia for a unified look. White soffits and front porch colors help brighten the interior by reflecting light inside. Colors painted near windows can actually reflect that color inside and impact the appearance of interior paints.
If you have black fascia, carefully consider if you want to paint the soffits black or the body color. I really like a black soffit/fascia combination, but if the soffits are very wide it can look heavy.
Which Color to Paint Your Front Door
At The Color Concierge, we are big proponents of picking a fun color for your front door! There are so many opportunities to get creative here. A bright, contrasting color is often a fun choice for front door paint. But a deep, rich hue – like Farrow & Ball's Hague Blue – can also look beautiful.
Need front door inspiration? Check out some of my favorite front door paint colors that I saw while traveling in Paris.
6 Gorgeous Exterior Paint Color Palettes
Now that we've determined how to choose exterior paint color combinations for your home, let's take a look at some of our favorite exterior paint color palettes to inspire your new build finishes.
Sherwin-Williams Exterior Paint Color Scheme with Red Front Door
This is the Sherwin Williams exterior color combination that we picked for our home. It's neutral and lovely!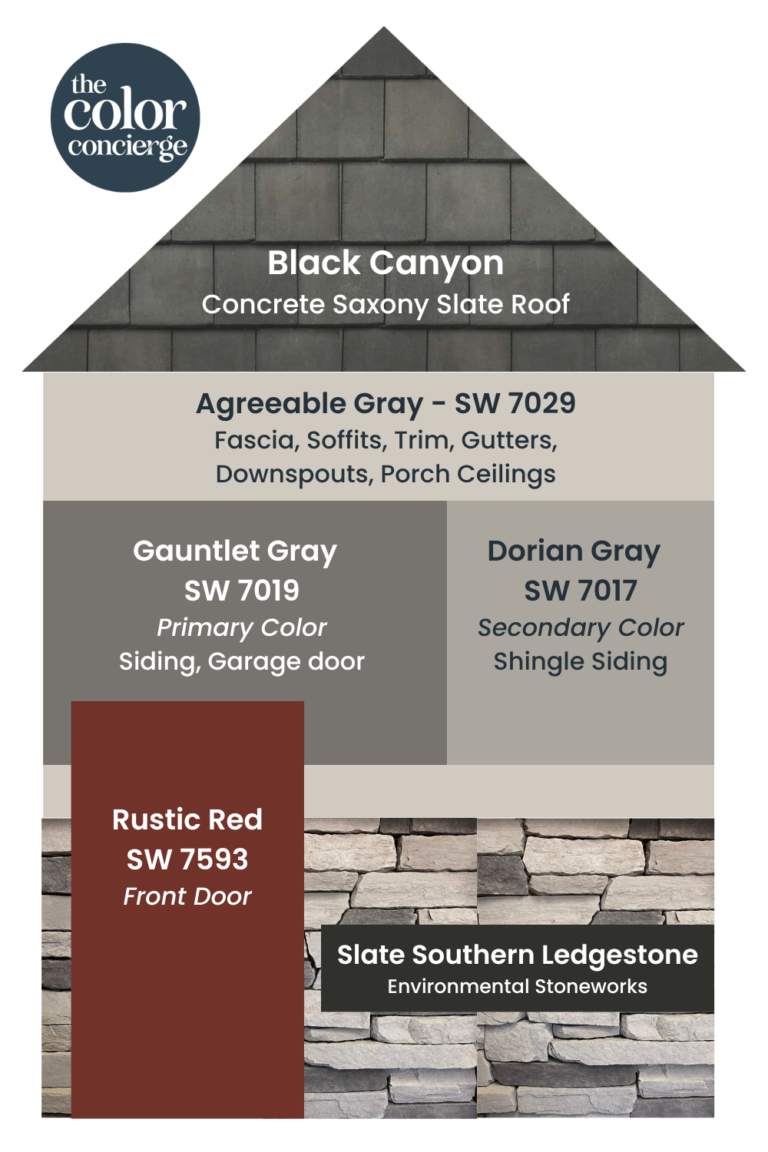 Sherwin-Williams Exterior Paint Color Palette with Red Brick
For red brick houses, I love a neutral paint scheme. This Sherwin-Williams elegant color combination can't lose.
Benjamin Moore Exterior Paint Color Scheme with Red Brick
Dark blue is gorgeous with a red brick home. Instead of whites, use Benjamin Moore Classic Gray for the trim.  It will be more subdued than white or cream, in a good way.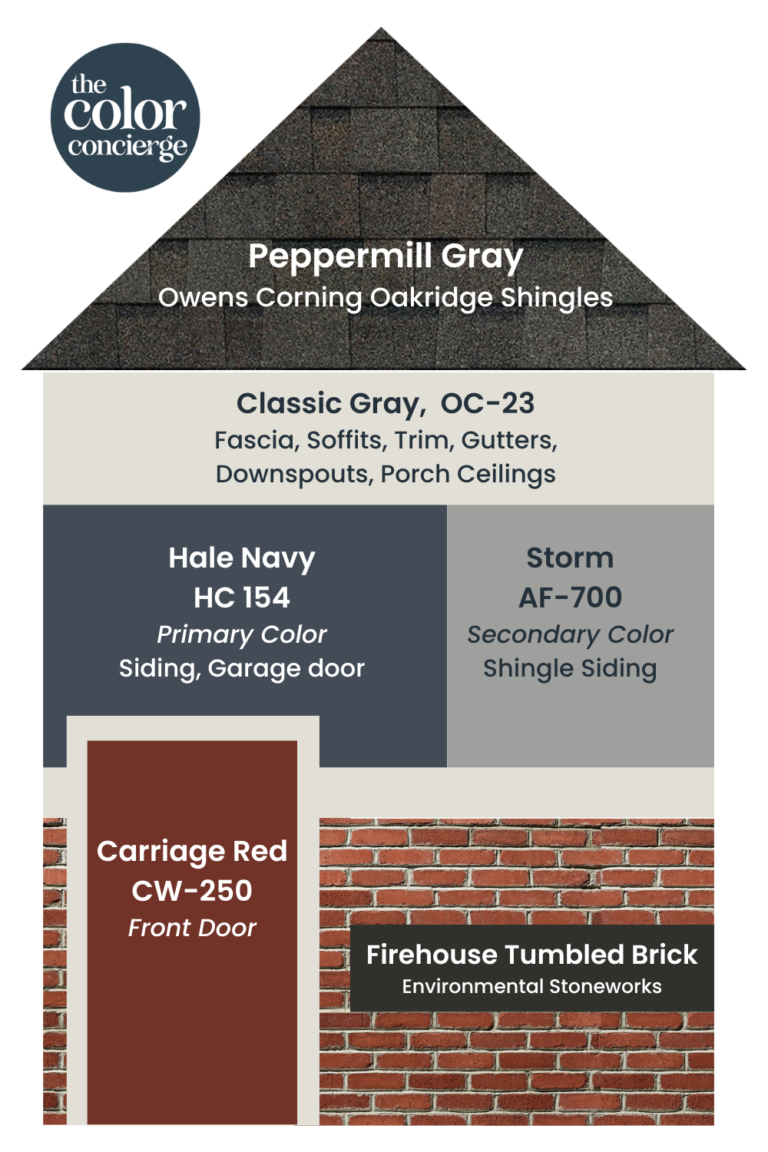 Benjamin Moore Dark Exterior Paint Color Palette
Consider these dark dramatic paint colors – this was our last home.  The accent color is more of muted eggplant than purple. You don't need to pick brick or stone.  You can just use siding or add textural interest with stucco.  If you are a gardener, the Benjamin Moore Tulsa Twilight dark eggplant is a gorgeous backdrop for a flower garden.
Sherwin-Williams Green Exterior Paint Color Palette with Stone
Check out this lovely Sherwin Williams blue-green palette for a new home build for our client in Eastern Colorado.
Sherwin-Williams Black Exterior Paint Color Scheme with Red Brick
This beautiful color scheme was from an online project during the pandemic. I ran into it when I was working on a consult in-person with one of their neighbors. We used SW Iron Ore, a soft black, for the siding, and SW Oyster White for the trim and roofline. SW Sea Serpent was the choice for the front door. This dramatic home is lovely. Learn more about this project here.
Sherwin-Williams White Exterior Paint Color Scheme with Red Brick
This is one of our favorite projects. When I visited the home for a color consultation, I had just returned from New Orleans, where so many of the shutters are green. This home reminded me of a sweet Creole Cottage, even though it was in Denver. Learn more about this project here.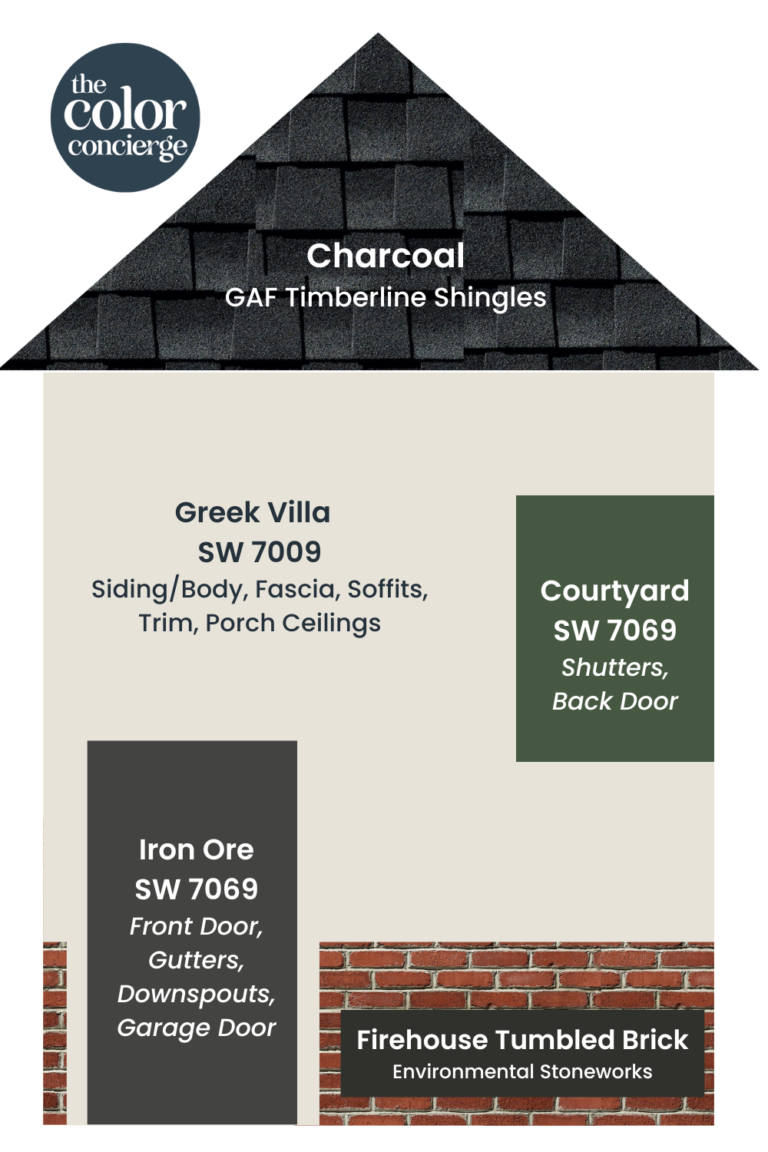 The Verdict
As long as you follow some basic guidelines, you can pick beautiful exterior finishes for your existing home or new build. The process is the same for an existing home, except that you pick your hard finishes first. For new or existing homes, the paint color should tie in with your hard finish colors.
If you have an existing home, please don't forget to test your paint colors! Check out "How to Test Paint Colors Like a Pro".
Online Color Consulting
If you still need help with paint colors, check out our Online Color Consulting packages or an In-Person Color Consultation in the Denver Metro area.
If You Liked This Post, Don't Forget to Pin it!
Related Posts
The Best Exterior Paint Colors for Red Brick Homes (and what not to do)
Coastal Cottage Exterior Makeover