Exterior paint colors for your existing home or new build can be the most difficult decision a homeowner can make. The choices are endless and overwhelming. Homeowners with existing homes are limited by their hard finishes (roofs, bricks and stone. A production (tract) builder will usually give you choices that are curated so they don't clash with each other, but there are still pitfalls.
Exterior Finishes are the first decision home owners make after they contract a new home, and are usually required for the building permit. My family recently started a new build, so we will take you through the process in this New Build blog series. We chose Richmond American (not a blog sponsor) as our builder because they have a great reputation in our area, and their quality is fantastic.
Home Exterior Definitions
Soffit – Area under the eaves
Fascia – Wood under roof line
Siding – Wood, shingles or composite planks that cover the exterior walls
Rainware – Gutters and downspouts used to carry water away from the house when it rains
How to Pick Exterior Paint Colors and Finishes
Guidelines for New Builds are the same as existing homes. The difference is that for new builds you need to pick hard finishes such as the roof and stone or brick. For existing homes, you are limited by the roof and stone or brick.
–Start with a Pinterest search, and look for houses in the neighborhood with color palettes you like. Keep it simple. With many elements, you could pick a combo that clashes. If you have samples, look at them together in natural daylight.
–For a new build, pick your roof and stone or brick first. Limit your choices to one busy finish. For example, pick one stone only, even if two are included in the price. Pick either stone or brick, but not both. Don't feel that you have to pick stone or brick at all. Just because it's included doesn't mean you need to use it. If your stone is busy, pick a solid colored roof.
–Match paint to one of the colors in the stone. If you choose brick, check out "The Best Exterior Colors for Brick Houses (and what not to do)".
–Pick light trim colors for white vinyl window frames. Most production builder window frames are white vinyl. With a light color, the frames disappear into the trim. A dark window trim with a white vinyl window accentuates the white vinyl and can look cheap.
–Limit paint colors to one trim, a door color, a primary body color, and occasionally a second body color. If you pick a secondary body color, use it to highlight architectural features such as a gable, or for a second body material such as shingles.
–Fascia should be the same color as the trim. A dark fascia color can make the roofline look heavy.
–Exterior colors near windows can affect the light in your interior.
–If possible, paint soffits and porch ceilings the lightest color to keep the interior bright.
–Black or charcoal gray roof colors are the most classic.
–Make sure your color choices coordinate with your neighbors. Don't repeat their colors, and try to stick with the neighborhood theme.
–Pick a fun door color!
6 Gorgeous Exterior Finish Palettes
This is the Sherwin Williams exterior color combination that we picked for our new home build. It's neutral and lovely, and we can't wait to see it.
For red brick houses, I love a neutral paint scheme. This Sherwin Williams elegant color combination can't lose.
Dark blue is gorgeous with a red brick home. Instead of whites, use Benjamin Moore Classic Gray for the trim. It will be more subdued that white or cream, in a good way.
If your builder allows it, go crazy with these dark dramatic paint colors – these are the colors for our house today. You don't need to pick brick or stone. You can just use siding, or add textural interest with stucco. If you are a gardener, the Benjamin Moore Tulsa Twilight dark purple is a gorgeous backdrop for a flower garden.
Check out this lovely Sherwin Williams blue green palette for a new home build for our client in Eastern Colorado.
The Verdict
As long as you follow some basic guidelines, you can pick beautiful exterior finishes for your existing home or new build. The process is the same for an existing home, except that you pick your hard finishes first. For new or existing homes, the paint color should tie in with your hard finish colors.
If you have an existing home, please don't forget to test your paint colors! Check out "How to Test Paint Colors Like a Pro".
Online Color Consulting
If you still need help with paint colors, check out our Online Color Consulting packages or an In-Person Color Consultation in the Denver Metro area.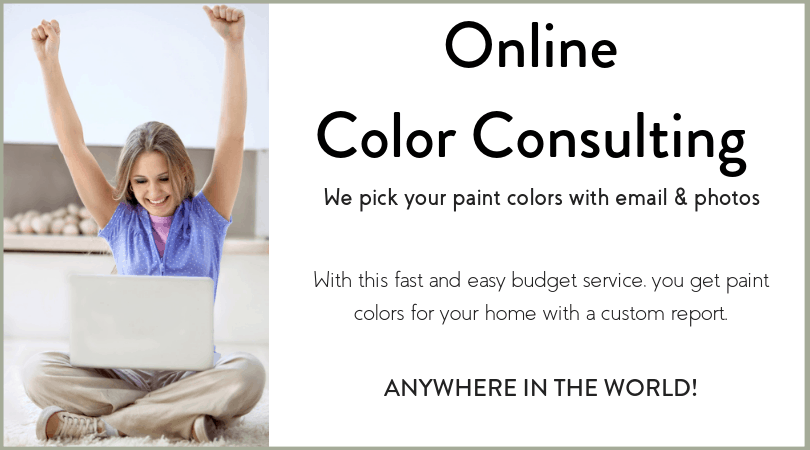 If You Liked This Post, Don't Forget to Pin!
Related Posts
The Best Exterior Paint Colors for Red Brick Homes (and what not to do)
Coastal Cottage Exterior Makeover
Mid-Mod Exterior Paint Colors Reveal Hidden Treasure