Learn all about Haint Blue paint colors and how to choose the right blue for your front porch ceiling.
If you've ever spent time visiting homes in the South, then you've probably noticed a truly beautiful trend: front porch ceilings painted with sky-blue paint.
Known as "haint blue" ceilings, this traditional porch color is most popular in the American Deep South, but can also be found in New England, especially in coastal communities. With the popularity of farmhouse white exterior color palettes, we're also starting to see haint blue paint colors on porch ceilings all over the country.
Whether you're considering an exterior coastal color palette for your home or you just love the look of a haint blue porch ceiling, keep reading for our picks for the best haint blue paint colors and how to choose one.
For the full collection of Samplize Haint Blue color samples, click this link!
*This post contains affiliate links for Samplize products. If you click on some links and make a purchase, I will get a small commission at no cost to you. This helps pay for the costs of the blog, so I can continue to offer great content to our readers.
What Color is Haint Blue?
Haint blue is a pale, blue-green paint color. There is no single hue that is the official haint blue paint color of the United States. The haint blue paint you choose will depend on the exterior color scheme of your home, your home's surrounding environment, and your personal preference.
The History of Haint Blue Porch Ceilings
Since Colonial times in the US, Southern porches have had ceilings painted "haint blue", the color of the sky. This tradition is mixed in myth and folklore, and a classic element of a coastal interior color palette.
Southern folklore teaches that a blue porch ceiling will keep a family safe from "haints" or evil spirits, which aren't supposed to cross water, the color of haint blue.
Today, haint blue ceilings have simply become a tradition in many parts of the country. But they do offer some modern-day benefits.
A popular theory is that wasps won't build nests with a blue porch ceiling because they think it's blue sky. A blue front porch ceiling is also a great way to inject some color into a simple and neutral color scheme.
Put simply, it's just so pretty!
How to Choose Front Porch Paint Colors
We couldn't talk about Haint Blue porch ceilings without also talking about how to choose front porch paint colors in general.
We like to continue the main exterior color scheme as the rest of the house on the front porch and pair it with a coordinating front door. The possibilities for a front door paint color are virtually endless, just make sure it works well with your overall color scheme and the color you choose for your front porch ceiling.
If you don't use haint blue paint for the ceiling, we always recommend using the lightest color from the color scheme to keep everything light and bright.
The house pictured below, for example, has Sherwin-Williams Pure White for the trim and siding and Sherwin-Williams Iron Ore as an accent color on the fascia, soffits, front door and handrail. If this home was going without a haint blue porch, then we'd recommend the ceiling be painted with Pure White.
How to Choose the Best Haint Blue Paint Color for Your Home
If you do decide to try a haint blue porch ceiling, it's important to find the right blue-green color for your home.
The secret to a perfect paint color for this application is to pick a color that will be bright enough to light up the front porch but muted enough so that it doesn't look too neon.
I like to stick with an LRV (light reflectance value) between about 50 (darker) and 65 (lighter). Use 50 for front porches with tons of light and 65 for front porches with more shade.
Pick a more muted and darker shade if you have a dark or earthy exterior siding color.
To make sure you're choosing the right haint blue color for your home, testing paint colors will be key. We recommend testing these paint colors in a large patch to make sure they flow well with your total color scheme.
When you test, make sure you test on the ceiling. Colors will look completely different at a horizontal angle above your head than if you paint them vertically on the walls.  
Does a Haint Blue porch work for a coastal color palette?
Absolutely! We're seeing so many coastal color palettes trending right now, and a haint blue porch ceiling is a beautiful addition! The blue-green color of haint blue fits right in with the soft neutrals, blues and greens of a coastal paint color palette.
We used a haint blue ceiling on a client's coastal cottage renovation. The bright blue ceiling was the perfect addition to the otherwise white exterior and offered a glimpse of the coastal colors coming indoors.
Best Haint Blue Paint Colors for Exterior Color Schemes
For the full collection of Samplize Haint Blue color samples, click this link!
Sherwin-Williams Tradewind Haint Blue Porch
SW Tradewind is one of our favorite haint blue paint colors and one we've used before with great success.
Tradewind is a blue paint with soft green undertones and an LRV of 62. It really brightens up this ceiling and is soft and lovely. It looks great with a farmhouse white exterior color palette.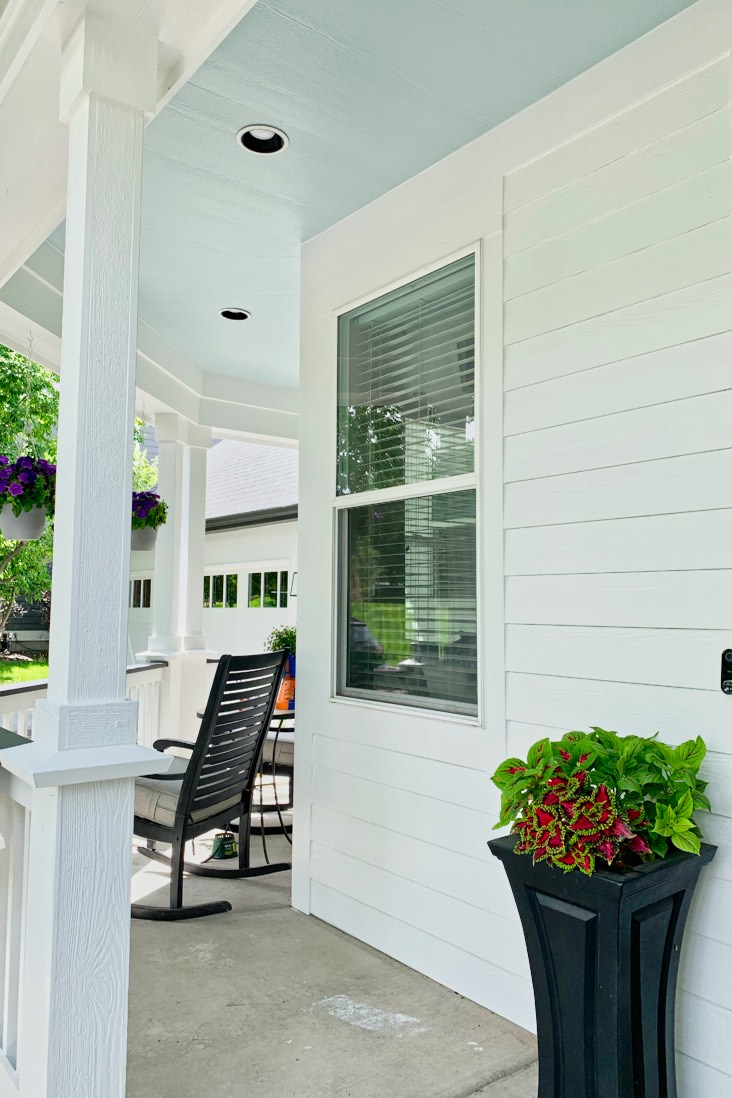 Sherwin-Williams Niebla Azul Haint Blue Ceiling
SW Niebla Azul is another gorgeous haint blue paint color that we love to pair with dark blue exterior color schemes. It is darker and bluer than SW Tradewind, with an LRV of 53. Darker colors go better with darker color schemes like this one.
The haint blue porch looks stunning paired with the SW Charcoal Blue siding, SW City Loft trim, and bright SW Quite Coral front door – one of our favorite front door paint colors.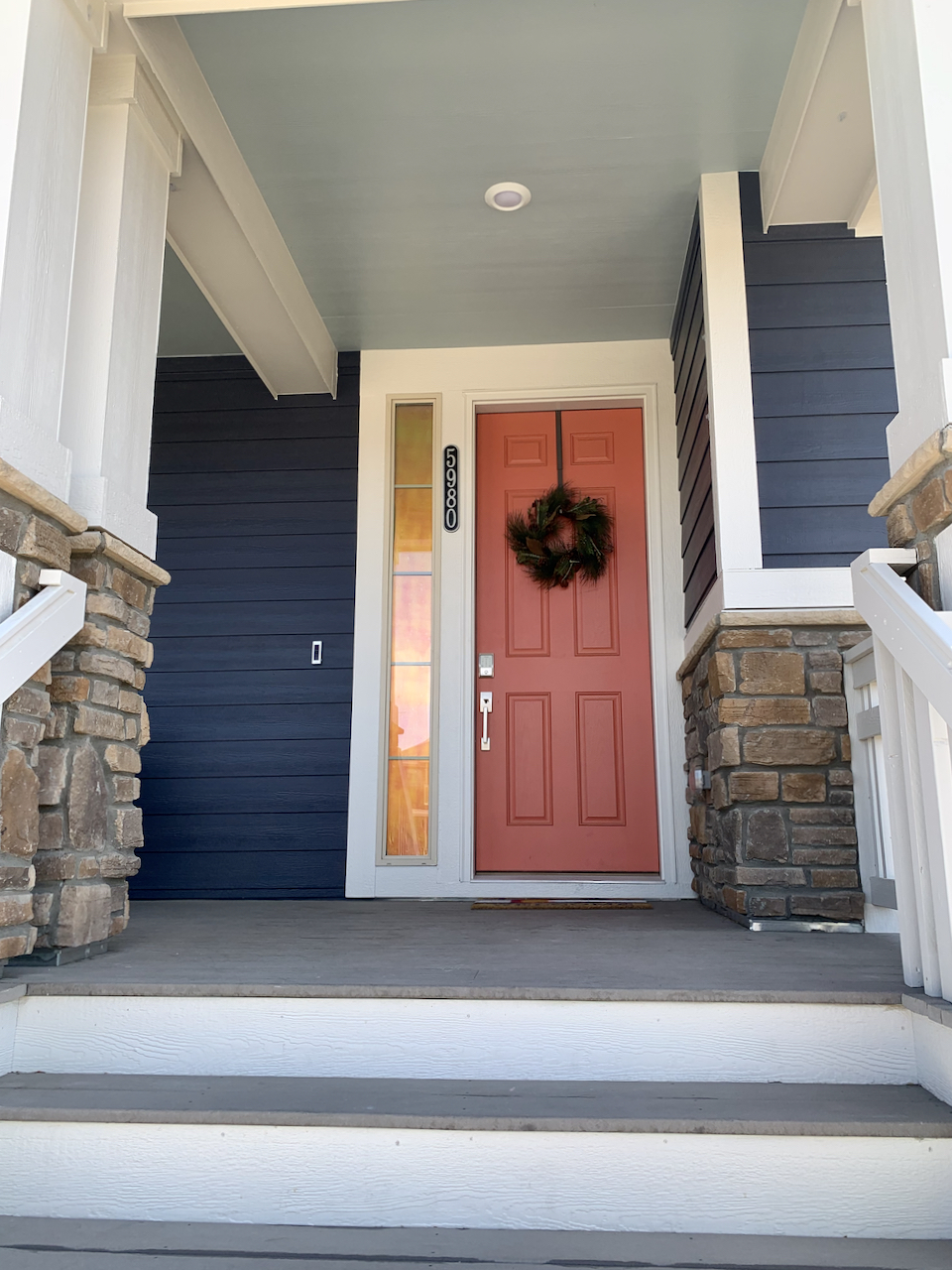 Benjamin Moore Woodlawn Blue Haint Blue Front Porch
We used Benjamin Moore Woodlawn Blue on the porch ceiling of this client's historic home. It looked so peaceful with the Benjamin Moore Hepplewhite Ivory siding, BM Simply White trim, and BM Carbon Copy window frames and sashes.
Woodlawn Blue has an LRV of 60.7 and has a lot of green in it. I especially like this color for shaded front porches because it really pops. It almost borders on being an aqua color but in a muted and beautiful way.
Benjamin Moore Wedgewood Gray Haint Blue Ceiling
We used Benjamin Moore Wedgewood Gray paint for a haint blue porch ceiling on this Tennessee southern cottage and it looks so beautiful with the soft gray color scheme.
Wedgewood Gray is a grayed-out blue paint with strong green undertones. It has an LRV of 49.5 and works well for sunny porches.
This home features Benjamin Moore Cape May Cobblestone siding and BM Wrought Iron shutters. We used Wedgewood Gray for the porch ceiling and the front door, which really ties the front entrance together. This is such a classic and beautiful combination!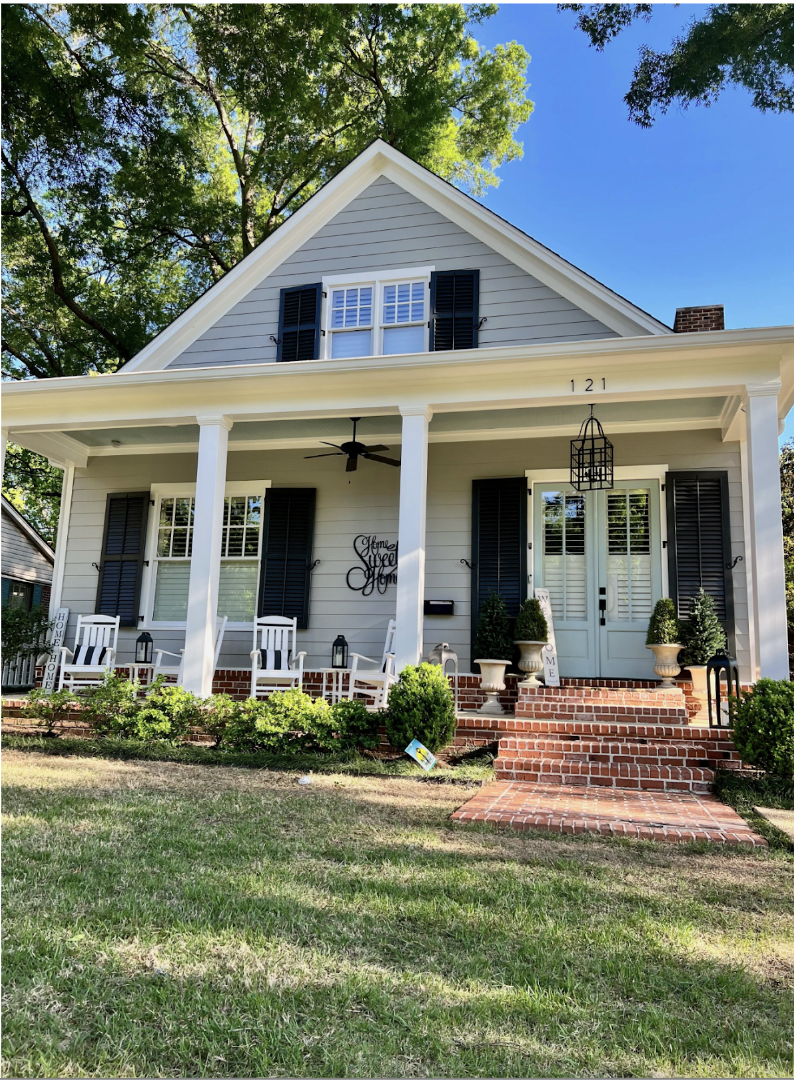 Other Haint Blue Paint Color Ideas
There are so many other beautiful options for haint blue paint colors that could work well for your home. Some other colors we love are:
Benjamin Moore Palladian Blue
Palladian Blue has even more green than BM Woodlawn Blue and an LRV of 60.4. Use this color for a bit more dramatic of a pop on your front porch ceiling.
Sherwin-Williams Comfort Gray
SW Comfort Gray is the most muted of the haint blue paint colors we've featured. It's perfect for a front porch flooded with light. It has an LRV of 54, so it will hold its color in the bright sunshine.
Sherwin-Williams Upward
SW Upward is the company's 2024 Color of the Year and it would make a beautiful haint blue ceiling color. Upward is different from the other haint blue colors we've featured, because it is more of a neutral blue without green undertones. But with an LRV of 57, it could make a really great haint blue porch ceiling or front door color.
What is the easiest way to test haint blue paint colors?
You should always sample and test your paint colors. The easiest way to sample haint blue paint colors (and any paint color for that matter) is via SAMPLIZE. Their peel-and-stick paint samples are easy to use and true to color.
There is no mess, and the cost is less expensive than purchasing a sample and a white poster board. Since you don't need to dispose of the paint, it's also environmentally friendly!
With Samplize you can easily see how different shades look on your unique wall.
Sample all these blue paint colors via the links below. Get 10% off your Samplize order today with the code "​ColorConcierge10​" at checkout.
CLICK THIS LINK FOR THE FULL HAINT BLUE SAMPLE COLLECTION
Key Learning Points
Haint blue front porches are a Southern U.S. tradition that can also be used for coastal color palettes or for any home that needs a pop of color.
Haint blue is traditionally a blue-green paint color used for front porch ceilings. Haint blue ceilings can pair well with many different exteriors, from white exterior color schemes to blue exterior color schemes.
Choose a darker haint blue color if your porch gets a lot of sunlight and a light color if your porch is more shaded.
Make sure to test your paint colors on the porch ceiling. Colors can look very different horizontally above your head than they look on a vertical wall.
Pick a more muted and darker shade if you have a dark or earthy exterior color palette.
Remember: NEVER, EVER use paint matches from a different brand than the one specified. Results are poor and there are no standards for the sheens. Even though your painter may truly believe it can be done, don't do it. Learn about the pitfalls of matching paint colors in our post, "Are Paint Color Matches Accurate?"
No matter what, always test your paint colors. It's a standard best practice. Whenever I test my paint colors, they are perfect, and when I don't test they turn out wrong. Read this post to Learn how to test your paint colors like a pro!
Online Color Consulting
Still need help picking the best paint colors? Discover our Online Color Consulting Package.
If you liked this post, don't forget to pin it!
We love your comments! Please note that the blog is meant as general advice, and it is not possible to give specific answers to your paint questions. If you want more specific advice, please consider purchasing a color consultation. Thank you for your understanding.
Related Posts