Discover the best paint color palettes for white farmhouse exteriors with trim and front door colors (and tips on how to choose them). We get frequent requests in our color consulting practice for white farmhouse paint colors and they are gorgeous!  When you consider this type palette, make sure that its right for the neighborhood and the architecture of your home.  This look is perfect for traditional cottages and homes with wraparound porches and larger entries but could look out of place with an ultra-modern house. Here we describe our favorite paint colors for this look and how to use them.
This look is made up of a base white paint color with black accents.  There are several variations, but the two most prevalent are (1) white siding with black fascia and gutters or (2) all-white with black accents.
White Siding and Black Fascia and Gutters
This home was a recent project and turned out amazing.  We incorporated black fascia and gutters (SW Iron Ore) with white siding (SW Pure White).  We chose Pure White, a crisp off-white, because it matched perfectly with the white vinyl picket fence in front.  This unified the home with the fence so that it looked intentional.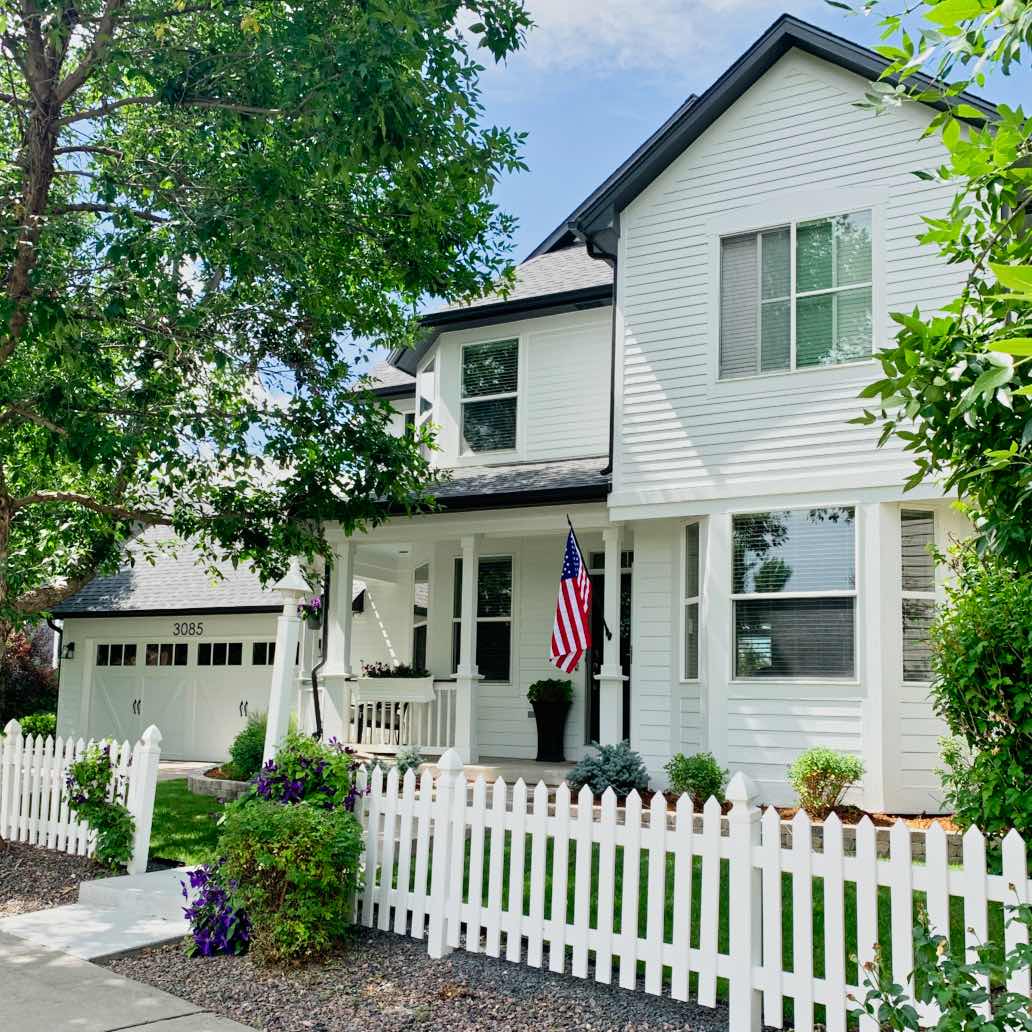 If you want more information about which parts are fascia, soffit and gutter, here you go!
Another variation is white fascia with black gutters, but we really prefer black gutters with black fascia to hide the gutters as an architectural feature.  If your house has this pattern, it can be very lovely, but it's just not our preference.
White Siding with White Fascia and White Gutters
An all-white palette is also a classic and timeless look.  This beautiful coastal cottage palette kept the whole house white except for the wooden front door, dark blue shutters and blue-green (SW Sea Salt) front porch ceiling.  We specified James Hardie Arctic White pre-painted siding which is equivalent to SW Extra White.  Discover more about this project in Coastal Cottage Exterior Makeover.
Should Windows be Black or White?
The answer is, it depends!  This home has white vinyl windows, which are increasingly common in the United States where we live.  We discovered that white vinyl windows look best when matched with a white or light-colored paint.  Too much contrast with a dark trim can make the white vinyl look mis-matched and too stark white.
If you have paintable window frames, or black window frames, they look really sharp with white window trim.  If you paint the window trim black with black window frames the look can get heavy, especially if the trim is very wide.
Best Black Paint Colors for Farmhouse Exterior Accents
Our favorite black paint colors for farmhouse exterior accents are SW Iron Ore and SW Urbane Bronze.  Iron Ore is a soft clean black and Urbane Bronze reads black with some warmth.  Choose either one or the other for your home.  Iron Ore is best if you don't have any stone or brick.  We like Urbane Bronze as a softer alternative if you have warm stone or brick finishes in your home.
Check out this fabulous breakfast bar on a back porch with a view.
Best Front Door Paint Colors
The most classic and timeless look integrates a black or rich wood front door, but you can paint virtually any color as long as you tie it in with other elements.  Consider pairing your door color with outdoor furniture, your landscaping, flowerpots or pretty annual flowers.  A door is a low-risk way to change your look.  If you don't like it, you can repaint it.
Consider a white back entry door for a seamless look.
Front Porch or Entry
A common element of the white farmhouse look is a welcoming wrap-around front porch or entry.  You can paint the front porch ceiling the siding white color.  For extra drama, consider a haint blue front porch ceiling.  This is a classic look from the American deep south.  The tradition stems from folklore that ghosts mistake the blue-green color for water and stay out of the house.  Another urban myth is that the blue-green ceiling will keep wasps away.  Two of our favorite front porch ceiling paint colors are SW Tradewind and SW Sea Salt.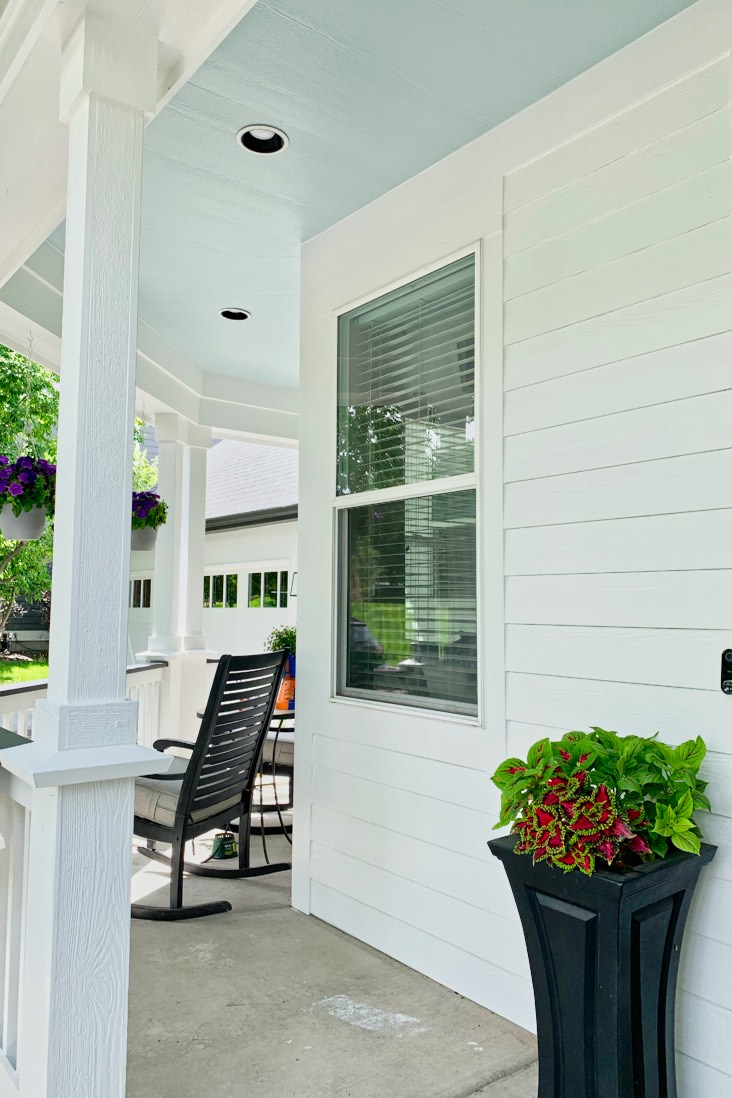 Best Paint Color for Shutters
If you have shutters, the most classic and timeless shutter color for this type of palette is black.  If your fascia and gutters are white, then you can pick a dark blue. The shutters below were painted with Anchors Aweigh SW 9179. For a more eclectic look, if your door is a different color you can match your shutters to the front door.
Where Else Should I Use Black as an Accent Color?
Consider using black paint as an accent color on back porch beams, fence handrails, posts and even decorative windows.  Keep spindles on fence or rails white. This beautiful back porch with SW Iron Ore accents has it all.
Best Farmhouse Exterior Paint Colors
These are our favorite farmhouse exterior paint colors – a much more colorful look than it seems. Keep in mind that colors are 5-10 times lighter and more colorful outside than they are inside.  A light interior gray color can look crisp white outside.  All colors are Sherwin-Williams.
A crisp blue white, great with blues – avoid with homes that have stone or brick finishes.
A crisp off-white – avoid with homes that have stone or brick finishes.
A soft neutral off-white that will go well with stone or hard finishes.
A darker off-white, good for very bright exposure and stone or brick finishes.
A very light taupe that will read white in the sunshine, great for bright exposures, lots of reflected greenery and earthy stone or brick hard finishes.
A soft black that looks great with just about any white.
A darker black with warm undertones that is best with earthy hard finishes such as warm stone and tile.
A soft and neutral front or back porch ceiling blue-green color.
A colorful front or back porch ceiling blue-green color.
The Verdict
We love a White Farmhouse Exterior palette, but it should be appropriate for your home.  This look is perfect for traditional cottages and homes with wraparound porches and larger entries but could look out of place with an ultra-modern home.  The basic palette is white siding with black accents and shutters.  Add a blue-green front porch ceiling for a pop of color.
No matter what, don't forget to test your paint colors.  It's a standard best practice.  Whenever I test my paint colors, they are perfect, and when I don't test they turn out wrong. Learn how to test your paint colors here.
NEVER, EVER use paint matches from a different brand than the one you will use.  Results are poor and there are no standards for the sheens.  Even though your painter may truly believe it can be done, don't do it. That's why it's best to work with a professional exterior paint color consultant. See results from paint matching here.
Online Color Consulting
If you still need help with paint colors, check out our Online Color Consulting packages or an In-Person Color Consultation in the Denver Metro area.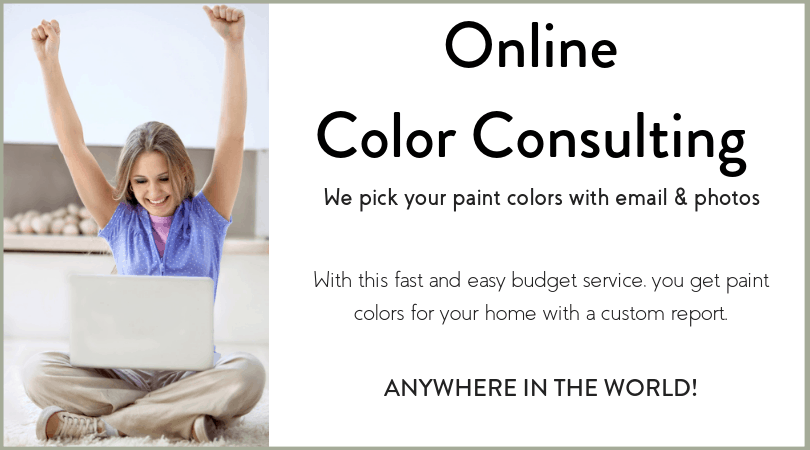 Don't Forget To PIN!
Related Posts:
6 Exterior Paint Color Combos (and how to pick them)
Coastal Cottage Exterior Makeover
6 More Palettes for Red Brick Houses
The Best Exterior Paint Colors for Red Brick Homes (and what not to do)
Mid-Mod Exterior Paint Colors Reveal Hidden Treasure
Historic Exterior Paint Color Transformation
We love your comments! Please note that the blog is meant as general advice, and it is not possible to give out specific answers to your paint questions.  If you want more specific advice, please consider purchasing a color consultation. Thank you for your understanding.