This post reveals an exterior paint color update for a historic home in the Geneva Park neighborhood of Boulder, Colorado.  We believe that this gorgeous house with incredible bones was a Sears Roebuck catalog house.  This meant that the original owners ordered the home from a catalog and all the building materials were shipped to Boulder from the east coast by rail car in the early 1900s.  The current homeowners are a hardworking Boulder, Colorado family.  The parents own their own business, and their priority is to focus on their four really nice kids.  Our objective was to update the home for sale with high end finishes that wouldn't break the bank.
Exterior Paint Color Palette
The homeowners wanted a light and happy exterior that would show off the architectural features of the house, so they started with a soft yellow body color.  Hepplewhite Ivory (HC-36) is a beige with soft yellow undertones, a great choice to keep yellow paint colors from looking harsh.
The previous paint palette was once really nice, but it was worn and needed a refresh.
Our new color palette was soft, light and bright. With light colors, we were able to update the house without sacrificing its historic identity.
The side view shows a peek into the gorgeous patio.  We painted the gable peaks Benjamin Moore Simply White (OC-117), and kept the trim the same soft white. We tried painting the gutters black, in the current farmhouse style, but they looked too heavy.  Instead we painted the gutters, fascia, trim, soffits and garage doors with Simply White. Besides, we wanted everyone to see beautiful house, not the gutters!
Definitely an improvement!
The Front Porch
The inviting front porch is a family gathering spot.  We painted the front door Hale Navy (HC-154), and added a splash of blue with Woodlawn Blue (HC-147) to the front porch ceiling in the Southern tradition of Haint Blue.  You can see another Haint Blue front porch here.
Outdoor Living Space Paint Colors
When we updated the home, we didn't forget the outdoor living space.  The patio garden opens from the kitchen door.  We painted the walls with the Hepplewhite Ivory, and used Hale Navy again for the planter box and outdoor oven accents.  Existing furniture was staged by Five Empires Staging.
We renewed the teak dining room set with teak oil, and it transformed the set!
Finally, with permission from the city, the homeowners cut down an old sick tree.
The Verdict
We used a soft and bright color palette to update this historic home without compromising its historic and iconic appeal.  ALWAYS test your paint colors like a pro for best results.
Credits: Fordham and MacLean Painting, Five Empires Staging
Online Color Consulting
If you still need help with paint colors, check out our Online Color Consulting packages or an In-Person Color Consultation in the Denver Metro area.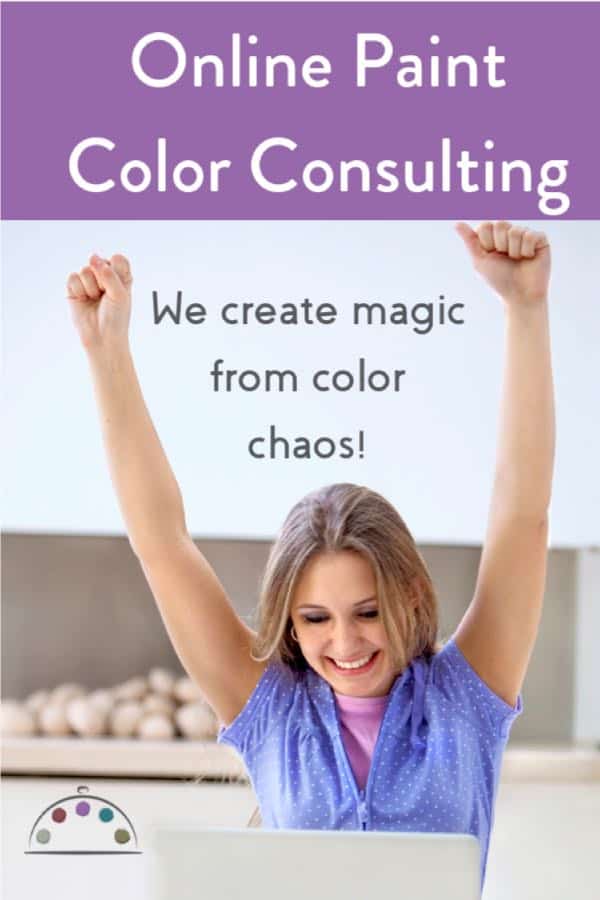 If you liked this post, don't forget to pin!