Learn all about Benjamin Moore Hale Navy (HC-154) in this paint color review.
There's something so classic about deep navy blue paint. And Benjamin Moore Hale Navy is one of the most popular navy paints on the market.
Hale Navy is a genuinely iconic navy-blue paint color that is slightly grayed out and muted. Many designers consider it a dark neutral color because it looks great with almost any other color.
When you see the paint color on a swatch or inside, it can look almost black, but it comes to life in natural sunlight – rich, blue, and sophisticated. It's a popular choice for exterior paint color palettes and works well in many interior applications.
Keep reading to learn more about Benjamin Moore Hale Navy paint and determine if this color is right for your next project.
*This post contains affiliate links for products I use and love. If you click on some links and make a purchase, I will get a small commission at no cost to you. This helps pay for the costs of the blog, so I can continue to offer great content to our readers.
What is the LRV of Benjamin Moore Hale Navy?
Hale Navy has an LRV of 8. LRV stands for light reflective value and measures how much light a color reflects when it's on the wall. For reference, pure black has an LRV of 0. With an LRV of 8, Hale Navy is slightly lighter than a true black.
Is Hale Navy warm or cool?
Hale Navy is a slightly warm, muted color. While blues are often considered cool colors, it all depends on their undertones. If you picture a color wheel, blue can be cool (moving toward purple) or warm (moving toward green).
What undertones are in Hale Navy?
Hale Navy has subtle green undertones, which give the paint its warmth. The undertones are not as apparent on a swatch or darker interior spaces but stand out with plenty of natural light.
When should I use Benjamin Moore Hale Navy?
Like any dark paint color, you must be thoughtful about how you use Hale Navy paint. In some spaces, it could look black and be too overpowering. But in the right light, it can truly shine on the walls. Our favorite application for Hale Navy is for exteriors, but it also looks great in specific applications for interiors, too.
In this post, we will cover exterior applications first, and interior applications such as accent walls, room colors, and cabinet colors last.
Hale Navy Exterior Paint Projects
How Can I Use Hale Navy Exterior Paint?
Hale Navy can be a gorgeous accent color inside a home, but outdoors is where it shines! I have often used Hale Navy exterior paint in client projects because it's a great way to use a dark shade with a rich, saturated color.
Remember that exterior paint colors are always 2-4 times lighter and more colorful when you take them outside. It is always critical to test your paint color to see how it behaves in your lighting.
Is a Hale Navy front door a good idea?
A Hale Navy front door is a really lovely option, especially for a home with a light exterior color palette. Hale Navy adds deep, rich color and a lot of contrast when used as part of a white exterior color palette but can also work really well with other light colors.
In the historic home project pictured below, for example, we used a Hale Navy front door with a Hepplewhite Ivory exterior color scheme. The door adds a beautiful pop of color to this inviting front porch while still being very classic.
Is Hale Navy a good whole-house exterior color?
Absolutely! Hale Navy is a gorgeous foundation for an exterior paint color scheme (review article). It pairs well with red brick, yellow brick, and warm stone colors. It's versatile enough to pair with bright, fun front-door paint colors.
Project Spotlight: Classic and Timeless Hale Navy Exterior
For this client's home, we paired Hale Navy exterior paint (review article) on the siding with Benjamin Moore Pale Oak (review article) trim and a Benjamin Moore Caliente front door. This classic color combination manages to feel modern and updated while still being pretty timeless.
You can see how much lighter and brighter Hale Navy looks in direct sunlight. The Pale Oak paint is the perfect trim color, adding contrast without appearing too stark in the sun.
This was the front view of the house after it was painted.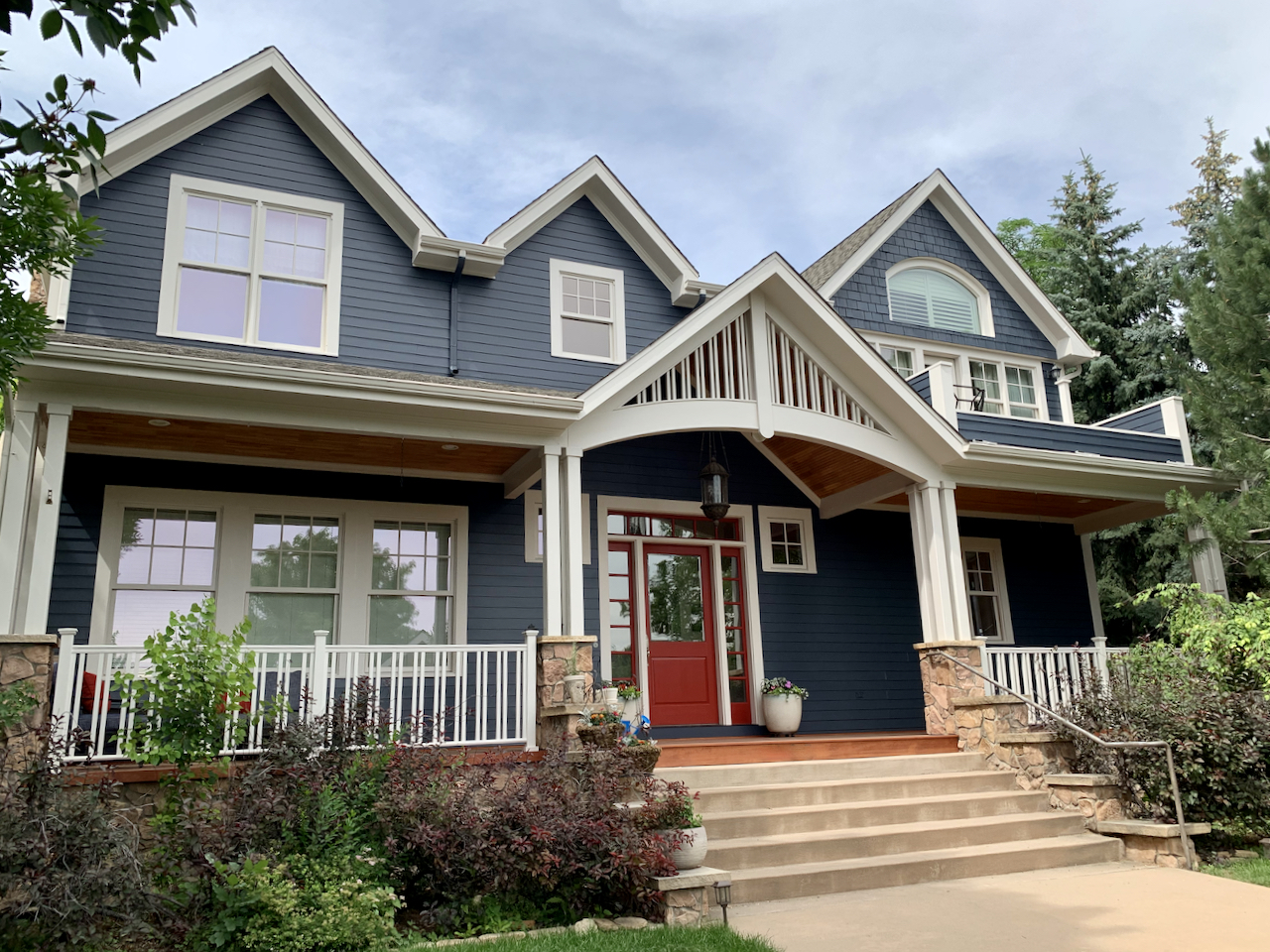 The transformation from the before is fantastic. One of the details we changed was to paint all of the gables the same color, Hale Navy. Otherwise, the far right gable was painted the trim color and looked out of balance.
The trim was originally peachy beige, which was designed to pair well with the warm stone below.  We switched the trim paint to Pale Oak, which had the right undertones but was much brighter outside with an updated look. Pale Oak looks much brighter in the sunshine than inside, and we often use it as a "white" paint color with exteriors.
Below was the original house BEFORE: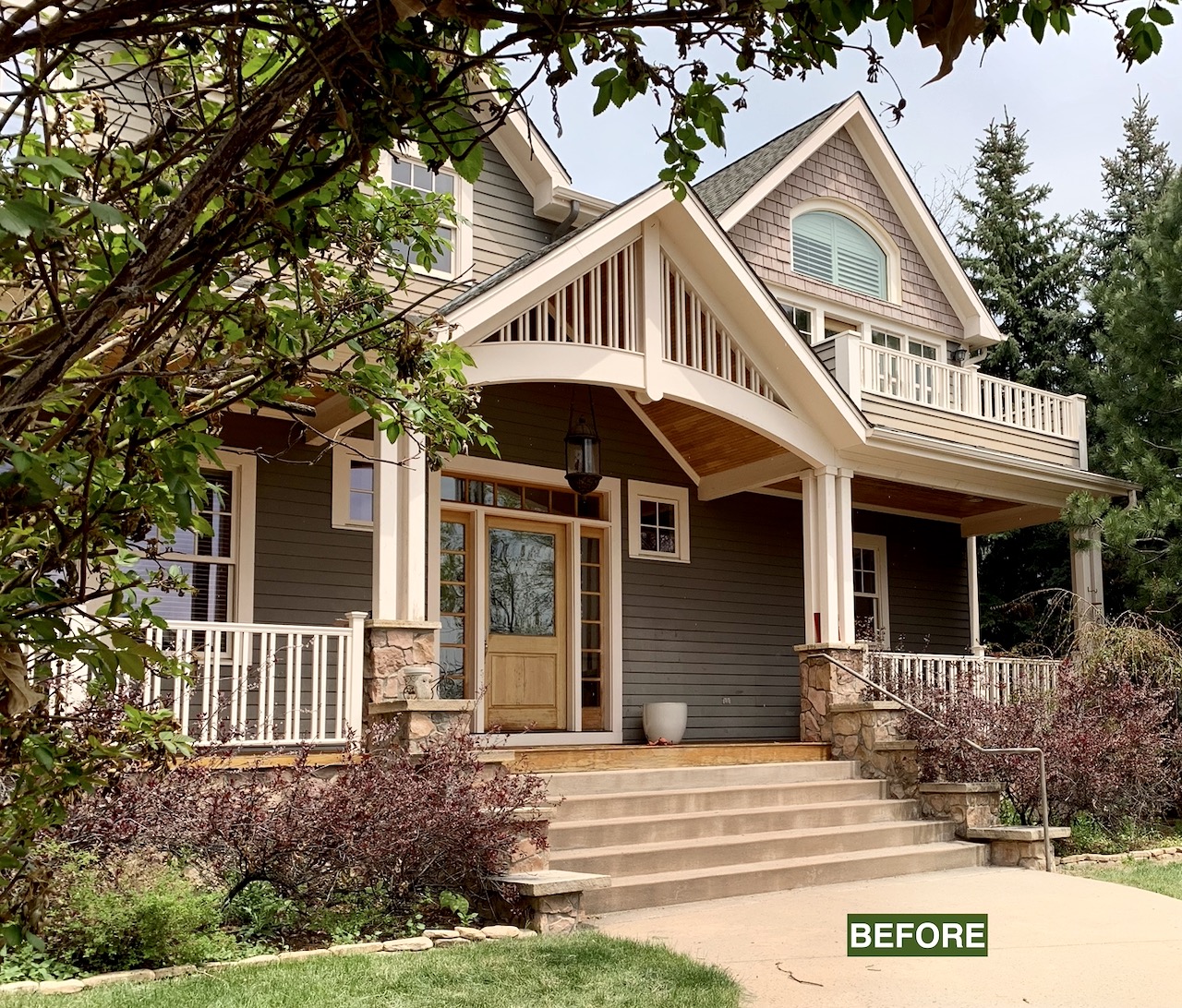 The entry looks rich and grand, with a BM Caliente front door and a black lantern.
The warm stone behaves like brick and looks terrific with Hale Navy and Pale Oak.  And check out that gorgeous grooved wooden front porch ceiling!
The fireplace on the side had the same stone. Hale Navy provides a beautiful balance between the warm stone, the green grass, and dark green foliage.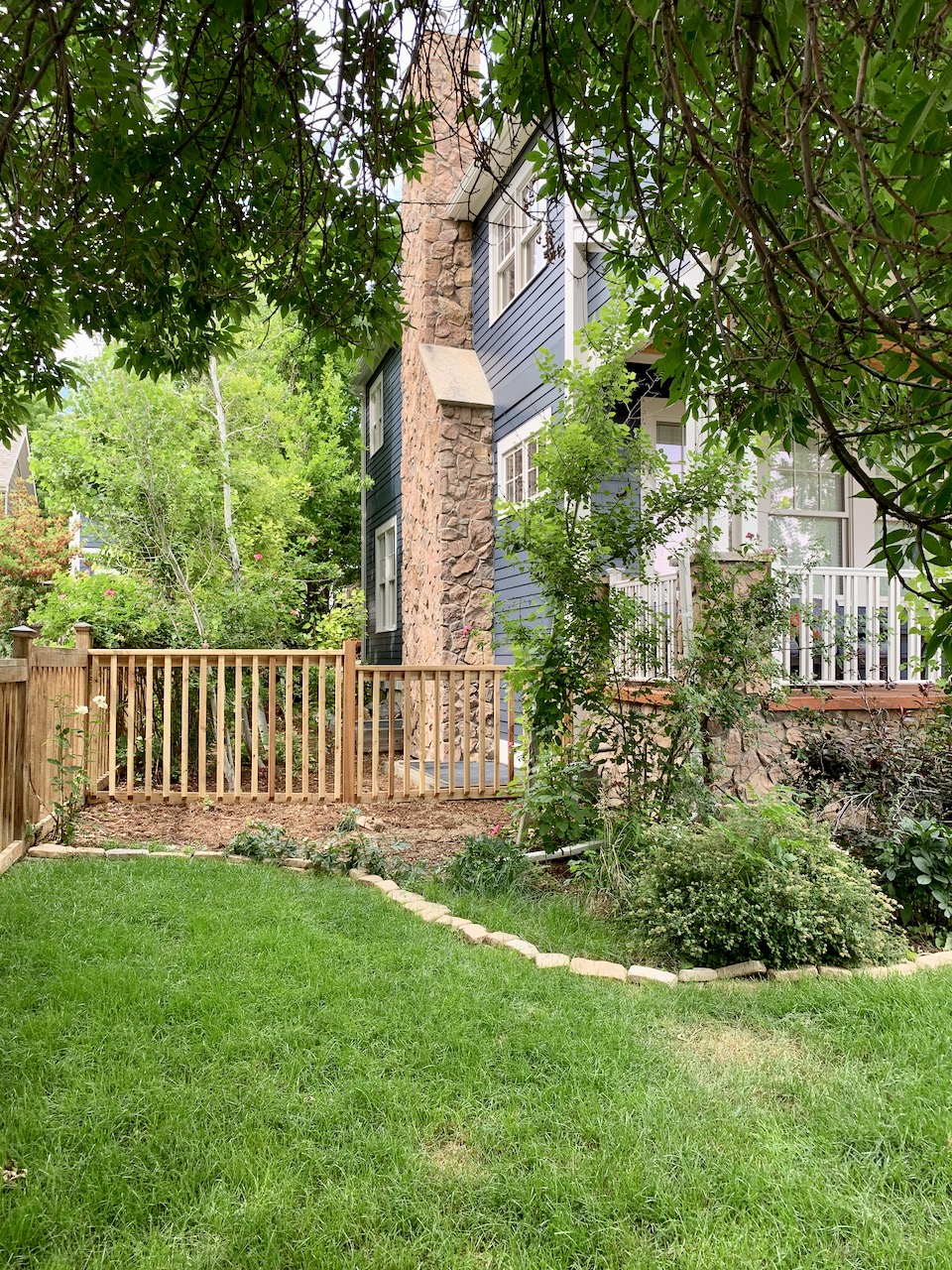 The back of the house also looked gorgeous. We painted the back doors white to keep the look light and bright. There was previously a "racing stripe" horizontally across the middle of the house. We painted over it for a more straightforward look that elevated the palette. We often tell our clients that placement is almost as important as color.
Here was the back of the house before painting, with the original "racing stripe" that was removed. The doors weren't in good shape, so we painted them.
The garage for the home was separate from the house and had an extra guest room.  I love the way Hale Navy looked with the summer flowers.  Hale Navy is a perfect Exterior body color for a gardener.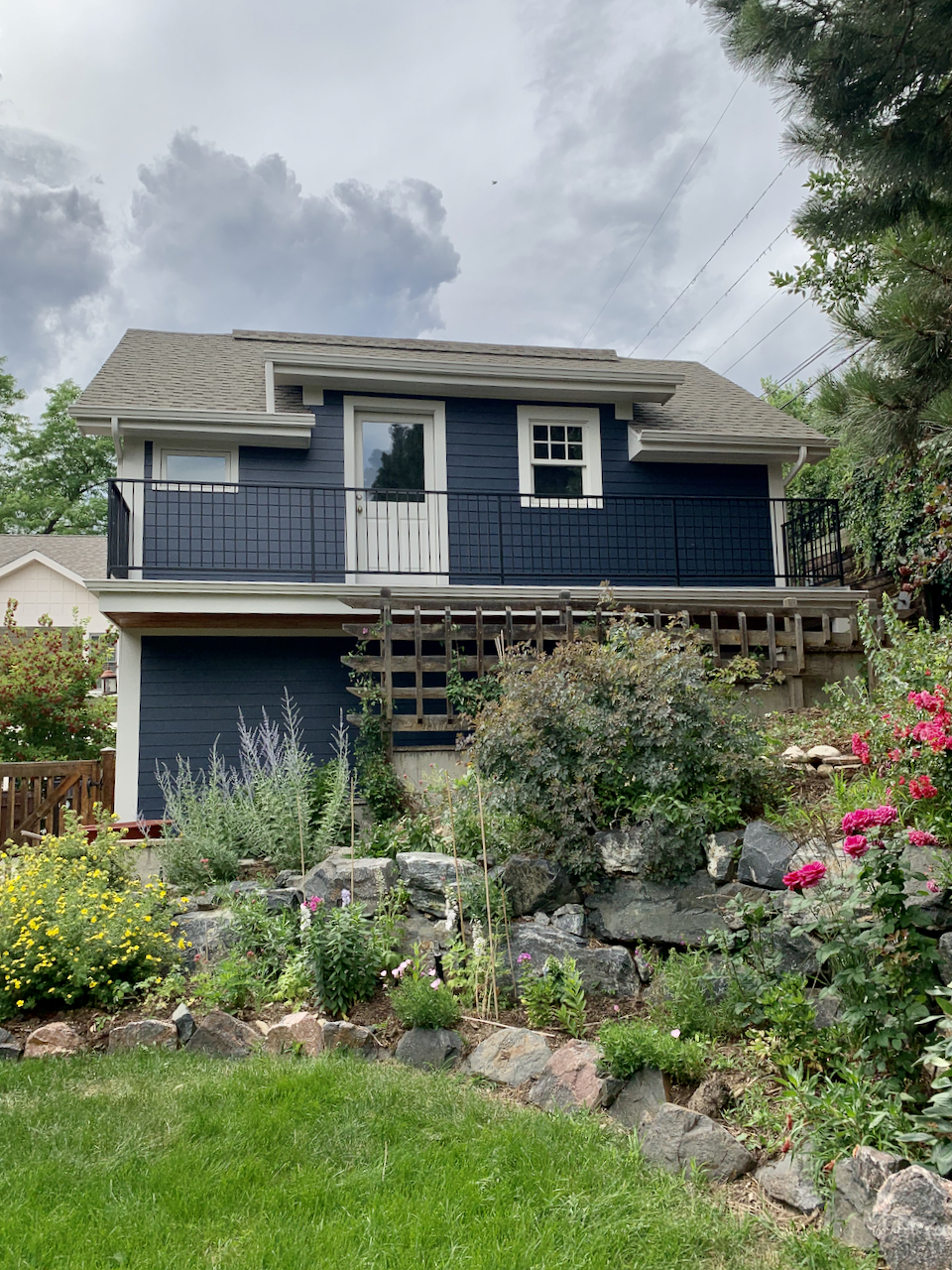 For this palette, we painted the garage doors Pale Oak, the "white" color.
Project Spotlight: Mid-Century Modern Hale Navy Exterior
We also used Hale Navy exterior paint for this client's mid-century modern home, which hadn't been painted in more than a decade. Its original tan paint color didn't provide contrast with the color of the roof and brick chimney, and the color wasn't doing anything to highlight the home's xeriscaped front yard.
We used Hale Navy as the primary body color and added color blocks of Benjamin Moore Stormy Sky, a mid-toned blue-gray that tied in nicely with the light blue-gray fence on the property. Add in Pale Oak trim paint and a bright front door painted with BM Redstone, and this house was completely transformed!
Hale Navy Interior Paint Projects
Can I paint Hale Navy kitchen cabinets?
Painted cabinets are one of my favorite ways to use Hale Navy interior paint. Deep blue cabinets are a kitchen trend (article) that seems to be here to stay. Hale Navy looks especially lovely when used as a lower cabinet paint color in a tuxedo kitchen cabinet palette (article).
Incorporating a Hale Navy kitchen island in a white kitchen is another excellent way to add rich, saturated color to a kitchen without making it feel too dark or overbearing. Aim for slightly creamy or off-white cabinets to pair. Clean white cabinets may be too stark a difference. In this kitchen, we paired a Hale Navy island with Benjamin Moore White Dove (review article) cabinets and white subway tiles with an organic texture.
We recommend Benjamin Moore Advance paint for interior cabinets in a Satin sheen with Hale Navy.
No matter how you incorporate BM Hale Navy into your kitchen, make sure there is plenty of light to bring out the blue color of this paint and lots of white accents to help brighten up the space.
Hale Navy bathroom cabinets would also look nice and provide a lovely splash of deep color to a modern white bathroom. Balance the dark blue color with white countertops and light tile.
Is a Hale Navy dining room a good idea?
I love the idea of a Hale Navy dining room! I often think of a dining room as an accent within the home – they can be great spaces to play with color and try out a darker shade. Like any other space, ensure enough light so Hale Navy won't look too dark (or black) in the rooms. You could also consider painting just one wall with Hale Navy as an accent.
Is Hale Navy a good accent wall color?
Hale Navy is an excellent choice for an accent walll (article) paint color. It pairs well with many light paint colors, such as warm white, light beige, or light gray. Using Hale Navy for an accent wall can highlight a feature such as a headboard without overwhelming the space as a whole-room color.
Try a Hale Navy accent wall in an office or on a fireplace wall. It could even be used to help hide a TV above a fireplace (like I've done with Sherwin-Williams Cyberspace (review article) paint in the image below).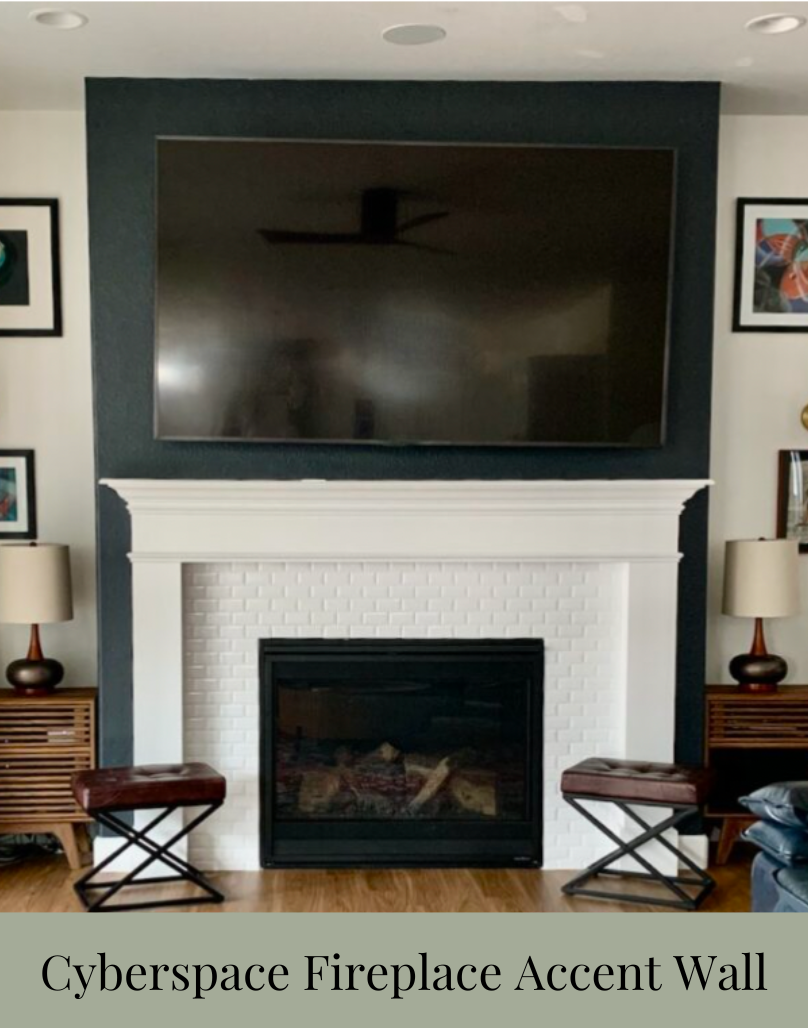 Is Benjamin Moore Hale Navy a good whole house color?
Hale Navy is a flexible color thanks to its classic blue hue and subtle green undertones. But it's too dark to use as a whole-house color. It could be a really lovely accent color within a whole-house color palette (article).
Hale Navy contrasts beautifully with natural wood floors and would be a beautiful color for a dining room, office, or accent wall. Painting a Hale Navy interior front door and using Hale Navy cabinets in the kitchen can help tie a living space together.
When we created a paint color palette around Benjamin Moore Hale Navy for our online paint color consulting clients, we incorporated warm whites, light grays, and some accents of green and copper. Click here to explore the Hale Navy color palette.
What is the best white with Hale Navy?
For interiors, I love to pair Hale Navy with warm, creamy whites, but you do have to be careful not to go too creamy and yellow. Colors like Benjamin Moore White Dove, Simply White, and Swiss Coffee work well with the warm, green undertones of Hale Navy. Anything creamier might end up looking yellow in comparison.
I recommend Benjamin Moore Chantilly Lace for a crisp, clean white. I would not go crisper than Chantilly Lace. BM Decorator's White, for example, would end up looking too cool paired with Hale Navy.
For exterior applications, you need a darker white trim paint so that it doesn't look too stark or washed out. I like using BM Classic Gray and Pale Oak for white trim with Hale Navy. You could even use a light gray paint like BM Edgecomb gray (review article) for a creamier look without going yellow. The lightest white I recommend is Swiss Coffee. Explore all our favorite exterior white trim paint colors here.
When should I avoid BM Hale Navy?
Interiors:
I typically don't recommend wrapping a whole room in Hale Navy paint. Unless the space has tons of white trim and many windows with lots of natural sunlight, Hale Navy can look too dark on the wall inside.
However, it works as an accent wall or cabinet color. For example, using Hale Navy paint on built-in storage cabinets in an office would be a beautiful way to incorporate this color on an interior wall.
Avoid Hale Navy with creamy trim that is very yellow.
​Which colors go well with Hale Navy?
Because it is a warm, slightly muted color, the best Hale Navy coordinating colors should also be muted. Since its green undertones are relatively subtle (especially indoors), it can be used alongside various color paints and finishes. Check out our Hale Navy ready-made palettes for more color palette ideas.
Does Hale Navy go with gray?
Yes, Hale Navy looks beautiful paired with a warm gray color, such as BM Classic Gray or BM Wickham Gray. It also works well with Stonington Gray, a cooler gray with strong blue undertones that look lovely when paired with navy. 
Does Hale Navy go with red?
We love the classic combination of navy blue and red (as you might have noticed in our front door color choices for the homes pictured above!). We love using red as a front door color with Hale Navy exterior paint, but you could create the same feeling indoors with warm accent colors in your furniture and decor and with warm wood floors.
What are the Best Interior Trim and Ceiling Colors For Hale Navy?
The best Hale Navy trim color depends on whether you plan to use the paint indoors or outdoors.
We recommend using one of the white paint colors discussed in the last section on indoor applications. Try BM White Dove, Simply White, or Swiss Coffee for a creamier white. For a crisp white, BM Chantilly Lace works well.
Top Hale Navy Alternatives
Not sure if Hale Navy is the correct dark blue for your room? Check out how it compares to similar paint colors from Sherwin-Williams and Benjamin Moore.
Hale Navy vs. Sherwin-Williams Charcoal Blue
Charcoal Blue is a deep blue-gray paint from Sherwin-Williams that is often listed by online color converters as a substitution for Hale Navy. But although Charcoal Blue is a beautiful color, it is not at all like Hale Navy. It has very strong violet undertones (I once had a painter call it a "blurple" because the undertones are so strong!). With an LRV of 6, it is also slightly darker than Hale Navy.
Hale Navy vs. Sherwin-Williams Naval
Sherwin-Williams Naval is really another dark blue-green color. (which is what navy blue is).  Although it is darker and bluer, it still has green undertones. With an LRV of 4, SW Naval is significantly darker than Hale Navy.
Hale Navy vs. Benjamin Moore Midnight Blue
Midnight Blue and Hale Navy are both muted blue paint colors, but Midnight Blue leans more toward the black side of blue. Hale Navy appears much bluer on the wall, especially in spaces with lots of natural light. With an LRV of 7, BM Midnight Blue is barely darker than Hale Navy.
Hale Navy vs. Sherwin Williams Sea Serpent
Sherwin-Williams Sea Serpent is a favorite of mine for dark blue exterior paint. Sea Serpent is a dark, muted blue-green with much stronger green undertones than Hale Navy. With an LRV of 7, it is slightly darker than Hale Navy.  However, we often use Sea Serpent as a substitute for Hale Navy if our client prefers Shewin-Williams paint.  The result is almost identical for exterior paint projects.
Hale Navy vs. Sherwin-Williams Cyberspace
Sherwin-Williams Cyberspace and Benjamin Moore Hale Navy are similar but not as close as people think.  Inside, Cyberspace is more black than blue.  Outside, it is a much deeper blue. If Hale Navy feels too blue for a space, then Cyberspace could be a good alternative. Even though the LRV for Cyberspace is only slightly lower at 6, it's a big difference when you get to those dark blue colors.
Hale Navy vs. Benjamin Moore Old Navy
Old Navy and Hale Navy are both deep navy blue paint colors, but Old Navy is much more colorful than Hale Navy. Old Navy is a true blue. It's much cooler than Hale Navy, which has green undertones. With an LRV of 5, Old Navy is a good bit darker than Hale Navy.
What is the best way to test Hale Navy?
As always, don't forget to test your paint colors! The easiest way to sample any paint color is via SAMPLIZE. Their peel-and-stick paint samples are easy to use and true to color. With Samplize you can easily see how different shades look on your unique wall.
If you'd like to test the colors that we mentioned in this post, link below for the Samplize samples:
What is the best Sherwin-Williams Hale Navy Alternative?
When a client wants Hale Navy but has to use a Sherwin-Williams branded color, I always turn to Sea Serpent. Although it is warmer than Hale Navy with stronger green undertones, the overall effect of Sea Serpent paint is similar.
Key Learning Points
Hale Navy paint is a muted, classic navy blue ideal for home exteriors and interiors. Its warm, green undertones make it a versatile color that truly shines with lots of natural sunlight.
A beautiful choice for kitchen cabinets and accent walls is Hale Navy. While the color is often too dark to wrap a whole room, it makes a great interior accent color in a light-filled room.
Use off-white trim paint like White Dove, Simply White, and Swiss Coffee or crisp white trim paint like Chantilly Lace. Avoid very yellow creamy paint colors as trim.
Hale Navy has lots of gray, making it more of a muted blue. As a result, it pairs well with other muted paint colors.
Hale Navy is an excellent option for exterior paint color schemes.
Remember – no matter how you plan to use Hale Navy paint, don't forget to test your paint colors. Check out the SAMPLIZE website HERE. And NEVER, EVER use paint matches from a different brand than the one specified. The results are poor. Even though your painter may truly believe it can be done, don't do it. See results from paint matching Here.
Online Color Consulting
Still need help picking the best paint colors? Discover our Online Color Consulting Package.
If you liked this post, don't forget to pin it!
Related Posts: