Learn all about Benjamin Moore Edgecomb Gray in this color review (Sample Here). This light greige color is a Benjamin Moore classic, and a fan favorite. Edgecomb Gray is the color I most often reach for when I have a client with very earthy Tuscan finishes that need to be updated. It also looks great in modern homes with crisp white countertops and backsplashes.
Edgecomb Gray is a versatile neutral that looks great in both brightly lit or low-light rooms. Soft green undertones let it pair well with just about any type of light. Edgecomb Gray is considered a warm gray – the color of warm rocks and stones in nature.
This clean and pretty warm greige color is really nice with warm wood. If you have lots of foliage outside, its warmth will neutralize green foliage from the outside so that it doesn't reflect onto your interior walls.
What other names does Edgecomb Gray have?
Edgecomb Gray (HC-173) is also known as Baby Fawn (LC-15) and Athena (972).
Is Edgecomb Gray still a Popular Color?
Whites are the latest trend, but warmer and more pigmented colors are still popular with many homeowners that want contrast between their walls, trim and ceilings. This greige paint color is on the warm end of the specturm. It looks great in rooms with cool north-facing light, or any light at all. Edgecomb Gray is warm and friendly and sometimes it can flash a green undertone in the warm sunshine.
All the photos in this post are Color Concierge projects. None of the photos are color edited.
We always recommend that you test paint colors in your house because lighting can change a color completely.
In the old days, this meant we painted a large poster board with sample pots and a huge mess.
Now we have SAMPLIZE, 9X14″ Pre-Painted peel-and-stick paint samples. Check out the SAMPLIZE website HERE.
Can I use Edgecomb Gray for Exteriors?
Edgecomb Gray is a FANTASTIC color for white trim for exteriors. It will look like a bright white without harshness. It also makes a great whole-house white paint color, especially in a heavily wooded lot.
The house below has Edgecomb Gray as the "white" trim color and Benjamin Moore Flint as the body color. For more information on how to pick exterior white trim colors, link here.
Comparisons With Other Greige Colors
Agreeable Gray vs. Edgecomb Gray
Edgecomb is lighter, crisper, and cleaner than Agreeable Gray. This lighter color is better than Agreeable in lower light rooms.
Manchester Tan vs. Edgecomb Gray
Edgecomb Gray and Manchester Tan have exactly the same undertones and the same LRV. The difference is that Manchester Tan is more beige and Edgecomb is grayer. This combination can be spectacular when you have Edgecomb as the wall color and Manchester as the carpet color, or vice versa. I did that in my new build.
Collingwood vs. Edgecomb Gray
These two colors have opposite undertones. If Edgecomb looks great in a room, Collingwood will look terrible, and vice versa.
Accolade vs. Edgecomb Gray
The closest Sherwin-Williams color to Edgecomb Gray is Accolade. They are quite close, but Edgecomb Gray is just a little bit more crisp and clean.
Which Sherwin-Williams Color is most like Benjamin Moore Edgecomb Gray?
As mentioned above, SW Accolade is the closest is to Edgecomb Gray, though it is slightly darker and more muted. Accolade will give you the same look and feel as Edgecomb, even though they are not identical.
Learn more about matching paint colors here.
The Verdict
Benjamin Moore Edgecomb Gray is a gorgeous light greige with soft green undertones. It is most commonly used as an interior wall color, and sometimes as a cabinet color. It can be used with modern interiors, or to update darker Tuscan paint colors and decor.
No matter what, don't forget to test your paint colors. Check out the SAMPLIZE website HERE.
NEVER, EVER use paint matches from a different brand than the one specified. Results are poor and there are no standards for the sheens. Even though your painter may truly believe it can be done, don't do it. See results from paint matching Here.
Online Color Consulting
Still looking for the best white paint color? Discover our Online Color Consulting Package.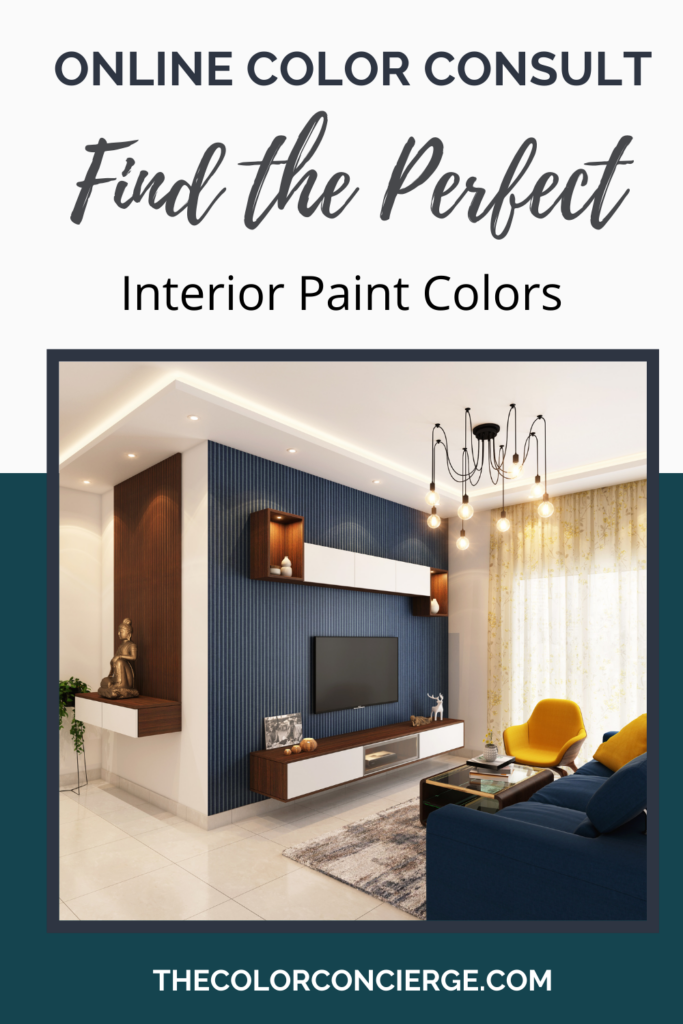 If you liked this post, don't forget to pin!
Related Posts
We love your comments! Please note that the blog is meant as general advice, and it is not possible to give out specific answers to your paint questions. If you want more specific advice, please consider purchasing a color consultation. Thank you for your understanding.