Learn all about Sherwin-Williams Pearly White in this color review (Sample Here).  This is a muted creamy white paint color that doesn't look yellow.  it is a versatile white that looks great in a bright or dark room.  Its soft invisible green undertones make it pair well with just about everything.
The beautiful house in this post was once a recording studio for many famous artists, with living room acoustics that won't stop!
Whites are still popular as a trend, but have you noticed that warmer beige colors are gaining popularity?  Pearly White is warm, cozy, and friendly, and if it were just a little bit darker, I would consider it a beige paint color.    We don't see this color much in blogs, so it is relatively unknown and one of the colors we often select for clients.
Michelle took all the photos in this post, and the homeowner selected the color.  Our photos are not color edited. We were there for a different project, but we loved the house and the color that the homeowner picked!

What is the easiest way to Sample Pearly White?
We always recommend that you test paint colors in your house because lighting can change a color completely. 
In the old days, this meant we painted a large poster board with sample pots and a huge mess.
Now we have SAMPLIZE, 9X14″ Pre-Painted peel-and-stick paint samples.  Check out the SAMPLIZE website HERE.
Can I use Pearly White for Cabinets?
This color wouldn't be one of my favorites, although there are exceptions.  If your walls are a crisp white, then Pearly White would look like a lovely Putty color that is so in style right now.
Can I use Pearly White for Exteriors?
Pearly White is a FABULOUS color for white trim for exteriors.  It will look like a bright white color without harshness.  It also makes a tremendous whole-house white paint color.
Comparisons With Other Whites
White Duck vs. Pearly White
Pearly White is lighter and creamier than White duck, although they both have subtle green undertones.  The difference is pretty tiny in LRV, but White Duck will look like a darker cream on the walls than Pearly White.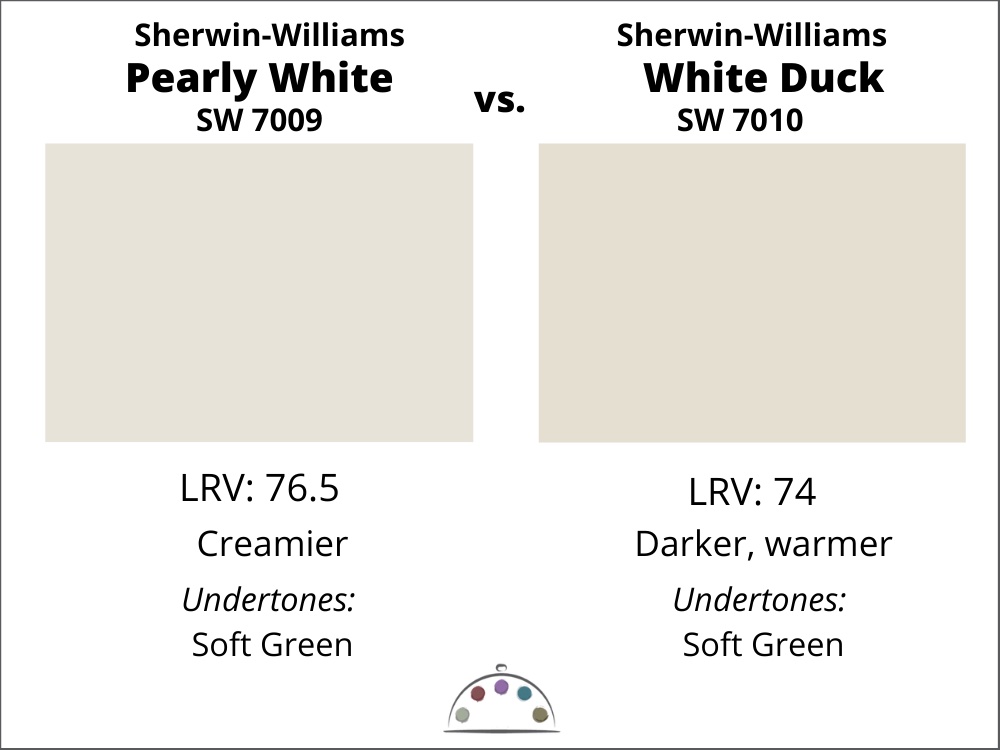 Alabaster vs. Pearly White
Pearly White is darker than Alabaster.  They aren't that far apart on the page, but on the walls, Alabaster will look much more yellow and lighter than Pearly White.  I wouldn't use Alabaster as a trim color with Pearly White because there won't be enough contrast.
Incredible White vs. Pearly White
Pearly White is a very different color than Incredible White.  Incredible White has pink undertones, and if you paint it in a darker room or a room with lots of foliage outside, it can turn into pink, even if your paint color tests show perfection.  You won't ever have that problem with Pearly White.  It's creamy without a shift to yellow or pink.
Dove Wing vs. Pearly White
The closest Benjamin Moore color to SW Pearly White is BM Dove Wing (not to be confused with BM White Dove).  Pearly White is warmer and more muted, and slightly lighter.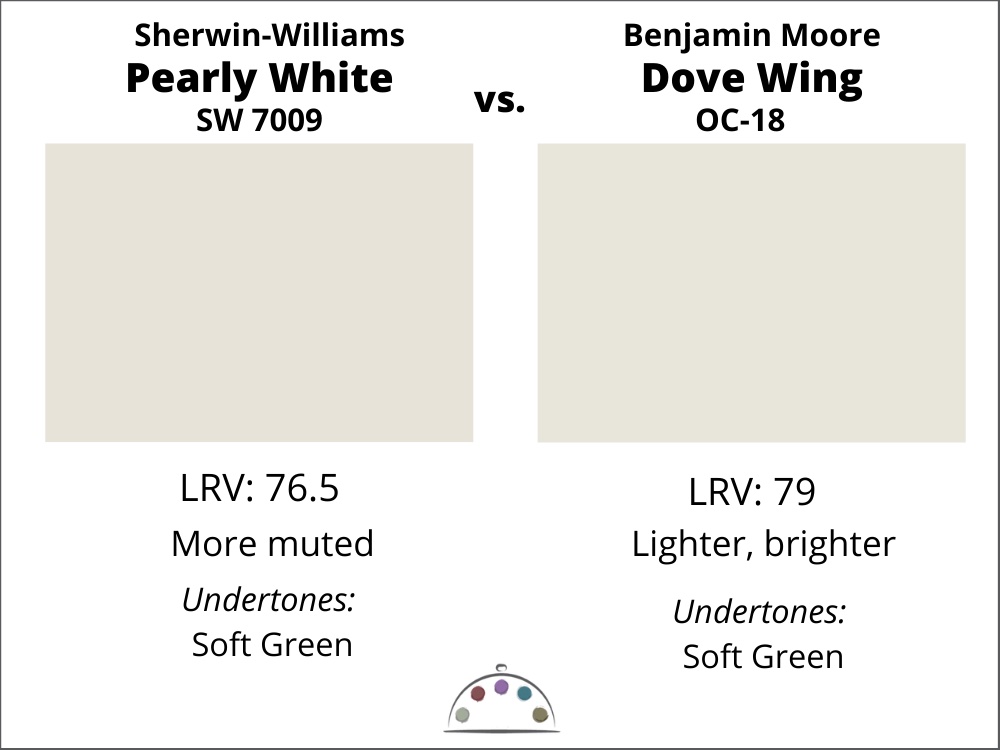 Which Benjamin Moore Colors are like Sherwin-Williams Pearly White?
As mentioned above, the closest is Benjamin Moore Dove Wing (NOT White Dove), but they are not exactly the same.  We never recommend matching paint, especially with light neutrals or white paint.  They can shift to green which wouldn't be noticeable until you painted your walls.   These two colors aren't exactly the same, but if you use the right color for the brand, it will save frustration from a color match.
Learn more about matching paint colors here.
The Bottom Line
Sherwin-Williams Pearly White is a muted, complex cream color with soft green undertones.  It is most commonly used as a wall color instead of a cream, without a shift to yellow like other creamy paint colors.  Again, note that the cabinets are cement and part of the home's structure, except for the wood doors.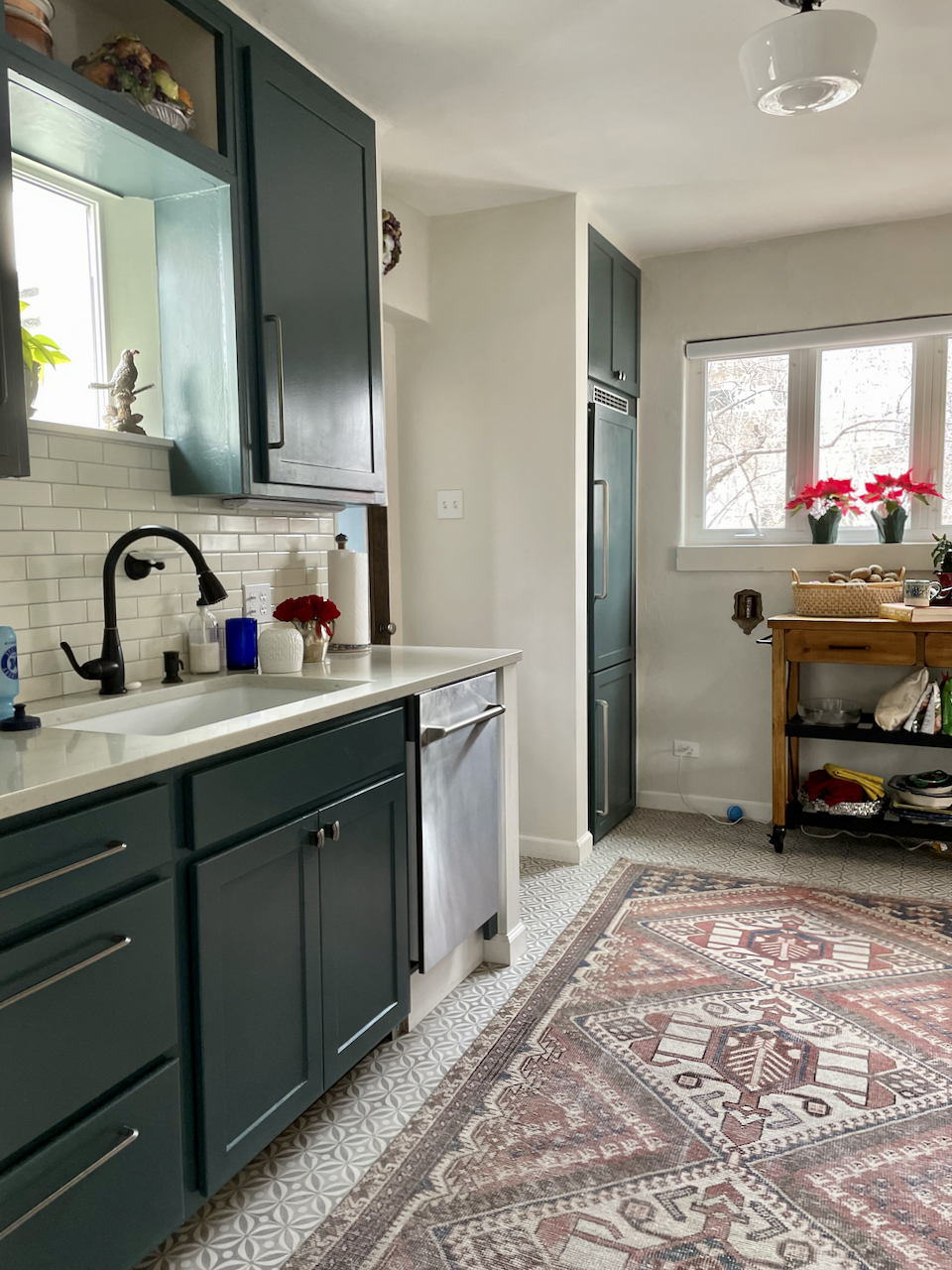 No matter what, don't forget to test your paint colors. Check out the SAMPLIZE website HERE.
NEVER, EVER use paint matches from a different brand than the one specified.  Results are poor and there are no standards for the sheens.  Even though your painter may genuinely believe it can be done, don't do it. See results from paint matching Here.
Online Color Consulting
Still looking for the best white paint color?  Discover our Online Color Consulting Package. Or, explore 8 easy ways to choose paint colors.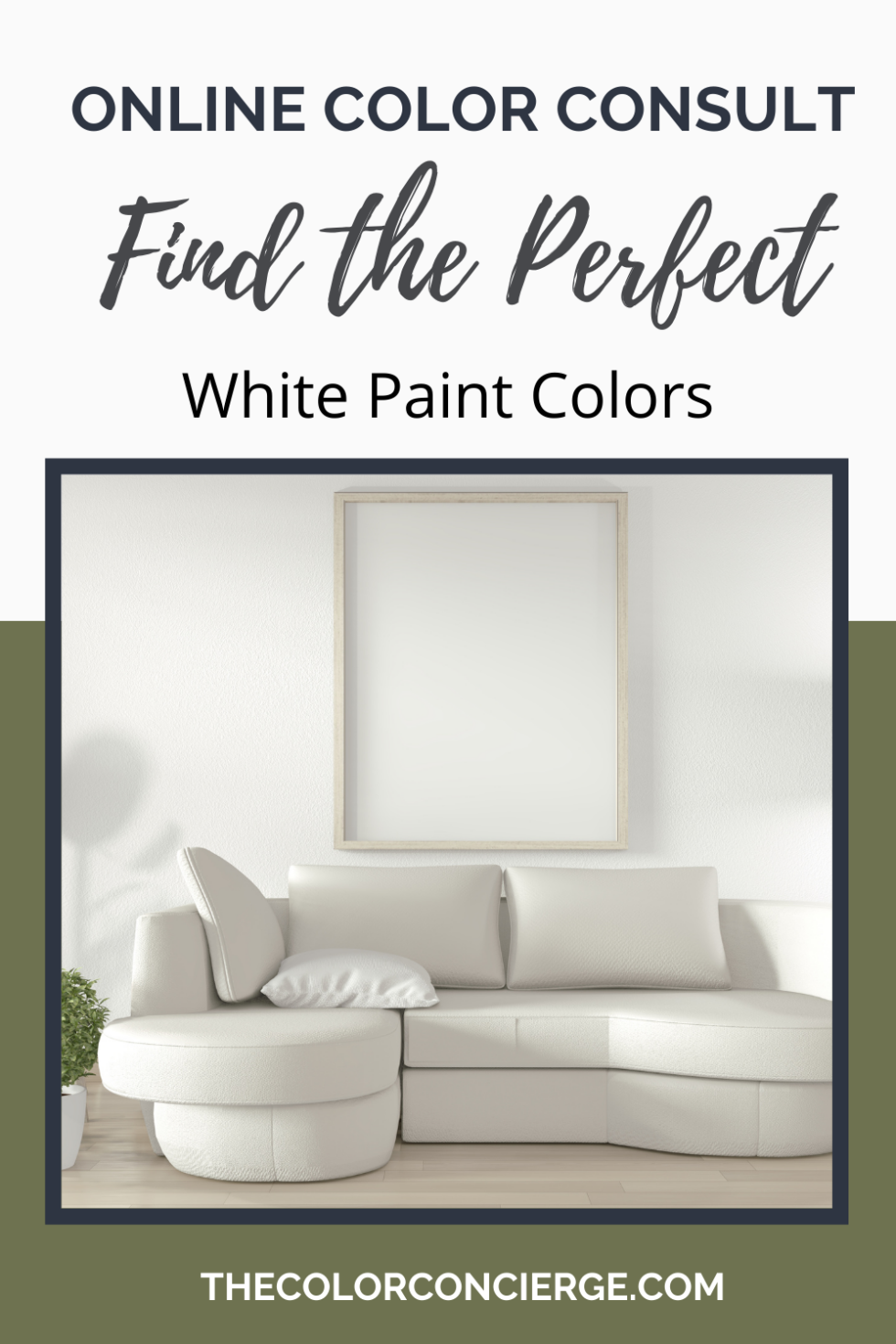 If you liked this post, don't forget to pin it!
Related Posts
Our 5 Favorite Benjamin Moore Whites
Benjamin Moore Chantilly Lace Color Review
Benjamin Moore White Dove Color Review
Benjamin Moore Simply White Color Review
Benjamin Moore Cloud White Color Review
The 6 Best White Paint Colors For Dark Rooms
We love your comments! Please note that the blog is meant as general advice, and it is not possible to give out specific answers to your paint questions.  If you want more specific advice, please consider purchasing a color consultation. Thank you for your understanding.