Read all about Sherwin-Williams Incredible White in our complete paint color review!
Sherwin-Williams Incredible White is a light warm gray with violet undertones that get stronger and even pinker in lower light. It looks glorious in rooms flooded with light. It is one of Sherwin-William's Top 50 Colors.
Take care with this color because it can shift into a very pink neutral when the light gets lower. If that's what you want, consider this a perfect tool. If you don't, then test thoroughly.
This is a great paint color for Farmhouse color palettes and Classic color schemes.
Below is a light-flooded living room area where you can see how Incredible White looks.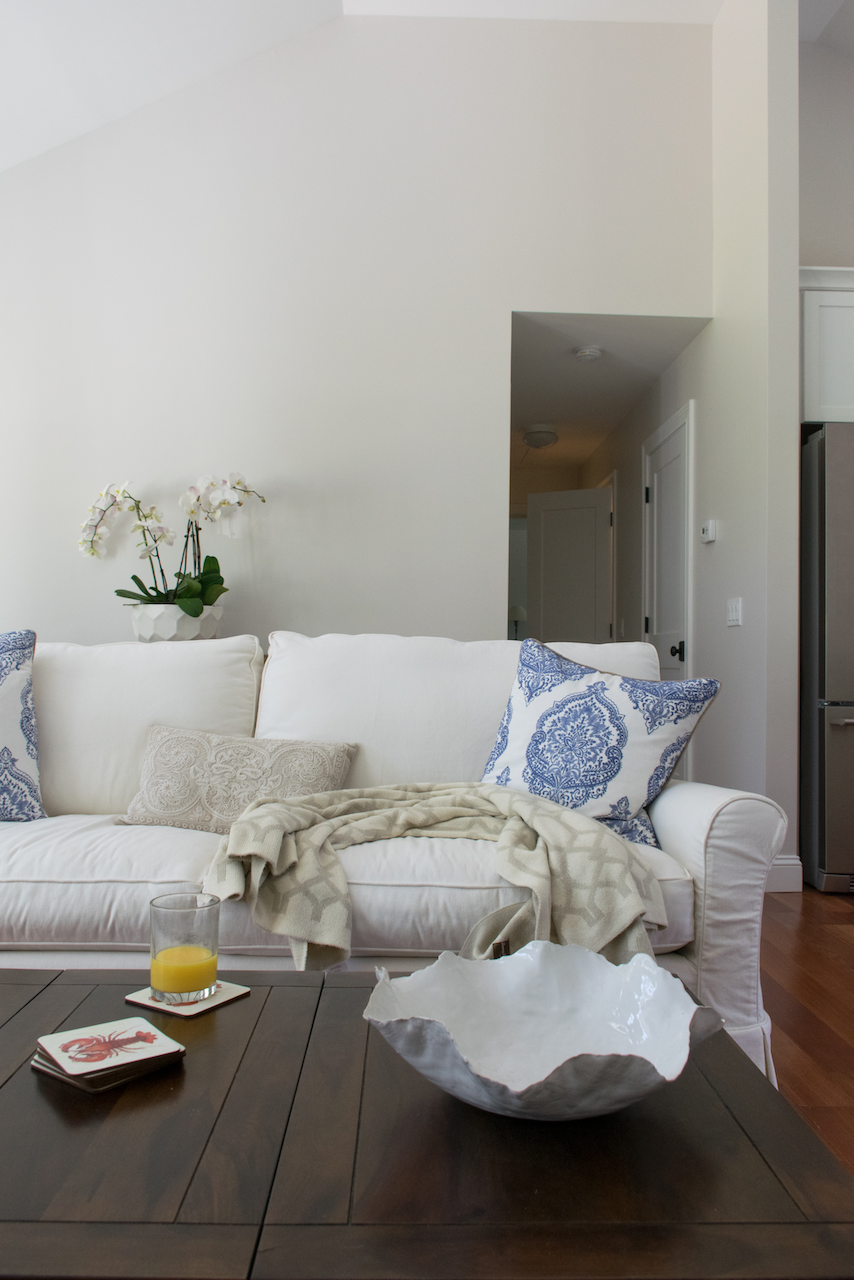 *This post contains affiliate links for products I use and love. If you click on some links and make a purchase, I will get a small commission at no cost to you. This helps pay for the costs of the blog so I can continue to offer great content to our readers.
Incredible White LRV
Incredible White has an LRV of 74.8 which makes it very light greige or darker off-white. LRV is short for Light Reflectance Value, which is a measurement of how light (LRV=100) or dark (LRV=0) a color is.
Is Sherwin-Williams Incredible White warm or cool?
Incredible White is definitely a warm light greige thanks to its strong violet undertones.
What are Incredible White's undertones?
As mentioned above, Incredible White has very strong violet undertones, unusual in a color that is so light.
When should I use Incredible White?
Use Incredible White in light-filled rooms if you want a warm white that will look soft and warm. It looks absolutely gorgeous. It's also a great wall color if you have lots of green foliage outside, to counteract the green with its violet and pink undertones.
It also looks great with violet-gray hard finishes such as the elephant gray stone in the fireplace below.
This paint color looks amazing with warm wood floors and accents. It also acts as a great backdrop for bright colorful rugs, art and other accessories.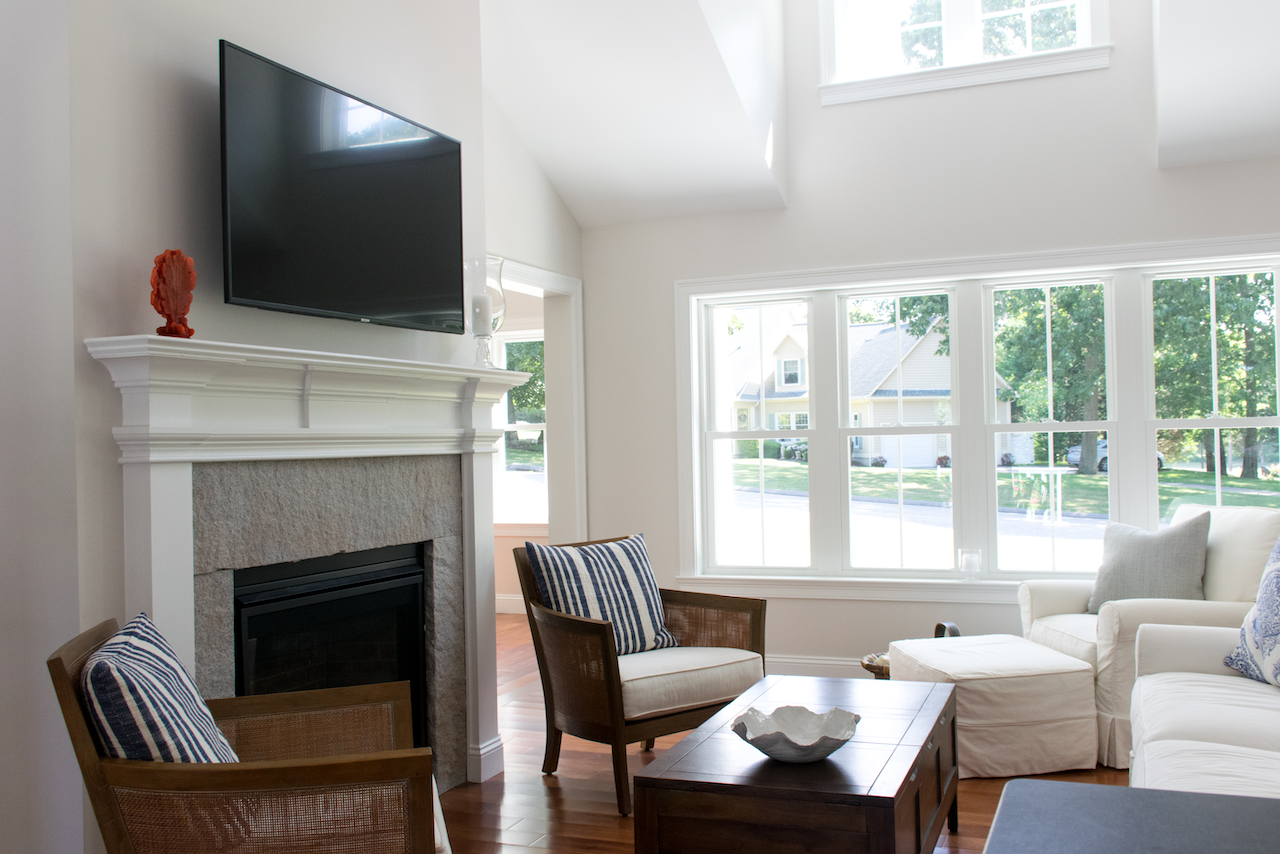 You can also use Incredible White in a low-light room if you want a light soft pink color. If you don't believe me, look at the photo below. This was my teenage son's bedroom, and it looked very pink. The color wasn't bad, it just wasn't what we expected. We repainted later with Classic Gray because he didn't want soft pink walls.
When should I avoid Incredible White?
Avoid Incredible White in low-light rooms if you don't want the walls to flash pink. A few weeks ago I went to look at new builds with my brother and I saw a house with green-gray cabinets and Incredible White walls and ceilings. Once I pointed it out, my brother couldn't wait to get out of there, and the poor realtor couldn't unsee it.
Think of this color as a tool. If you want light pink walls, it's for you. If you don't, then pick another color.
Should I try a Sherwin-Williams Incredible White kitchen?
In the kitchen below, Incredibly White is beautiful on the walls, with lots of foliage outside to counter the pink. We painted the cabinets Extra White and the kitchen was lovely. My preference would be to keep it as a wall color instead of as a cabinet color.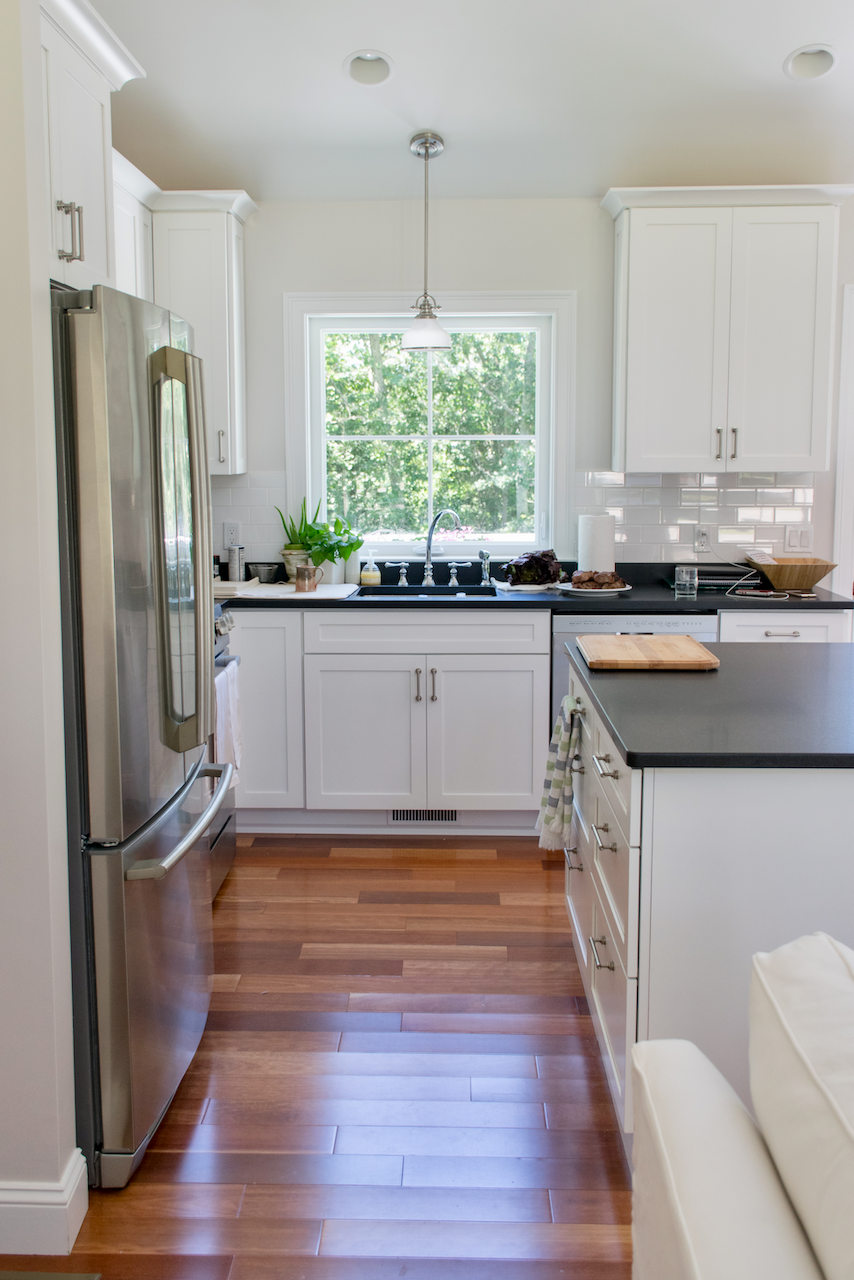 Is an Incredible White living room a good idea?
Absolutely, especially if the living room is flooded with light and contrasted with white trim and ceilings. The living room below is just beautiful, and Incredible White is a great background for the potted plant.
Can you use Incredible White as a whole-house color?
The challenge to using Incredible White as a whole-house color is that it will behave differently as the light varies. If you are happy with what it does, then it's ok. I prefer a more neutral color such as Classic Gray as a whole-house color.
Think of Incredible White as a tool. If you have some rooms that are shady, they will lean into the pink. Sunny light-filled rooms will look warmer and more neutral. If you have lots of foliage outside, Incredible White will reduce green reflection on the walls.
You can see in this home how Incredible White works really well in a wide variety of spaces, from the slightly darker dining room (above) to the bright entryway (below) and wide open living space. Each space looks completely different.
The entry below shows how beautiful Incredible White walls are with colorful books and a warm wood front door and floors.
The fireplace wall is beautiful with a cool stone with violet undertones.
Best Trim and Ceiling Colors
Clean or cool whites such as Extra White (SW 7006) look clean and crisp with Incredible White. High Reflective White or SW White Snow will also look lovely. Use the same white color for the trim (satin sheen) and ceiling (flat sheen)
Avoid creamy whites as trim because they tend to be too dark and their undertones may clash.
If you are looking for a white trim and ceiling color, I don't recommend Incredible White because of its strong violet undertones, and darker LRV.
In the living room below, the trim and ceiling are SW Extra White (review).
Incredible White for Exterior White Color Schemes
I don't have a photo of an Incredible White exterior, although we did use it once and it was lovely. It was perfect because the homeowners had lots of trees on their lot, and the green countered the violet undertones. It was lovely.
Sherwin-Williams Incredible White Color Comparisons
Here's how Incredible White paint stacks up to some similar colors.
Incredible White vs Eider White
Eider White behaves almost identically to Incredible White. It's slightly darker, but just as violet/pink. Most people won't be able to see the difference between the two colors. SW Eider White might be a bit more muted.
Incredible White vs Agreeable Gray
The reason I show this comparison is that often homeowners consider Incredible White instead of Agreeable Gray because Agreeable is compared with almost every Sherwin-Williams color. Below they look kind of similar, but Agreeable is much warmer and has greener undertones. Incredible is much lighter and far more violet. I wouldn't use them in the same situations.
Incredible White vs Alabaster
These two colors aren't even close, but like Agreeable Gray, Alabaster is a commonly used color for homeowners. They are both categorized as whites, but as you can see Incredible White is more of a greige and Alabaster is a creamy lovely white.
Incredible White vs. Benjamin Moore Silver Satin
Silver Satin is the closest Benjamin Moore color to Incredible White, but it's not very close. They both have violet undertones, but I've never seen Silver Satin flash pink – it's more neutral than Incredible White.
What is the best way to test Incredible White?
As always, don't forget to test your paint colors! The easiest way to sample Classic Gray (and any paint color for that matter) is via SAMPLIZE. Their peel-and-stick paint samples are easy to use and true to color. With Samplize you can easily see how different shades look on your unique wall.
If you'd like to test the colors that we mentioned in this post, link below for the Samplize samples:
Incredible White, Alabaster, Agreeable Gray, Eider White, Silver Satin, Extra White
Key Learning Points
Incredible White is a very specific color that has strong violet undertones. Think of it as a tool.
If you have some rooms that are shady, they will lean into tpink with Incredible White.
Sunny light-filled rooms will look warmer and more neutral.
If you have lots of foliage outside, Incredible White will reduce green reflection on the walls.
For trim and ceilings, use clean and crisp white paint colors such as SW Extra White, High Reflective White, and White Snow. Avoid creamy whites as trim.
One more thing… we do not recommend that you try to paint match Incredible White or any other Sherwin-Williams paints with Benjamin Moore, Behr, or any other manufacturer. Paint color formulas are difficult to duplicate, and whites are especially hard to get right. Read more about paint matching here.
Online Color Consulting
If you still need help with paint colors, check out our Online Color Consulting packages or an In-Person Color Consultation in the Denver Metro area.
If you liked this post, don't forget to PIN it!
Related Posts
We love your comments! Please note that the blog is meant as general advice, and it is not possible to give out specific answers to your paint questions. If you want more specific advice, please consider purchasing a color consultation. Thank you for your understanding.