Read all about Benjamin Moore Classic Gray in our complete paint color review, updated for 2023!
In a world of white paint colors, Benjamin Moore Classic Gray (OC-23) is a soft gray color that reads white in rooms where white paint colors just don't look right.
It is a light warm gray with subtle green undertones that you will never see and a flash of purple in cooler light. Sometimes it can read so warm that it's almost beige, and other times it can read a light warm gray.
When we originally published this post back in 2019, it was our first-ever paint color review. Since then, we've learned a lot more about this gorgeous gray color and how it works in different spaces. So we thought it was time for an update. Keep reading to learn more about this versatile paint color.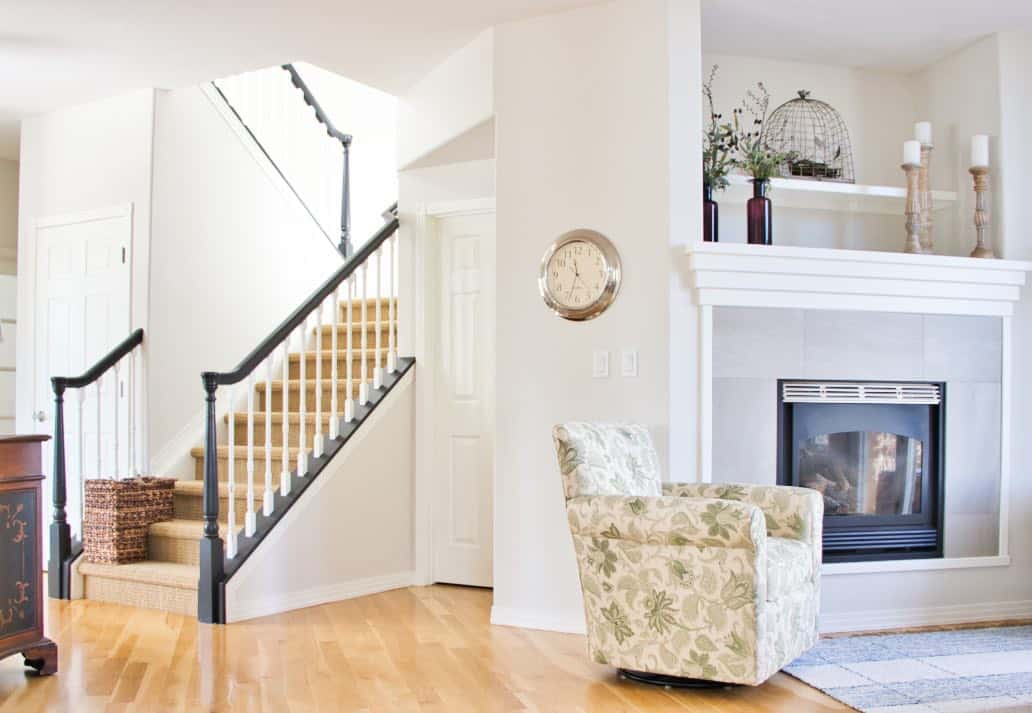 *This post contains affiliate links for products I use and love. If you click on some links and make a purchase, I will get a small commission at no cost to you. This helps pay for the costs of the blog so I can continue to offer great content to our readers.
Classic Gray LRV
Simply White has an LRV of 74.8 which makes it very light greige or darker off-white. LRV is short for Light Reflectance Value, which is a measurement of how light (LRV=100) or dark (LRV=0) a color is.
Is Benjamin Moore Classic gray warm or cool?
Classic Gray is definitely a warm gray thanks to (nearly invisible) warm green undertones. Because its undertones are so subtle this paint can pair really well with both other warm or cool paint colors.
What are Classic Gray's undertones?
As mentioned above, Classic Gray has very soft undertones. In addition to the warm green undertones, it has slightly violet undertones in cooler light.
Does Benjamin Moore Classic Gray look white?
Yes, Benjamin Moore Classic Gray is so light that in many spaces it does usually look white. It's a great white paint alternative for rooms that need a little more pigment on the wall. In South-facing rooms, for example, white paint can often look too stark. Benjamin Moore Classic Gray works really well as a white color in that situation.
When should I use Classic Gray?
Use it instead of white when your room is too dark, or you have lots of greenery outside. It is a great solution to update interiors with earthy Tuscan finishes.
Is Benjamin Moore Classic Gray good for north-facing rooms?
It absolutely is! But really, Classic Gray is a great color for every exposure – North, South, East or West. It is so light, it will usually look white. In dark North facing rooms, it could flash slightly gray, and it holds its own in East and West facing rooms, any time of day. It looks like a glorious soft white in South facing rooms.
The challenge with white paint colors, which seems counterintuitive, is that you need to have lots of light to be able to carry off a white color. A dark room will have a lot of shadows that make whites look dingy.
Another challenge is that whites reflect everything; grass, your neighbor's paint color, pink flowers, and even an evergreen tree. Bright whites reflect every color that surrounds them. Classic Gray will neutralize all the surrounding colors.
Should I try a Benjamin Moore Classic Gray kitchen?
I love Classic Gray paint color in a kitchen! If you're looking for a classic white kitchen but want to avoid the space feeling too cold, Classic Gray walls could really add some warmth without making the space feel dark. You could even try Benjamin Moore Classic Gray kitchen cabinets for a slightly warmer twist on traditional white cabinets.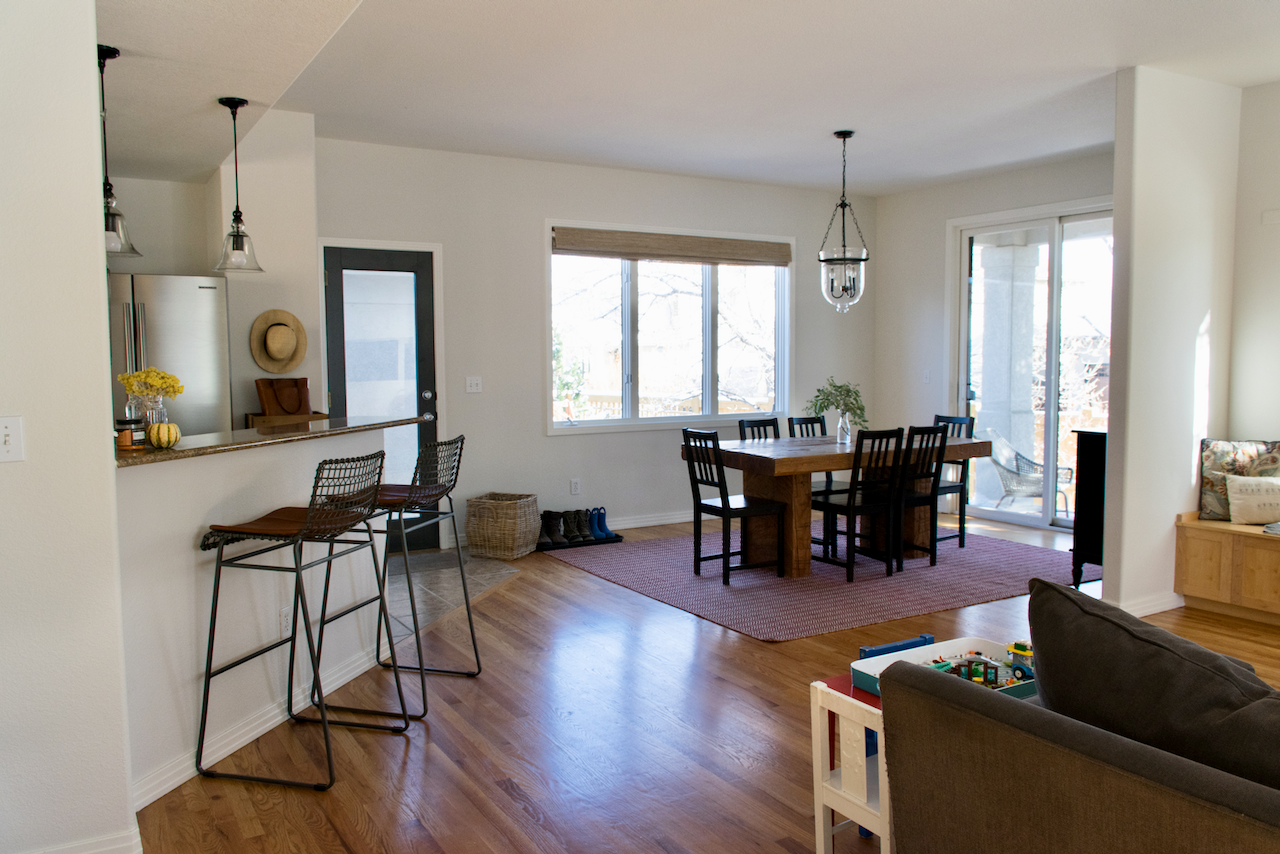 Is a Benjamin Moore Classic Gray bedroom a good idea?
Classic Gray is a wonderful bedroom color. This is a great choice if you want a light and bright bedroom space but still want the room to feel cozy. Classic Gray paint adds just the right touch of warmth and color while still acting as a neutral background for any furniture, decor, or accent colors you might want in your bedroom.
Remember, Classic Gray will look slightly different depending on the light in a room. In this client's home, for example, you can see how two Classic Gray bedrooms each have their own look.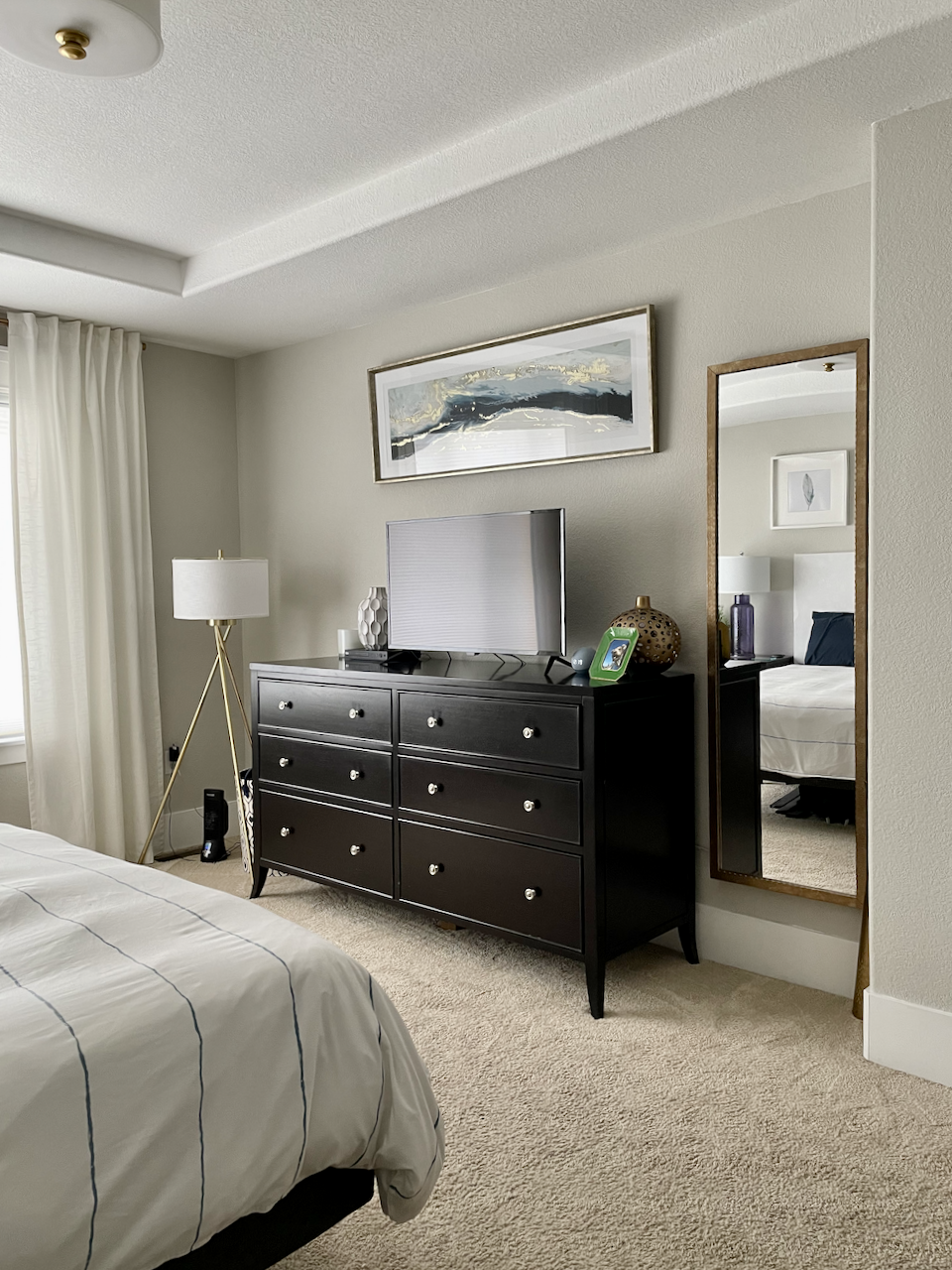 The walls look slightly darker and slightly grayer in the first bedroom above, but much look essentially white in the bedroom below with a lot of large windows. But it looks really lovely in both spaces!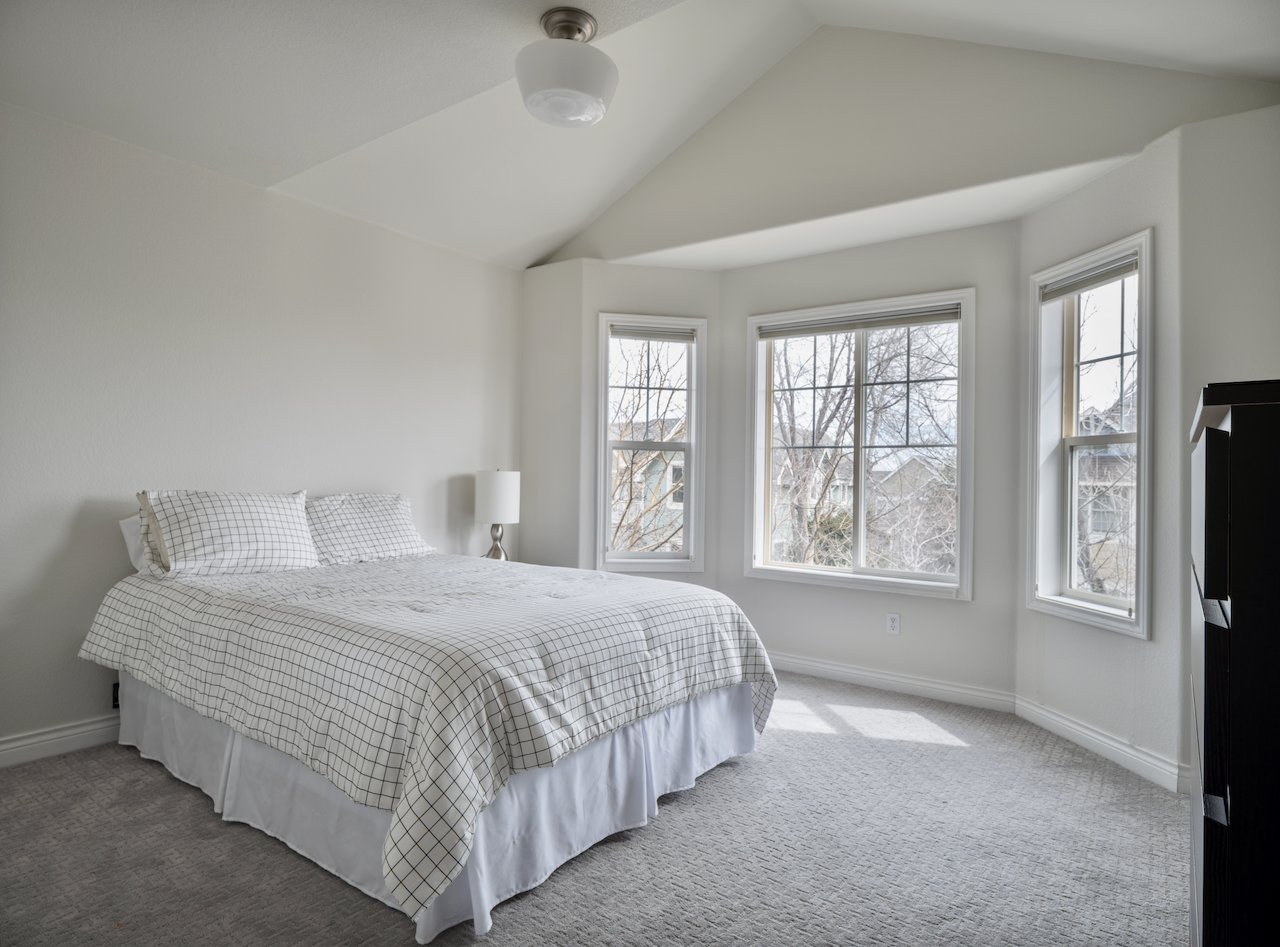 Can you use Benjamin Moore Classic Gray as a whole-house color?
Classic Gray is a perfect whole-house color! It's light enough and has subtle enough undertones to act as a neutral in any lighting and any space. And it pairs really well with just about any decor, furniture, flooring, or other hard finishes you might have.
You could absolutely create a whole-house color palette with Classic Gray as the foundation. It's also a great option if you're looking for a neutral paint color to sell your house.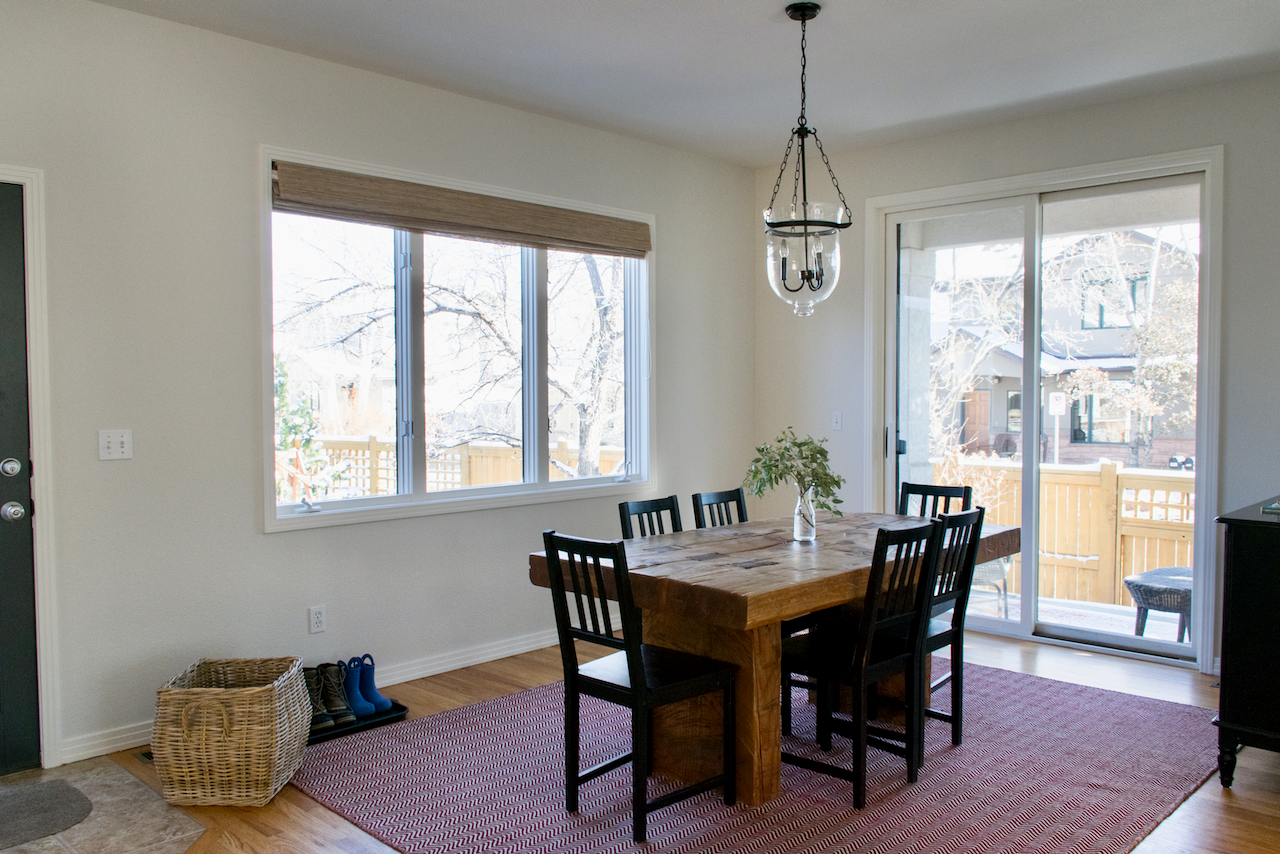 You can see in this home how Classic Gray works really well in a wide variety of spaces, from the slightly darker dining room (above) to the bright entryway (below) and wide open living space.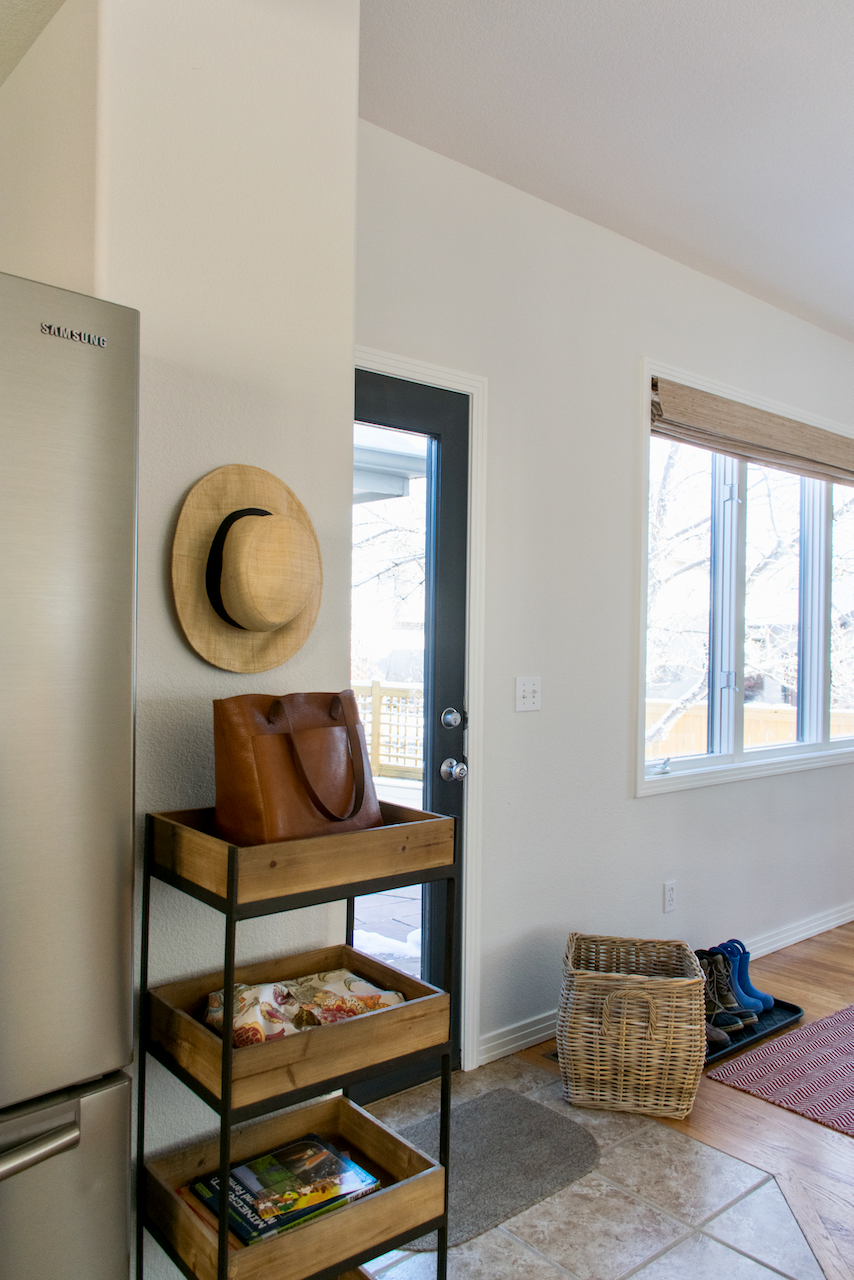 The stairway below shows Classic Gray with Simply White trim.  We love the way it highlights the beautiful brass Buddha statue.  This color goes well with warm metals such as brass and nickel.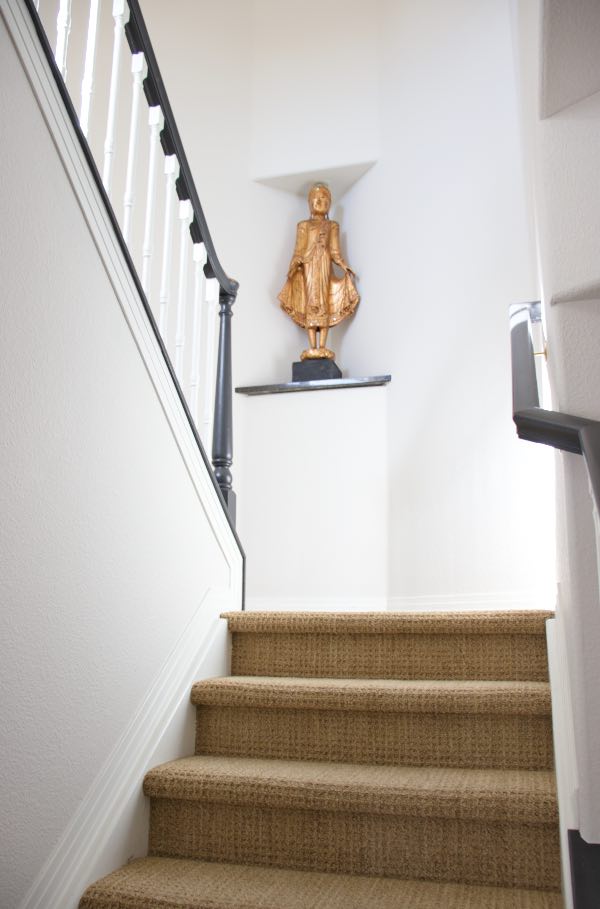 Best Trim and Ceiling Colors
Clean whites such as Chantilly Lace (BM OC-65) Oxford White (BM 869) and Extra White (SW 7006) look clean and crisp with Classic Gray. Off-whites such as Simply White (BM OC-117) and Cloud White (OC-130) also look lovely with this color.
If the room has cool lighting or very low light, I like to use Chantilly Lace or Oxford White as a ceiling color to create a sharper contrast.
White Dove will work as a white ceiling and trim color with Classic Gray if the room has moderate to good light. I'd stay away from creamier colors such as Swiss Coffee because there won't be enough contrast and the combination will look like a mistake.
In a bathroom, or a room with a lofted ceiling you can paint the ceiling Classic Gray just like the walls, as in the bedroom below.
We tried SW Incredible White (a favorite color), and it looked really pink. East-facing exposures are hard, and Classic Gray makes them easy.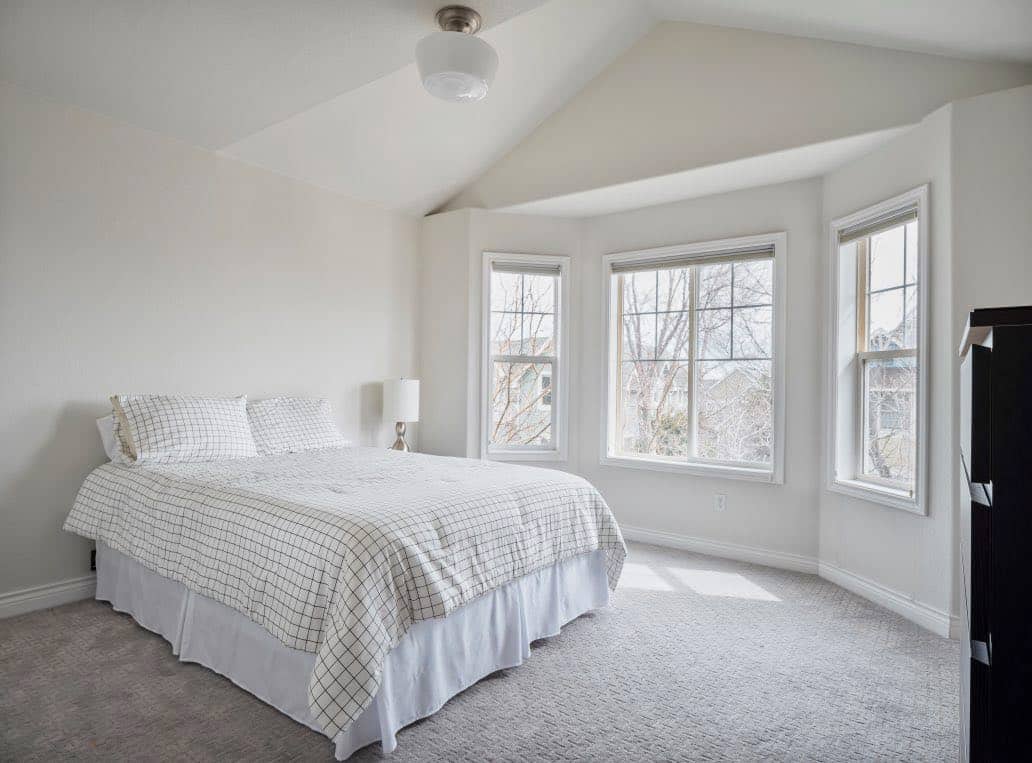 Classic Gray for Exteriors
Classic Gray is a fantastic color for an all-white exterior palette and will look brighter outside than you expect.
It is also one of our dirty little secrets for exterior trim color. When you pick colors for exteriors, it's always good to remember that the sunshine makes paint colors look 5x lighter than inside. In our Colorado bright sunshine, it seems as if it's 10 times brighter! We love to use this color as an exterior trim color because it's not too bright to use with brick, and not too yellow like a creamy color. It's just right! It can also look lovely as a white for an exterior paint color. We specified Classic Gray exterior paint for the trim in the gorgeous home below. The homeowner (and the painters) were skeptical, but it turned out amazing!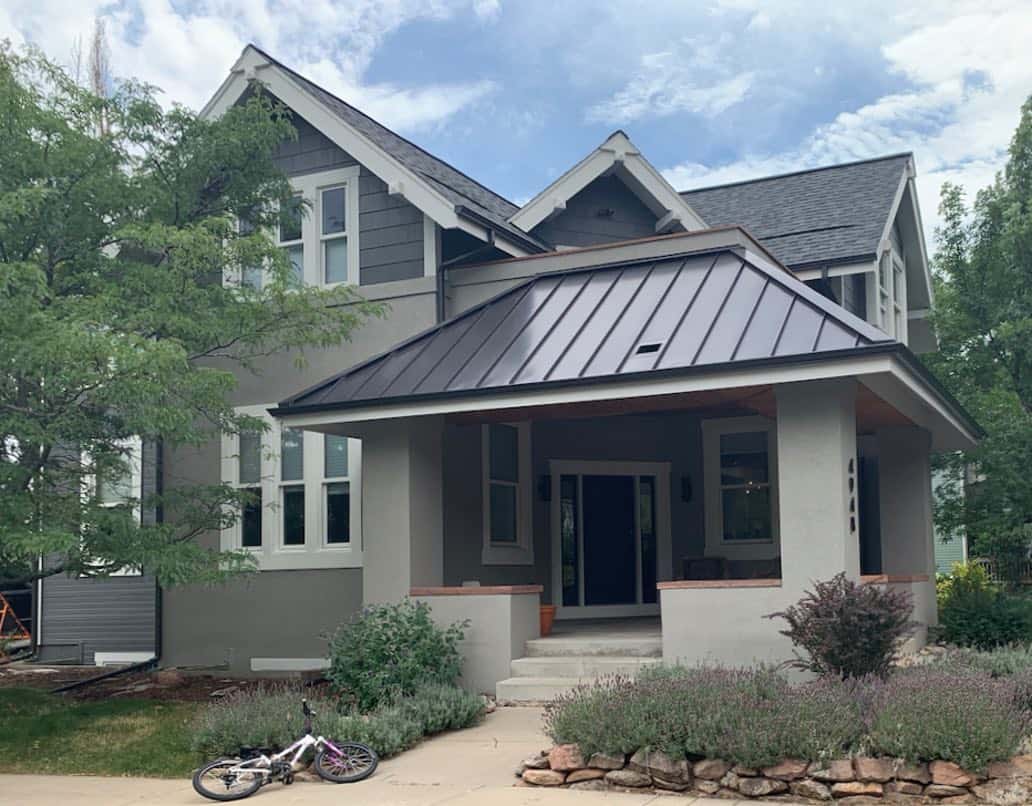 Benjamin Moore Classic Gray Color Comparisons
Classic Gray is just one of the popular gray paint colors on the market today, so it can be really hard to choose the neutral paint that is right for your space. Here's how Classic Gray paint stacks up to some similar colors.
Classic Gray vs Agreeable Gray
Agreeable Gray is a little bit darker, and it's more of a true gray color. Classic Gray is lighter and closer to off-white. Both colors are true neutrals, but Agreeable Gray has warmer green undertones than Classic Gray.
Classic Gray vs Balboa Mist
Balboa Mist is just slightly darker than Classic Gray and has slightly different undertones. Balboa Mist's undertones are violet. While Classic Gray can look slightly violet in certain lights, it has much more subtle undertones.
Classic Gray vs Pale Oak
Pale Oak is another very close Classic Gray alternative. While they are both warm colors, Pale Oak has taupe undertones and so appears much more like a greige than Classic Gray.
Classic Gray vs Gray Mist
The LRV of Classic Gray and Gray Mist are nearly the same. But while Classic Gray is (true to its name) more of a true gray color, Gray Mist is slightly warmer and closer to a greige paint color.
Classic Gray vs Silver Satin
Silver Satin paint is just barely lighter than Classic Gray and is even closer to a white paint color. Classic Gray has a bit more pigment and is therefore more versatile than Silver Satin, which can risk looking dingy in darker rooms.
Key Learning Points
Classic Gray is a beautiful paint color that works really well in just about any space. It would be a lovely whole-house paint color.
Classic Gray is light enough that it can read like a white paint color.
Use it anywhere, but pair it with bright and off-whites for trim and ceiling colors such as Chantilly Lace and Simply White.
Use this in place of white paint for darker rooms to avoid your paint looking dingy, but keep your trim and ceiling color light and bright.
As always, don't forget to test your paint colors! The easiest way to sample Classic Gray (and any paint color for that matter) is via SAMPLIZE. Their peel-and-stick paint samples are easy to use and true to color. With Samplize you can easily see how different shades look on your unique wall.
One more thing… we do not recommend that you try to paint match Classic Gray or any other Benjamin Moore paints with Sherwin-Williams, Behr, or any other manufacturer. Paint color formulas are difficult to duplicate, and whites are especially hard to get right. Read more about paint matching here.
Classic Gray can look green if you try to match it to another brand.
Online Color Consulting
If you still need help with paint colors, check out our Online Color Consulting packages or an In-Person Color Consultation in the Denver Metro area.
If you liked this post, don't forget to PIN it!
Related Posts
Our 5 Favorite Benjamin Moore Whites
Benjamin Moore Chantilly Lace Color Review
Benjamin Moore White Dove Color Review
Benjamin Moore Simply White Color Review
Benjamin Moore Cloud White Color Review
The 6 Best White Paint Colors For Dark Rooms
We love your comments! Please note that the blog is meant as general advice, and it is not possible to give out specific answers to your paint questions. If you want more specific advice, please consider purchasing a color consultation. Thank you for your understanding.