Nothing updates a home to sell like neutral paint colors. If done well, new paint colors can deliver the biggest bang for your buck than any other renovation. But what are the best neutral paint colors to sell a house?
That's where this article comes in. We just prepared our home for sale, and it looks amazing. As with other sellers, we had a couple of rooms that needed some TLC.
Getting ready to sell your own home? Keep reading for answers to common paint color questions and get our top picks for the best neutral paint colors for the whole house.
Does Paint Color Matter When Selling A House?
Yes, it really does. While it may not seem like that big of a deal, paint color can truly make or break a home sale (and even impact the overall value of your home!). There's a reason that realtors and paint color consultants recommend specific paint colors to sell a house – it works!
Not only does a fresh coat of paint cover up any imperfections or years of wear and tear – making the space feel newer – the color itself can even help prospective buyers picture themselves making your house a home. There's no better way to make a sale!
So, how do you paint your house to sell? Let's explore some common questions we get from our color consulting clients.
Should you paint the interior of your whole house white?
This is a great question. After all, it would seem that white paint is the perfect blank canvas for new owners. And if you've spent any time on Pinterest then you know that all-white walls and even entire homes are definitely still a trend. But is white one of the best neutral paint colors to sell a house? Maybe.
As you probably already know, there's no such thing as just white paint. Even the most basic of colors comes with tons of options! From White Dove to Chantilly Lace and Oxford White to White Heron, choosing a white paint color for your whole house takes time.
You should only use white paint in a sunny space. Using bright white paint in a poorly lit space will make the room look gray and dirty thanks to shadows. There are some good white paints for dark rooms, but they need to be chosen carefully.
If you do decide to paint your home white to sell, be sure to research the best paint sheens for walls, trims and ceilings to add depth and dimension.
Which is better: gray vs beige walls?
We definitely see warmer colors trending, but ultimately you need to pick the colors that look best in your home.
There's no simple answer for whether gray neutral paint is better than beige neutral paint for selling a house (or vice versa). Instead, deciding between gray paint colors and beige or tan paint colors should really come down to the existing finishes in your home, your lighting, and the furniture and art that will be part of staging the home.
Remember: it's not just the paint color on the walls that sells a house – it's how that paint comes to life within your home.
How to Pick Neutral Paint Colors That Sell a House
Most homeowners paint interiors by room or space over time. This often results in a kaleidoscope of colors that made sense in the moment but don't always match when it comes time to sell.
If you need to paint your home to sell, it's ideal to paint all the rooms with one color or a planned unified color palette. A simple but effective strategy is to paint the common areas with one neutral and secondary rooms with other neutrals where needed. Learn how to pick white paint colors here.
To save money, use paint colors that you already have in your house, and build on the palette. Coordinate with hard surfaces such as countertops, tile floors, and fireplace stone. You may love it so much you don't want to move.
Other Home Design Tips To Sell
It's not only the paint color that sells a house! The overall design of your home and the way it is presented to prospective buyers is key. Use these tips to prepare your home for sale – then keep reading for our favorite neutral paint colors.
Hire a Pro Stager to Sell
Staging your house to sell is completely different than decorating. Hire a professional stager to make your home look great in pictures and in person. The home was staged by Heidi Garthwaite with Property Staging and Design.
Invest in a Real Estate Photographer
Real Estate photos are just as critical in today's online market. Most home searches start online, and in our area (Boulder, CO) realtors usually invest in professional photography. Our realtor, Tim Goodacre, with Goodacre and Company engaged Jamie Maynard, an architectural photographer with Magic Factor Media, to take photos and videos of our house for sale.
6 Best Neutral Paint Colors to Sell A House
Stonington Gray (HC-170)
Benjamin Moore Stonington Gray is one of my all-time favorites.  It is a cool gray with blue undertones, and it looks different in every room.  We painted the common areas, the master bedroom, and two of the bathrooms with Stonington Gray, in eggshell. The trim was Chantilly Lace in Satin sheen.
Check out how the fireplace matches the accent wall and ceiling (Millstone Gray, BM 1581). This was already in place and didn't need to be updated. Learn more about Accent Walls here.
We picked Stonington Gray for this space because it complemented the Carrara Marble in the kitchen and the dark green-gray Vermont Slate on the hearth. You can learn more about kitchen finishes here.
This living room with south-facing windows is so pretty. Open-concept spaces are alive and well!
The basement family room was also painted with Stonington Gray, but it looks a little more blue because of the light.  Check out our secret bookcase door into the Utility Room.  We call it the Bat Cave!
The upstairs hallway is also Stonington Gray. it's still a gorgeous backdrop for a couple of the rooms that we painted different neutrals. In a previous renovation, we picked this silver-gray carpet to tie in with the Stonington Gray paint color.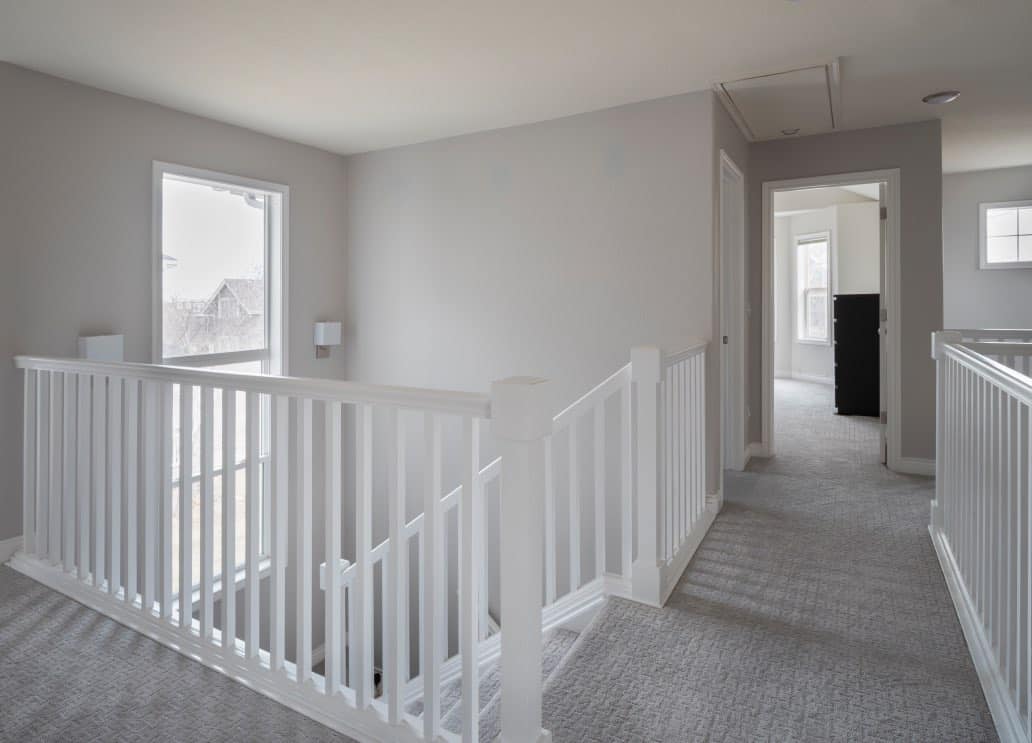 The master bedroom is flooded with the west and south-facing exposures and an amazing mountain view. This is still Stonington Gray with Chantilly Lace trim, but it looks lighter because of all the light.
This South facing bedroom is also painted with Stonington Gray. It looks absolutely blue, in a wonderful lovely way. This is one reason that Stonington Gray is one of the best neutral paint colors to sell a house: it is so versatile and looks completely different in different lights.
This bathroom was also painted Stonington Gray – both walls and ceilings.  I love to paint bathroom walls and ceilings the same color when I'm working with light neutrals.  The ceilings usually look much lighter and it's a nice unified touch. This vanity was painted with Benjamin Moore Witching Hour (2128-20). A perfect combination with the blue undertones of Stonington Gray.
As part of this project, I decided to paint the laundry room walls Chantilly Lace for a nice clean neutral.  The cabinets were already painted, Chantilly Lace.  The room looked like an explosion of primer, way too harsh.  I didn't want to repaint the whole room, so I added Stonington Gray as an accent wall to tie in with the living room.
Pale Oak (OC-20)
Pale Oak is one of my favorite neutrals of all time.  It is a light taupe with warm gray undertones. This color is beautiful with just about any interior. It's definitely high on the list of the best neutral paint colors to sell a house. 
Once again we painted the walls and ceiling the same color, even though the ceiling looks white.
If you need more inspiration for Pale Oak paint, be sure to read our full color review on this beautiful neutral paint color.
Rockport Gray (BM HC-105)
I don't consider Benjamin Moore Rockport Gray one of the usual neutrals because it's a little bit light, but I thought we would throw it in since it is so pretty.  This room didn't need re-painting, so we left it the way it was.
We still made sure that it flowed well with the Stonington Gray hallway. So pretty!
The ensuite bathroom had pink beige tiles from the original build. We painted the bathroom walls, Chantilly Lace, a perfect, clean white to cool down the tile color. The Chantilly Lace ties in with other white elements in the room. In a previous remodel we painted the yellowed oak vanity Rockport Gray to match the walls of the room. It is so pretty!
Classic Gray (OC-23)
This East facing bedroom had a dramatic transformation.  We decided to paint both walls and ceiling Benjamin Moore Classic Gray to emphasize the beautiful architecture.  It may seem counterintuitive, but it looked so much better than before.  Classic Gray is one of my go-to light neutrals.  It goes with just about anything, making it one of the best paint colors to sell a house.
Manchester Tan (HC-81)
Benjamin Moore Manchester Tan is a perfect color to update an interior with dated Tuscan finishes. It is a beige with subtle green undertones and matches just about everything. I have a cousin that only paints her house with Manchester Tan!  In this case, it tied in with the furniture and Zen motif.
Abalone (2108-60)
Benjamin Moore Abalone is a quiet gray with violet undertones. While purple undertones may not seem like the best option for paint colors when selling a house, I love to use this color for a girl's room. This color is sometimes even great for a whole house if it matches your kitchen countertops, backsplash tile, or your fireplace stone.
Stone Hearth (BM 989)
Benjamin Moore Stone Hearth is a mid-toned taupe color, perfect for this powder room.  Learn more about this Powder Room update here. This is a slightly darker and bolder tan than some of the others listed, but is still neutral enough to work as a whole house paint color when selling.
Best Exterior Paint Colors to Sell Your House – Extra Credit!
In most cases, sellers don't repaint their exteriors due to cost. For a small price, you can make your exterior look fresh and new by power washing the home. If your paint colors already look good and the paint job is in good shape, its probably not worth it to repaint.
White Exterior Color Schemes to Sell
Right now, a farmhouse white house with black accents are the biggest trend. If you need to paint your house, this could be a good option. Link here to learn about more white paint color schemes. This article shows more details about Farmhouse exterior white paint colors.
Gray Exterior Color Schemes to Sell
Gray houses are also on-trend, and a safe choice to update your home for sale. This beautiful gray house is crisp and welcoming.
A well-done color scheme is always a great choice for sale. In our case, rich exterior paint colors kept our home looking fresh and new for years. Paint colors are Benjamin Moore Ashwood Moss (1484) for the Primary Siding, Tulsa Twilight (2070-10) for the secondary color, and Swiss Coffee (OC-45) for the trim.
Learn more about how to pick exterior paint colors here.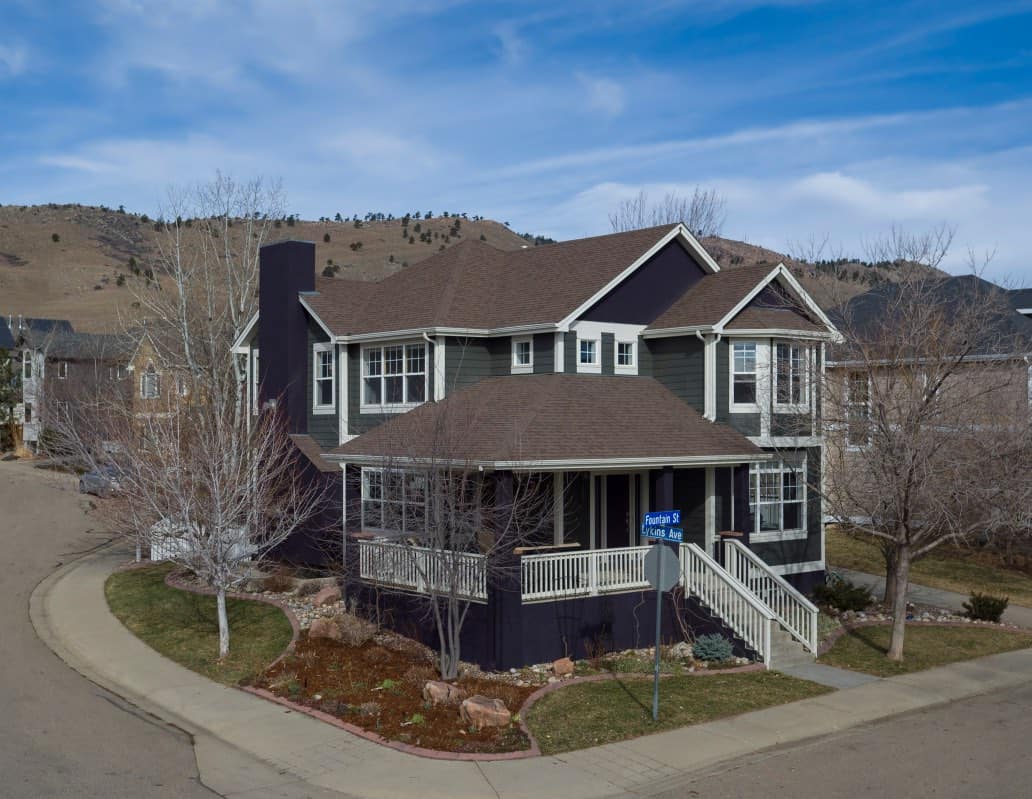 The Verdict
Paint your home with neutral paint colors to sell throughout the whole house. Use a planned color palette, based on colors that you already have in your house to minimize the cost. Hire a stager to pull it all together, and make sure your realtor hires a professional photographer. ALWAYS test your paint colors like a pro for best results.
Online Color Consulting
If you still need help with paint colors, check out our Online Color Consulting packages.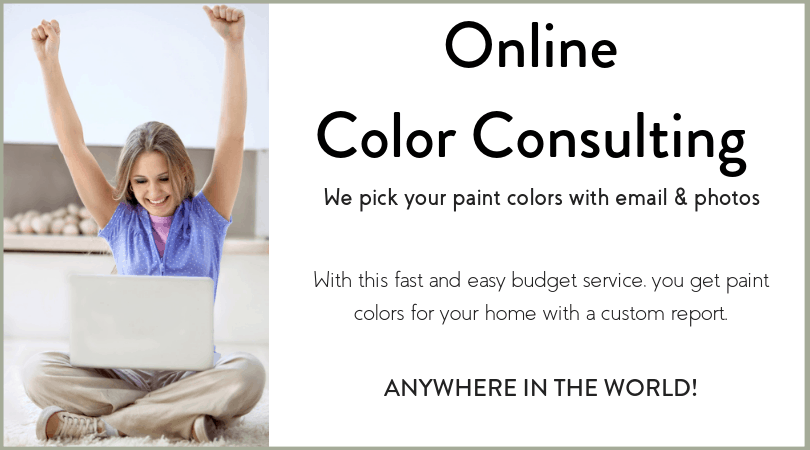 If you liked this post, don't forget to pin!
Related Posts
Our 5 Benjamin Moore Whites… and how to use them
Quick and Easy Laundry Room Makeover
Powder Room Remodel on a Budget