Our clients often ask us to specify colors for accent walls.  It's an easy and low-risk way to add color and dimension to a room. Don't forget to test your paint colors!
Pick a color that relates to an interesting feature in the room.
Your accent color should relate to another part of the room.  Consider a color from a piece of art, a throw pillow, bedspread or a gorgeous countertop.  This beautiful master bedroom in Boulder County hadn't been painted since the eighties.  The original walls were painted a peachy light neutral.
We matched a gorgeous deep blue-green color from a family heirloom painting over a fireplace.  The painting was on the opposite side of the bed in the master bedroom, and ties in perfectly with the feature wall. Benjamin Moore Gentleman's Gray (2063-20) was a perfect color for the picture.
Gentleman's Gray was too dark and heavy for all four walls, so we opted for a feature wall behind the bed.  Walls and trim were Sherwin Williams Extra White (SW 7006).
Notice how the wood glows next to the rich green wall. The wood has red undertones, which are a complementary color to green, opposites on the color wheel.
Pick a wall with a feature such as a fireplace or bed.
A splash of color on a fireplace wall can add drama.  I love this accent wall because it hides the TV over the mantle.  The color is Sherwin Williams Cyberspace.
Add color to a ceiling.
When you paint or wallpaper a ceiling it adds amazing dimension.  This looks amazing with crown molding to define the space.
Use other materials for accent walls.
I love a wallpaper accent wall.  Stone, shiplap and exposed brick can also look pretty in the right space.
If you pick another material such as wallpaper as your accent, make sure that the walls are painted one of the colors in the wallpaper.  Don't forget about removable wallpaper and pre-made murals!
Accent colors can look amazing inside bookshelves or a niche.
The Verdict
Accent walls can make a room come to life, especially in a bedroom, behind a fireplace or even on a ceiling.  Paint isn't the only way to create an accent.  Wallpaper can be used for an accent too!  Don't forget to test your paint colors.  Learn how here.
Need Help Picking an Accent Wall? We can do it!
Order your Accent Wall Online color consulting package today.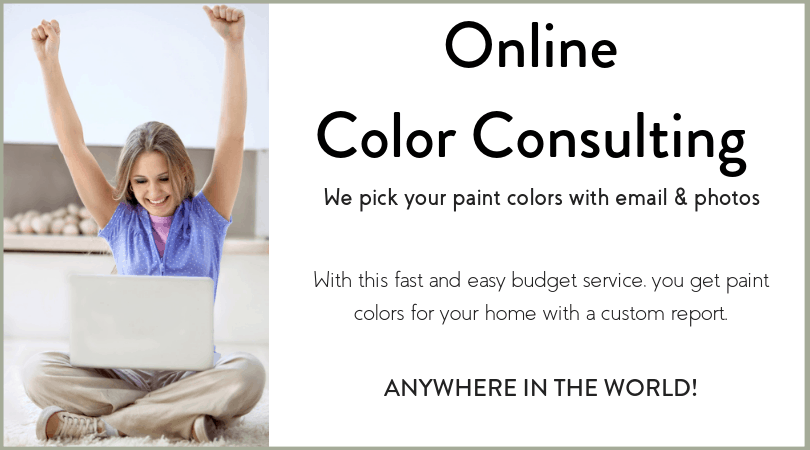 If you liked this article, don't forget to PIN!
Related Articles
5 Color Palette Lessons from the Silos