Our clients often ask us to specify accent walls.  It's an easy and low-risk way to add color and dimension to a room. We especially love accent walls in todays clean white paint interiors.  Below are some basic rules to follow.
Which Wall Should Be The Accent Wall?
Select a wall without windows
Windows will add backlight and make the color difficult to see.  Instead, choose an inside wall or a wall with something you want to highlight such as a piece of art, a fireplace, or a dining room wall.
Start and end the wall on an inside corner
This makes the transitions more harmonious.  It's much easier to cut in an inside corner than an outside edge.
Limit your accents to one per area or room, and consider the whole-house palette
Use accent colors carefully and mindfully, or they could start to look disjointed.  Consider the colors throughout the house.  Even if they are not in the same room, they should all harmonize together.
Pull the accent color from an interesting feature in the room
Your accent color should always relate to another part of the room.  Consider a color from a piece of art, a throw pillow, bedspread or a gorgeous countertop. 
For the headboard wall below, we matched a gorgeous deep blue-green color from a family heirloom painting over a fireplace.  The painting was on the opposite side of the bed in the master bedroom, and ties in perfectly with the headboard accent wall. Benjamin Moore Gentleman's Gray (2063-20) was a perfect color from the picture.
What is the best way to test Accent Wall paint colors?
We always recommend that you test paint colors in your house because lighting can change a color completely. In the old days, this meant we painted a large poster board with sample pots and a huge mess.
Now we have SAMPLIZE, 9X14″ Pre-Painted peel-and-stick paint samples.  Check out the SAMPLIZE website HERE.
Accent Wall Ideas
Bedroom Headboard Wall
One of our favorite placements for accent walls is the headboard wall in the bedroom.  We chose Gentleman's Gray from the fireplace painting above for the bedroom accent wall.  it contrasted beautifully with the 4-poster bed.  Notice how the wood glows next to the rich blue-green wall. The wood has red undertones, which are a complementary color to green and opposites on the color wheel.
Walls, ceiling and trim were Sherwin Williams Extra White (SW 7006).
Fireplace Accent Wall
A splash of dark blue accent color on a fireplace wall can add drama.  I love this accent wall because it hides the TV over the mantle and lifts the eye to make the ceiling look taller.  The color is Sherwin Williams Cyberspace (SW 7076).  You should have lots of light if you use Cyberspace. Otherwise it will look black.
Ceiling Accents
Ceilings are the fifth wall, and ceiling colors add amazing dimension.  This looks amazing with crown molding to define the space.  The green-gray ceiling color matches the slate fireplace is BM Millstone Gray (1581).
This entry ceiling is BM Wrought Iron.  The dark color makes the room look taller and pairs perfectly with the black dining room color.  The wood table warms up the black and white (BM Cloud White) palette.
Bathroom V

anity Accents
This bathroom renovation used Benjamin Moore Rosepine as the accent wall.  We really liked the way it contrasted with the violet gray floors and cabinets.  The rest of the walls are painted BM Balboa Mist.
Office Accent Walls
Consider an accent color behind your desk.  This mid-toned accent is BM Kensington Blue.
Stairway Accents
This accent wall is at the top of a stairway and is painted Sherwin-Williams Iron Ore SW 7069.  This soft black is dramatic when contrasted with the warm beautiful hardwood floor and SW Agreeable Gray walls.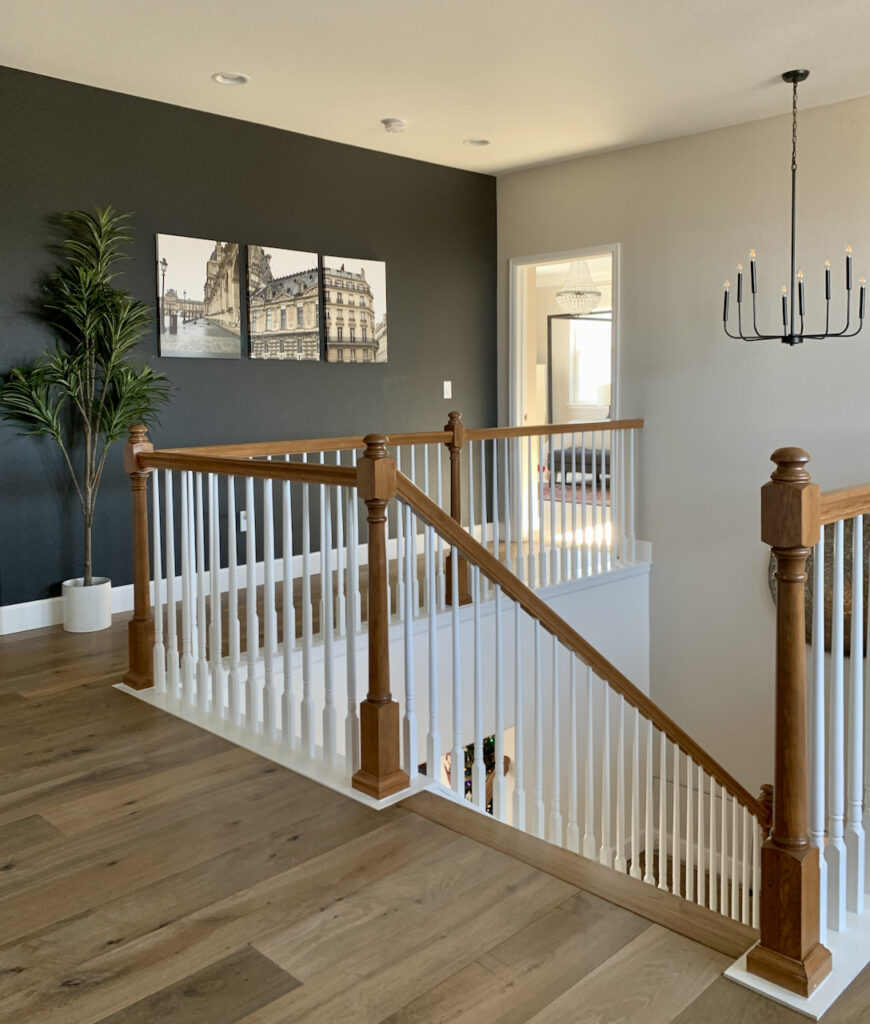 Dining Room Accents
You can also use the dining room as an accent itself, with all the exposed walls.  In this dining room we used SW Granite Peak as a dark blue accent.  Since this room was already fairly dark, we couldn't use a really dark blue such as Hale Navy or Cyberspace because it looked black in the room.
This fabulous dining room has an accent wall on the bookshelf wall, and it runs along the length of the table.  The color is SW Arugula. This was taken in an apartment we stayed in Paris.
Living Room Accent Walls
You can place a living room accent wall behind a sofa as long as the wall is clear of windows.  This photo shows an exposed stone accent wall in an ancient building in Paris.  The stone is the same that was used to build the apartment building.  This is also a great opportunity for a wall gallery.
Exposed Brick Walls
The exposed brick accent wall in this Paris apartment was selected by the homeowners.  The building was very old, so it was likely exposed and not chosen.
Wallpaper Accents
This gorgeous work-from-home office has a beautiful wallpaper accent wall, and was designed by our client.  If you pick another material such as wallpaper as your accent, make sure that the walls are painted one of the colors in the wallpaper.  Don't forget about removable wallpaper and pre-made murals.
Mural Accents
Consider murals as accent walls, or in this case accent closed doors!  In this photo, the artist painted her murals on the closet doors of Maddie Camilli's studio.  The artist is Julia Williams, https://www.thedesignosaur.com.  Instagram handle is @thedesignosaur.
Accent Wall Paint Colors
Consider the paint colors in this post:
The Verdict
Accent walls can make a room come to life, especially in a bedroom, behind a fireplace, or even on a ceiling.  Paint isn't the only way to create an accent.  You can use wallpaper exposed brick, stone, shiplap, or wainscoting.
Don't forget to test your paint samples.  We love to test with SAMPLIZE peel-and-stick samples.  Check out the SAMPLIZE website HERE.
Online Color Consulting
If you still need help with paint colors, check out our Online Color Consulting packages or an In-Person Color Consultation in the Denver Metro area. Or, explore 8 easy ways to choose paint colors.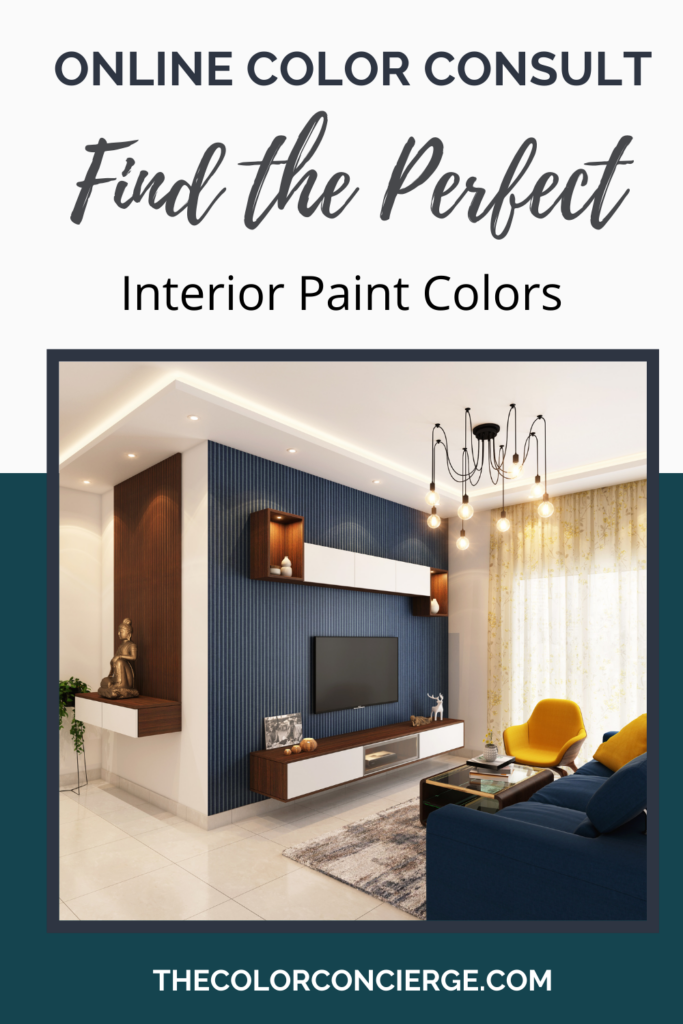 If you liked this article, don't forget to PIN!
Related Articles
BM Slate Teal Paint Color Review