Learn all about Benjamin Moore Onyx (2133-10) in this paint color review.
This Benjamin Moore Onyx paint color review will give you the low-down on one of our favorite black paint colors. Believe it or not, black paint colors have cool and warm undertones, and can be described as soft or dark. Onyx is a dark black with minimal undertones. It's a great paint color for a front door, an accent wall, a cabinet color or a dramatic office or living room.
In many ways it behaves as a white – it makes a great backdrop to highlight art or other colors. It was the star of the show when I renovated my office.
Please note: All color reviews feature our color consulting projects, and many of our photos come from our satisfied clients!

*This post contains affiliate links for products I use and love. If you click on some links and make a purchase, I will get a small commission at no cost to you. This helps pay for the costs of the blog, so I can continue to offer great content to our readers.
What Color is Benjamin Moore Onyx?
Benjamin Moore Onyx is a neutral, deep black paint color with an LRV of 5. LRV stands for Light Reflectance Value, which is a measurement of how light (LRV=100) or dark (LRV=0) a color is. Onyx is just a bit lighter than a true black.
What undertone is Benjamin Moore Onyx?
Onyx has little to no undertones. It's a truly neutral dark black that can work well with both cool and warm colors and finishes. It's a great color for everything from a front door or cabinet to an accent wall or even a whole room.
Is Onyx a warm black?
Onyx is really a neutral black, that isn't overly warm or cool. On the wall, it tends to look more warm thanks to its saturated color. This is especially true if you pair it with other warm paint colors and finishes, like warm whites, grays with green undertones and natural wood.
In the room below, the brown couch helps bring out the warmth of the Onyx paint while still keeping the whole room very neutral.
Best Trim and Ceiling Colors for Onyx
Black paint colors are pretty forgiving. For trim and ceilings you can use clean whites such as BM Chantilly Lace, off-whites such as BM Simply White or BM White Dove or creamy whites such as BM Swiss Coffee. I like to match the ceilings to the trim as a cultural convention, but with black paints it doesn't make that much of a difference. Ideally the ceiling white should be lighter than the trim white paint color.
When to Use BM Onyx Paint
Use Onyx when a room has lots of windows, many light-colored surfaces or in moody rooms without windows that have a ton of lighting. I like to use Onyx in an office where you do a lot of computer work – it is easy on your eyes and you can see the screen better. Onyx also looks great on an interior front door or as a cabinet color.
Avoid rooms with low light where you need to work manually such as laundry rooms.
Should I try a Benjamin Moore Onyx office?
I love using black paint for office rooms. Offices are typically smaller spaces, which can work really well with dark paint colors. And dark walls can also make computer work easier because it's easy on your eyes. If you're sitting in front of a screen all day or do a lot of video calls, an Onyx background could be a great option.
My own office (pictured below from my old home) was painted with Onyx walls and I love the combination of the dark walls with Chantilly Lace trim and warm wood floors.
Does a BM Onyx living room work well?
If you're looking for a dramatic living room, then Onyx is a great bet. Just make sure your room has lots of light and plenty of white trim and other accents to keep the space from feeling too dark.
The room pictured below has lots of light, white trim and white ceilings. This room has two enormous windows, and the black highlights the exterior foliage as art.
Should I try Onyx cabinets?
Since Onyx has so few undertones, it looks fantastic as a cabinet color and complements just about any neutral paint color. In this room, we used it to update a granite powder room countertop. We chose Benjamin Moore Stone Hearth (984), a mid-toned warm taupe neutral paint color, for the walls, which paired well with the neutral black vanity. Learn more about that renovation here.
When to Avoid BM Onyx
Lesson learned: don't use Onyx in laundry rooms. This laundry room was a failed experiment. It is pretty and dramatic, and even though I kept one of the walls white, and it had a white ceiling, trim and cabinets, it was still too dark to do laundry. It looked great, but you could never see what you were doing.
Using Benjamin Moore Onyx Exterior Paint
Dark exterior paint colors are having a moment right now. We don't have any photos of Onyx exteriors, but it would be a great option!
Dark paint colors such as Onyx look great with lots of foliage as contrast, and without trim. If you use Onyx for an exterior, consider warmer whites or light gray paint colors for trim. Some trim options are BM Classic Gray (OC-32), BM White Dove (OC-17), or Edgecomb Gray (OC-173) for a creamier look. You can read more about Classic Gray as an exterior trim color in the color review here.
I also love the idea of using Onyx alongside a red brick exterior. We highlighted some of our favorite black paint colors that go with red brick in a recent post. Onyx would work in similar ways.
What colors go well with Onyx?
Dark paint colors such as Onyx look great with white trim, warm colors and warm finishes.
Does BM Onyx go with white?
Yes! Onyx is a great foundation for a classic black-and-white color palette. It's neutral enough to work with both clean whites and warmer whites.
I prefer warm whites or off-whites to keep Onyx looking warm on the wall. Colors like BM White Dove, Simply White, Cloud White and Swiss Coffee would all work well.
Does BM Onyx go with gray?
Onyx looks really lovely paired with warm gray colors. I especially like to use it alongside light gray paint with green undertones, such as BM Edgecomb Gray, BM Classic Gray and BM Revere Pewter.
Does Onyx go with wood accents?
I love pairing BM Onyx paint with natural wood floors and accents. In the room pictured below, this black paint color is a great backdrop for wooden shelves and tribal art as well as those gorgeous Paris prints. The gorgeous wood floors look silky with the contrast.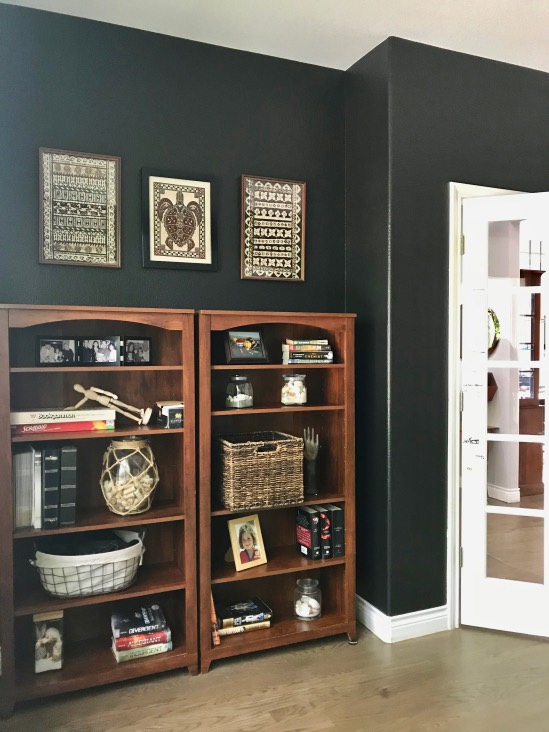 Best Benjamin Moore Onyx Alternatives
Benjamin Moore Onyx vs Benjamin Moore Black Beauty
With an LRV of 5, Benjamin Moore Black Beauty is very similar to Onyx. Unlike Onyx's neutral undertones, however, Black Beauty has green undertones that make this paint look warmer on the wall.
Benjamin Moore Onyx vs Benjamin Moore Black
Benjamin Moore Black is another Onyx alternative. With an LRV of 4.5, Black is a bit darker than Onyx. It also has cooler, blue undertones and looks less neutral than Onyx.
Benjamin Moore Onyx vs Benjamin Moore Wrought Iron
Wrought Iron is a lovely, soft black with an LRV of 8. It is a bit lighter than Onyx and more muted. It has blue undertones and looks a lot cooler on the wall.
Benjamin Moore Onyx vs Sherwin-Williams Tricorn Black
Sherwin-Williams Tricorn Black is the truest black alternative to Onyx. With an LRV of 3 it is very dark. It has neutral undertones like Onyx and can work well in many of the same applications.
Benjamin Moore Onyx vs Sherwin-Williams Iron Ore
Sherwin-Williams Iron Ore is a very popular black paint color. It is a warm black paint with invisible green undertones. With an LRV of 6, it is just slightly lighter than Onyx.
Which Sherwin-Williams Color is Most Similar to Onyx?
If you're looking for a Sherwin-Williams version of Onyx, don't ask your store to paint match (it never works!). Instead, pick the closest Sherwin-Williams alternative. The closest Sherwin-Williams match is Tricorn Black (SW 6258).
What is the easiest way to Sample Benjamin Moore Onyx?
We always recommend that you test paint colors in your house because lighting can change a color completely.
In the old days, this meant we painted a large poster board with sample pots and a huge mess. Now we have SAMPLIZE, 9X14″ Pre-Painted peel-and-stick paint samples. Check out the SAMPLIZE website HERE.
Key Learning Points
Onyx is a beautiful black paint color with neutral undertones. It can be used in many different applications both inside and outside the home.
Make sure you use it in rooms with lots of light for interiors.
You can use it as a siding or trim color for exteriors.
It pairs really well with warm colors and finishes, like natural wood floors and warm white trim.
NEVER, EVER use paint matches from a different brand than the one specified. Results are poor and there are no standards for the sheens. Even though your painter may truly believe it can be done, don't do it. See results from paint matching here.
Online Color Consulting
If you still need help with paint colors, check out our Online Color Consulting packages or an In-Person Color Consultation in the Denver Metro area.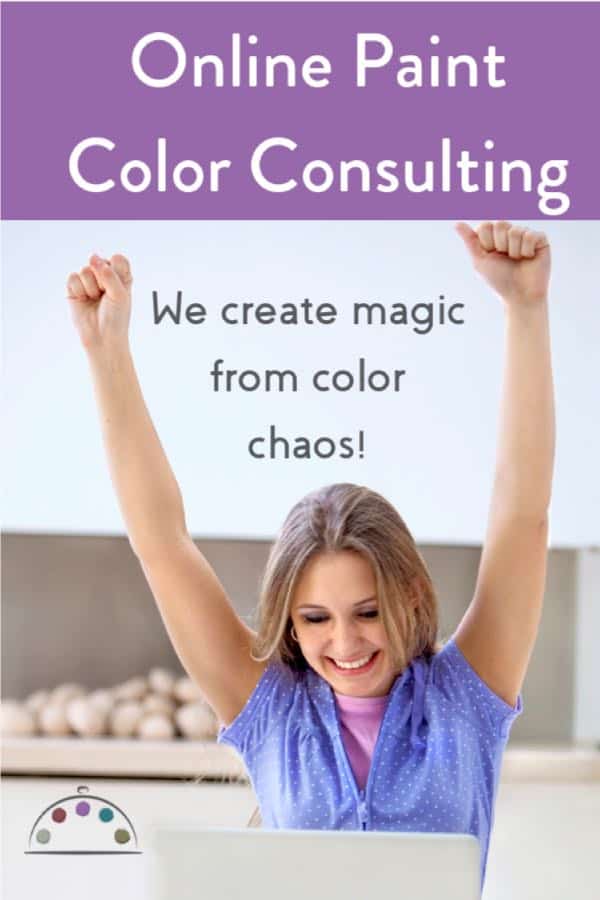 If you liked this post, don't forget to pin!
Related Posts
Powder Room Remodel on a Budget
We love your comments! Please note that the blog is meant as general advice, and it is not possible to give out specific answers to your paint questions. If you want more specific advice, please consider purchasing a color consultation. Thank you for your understanding.