Benjamin Moore White Dove is one of our favorite whites, and we will explain why in this color review (OC-17, I-O6, PM-19).  White Dove is an iconic Benjamin Moore off-white paint color that is versatile, warm, and lovely.  It has soft invisible yellow undertones, but grayed out so you can hardly see it. Use White Dove for walls, ceilings, trim, molding, or cabinets.
White Dove looks fantastic in bright rooms or rooms with lower light.  It has enough pigment that it won't gray out in the shadows.
We used White Dove as a ceiling, wall, and trim color in this beautiful bedroom.
What is the LRV of White Dove?
White Dove has an LRV of 85.4 which makes it a soft white.  This warm off-white paint color is muted with gray and has some yellow.  LRV is short for Light Reflectance Value, which is a measurement of how light (LRV=100) or dark (LRV=0) a color is.
When should I use White Dove?
You can use White Dove as a wall color in rooms with warm or earthy finishes, darker rooms, or sun-filled rooms.
White Dove is a great tool to modernize dated bathrooms, where you can cool off earthy Tuscan tile.  Use an eggshell sheen for walls and ceilings in bathrooms, and warm up the room with textured bamboo shades.
It looks great as a white to update a dated Tuscan home, and also with a modern white kitchen. Since it is an off-white, it's a great all-around white and pairs well with clean whites and creamy whites. It provides contrast without a harsh look.
White Dove, as with many white paint colors is a great tool to enhance architectural details.  You don't need to shift colors to highlight the details; a shift in sheens is enough.
It can be paired with most white quartz countertops, clean white subway backsplashes, and soft warm Calacatta tile.  White Dove painted cabinets transformed this kitchen.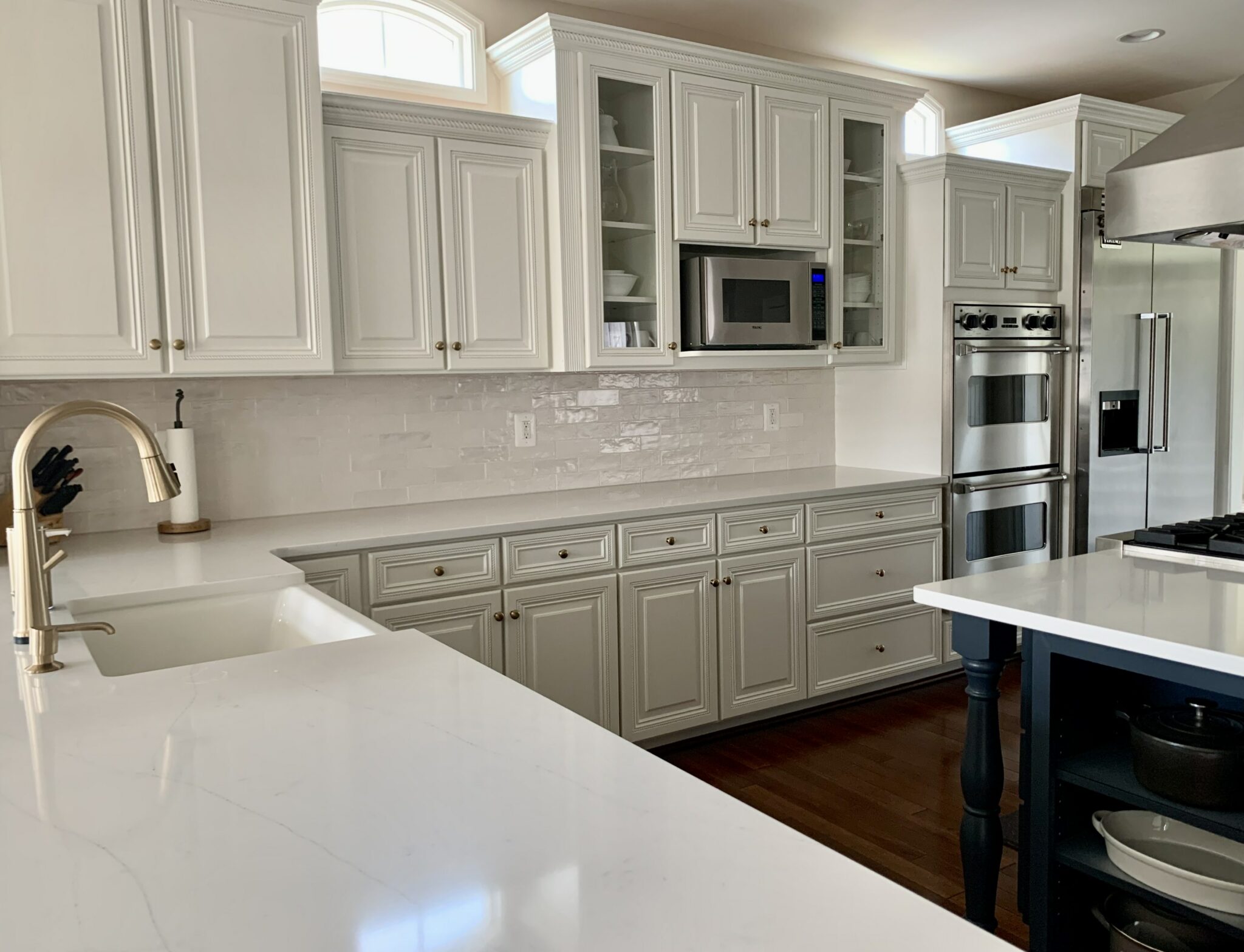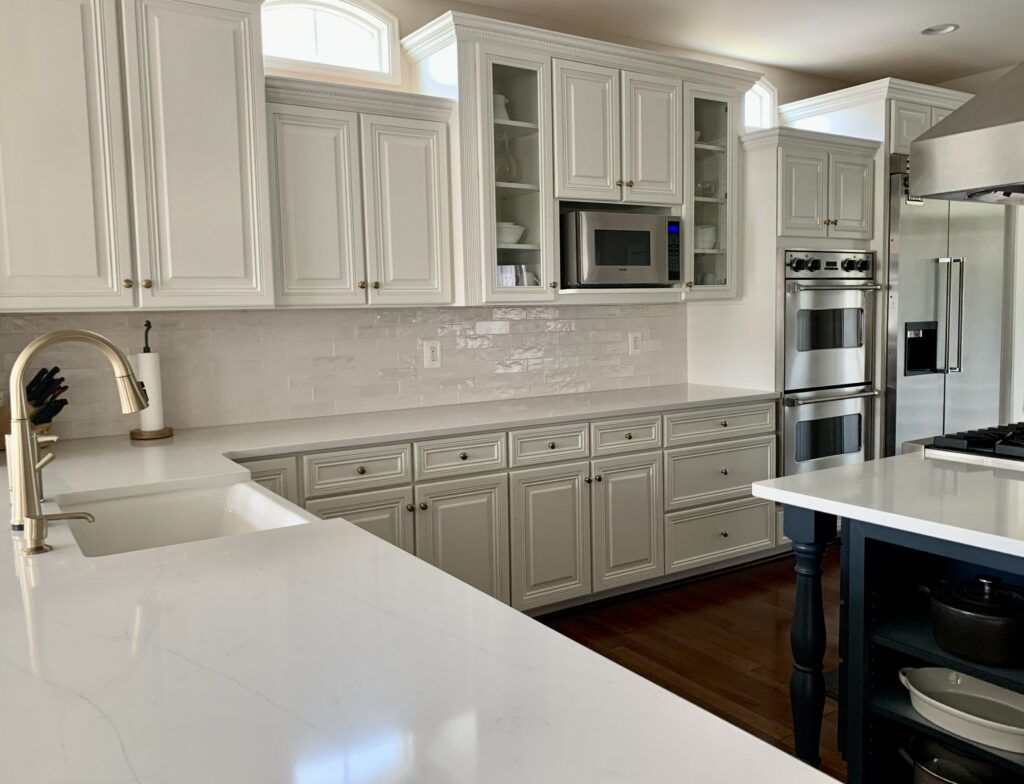 This was the before:
White Dove is a great backdrop for colorful art.  This room has soft filtered light with east-facing windows.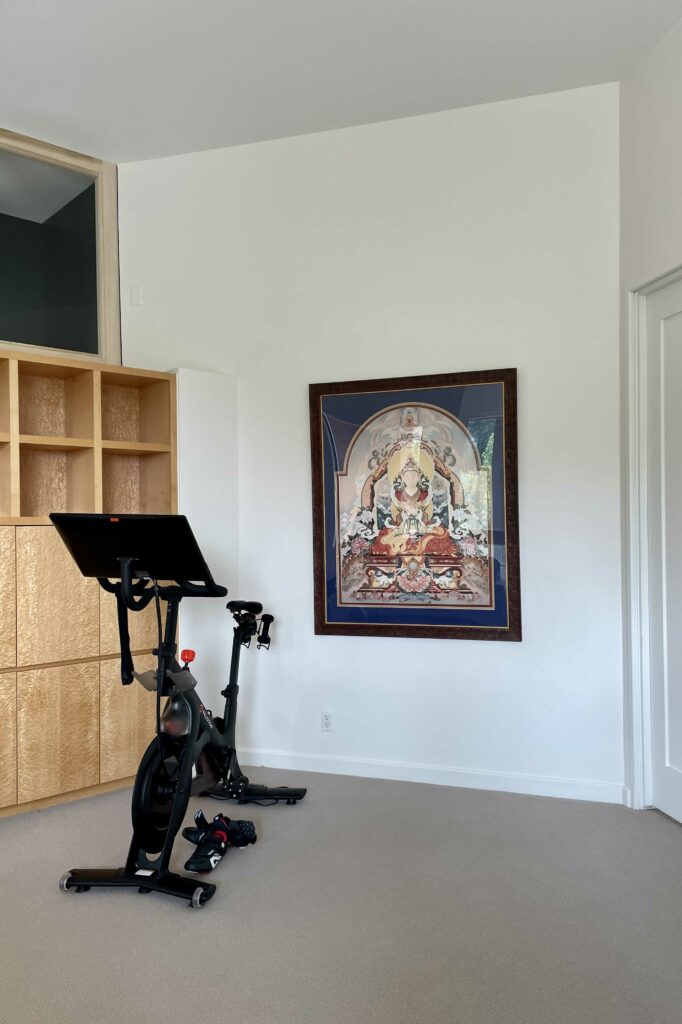 It looks great in an entry. We specify this color frequently, but it was already in place when we visited this house.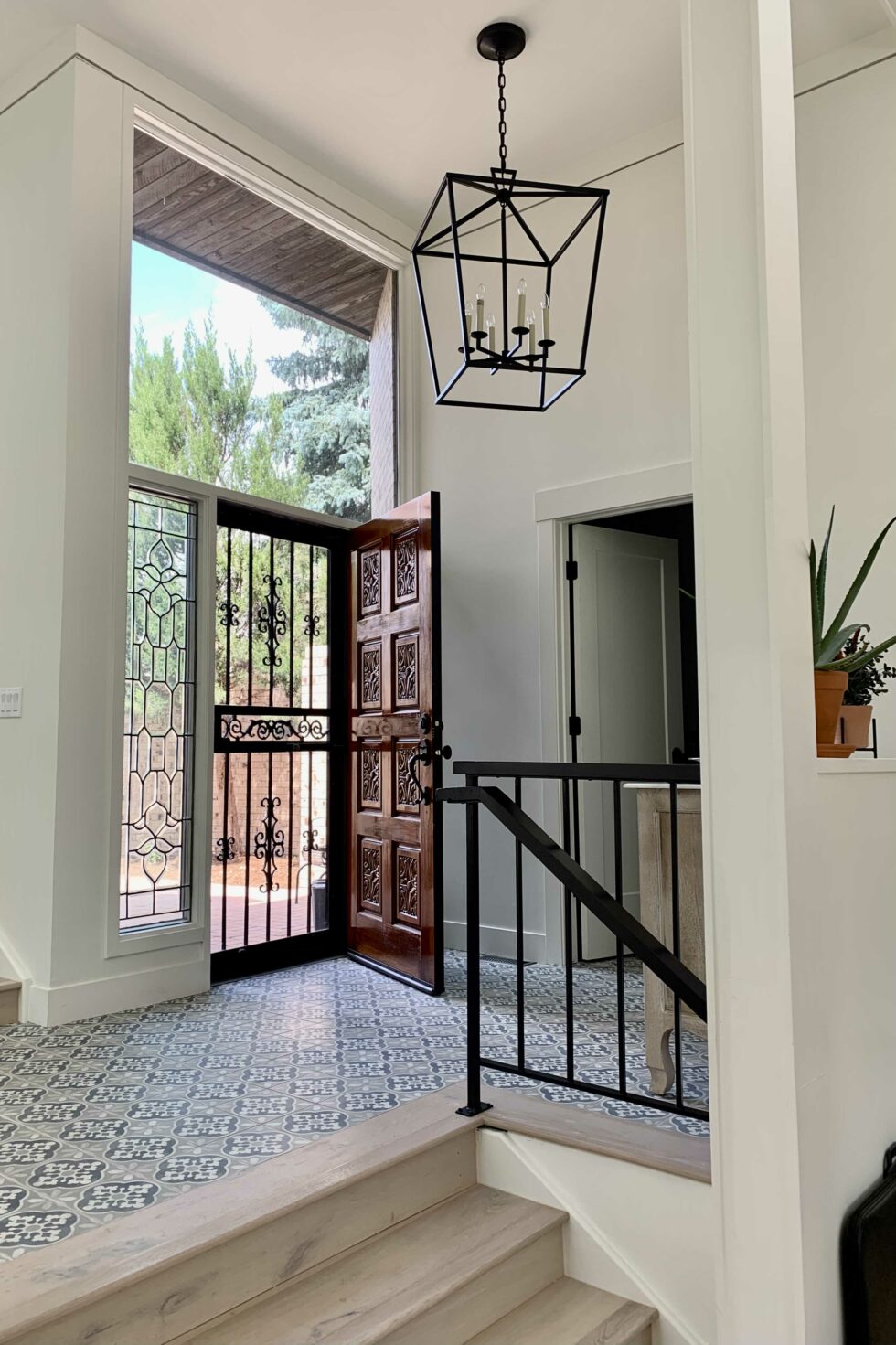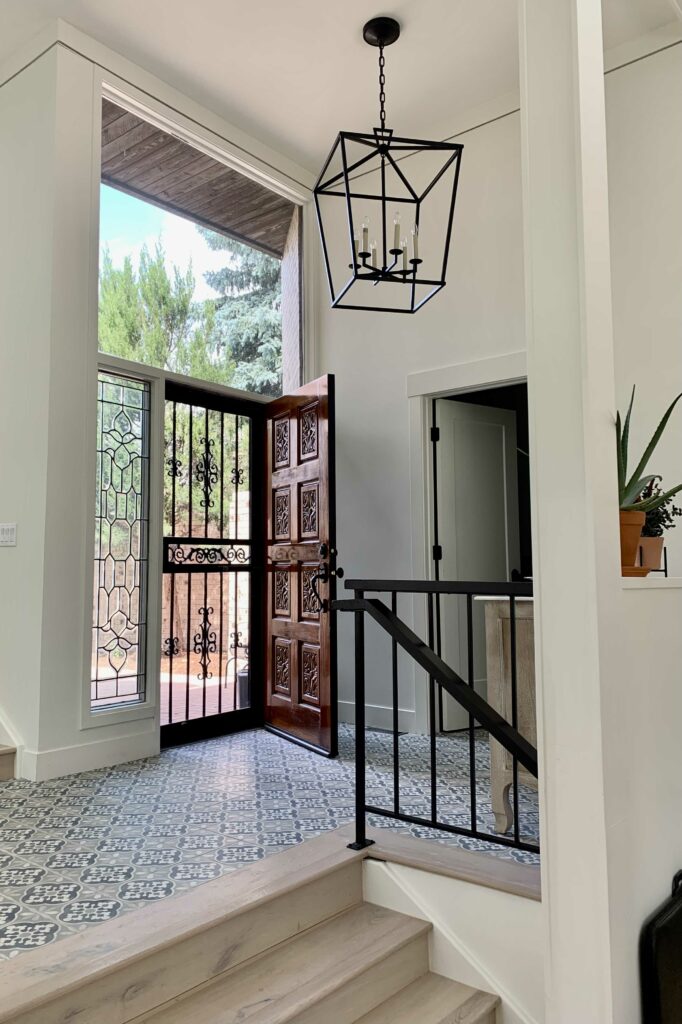 White Dove also looks great in basements.  This photo from a large basement looks great with a small sliding glass door for light.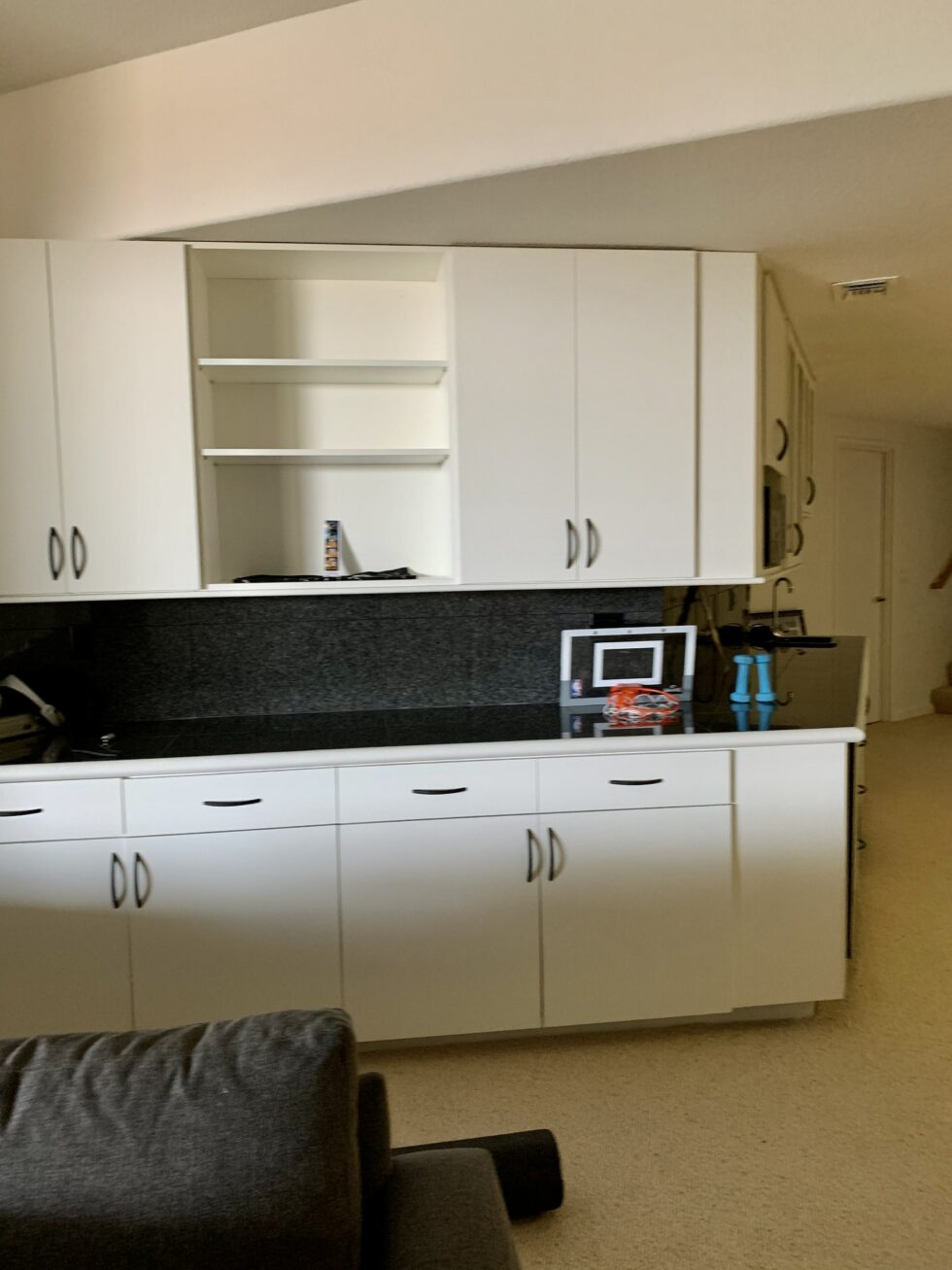 What are the best trim and ceiling colors to pair with White Dove?
My favorite placement for White Dove is to paint the ceiling, walls and trim the same color, but with shifting sheens for a subtle movement of color.  The ceiling is flat, the trim is satin or semi-gloss and the walls are eggshell or matte.  To save labor costs, you can paint White Dove walls and ceilings with a matte sheen.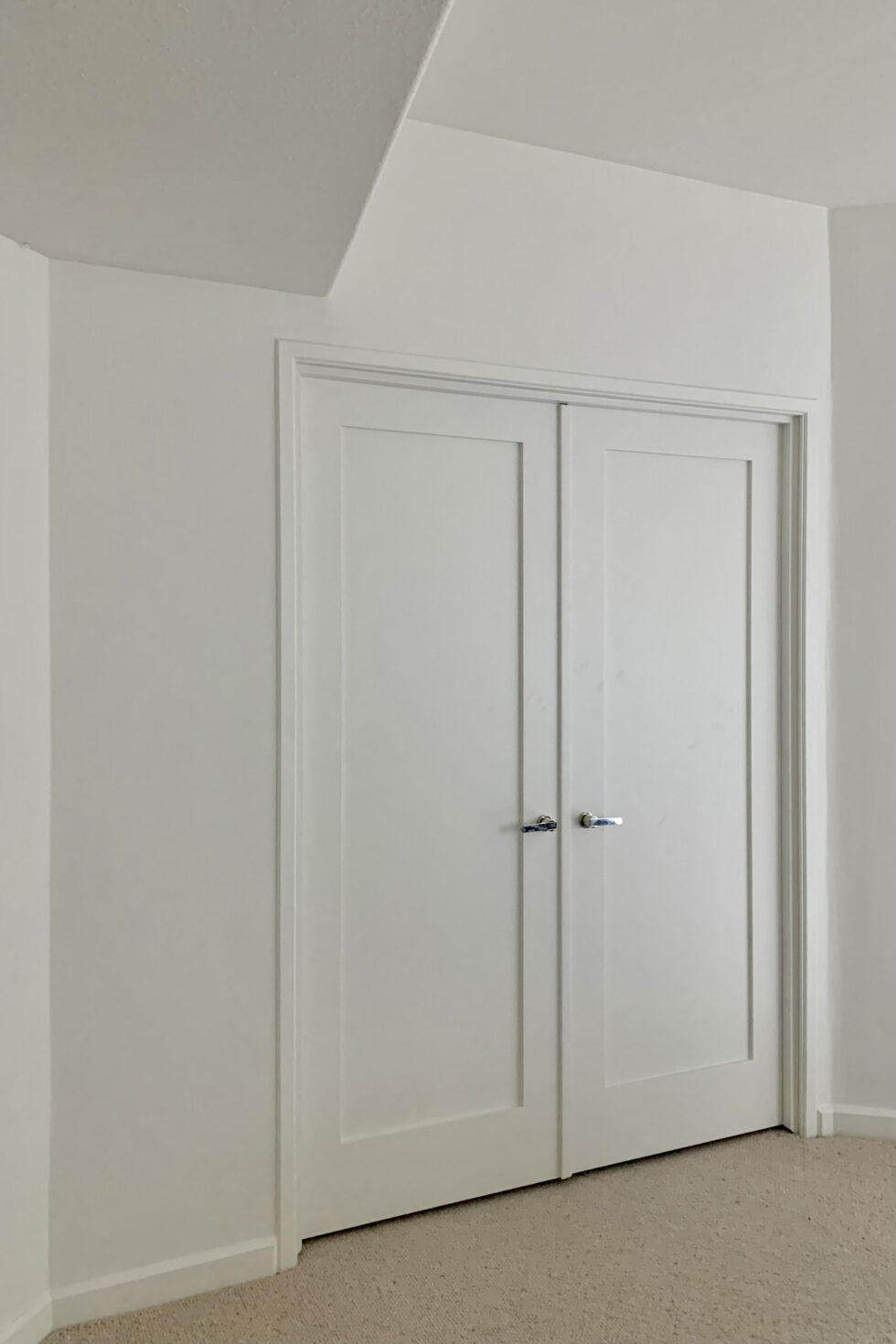 If you want more contrast, pick a clean white for the trim and ceiling such as BM Chantilly Lace or BM Oxford White.  I like to use matching trim and ceiling whites in a room, lighter than the wall color.
When should I avoid White Dove?
We don't recommend as a trim or cabinet color with Carrara Marble.  If you use Chantilly lace for trim and cabinets with Carrara marble, then White Dove can pair well as a wall color, as long as it's not adjacent with the cool Carrara marble.
For trim and ceilings, don't use blue-white colors such as BM White Diamond or BM Decorator's White because they will look discordant with White Dove.
Darker whites such as BM Swiss Coffee will look dingy as trim and ceilings when paired with  White Dove walls.

Can I use White Dove for exteriors?
We don't recommend White Dove for exterior trim unless you pair it with a very light paint color with low contrast.  White Dove may look very stark with darker colors because paint colors are 5-10 times brighter outside in the sunshine.
Since Benjamin Moore White Dove is a low pigment paint color (that's what makes it beautiful inside), you would need more coats to get enough coverage.
If you want a bright white for your exterior, consider SW Greek Villa instead – it has more pigment and will look similar to White Dove outside.
How does it look in darker spaces?
We love to use White Dove in basements because it looks great in low light, and fantastic in artificial light.
Can my painter match Benjamin Moore White Dove to Sherwin Williams?
The answer is NO. Not unless you want your house painted light green.  That's what seems to happen when they try to match; instead, consider SW Greek Villa or Alabaster.
Learn more about matching paint colors here.
The Verdict
White Dove is an iconic and versatile off-white paint color! You can use it with earthy finishes, soft modern finishes in any kind of light.  It is a beautiful trim, cabinet, and ceiling color.  Don't use White Dove as a trim or cabinet color with Carrara marble
No matter what, don't forget to test your paint colors.  It's a standard best practice.  Whenever I test my paint colors, they are perfect, and when I don't test they turn out wrong. Learn how to test your paint colors here.
NEVER, EVER use paint matches from a different brand than the one specified.  Results are poor and there are no standards for the sheens.  Even though your painter may truly believe it can be done, don't do it. See results from paint matching here.
Online Color Consulting
If you still need help with paint colors, check out our Online Color Consulting packages or an  in the Denver Metro area.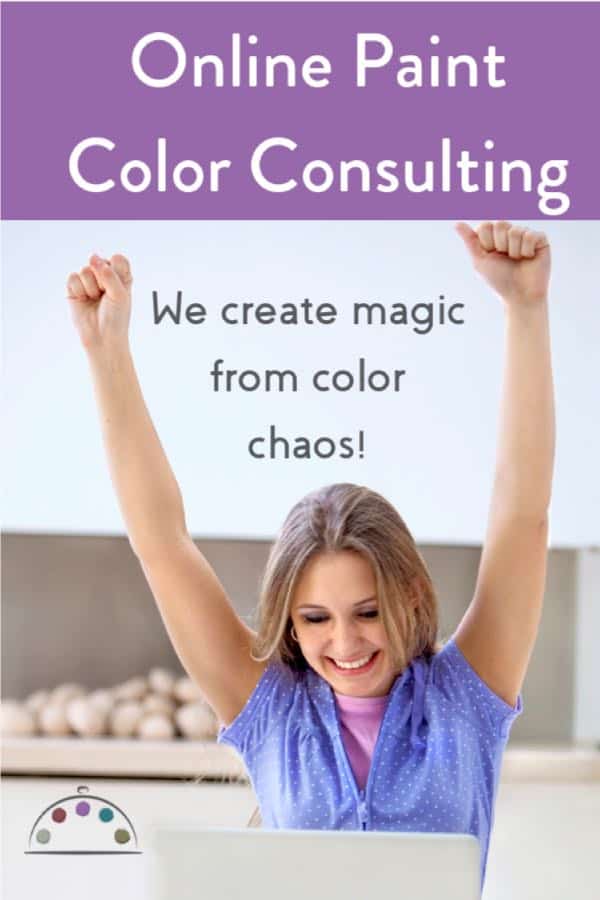 If you liked this post, don't forget to pin!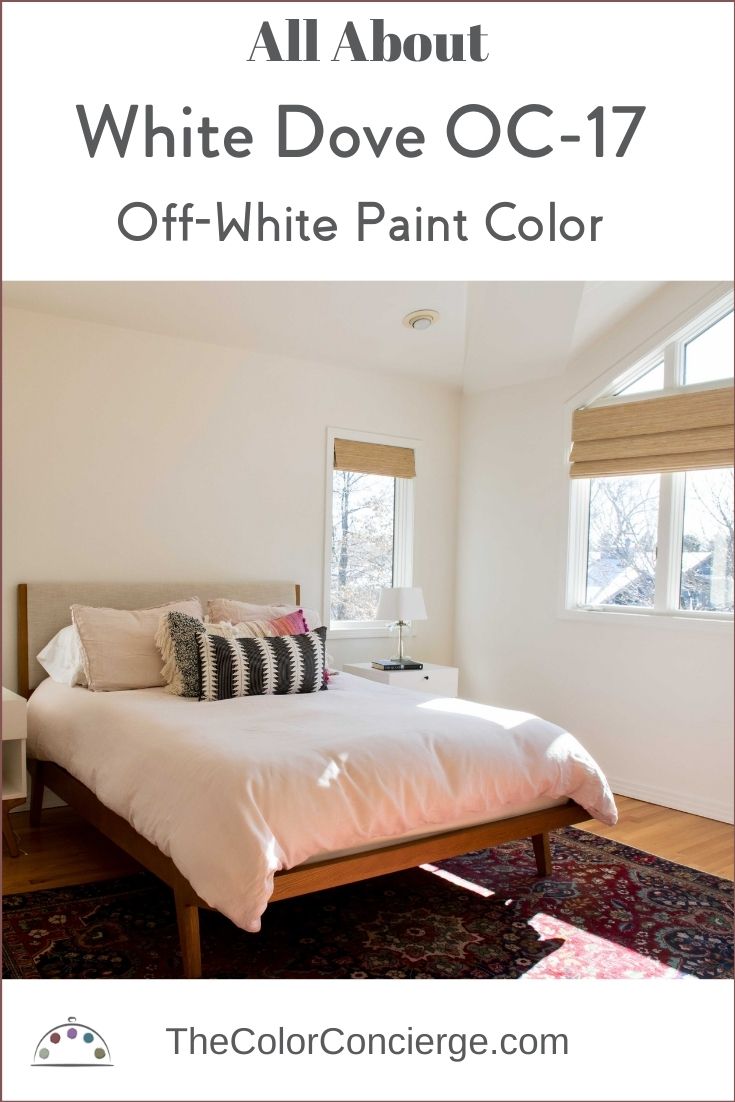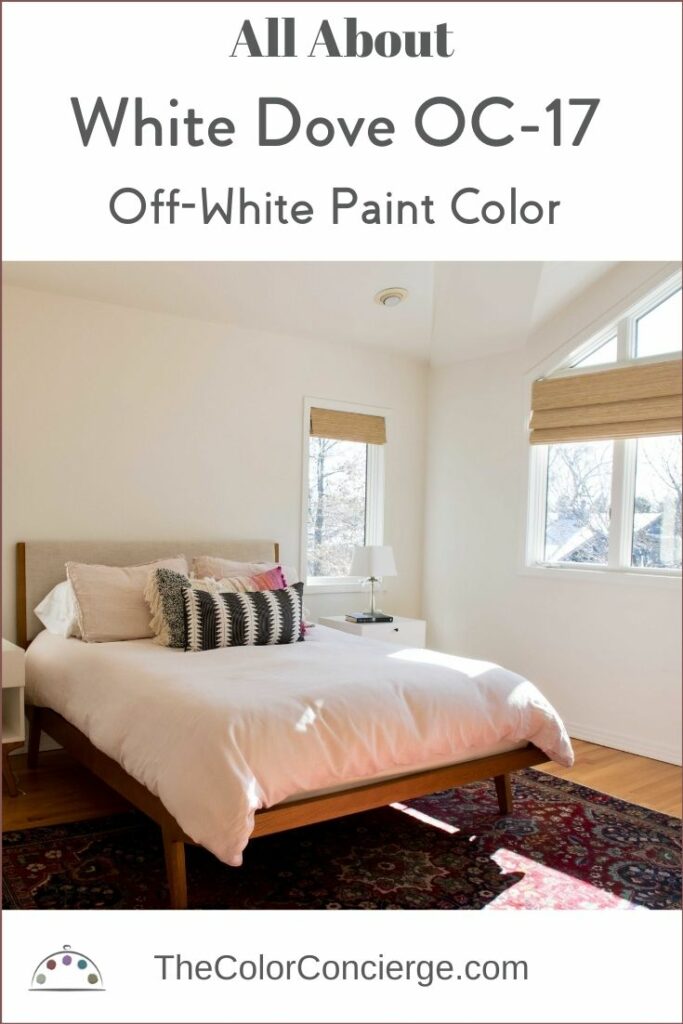 Related Posts
The 6 Best White Paint Colors For Dark Rooms
Our 5 Favorite Benjamin Moore Whites
Benjamin Moore Cloud White Color Review
Benjamin Moore Simply White Color Review
Benjamin Moore Chantilly Lace Color Review
We love your comments! Please note that the blog is meant as general advice, and it is not possible to give out specific answers to your paint questions.  If you want more specific advice, please consider purchasing a color consultation. Thank you for your understanding.