Learn all about Sherwin-Williams Cyberspace (SW 7076) in this paint color review.
Cyberspace is one of Sherwin-Williams' darkest paint colors. And while you might think that would make this color difficult to work with, it's actually incredibly versatile.
We've used Cyberspace in many of our paint color consulting projects. From interior accent walls and kitchen cabinets to exterior front doors and even siding, SW Cyberspace has so many beautiful applications.
Keep reading to learn more about Cyberspace paint and determine if this color is right for your next project. *This post contains affiliate links for products I use and love. If you click on some links and make a purchase, I will get a small commission at no cost to you. This helps pay for the costs of the blog so I can continue to offer great content to our readers.
What Color is Sherwin-Williams Cyberspace?
One of the most common questions about this paint color is, "Is Sherwin-Williams Cyberspace blue or gray?" It's such a dark color that, in some lighting, it can be tough to tell. In some spaces, Cyberspace might look black, but in reality, it's a very deep blue color. I tell people it's a blue-black when they ask me.
What is the LRV of Sherwin-Williams Cyberspace?
The LRV of Cyberspace paint is 6. LRV stands for light reflective value and measures how much light a color reflects when it's on the wall. For reference, pure black has an LRV of 0. With an LRV of 6, Cyberspace is only slightly lighter.
Is SW Cyberspace warm or cool?
Like most blue paints, Cyberspace is a cool color. However, because it is such a deep blue, Cyberspace can be used as a dark neutral and can work well with both cooler and warmer trim, decor, and finishes.
What are the undertones of SW Cyberspace?
Cyberspace has deep charcoal undertones, helping to make the color feel muted despite its dark hue. These undertones are part of what makes this paint so versatile, as they help soften the blue color. They're also a big part of why Cyberspace can sometimes look black.
When should I use Cyberspace paint?
There are so many gorgeous ways to use SW Cyberspace throughout your home. Some of my favorite uses are inspired by past paint color consulting projects.
Can I do Sherwin-Williams Cyberspace cabinets?
Painted cabinets are one of the best ways to incorporate SW Cyberspace paint into a home. The deep blue color offers a great modern twist on classic dark cabinets and is still neutral enough to be timeless and work well with most whole-home color palettes (article).
Because Cyberspace can be a little overpowering if it's used in too large of a space, I love to use this paint color for the lower cabinets in a tuxedo kitchen (article) (also known as a two-toned kitchen).
In my 2018 kitchen remodel project, we used Cyberspace for lower cabinets; it was so beautiful (Proud House Studio, kitchen designer). I still think about this kitchen all the time! The gray undertones of this muted blue add depth to a kitchen and can help provide some coziness to an otherwise light and bright space.
We paired Cyberspace lowers with Chantilly Lace (review article) trim and upper cabinets. The gray undertones help tie the kitchen together with the Benjamin Moore Stonington Gray (article) walls in the adjacent open-concept space in this home.
Is Cyberspace a good bathroom color?
If you're in the market for an unexpected bathroom paint color, Cyberspace is a great option. Cyberspace works well in a bathroom because bathrooms (like many kitchens) often feature many white and light colors.
This is precisely what I did in my master bathroom. I was utterly inspired by designer Emily Henderson's Portland house bathroom, which featured Cyberspace wall paneling to elevate the space.
While most of the primary suite is the same Agreeable Gray as the original color of our whole-house color palette, I painted the primary bathroom walls with SW Cyberspace to add depth and interest to this space. It's one of the most cost-effective bathroom updates you can make – this color truly makes this room feel elevated and special.
If you're going to use Cyberspace in a bathroom, it's essential to ensure you have a lot of light so that the paint doesn't look black. Cyberspace paint also looks best when it's broken up by a lot of white trim, so it doesn't end up feeling oppressive. I also like to balance with lots of white accents, trim, and ceiling.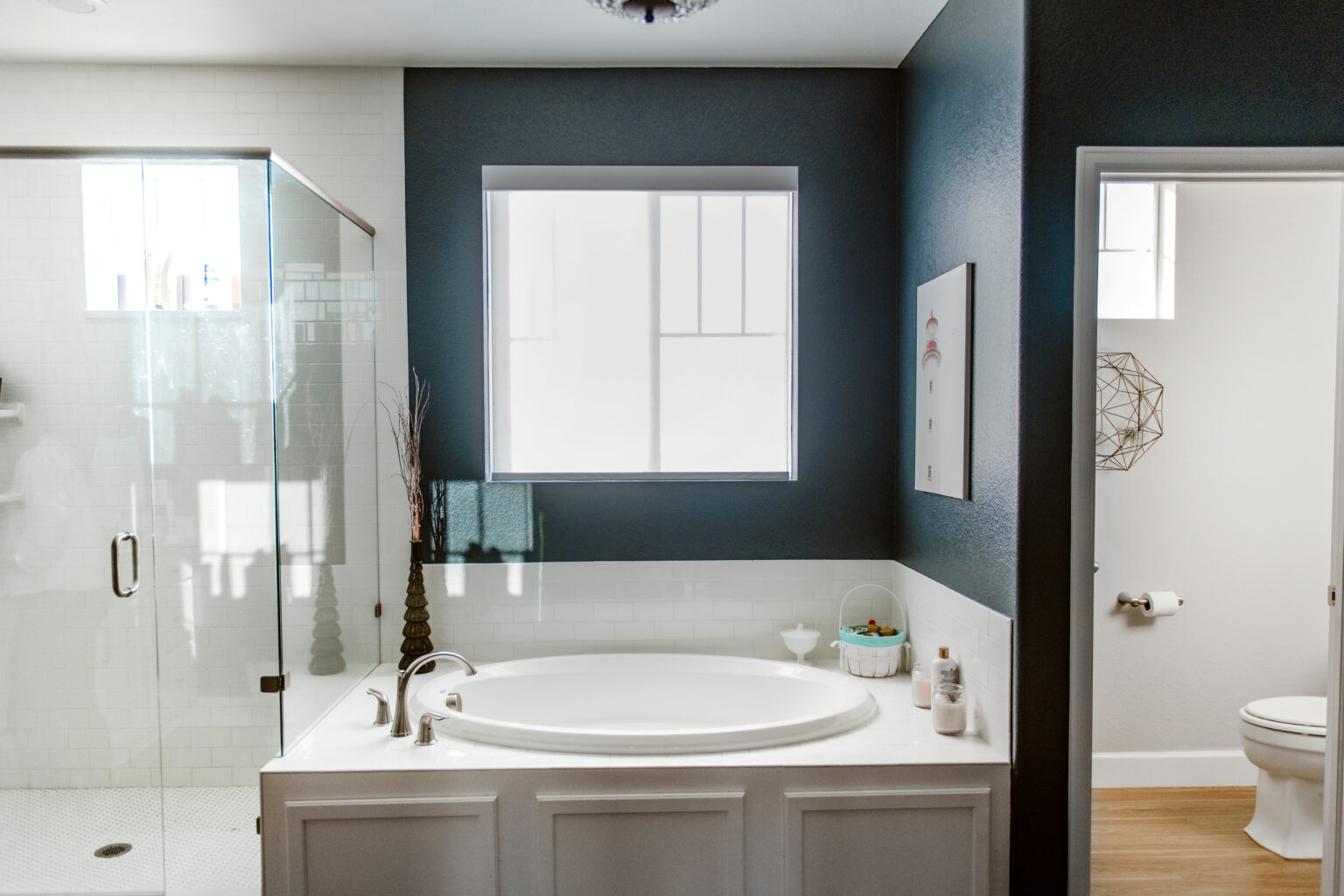 The toilet room was painted with Agreeable Gray.
In this room, Cyberspace is a gorgeous complement to the white ceiling and trim, tiles and vanity. The white tiles are a clean white similar to Benjamin Moore Chantilly Lace. The ceiling and trim are Sherwin-Williams Extra White (review article), and the vanity cabinets are Pure White (review article).
When you use such a dark color for a bathroom or small room, it makes it look bigger because the dark color makes the walls recede.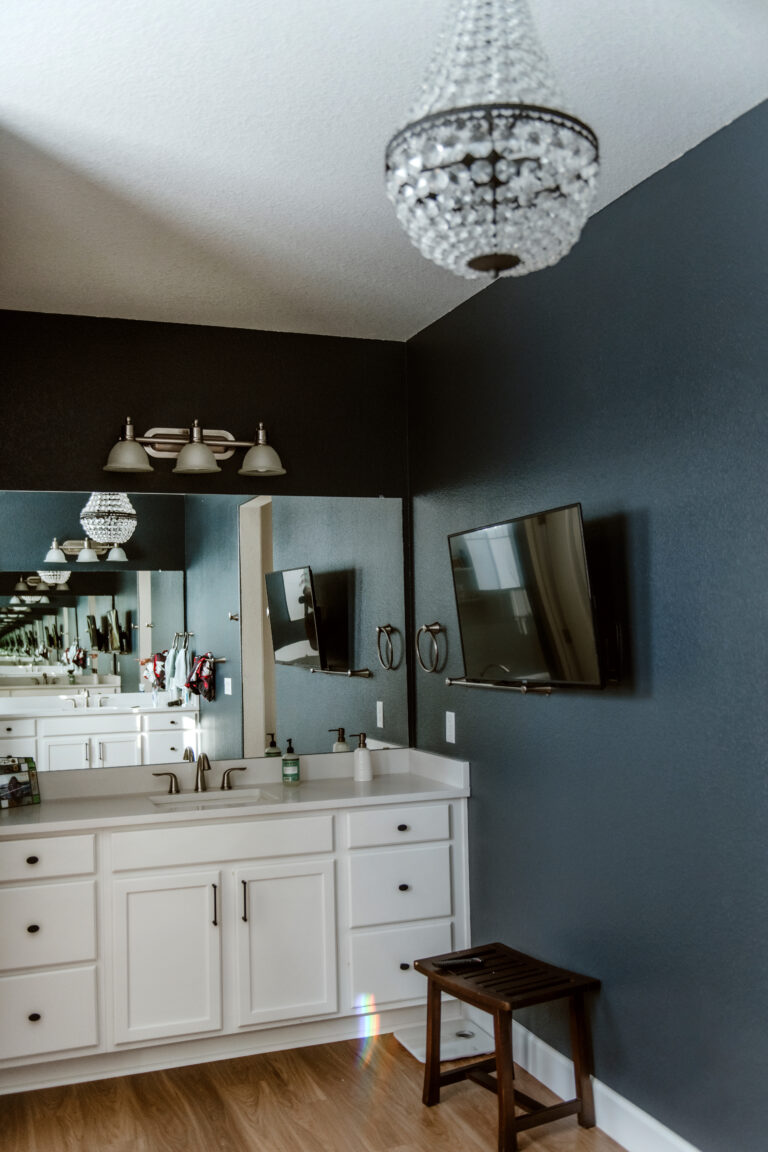 Can I use a Cyberspace accent wall?
Painting an accent wall with Sherwin-Williams Cyberspace is one of the best ways to use this color. While it's often too dark to paint an entire room, a single wall of Cyberspace can add so much depth and dimension to a room and help draw the eye to a particular feature (like a desk or a bed).
I used a Cyberspace accent wall on a fireplace wall in my old house to add some interest and help hide the TV over the mantle. During the day, the TV blended right into the dark wall, and at night Cyberspace added a lovely frame for the TV when it was on.
Today, this wall is Hague Blue (the life of a paint color consultant means constantly changing wall colors in my home), and you can see Cyberspace vs. Hague Blue in the photos below.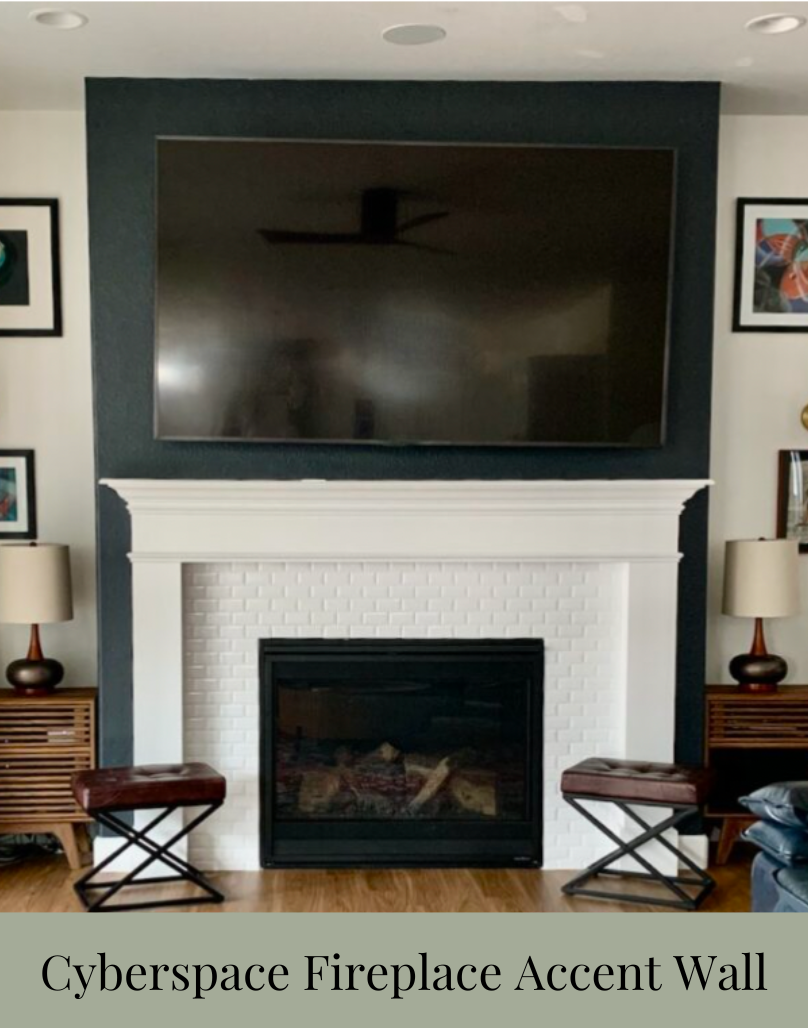 Can I use Cyberspace for Exteriors?
Yes, you absolutely can! There are so many ways to use this gorgeous paint color outside.
Because of the sunlight, Sherwin-Williams Cyberspace exterior paint often looks much bluer and slightly less dark when used outside the home. This is very clear when comparing two different Colorado homes we painted with Cyberspace exteriors.
The homes are both in Boulder, CO but are separated by about 1,000 feet in elevation (not uncommon in Colorado!). You can see that on the home with a higher elevation (above), Cyberspace looks a lot lighter and a lot blue. The lower altitude home (below) still looks bluer than using Cyberspace interior paint but is significantly darker than the low altitude house. The difference in sunlight between the two elevations is really clear.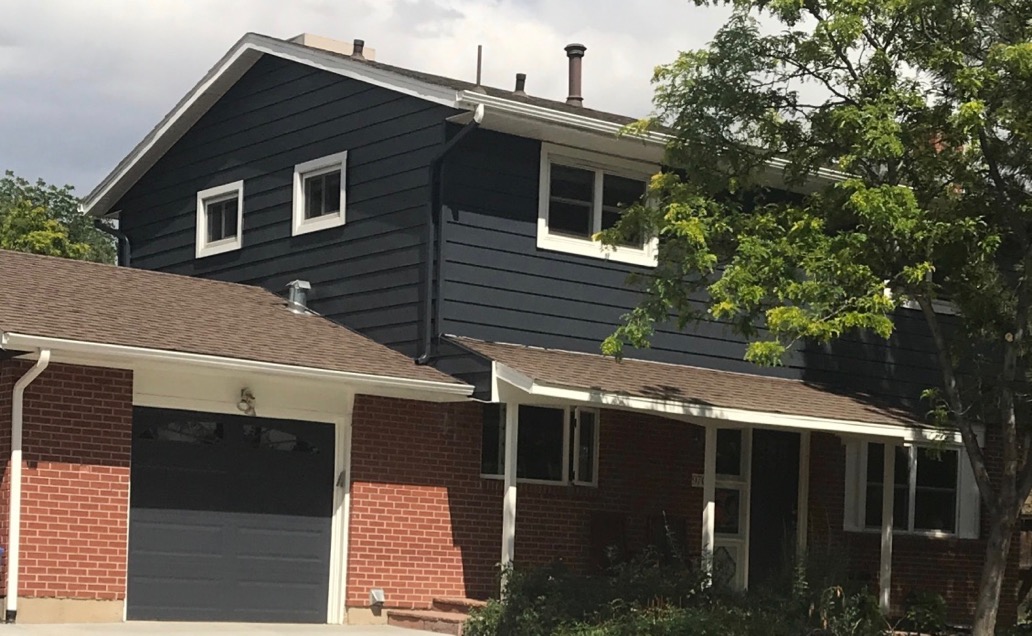 Pairing Sherwin-Williams Cyberspace Exterior with Red Brick
Cyberspace is neutral enough to be paired with many different colors, but I especially like how it works with red brick. In both of the houses featured above, this deep blue color is used alongside a traditional brick exterior finish.
On this mid-century modern house, Cyberspace is paired with red brick plus a bright BM Pea Green front door and Chelsea Gray trim. While I would typically not use gray paint for trim and handrails, it works well here because of the gray undertones of Cyberspace and because Chelsea Gray looks very light in the bright, high-altitude sun.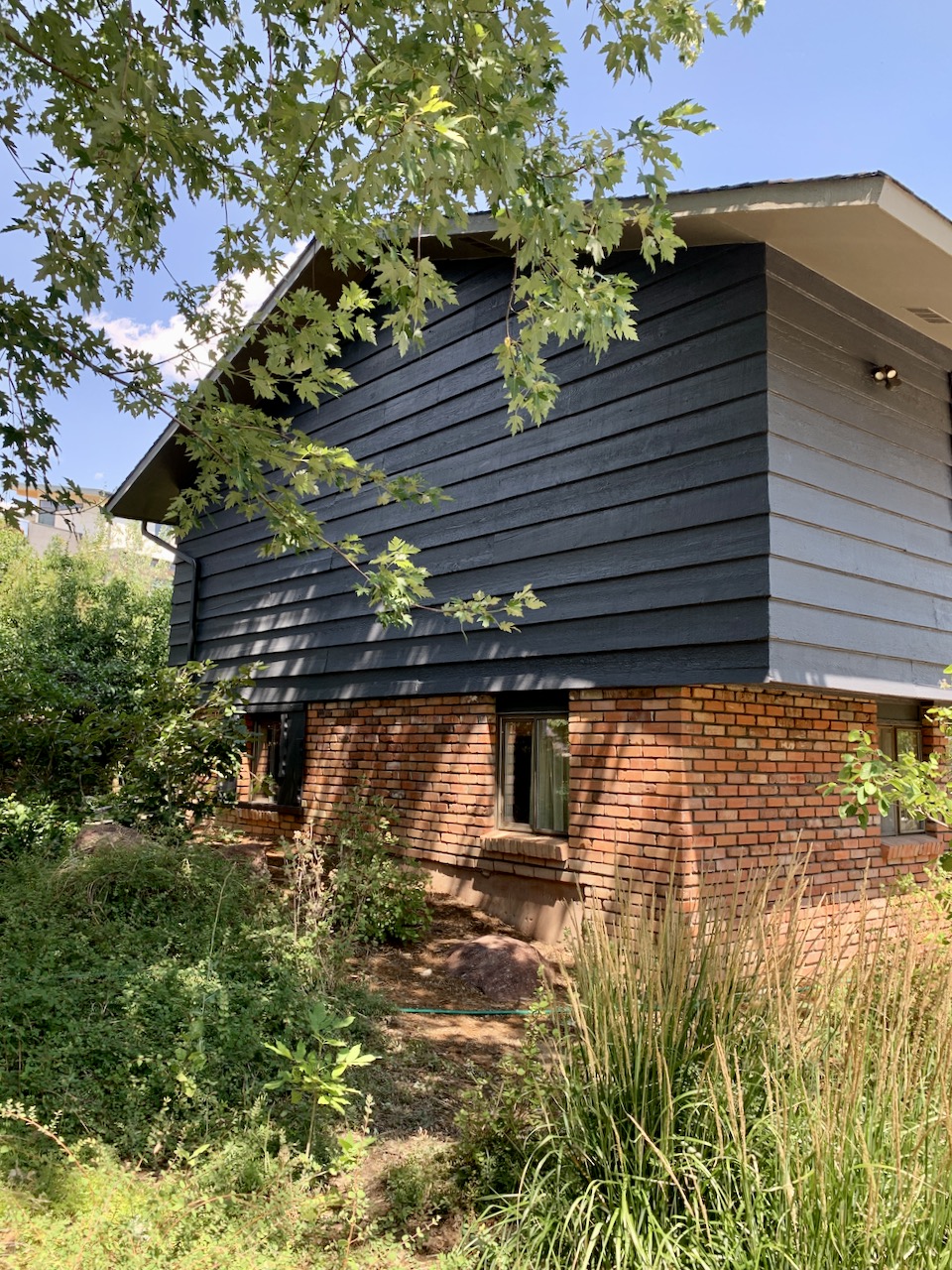 In the lower altitude home, we paired Cyberspace with a creamy white for the trim. I usually use clean white or off-white trim paint with Cyberspace for interiors. But for exterior projects, because everything looks lighter in the sun, we picked a creamy white trim color (SW Westhighland White) so that it wouldn't look too stark. To learn how to pick an exterior white trim color, here.
Using a Sherwin-Williams Cyberspace Front Door
If dark exterior paint colors aren't your thing, Cyberspace paint is also beautiful for a front door. We used SW Cyberspace for the front door paired with an exterior white paint scheme on this house.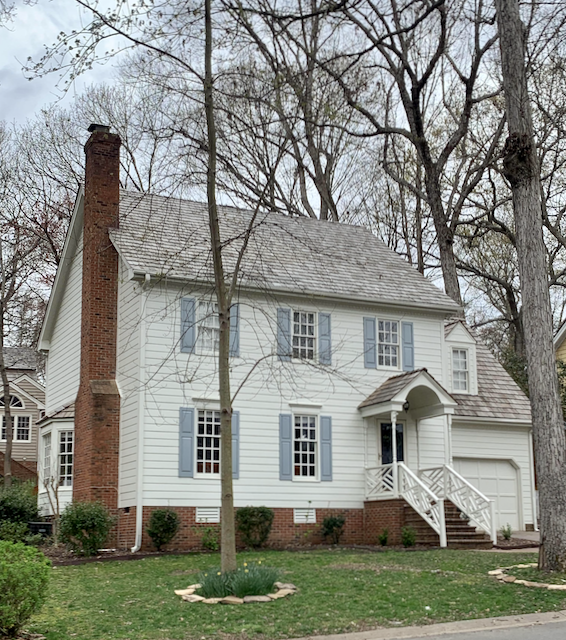 The deep blue front door is paired with creamy Sherwin-Williams Oyster White siding and trim and Sherwin-Williams Uncertain Gray shutters for a classic, timeless palette.
When should I avoid Sherwin-Williams Cyberspace?
As much as I love Cyberspace, I wouldn't recommend wrapping it around a whole room. In most spaces – especially larger rooms – it would feel too dark and too oppressive. The only exception is if you have LOTS of windows and natural light.
It could potentially work in a small space like an office or library room. Darker colors in a small bathroom or any space make the rooms look bigger because the dark color makes the walls recede.
It's also essential to use Cyberspace in rooms with lots of light – even if you're using it on cabinets or an accent wall. Without plenty of light to bring out its undertones and natural hue, Cyberspace has the potential to look black.
What goes with Sherwin-Williams Cyberspace?
This is one of the most common questions I get about working with this paint. Because it is often used as an accent color, it's important to explore some Sherwin-Williams Cyberspace coordinating colors.
Does Cyberspace go with gray?
Cyberspace paint works well with grays because of its deep charcoal undertones. Just pay attention to which grays you choose. Cyberspace is versatile, but I love to pair it with cool, neutral, muted gray paint.
Cyberspace goes well with Chelsea Gray, as seen on this exterior home project, which is primarily cool but does have some warm green undertones. It also works well with Stonington Gray, which has strong blue undertones.
Does Cyberspace go with white?
One of the best things about SW Cyberspace is that it can work with so many different white paint colors.
For interior projects, Cyberspace looks best paired with clean white paint colors (like Chantilly Lace) and off-whites (like Greek Villa). While it can work with warmer whites, I recommend avoiding anything too creamy.
For exterior projects, use warmer, creamier, and darker white colors for trim and rooflines.
Does Cyberspace go with wood floors?
Yes, it does! We already showed how Cyberspace could work well with warm, red brick; the same is valid for natural wood floors. I love the deep color that stands out against a warm wood floor – it really brings a space to life!
I used LVP flooring (that's luxury vinyl plank) in my master bathroom and love the way they look with my deep blue accent wall and white tile and trim. The warmth of the floors helps add coziness to the otherwise cool space.
What are the Best Trim and Ceiling Colors For Cyberspace Interiors?
As mentioned above, Cyberspace works well with clean white and off-white trim and ceiling colors. White paints like Benjamin Moore Chantilly Lace or Sherwin-Williams Extra White are clean and crisp and pair really well with the deep blue hue.
Great warmer, off-white paints for Cyberspace include Greek Villa or Sherwin-Williams Pure White. I would not go as creamy as a color as SW Alabaster because it is too yellow for Cyberspace.
What is the easiest way to sample Cyberspace?
You should always sample and test your paint colors, but it's especially important with a color like Cyberspace that can look so different from room to room depending on the amount of natural light.
The easiest way to sample Cyberspace (and any paint color, for that matter) is via SAMPLIZE. Their peel-and-stick paint samples are easy to use and accurate to color. With Samplize you can quickly and easily see how different shades look on your unique wall.
Top Cyberspace Alternatives
Not sure if Cyberspace is the correct dark blue for your room? Check out how it compares to other similar paint colors from Sherwin-Williams and Benjamin Moore.
Cyberspace vs. Peppercorn
Cyberspace and Peppercorn are not that similar, but depending on the room's lighting, they can look like a close match. While Cyberspace is a deep blue-black, Peppercorn is a dark charcoal with invisible violet undertones with an LRV of 10.
Cyberspace vs. Iron Ore
Iron Ore is a soft black color from Sherwin-Williams. It is warmer than Cyberspace, with green undertones that are hard to see unless you are in the sunshine. It has the same LRV (6) as Cyberspace, which is similarly dark.
Cyberspace vs. Inkwell
Inkwell is more similar to Cyberspace than the other alternatives mentioned so far. While it is still technically a dark gray, it has deep blue undertones and can appear blue on the wall in certain lights. It has an LRV of 4, meaning it is even closer to true black than Cyberspace.
Cyberspace vs. Hale Navy
Cyberspace and Benjamin Moore Hale Navy are similar, but Cyberspace is more muted and gray. If Hale Navy feels too blue for a space, then Cyberspace could be a good choice. With an LRV of 8, Hale Navy is a bit lighter than Cyberspace and a great alternative if you are looking for a rich deep blue.
Cyberspace vs. Charcoal Blue
Charcoal Blue is another deep blue-gray paint from Sherwin-Williams. It is bluer than Cyberspace, and can sometimes flash purple. I once had a painter call Charcoal Blue a "blurple". Like Cyberspace, Charcoal Blue has an LRV of 6, so they work well in similar applications.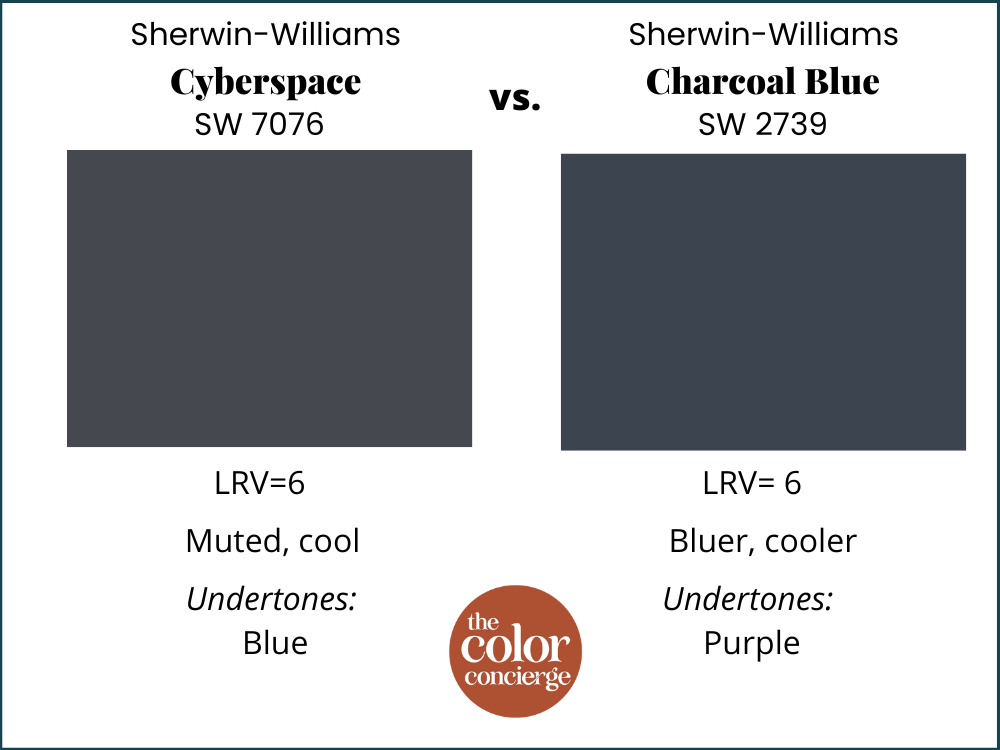 Key Learning Points
Cyberspace is a dark blue paint with strong gray undertones that soften this color. It is beautiful as an accent color and can be used on both walls and furniture pieces.
An excellent option for dark-painted kitchen cabinets, especially lower cabinets in a 2-toned color scheme, when paired with white upper cabinets.
It works well with clean whites and off-whites for interiors and darker whites for exteriors.
It pairs well with gray paint colors.
Cyberspace is a gorgeous option for exterior paint projects – direct sunlight allows this deep blue color to truly shine.
Remember – no matter how you plan to use Cyberspace paint, don't forget to test your paint colors. Check out the SAMPLIZE website HERE. And NEVER, EVER use paint matches from a different brand than the one specified.  The results are poor.  Even though your painter may truly believe it can be done, don't do it. See results from paint matching Here.
Online Color Consulting
Still need help picking the best paint colors? Discover our Online Color Consulting Package.
If you liked this post, don't forget to pin it!
Want to learn even more about Cyberspace paint? Explore these related posts where Cyberspace is featured.
Tuxedo Kitchen Cabinet Color Combinations to Try
The Ultimate Guide to Accent Walls
Top Exterior Paint Color Schemes
Best Exterior Blue Paint Colors & Palettes