Today we give you the best exterior paint colors for red brick homes, and how to use them. Red brick is muted and earthy, so any color we pick should also be muted and not clean and fresh.  
There are many exterior paint colors that will go well with red brick, but we focus on the most no-fail versions.
For example, if you want the look of white trim, choose creamy colors instead of clean or cool whites, which look harsh with red brick.
Choose black shutters for red brick walls or light colored siding, and cream colored shutters for dark paint colors.
No matter what, always test your paint colors, and you can learn how here.
Update a red brick home with dark blue!
This updated home was built in 1968.  The Color Concierge chose dark blue for the siding and garage door exterior paint colors (Sherwin Williams Cyberspace) for a fresh new look.  Since colors appear three shades lighter outside, we picked cream instead of white (Sherwin Williams Westhighland White) for the trim.  Although it  reads white, the creamy color keeps it from looking harsh, like primer.  Shutters on the second floor were removed, and trim was added to the windows. The painters, New Morning, Inc. did an amazing job!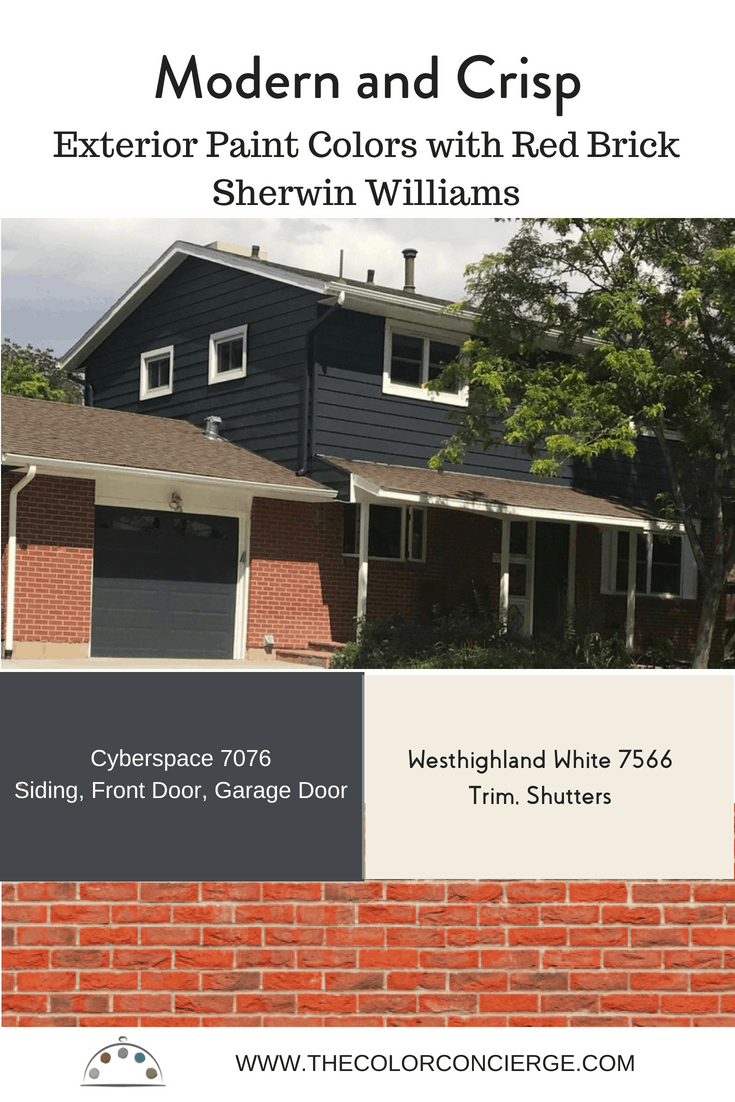 The front door was painted SW Cyberspace to match the siding and family heirloom stained glass.  The shutters, porch roof and trim were painted cream SW Westhighland white to update and brighten the front porch.
Photo by Maddie Camilli for The Color Concierge
Creamy Beige & Black Look Timeless
A warm beige looks creamy and perfect in this timeless and harmonious palette.  Although mid-toned Wool Skein look dark on paper, when used outside it looks like cream and picks up the undertones of the brick grout.
Black shutters and a front door are a classic choice and look crisp with a brick or creamy exterior.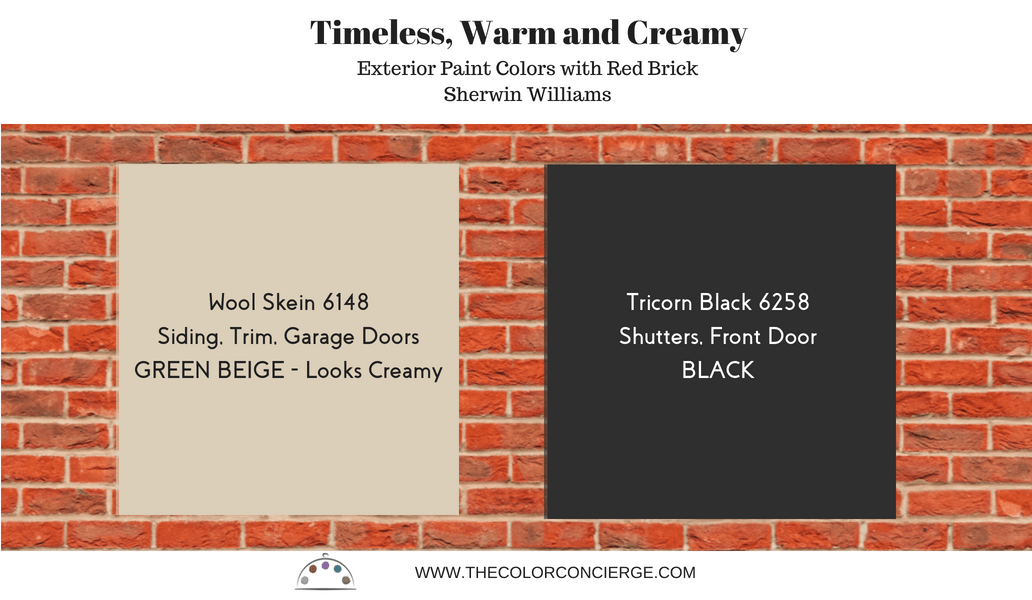 Source
Cream vs. White for Classic Colonial
Pick cream trim, columns and garage instead of white to prevent it from looking like primer.  Cream paint colors look brighter outside, and coordinate better with earthy red brick.  Paint the door and shutters black.
Source
DON'T use clean whites or fresh colors or reds
Clean whites look unnaturally bright with brick, which is a muted finish. Reds can look good, but most people don't get it right.  just stay away from red doors, accents or trim.
Fresh colors look wrong next to earthy red brick.  Use muted and earthy versions of colors instead. That's why it's best to work with a professional exterior paint color consultant.
So, there you have it! Our no-fail paint colors for red brick houses. Don't forget to always test your paint colors; learn here. Which colors are your favorites with red brick?
Online Color Consulting
If you still need help with paint colors, check out our Online Color Consulting packages or an In-Person Color Consultation in the Denver Metro area.
.
Did you like this Post? Don't forget to Pin!
Related Articles
Six More Beautiful Paint Palettes for Red Brick Houses
Mid-Mod Exterior Paint Colors Reveal Hidden Treasure
Coastal Cottage Exterior Makeover