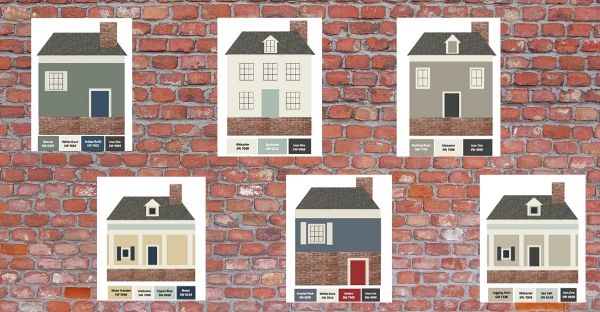 We specify exterior paint color palettes for red brick houses almost every day in our online and in-person color consulting practice.  One of our most popular blog posts is "The Best Exterior Paint Colors for Red Brick Homes (and what not to do)".  We thought you might enjoy some of our favorite color palettes for red brick homes.
Tips for Paint Color Palettes with Red Brick
 Keep your whites creamy with brick.  Consider a warm off-white such as SW Alabaster or a very light greige such as SW Shoji White.  It will look white outside.  A clean or crisp white will look harsh.
Paint colors look 5-10 times lighter and more colorful outside than inside.  A gray color may look blue, green or violet depending on its undertones.  One of the most common mistakes homeowners make is to pick a paint color that is too light for exteriors.
Consider painting siding the same color as the grout.  Most grout is a green-gray, but sometimes we see taupe grout too.
Surfaces with rough textures such as stucco make surfaces look darker.  If you pick one paint color for siding and stucco on a house the stucco will look darker.
If you have white vinyl windows, consider using a white trim color. It doesn't need to match exactly.  A white trim color will keep the vinyl windows from looking harsh.
Buy the best quality paint you can afford to make your paint last longer. Dark colors fade faster than light ones but if you pick a high-quality paint it won't matter as much.  The longer the warrantee the better the paint. Avoid builder grade paint.
Always test your paint colors!
Here are 6 of our favorite paint color palettes with red brick.  All colors are Sherwin-Williams.
Southern Cottage Color Palettes
This palette uses SW Jogging Path, a mid-toned green-gray the same as the grout color.  The blue ceiling is a typical treatment for classic southern cottages.  The tradition comes from a century ago when homeowners thought that painting their front porch ceiling blue would keep ghosts out of their house because they didn't travel over water.  An urban myth was that the blue would keep wasps away too!
The secret to picking a yellow paint color for your house (especially with red brick) is to choose a beige with yellow undertones. Otherwise the yellow color would look harsh like a caution sign!  SW Straw Harvest is one of those colors. If you took it inside it would look like a boring beige.  Outside, its vibrant and lovely.
Traditional Red Brick Color Palettes
We love a blue house with red brick.  SW Granite Peak is another subdued color that becomes more colorful and lively outside.  We like it because it's not as dark as other navy blue paint colors.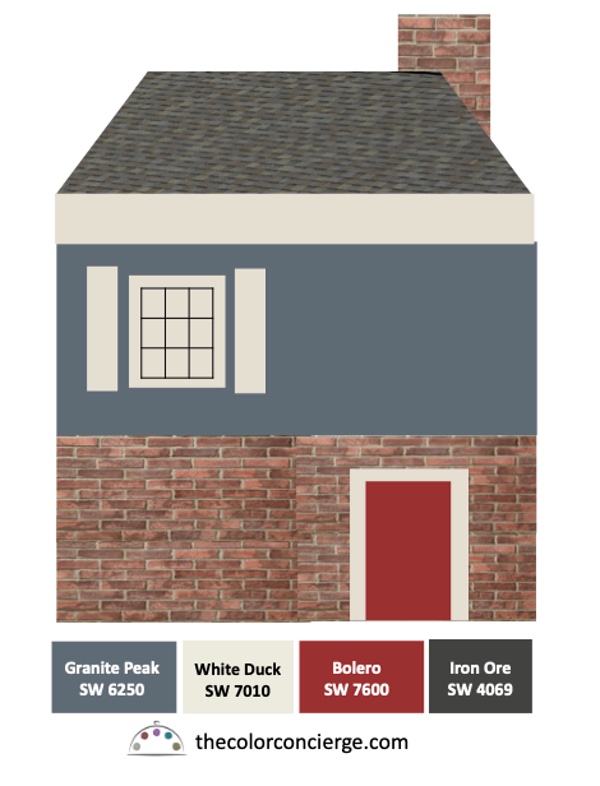 Rushing River by Sherwin Williams is a lovely mid-toned green-gray that contrasts with the red brick and ties in with the green-gray color. Its a classic and timeless look.
We love a green house with red brick!  In this case, we picked SW Retreat, which is a muted green color that prevents the palette from looking like a Christmas palette.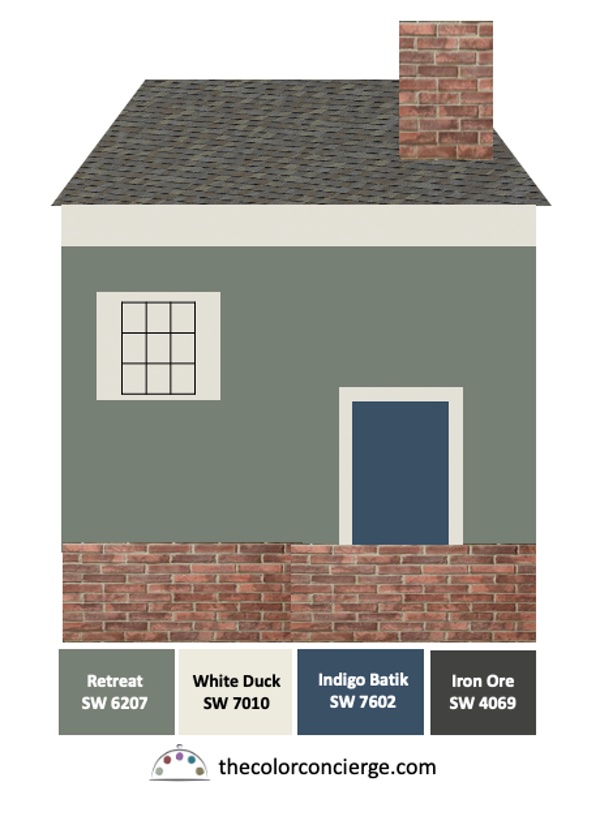 Modern Farmhouse Color Palette with Red Brick
We often get requests for a modern farmhouse look, and this is a lovely simple version, also timeless.  We picked SW Alabaster, a creamy off-white for the house.  Whites need to be creamy with brick and for exterior palettes, and we would not pick a white that was brighter than Alabaster.  It is as white as we would go. For this palette, paint all the trim, fascia, soffits, siding one color.  Not only will it look amazing, but it will save you a fortune on labor.  Top it off with a nice colorful front door.  White paint colors make your house look bigger!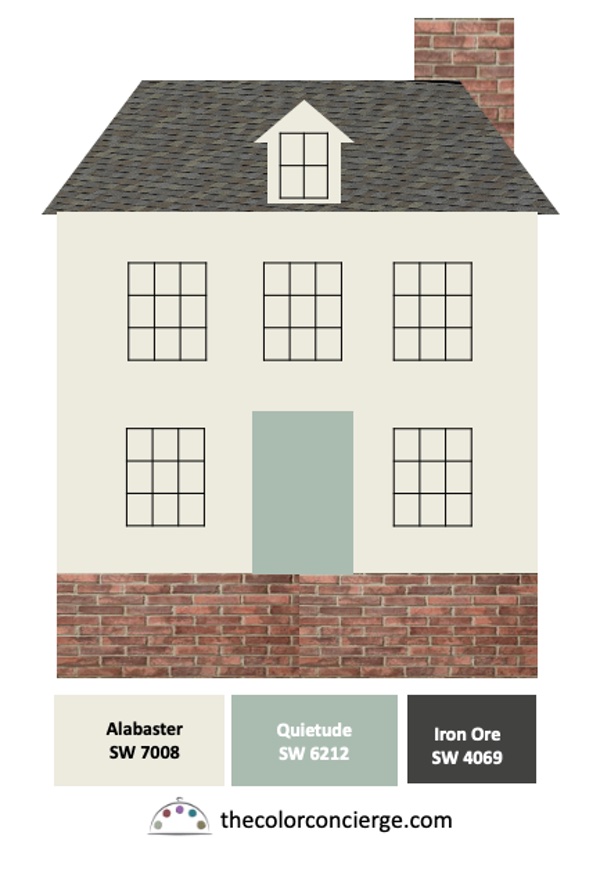 The Verdict
Since brick is an earthy finish, always pick a muted paint color.  Whites should be creamy or muted light grays.  Exterior paint colors will look five to ten times brighter and more colorful in the sunshine.
No matter what, don't forget to test your paint colors.  It's a standard best practice.  Whenever I test my paint colors, they are perfect, and when I don't test they turn out wrong. Learn how to test your paint colors here.
NEVER, EVER use paint matches from a different brand than the one you will use.  Results are poor and there are no standards for the sheens.  Even though your painter may truly believe it can be done, don't do it. See results from paint matching here.
Online Color Consulting
Still looking for the perfect paint color?  
Discover our ONLINE COLOR CONSULTATIONS!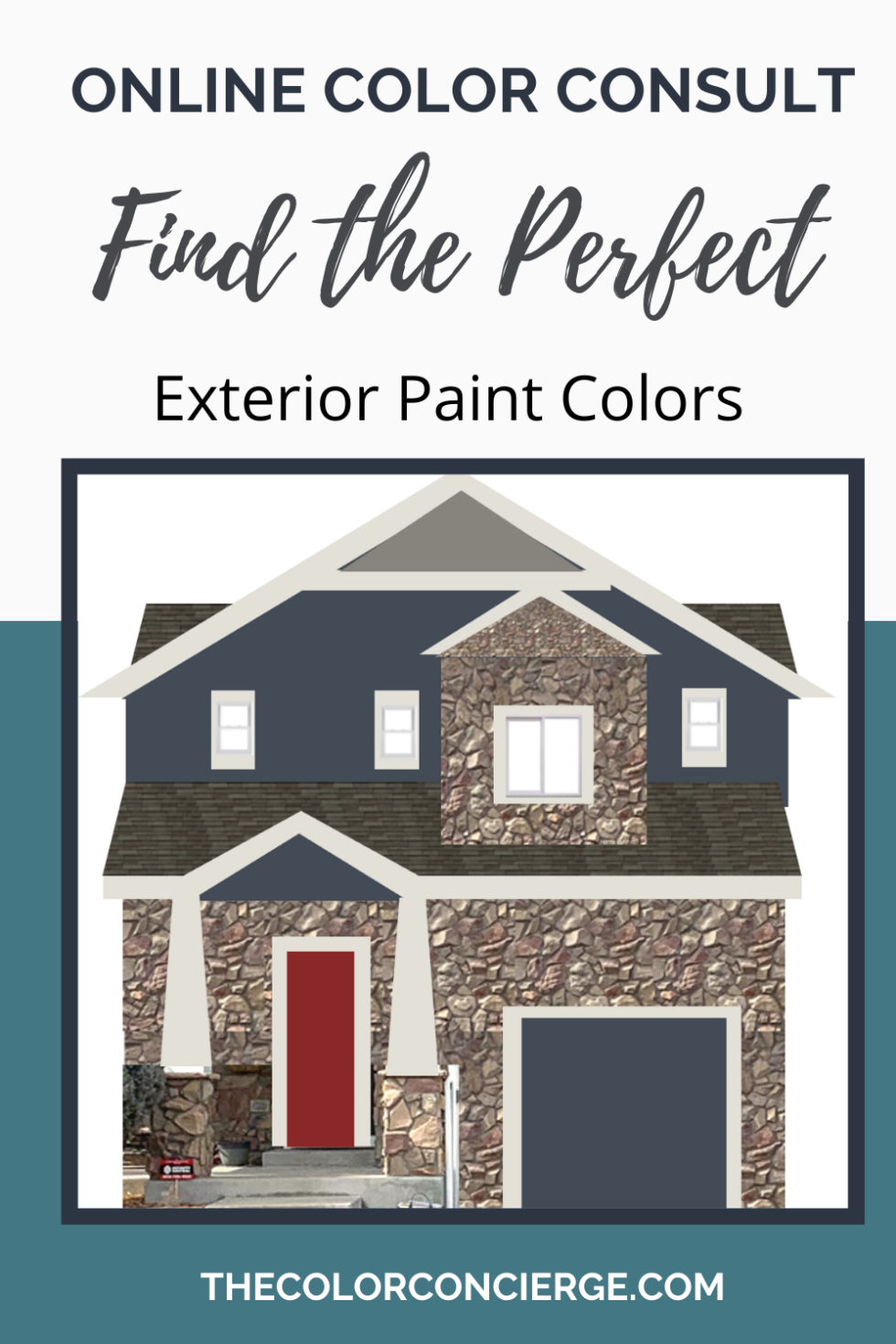 Don't Forget To PIN!
Related Posts:
The Best Exterior Paint Colors for Red Brick Homes (and what not to do)
6 Exterior Paint Color Combos and How to Pick Them
We love your comments! Please note that the blog is meant as general advice, and it is not possible to give out specific answers to your paint questions.  If you want more specific advice, please consider purchasing a color consultation. Thank you for your understanding.