Learn all about Benjamin Moore Stonington Gray (HC-170) paint in this color review.
Stonington Gray is a neutral and versatile gray paint color that can be used in just about any space throughout the home.
Benjamin Moore describes Stonington Gray as an "all-purpose silvery gray." All-purpose is definitely an accurate description of this color.
I used Stonington Gray as a primary paint color when selling my home. It was a great foundation for my whole house color palette and paired really well with all of the accent colors used on my walls and in my furniture and decor.
Stonington Gray can change significantly in different lighting. This quality is part of what makes it such a versatile color. But it can also make it a bit tricky to work with.
Be sure to test your paint in every room and all kinds of lighting before you commit to buying gallons of this color. *This post contains affiliate links for products I use and love. If you click on some links and make a purchase, I will get a small commission at no cost to you. This helps pay for the costs of the blog so I can continue to offer great content to our readers.
What is the LRV of Stonington Gray?
The LRV (that's light reflective value) of Benjamin Moore Stonington Gray is 59, which makes it a pretty light color that still has a good amount of pigment. It's muted, but very clearly gray. It's not at risk of looking like white on your walls, even in a room with a lot of light.
What are the undertones of Stonington Gray?
Stonington Gray has strong blue undertones. In fact, I like to describe Stonington Gray paint as a blue-gray color. Much like other gray paints, its undertones are not always obvious. They become more clear in certain lighting and when compared to other gray colors with different undertones.
Consider the difference, for example, between Stonington Gray (with blue undertones), Revere Pewter (with green undertones), and Collingwood (with violet undertones). 
When placed next to each other, the differences in their colors are clear. But when they are used within your home, the undertones may not be as obvious depending on lighting and accent colors used within a space.
In cool lighting, Stonington Gray appears very blue. It can even be used in place of blue paint when you want a softer, muted blue color that won't glow on the walls. In this basement space, for example, the blue undertones really stand out. Although the windows are south facing, there is very little light coming through.
Is BM Stonington Gray warm or cool?
Stonington Gray paint is definitely a cool paint color, thanks to its blue undertones. It pairs well with other cool colors, including blues and darker grays. Warm light – such as in a west-facing room – will bring out the warmth of the gray and soften the cool blue undertones.
When Should I Use Stonington Gray?
Because Stonington Gray paint is so versatile, there are many different ways to use this color throughout your home.
Can I try Stonington Gray kitchen cabinets?
Yes definitely! Stonington Gray cabinets would be a lovely alternative to a white kitchen. The color is light enough to make the kitchen feel bright and fresh without being as stark as traditional white cabinets. Stonington Gray could also be used for the lowers in a tuxedo kitchen cabinet palette.
Is a Stonington Gray living room a good idea?
Stonington Gray paint works really well for a living room paint color. It can be used in a large space without feeling overwhelming and is less harsh than white walls.
Because this color is so versatile, it can work well as the main foundation color in an open-concept living space. The neutral gray also pairs well with just about any furniture or home decor you might have in your living room because of its versatile blue undertones.
Should I try a Stonington Gray bathroom?
We used Stonington Gray in my son's bathroom and in a laundry room when selling our house and I really love the way it looks in both of the spaces.
In my son's bathroom, we used Stonington Gray on the walls and the ceiling. I love to paint bathroom walls and ceilings the same color when I'm working with light neutrals – it adds a really nice unified touch. The Stonington Gray paint also pairs really well with the deep charcoal black vanity, painted with Benjamin Moore Witching Hour.
I had originally painted the laundry room below Chantilly Lace (color review), but it ended up feeling too icy. I added a Stonington Gray accent wall to tie in with the living room. This simple tweak really gives this room more dimension and helps it connect to the main living area across the hall.
Does Stonington Gray work in a bedroom?
A Stonington Gray bedroom is a beautiful thing! The soft gray hue is really calming bedroom paint color. And while it's technically a cool color, the gray provides enough warmth to make a bedroom feel bright and cozy.
Because this color can change so much from room to room depending on lighting, it's also a really versatile bedroom paint color.
Take a look at the difference between Stonington Gray in my former primary bedroom (above). This bedroom has TONS of light (west-facing and south-facing windows), and the smaller bedroom down the hall, where Stonington looks blue. While the smaller bedroom (below) also has south-facing windows, the day is overcast and the lighting is cooler so the paint color looks completely different on the walls.
Is Stonington Gray good for a south-facing room?
I love using Stonington Gray in a south-facing room. Both the living room and master bedroom of my former home have large, south-facing windows and the Stonington Gray paint works so well in both spaces. 
South-facing rooms typically have consistent warm light throughout the day. South-facing light tends to make colors more intense. In the case of Stonington Gray, it has the potential to make the blue undertones in this paint color really pop.
Is Stonington Gray a good whole house color?
Absolutely, it is! As I've already mentioned, I used Stonington Gray as the foundation for my whole house color palette when I was getting ready to sell. In fact, I like this paint color so much that I created an entire pre-made paint color scheme based on it.
You can learn more about the Stonington Gray color scheme (and purchase the color guide to use in your own home) in my online paint color consulting shop.
Just remember how important it is to test your paint colors in every room you are painting. When we painted our home in Stonington Gray, I came home from vacation and was surprised to see just how blue the paint looked on some of the walls after the painters were done with their work.
Thankfully Stonington Gray paint was the right color for that home. But if you don't properly test your paint colors you could be in for an unfortunate surprise once the color is on the wall. This is also a good reason to take your time choosing quality painters – they can make all the difference!
Colors That Go With Stonington Gray Paint
One of the best things about Stonington Gray is that it pairs well with so many colors because of its versatile blue undertones. It's a really beautiful backdrop for colorful accents in general.
In this upstairs hallway, for example, Stonington Gray works really well with the Chantilly Lace bookshelf full of colorful books.
It also makes a lovely background for the colorful tapestry (brought home after a trip to Istanbul many years ago) that hung on the wall of my stairway. The hallway had a north-facing window, and without the extra color looked pretty cold.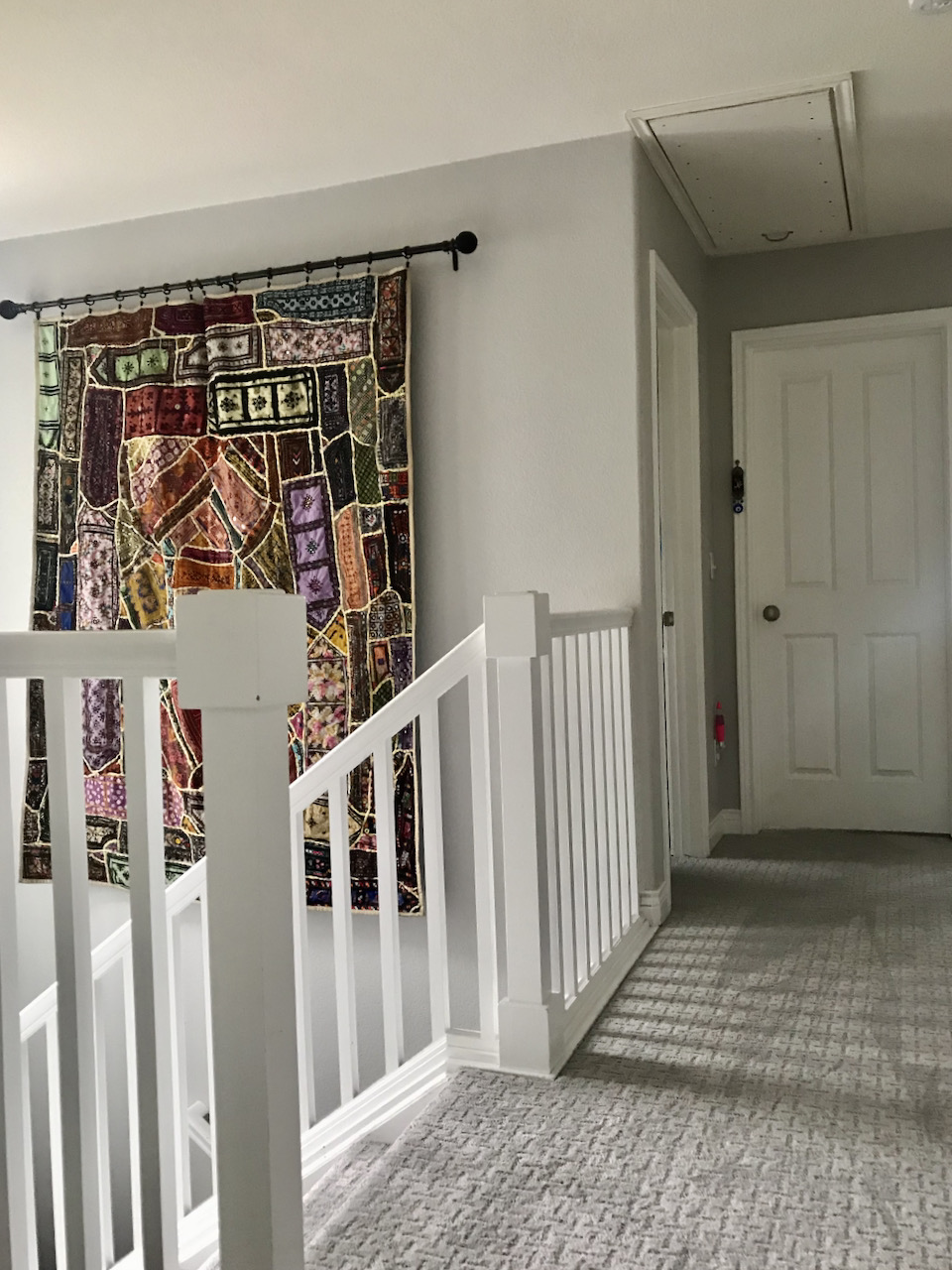 No matter which colors you want to use in your home, there's a pretty good chance Stonington Gray paint can find a place in your palette.
Does Stonington Gray go with navy blue?
Stonington Gray paint works really well with navy and other blue colors. I used Stonington Gray in my open-concept dining room, for example, because it pairs so well with the Cararra marble and navy blue lower cabinets in my kitchen.
The cabinets, painted with Sherwin-Williams Cyberspace, work really well with Stonington Gray because Cyberspace has strong gray undertones and is a fairly muted color – just like Stonington.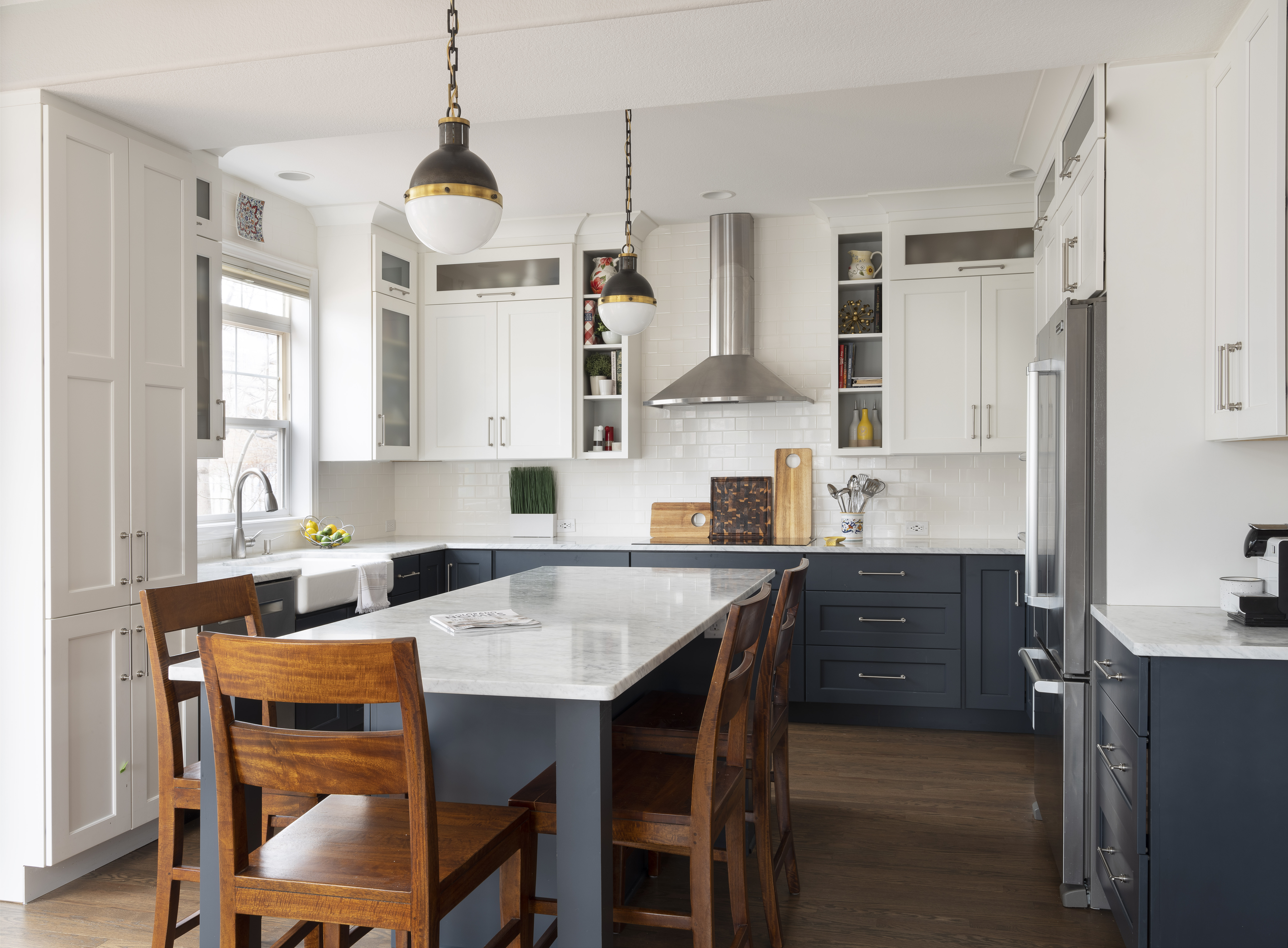 What white goes with Stonington Gray?
Stonington Gray looks best with cool or clean whites, such as Benjamin Moore Chantilly Lace or Sherwin Williams Pure White. 
The most important thing is to make sure you don't choose a white trim paint color that is too warm. The cool blue undertones of Stonington Gray can bring out the undertones in a warmer white and make it look too yellow.
Does Stonington Gray go with other gray paint colors?
Yes, it does! I love pairing a slightly darker version of the same gray hue with Stonington Gray.
In the upstairs hallways of my former home, for example, we had Stonington Gray walls with a slightly darker blue-gray version of the paint color, which really complemented the paint. Once again, the north-facing windows make the stair landing look cold, with very bright Chantilly Lace handrails.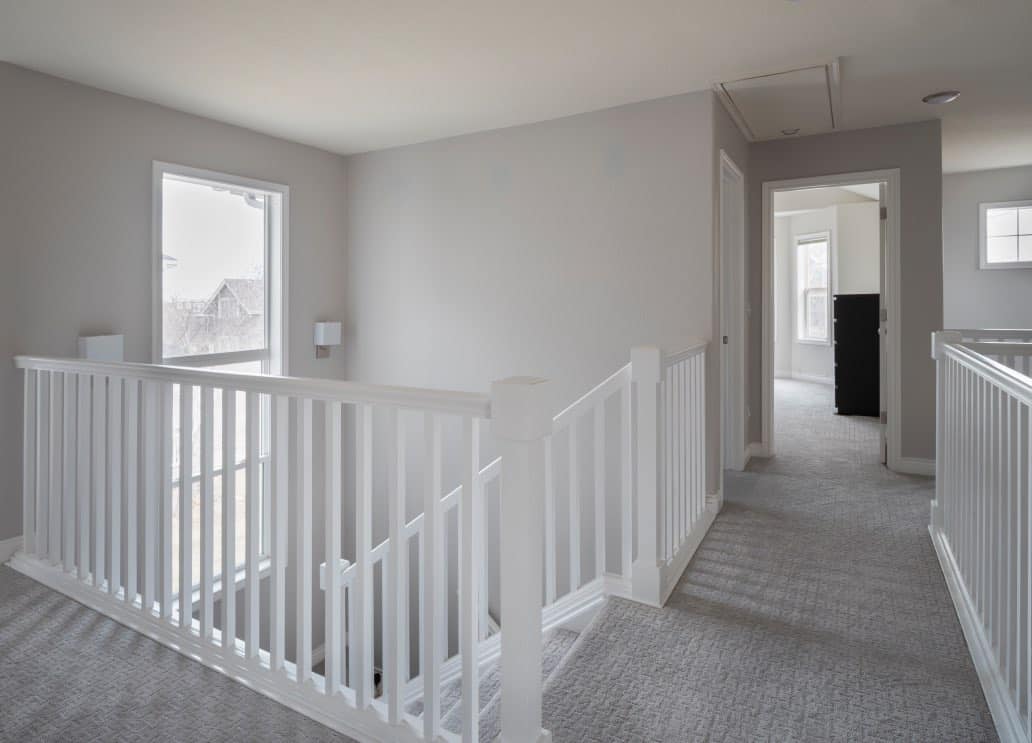 What are the Best Trim and Ceiling Colors For Stonington Gray?
I used Benjamin Moore Chantilly Lace (color review) as the ceiling and trim color throughout my entire home and I love the way it looks against the Stonington Gray walls. Because Chantilly Lace is a clean, neutral white, it works really well even as the look of Stonington Gray paint changes in different lighting.
What is the Easiest Way to Sample Stonington Gray?
You should always sample and test your paint colors, but it's especially important with a color like Stonington Gray that can look so different from room to room depending on the time of day or the amount of natural light.
The easiest way to sample Stonington Gray (and any paint color for that matter) is via SAMPLIZE. Their peel-and-stick paint samples are easy to use and true to color. With Samplize you can easily see how different shades look on your unique wall.
What Colors Are Similar to Stonington Gray?
Benjamin Moore Stonington Gray (HC-170) vs Gray Owl (OC-52) by Benjamin Moore
These two colors are pretty similar, but Gray Owl is definitely the lighter of the two gray paint colors. With an LRV of 65, Gray Owl looks much lighter than Stonington Gray on the wall.
Benjamin Moore Stonington Gray (HC-170) vs Agreeable Gray (SW 7029) by Sherwin-Williams
While Agreeable Gray and Stonington Gray may have very similar LRVs, they are very different colors. Stonington Gray is a much cooler blue, while Agreeable Gray is very warm thanks to its green undertones.
Benjamin Moore Stonington Gray (HC-170) vs Coventry Gray (HC-169) by Benjamin Moore
Coventry Gray is a good deal darker than Stonington Gray but does offer a similar muted, cool color. This would make a lovely accent color in a Stonington Gray color palette.
Benjamin Moore Stonington Gray (HC-170) vs Repose Gray (SW7015) by Sherwin Williams
Repose Gray and Stonington Gray have a similar LRV but they are very different. Repose Gray from Sherwin-Williams is a very warm gray with violet undertones and looks closer to taupe than a true gray.
Benjamin Moore Stonington Gray vs Passive by Sherwin-Williams
Passive is a very close Stonington Gray alternative that would give you a very similar look. Passive is probably the best Stonington Gray Sherwin Williams equivalent. It has a similar LRV and is a cool gray with blue undertones. 
If you like Stonington Gray but want to use Sherwin-Williams paint, Passive is probably the closest you'll get without color matching (which, by the way, we don't recommend!).
Key Learning Points – Stonington Gray
Stonington Gray is a neutral and versatile color that lays a great foundation for a whole home color palette. It is a soft gray with blue undertones and looks very different depending on the lighting and the time of day.
While we love using this color for smaller spaces like a bedroom or bathroom, Stonington Gray works just as well for a living room or even an open-concept wall color for an entire living space.
No matter how you plan to use Stonington Gray paint, don't forget to test your paint colors. Check out the SAMPLIZE website HERE. And NEVER, EVER use paint matches from a different brand than the one specified.  The results are poor.  Even though your painter may truly believe it can be done, don't do it. See results from paint matching Here.
Online Color Consulting
Still need help picking the best paint colors? Discover our Online Color Consulting Package. If you want to DIY your project the right way, check out our Stonington Gray Ready-Made Palette.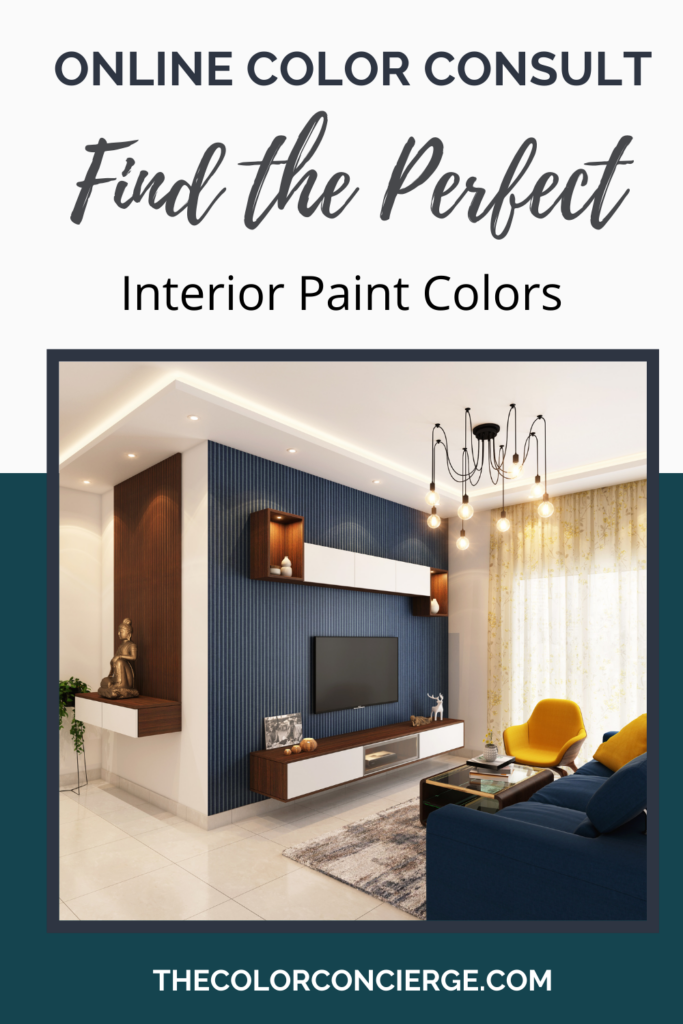 If you liked this post, don't forget to pin it!
Related Posts
6 Neutral Paint Colors to Sell Your Home
The Best Benjamin Moore White Paint Colors