The best and fastest way to transform a bedroom is with the perfect paint color. We can't wait to show you some of our favorite calming bedroom paint colors. Find color inspiration from your comforter, window coverings, area rugs, tile floors, carpets, or art, and turn your bedroom into an oasis in your home!
Ready to get started? Keep reading for our best advice on how to choose paint colors for bedrooms and our favorite paint colors for your sleep space.
How to Pick Bedroom Paint Colors
Whether you're working on your own bedroom or planning a kid's room or nursery, choosing a paint color can feel like a big commitment! After all, paint color is really the foundation of a good room design. And given the fact that your bedroom is the place where you sleep each night, you want to make a good choice when picking your paint colors.
When choosing calming bedroom paint colors, consider the following factors:
Lighting: Does your space have a lot of natural light? Or is it fairly dark? Do you get cooler morning and midday light in a north- or east-facing bedroom? Or is your bedroom west-facing with lots of warm, late afternoon sunlight? All of these factors will be important to think about as you choose paint colors for a bedroom.
Existing Furniture and Fixtures: Unless you plan on making a complete bedroom renovation, you'll want to take your existing furniture and other bedroom fixtures into consideration when choosing your paint colors. Especially pay attention to your carpet or flooring, curtain colors, and the finish of your bed frame and any other furniture.
Your Ideal Vibe: This one may seem a little out there, but when it comes to painting your bedroom, it's actually really important! How do you want your bedroom to feel? What do you want your space to feel like as you're falling asleep or relaxing? A deep, dark color like Hague Blue would make a cozy, dreamy space for a bedroom. At the same time, a very light neutral paint color could create an almost spa-like feel.
So, what are good colors for bedrooms?
There's definitely a lot of room for personalization when it comes to choosing paint colors for bedrooms. But there are some colors that work particularly well.
I recommend specifically looking for calming paint colors for the bedroom, like soft blues or grays with blue undertones. Gray or beige paint colors with pink or purple undertones can also look beautiful in a bedroom, especially a young girl's room or nursery.
What color should not be used in a bedroom?
When you're choosing paint colors for a bedroom, it will be important to ensure that it's a color you'll enjoy falling asleep to and waking up to each day. As such, we usually recommend staying away from any color that is too bright or saturated.
Blues can be beautiful for a bedroom, but a bright blue will likely feel overpowering pretty quickly. A deep, dark blue, on the other hand, could work really well but could feel claustrophobic in the wrong space.
Avoid any colors that are too "trendy" or bold, too, unless you want to be repainting your bedroom every few years as you get tired of the current look.
Ready to start planning your own bedroom color scheme? Keep reading for our top bedroom paint color ideas!
White Paint Colors for Bedrooms
Let's start with the current hottest trend – white paint colors for everything. Don't try to paint match these white colors (learn more here). Use the specified manufacturer or find a similar color on easyrgb.com.
White Dove
This serene bedroom was painted with Benjamin Moore White Dove OC-17, a gorgeous off-white paint color with a nice soft glow.  Learn more about this color in our White Dove Color Review.
This post contains affiliate links for products I use and love. If you click on some
links and make a purchase, I get a small commission at no cost to you. This
helps pay for the blog costs so I can continue to offer great content to our
readers.
Extra White
Sherwin Williams Extra White 7006 is a crisp white paint color, perfect for a bedroom with tons of southern exposure.  We don't recommend this color for rooms with windows that face North or low light. We added Gentleman's Gray 2062-20 as an accent on the headboard wall and it was gorgeous. The walls and ceiling are both painted Extra White to highlight the architectural features of the room.
Ballet White
Ballet White OC-9 is a cream color with warm pink undertones.  We picked it because there was an evergreen tree outside the window that reflected green into the room.  The pink undertones in Ballet White countered the green and made it go away.  Read more about this Zen bedroom makeover here. Trim and ceiling were painted with Benjamin Moore Chantilly Lace OC-65.
Pale Oak
This beautiful Miami master bedroom was transformed (from red) with an online color consult and Benjamin Moore Pale Oak OC-20. The trim and ceiling are a creamy white similar to BM Swiss Coffee that complements the beige tile floor with soft pink undertones.  We love Pale Oak – it's like a warm hug for your soul! Explore our full Pale Oak color review.
For trim and ceilings we prefer crisp whites such as Benjamin Moore Chantilly Lace or soft whites such as BM White Dove, but BM Swiss Coffee looked lovely here.
Classic Gray
This is one of our favorite paint colors. Classic Gray OC-23 soft light greige that will look white. You can use it in a darker room, and I've had great results with this color in basements. Read more about Classic Gray here. Trim is painted with Chantilly Lace.
Blue Paint Colors for Bedrooms
We've often heard that blue is the best paint color for a bedroom, and it's true.  A UK Travelodge study found that Britons sleep the longest when their bedrooms are blue, an average of 7:52 hours a night. According to the study, purple rooms had the shortest average sleep time and was found to provoke nightmares.  It's too bad, my favorite color is purple!
Smoke
Smoke 2122-40 is a lovely muted blue that looks great almost anywhere, as long as you find other blue elements in the room to tie into.
This gorgeous master bedroom was in one of our favorite projects last summer.  This was the original color and it stayed the same because it matched the colors in the art.  Smoke (similar) has the perfect tone and hue for this low-light bedroom. Trim was a crisp white similar to Benjamin Moore Chantilly Lace.
This gorgeous boy's nursery was from another project with an awesome family. We found Smoke 2122-40 in the colors of his comforter and area rug (not shown).  This beautiful room was flooded with light from south-facing windows. The trim and ceiling were painted with Benjamin Moore Chantilly Lace.
Nimbus Gray
Nimbus Gray 2131-50 is a darker gray with strong blue undertones. We frequently pick a gray with blue undertones for a client that wants a blue room.  This is especially important if the room has cool blue northern or east facing windows that will intensify the blues in a color. If we had picked a regular blue, it would glow in a bad way.
This room had lots of architectural interest, so we painted the ceiling and walls the same color. The trim is a crisp white similar to Benjamin Moore Chantilly Lace.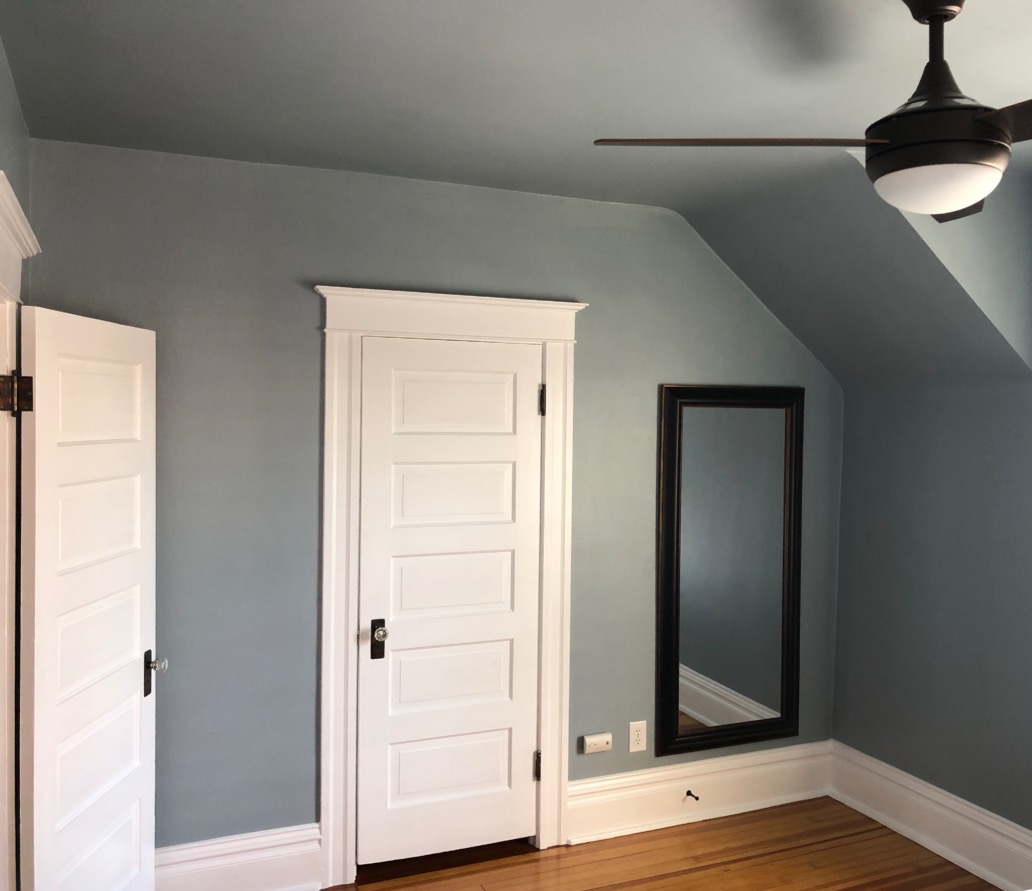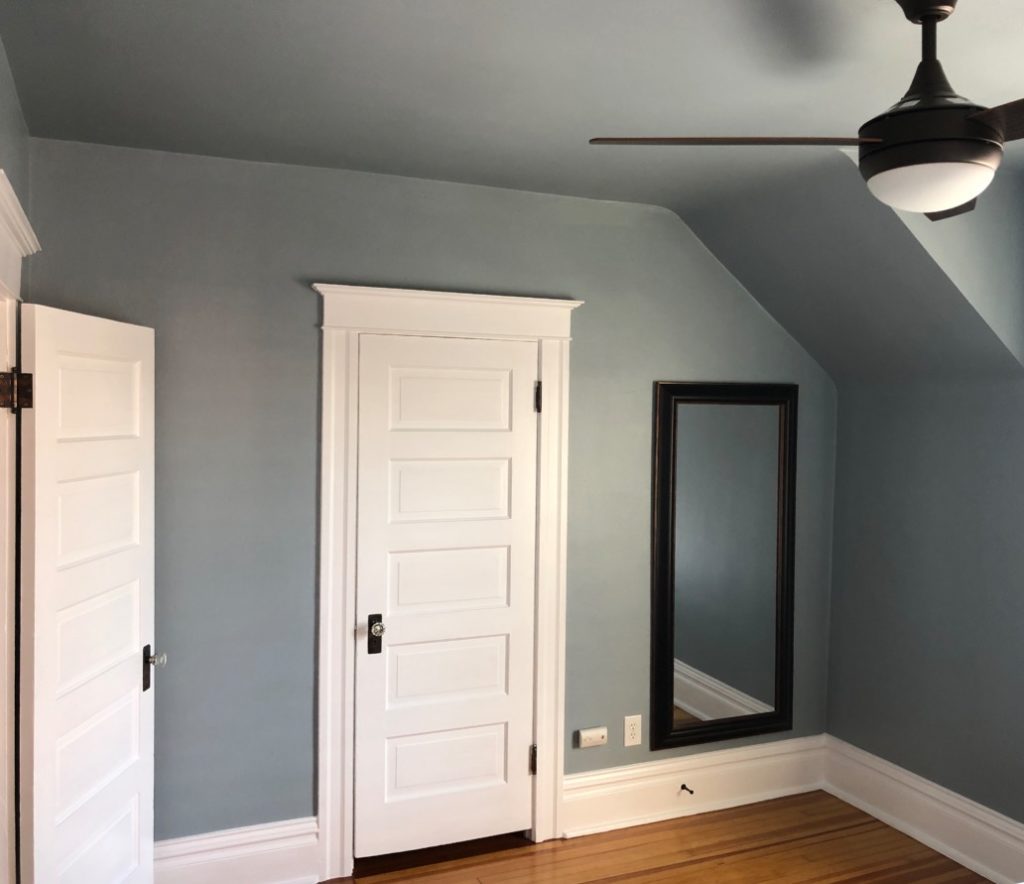 Neutral Calming Paint Colors for the Bedroom
We love soft neutrals for a restful night's sleep, but they need to tie into your existing design elements.
Collingwood
Collingwood OC-28 is a Benjamin Moore warm gray color with subtle violet undertones. I love to use this color in rooms with low light or windows that face North.
This bedroom belongs to a brilliant student at Florida State in Tallahassee who was looking for a timeless gray paint color. She needed a calm space for her online courses as she sheltered in place in Tallahassee.
We offered three paint colors through our online color consulting service and she picked Collingwood. We love the way it ties in with her chair and contrasts with her creamy trim. Collingwood is so seamless with her décor that it looks like a monochromatic study in whites!
Collingwood looks great with crisp white colors such as Benjamin Moore Chantilly Lace, soft off-whites such as BM White Dove, and even creamy whites like BM Swiss Coffee.
Stonington Gray
When you think of a crisp pure gray, Benjamin Moore Stonington Gray HC-170 is the one.  It has subtle blue undertones with a flash of green.  I like to use it in rooms flooded with light.  It can glow blue in rooms with north-facing light.
This was the master bedroom in our old home.  It had two walls of windows and was flooded with light.  We picked a blue-gray carpet for a lovely monochromatic look.  The trim was Benjamin Moore Chantilly Lace.
Shoreline
Benjamin Moore Shoreline 1471 is another crisp blue-gray with more blue than Stonington. This was the guest room in a historic house that we helped renovate last summer.  Shoreline (similar) looked so perfect with the red brick that we decided to keep the color. Trim is painted with a clean white like Benjamin Moore Chantilly Lace.
Portland Gray
If you are looking for a sophisticated version of pink, Benjamin Moore Portland Gray 2109-60 is the color for you. We love to use this color for a girl's nursery, a pre-teen hangout, or a teenage refuge.  It has heavy purple undertones and reads a subtle pink that changes all day long with the light. The trim and ceiling were painted with Chantilly Lace.
We don't always use this color, but in the right space, it can be magical.
Abalone
Abalone 2108-60 is another iconic Benjamin Moore gray color with subtle violet undertones. We have used it in offices, bedrooms, and living rooms.  It is beautiful in a bedroom with windows that face South and warms up a room with Northern light and lots of windows. I would avoid rooms with low light.
The color is shown here in a basement bedroom with a large window that faces South. The trim and ceiling are Chantilly Lace. We love the bamboo lining in the window well.
Manchester Tan
Manchester Tan HC-81 is a Benjamin Moore light beige with slight green undertones. In this case, it tied in with the art and the Zen vibe for a teenage boy.  It's a basement room with a window that faces East.  Check out the bamboo lining in the window well, just like the Abalone room.
This is a color that we often use to update Tuscan-era hard finishes, and it was perfect here!
Agreeable Gray
Last but not least, we feature Sherwin-Williams Agreeable Gray 7029 for the master bedroom in our new house.   This color is a gray with green undertones that sometimes flash a bit violet.
I love Agreeable Gray in my bedroom paired with a beige carpet with green undertones.  It is such a lovely combination!  The trim and ceiling are painted with Sherwin Williams Extra White 7006, a crisp blue-white. I love waking up to that gorgeous Pottery Barn Mia Chandelier.
Bloggers across the internet love this color, and this was the whole-house paint color when we bought our house. Long story short, I love it in sunny rooms such as this bedroom and basements with lots of artificial light. Avoid using Agreeable Gray in poorly lit rooms where it can look like grim prison cell gray.
BONUS Bedroom Paint Color: Farrow & Ball Cromarty No. 285
After I painted my daughter's bedroom with Farrow & Ball's Cromarty, I couldn't resist updating this post with a BONUS 15th calming bedroom paint color. Cromarty is a truly unique neutral – a soft green-gray that is colorful but still muted.
It's just as versatile as a more traditional gray like Agreeable Gray or Stonington Gray, but adds more interest and freshness to a space thanks to its pale green hue. You can read more about this paint color in our full Cromarty paint color review.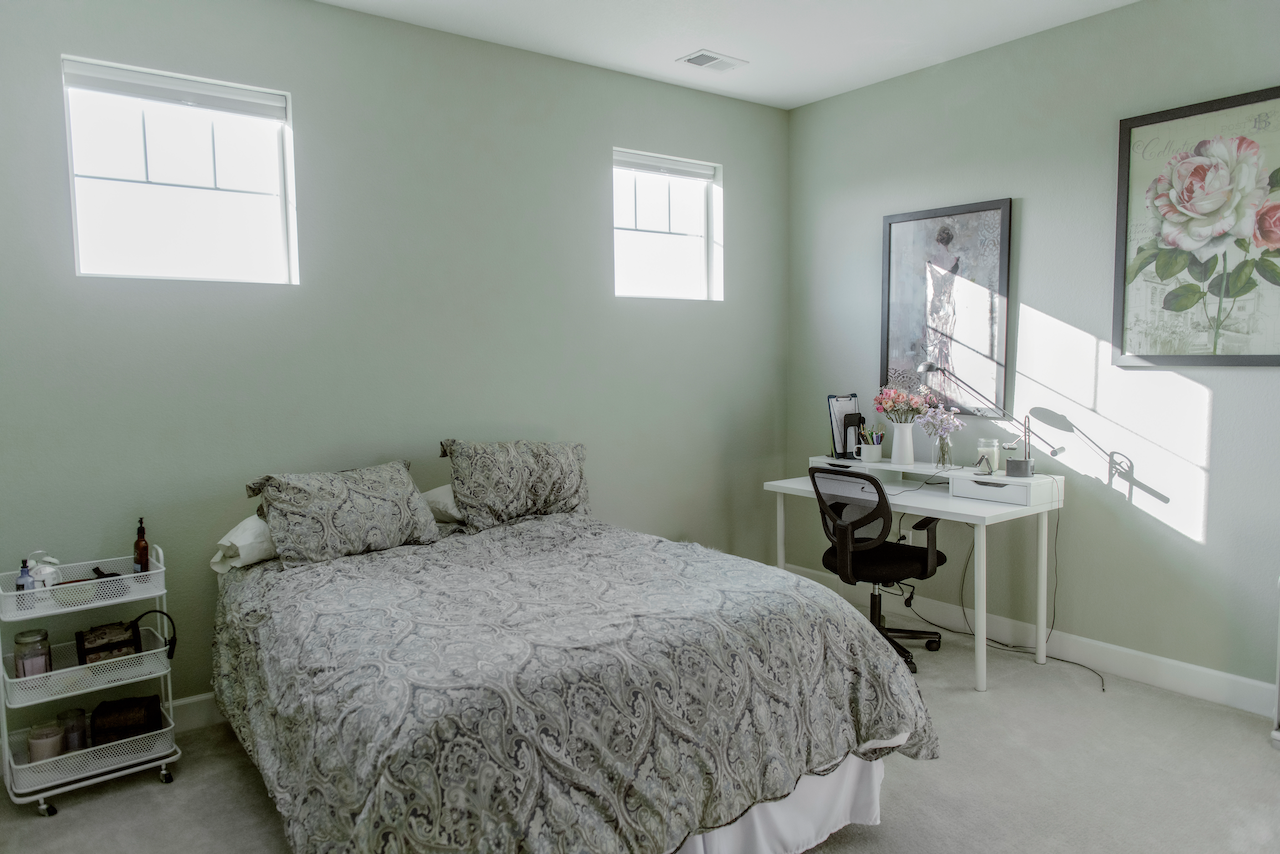 The Verdict
The perfect paint color can update a bedroom in a flash! Pick bedroom paint colors with inspiration from comforters, art, window coverings, tile, or carpet colors. If you need help with choosing paint colors for a single room, we can help.
Whether your paint color is matched or true, don't forget to test your paint colors. It's a standard best practice. Whenever I test my paint colors, they are perfect, and when I don't test they turn out wrong.
We recommend using Samplize to easily test paint colors in your bedroom and any room of the house! Click here to visit the Samplize website.
NEVER, EVER use paint matches from a different brand than the one you will use. Results are poor and there are no standards for the sheens. Even though your painter may truly believe it can be done, don't do it. See results from paint matching here.
Online Color Consulting
If you still need help with paint colors, check out our Online Color Consulting packages. Or, explore 8 easy ways to choose paint colors.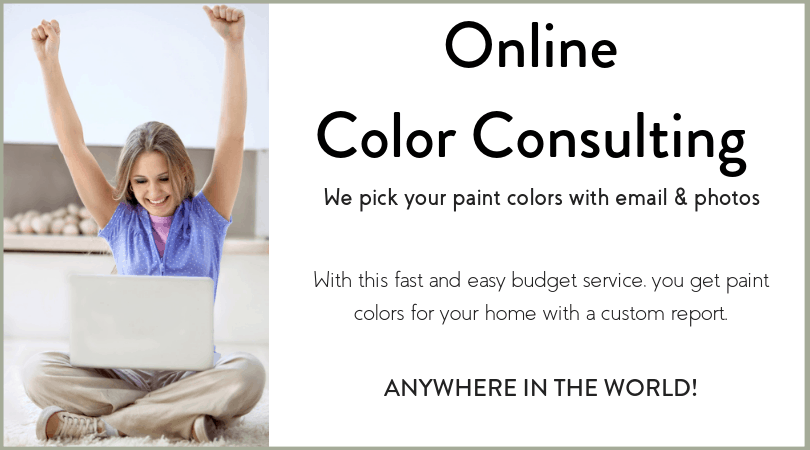 Don't Forget To PIN!
Related Posts:
The Best White Paint Colors for Dark Rooms
Our Five Favorite Benjamin Moore Whites (and how to use them)
We love your comments! Please note that the blog is meant as general advice, and it is not possible to give out specific answers to your paint questions. If you want more specific and detailed advice, please consider purchasing a color consultation. Thank you for your understanding.