Sherwin-Williams Agreeable Gray (SW 7029)  is an IMMENSELY popular Sherwin-Williams greige paint color.  It is an iconic warm gray with barely-there green undertones.  This is one of the most written-about colors in North America. It's a self-fulfilling prophecy – bloggers write about the color because it's popular and does well in web searches (forgive my cynicism).  Readers use the color and make it more popular.
Of course, I like Agreeable Gray, but as with any paint color, it should be used in the right situation. It's not automatically the right whole-house paint color for every home. For more about how to create a whole-house color palette, link here.
Please note:  All the photos in this post come from Color Concierge projects and are part of our portfolio.  These are not professional photos, and most are customer photos that give a realistic look of the paint color. These photos are not color-edited.
Most bloggers say that Agreeable Gray is a perfect greige color that will go with anything, but that is just not true.  It can be a beautiful color only when used the right way.
Paint colors are a tool, and you should pick a color because it looks great in the room, not because the color is pretty.  If it looks great in the room with your hard finishes and decor, then you will love it!
*This post contains affiliate links for products I use and love.  If you click on some links and make a purchase, I will get a small commission at no cost to you.  This helps pay for the costs of the blog so I can continue to offer great content to our readers.
Is Agreeable Gray still popular in 2023?
The quick answer is YES!  Agreeable Gray (sample here) is an iconic Sherwin-Williams greige paint color and is still one of the 50 most popular colors on the Sherwin-Williams website.   This post on Agreeable Gray is the SINGLE MOST POPULAR paint color on this blog.
White wall colors are very popular now, but they can be cold and difficult to decorate with. Not everyone wants a white house.  For those who want a warmer and friendlier paint color, Agreeable gray could be the color for you.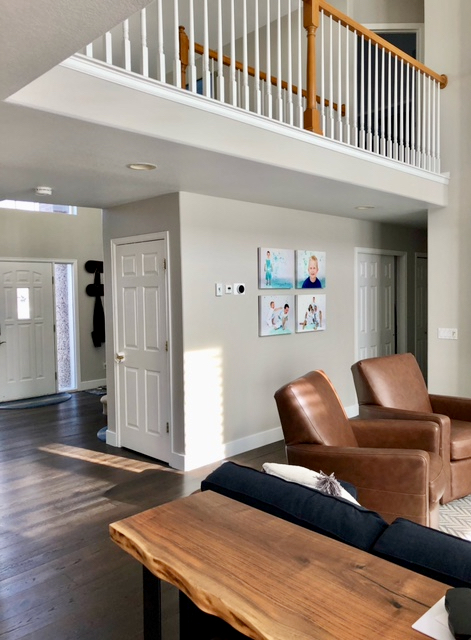 What is the LRV of Agreeable Gray?
The LRV (Light Reflectance Value) is 60 (scale from 1/dark to 100/light), which makes it light-reflecting, and an excellent color for many residential rooms.  It's a bit darker than trending colors, which doesn't matter if you use it in a room with lots of light.
When should I use Agreeable Gray?
This paint color is glorious when there is LOTS of natural light from any direction, even cooler North-facing light. In a lighted room, it looks like a warm light greige that makes a room warm, friendly, and inviting.
It also looks great in a dark room that has constant artificial light, such as a basement.
I'm very familiar with Agreeable Gray (sample here) because it's the whole-house color our builder gave us when we purchased our new build 2 years ago.  As with most paint colors, I don't consider it a whole-house paint color because very few houses are flooded with warm, perfect light.
We painted the rooms that had low light or shifting light with other colors.  We kept Agreeable Gray in the basement, where we have lots of artificial light.  The bedrooms had tons of beautiful light, but most of the main floor with East facing windows and low light conditions have been painted other colors.
Agreeable Gray in rooms with lots of light
Below is my bedroom, with South and East exposure.  This room is sunny all day long and has lots of large windows.  This color is also a great backdrop for colorful art!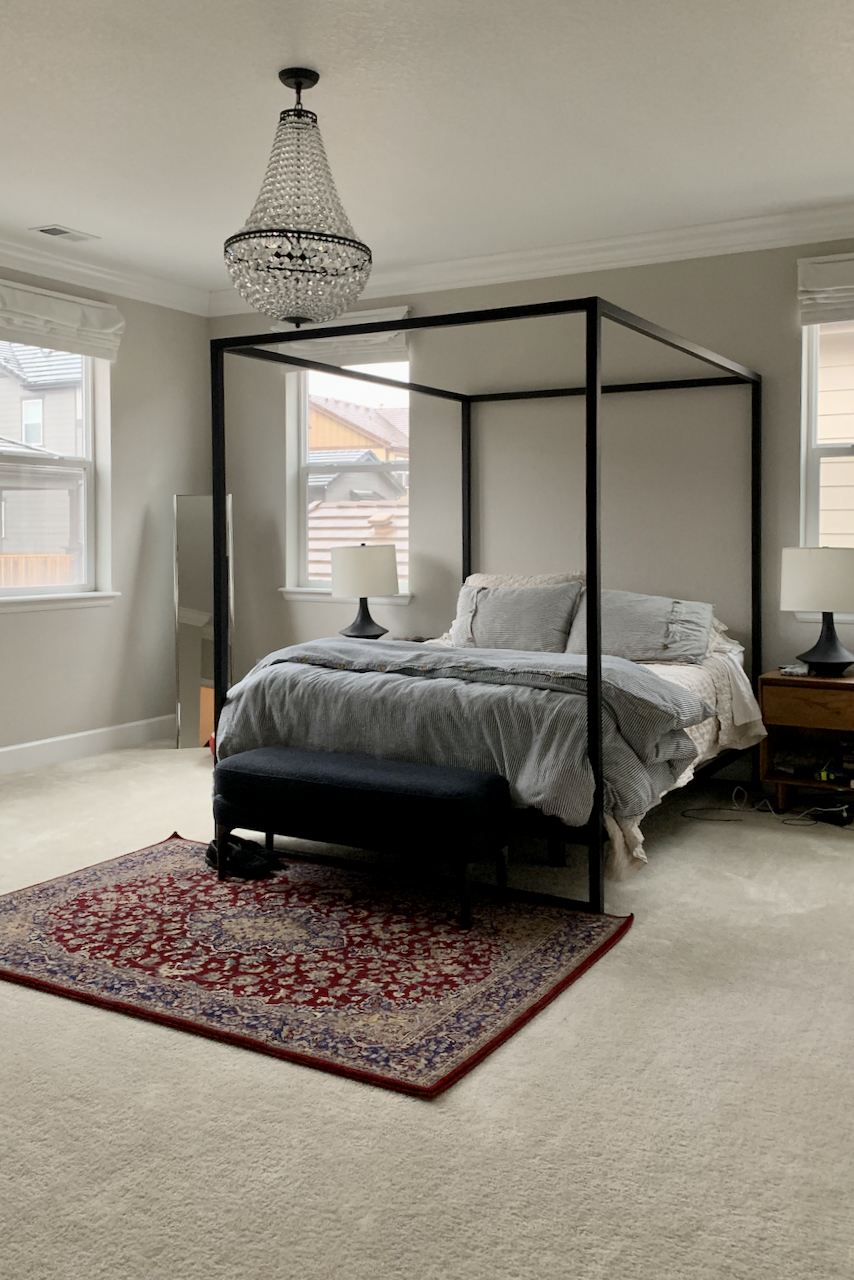 This bedroom also has tons of light, although it is North and West facing.  It looks fabulous at all times of day, even with cooler North-facing light.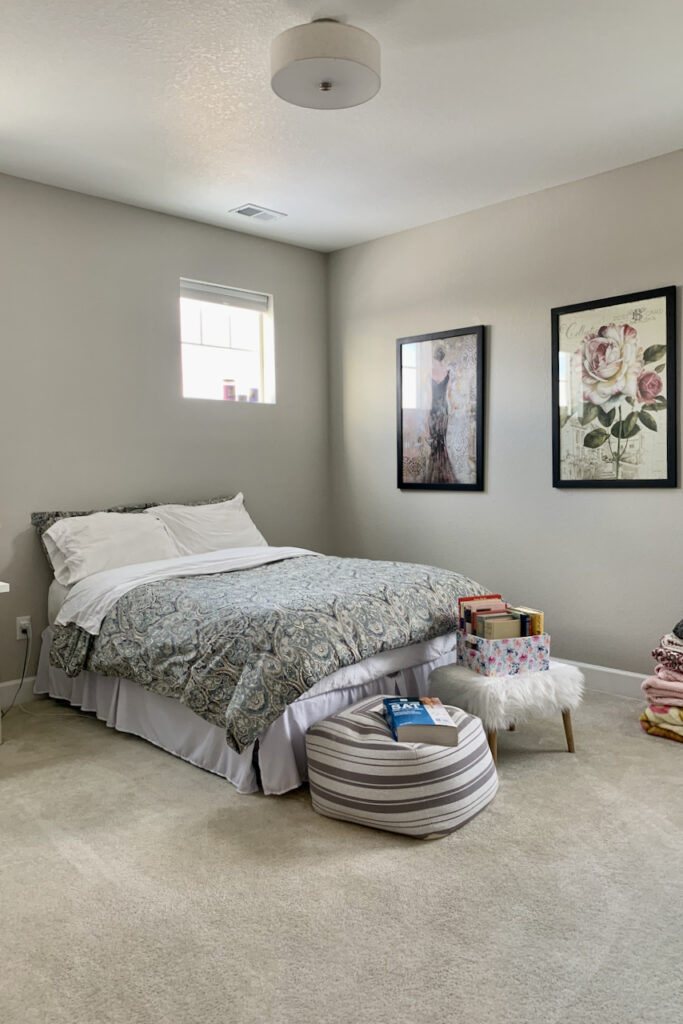 Agreeable Gray in rooms with artificial light
Basements and bathrooms without windows are fabulous places for Agreeable Gray (sample here).  Make sure that you use warmer bulbs.  The color looks lovely and inviting and is a fan favorite.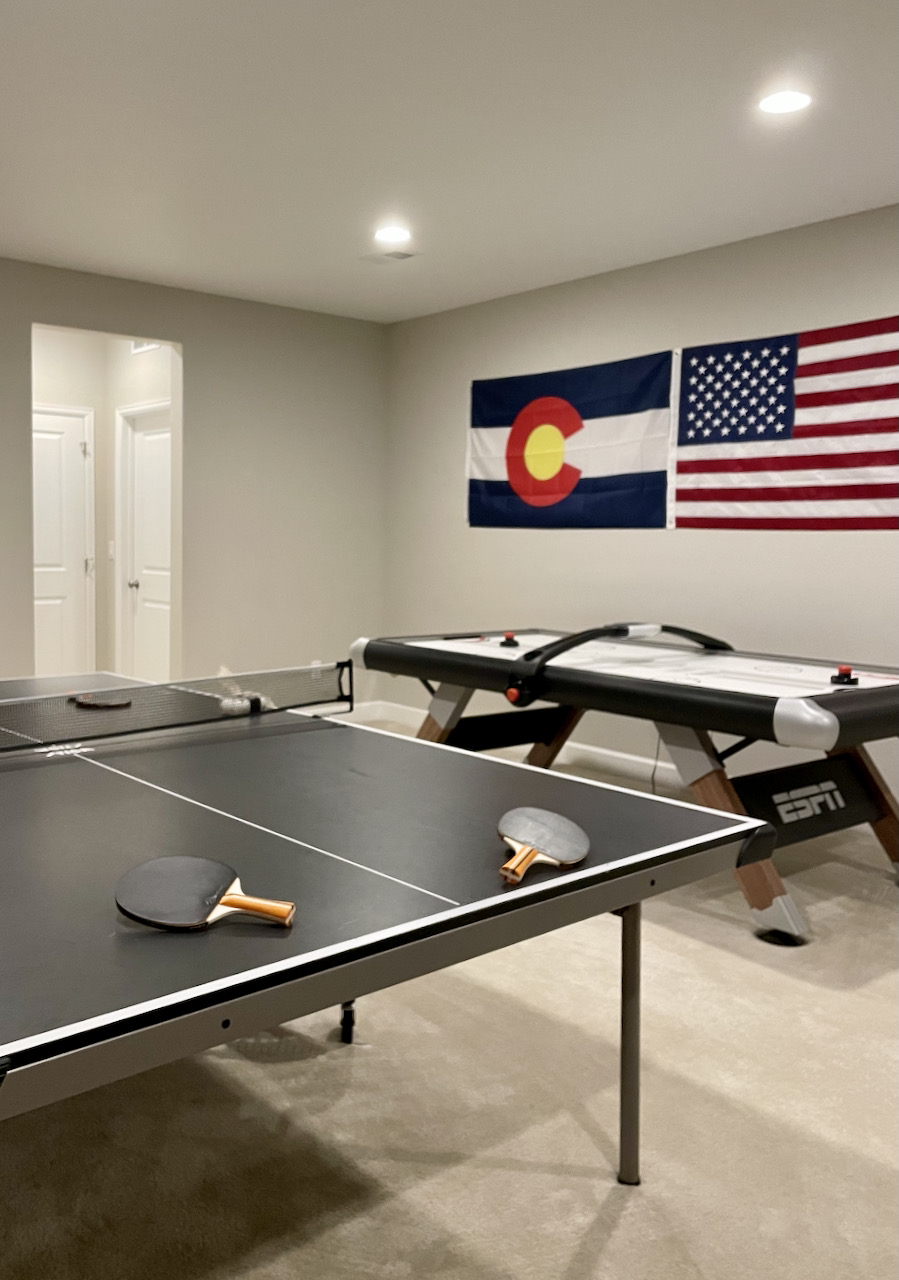 I snuck in a BM Slate Teal Accent wall in the gym!  Learn more about this color here.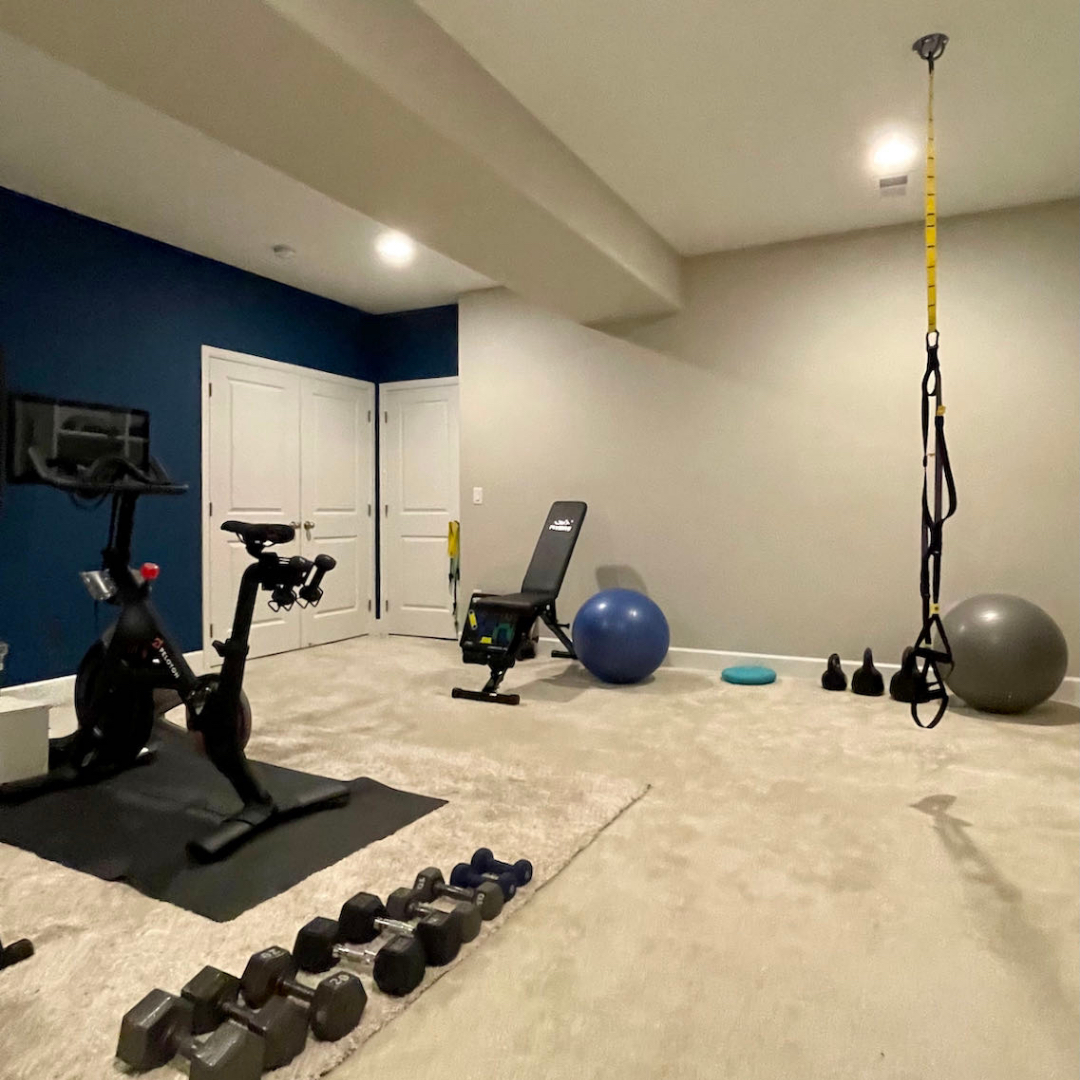 Agreeable Gray in dark rooms or low light rooms North facing light
This paint color makes a room look grim in low or cool light.  The fleshy purple tones hidden in the bright light make their way out to the surface so that the room looks like a dingy icky prison.  I'm not sure if I can be more eloquent.
Here is a photo of Agreeable Gray in a North-facing bathroom with very low light. Not it's best moment.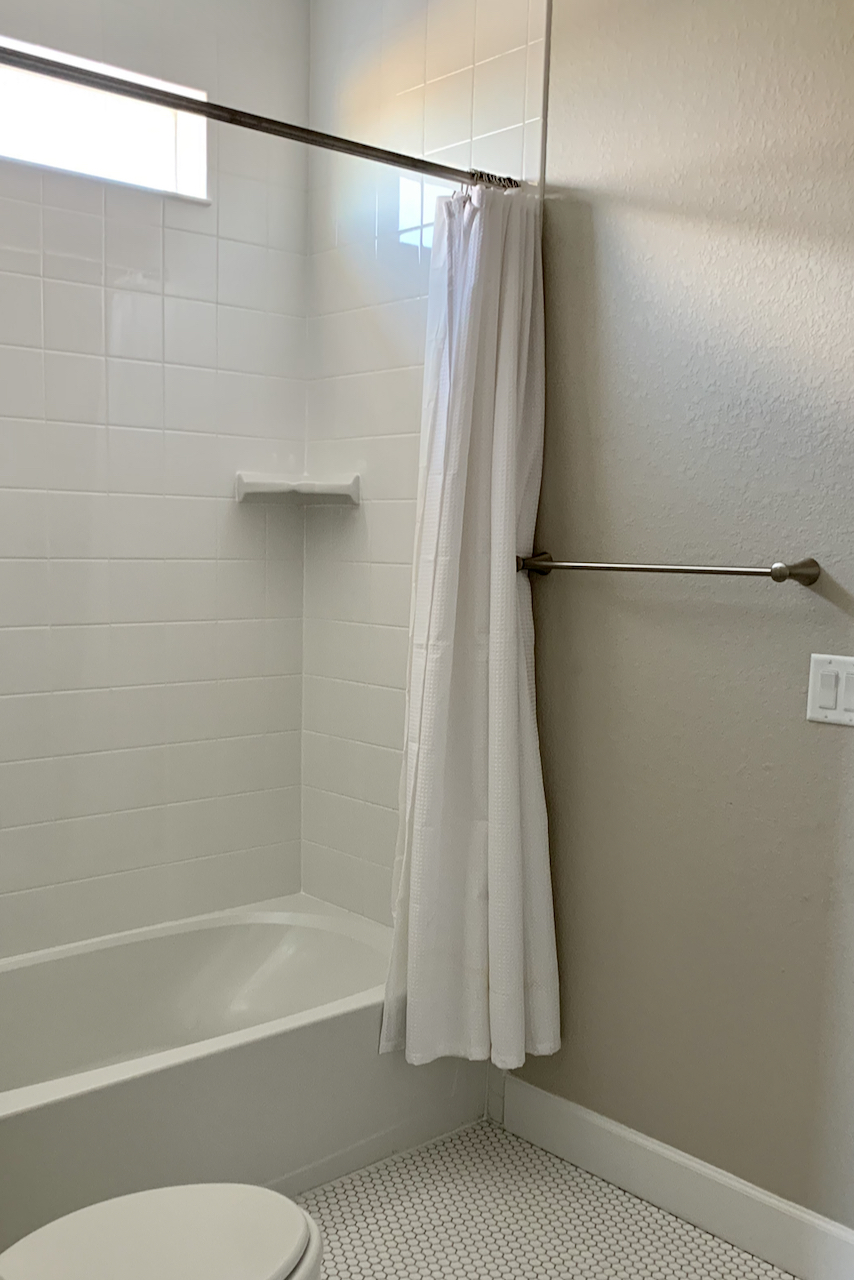 Agreeable Gray Compared to other Paint Colors
Agreeable Gray vs. Repose Gray
 Repose Gray (sample here) is a darker, cooler gray color with strong violet undertones (color review here).  Agreeable Gray (sample here) is a greige color (vs. gray) with warm green undertones that can look fleshy in low light.  Repose can look better in North-facing light.  If one of these colors looks great in a room, the other will not look good.
Agreeable Gray vs. Revere Pewter
 Benjamin Moore Revere Pewter (sample here) is a cleaner and crisper gray/greige color than Agreeable Gray.  They are warm greige paint colors with green undertones, but Agreeable has a splash of violet undertones compared to Revere.  Agreeable Gray will likely be the better choice if your room has tons of natural light.   If one of these colors looks good in a room, the other will also look nice because they have similar undertones.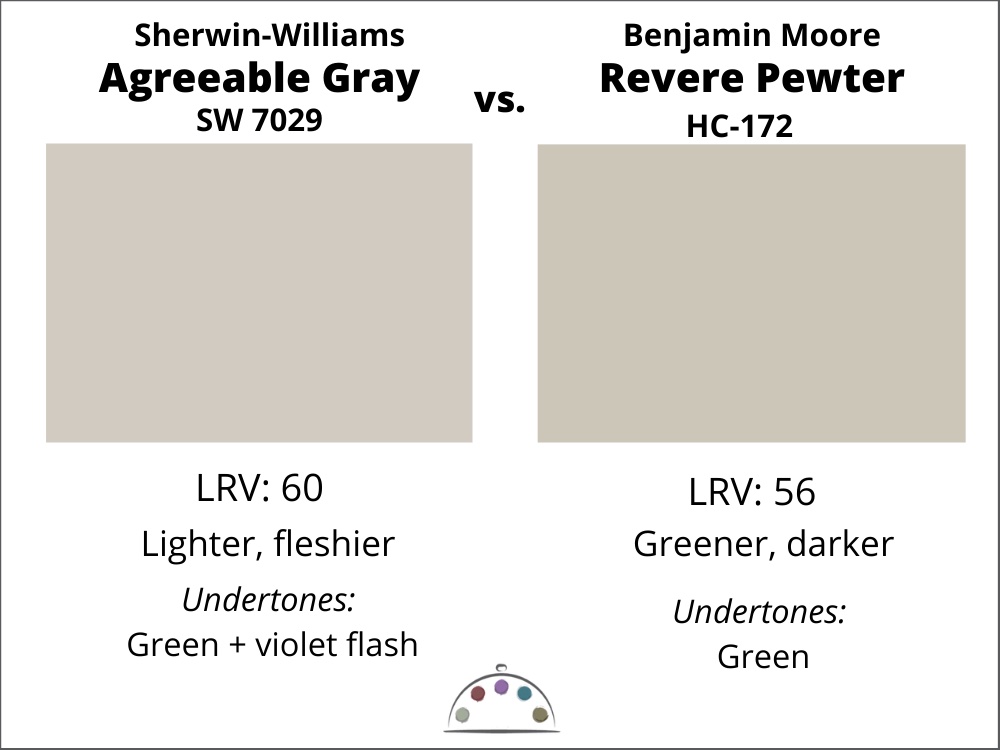 Agreeable Gray vs. Accessible Beige
 Both colors have warm green undertones, but SW Accessible Beige is warmer.  Pick Accessible Beige for rooms with North facing light.  If Accessible Beige (sample here) looks good in a room, Agreeable Gray will look good too.
Agreeable Gray vs. Edgecomb Gray
Benjamin Moore Edgecomb Gray is lighter, cleaner, and warmer than Agreeable Gray.  They are both warm greige colors with green undertones.  Edgecomb (sample here)would likely be the better choice for a room with low light or Northern exposure.  If Edgecomb Gray looks good in a room, Agreeable will likely look good.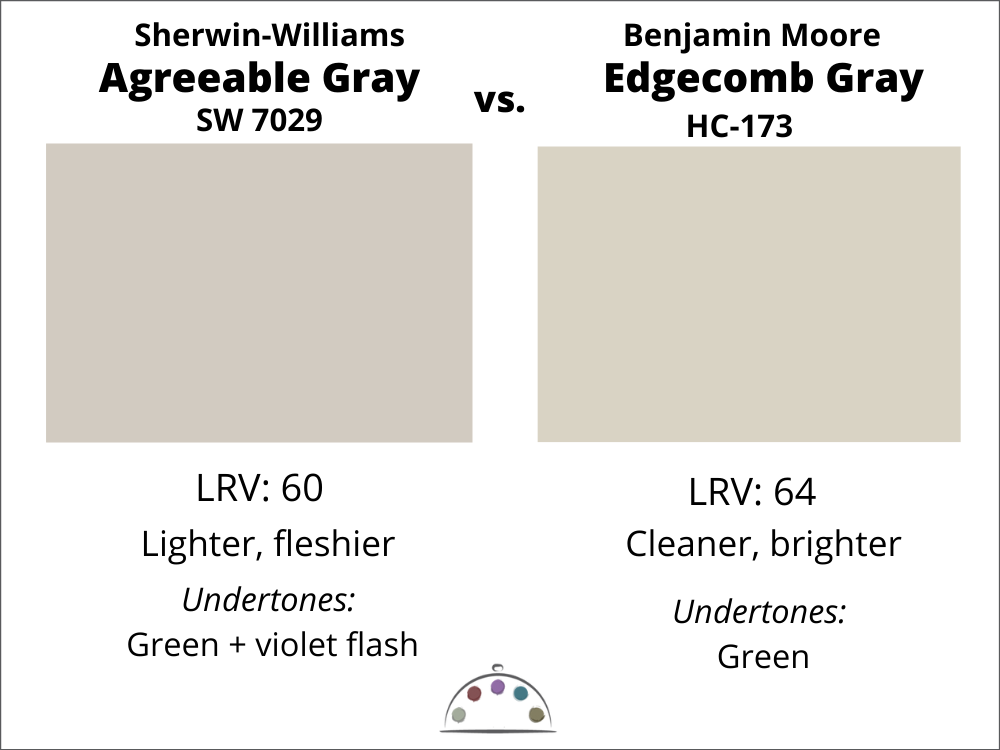 What are the best trim and ceiling colors for Agreeable Gray?
Trim and Doors
For white trim, you can use crisp whites such as SW Extra White, cleaner whites such as SW Pure White, or off-whites such as SW Alabaster or SW Greek Villa.  Creamy Whites such as SW Shell White can look dingy.    The trim and doors should be the same white color.  The sheen should be Semi-Gloss.
Ceilings
We like to use the same ceiling white as the trim white for ceilings.  The ceiling should be painted with a flat sheen.
Can I use Agreeable Gray for Exteriors?
Absolutely!  This color can look like a soft white outside, where the bright sun makes colors 5-10 lighter and brighter in the sunshine.  Typical interior whites like SW Pure White can look stark when used outside as a trim color.
Agreeable Gray is a soft "white" trim color and works especially well with darker exterior siding colors or earthy brick or stone.  It's a great way to go darker with white instead of shifting to a cream which would be more yellow.
The white trim in the house below is painted with Agreeable Gray. The house is facing West.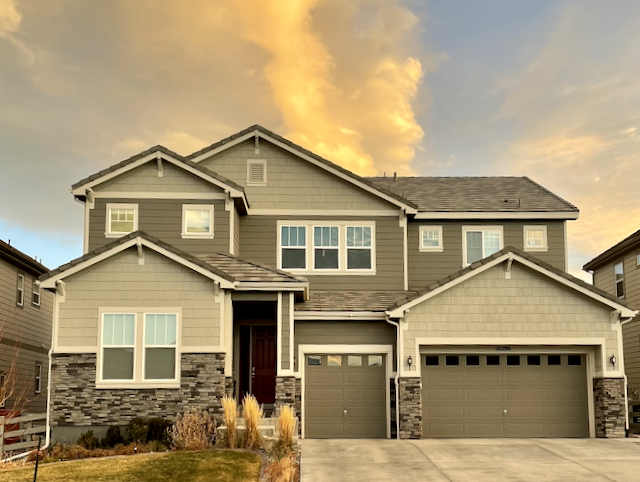 We also like to use Agreeable Gray as a "white" siding color in exterior palettes.  This works especially well in more Southern latitudes of North America and higher altitude cities such as Denver and Salt Lake City.
When should I avoid Agreeable Gray?
This greige color can look fleshy in a room with low or cool North facing light.  We do not recommend that color in a room with low natural light.
Don't use Agreeable Gray with creamy white colors or cool grays with violet undertones, such as Repose Gray.  For some reason, they suck the life out of each other.  You can have them in rooms next to each other, though.
Below is a photo of my bedroom where I accidentally purchased gray cellular shades with a violet undertone – the gray color people associate with elephants, like Repose Gray.  The shades look dirty because they don't pair well with the green undertones in Agreeable Gray.
Which Benjamin Moore paint color is closest to Agreeable Gray?
Agreeable Gray is one of those colors that doesn't have a close match in the Benjamin Moore paint catalog.  If you want a paint color that behaves similarly, choose from BM Revere Pewter or BM Edgecomb Gray.  They aren't the same, but they are both greige colors with green undertones that I would use in similar situations.  Edgecomb is probably the closest one.
Of course, we never recommend matching paint colors from Sherwin to Benjamin Moore. Learn more about matching paint colors here.
What is the easiest way to test your paint colors?
We always recommend you test paint colors in your house because lighting can completely change your wall colors. In the old days, this meant we painted a large poster board with sample pots and a huge mess.
Now we have SAMPLIZE 9X14″ Pre-Painted peel-and-stick paint samples.    They are EASY to use, AFFORDABLE ($5.95/ea), and ECO-FRIENDLY –  no messy painting or cleanup without half-used paint samples in your back closet, and they can deliver the NEXT DAY!
Check out the SAMPLIZE website HERE.
Get 10% off your Samplize order today by using the code "ColorConcierge10" at checkout. Order today and get samples tomorrow!
Key Learning Points – Agreeable Gray
Agreeable Gray is a glorious warm greige paint color with green undertones.  It looks great in rooms with lots of natural or artificial light.  If you have a room with low light, the hidden violet undertones will look fleshy, and Agreeable Gray will make the room look like a prison.
NEVER, EVER use paint matches from a different brand than the one specified.  Results are poor and there are no standards for the sheens.  Even though your painter may truly believe it can be done, don't do it. See results from paint matching here.
Online Color Consulting
Still looking for the perfect paint color?  
Discover our ONLINE COLOR CONSULTATIONS! Or, explore 8 easy ways to choose paint colors.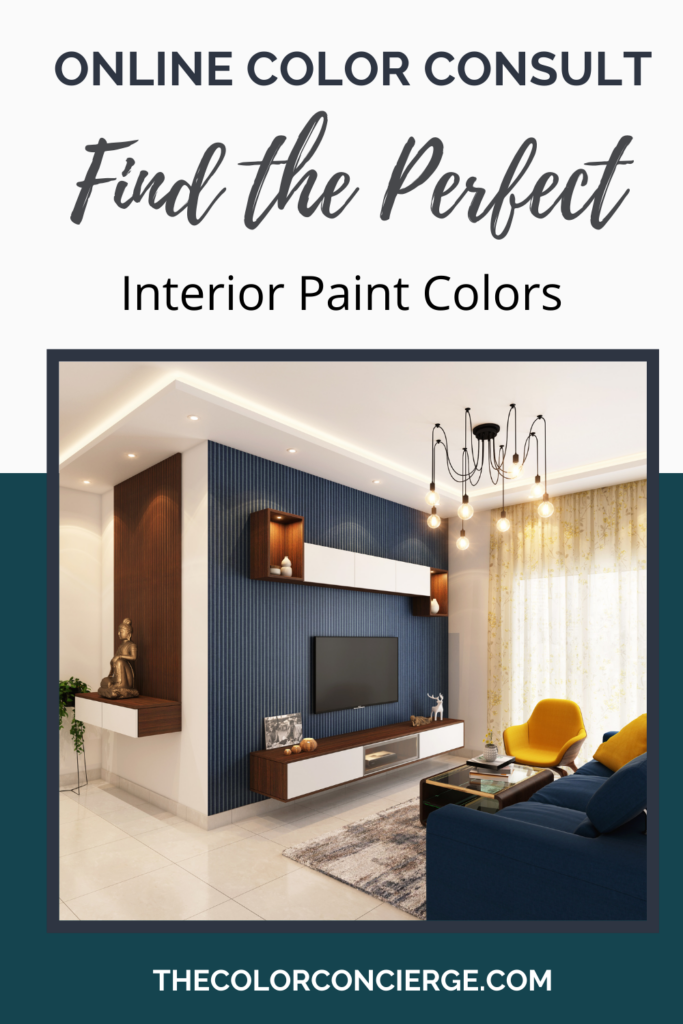 If you liked this post, don't forget to pin!

Related Posts
Benjamin Moore Slate Teal Color Review
We love your comments! Please note that the blog is meant as general advice, and it is not possible to give out specific answers to your paint questions.  If you want more specific advice, please consider purchasing a color consultation. Thank you for your understanding.