Basements aren't often a top priority when it comes to choosing the perfect paint colors for a home, but maybe they should be. Because choosing the best basement paint colors isn't always easy.
More and more homes in the United States feature finished basements – used for everything from gyms, home offices, and guest bedrooms to a primary living space within a home.
Basement rooms typically have much lower levels of natural light than other floors of the home. As such, they're actually some of the most challenging spaces to choose paint colors for.
Throughout my years as a paint color consultant, I've been able to work on many clients' basement projects. And I've learned what to look for in a good basement paint color.
Keep reading for more information on how to choose a basement wall color and for a list of our favorite paints for dark spaces.
*This post contains affiliate links for products I use and love. If you click on some links and make a purchase, I will get a small commission at no cost to you. This helps pay for the costs of the blog, so I can continue to offer great content to our readers.
What to Consider When Choosing Basement Paint Colors
When finishing a basement or updating an existing finished space with new paint colors, it's important to treat the space like you would any other room of your home.
That means that when choosing paint colors, it's important to take into consideration a few key details.
Basement Lighting
Basements usually have either low natural light or artificial light. But the actual light in a basement room can vary pretty significantly, so it's important to consider the types of windows in your space, the direction the windows are facing, and how much light they let in.
If you have a basement space with small, half-buried windows, for example, you'll likely have to rely primarily on artificial light. Even with South-facing windows (which typically get a lot of warm light), smaller windows can make a basement dark.
Walk-out basements, on the other hand, can be treated as regular rooms as long as they don't have a deck overhead to block light.
Typically, if you're dealing with a basement that has low light or artificial light, you'll want to look for basement paint colors that look rich and won't wash out.
While it can be tempting to paint a basement in the lightest color possible to brighten up the room, many light paint colors (especially whites) can end up looking dingy without enough natural light. The basement bedroom below is beautiful because we used a warm white that can stand up to low-light conditions, BM Cloud White.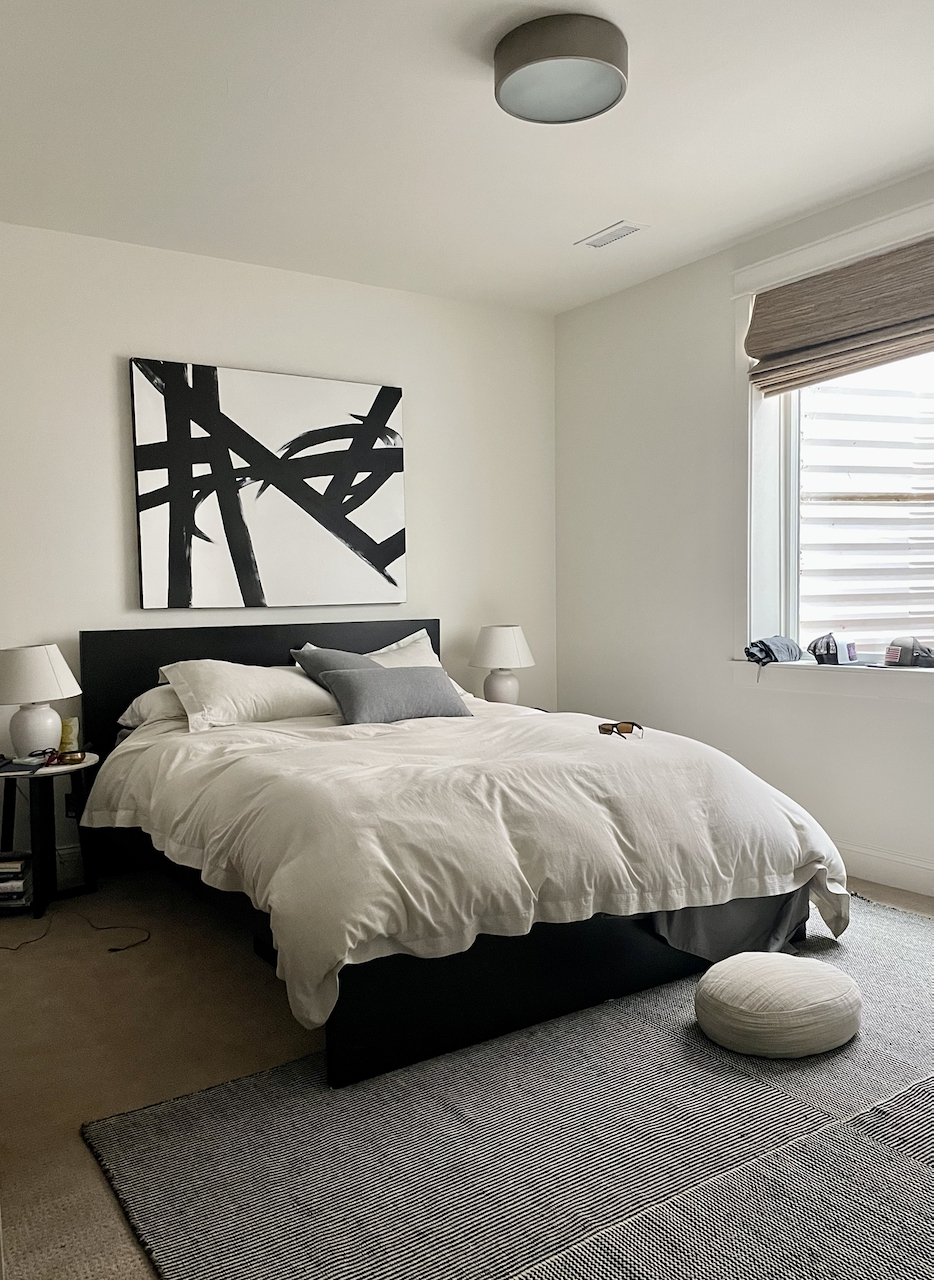 Your Hard Finishes, Furniture & Decor
Basements are usually used to add more room to a home. The rooms we usually see in finished basements include mini-bars or small kitchens, bedrooms, family rooms and bathrooms.
When choosing basement paint colors, it's important to consider the hard finishes that make up these spaces. Paint should always be selected to coordinate with things like flooring or carpets, bathroom tile, kitchen counters, and cabinet colors.
If you already have furniture and decor for your basement, be sure to pay attention to the colors in those items as well. The best basement paint color for your space will not only work well with your basement's lighting but will also coordinate with the other colors in a room.
Your Whole-House Color Scheme
I always recommend that you finish basements the same as you do the rest of the house so that they are truly an extension of your home. This also helps make this renovation more valuable.
Don't over-develop your basement remodel compared to the rest of your house, because then you will have overspent on the renovation. I had a neighbor once that had to sell their house because they couldn't afford the second mortgage after they over-designed their basement.
In order to make a finished basement feel like it was always part of a home's living space, it's important to keep in mind the paint colors used in other rooms throughout the house.
Choosing a basement paint color that aligns with your whole-house color scheme will ensure this extra living space doesn't feel disjointed or out of place.
Now, a basement pro-tip that has nothing to do with paint: if you're going to be finishing your basement it's always a good idea to get a permit. If you don't it saves money in the short term but will create all types of questions when you eventually sell the home.
Getting a permit also ensures that the space is built to code and that the contractors will be less likely to cut corners since they know a city inspector will see their work. The city inspector provides a nice set of checks and balances.
Our Favorite Basement Paint Colors
The best paint colors for basements will vary from space to space, depending on the factors featured above. But we've built a list of our favorite basement paint colors from client projects that are versatile enough to work in many basement rooms.
Best White Paint Colors for Basements
White paint can make a basement feel light and bright, but if you pick a clean white or a blue-white the room can look dingy in the corners, which is counterintuitive.
Instead, the key to choosing the best white paint colors for basements is to go with a warm white with enough pigment to not look washed out or dull.
Cloud White Basement
Benjamin Moore Cloud White (OC-130, 967, CC-40) is a soft, beautiful off-white paint color that we could use all day long. It has warm, invisible taupe undertones that offer plenty of warmth without looking too creamy or yellow.
This color looks beautiful in rooms with lots of light but still works in darker spaces like basements (there's a reason we featured it in our list of the best white paints for dark rooms!).
We used Cloud White in our client's bachelor pad basement (pictured below) and it looked amazing. The color looks darker and richer with less light, and it doesn't look dingy like a lot of white paint colors do in shadowed spaces.
This basement photo from another client's Colorado remodel shows an area under the stairs. The basement still has tons of filtered natural light, so Cloud White looks soft and lovely. It also pairs really well with the muted brick finish on the wall next to the stairs.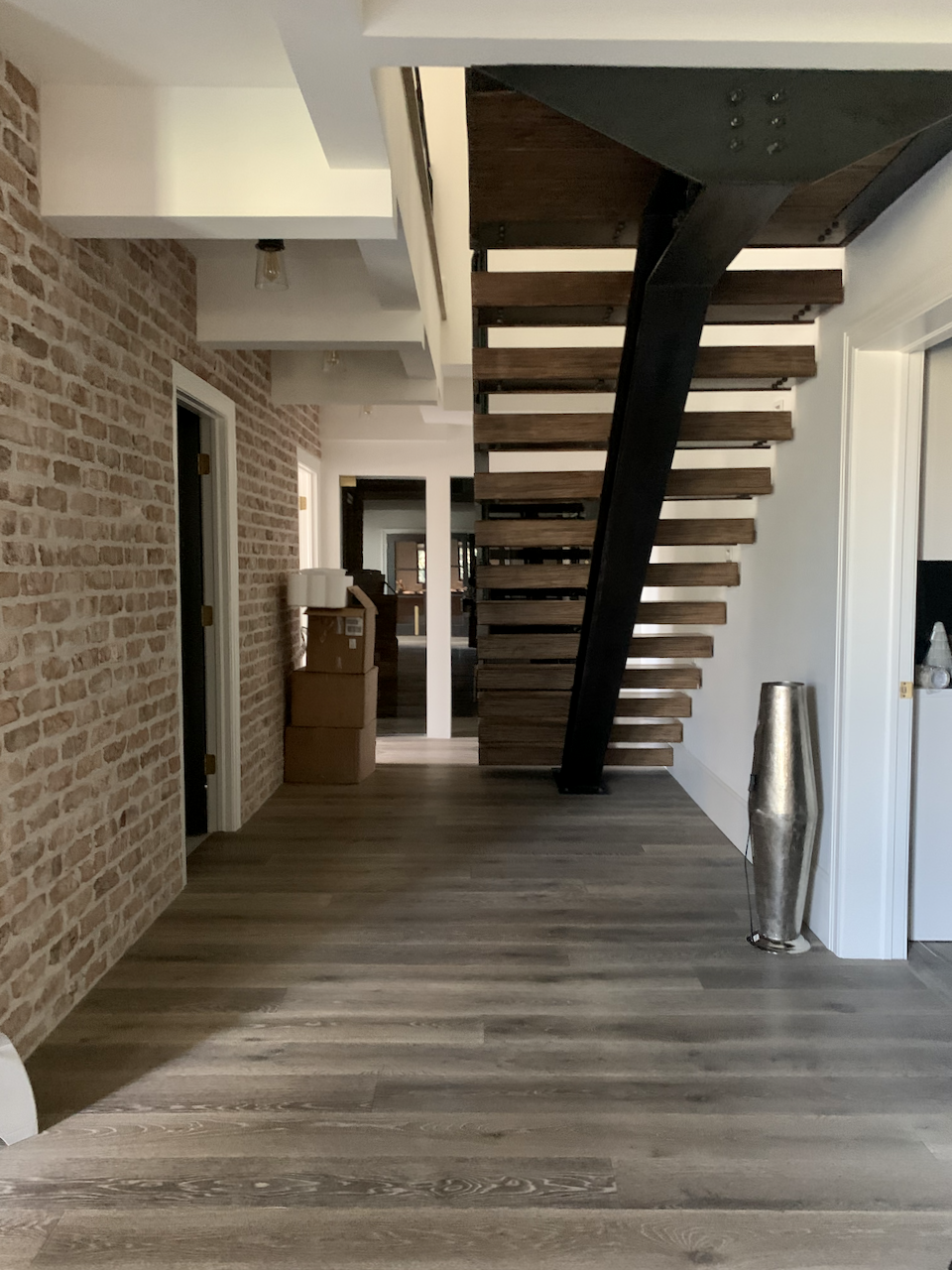 White Dove Basement
White Dove (color review) is an iconic Benjamin Moore off-white paint color that is versatile, warm, and lovely. It has soft, invisible yellow undertones that are grayed out so you can hardly see them.
White Dove works well in darker rooms because it has enough pigment that it won't gray out in the shadows. We love to use White Dove in basements because it works well in low light but also looks fantastic in artificial light. 
We used White Dove on the walls (eggshell), doors & trim (satin), and ceiling (flat) cabinets in this client's basement space and love the way it still looks warm and creamy even in the darker room. This basement only had a sliding glass door with an overhead deck that blocked the light.
Best Greige Paint Colors for Basements
I love greige paint colors for a basement because usually, you see them with overhead lights on. When the lights are low, the undertones of gray and greige paint colors get exaggerated, especially blue and violet undertones.
Blue-gray rooms look blue and violet-gray colors can look more purple. This is not necessarily a bad thing, but just something to be aware of when choosing basement paint colors.
Make sure to pay close attention to the other colors in your room (flooring, hard finishes, decor, and more) when deciding what gray paint color (and its undertones) to use.
Agreeable Gray Basement (Green-Gray)
Sherwin-Williams Agreeable Gray (review) is an incredibly popular greige paint color. It's a warm gray with barely-there green undertones that works well in a variety of spaces and lighting.
This paint color is glorious when there is LOTS of natural light from any direction, but also works really well in a dark room with constant artificial light (like a basement), where it looks like a warm light greige and makes a room warm, friendly, and inviting. Our new-build home was originally painted with Agreeable Gray in just about every room of the house. While we've since repainted many rooms in other colors, we kept Agreeable Gray in the basement, where we have lots of artificial light. If you use Agreeable Gray with artificial light, make sure you use warmer bulbs.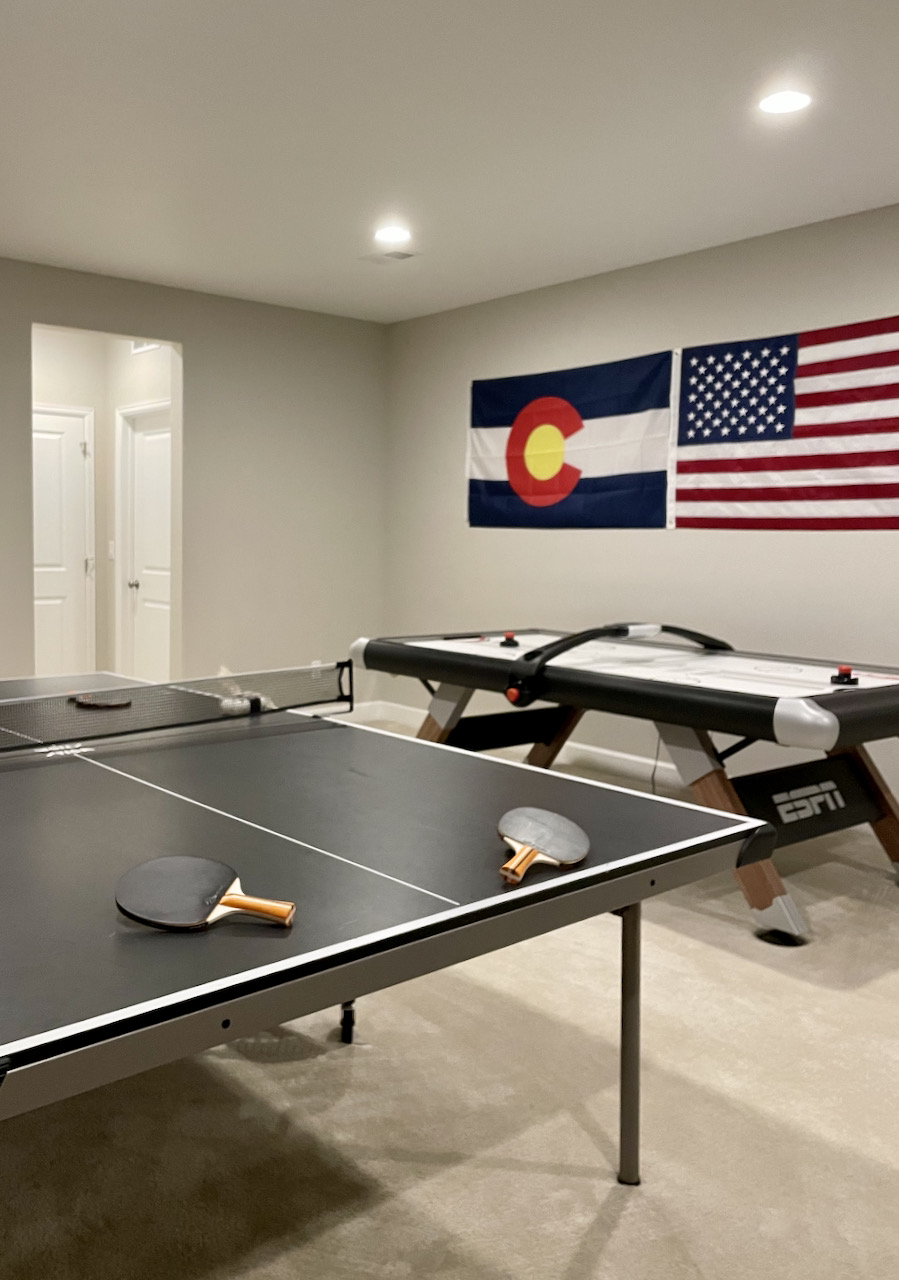 This photo shows the room with natural light in the corner. The low light holds Agreeable Gray very well!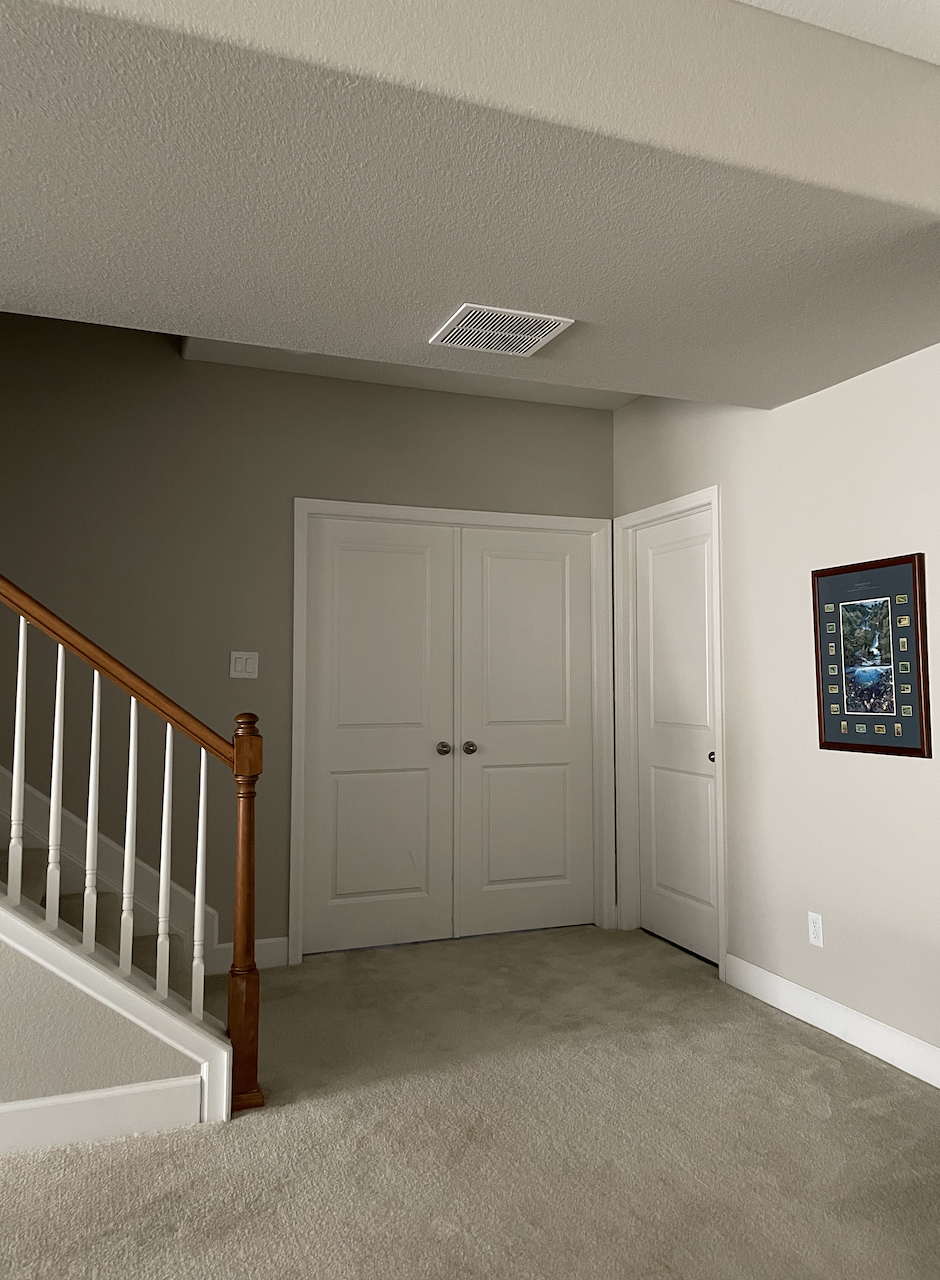 Stonington Gray Basement (Blue-Gray)
Benjamin Moore Stonington Gray (review)is a neutral and versatile gray paint color that can be used in just about any space throughout the home – including the basement.
Stonington Gray has strong blue undertones. In fact, I like to describe Stonington Gray paint as a blue-gray color. In cool lighting or rooms with less natural light, Stonington Gray appears very blue. In a basement space, it can even be used in place of blue paint when you want a softer, muted blue that won't flow on the walls.
In the basement of my former home, for example, Stonington Gray looks very blue despite some light coming through the windows. I think this color looks really beautiful in a basement, but if you don't want your room to look blue it may not be the right choice.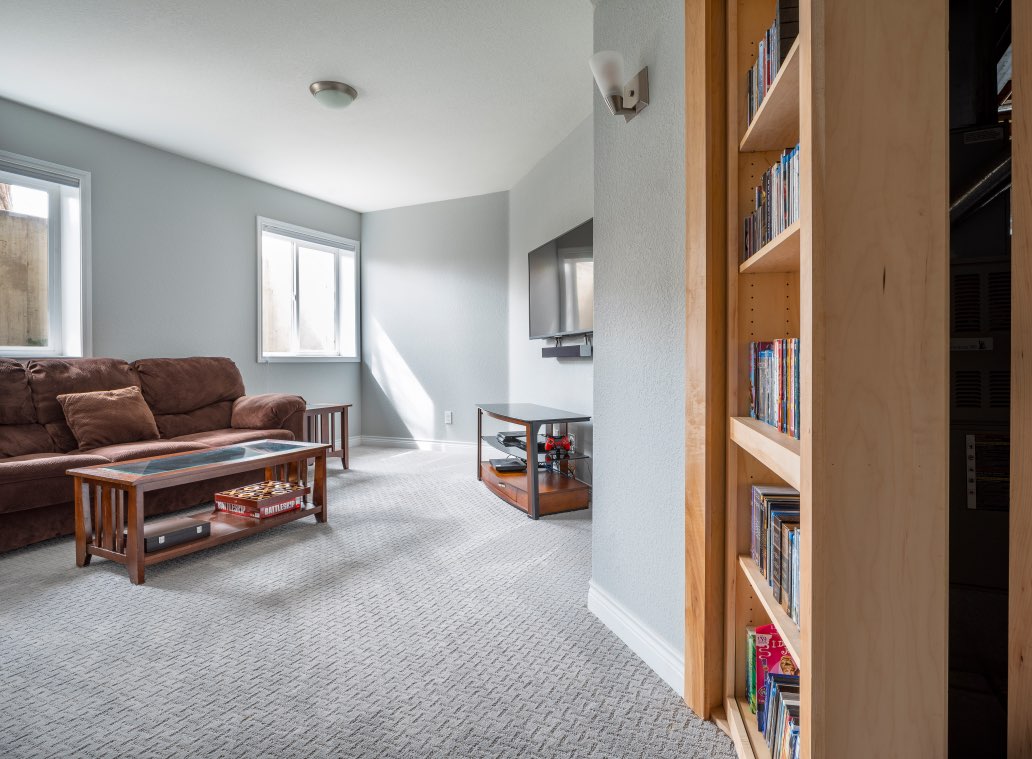 Pebble Beach Basement (Blue-Gray)
Benjamin Moore Pebble Beach (1597) (review) is a lovely cool blue-gray paint color that's versatile enough to work in many spaces throughout a home – even the basement.
Much like Stonington Gray, Pebble Beach's undertones are especially strong in a certain light, so it can even be used in place of a light blue paint color.
It's a lovely solution for basement spaces because it's light enough to help a space feel bright, but doesn't look washed out or dingy in more shadowy parts of a room.
In our clients' basement living room, for example, Pebble Beach works well even as the lighting changes. The room has large, west-facing windows that flood the room with light in the afternoon. 
This warm light neutralizes the blue undertones of Pebble Beach so it looks more gray than blue. But even as you move away from the windows towards the stairway, Pebble Beach totally holds up even in the dark corners of this space.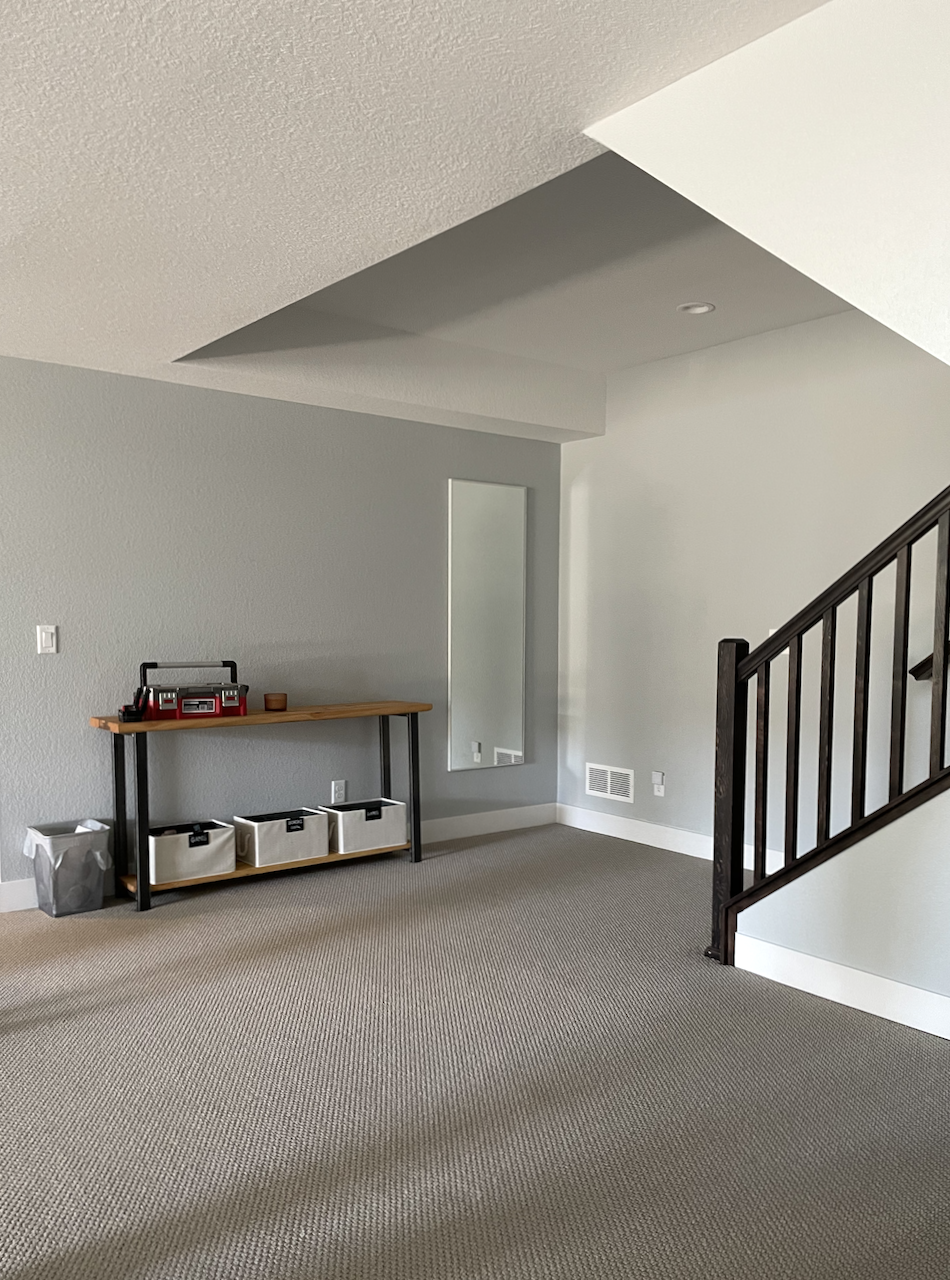 Abalone Basement (Violet-Gray)
Abalone 2108-60 is another iconic Benjamin Moore gray color with subtle violet undertones. We have used it in offices, bedrooms, and living rooms. 
This color really warms up a room with cool light. While I typically avoid this color in rooms with very low light, it works beautifully in a basement space with a good amount of natural light.
The basement bedroom pictured below is a great example. This room has a large window that faces South. Abalone looks beautiful in this space, adding lots of warmth and subtle violet color to the walls.
Best Beige Paint Color for Basement
Beiges are some of the best basement paint colors because they make the space warm and cozy. When you go with beige paint, you can pick a darker neutral than you normally would because the beige color lights up the room more than a greige.
While there are many lovely beige colors to choose from, our favorite for basements is definitely Manchester Tan.
Manchester Tan Basement
Manchester Tan by Benjamin Moore is a lovely warm beige paint color with green undertones that's versatile enough to work in many spaces throughout a home. It looks really beautiful in well-light spaces, but it still works in darker rooms like the basement.
And because Manchester Tan is a timeless color, it pairs well with most warm finishes and decor and can easily be part of a cohesive whole-house color palette (article).
We painted the walls of the basement bedroom below with Manchester Tan, for a teenage young man. This bedroom was East Facing, but it always looked sunny and warm, even in the afternoons. Manchester Tan was warm and cozy in this space.
Best Accent Wall Paint Colors for Basements
We love to use accent walls (post) in basements! They're a great way to add some depth and color without making the whole basement space feel too dark.
Expert tip for basement accent walls: make sure the accent walls aren't too dark by always testing your paint colors in the space you plan to use them. If you pick an accent color that is too dark, it can look black in a low-light room.
Gentleman's Gray Accent Wall
We paired our client's Pebble Beach basement walls with a Benjamin Moore Gentleman's Gray accent wall in the bedroom pictured below.
Gentleman's Gray is a gorgeous, rich color with strong blue-green undertones that are warmer than Pebble Beach. The two colors bring out the undertones in each while still ensuring the space is fairly neutral.
And while Gentleman's Gray is dark (with an LRV of 7), the warm undertones and lighting in this room keep it from looking black on the wall.
Slate Teal Accent Wall
Benjamin Moore Slate Teal (color review) is a gorgeous, rich colorful teal color. With an LRV of 7, it is very dark. But Slate Teal won't look black on the wall as long as it is used in a room with lots of natural or artificial light.
We used this blue-green color as an accent wall alongside Agreeable Gray in my home's basement gym. The two colors bring out the green undertones in each and keep the basement space looking warm.
What is the best way to test Basement Paint Colors?
You should always sample and test your paint colors, and it's especially important with paint colors in basements that can look so different from room to room depending on the time of day or the amount of natural light.
The easiest way to sample your paint colors is via SAMPLIZE. Their peel-and-stick paint samples are easy to use and true to color. There is no mess, and the cost is cheaper than painting a sample and a white poster board. Since you don't need to dispose of the paint, it's also environmentally friendly!
Get 10% off your Samplize order today by using the code "ColorConcierge10" at checkout. Order today and get samples tomorrow!
Still can't decide on a basement paint color? Test all the paint colors from this article in your home by grabbing my custom Sample Bundle from Samplize.
Key Learning Points
Choosing the best basement paint colors for your home isn't always simple, but it doesn't have to be complicated either. Keep these key learning points in mind when choosing colors for your basement:
Basement lighting can vary significantly from home to home and even room to room. Make sure you pay close attention to the amount of light and type of light your basement gets when choosing paint colors.
White basement paint colors can help brighten a space, but can also look dingy. Be sure to choose warm, creamy whites for use in low-light rooms.
Warm greige and beige colors are some of the best choices for basement rooms. They make a space feel warm and cozy and are still light enough to brighten a dark room.
Accent walls are a great way to add color to a basement without it feeling overpowering or too dark. Aim for accent wall colors with enough warmth and color to not look black on the wall.
NEVER, EVER use paint matches from a different brand than the one specified. Results are poor, and there are no standards for the sheens. Even though your painter may genuinely believe it can be done, don't do it. See results from paint matching here.
Related Posts
Online Color Consulting
Still need help picking the best basement paint colors? Discover our Online Color Consulting Packages.
If you liked this post, don't forget to pin it!
Best Basement Paint Colors
We love your comments! Please note that the blog is meant as general advice, and it is not possible to give out specific answers to your paint questions. If you want more specific advice, please consider purchasing a color consultation. Thank you for your understanding.