Learn all about Sherwin-Williams Greek Villa (SW 7551) in this paint color review.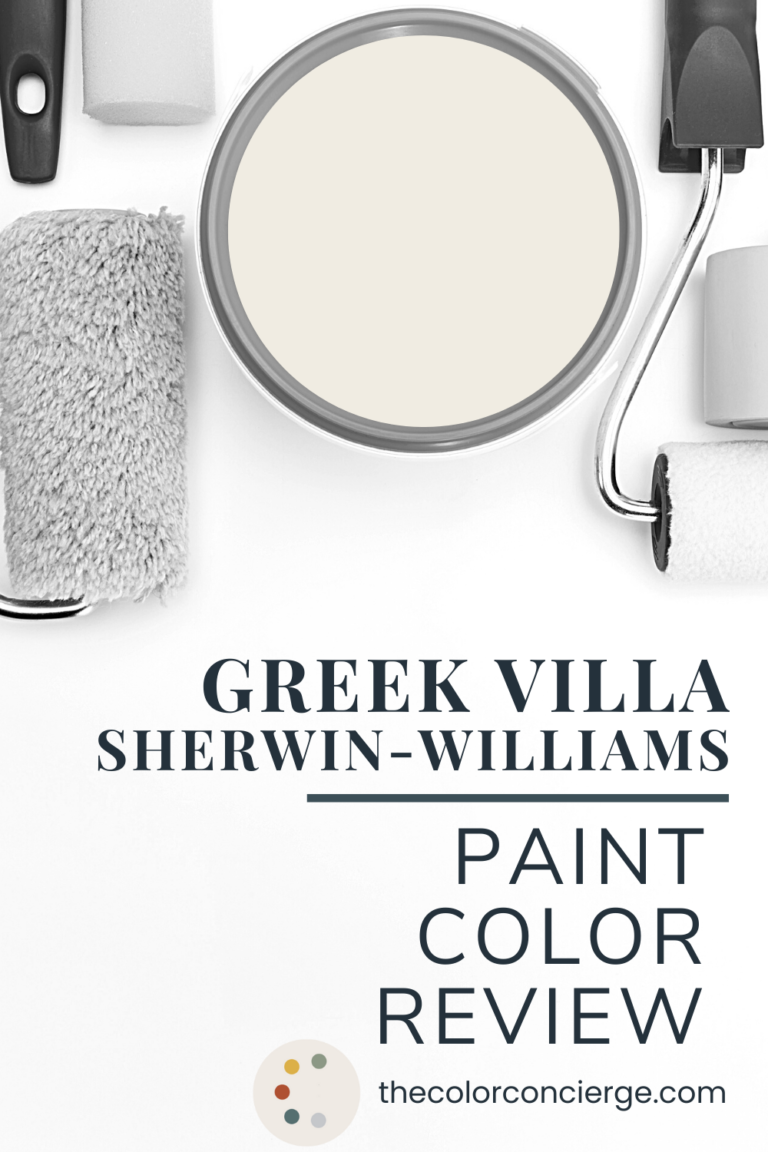 Sherwin-Williams Greek Villa is a warm, off-white paint color perfect for use indoors and outdoors – and in just about any room of the house. This versatile color works well in a variety of lighting and can be a great foundational color for a whole-house color palette.
We've used this warm white for a variety of client projects over the years, both for interior and exterior applications. Today's post highlights the many uses for SW Greek Villa paint, with interior and exterior examples from client homes.
For our interior example, the main level of this home had very little natural light, so it was the perfect space to show how a white paint color performs. Greek Villa really brightened up the interior of this home without looking dingy in the corners.
Keep reading to learn more about Greek Villa paint and discover if this color is right for your next project.
*This post contains affiliate links for products I use and love. If you click on some links and make a purchase, I will get a small commission at no cost to you. This helps pay for the costs of the blog, so I can continue to offer great content to our readers. I don't get compensation from any of the paint companies for my color reviews.
What is the LRV of SW Greek Villa?
The LRV of Greek Villa is 84, which makes it a very light color that still has some pigment.
What undertones does SW Greek Villa have?
Greek Villa has very subtle yellow undertones. The undertones help this color look warm and velvety on the wall, without looking too yellow.
Is SW Greek Villa warm or cool?
Thanks to its yellow undertones, SW Greek Villa is a lovely warm paint color. It works well in brightly lit rooms and even in shadier rooms. If the room is too shady you will need to introduce artificial light to help this color look its best.
If a room is North-facing with cool light, Greek Villa's slight yellow undertones will balance out the cold light. In South-facing rooms, the color will look warmer and brighter.
When should I use SW Greek Villa?
There are many different ways to use Greek Villa paint throughout a home – inside and out. Explore some of our favorite uses for this creamy white paint color.
Can I use SW Greek Villa for interior trim?
Yes, SW Greek Villa trim paint can work really well with lots of different paint colors. Because Greek Villa is a warm off-white, it looks great with other warm paint colors, such as SW Agreeable Gray (a warm gray), or other green-blue paint colors. It is also light and cool enough to pair with light violet grays like Repose Gray, SW Passive, or SW Cyberspace (a deep dark blue).
Should I try a Greek Villa kitchen?
Greek Villa is a great paint color option for a classic kitchen. The creamy white color can complement many hard finishes and cabinet colors and bring warmth to a white kitchen.
SW Greek Villa also makes a great cabinet white color.
In the client's home we're featuring today, SW Greek Villa on the walls makes the finishes pop. It looks gorgeous with the blue backsplash and pairs just as well with the grayish taupe wood cabinets as it does with the warmer natural wood floors in the dining room.
The SW Greek Villa paint continues in the dining room, which has both east-facing and west-facing light shining on it. This room is very light-filled all day long and looks gorgeous with this creamy white paint.
Can I use Greek Villa for exteriors?
Absolutely! Greek Villa is a fantastic option for an exterior white paint because it has enough pigment and warmth to not look too washed out in the bright sun.
We used SW Greek Villa exterior paint on the Creole Cottage pictured below for a simple and beautiful makeover. The warmth of the white paint paired perfectly with the red brick exterior and really brought this home to life. Read more about using SW Greek Villa exterior paint in this project feature.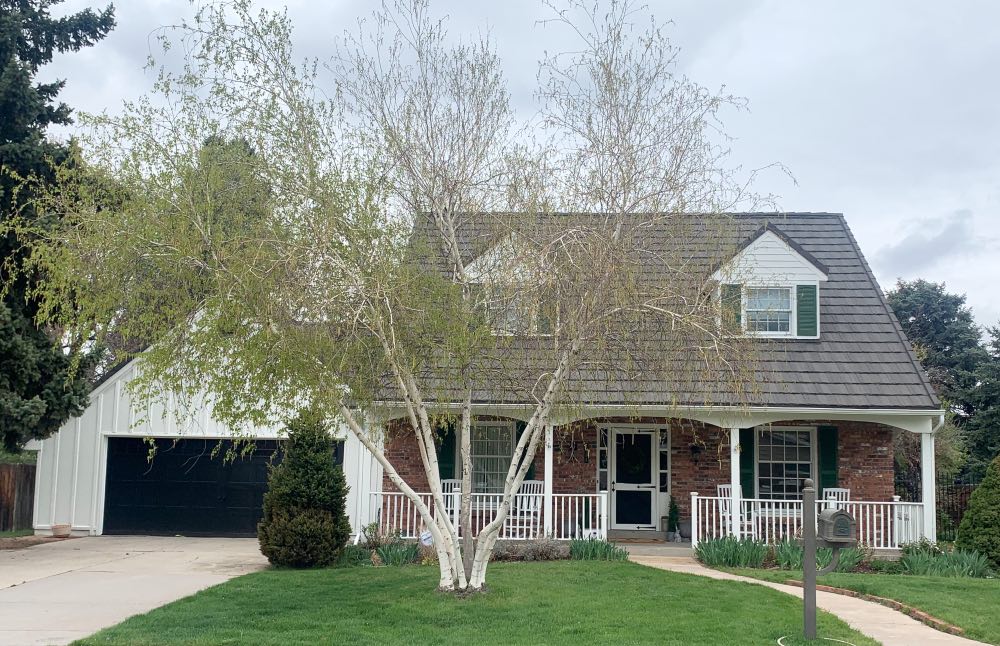 Is Sherwin-Williams Greek Villa good for a North-facing room?
Yes! Because North-facing rooms have cool light, Greek Villa paint is a fantastic way to add warmth. The slight yellow tint to this paint helps neutralize the cool Northern light.
In our project spotlight today, the home office had north-facing light, and SW Greek Villa has enough yellow in it to look warm and lovely.
You can see very slight shading in the corners on the backlit window wall (above), but the opposite wall (below) looks really beautiful.
Is SW Greek Villa a good whole house color?
Greek Villa can work really well as a whole-house color. Just make sure to pay attention to the hard finishes and other colors in your home, as well as exterior features like greenery and even other homes. These factors will help you determine how to build a whole-house color scheme that is right for your home.
For an example of using Greek Villa throughout a home, read our full project spotlight below.

Project Spotlight: Colorado Greek Villa Home
The key to building a whole-house color palette is to incorporate similar colors and design elements throughout a home. In this client's home, we used SW Greek Villa as a foundational wall color, along with lots of blue elements, warm wood floors, and their existing furniture and decor.
What also makes Greek Villa a great whole-house color is its versatility. Its warmth makes it look great in darker rooms as well as light-filled rooms.
Greek Villa pairs with Blue Paint Colors
We used the blue backsplash from the kitchen featured earlier in this post as inspiration for the accent wall in the SW Greek Villa living room, which we painted with BM Britannia Blue.
We continued the Britannia Blue accent in the stairwell next to the living room. You can see in the photo below how the blue color changes in different types of light – and how it continues to look lovely paired with SW Greek Villa.
Britannia Blue (review here) is used both in the living room (below left) and the stairway (below right). It looks dark in the living room and completely different in the stairway. This shows how light affects color. It's hard to believe that both the blues in the photo below are the same color.
We continued the combination of blue accents with SW Greek Villa wall paint in the front entryway. This darker Hale Navy (review here) front door looks lovely with indirect light coming from many directions. Greek Villa is creamy in the corners and contrasts with the brighter SW Pure White (review here) trim and ceiling paint.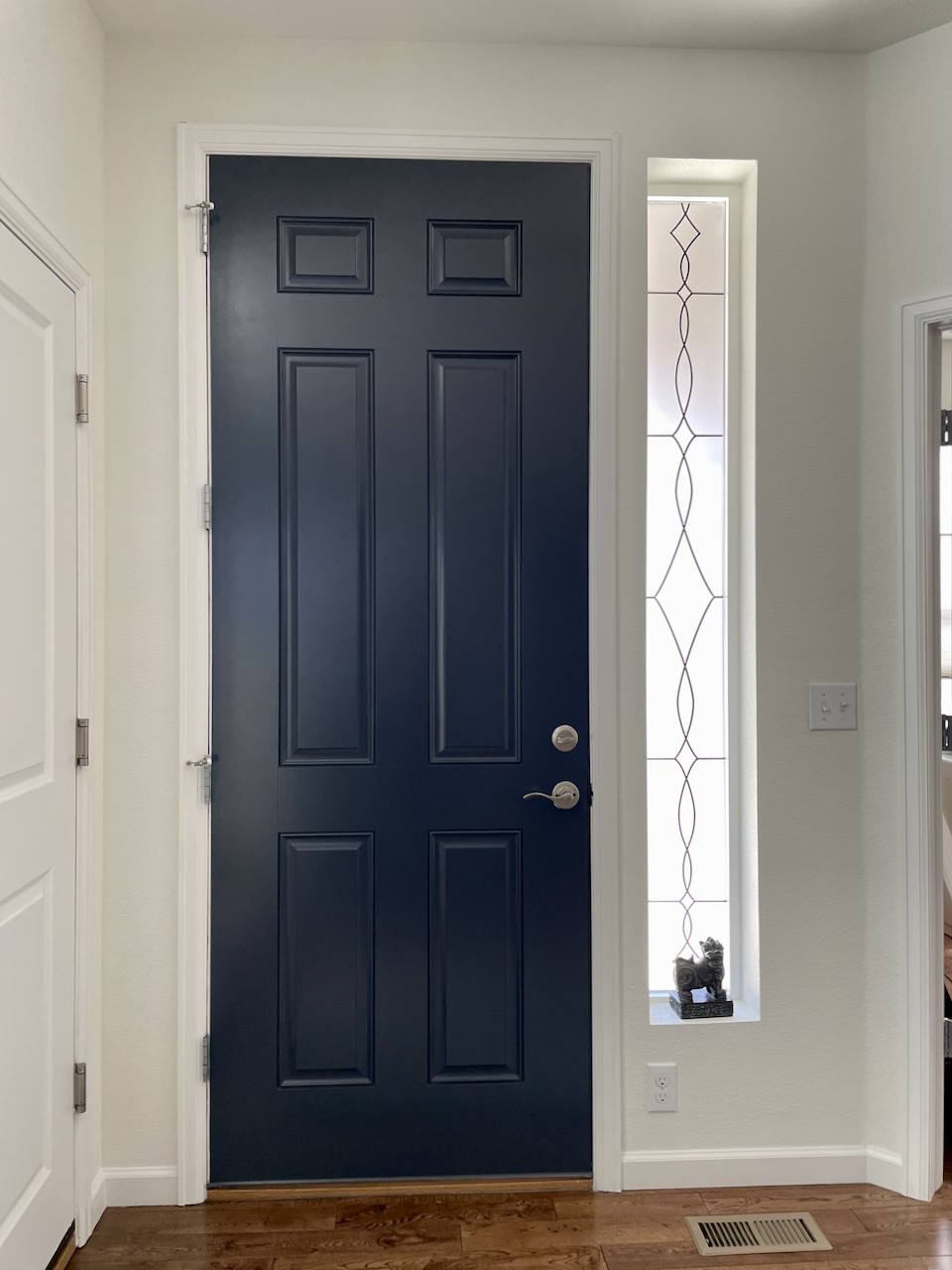 In the North-facing bathroom of this home, Greek Villa contrasts beautifully with blue-green tile in the shower and Pure White ceilings.
Upstairs, the Britannia Blue stairway accent wall complements the view of the blue Colorado sky and the blue house next door. The blue from the accent wall reflects on the white walls.
White is a mirror and part of its magic is how the color shifts throughout the day and reflects a rainbow of colors.
What are the Best Trim and Ceiling Colors For SW Greek Villa?
We used SW Pure White for trim (satin) and for ceilings (flat) throughout the home featured in today's post. You could also continue Greek Villa on the ceilings to wrap the room in this warm color.
Another common trim and ceiling color – SW Extra White (review here) – can also be used. It seems as if half the homes in the United States have Extra White trim and ceiling paint, but that is a story for another day!
I also love to use Greek Villa in a monochromatic color scheme with different sheens: trim and doors (Satin), walls (Matte), and ceilings (Flat).
What is the easiest way to sample SW Greek Villa?
You should always sample and test your paint colors, but it's especially important with a white paint like SW Greek Villa that can look so different from room to room depending on the time of day or the amount of natural light.
The easiest way to sample Greek Villa (and any paint color for that matter) is via SAMPLIZE. Their peel-and-stick paint samples are easy to use and true to color. With Samplize you can easily see how different shades look on your unique wall.
Comparisons With Other White Paint Colors
Greek Villa vs Alabaster (SW 7008)
Alabaster is a very popular warm white from Sherwin-Williams. With an LRV of 82, Alabaster is a little bit darker and a bit more muted than Greek Villa. Alabaster has MUCH more yellow than Greek Villa. They are both lovely colors and can work in similar spaces. I prefer Alabaster for darker rooms.
Greek Villa vs Swiss Coffee (OC-45)
SW Greek Villa and Benjamin Moore Swiss Coffee have the same LRV, so they are similar. But other properties make them look different on the wall. Swiss Coffee also looks brighter because it has less chroma (color) than Greek Villa.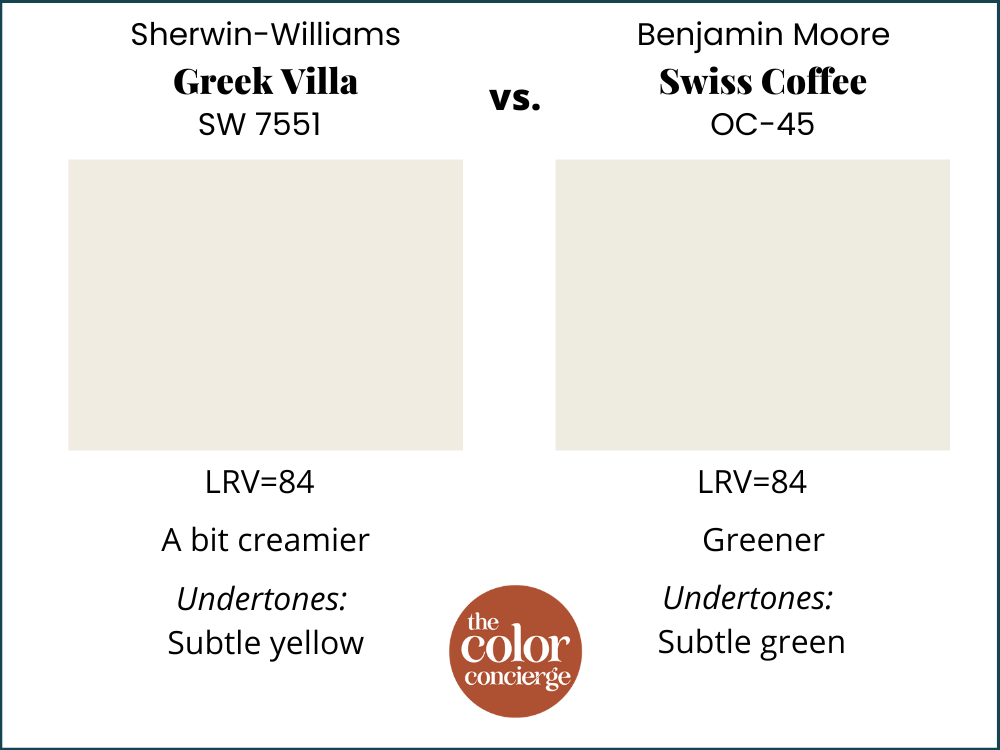 Greek Villa vs White Dove (OC-17)
SW Greek Villa and BM White Dove are similar colors, but White Dove is a bit lighter. Both colors have yellow undertones, but White Dove is a bit more muted and Greek Villa is a little creamier. As with Swiss Coffee, White Dove has less chroma/color than Greek Villa.
Greek Villa vs Snowbound (SW 7004)
SW Snowbound has an LRV of 83, so it's just slightly darker than Greek Villa. Snowbound has subtle pink undertones but still looks cooler than Greek Villa with yellow undertones. Greek Villa looks much warmer on the wall.
Greek Villa vs Cloud White (OC-130)
SW Greek Villa and BM Cloud White (review here) are similar colors, but Greek Villa is darker, with an LRV of 84. They are a nice replacement for each other, although they aren't necessarily the same color.
Cloud White is brighter and cleaner, but they both seem to work similarly.
What is the best way to test Greek Villa?
As always, don't forget to test your paint colors! The easiest way to sample any paint color is via SAMPLIZE. Their peel-and-stick paint samples are easy to use and true to color. With Samplize you can easily see how different shades look on your unique wall.
If you'd like to test the colors that we mentioned in this post, link below for the Samplize samples:
Key Learning Points
Sherwin-Williams Greek Villa paint is a warm, versatile white that can be used inside and outside the entire home.
SW Greek Villa is a fairly light white but still has enough pigment to work well in many spaces, including as an exterior white paint color.
Greek Villa looks best in rooms with lots of natural or artificial light but can work well in more shaded rooms too.
This warm white pairs really beautifully with many colors and hard finishes, including warm wood floors and other wood accents, blue paint colors, and colorful art and decor.
Online Color Consulting
Still need help picking the best paint colors? Discover our Online Color Consulting Package.
If you liked this post, don't forget to pin it!
Related Posts
We love your comments! Please note that the blog is meant as general advice, and it is not possible to give out specific answers to your paint questions. If you want more specific advice, please consider purchasing a color consultation. Thank you for your understanding.