Learn all about Sherwin-Williams Extra White (SW 7006) in this paint color review.
We have written about a lot of different white paint colors over the years, but today's color review of SW Extra White is one of the most important we've ever done.
Extra White is one of Sherwin-Williams' most popular paint colors, and one of their top 5 best sellers, and one of the Top 50 Paint Colors. Many houses in North America use Extra White in one form or another, mainly as a white trim color.  Extra White is also used as a base for many Sherwin-Williams colors.
Most painters give their clients Extra White if they don't know what trim paint white color to use. Many builders also use Extra White as their standard base trim color – and have for many years. I run into homes daily in my consulting practice with Extra White trim painted ten, twenty, and even thirty years ago.
This popularity is what makes Extra White so important. As a color consultant, I learned quickly that I needed to learn how to work with Extra White.
Although we always prefer to recommend the "perfect" white trim color for a home, we must understand how Extra White works in order to coordinate other paint colors with Extra White trim and ceilings.
*This post contains affiliate links for products I use and love. If you click on some links and make a purchase, I will get a small commission at no cost to you. This helps pay for the costs of the blog, so I can continue to offer great content to our readers.
What is the LRV of SW Extra White?
Extra White has an LRV of 86, which is actually a bit dark for a white paint color. I would normally expect to see this LRV in an off-white paint color, but Extra White looks like a very bright, crisp white thanks to its undertones.
What undertones does SW Extra White have?
Extra White has blue undertones, which make it look so crisp on the wall.
When you use Extra White as a wall color, you should pair it with colorful decor, warm wood finishes, and lots of art on the walls. Otherwise, it will look cold and like it was primed but not painted. Most people use Extra White as a trim color, in a Satin sheen.
As with many white paint colors, Extra White is like a mirror, so it will reflect other colors from your décor and green foliage from the outside. As a ceiling color, I have seen it reflect darker beige colors from the walls.
Understanding SW Extra White Trim
When I built my home with a production builder in 2019, they gave me two choices for trim: Extra White or Shell White. Shell White was very, very creamy, and I felt that Extra White was too cool to be as flexible as I wanted.
Ultimately, I picked Extra White because it made more sense with today's modern finishes and had more flexibility than Shell White. Shell White would have been perfect for the earthy color schemes in the mid-2000s.
Even today, many of my color consultant clients have SW Extra White trim and ceiling paint in their homes.
Is SW Extra White a good white trim, ceiling, and door color?
So, we know SW Extra White is popular. But is it actually a good trim color? It can be, because it's so crisp and clean. 
I prefer SW Pure White as a trim color because it is more flexible. It pairs with a larger group of warmer whites and earthier finishes than Extra White does. That said, Extra White works – and we often don't get a choice.
Why do people stick with SW Extra White trim paint?
Here is the challenge in picking a trim paint color for your home: once you pick it, you will be stuck with it for the near or long term. Why?
Because it's much easier and less expensive to transform your home if all you do is paint your walls. Painting trim and ceilings can be extended, messy, and intrusive. It is also just as expensive to paint your trim as it is to paint your walls because of the labor. The total cost of a project depends on the size and scope.
It can double the cost when you paint your trim with your walls. If you decide to paint your walls, trim, and ceiling, the price can be 2.5-3 times the cost of the walls alone. The time of the project can also be significantly extended.
The reason that it's so expensive is that it takes work to cut in the ceiling and trim lines. More labor means more cost. If you have the same color but different paint sheens, the painters still need to tape the edges and cut in the lines because they are different formulations and don't look the same.
That is why most homeowners stick with their original white trim color. It's less expensive to touch up a chip in the trim than to paint the whole thing.
Even though I'm a color designer, I'm not immune to that effect. I've realized I'll live with Extra White trim for as long as I live in this house. My house is my color lab, and Even though I paint my walls all the time as I experiment with paint colors, I'm too cheap to repaint the trim. So I have learned how to make Extra White look fabulous.
The only time I ever see homeowners paint their trim is when they move into a new house, renovate their home entirely from the inside out, or have a new build. If they paint 1-2 rooms, they leave the white trim color as is.
When should I use SW Extra White?
Use Extra White as a trim and ceiling color if you have crisp white, clean white, or slightly off-white tile and other finishes. As a wall color, you need lots and lots of light, with walls of windows and skylights, to make Extra White work.
Extra White looks fantastic with Carrara Marble and other cool, clean marbles or quartz colors.
Can I use Extra White for Cabinets?
Absolutely! Lots of people use Extra White cabinets.  But make sure you use it with crisp, clean quartz counters, Carrara and other cool marbles, and white backsplashes. Black countertops are always a classic and timeless look with white kitchen cabinets.  Read more about this kitchen in this Coastal Cottage Kitchen Update.
If your cabinets are Extra White, the cultural convention is to paint your trim Extra White.  The window trim below is painted extra white to match the cabinets.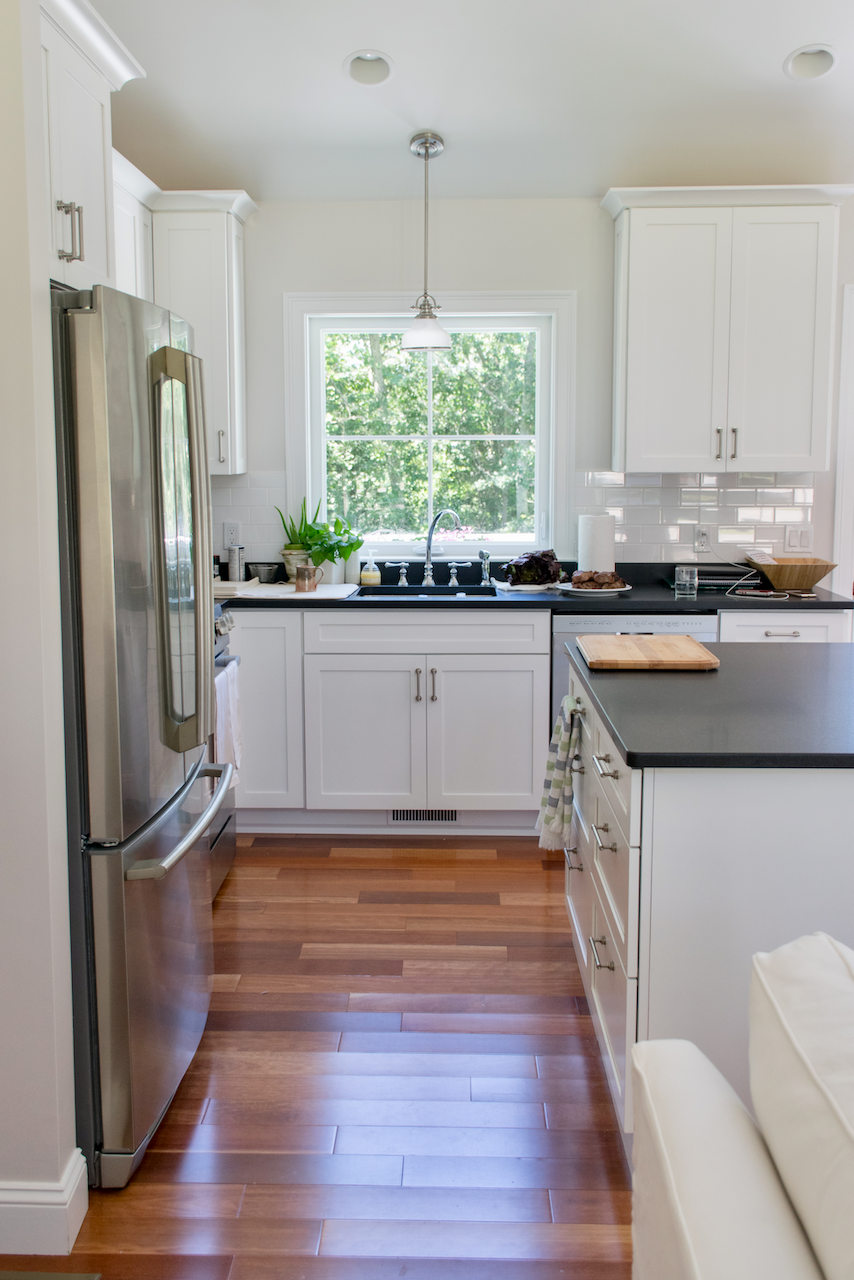 Is Extra White a good whole house color?
It can be, especially if most of the house has lots of natural light! While we often recommend a warmer white for whole-house color schemes, Extra White can look really beautiful with the right decor, furniture, and hard finishes. In the client project spotlight below we used Extra White throughout many spaces of the home.
Project Spotlight: Interior Whole House Project
This home was one of our early projects with The Color Concierge, and it looks incredible. The homeowners had just moved into the house and wanted to make it their own. Previously the wall color was a dated peachy beige. Of course, they had Extra White trim.
We tested so many colors, and Extra White was the best one. This was in 2018 before the black-and-white trend became so popular, so it was quite a leap for the clients. 
We agreed that a white foundation color suited the architecture of the house. It had lofty ceilings and lots of architectural interest. It may seem counterintuitive, but white and light colors make architectural features stand out. The shadows and light do the work of highlighting it for you.
Extra White Living Room
This house had tremendous light, making Extra White a perfect wall, ceiling, and trim color. There were many windows and skylights throughout the home. I have rarely seen a home so flooded with light.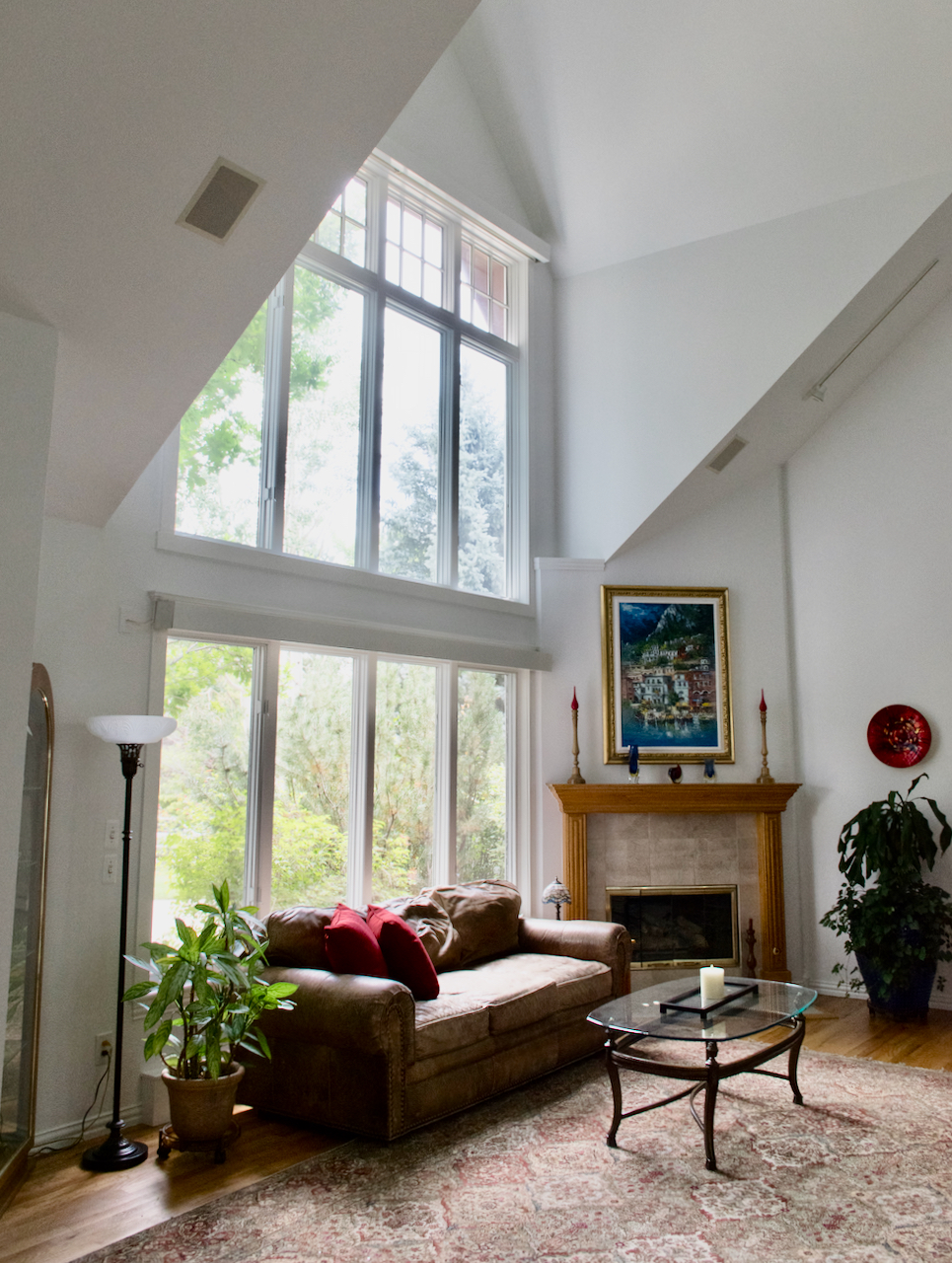 We kept the trim Extra White, then painted the walls and ceilings Extra White with a matte sheen.  This was appropriate for the lofted ceilings because it was hard to find a place to cut in the ceiling color.  Also, it saved lots of money on labor.
One of the elements that make this room come to life is that there is art all the way up the walls. Otherwise, the room would look too bare, and bottom-heavy from the furniture.
The photo below is from the other side of the living room. You can see the green reflection from the foliage outside on the upper part of the walls. White paint can be like a mirror, and our homeowner said that he loved the way the walls and their color changed throughout the day as the light changed.
Extra White Hallway
We love the way this upstairs hallway looks painted with extra White. The light just bounces off the walls. The green plants give richness and life. Again, note the art on the walls that keeps the area interesting.
Extra White Family Room
This family room had many warm finishes and rich brown wood timbers. We kept the brick fireplace, and the room just came to life. The room has windows and skylights everywhere to pull in warm beautiful light.
Extra White Primary Bedroom and Bathroom (Primary Suite)
The second-floor bedroom was FLOODED with light. We pulled a rich teal color out of the painting over the fireplace for the headboard accent wall.
The accent wall was painted with BM Gentleman's Gray, and the built-in bookshelves followed the Extra White theme.
This hallway led from the primary bedroom to the bathroom. It's a classic primary bath floor plan set up with large walk-in closets on either side. My current home has the same layout and I love it.
The hallway was very shaded, so you can see that Extra White looks a bit dingy, but as an element of the total design, it adds relief.
Another interesting feature is that they used hardwood floors in the bathroom. It was a risk, but easier in dry Colorado than in other places. Wood floors also work better in Primary bathrooms than they would in children's bathrooms.
Extra White was beautiful in the Primary bathroom because it flowed well with the cool marble in the shower enclosure.  It was a complete transformation from the previous peachy beige color.
Extra White Hall Bath
This hall bath had a big skylight that made Extra White look clean and crisp.
Can I use SW Extra White for Exteriors?
Well, that depends. If you paint your house with Extra White, you need to make sure that you use primer and/or stick with the higher grades of exterior paint such as Duration or Emerald. The reason is that it's a low pigment color, and you may need to paint more than two coats.
It's not our favorite choice for exterior white paint because it can look cold. It works best when you pair it with a warm brown roof and even warm stone.
It can look stark outside as a white exterior trim color, especially next to darker siding paint colors.  If you use SW Extra White as a trim color, pair it with lighter paint colors.  It's usually not our first choice for white trim.
The photos below were of a neighbor's home near our old house (not one of our projects). They were taken in April before the trees grew their foliage to see the home better.
The home was painted before the white-and-black exterior trend, and the homeowner wanted to recreate a traditional East Coast look.
Although I wouldn't usually recommend Extra White because it's so cool, it worked well because of the warm accents on the roof and stone and the warm brown fence. In the summer, she had tons of flowers and trees.
The siding, roofline, garage doors, and trim were painted SW Extra White, and the front door was painted Sherwin-Williams Tricorn Black.
What are the best SW Extra White coordinating colors?
Coordinating other paint colors with SW Extra White depends on whether you're using Extra White as a trim color or a wall color.
Which white trim colors look good with Extra White walls?
Extra White trim and ceilings look best with Extra White. I wouldn't use other white trim colors because the undertones can get tricky.
Which colors look good with Extra White trim?
SW Extra White was formulated to look great as a trim color with just about any wall color, even dark colors on accent walls. My theory is that since the LRV is lower than many bright whites, it balances well with dark colors. It is also the base for many Sherwin-Williams colors.
SW Iron Ore with Extra White Trim and Ceiling
Below is the SW Iron Ore accent wall with Extra White trim, ceiling, and stair spindles. The white wall on the right is SW Agreeable Gray. It looks great, although I just painted it SW Cheviot, which we show in a later photo.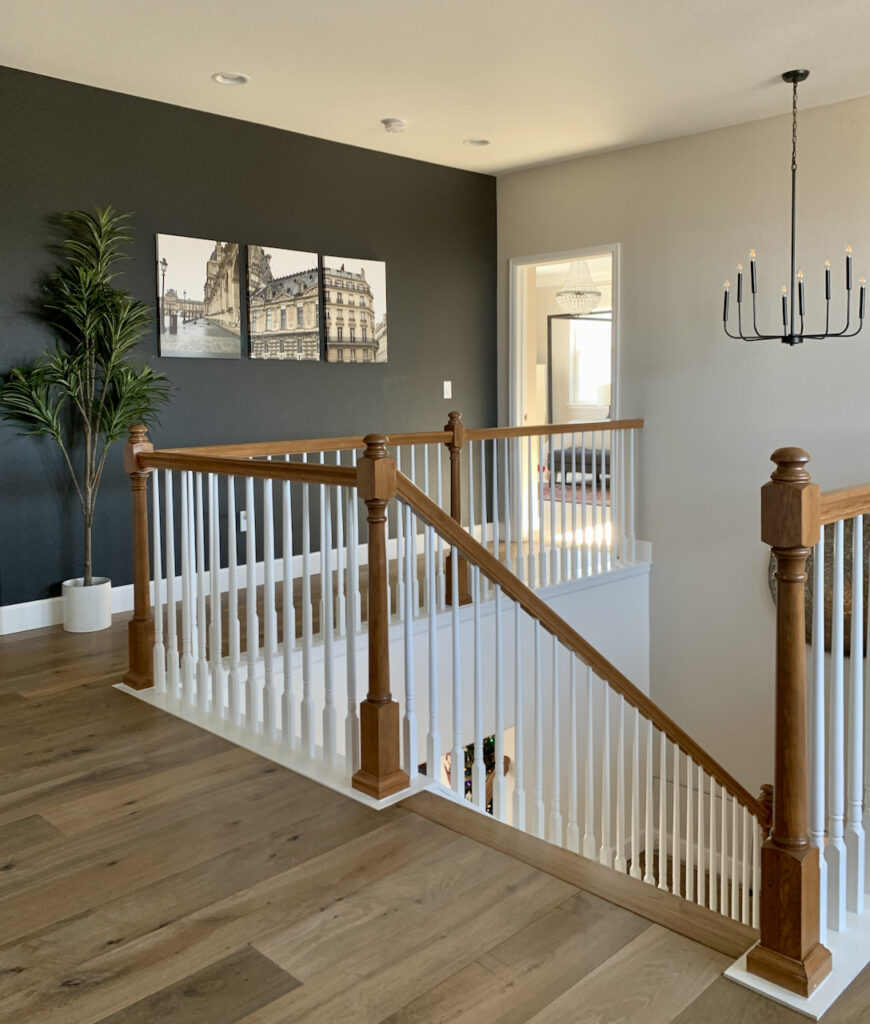 SW Agreeable Gray walls with Extra White Trim and Ceilings
Greige colors such as Agreeable Gray also look good with Extra White trim. Below is a photo of Agreeable Gray in the stairway shadows and with the sunshine streaming through. it looks very nice with Extra White. In the top right corner, you can see part of an Extra White ceiling. The stairway spindles and trim are also Extra White.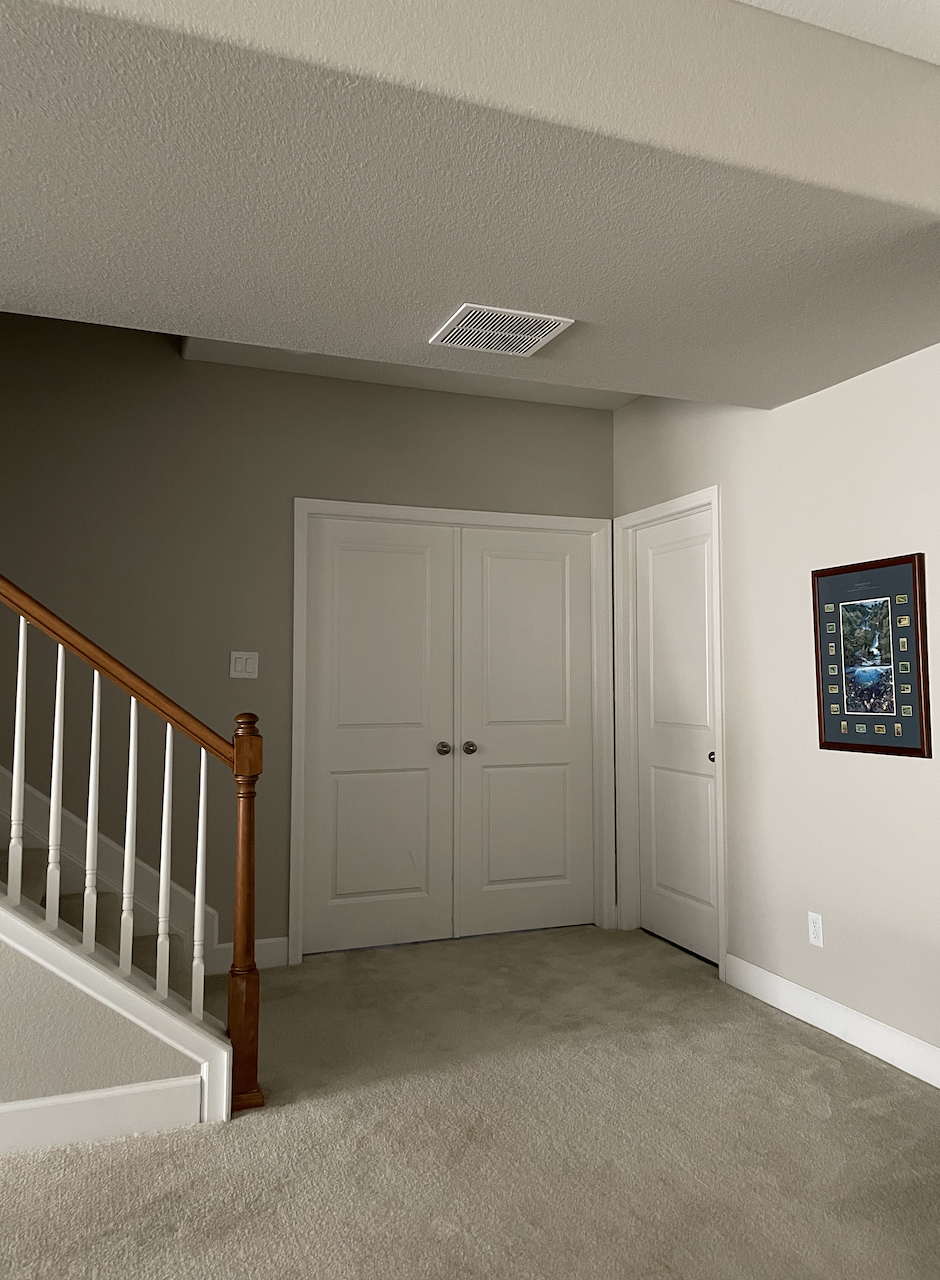 White paint colors that go with SW Extra White
Keep in mind that Extra White has an LRV of 86, and many other brighter white colors have a higher LRV. That means that Extra White will be darker even though it's a bright white.
SW Alabaster with SW Extra White Trim and Ceilings
I was surprised to see how fantastic Alabaster looks with Extra white as a trim and ceiling color. The Alabaster should have been too creamy, but it looks nicely balanced. this room is deeply shadowed with North facing windows.
Alabaster is actually darker than Extra White with an LRV of 82. The ceiling still looks a bit darker than the walls because horizontal surfaces look darker.
Benjamin Moore Oxford White with Extra White Trim
Oxford White looks good with Extra White trim.  It has a slightly higher LRV (89) than Extra White (86), though Oxford is cleaner and has less blue. Below I painted Oxford White on the back drywall of my island to see how it looked with Extra White.
SW White Snow with SW Extra White Trim and Ceilings
SW White Snow (LRV=90) walls look good with Extra White trim and ceilings and are an Emerald Designer's Collection color.
Below is a photo that shows Extra White trim and doors with White Snow. The door on the left has more light, and the one on the right looks cooler because it's deeper into the hallway. They both look good, though. Note that Extra White is darker (LRV=86), but it still looks good.
Below is a photo of White Snow walls with an Extra White ceiling and trim. This bathroom has North facing light. The Extra White ceiling is darker, but no one would ever notice if they weren't focusing on it. I like the combination of the two colors together.
BM Simply White with SW Extra White Trim and Ceilings
I also wanted to show how SW Extra White looks with my beloved Benjamin Moore Simply White walls.  During the day, Extra White looks good paired with Simply White.
However, in low light and in artificial light, Extra White looks blue next to Simply White. This is unusual, and most people won't notice it or photograph it. I do because that's my job, but it still looks great most of the time. That's why I still have it in my house.
This is one of those times when I had to compromise.  Simply White looked beautiful in my living room, so it had to stay.  I painted the fireplace wall with the dark SW Cyberspace (and later Hague Blue) because the Extra White mantle clashed with Simply White at night and really bugged me.  The SW Extra White ceiling looks dark because it has a lower LRV than Simply White. It's a compromise that no one ever notices but me. My family doesn't see it and doesn't care. They are just happy with the brightness of the white walls.
 I would not paint BM Extra White with darker Benjamin Moore white colors such as BM Cloud White, BM White Dove, or BM Swiss Coffee.  The undertones could start looking "off".
I also painted my studio loft SW Cheviot, a Sherwin-Williams Emerald Designer's color.  It looks almost identical to Simply White on the walls and has similar properties.  In this case, Cheviot looked GREAT with SW Extra White. Cheviot is a bit more muted than Simply White, but that is a story for another day!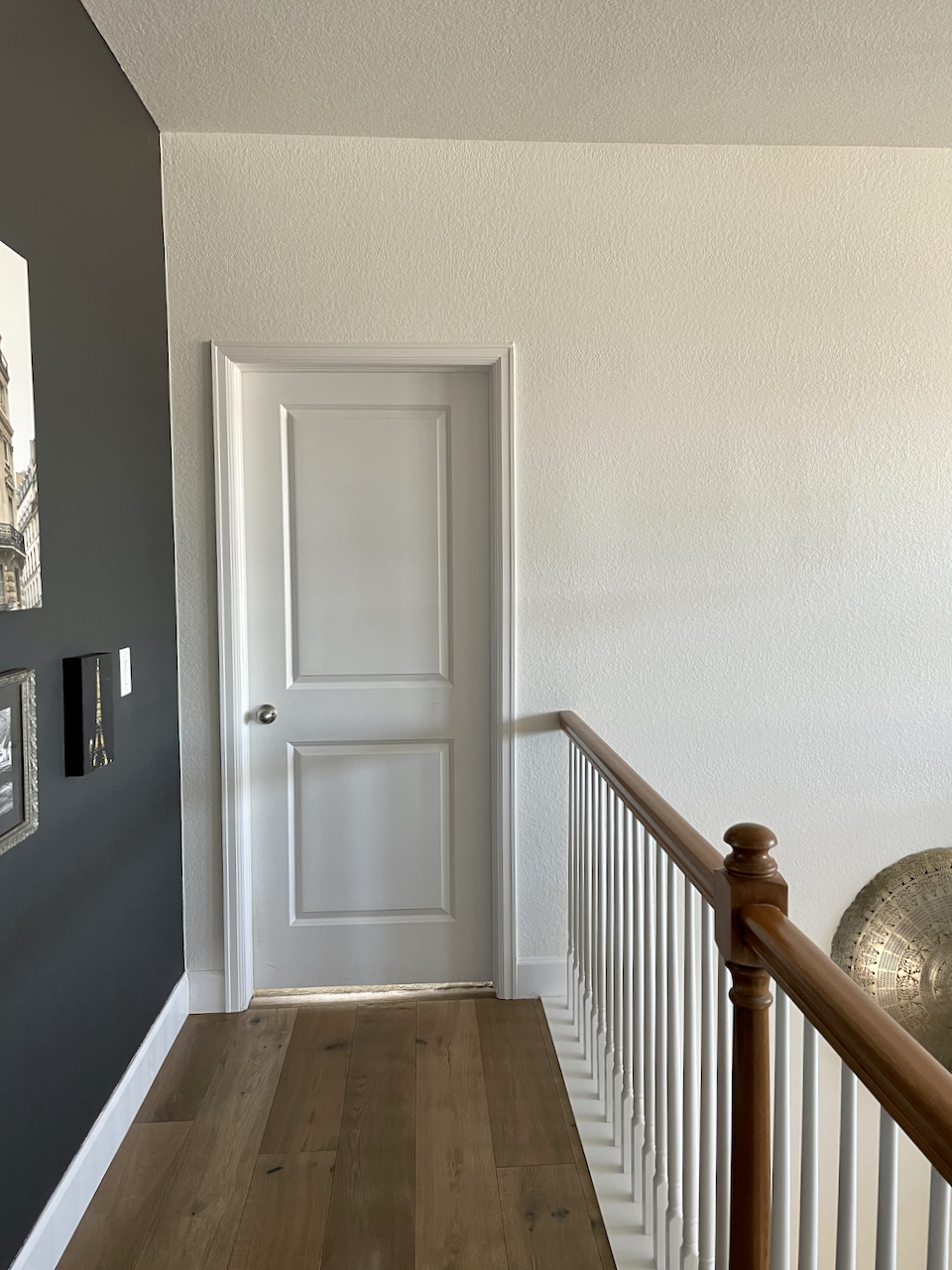 When should I avoid SW Extra White?
Be very careful if you specify this color for your home because you need TONS and TONS of light. This wouldn't work in a house like mine, where I have fewer windows, a covered back porch, and lots of shady corners. We rarely specify this white paint color as a whole-house color because it can look dingy in shadowed rooms at any time of the day.
Avoid Extra White if you have creamy or yellowish whites in your décor or hard surfaces. The chandelier in this dining room was too creamy and earthy, and the homeowners changed it after the home was painted. The yellow lemons in the pitcher look great, though!
Don't use Extra White paired with warm marbles like Calacatta or warm, rich granite colors.
Extra White should be carefully considered as a wall color in rooms with North facing or cool light. The walls will look icy, but you should be fine if that is the look you are going for.
What is the easiest way to sample SW Extra White?
You should always sample and test your paint colors, but it's especially important with a white paint like SW Extra White that can look so different from room to room depending on the time of day or the amount of natural light.
The easiest way to sample Extra White (and any paint color for that matter) is via SAMPLIZE. Their peel-and-stick paint samples are easy to use and true to color. There is no mess, and the cost is less expensive than purchasing a sample and a white poster board. Since you don't need to dispose of the paint, its also environmentally friendly!
With Samplize you can easily see how different shades look on your unique wall.
Comparisons With Other White Paint Colors
Extra White vs. High Reflective White
High Reflective White is the cleanest color in the universe. It's light and bright and has a very low pigment level. It pairs well as a wall color with Extra White trim, but I would not use Extra White as a ceiling color.  HRW is so low on pigment that it can take many coats to get good coverage. Extra White can get good coverage on walls and trim with fewer coats.
Extra White vs. Pure White
Pure White is warmer and slightly darker than Extra White.  It has slight yellow undertones compared to the Extra White blue. However, you can pair Pure White as a wall color with Extra White ceilings and trim. In fact, I prefer to specify Pure White cabinets when a home has Extra White trim because they are warmer, softer, and more forgiving.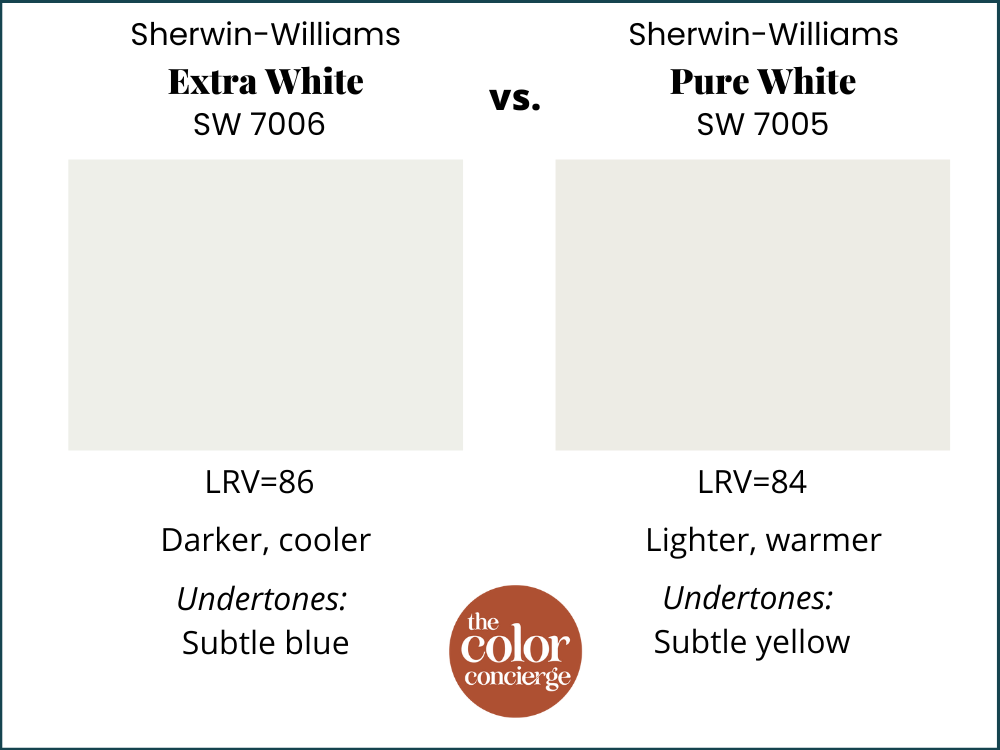 Extra White vs. Decorator's White
Benjamin Moore Decorator's White is much bluer and cooler than Extra White and not as flexible because of that. Decorator's White is slightly darker than Extra.
Extra White vs. BM Chantilly Lace
Chantilly Lace has a higher LRV than Extra White. Extra White is more muted and has bluer undertones. It is much cleaner than Extra White, and I prefer Chantilly for trim and ceilings, especially with off-white paint colors.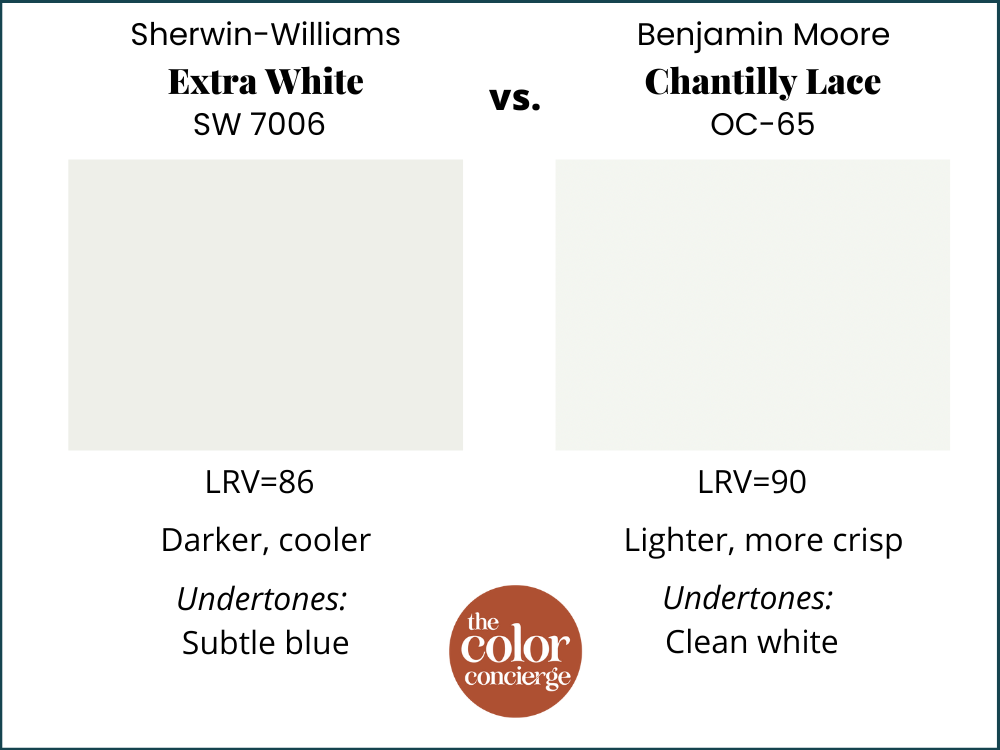 Extra White vs. BM Ultra White
Benjamin Moore Ultra White is bluer, more muted, and slightly darker than Extra White.  It's more of a light blue-gray than white, and not as flexible as a trim color as Extra White.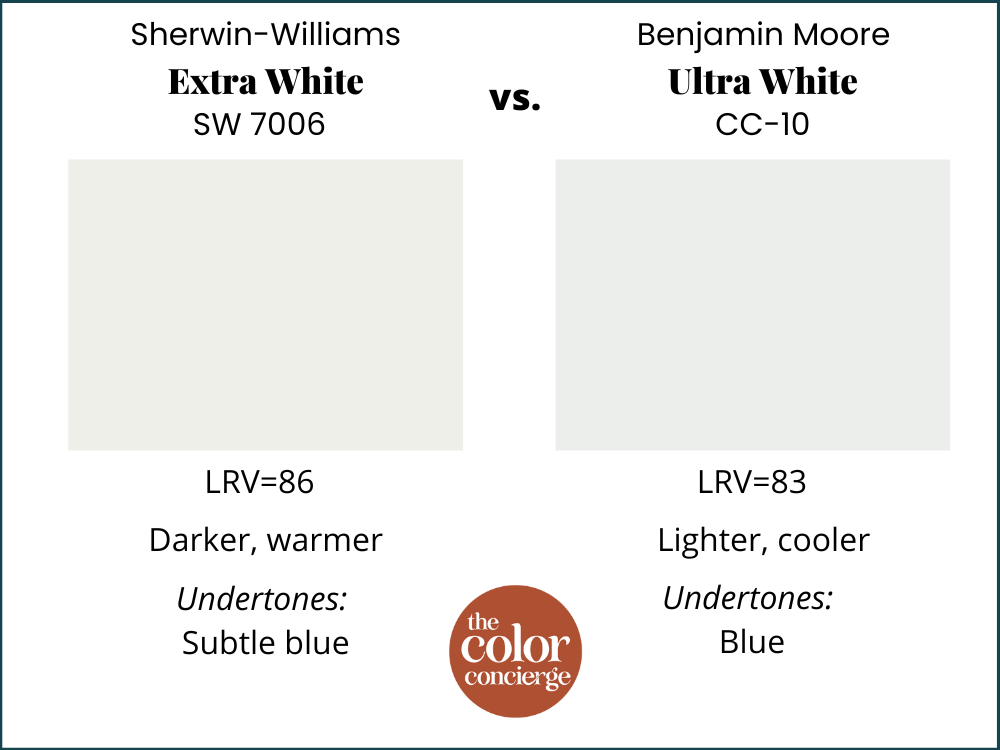 Extra White vs. SW Ceiling Bright White
Ceiling Bright White is darker than Extra White but has the same blue undertones.  If you paint your trim and/or walls Extra White, I recommend Extra White instead of Ceiling Bright White, which can make extra white look a bit dingy if you look hard.  
We usually use a brighter white for the ceiling than the trim and the walls. Although some people think they are the same color, they are not. It will be fine if you already have Ceiling Bright White on the ceilings and want to paint the walls and trim Extra White. No one will notice.
What is the best way to test Incredible White?
As always, don't forget to test your paint colors! The easiest way to sample Classic Gray (and any paint color for that matter) is via SAMPLIZE. Their peel-and-stick paint samples are easy to use and true to color. With Samplize you can easily see how different shades look on your unique wall.
If you'd like to test the colors that we mentioned in this post, link below for the Samplize samples:
Extra white, High Reflective White, Pure White, Benjamin Moore Decorator's White, Chantilly Lace, Ceiling Bright White
Key Learning Points
Sherwin-Williams Extra White is one of the most common white paint colors found in houses in the United States – most commonly used as a trim and ceiling color.
SW Extra White is a cool white paint color with blue undertones that looks bright and crisp on the wall.
It is most often used as a trim color, but it can work well as a wall color in rooms that are flooded with warm natural light.
SW Extra White walls can look dingy in a room without cool or low light.
It pairs well with the most colorful paint colors, colorful decor, and natural wood floors.
SW Extra White looks best with clean and bright whites and some Sherwin-Williams Off-Whites like Cheviot and Alabaster.
NEVER, EVER use paint matches from a different brand than the one specified. Results are poor, and there are no standards for the sheens. Even though your painter may genuinely believe it can be done, don't do it. See results from paint matching here.
Online Color Consulting
Still need help picking the best paint colors? Discover our Online Color Consulting Package.
If you liked this post, don't forget to pin it!
We love your comments! Please note that the blog is meant as general advice, and it is not possible to give out specific answers to your paint questions. If you want more specific advice, please consider purchasing a color consultation. Thank you for your understanding.