The right paint sheens can make or break your interior or exterior home paint project. But there are so many different paint sheen types, it can be a little overwhelming to choose the right one.
It's no surprise, then, that the most frequent question we get from our blog subscribers and color consultation clients is which sheen to use. That's where this paint sheen guide comes in.
Navigating paint sheen levels doesn't have to be complicated. Think of it this way – start with the shiniest sheen near the floor, and work your way to a flat ceiling. Flat sheens hide imperfections better than glossy sheens, so if your walls are not perfect, choose a sheen that is less shiny.
Let's dive into the world of paint sheens. Our goal will be to try to create order from chaos in this paint-sheen guide. This article was originally written in 2019. We've added more details and clarity since then to answer questions from our readers and clients.
Commonly Asked Questions About Paint Sheen Types
What Are the Most Common Paint Sheens in Order?
The most common sheens in order from the flattest to the shiniest include:
Flat
Matte
Eggshell
Satin/Pearl
Semi-gloss
Gloss
The order in which you use these sheens generally moves from the ground up, as we mentioned above. While your baseboards and trim might be painted with a satin or Semi-gloss paint, your walls will likely be eggshell, matte, or even flat. Ceilings are typically painted with the flattest paint sheen.
Are There Paint Sheen Differences Between Companies?
Yes, there are! One of the most confusing issues that we see is that there is no standardization of sheens between paint companies. Some companies – such as Benjamin Moore and Sherwin-Williams – even change sheen names between their product lines.
For example:
For interior trim colors, Benjamin Moore Regal Pearl = Benjamin Moore Advance Satin
Benjamin Moore matte is almost flat and Sherwin-Williams matte is almost eggshell.
Sherwin-Williams Duration and Emerald grades don't offer an eggshell sheen
and so on……
It's important to keep these differences in mind when choosing paint colors for your home and when communicating with professional painters.
What Paint Sheen Hides Imperfections?
If you have kids or pets or simply don't want to add regularly cleaning your walls to your to-do list, then this question probably resonates with you. No one wants to be stuck looking at scuffed-up walls or smudged handprints all the time.
When it comes to hiding imperfections, a mid-sheen – like eggshell – is definitely the way to go for your walls. Additionally, most people expect to see lower sheens on the walls, like eggshell, matte, or flat.
Now that we've gotten some questions out of the way, let's take a look at the best paint finish types for interior and exterior spaces in your home.
Best Sheens for Interiors
The simplest way to think about sheens for interiors is that finishes go from shiniest (bottom) to flat(top) (except for crown molding, which is painted the same as the base molding). Trim, doors, millwork, and cabinets are the shiniest sheen. The walls are mid-sheen and the ceilings are generally flat.
Paint Sheen for Ceilings – Flat Sheen
Ceilings should have a flat or ultra-flat sheen because it hides imperfections and they tend to have more imperfections than other surfaces. Contractors aren't as careful when they dry-wall ceilings, because most people don't look at the ceilings regularly.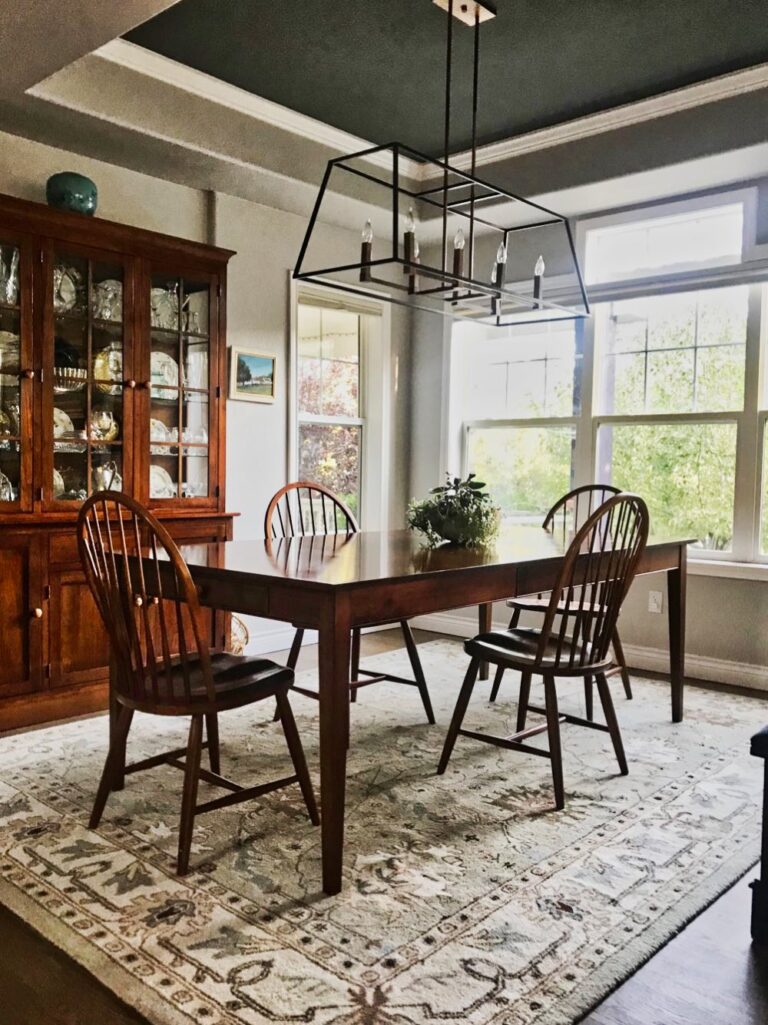 Years ago, the standard practice was to paint bathroom and kitchen ceilings with semi-gloss or glossy paint because of the high humidity. Modern bathrooms have better ventilation, and modern paint chemistries are much stronger today. We can get away with flat sheens without issues.
Paint Sheen for Walls – Mid-Sheens
We recommend an intermediate sheen such as eggshell or matte because it offers the best balance between practicality and looks.
Flat paint hides imperfections and glossy paint shows everything. But, a glossy sheen is easier to clean than a flat sheen. Still, if your walls are too shiny they won't look right…and most people never wipe their walls anyway.
If you have kids and pets, you should pick an eggshell sheen (use matte if eggshell is not available) for the easiest cleaning. If you are an empty nester with an immaculate home, I like flat because it looks so velvety, but most people pick eggshell or matte.
If an eggshell sheen is not available, pick matte.
Remember: there are paint sheen differences between brands. Most manufacturers call their medium sheen Eggshell. Some Sherwin-William's higher paint grades such as Duration and Emerald don't offer an eggshell sheen. In those cases, use a matte sheen.
Paint Sheen for Accent Walls
Accent walls can be painted with the same sheen as the other walls. If anything, you can paint them a flatter sheen than the foundation walls.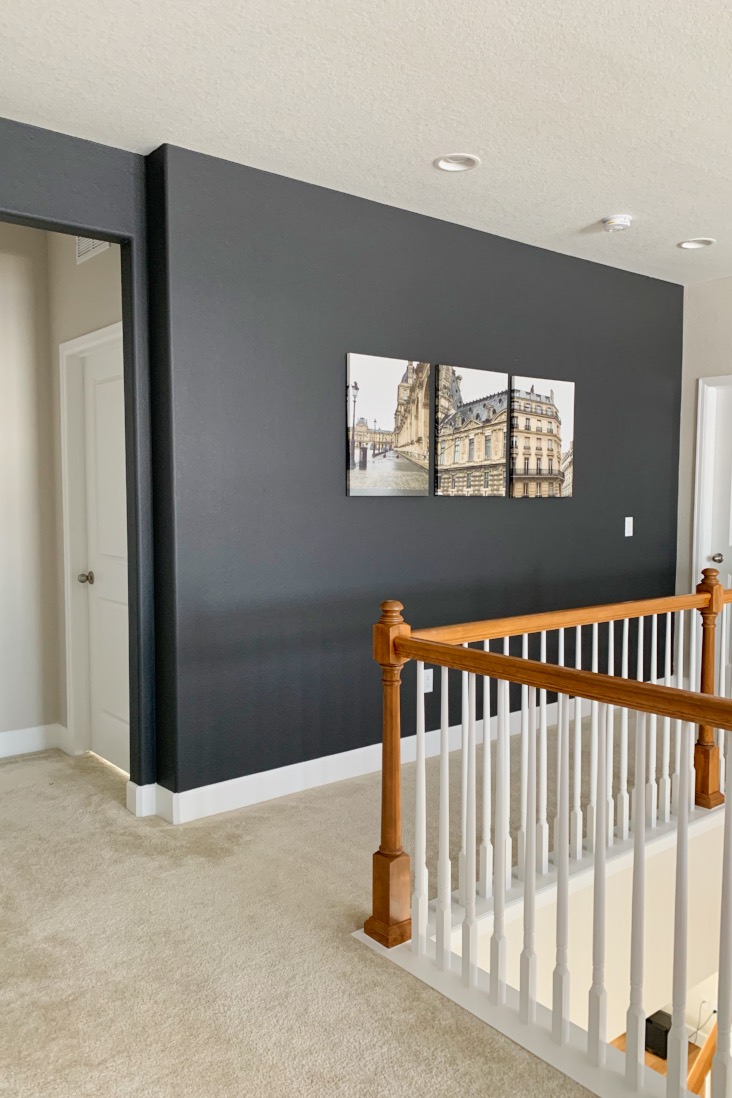 Paint Sheen for Bathrooms
In some cases, we specify the same color and sheen for the ceiling and walls. In the master bath below, the ceiling and walls are Benjamin Moore Pale Oak with an eggshell sheen. The ceiling looks much different because of the horizontal surface.
In the old days, people painted the bathroom walls and ceilings glossy sheens to make them more resistant to humidity. But as long as you use good quality paint such as Benjamin Moore or Sherwin Williams, you don't need a glossy sheen. Instead, an eggshell sheen.
If we are painting a bathroom ceiling white, we often use a flat sheen, especially if the bathroom is larger and has good ventilation. Benjamin Moore ceiling paint comes in an ultra-flat sheen, which we love.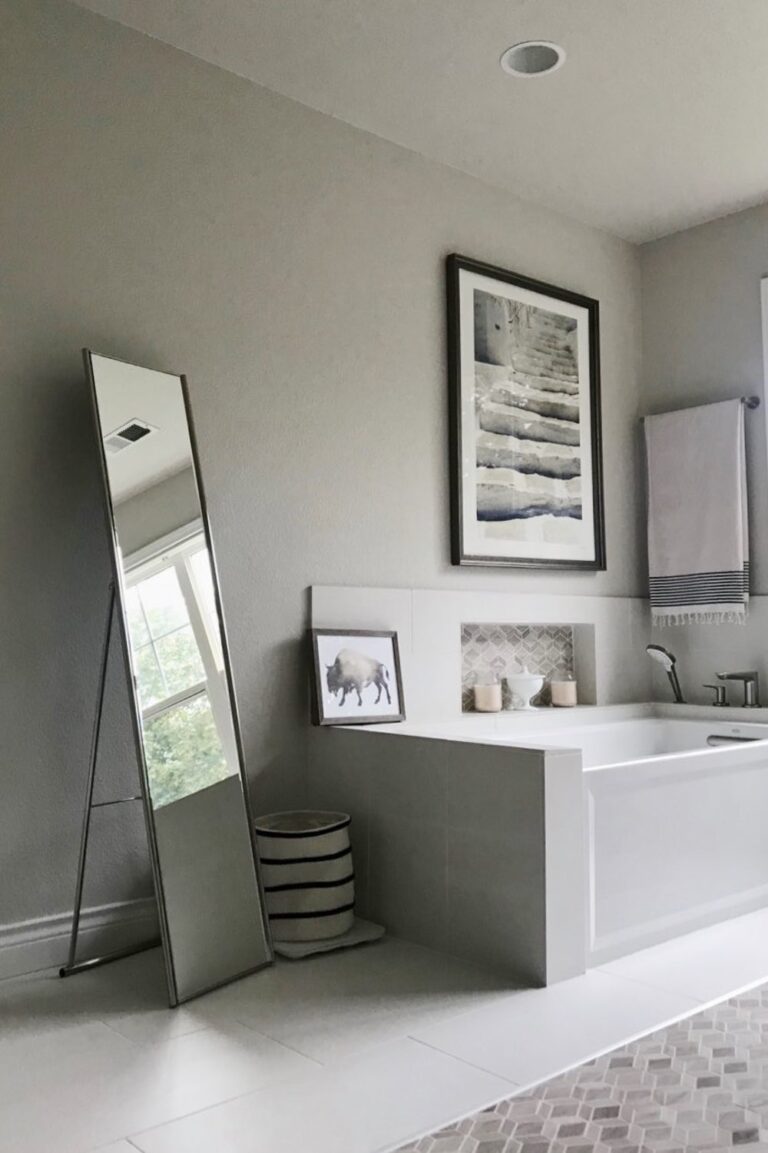 Paint Sheen for Kitchen Walls and Ceilings
While glossier sheens are easier to clean and might have been recommended for kitchen walls in the past, you don't need to go any shinier than eggshell because today's paints are of higher quality.
We almost always specify flat sheens for the ceiling, unless the ceilings are low and the home cook splatters on the ceilings (no judgment here!). In those cases, an eggshell sheen can be used for the kitchen ceiling.
Other areas of the kitchen, however, require different paint finishes. For example, painted kitchen cabinets are typically shinier than the walls. We recommend a Satin sheen for cabinets and furniture.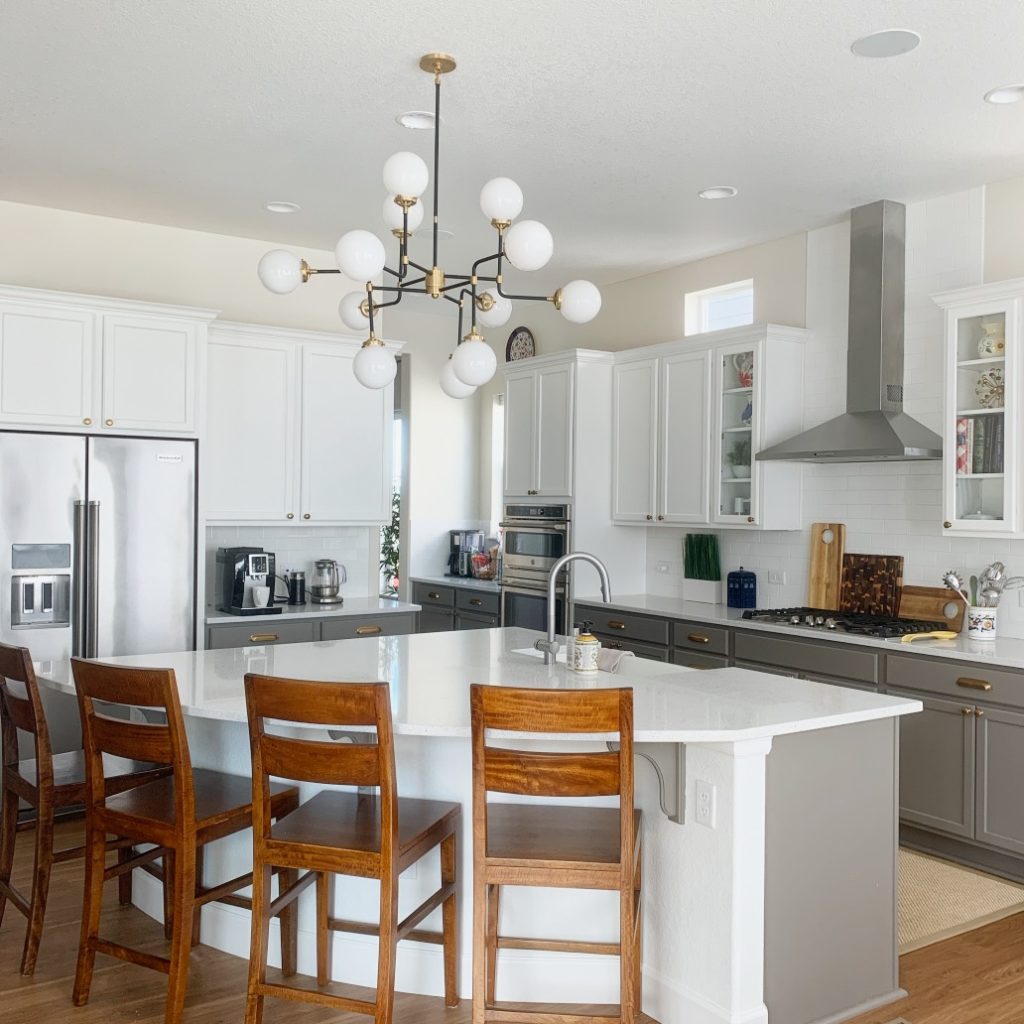 Paint Sheen for Trim, Cabinets, Doors, Baseboards, Crown Molding, and Millwork
Where possible, keep your trim and woodwork the same sheen. For an updated look, we always recommend a shiner trim such as satin, with slightly more gloss than eggshell. More traditional homes may call for a semi-gloss sheen on Crown Molding and millwork, but these days a Satin sheen is more popular.
Shinier sheens highlight architectural details and are perfect for trim. This not only provides a clear distinction between the walls and the trim, but it's also much easier to clean (which is especially important when choosing a finish for cabinets!).
Please note that Benjamin Moore calls this level sheen Satin. Sherwin-Williams Satin sheen isn't as shiny as Benjamin Moore, but it is preferred for trim in most situations over Semi-Gloss. We rarely use Glossy sheens for interiors.
Paint Sheen for Monochromatic Color Palettes
If you paint the same color for trim, walls, and ceiling it can look beautiful, as long as the sheens are different. Just be sure to mix up your paint sheen levels throughout the space.
Paint the trim satin, walls eggshell, and ceilings flat. Since the light is reflected by the sheens, each surface will look different. Also, the paint looks shinier on smooth surfaces. This is one of my favorite looks!
The photo below shows what this looks like. The subtle shift between surfaces is beautiful. You can learn more about this specific project in our White Dove Color Review.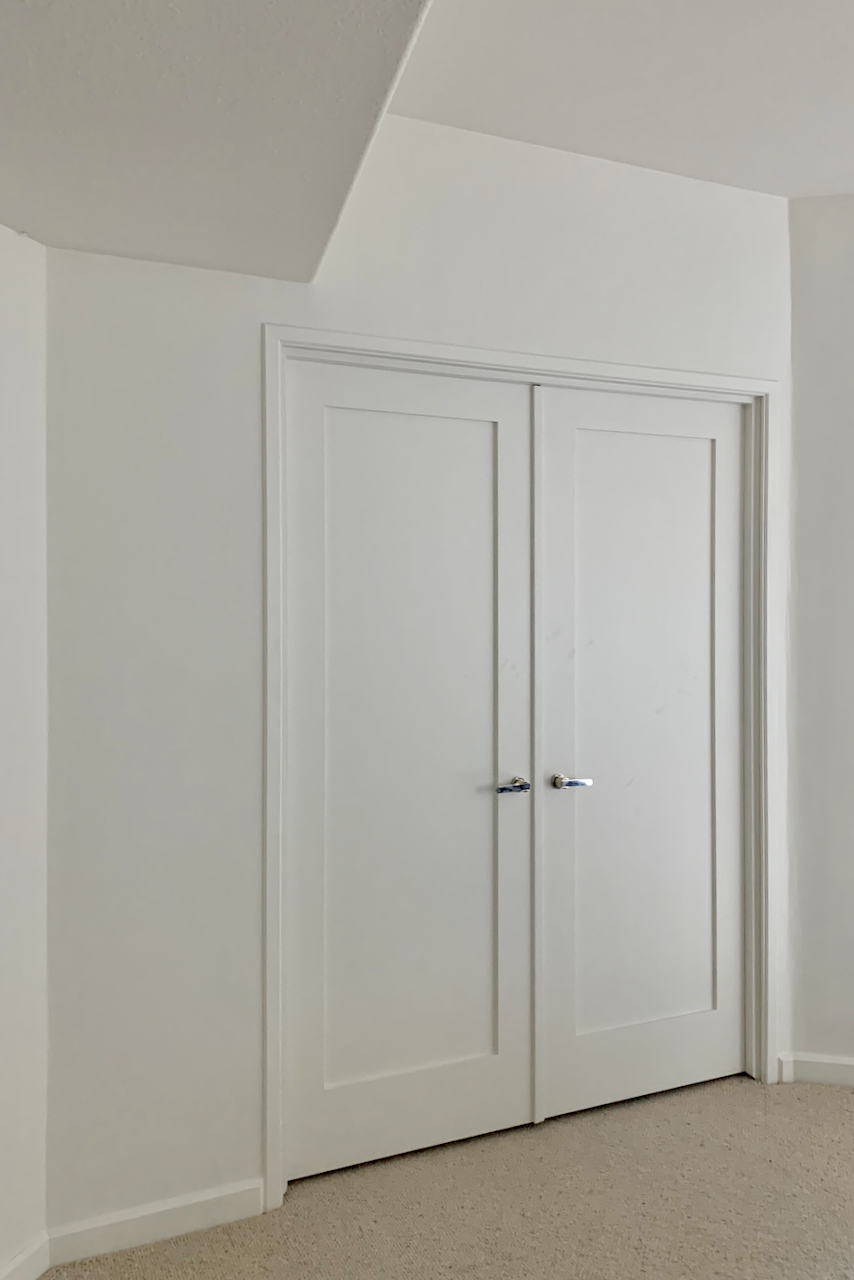 You can also use this technique with a monochromatic and colorful color scheme. Learn more about this project in the Granite Peak Color Review.
Note: The highest cost of a paint job is in the labor, especially cutting in the corners such as the ceilings. You can save money on a monochromatic color scheme by painting the walls and ceilings a matte sheen.
Best Paint Sheens for Exteriors
Our paint sheen guide would not be complete without a tour of exterior paint sheen options. Take a look at the recommendations below to learn more about choosing the right finish for your next outdoor paint project.
Need help to choose your exterior paint color combinations? Check out our ultimate guide – complete with color palette examples!
Paint Sheen for Siding and Trim
I recommend a mid-sheen for exterior trim, garage doors, siding, and wall shingles for durability with good high or mid-grade paint. We painted our house with Benjamin Moore BEN exterior paint. It looked pristine seven years later even though the weather conditions are extreme in Boulder, CO.
Pick Benjamin Moore Low Lustre or Sherwin Williams Satin sheen for exteriors. We rarely specify flat paint for an exterior because it's not durable enough, and glossy sheens don't look right.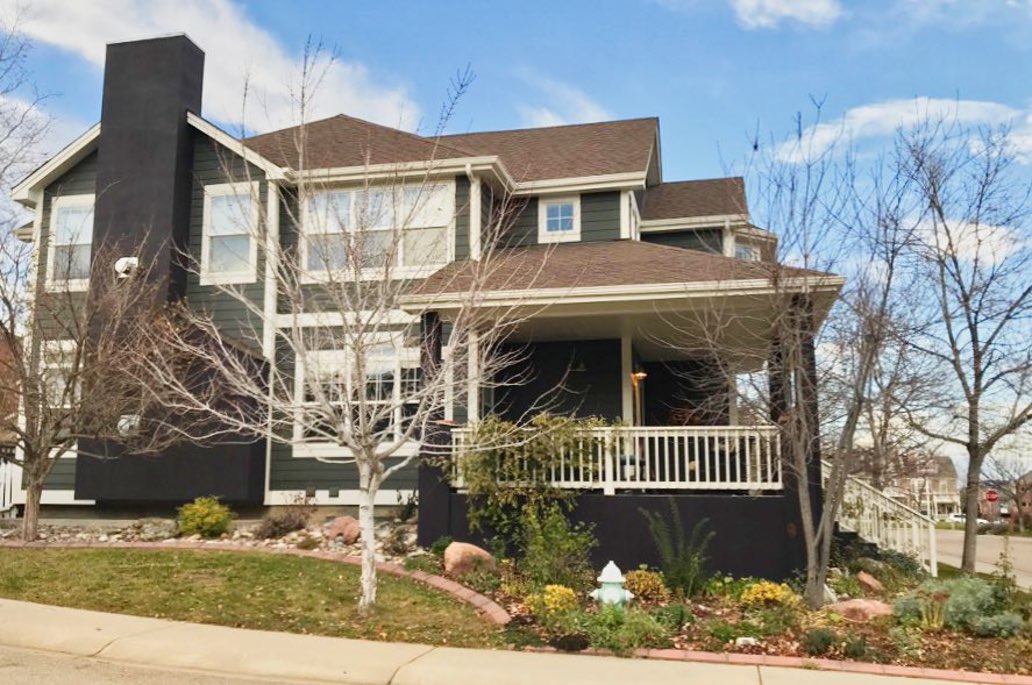 Paint Sheen for Exterior Doors, Handrails
We love the look of a shiny exterior front door! Our ideal sheen is Satin, Low Lustre or Gloss if the door has no imperfections. Consider the condition of your door before you decide on a finish.
Shinier finishes show every architectural feature of the door but also every defect. Low-shine finishes hiding imperfections better.
Exterior front doors and back doors look amazing with Low Lustre or Semi-Gloss sheen if they are recently refurbished. Consider a Satin or Low Lustre sheen if your door is older and has imperfections. Don't paint your front door with a flat sheen – it will look dull and listless.
Paint Sheen for Shutters
If the shutters are in good shape, paint them a shinier sheen. This will help them remain durable and look their best longer, and it helps them stand out against the rest of the house. If they have imperfections, then paint them with a lower sheen or the same sheen as the siding.
Paint Sheen for Brick
Painted brick should be treated a little bit differently from painted siding and other exterior surfaces. While we typically recommend a mid-sheen paint for siding and trim, when you paint brick the sheen should be flat. Using a good masonry primer is also key for painted brick.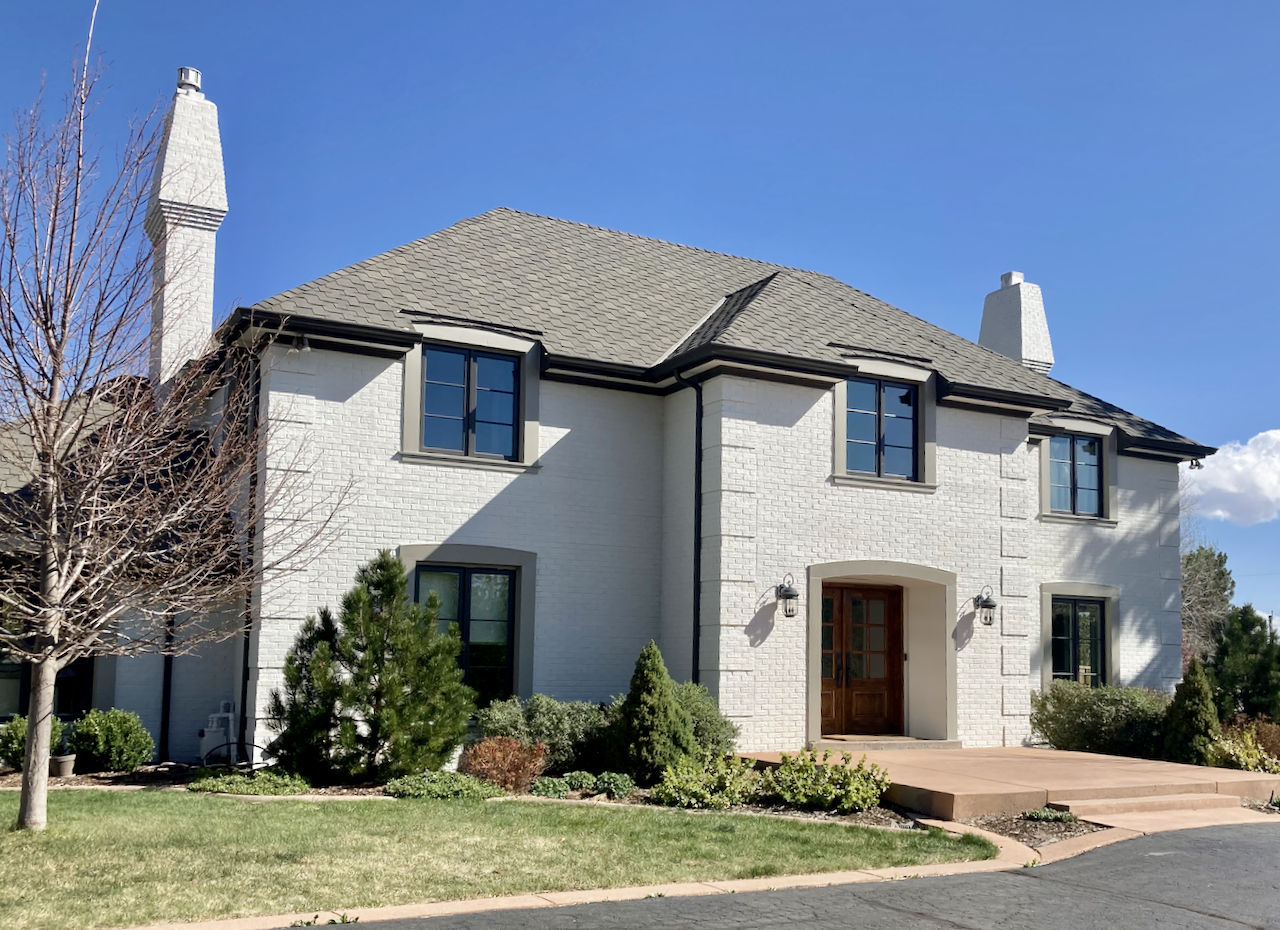 Key Learning Points
The right sheen choice will make or break a paint project, so make sure to refer back to this paint sheen guide when making your color choices.
For interiors, use flat for ceilings, medium sheens for walls, and satin for a modern look with trim and doors. Use Semi-Gloss for interior trim and doors in traditional homes.
ALWAYS test your paint colors. We recommend using Samplize to get a good understanding of how a paint color will look on your wall (without the work of painting multiple swatches).
For exterior trim, siding and brick use a mid-level sheen such as Resilience or Benjamin Moore Regal Select Exterior Low Lustre. Sherwin Williams Duration also has a mid-level sheen called Satin; their Low-Lustre is shinier.
Front doors should be slightly shiner. For Benjamin Moore exterior paints pick Soft Gloss, and for Sherwin Williams choose Satin or Low Lustre.
Don't forget to test your paint colors! Check out "Learn to Test Paint Colors Like a Pro".
Benjamin Moore vs Sherwin Williams Sheens
Use these charts to help you choose the right sheen for every project – whether you're using Benjamin Moore paints or Sherwin-Williams paints.
Benjamin Moore Paint Finishes
Sherwin-Williams Paint Finishes
Online Color Consulting
If you still need help with paint colors, check out our Online Color Consulting packages or an In-Person Color Consultation in the Denver Metro area.
Related Posts
The Ultimate Guide to Perfect Accent Walls
Our 5 Favorite Benjamin Moore Whites
The Best Exterior Paints for Red Brick Homes