Learn about Sherwin-Williams Pure White (SW 7005) in this paint color review.
Sherwin-Williams Pure White (SW 7005) is one of Sherwin-Williams' best-loved white paint colors and is on their "Top 50 Colors" list. It is a crisp off-white paint color that is soft and lovely.
Pure White is a very specific paint color; there is no equivalent in any other color. We LOVE Pure White as trim and ceiling white. It can be lovely as an interior or exterior wall color, in certain situations.
With the current trend for white paint colors, many builders now use Pure White as their foundation paint color for new homes. That means that they paint all of the surfaces with Pure White, in different sheens. The trim is usually a Satin sheen with matte walls and ceilings. When they paint the walls and ceilings the same sheen they can save labor expenses without cutting in the ceiling corners.

*This post contains affiliate links for products I use and love. If you click on some links and purchase, I will get a small commission at no cost to you. This helps pay for the costs of the blog, so I can continue to offer great content to our readers.
Sherwin-Williams Pure White LRV
Pure White has an LRV of 84, which makes it a crisp slightly off-white paint color. LRV is short for Light Reflectance Value, which is a measurement of how light (LRV=100) or dark (LRV=0) a color is.
What undertones does Pure White have?
This off-white paint color has light yellow undertones. It is almost a clean white, but not quite. The soft yellow undertones keep it from looking harsh, even though it's crisp.
Is Pure White warm or cool?
This off-white paint is slightly warm, thanks to its yellow undertones. It can sometimes be difficult to tell how warm a color is without comparing it to other paint colors. 
For comparison, Pure White is warmer than Extra White, which has blue undertones. it is cooler than Snowbound, which has pink undertones. Many painters pick Extra White as a trim color because it's so crisp, but Pure White is a more flexible choice because of its muted warmth.
When should I use Pure White?
This color can be used for Interiors or Exteriors, but in the right situations.
Pure White Interiors
My favorite use for Pure White is as an interior trim and ceiling color. It pairs well with most modern finishes such as quartz or light countertops.
Use as a wall color in homes that are flooded with light.
Pure White looked lovely in the new build below, but in some of the rooms it looked cold. The homeowner asked me to specify more colors for her walls. The interior photos below show the home as delivered by the builder, with Pure White walls, ceilings, and trim.
You can see the baseboards are contrasted with the walls with a Satin sheen. The photo below was taken in the afternoon with West facing light. It looks great now, but once houses are built on either side, it will start to get dingy as the light is blocked.
Is a Pure White kitchen a good idea?
Absolutely! Pure White is a great color for a classic kitchen because its warmth pairs well with many modern finishes.
Pure White paint is flexible enough to use with most white quartz countertops, clean white subway backsplashes, and soft warm Calacatta tile. It's also flexible enough to use with Carrara Marble.
The kitchen below has a Pure White door, walls, and ceilings. Pure White is flexible enough to pair with all the clean white in the backsplash and the cooler cabinet white. The countertop is Silestone's Desert Silver, with a lovely violet-gray base color.
This kitchen would be cold without so many colors to bring it to life. In this case, the homeowner had just moved in. Fruit, spices, towels, and plants add color that fills a kitchen with warmth.
Pure White kitchen cabinets would also be beautiful, especially if you paired them with Pure White walls, trim, and ceiling in different sheens for a monochromatic color scheme.
Can I use a Sherwin-Williams Pure White bedroom?
Pure White can be a calming bedroom paint color, as long as the room is flooded with light like this one.
It looks best when balanced with warm finishes and colors such as the bedspread below.
Can I use Sherwin-Williams Pure White for exterior paint?
Pure White looks great as a whole-house exterior paint color, but it can be too bright as an exterior white trim color unless the siding color is very light. I drove by a neighbor's house this afternoon, and they had painted their trim Pure White. I won't show the photo here, but it was so bright that it was blinding.
If you use Pure White for an exterior, make sure that you use one of the higher quality versions such as Super Paint, Duration, or Emerald so that you only use two coats. Otherwise, it has very low pigment levels and it may take more coats or an extra coat of primer.
This gorgeous farmhouse black and white home was painted with Pure White and Iron Ore. We picked this very bright white because it matched the bright vinyl fence, which now recedes as an accessory.
This is the brightest Sherwin-Williams white paint color that I would specify. The roofline trim and front door color were Iron Ore. Since the windows were white vinyl, we painted the window trim the same color as the siding.
Below is the "Before" photo, which shows this amazing transformation.
What are the best trim and ceiling colors to pair with Pure White?
I really like to use Pure White trim and ceiling colors with Pure White walls. The key is to make sure that the trim sheen is Satin, shinier than the walls. Ideally, I prefer eggshell or matte walls with a flat ceiling. You can save labor costs by painting the walls and ceilings the same sheen so that you don't need to cut in the corners.
If you want more contrast, pick a clean white for the trim and ceiling such as SW High Reflective White. However, many painters don't like to use High Reflective White because it has very low pigment and it takes a lot of coats to get right.
Although some painters like to pair Pure White walls with SW Extra White, I recommend against it because Extra White is too cool
When should I avoid Pure White?
For interiors, avoid Pure White in rooms with low light, or cool North Facing light. The dining room below is painted Pure White, and the wall looks blue because it faces North. The room felt cold.
For exteriors, avoid using Pure White in homes with earthy brick or stone. Instead, if you want a crisp white with red brick, consider SW Greek Villa, as shown in the project here.
Is Pure White a good whole house color?
Pure White wouldn't be my first choice for an interior whole-house color because it can look dingy in spaces with very low light, or cool Northern light. It looks great as an exterior whole-house color, in certain situations.
Is Sherwin-Williams Pure White too bright to use as a paint color?
It depends on the lighting and surrounding finishes. It usually works well as a crisp trim and ceiling color for interiors. As a crisp off-white wall color, it should be used in a room flooded with warm light, and balanced with warm finishes. It can be too stark to use with granite and earthy tiles.
For exteriors, it is too bright to be used as a trim color or paired with red brick. On its own, it's glorious as an exterior whole-house color.
What is the easiest way to sample Sherwin-Williams Pure White?
You should always sample and test your paint colors, but it's especially important for white paints, which are often some of the hardest to specify and select.
The easiest way to sample Sherwin-Williams Pure White (and any paint color, for that matter) is via SAMPLIZE. Their peel-and-stick paint samples are easy to use and accurate to color. With Samplize, you can quickly and easily see how different shades look on your unique wall.
What colors go well with Pure White?
Does Sherwin-Williams Pure White go with black paint? 
Pure White looks amazing with black, but I prefer a softer black such as SW Iron Ore, instead of SW Tricorn Black which can be too stark. Below is a photo of the white farmhouse color scheme with Iron Ore as the roofline and accent color.
This back porch breakfast bar looks great with an Iron-Ore beam and warm wood counter.
Does Pure White work with bright colors?
Pure White craves bright colors. Check out this gorgeous blue-green front porch ceiling, painted with SW Tradewind.
Comparisons With Sherwin-Williams Pure White Alternatives
Not sure if Pure White is the right white for your room? Check out how it compares to similar paint colors from Sherwin-Williams and Benjamin Moore.
Sherwin-Williams Pure White vs Alabaster
Alabaster has strong yellow undertones and is much warmer than Pure White. Sherwin-Williams Alabaster is better for shady exteriors and interiors with lower light and/or earthy granite finishes.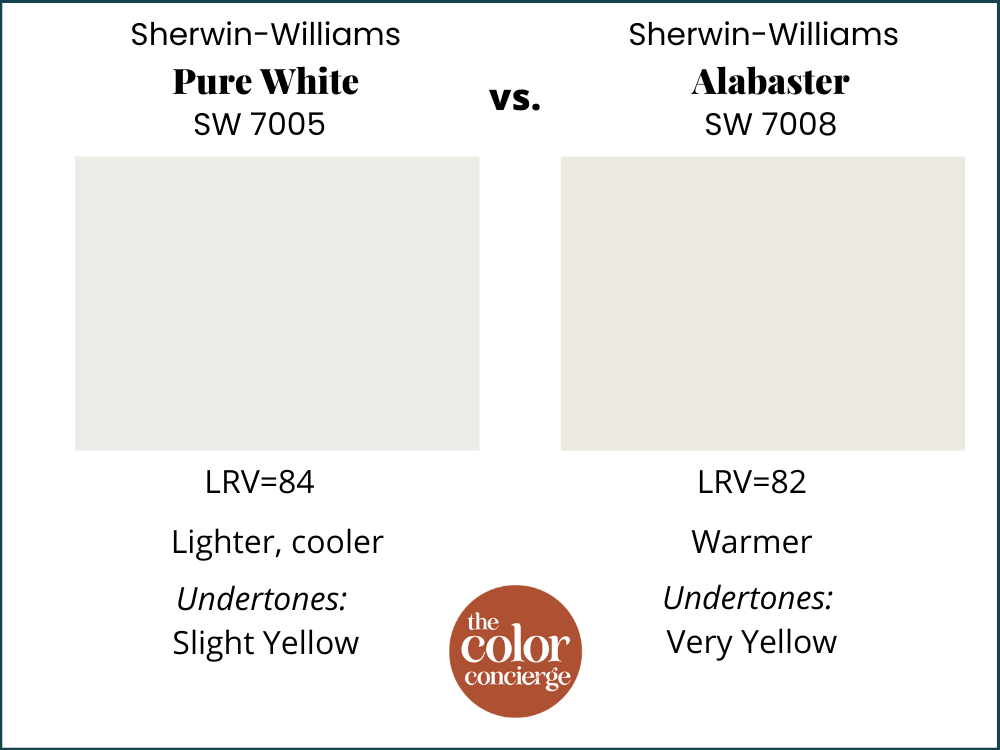 Sherwin-Williams Pure White vs High Reflective White
High Reflective White is Sherwin-Williams' cleanest white paint color. It's brighter than Pure White and can be used as a trim and ceiling color with Pure White. Most painters prefer Pure White as a trim and ceiling color because it has more pigment and is easier to paint with than High Reflective White.
Designers prefer Pure White because that slight splash of warmth makes it more forgiving to pair with other colors, and it looks better with earthier finishes than HRW.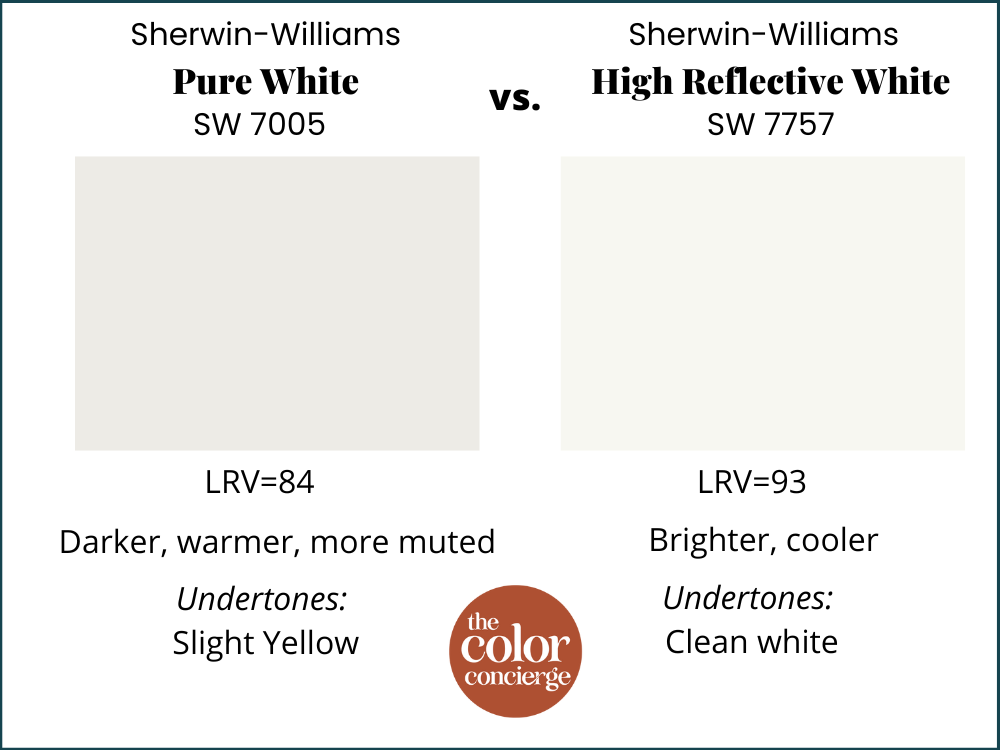 Sherwin-Williams Pure White vs. Oxford White
Although Pure White doesn't have a Benjamin Moore equivalent, Oxford white is the closest color. Oxford is brighter, cleaner, and cooler than Pure White, and not quite as muted. I will confess that Pure White is my favorite Sherwin-Williams trim color, and Oxford is my favorite Benjamin Moore trim color.
Although they don't look the same, they do the same job, if that makes sense.
Sherwin-Williams Pure White vs Chantilly Lace
Chantilly Lace (Color Review Here) has a slight twinge of blue and is much cleaner and brighter than Pure White. Pure White is much more flexible because of its muted tones and slight yellow undertone. I still LOVE Chantilly, though!
Sherwin-Williams Pure White vs Simply White
There is no question that Simply White (color review) is much more yellow and brighter than Pure White. If I have a darker room that the homeowners want to paint white, I would always pick Simply White (sample here) over Pure White.
Sherwin-Williams Pure White vs Snowbound
Snowbound is darker and to be honest, pinker/taupier than Pure White. Although Snowbound has its applications, Pure White has a much more broad appeal. They look super similar below, but in real life, they are pretty different.
Sherwin-Williams Pure White vs Benjamin Moore Pure White
Whatever you do, don't confuse brands with this color. These two Pure Whites aren't even close! The Benjamin Moore version is more of a blue-gray compared to the Sherwin version.
Can my painter match Sherwin-Williams Pure White to Benjamin Moore?
The answer is NO. Not unless you want your house painted light green.  That's what seems to happen when they try to match white paint colors. Pure White is pretty unique and special, and there isn't an exact match in the Benjamin Moore world. To get a similar look and feel, I would try Benjamin Moore Oxford White.
Learn more about matching paint colors here.
Key Learning Points
Pure White is a beautiful crisp off-white paint color! It looks best in rooms that are flooded with light.
Sherwin-Williams Pure White is an excellent trim and ceiling color. Try wrapping a room in Pure White, using different sheens for each type of trim, ceiling, or wall.
Don't use Pure White in a room with cool Northern light or low light because it can look dingy.
Pure White is a beautiful option for a whole house exterior paint color, as long as the house doesn't have brick or stone.
Avoid Pure White as an exterior trim color, unless your wall color is very light.
No matter what, don't forget to test your paint colors.  It's a standard best practice.  Whenever I test my paint colors, they are perfect, and when I don't test they turn out wrong. Learn how to test your paint colors here.
NEVER, EVER use paint matches from a different brand than the one specified.  Results are poor and there are no standards for the sheens.  Even though your painter may truly believe it can be done, don't do it. See results from paint matching here.
Online Color Consulting
If you still need help with paint colors, check out our Online Color Consulting packages or an In-Person Color Consultation in the Denver Metro area.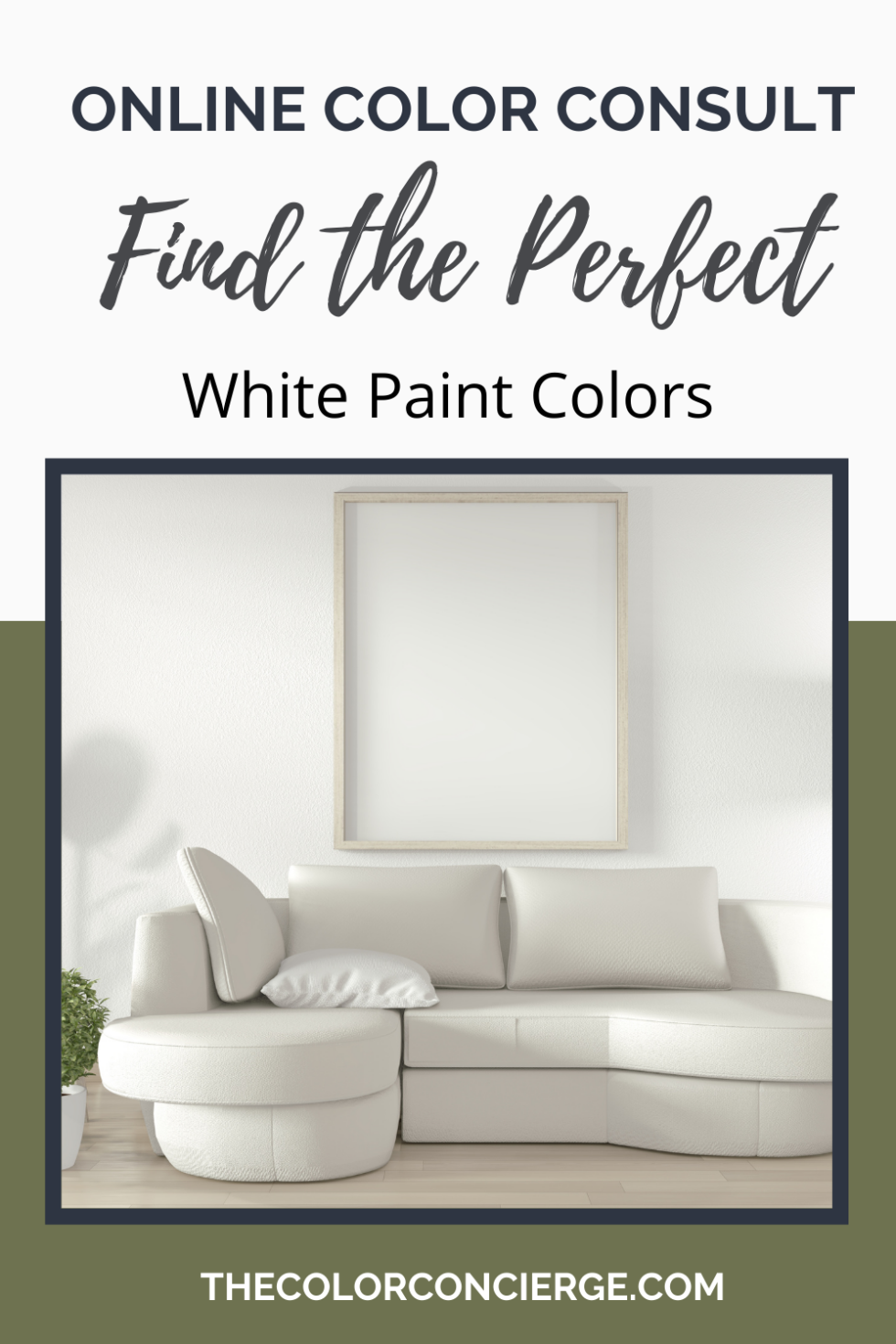 If you liked this post, don't forget to pin!
Related Posts
Our 5 Favorite Benjamin Moore Whites
BM Chantilly Lace Color Review
The 6 Best White Paint Colors For Dark Rooms
We love your comments! Please note that the blog is meant as general advice, and it is impossible to give specific answers to your paint questions. If you want more specific advice, please consider purchasing a color consultation. Thank you for your understanding.