White exterior paint schemes are incredibly popular right now, and they are also classic and timeless! For exterior whole-house white paint colors, we usually pick brighter whites than we would select for white trim colors. Learn more about How to Pick the Best Exterior White Trim color here.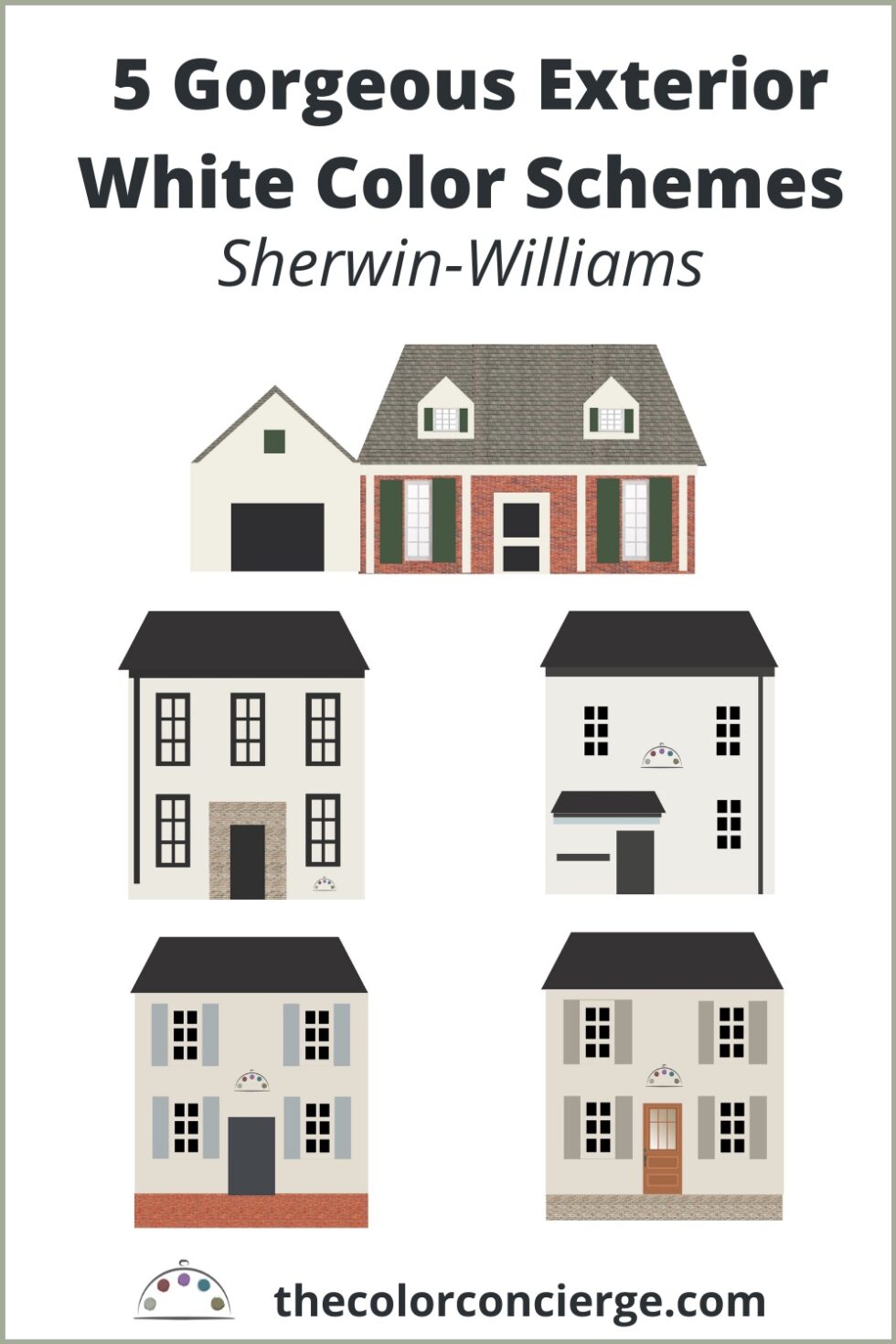 NOTE: This post includes paint colors that were taken by us or our Color Concierge clients. They are NOT color corrected so that you can see how the colors react honestly in the sunshine and shade. These are all real-life photos of people's homes.
*This post contains affiliate links for products I use and love. If you click on some links and make a purchase, I will get a small commission at no cost to you. This helps pay for the costs of the blog so I can continue to offer great content to our readers.
How to Choose the Best White Exterior Paint Scheme for Your Home
For white color schemes, you can design with the following color combinations:
All white with no trim or accent colors
White with dark accents
Both types of exterior white paint schemes can be really beautiful. The key to knowing which is right for your home is by taking the time to choose paint colors carefully.
It's not enough to look at paint swatches and decide what looks best on paper. It's important to consider the lighting, surrounding environment, neighborhood and other factors when designing your exterior color palette.
Explore the tips below to choose the best paint colors for your siding, trim, garage doors and more.
How do I choose the best exterior white paint?
If your neighborhood has houses with earthy or muted finishes, pick a warmer white so that it doesn't look harsh next to the neighbor houses. A great option for neighbors with earthier palettes is Oyster White.
Use brighter whites if your house is usually in the shade.
Select a warmer white if your house is in the bright sunshine or has earthy stone or brick
Always test your white paint colors. Remember that colors look completely different in the sunshine than they look in the shade or inside.
Below is a great schematic that shows soffits, fascia, and gutters which we discuss later in this post.
Which color for gutters and downspouts in a white paint color scheme?
If you want a farmhouse look, paint your gutters and downspouts black.
For a less trendy yet classic look, paint the gutters the same color as your fascia and the downspouts the same color as the adjacent color.
Which color for the garage?
You can paint the garage either white or black color. I like to paint it black if the house is fairly simple. Otherwise, it can be too much. If you decide to paint the garage doors white, be sure to add black accents, like door pulls and house numbers, so it doesn't look too stark.
How do you pick window frame and exterior trim colors in a white paint color scheme?
We love a white house with black windows, but not everyone has that option. Most houses we see have white vinyl windows that can't be painted.
When windows are white vinyl, we usually paint the window trim the same color as the siding. The white siding color can be warmer or darker than the white vinyl windows. In the sunshine, no one will notice, and it looks great.
If you have black windows and your window trim is wide, don't paint the trim black. The wide black trim with black windows would look too heavy. Instead, paint the window trim the same white as the siding.
In most cases, we don't recommend dark window frames with white vinyl windows. Of course, there are exceptions, such as complex Victorian schemes, or when the body of the house is white, and the trim isn't too thick.
Consider black trim with white windows with lighter white body colors and houses with simpler architecture. The black can add a beautiful accent to a white exterior paint color scheme and add some interest to a simple design. See the photo below. It was a drive-by (not one of our projects), but I took the photo because I loved it.
What are the best front door colors for white houses?
We can't forget about the front door! We like to think of a front door as the first impression of your home. It's the door you'll welcome your guests through and it can have a big impact on your white exterior paint scheme.
The front door paint color you choose will depend on the kind of color scheme you want and on the other colors of your home and the property around it.
Do you want a simple black-and-white exterior paint scheme? Then a black front door might be right for you. Would you rather have a white color scheme with pops of color? Consider a red, green or even pink front door! Read our guide to choosing the best front door paint colors for more inspiration.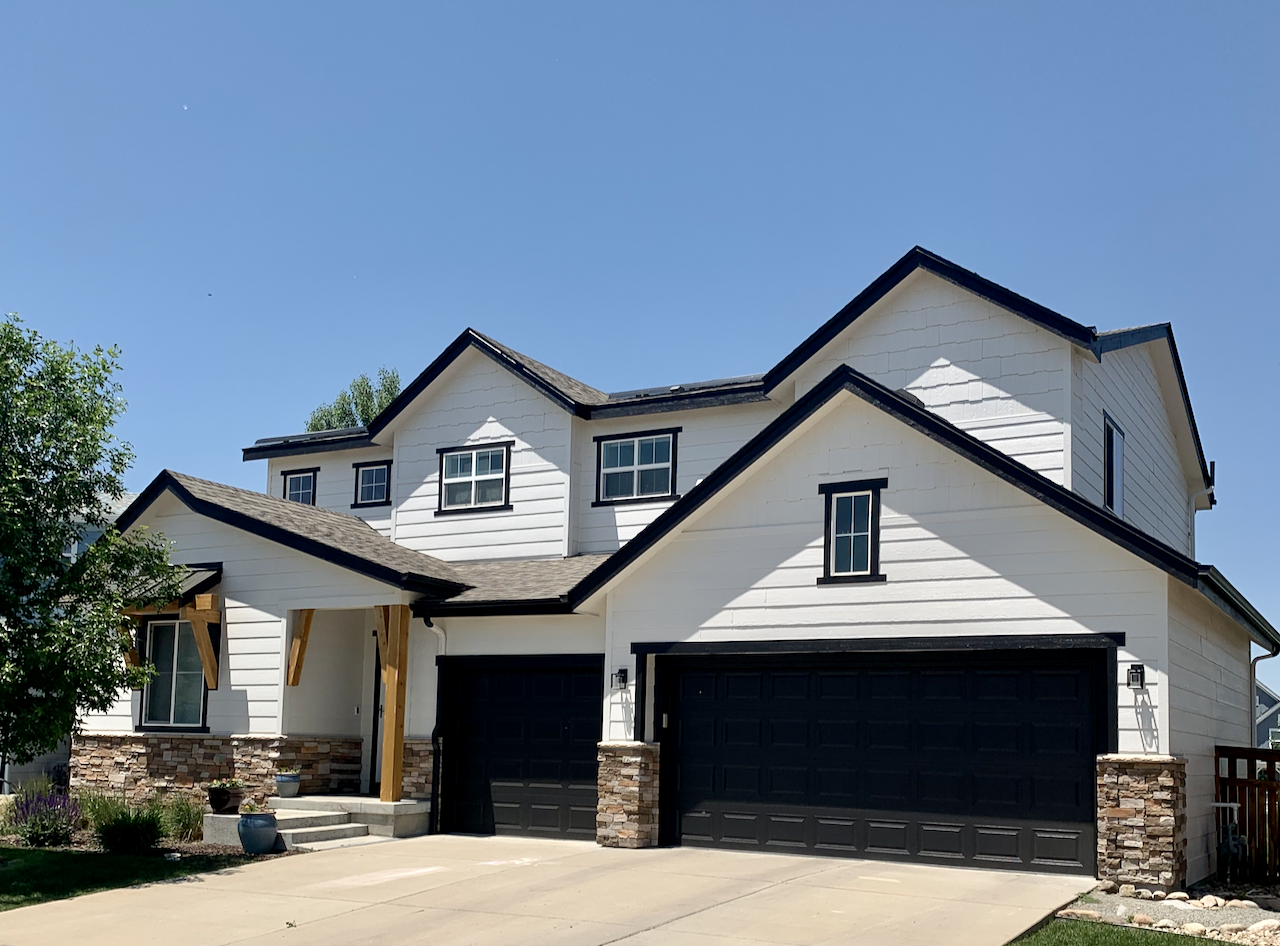 5 Best White Exterior Paint Schemes
There are many paint schemes that are absolutely spectacular. These are some of our favorites, so if your favorite is not on the list it doesn't mean it's bad, just that we didn't include it. These white paint LRVs are in a range between 72 and 85, ensuring they won't look too stark or washed out in the bright sunlight.
Lightest White Paint Scheme: Sherwin-Williams Pure White (SW 7005)
This white color is the brightest of our favorites, and the lightest we would ever pick for an exterior. This gorgeous house has a modern farmhouse exterior white paint color scheme. Don't confuse this with Benjamin Moore Pure White which is a cool greige color and completely different!
Use Sherwin-Williams Pure White (LRV= 82) when you have bright white elements like the white vinyl fence in the photo, you live up North with less intense sunlight, or you live on a lot with lots of shade.
Avoid this exterior color on a sunny lot in the South or in the mountains. You might need sunglasses just to look at it because it will look so bright! Also, avoid an SW Pure White exterior white color scheme in neighborhoods with lots of muted earthy colors and finishes. It will look out of place.
Another word to the wise: this bright white is like a mirror. Avoid when your next-door neighbor has a red or yellow house. Otherwise, your house will look pink or yellow on the side next to the neighbor.
Since the windows are white vinyl and the architectural details complex, we kept the window trim white and used the black accent color sparingly. The gutters and downspouts were both painted black for a distinct farmhouse look. We kept the garage doors white to keep the black accents light. Finally, the front porch ceilings were painted with a light blue paint for a classic Southern farmhouse look!
For more details about this project link here.  Order a sample through Samplize here.
The color scheme is below. In this photo, you can't see the "haint" blue front porch ceiling, but it's there. The garage doors are white, but they have black numbers, hardware, and lighting. The balance between white and black is perfect.

White Exterior Paint Scheme Color Placement
 Iron Ore SW 7069: Fascia, soffits, gutters, handrails, downspouts, front door, Sample here
Tradewind SW 6218: Front porch ceiling, Sample here
Pure White SW 7005: Body, trim, garage door, Sample here
Off-White Exterior Paint Scheme: Sherwin-Williams Alabaster (SW 7008)
Sherwin-Williams Alabaster (LRV=82) is celebrated all over the internet as the perfect white exterior paint color. I don't necessarily agree; it's a specific tool just like any other color. While it is a lovely creamy, off-white exterior paint color, it doesn't mean it's perfect for every home.
Alabaster looks fabulous in the shade and in Northern climates. It has a lot of yellow in it, so it can flash yellow in the strong sunshine. I saw that happen the day before I wrote this article at a color consultation.
Just like Pure White, this bright white is like a mirror. Don't use it when your next-door neighbor has a red or yellow house, or your white house will look pink or yellow on the neighbor's side.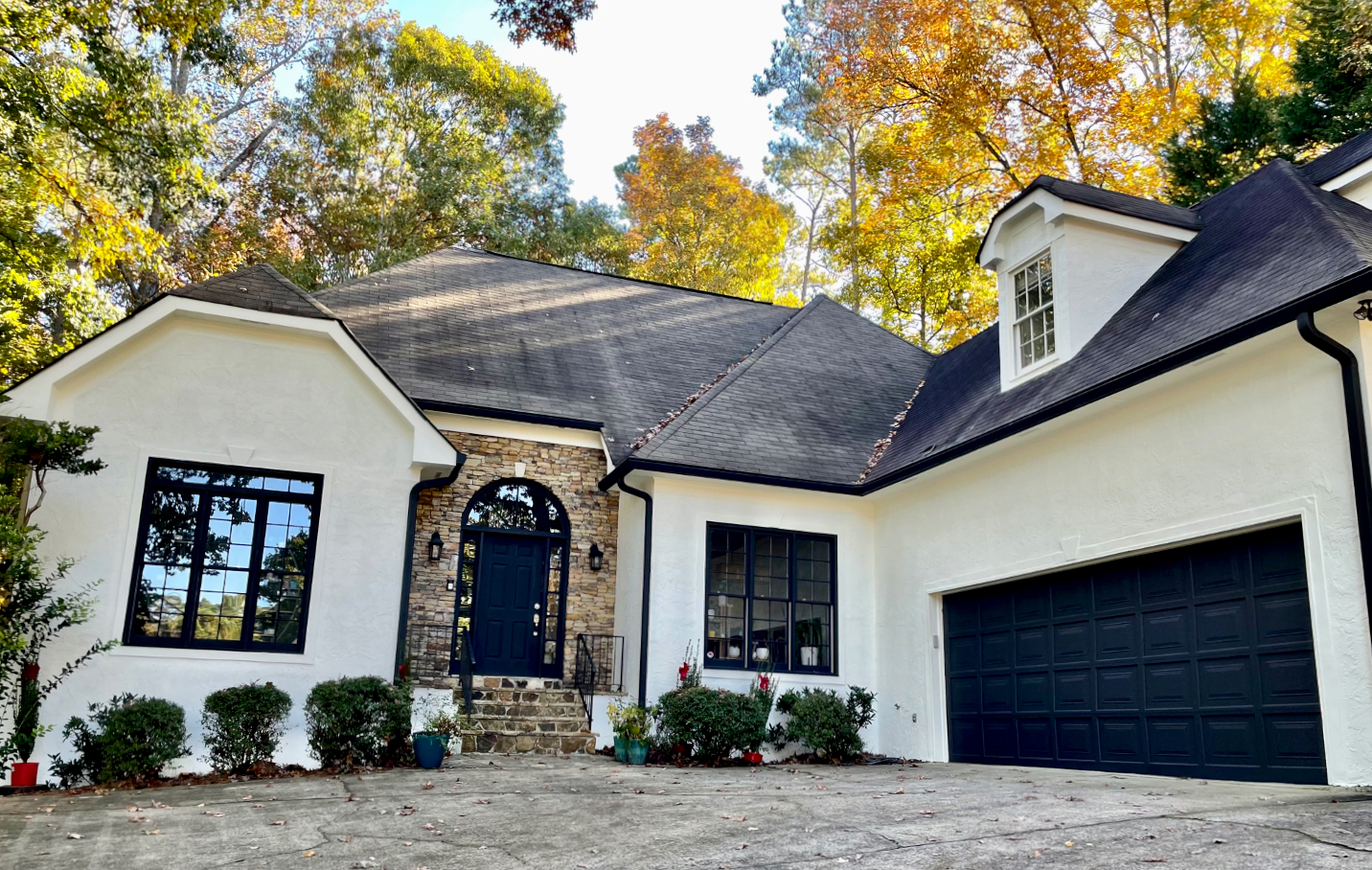 Below is our web developer's house, located in a very shady lot in Atlanta. They plan to change their roof to a mid-toned gray, but it still looks fabulous! The black accent color is Black Magic (SW 6991). Just in case you are in the market for a new website, check out their services at Simplified Website Design. I've been thrilled with their work!
This house had colors and placements as shown below: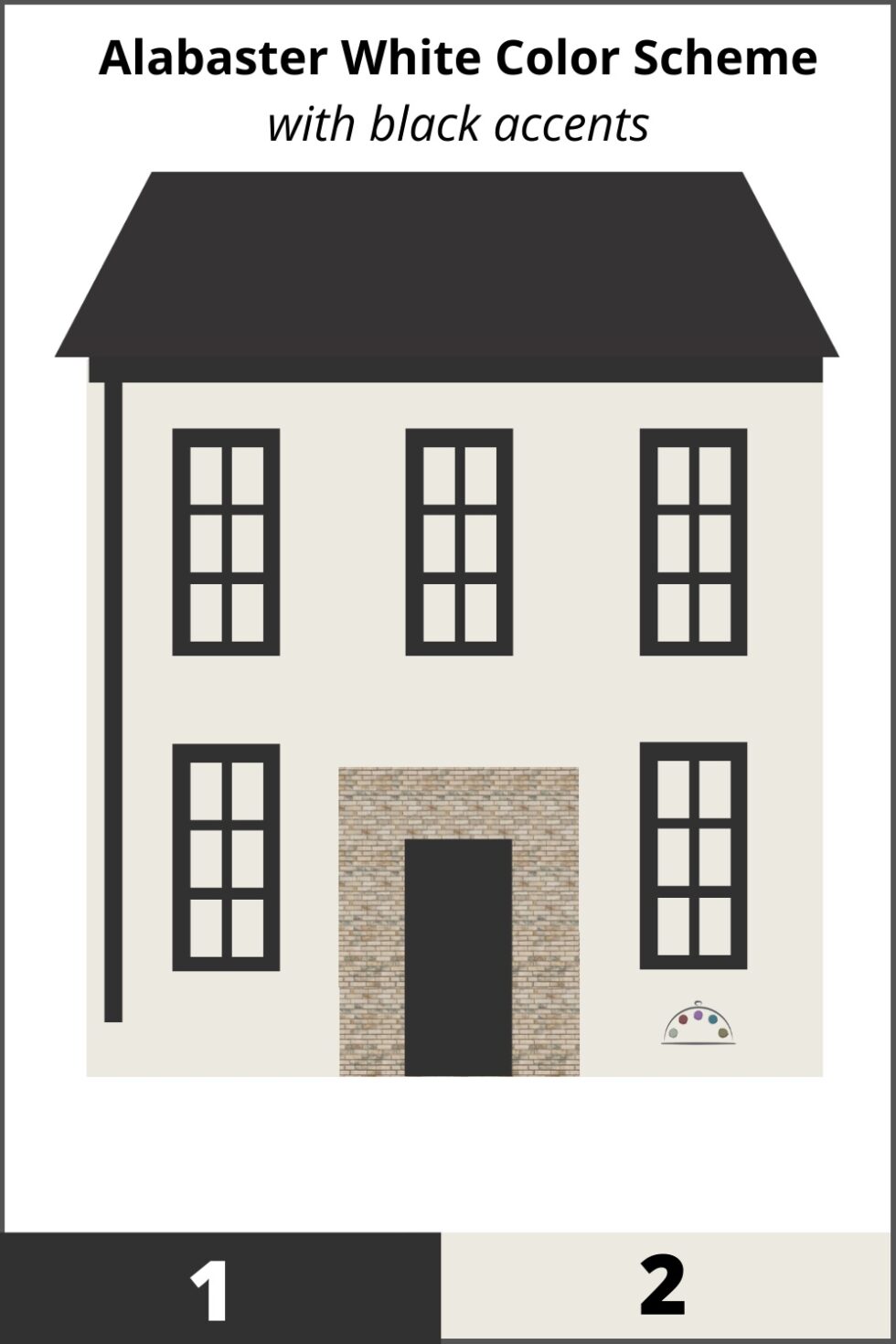 White Exterior Paint Scheme Color Placement:
 Black Magic: (SW 6991) Gutters, downspouts, window frames, front door, railings. Sample here.
Alabaster (SW 7008): Painted brick, siding, gable windows, fascia, and soffits.  Sample here.
Best White Paint for Red Brick Exteriors: Greek Villa SW 7551
Sherwin-Williams Greek Villa is a GREAT whole-house exterior color with an LRV of 84. It is still crisp but has much more pigment than Pure White or Alabaster.  You can worry less about your neighbor's reflections. 
We love using SW Greek Villa exterior paint with red brick and other earthy brick exteriors, like our client's home below. It also works great in the shade. Be sure to test carefully when the house is in full sunshine.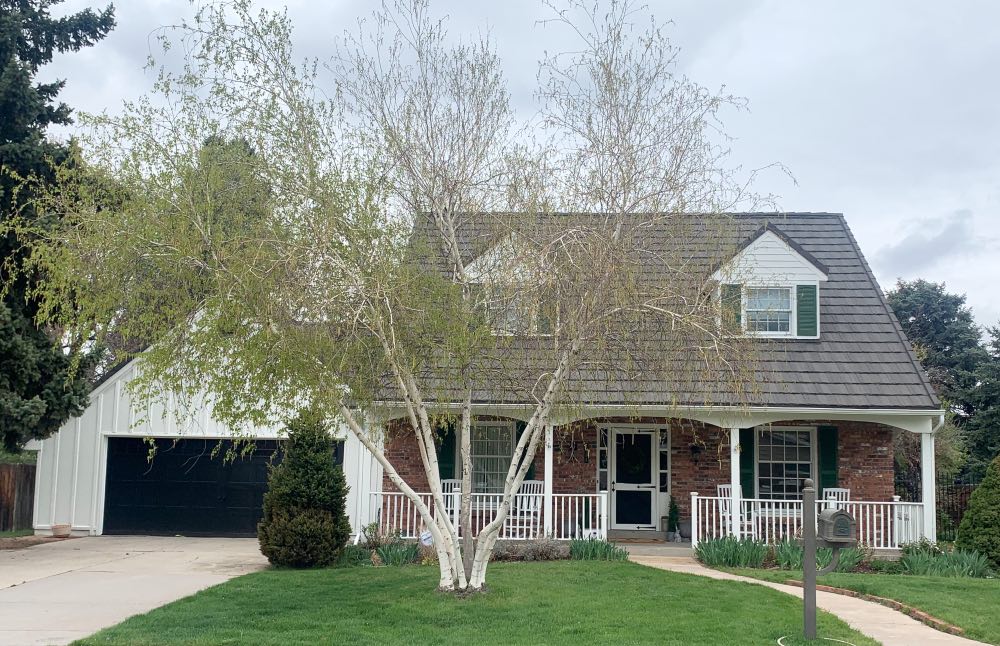 For more information about this house and this paint color, read our SW Greek Villa paint color review. Order a Samplize sample here.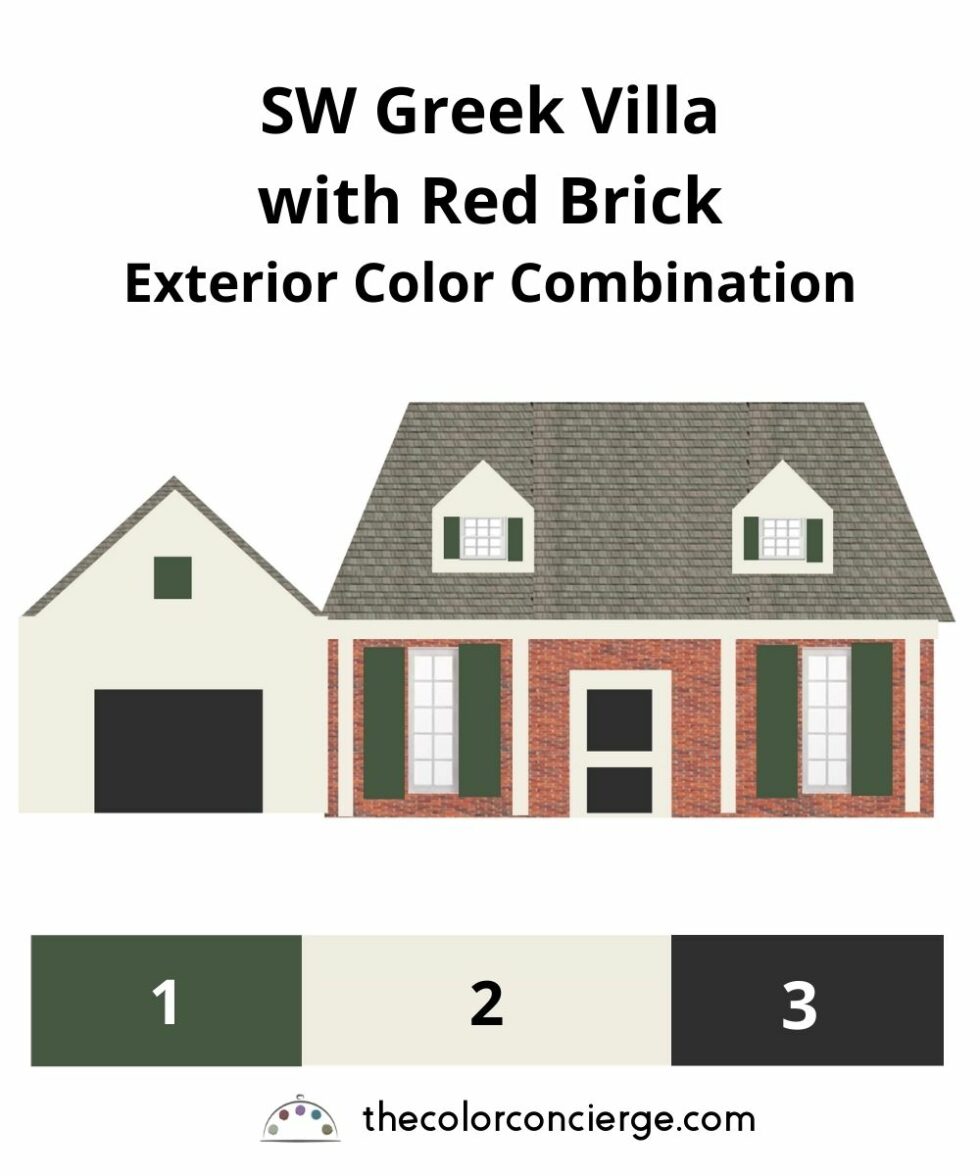 White Exterior Paint Scheme Color Placement:
Courtyard: Shutters, backyard accents, Sample here.
Greek Villa (SW 7551): Fascia, soffits, gutters, downspouts, posts, front porch ceiling, window trim, storm door, Sample here.
Iron Ore (SW 7069): Garage door, front door, Sample here.
Warm White Exterior Paint Schemes: Sherwin-Williams Oyster White (SW 7637)
This color is the warmest white on this list, with an LRV of 72.  It will look crisp in areas that are closest to the sun such as Southern US states and high-altitude cities such as Denver or Salt Lake City.  Oyster White looks creamy and fabulous in the shade or up north.
It's also perfect when paired with warm stone or brick. Oyster White has invisible green undertones, so it looks great in just about any light!
Learn more about this paint color in this Oyster White review post.
The following two houses are in North Carolina. You can see how much brighter they are outside in the photos than in the mockup. This is because the sun lightens and brightens paint colors 5-10 times!
SW Oyster White Exterior Paint Scheme with Red Brick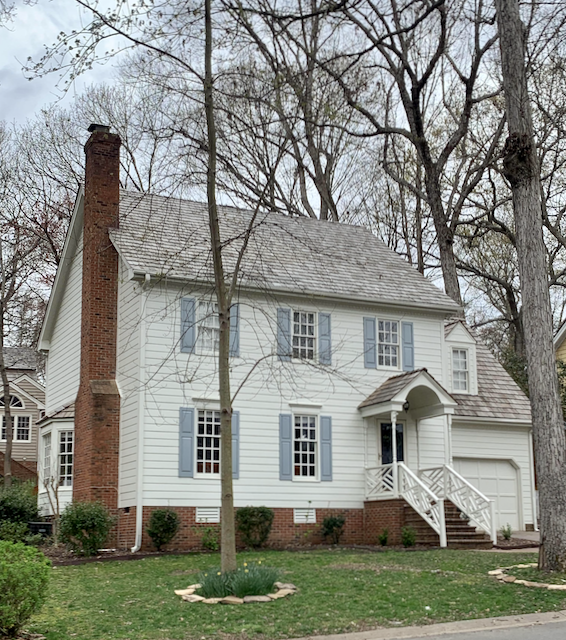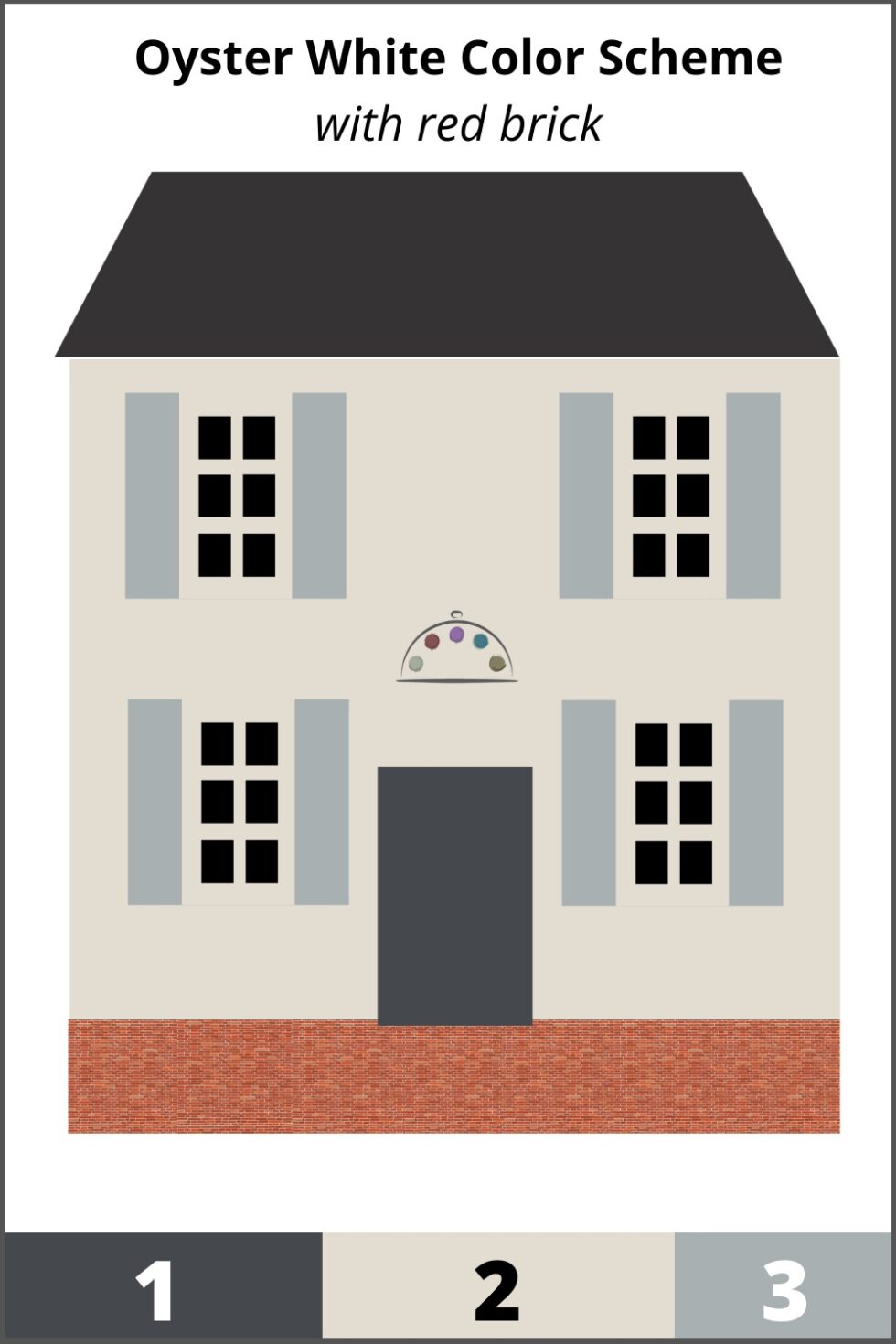 Exterior Paint Color Placement:
Cyberspace (SW7076): Front Door, Sample here.
Oyster White (SW 7551): Fascia, soffits, gutters, downspouts, posts, front porch ceiling, window trim, garage door, Sample here.
Uncertain Gray (SW 6234): Shutters, Sample here.
SW Oyster White Exterior White Paint Scheme with Light Brick
This house was also in North Carolina, on the water. This exterior white paint scheme is harmonious and blends beautifully with the natural surroundings!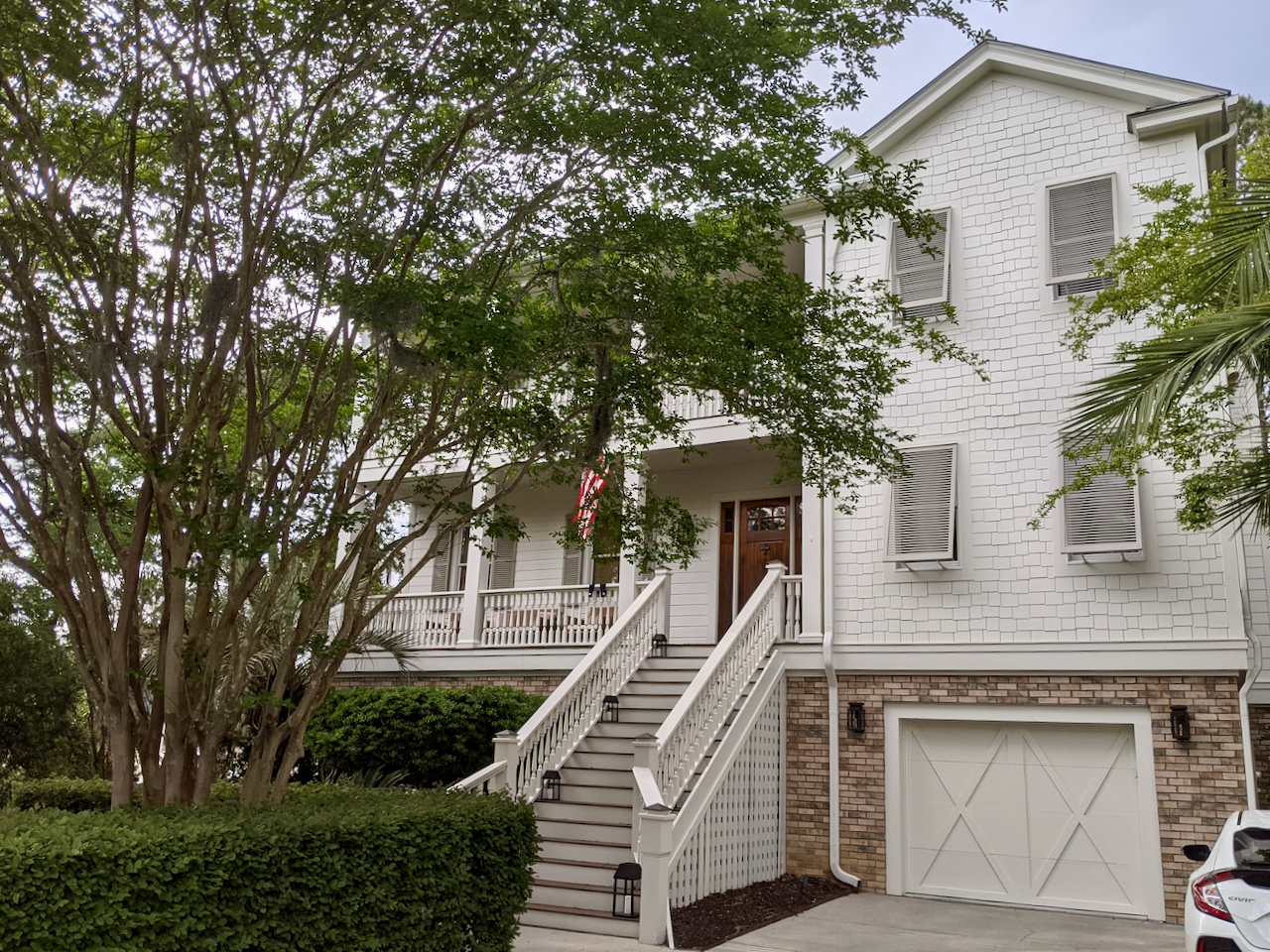 Once again, Oyster White will be much brighter in the sunshine than inside or on the page.
Exterior Paint Color Placement:
Fawn Brindle (SW 7640): Front Door, Sample here.
Oyster White (SW 7551): Fascia, soffits, gutters, downspouts, posts, front porch ceiling, window trim, garage door, Sample here.
Key Learning Points
White exterior paint colors are not just trendy but classic and timeless. Carefully choose the color placement and the color. There is no such thing as a white paint color that works everywhere.
Be sure to choose an exterior white paint with enough pigment, especially if you live in the South or the mountains where the sun is very bright.
Choose your trim colors for white exterior paint schemes carefully. You can use white trim for a simple color scheme or go with a dark trim color, like black.
Don't be afraid to add pops of color to a white exterior paint color scheme! Adding color to a porch roof or front door is a great option.
Test, Test, test your paint colors carefully! For more information about how to test your paint colors link here.  For fabulous ready-made large painted samples, order from Samplize.
The biggest mistake homeowners make when they pick exterior paint colors is to use colors that are too light. This is the best reason to use a professional exterior paint color consultant to help you pick the paint colors for your home. An experienced color designer understands how colors react in different types of light and can save you thousands of dollars in paint and labor if you get it wrong.
Online Color Consulting
Still, looking for the perfect paint color? Discover our Online Color Consulting Package.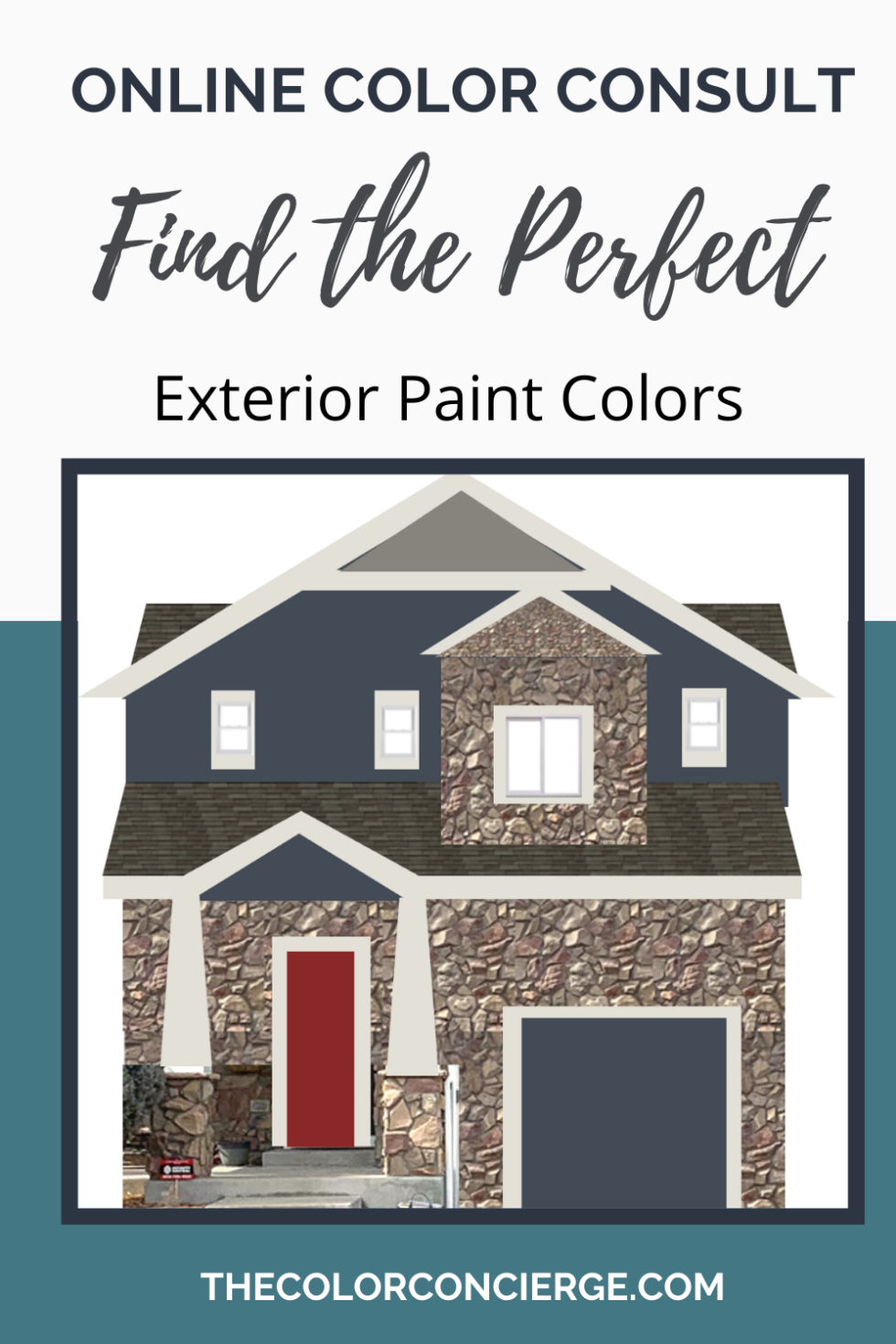 If you liked this post, don't forget to pin it!

Related Posts
Best Farmhouse White Paint Colors
Greek Villa Paint Color Review
Oyster White Paint Color Review
We love your comments! Please note that the blog is meant as general advice, and it is not possible to give out specific answers to your paint questions. If you want more specific advice, please consider purchasing a color consultation. Thank you for your understanding.