There's something about front doors that I just love. Whenever I travel I always bring home photos of the best front door colors I see during my time away to use as inspiration for future projects.
When I traveled to London recently it was no different. There were so many gorgeous front doors to love, from historic wooden doors to brightly colored ones. It reminded me of my trip to Paris back in 2019 when I fell completely in love with the city's front doors.
The right front door paint color can make a big impression. A front door is one of the first things people notice about your home. They're typically the door guests knock on or wait at upon arriving. They're the doors you welcome friends and family into your home through. They're usually the ones you can see driving or walking by.
If you're ready to update your front door color, then this post is for you. I'll be sharing my best tips for choosing a front door paint color and sharing more than 14 of my favorite front doors to inspire your next project.
*This post contains affiliate links for products I use and love. If you click on some links and make a purchase, I will get a small commission at no cost to you. This helps pay for the costs of the blog, so I can continue to offer great content to our readers.
How to Choose The Best Front Door Color for Your Home
The front door paint color you choose can significantly change the look and feel of your exterior paint color palette. Front door colors are a great way to show off your personality and add some curb appeal to your home.
Just like choosing paint colors for the interior of your home, choosing the best front door color for your home isn't as simple as selecting a color you like. Instead, it's important to consider the other exterior colors of your home, the design of your door and several other factors.
Consider the following when choosing your front door paint color:
Front Porch Decor
Use your front porch decor as inspiration for your door color. If you have colorful planters, porch furniture or summer perennials, match your door to these features. Consider the plants and landscaping at the front of your home, too.
Door Design
Lighter paint colors show off architectural features better (but also show flaws more easily). Darker colors hide imperfections. If your front door has a lot of carved details, pick a lighter paint color to show them off.
How You Use Your Door
Do you keep your front door closed, or open? If you keep it open a lot, then you'll need to make sure the color looks good with your interior paint color palette. If you keep your front door closed, then you don't need to worry about your interior colors because the interior and exterior colors of the door don't need to be the same.
Consider The Direction Your Door Faces
If your front entry gets a lot of sunshine, a dark paint color may get very hot to touch in the summer. Pick a light to medium color instead to avoid scorching your guests before they get in the door.
Choose the Right Paint Sheen for Front Doors
Choosing the right paint sheen for your door is almost as important as choosing the right color. We love the look of a shiny exterior front door, so we typically choose a semi-gloss paint sheen.
However, be sure to consider the condition of your door before you decide on a sheen. Shinier finishes show every architectural detail of the door but also show every defect. Low sheen or flat finishes hide imperfections more easily.
If you have a new or recently refurbished front door, consider a satin or semi-gloss paint sheen. If your door is older or damaged, consider a low-luster sheen. Don't paint your front door with a flat sheen (no matter how imperfect it may be). A flat sheen will leave your door looking dull and listless.
How to Test Front Door Paint Colors
Even when you follow the guidelines above, finding the best front door colors for your home can be tricky.
Colors can look significantly different in person than on your computer screen or even printed onto paper. Colors also look lighter and more colorful in the sunshine vs in a shaded entryway. This is why it's important to always test your paint colors.
We recommend that you test any potential front door paint colors outside and in person. We like to use Samplize peel-and-stick samples to test paint colors because you don't need to paint samples- it's already done for you.
Stick your samples on a white poster board to isolate the color from the color in place. If you stick the sample on the door, your eye gets distracted by the current color. Then move the poster board around the house and place it next to the trim, stone, or the bottom of the door.
I like to buy two peel-and-stick samples to make the area bigger. It's easier to see that way, and the samples are inexpensive.
14 of the Best Front Door Colors (According to Our Color Experts)
At The Color Concierge, we've selected many front door colors for our clients.
It's such a common challenge for homeowners, in fact, that we created a guide to the 50 best front door colors from Sherwin-Williams. We also created a specific online paint color consulting package just for picking the right front door for your home.
Keep reading for some of our favorite front door colors and inspiration, gathered during client projects and my recent travels.
British Purple Front Door
I saw this bright purple front door during my recent trip to London and knew I needed to take a photo of it. It is such a bright, cheerful color that adds a ton of personality to this otherwise traditional-looking building.
This was the front door to the Marjory Warren house, home of the British Geriatrics Society and named for Marjory Winsome Warren, a British nurse considered the mother of modern geriatric medicine.
If you want this kind of bright and cheery entrance for your home, try a Sherwin-Williams Passionate Purple or Benjamin Moore Summer Plum front door.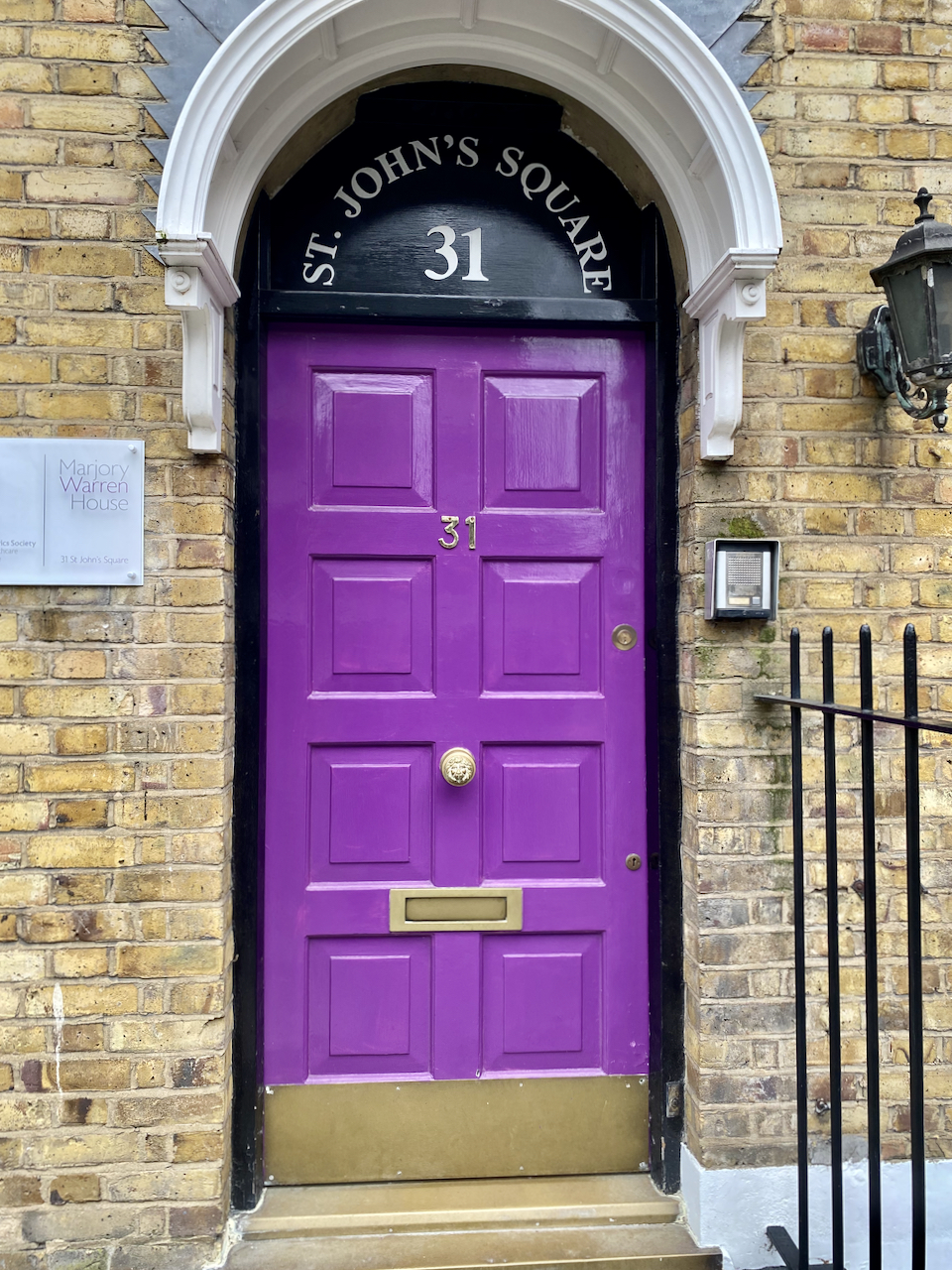 Benjamin Moore Tulsa Twilight Front Door
This deep purple front door was actually the entrance to my old house. We don't get a lot of requests for purple doors, but Benjamin Moore Tulsa Twilight is one of the best front door paint colors for homeowners who want something that's a little bit funky while still timeless.
BM Tulsa Twilight is technically a black paint with strong violet undertones, but it looks especially purple in bright sunlight.
Green Front Door at the Tower of London
This is another gorgeous front door spotted on my recent trip, this time seen inside the Tower of London. The Yeoman Warders are the guards that keep the Tower safe, and they actually live onsite with their families.
This deep green door was the entrance to one of their homes. All of the residences have the same green front doors. This warm and bright green color looks beautiful paired with the red brick building.
If you want a similar color, try a Sherwin-Williams Shamrock front door.
Sherwin-Williams Pewter Green Front Door
For this home, we matched an SW Pewter Green front door to the unique green roof. We carried the same muted green over to the window trim, too. 
The warm Pewter Green paint colors look beautiful next to this home's red brick. Originally the homeowners wanted to paint the brick but we talked them out of it and I'm so glad we did. This house is gorgeous with its updated palette!
Benjamin Moore Split Pea Front Door
Benjamin Moore Split Pea is one of the best front door paint colors for a statement-making first impression. This bright green paint color may seem too bold, but with the right exterior color palette it can be truly beautiful.
This client's split-level home looks like it was made for a Split Pea front door. The almost-fluorescent green ties in perfectly with the foliage around the home, and the light color reveals the beautiful carvings on the door. It also looks amazing with the Sherwin-Williams Cyberspace siding.
Sherwin-Williams Gambol Gold Front Door
A yellow front door is such a bright and cheerful look. This beautiful home in Canada looks wonderful with a Sherwin-Williams Gambol Gold front door, especially considering the rest of their exterior paint color palette is very simple.
Gambol Gold is a gorgeous mustard yellow that looks really lovely paired with gray siding or stone or a muted navy blue exterior color palette like this home.
Sherwin-Williams Grecian Ivory Front Door
I usually don't encourage homeowners to paint their front door white. But in the case of this home, it was totally flawless!
These clients painted their house after reading our blog on Sherwin-Williams Rustic Red. The deep red color would have looked too heavy with a dark front door, so in this case a white door really was the best front door color for their home.
The "white" color was actually SW Grecian Ivory, a darker greige that looked white in the bright sunshine. If you want to use a white front door, make sure to match the white color to your white trim. This client also matched their front door and shutters for a balanced look.
Benjamin Moore Redstone Front Door
Benjamin Moore Redstone is one of the best front door colors out there – especially if you want a red front door that is a little less traditional. Redstone includes bright orange tones for a bright and cheerful red color that is sure to make a statement.
This client's mid-century modern home pairs a BM Hale Navy exterior, BM Pale Oak trim paint and a Redstone front door for a classic red, white, and blue color palette that feels updated and modern.
Benjamin Moore Caliente Front Door
BM Caliente is another great red front door color that is a bit more classic than Redstone. A deep, rich red, Caliente pairs really well with classic gray or blue exterior color palettes. It would also look timeless with white exterior paint colors.
In this client's home below we paired a Hale Navy exterior with Pale Oak trim and a Caliente front door for beautiful curb appeal and a welcoming front entrance.
Sherwin-Williams Stolen Kiss Front Door
SW Stolen Kiss is right near the top of my personal list of the best front door colors. I love this red paint color for a front entrance because it's a bold, rich color but is muted enough to not feel too bright.
We paired a Stolen Kiss front door with a gray exterior color palette on this project. I love the way it makes the whole palette feel more polished. We've also used this front door color for a home with a red-brick entryway and SW Sea Serpent deep blue-green siding. It looked just as beautiful with those colors as it does with classic gray.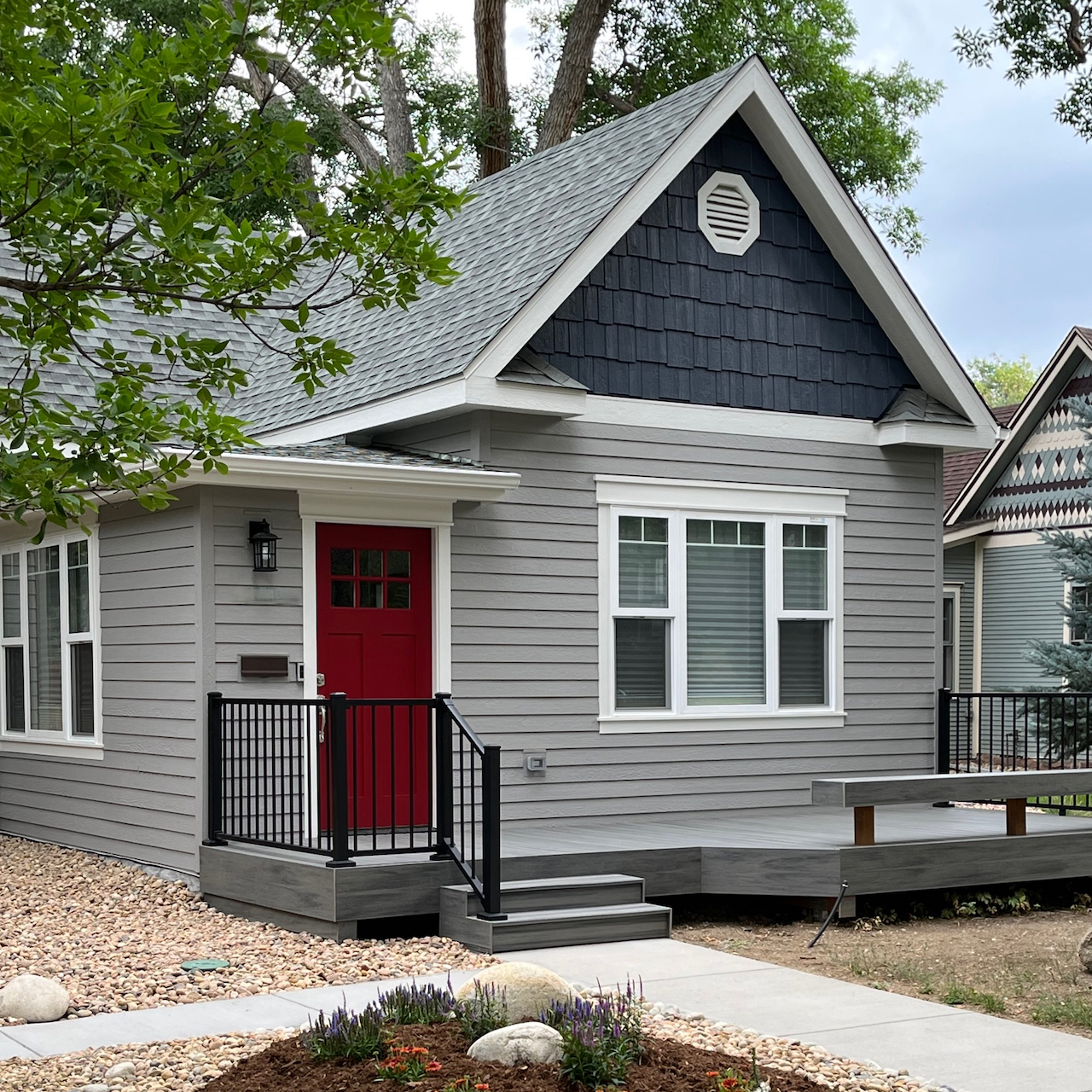 Sherwin-Williams Quite Coral Front Door
SW Quite Coral is one of the most fun front door colors I've done for a client. It's an orange paint color that leans toward pink. It's one of the best front door colors if you like the idea of a pink front door but aren't totally ready to commit.
We paired SW Quite Coral with SW City Loft trim and SW Charcoal Blue siding for a modern twist on a classic red, white and blue exterior color palette.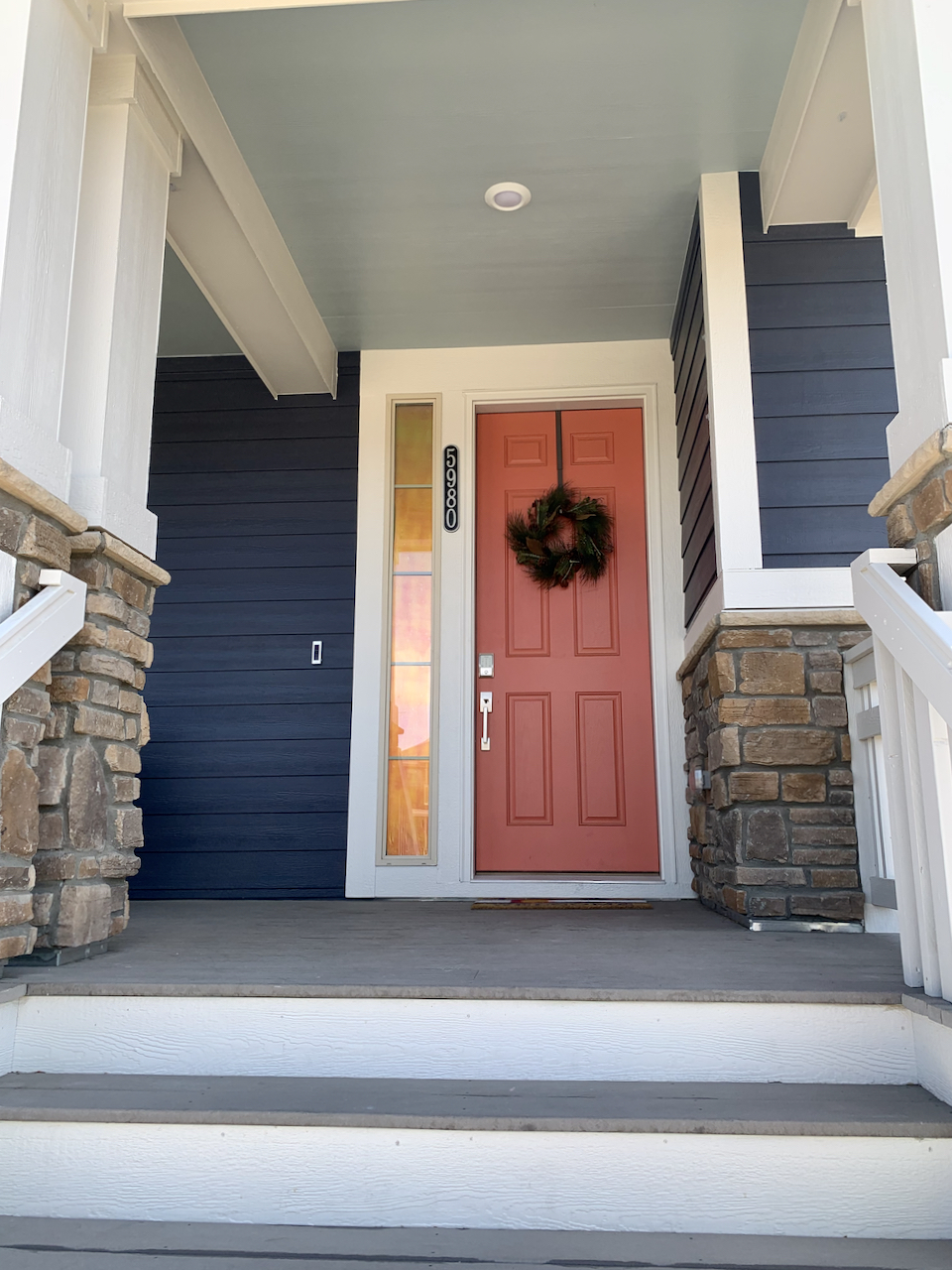 Benjamin Moore Raindance Front Door
Benjamin Moore Raindance is a soft but vibrant light teal paint color that is perfect for a playful and inviting front door. This color is actually a gray paint with strong blue and green undertones that make it look almost mint green in bright sunlight.
We paired a BM Raindance front door with BM Kendall Charcoal siding and BM Classic Gray trim for this client's house. It's a modern color palette that feels fun, but still timeless.
Benjamin Moore Hale Navy Front Door
A Hale Navy front door is a beautiful, classic thing. It's a truly iconic color that is slightly grayed out and muted but comes to life in the sun. It pairs so well with so many other colors many designers consider Hale Navy a dark neutral.
The Hale Navy front door on this historic home looks timeless with the Benjamin Moore Hepplewhite Ivory exterior paint on the siding and the BM Woodlawn Blue painted porch ceiling.
Sherwin-Williams Iron Ore Front Door
There's a reason SW Iron Ore is one of the most popular black paints of all time. It's a gorgeous, deep black color with invisible green undertones. It is so well-balanced it really doesn't risk leaning toward green even in bright sunlight.
I love to pair an Iron Ore front door with lighter exterior color palettes like we did with the white exterior paint color in our client's home above. SW Iron Ore is almost identical to Benjamin Moore Wrought Iron. We used Wrought Iron shutters with a light color palette in the client's home below.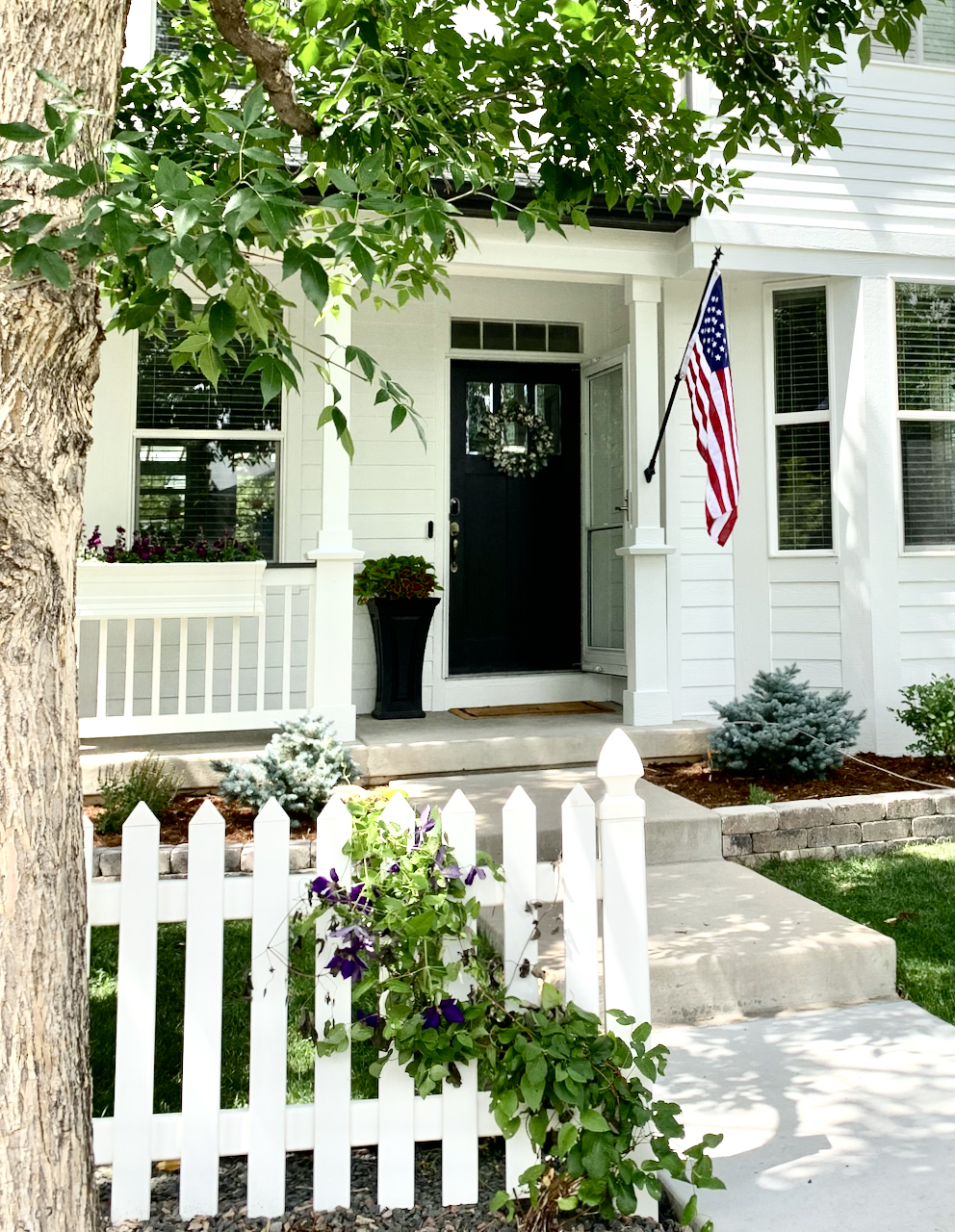 What is the easiest way to sample front door paint colors?
You should always sample and test your paint colors in natural light. The easiest way to sample all of these front door paint colors is via SAMPLIZE. 
Their peel-and-stick paint samples are easy to use and accurate to color. With Samplize, you can quickly and easily see how different shades look on your front door.
If you'd like to test the colors that we mentioned in this post, link below for the Samplize samples:
Key Learning Points
Your front door is the focal point of an exterior color palette. It's the last thing someone sees just before walking into your home and is often a big part of the curb appeal of your home.
Front doors are also a great place to play with color. You can take bigger risks with bright and bold colors on a front door – if you take the time to find the best front door colors for your home.
Make sure to keep the following in mind:
Consider your front porch decor, plants and landscaping around your front entryway when choosing a front door color. Try to coordinate your door color with those other pieces of decor.
Make sure to choose the right paint sheen. If your door is new or recently refurbished, or if you want to showcase unique carvings and architectural features, then go with a higher gloss sheen. Use a low-luster sheen for doors with more imperfections.
Be sure to test your front door color in direct sunlight and on your actual door. Look at the colors up close when testing, but also stand back and look at them from the street before making your decision.
Online Color Consulting
If you still need help with paint colors, check out our Online Color Consulting packages or an In-Person Color Consultation in the Denver Metro area. We even offer special exterior front door paint consulting packages.
If you liked this post, don't forget to pin!
Related Posts
17 Paris Front Door Paint Colors
6 Exterior Paint Color Combos for New Builds
Best White Exterior Paint Color Palettes
Top Exterior Paint Color Schemes
We love your comments! Please note that the blog is meant as general advice, and it is impossible to give specific answers to your paint questions. If you want more specific advice, please consider purchasing a color consultation. Thank you for your understanding.