Red is my favorite color, and I love a red house, such as this one with Sherwin-Williams Rustic Red as the main color.  Learn all about Sherwin-Williams Rustic Red in this color review (Sample Here).  This dark muted red paint color is a gorgeous option for exteriors with red brick or warm stone colors.  It looks much brighter outside than on the page.  
It is an unexpected color for a house in the woods, but it really works!
SW Rustic Red is a dark muted red that almost looks like a brown color. Keep in mind as you select a red color for your house that you need to pick a color that is darker and more muted than you expect. Colors look much lighter and more colorful outside than you expect.
Please note that all the photos in this post are from a Color Concierge project.
*This post contains affiliate links for products I use and love. If you click on some links and make a purchase, I get a small commission at no cost to you. This helps pay for the blog costs so I can continue to offer great content to our readers.
LRV of Rustic Red
The LRV of Rustic Red is 6, which makes it a dark red that is almost brown and will look much more colorful outside than inside. LRV (Light Reflectance Value) is a measurement used to identify how light or dark a color is.  The scale goes from 1 (pure black) to 100 (pure white) and indicates how dark or light a color is.
Rustic Red for Exterior Color Schemes
Exterior Before and After, Rustic Red
This is what the house looked like. Even though it isn't an earth color such as dark green or gray or brown, it still looks harmonious. I love that the homeowners added red Adirondack chairs to match! This is also a gorgeous front door color. Our homeowner was really brave to trust us with this transformation and the house looked amazing.
Before the house was painted, local residents used to call it the Mushroom House. The white color had a high contrast with the woods, which emphasized the shape. Once we picked a darker color, the outline became less pronounced, and "Mushroom House" disappeared.
The Rustic Red Color Scheme
Use Sherwin-Williams Rustic Red as an exterior paint color, with a warmer white trim color for a traditional house.  This warm and lovely house in the woods was completely transformed with SW Rustic Red for the siding and SW Grecian Ivory for the trim.  
Rustic Red (Sherwin-Williams):  Siding, Stucco, Soffits, Downspouts
Grecian Ivory (Sherwin-Williams):  Fascia, Gutters, Window Trim, Door Trim, Tudow Beams
Turkish Coffee (Sherwin-Williams): Deck, Roofline beams
The Deck with Rustic Red
You can see how well the red paint color pairs with the warm stone.
What are the Best Exterior White Trim Colors for Rustic Red?
For a siding color this dark and rich, I would stick with warm light beige or greige colors with an LRV between 60 and 70.  We used SW Grecian Ivory (LRV=63) for the trim here, but we also could have used Gossamer Veil or Oyster White.  A very light white would have been too stark a contrast.
To learn more about Exterior White Trim Colors, link here.
TIP: When using dark paint colors consider a warmer white or light greige so that the contrast doesn't look too stark.
Rustic Red for Interiors
Red paint colors are not widely used today as interior paint colors, although Rustic Red could make a very nice accent wall.  If you decide to paint a room SW Rustic Red, make sure that the room has tons of natural or artificial light.  If you don't have enough light, it will look too heavy.  Don't use as an interior front door – it will reflect like a projector on the opposite wall.
When To Avoid Rustic Red
For interiors, avoid in rooms with low light unless you have LOTS of artificial lighting. For exteriors it's pretty versatile, but as always you should always test your paint color.
Can I use Rustic Red for Cabinets?
We are seeing lots of kitchens with different colors today, but my sense would be to keep it as an Island or lower cabinet color. Otherwise, it might be too much.
What is the easiest way to test Rustic Red?
We always recommend that you test paint colors in your house because lighting can completely change the way a color looks.
In the old days, this meant we painted a large poster board with sample pots and a huge mess.
Now we have SAMPLIZE, 9X14″ Pre-Painted peel-and-stick paint samples.  Check out the SAMPLIZE website HERE.
Which Benjamin Moore Colors are like Sherwin-Williams Rustic Red?
Benjamin Moore Sundried Tomato is very close. We never recommend paint matching unless you are willing to spend a lot of time testing the paint color.
Learn more about matching paint colors here.
Key Learning Points – Rustic Red
Sherwin-Williams Rustic Red is a rich warm dark red paint color, beautiful for exteriors. For interiors, I'd stick with this color as an accent wall or lower cabinet color.
No matter what, don't forget to test your paint colors.  It's a standard best practice.  Whenever I test my paint colors, they are perfect, and when I don't test they turn out wrong. We love to test with SAMPLIZE peel-and-stick samples.  Check out the SAMPLIZE website HERE.
NEVER, EVER use paint matches from a different brand than the one specified. Results are poor and there are no standards for the sheens. Even though your painter may truly believe it can be done, don't do it. See results from paint matching here.
Online Color Consulting
Still looking for the perfect paint color? Discover our Online Color Consulting Package.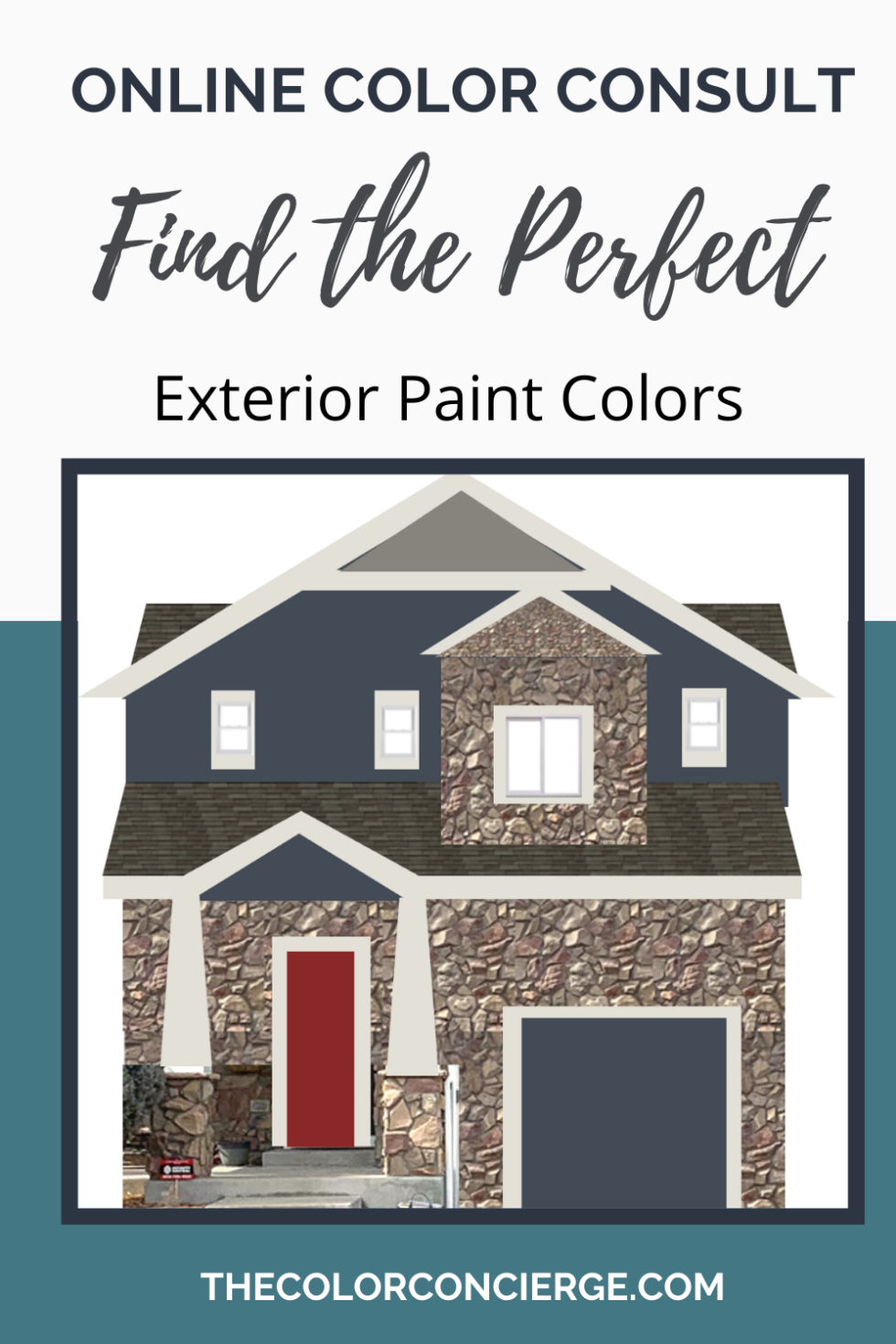 Related Posts
Best Exterior White Trim Colors
We love your comments! Please note that the blog is meant as general advice, and it is not possible to give out specific answers to your paint questions. If you want more specific advice, please consider purchasing a color consultation. Thank you for your understanding.