Trending exterior house colors are farmhouse white exteriors, moody black combinations, dark blue palettes and timeless gray.
If you are looking for exterior house paint ideas and color combinations for your house, keep in mind the following guidelines:
Colors look 5-10 times lighter outside than inside. The most frequent mistake that homeowners make is to pick a color that is too light.
Whites are especially tricky – pick warmer and darker whites than you would for interior color palettes so that they don't look stark when you take them outside.
For safety's sake try to keep your entries light and bright. We like to specify the lightest color in the palette as a front porch ceiling color.
Our Top Colors
Black House with White Trim
This year our clients request black exterior paint colors all the time.  They are especially beautiful when you have lots of greenery.  This mock-up shows dark and light gray paint colors with black shutters and white trim. Balance the garage door with the lighter black color.  Oyster White is a great "white" trim color.  It's warm enough to stand up to the darker colors.
When you specify white trim colors, make sure you don't go too white.  A beautiful interior white trim color such as Chantilly Lace can look stark and garish when you take it outside.
This is a great palette to use by itself or pair with stone or brick.  You can use this with white or black window frames.
Dark Green House with Black Trim
This is another palette that looks amazing with lots of green foliage or in a wooded lot.  It is harmonious with nature, and just looks epic.  It's dark and dramatic and beautiful.    I prefer this palette with a warm brown roof and black window frames, but it can also be nice with a gray or black roof.
This combination is best with black windows.  White windows can look too stark. The roof can be mid-gray, black or even brown.
Tricorn Black (SW 6258) – Fascia, soffits, trim, front door, garage door, gutters and downspouts
Laurel Woods (SW 7749) – Siding
White Farmhouse with Black Accents
This palette is one of our most frequently requested.  It's great because you can use black or white vinyl windows.  For more information about a farmhouse white color combination, link here.
Oyster White (SW 7637) – Fascia, soffits, gutters, siding, downspouts, garage trim, window trim, front door trim
Iron Ore (SW 7069) – Front door, shutters, optional garage
 White Cottage With Colorful Shutters
A white color combination like this is so lovely.  Note that the fascia, soffits and trim are all the same white color, as well as the garage.  This is a lovely color combination that will look as great today as 20 years from now.  An added plus is that since you don't need to tape off as many parts of the house, the labor costs are much lower than other color combinations.  You can use it with stone or red brick, and it works well with just about any front door color.
Oyster White is a darker white that is soft and crisp in the sunshine.  I'm always surprised at how Uncertain Gray looks light blue outside, but it never looks glow-ey.  Cyberspace is a beautiful dark almost-black paint color that flashes blue outside.  Use Cyberspace for the front door.  If your garage isn't a large part of your front façade, you can paint it Cyberspace.  I the garage door take a big part of the front view, then paint it Oyster White.
Oyster White (SW 7637) – Siding, fascia, trim, gutters, downspouts
Uncertain Gray (SW 6234) – Shutters or accent
Cyberspace (SW 7076) – Front door and optional garage door
Navy Blue House with White Trim
A dark blue house is one of the most timeless color palettes that we see, and very gorgeous.  You can use this with any color roof and black or gray shutters. I prefer a red front door, but you can also pair with just about any other color your heart desires. My neighbor across the street had a dark blue house, and I used to love looking at it from my front porch.  I think I enjoyed it more than they did.
We love using BM Classic Gray OC-23 as a white exterior trim color.  It looks like a soft clean color outside in the sunshine.
Hale Navy is my favorite dark blue for exterior houses.  It looks so dark inside but when you take it outside it has depth and lovely color.  Photos just can't capture the beauty. There is no Sherwin-Williams equivalent to this color, and it doesn't copy well. If you want Hale Navy just buy the Benjamin Moore version.
As long as you keep the window trim white, you can pair with white or black windows. For more information about blue exterior color combinations, link here.
Hale Navy (HC-154) – Siding and garage door
Classic Gray (OC-23) – Trim, front porch ceiling
BM Chelsea Gray (HC-168) – Accent color or shutters
Caliente (AF-290) – Front door
Gray and Blue with Burgundy Red Door
If you are looking for something classic and timeless with a primary and secondary color, this is a lovely combination.  Navy Blue is beautiful with grays and that burgundy red door is epic.  As long as you have white trim around the windows you can use this palette with white or black windows.  This looks good with black, gray or brown roofs.  Red brick and warm stone is also lovely.
Gray House with Black Shutters       
This is as classic and timeless as any exterior color combination out there.  It looks great on its own or with red brick or stone.  We prefer grays with green undertones such as SW Fawn Brindle, SW Attitude Gray, BM Kendall Charcoal or BM Chelsea Gray.
Black shutters are perfectly timeless.  You could paint the garage door black, but it could overpower the look if it is too large.  That rosy front door elevates the color palette with an unexpected pop of color.
Attitude Gray (SW 7060) – Siding, downspouts
Neutral Ground (SW 7568) – Fascia, soffits, gutters, columns, garage trim, window trim, door trim
Tricorn Black (SW 6258) – Shutters and optional garage door
Roycroft Rose (SW 0034) – Front door
The Verdict
This year we see beautiful palettes, with white farmhouse and black palettes taking the lead.  We still love classic and timeless palettes with grays and blues.
No matter what, don't forget to test your paint colors.  It's a standard best practice.  Whenever I test my paint colors, they are perfect, and when I don't test they turn out wrong. Learn how to test your paint colors here.
NEVER, EVER use paint matches from a different brand than the one you will use.  Results are poor and there are no standards for the sheens.  Even though your painter may truly believe it can be done, don't do it. That's why it's best to work with an exterior paint color consultant. See results from paint matching here.
Online Color Consulting
If you still need help with paint colors, check out our Online Color Consulting packages or an In-Person Color Consultation in the Denver Metro area.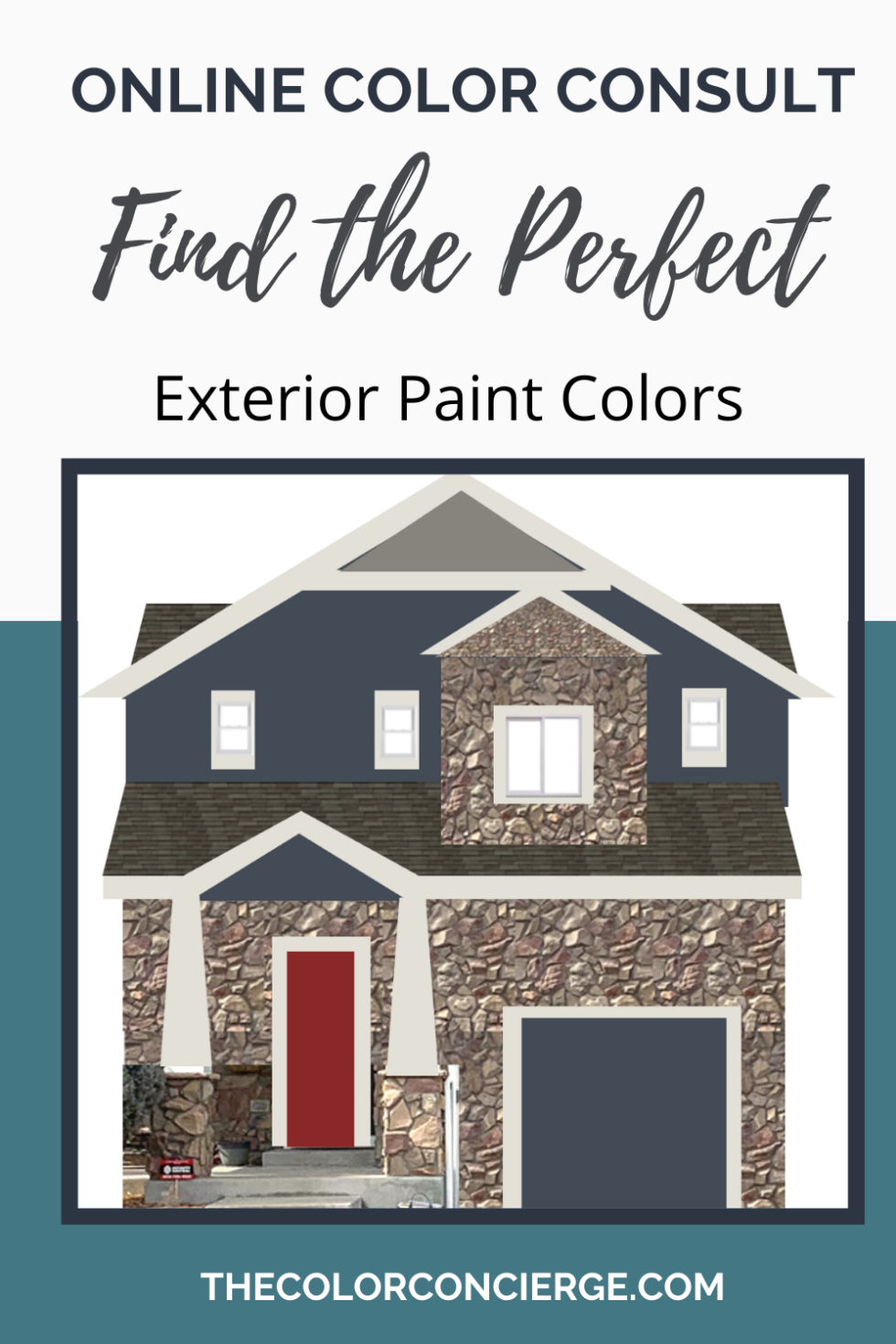 Don't Forget To PIN!
Related Posts:
6 Exterior Paint Color Combos (and how to pick them)
6 More Palettes for Red Brick Houses
The Best Exterior Paint Colors for Red Brick Homes (and what not to do)
We love your comments! Please note that the blog is meant as general advice, and it is not possible to give out specific answers to your paint questions.  If you want more specific advice, please consider purchasing a color consultation. Thank you for your understanding.