Learn all about Sherwin-Williams Grey Heron in this paint color review.
Sherwin-Williams Grey Heron is a new gray paint color on the market. But much like newcomer SW Mortar (which we wrote about recently), I predict Grey Heron is another color that will become one of the company's iconic grays.
Grey Heron is part of Sherwin-Williams' Emerald Designer Collection. These paints start with an Ultra-White base, darker than the rest of the Sherwin-Williams paint colors. As a result, the color is so clean and crisp that it looks much lighter than it is on the wall. It is light while still offering a good amount of depth, and it can work well in bright spaces and in spaces with lower light.
It looks especially beautiful in North-facing rooms with cooler light, and can even be used as a whole-house color!
In my experience, Sherwin-Williams' Emerald Designer paints take less paint per coat and provide better hide qualities than the standard paint. You still need two coats, but less paint per coat. This can help make up for the higher price tag. Many professional painters also receive significant discounts for this paint line. Don't necessarily eliminate this line due to price until you do your research.
Keep reading to learn more about Sherwin-Williams Grey Heron and discover whether this color is right for your next project.
*This post contains affiliate links for products I use and love. If you click on some links and make a purchase, I will get a small commission at no cost to you. This helps pay for the costs of the blog, so I can continue to offer great content to our readers.
What Color is Sherwin-Williams Grey Heron?
Sherwin-Willaims Grey Heron (sample) is a light greige paint color. It typically looks much lighter than it really is on the wall but has enough depth to hold up even in spaces with lower lighting.
What is the LRV of SW Grey Heron?
Grey Heron has an LRV of 65, so it is more light than dark. Light Reflective Value refers to the percentage of light a paint color reflects when it's on the wall. Pure black has an LRV of 0 while pure white has an LRV of 100.
What are the SW Grey Heron undertones?
Grey Heron has violet undertones. Much like other grey paint colors, its undertones are not always obvious. They become more clear in natural lighting and also when compared next to other grey colors with different undertones.
Consider the difference, for example, between Grey Heron (with violet undertones), SW Passive (with blue undertones), and SW Skyline Steel (with green undertones). When placed next to each other their differences are very clear. But in your home, the undertones might not be so obvious, depending on the lighting and other colors used in the space.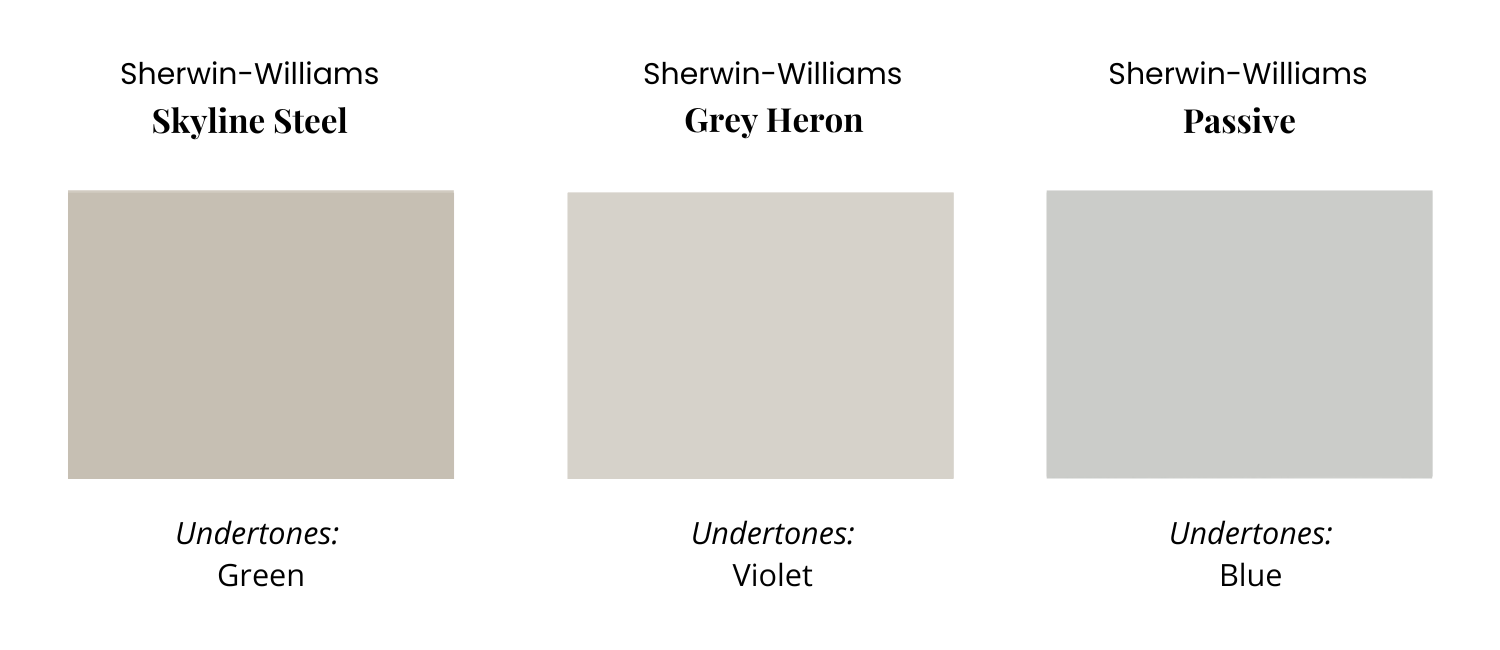 Is Grey Heron paint warm or cool?
Grey Heron is on the cool side compared to other violet-gray paint colors. It can look warm compared to a blue-grey or cool next to a green-grey. It's a great option for a North-facing room where you want a cool grey paint color but a blue-grey would look too blue on the wall. When you use Grey Heron in a room with low or North-facing light make sure that you contrast with a bright white trim and ceiling color like Pure White, White Snow, or Extra White. The contrast makes the color look cleaner.
This color looks great with warm wood and can help neutralize reflected green colors in your room if you have lots of foliage outside.
Is Grey Heron lighter than Agreeable Gray?
Yes, Sherwin-Williams Grey Heron is lighter than Agreeable Gray (color review). However, it often looks much lighter on the wall because it is so clean and crisp. It's also cooler than Agreeable Gray, which has warm green undertones.
When should I use Sherwin-Williams Grey Heron?
There are so many applications for SW Grey Heron in many spaces throughout the home, from kitchens and bathrooms to bedrooms and even open-concept living spaces.
Can I try SW Grey Heron kitchen cabinets?
Grey Heron paint would be a really lovely choice for kitchen walls or even kitchen cabinets. Its purple undertones pair well with many of the veins in quartz cabinets, which are typically violet-gray. But the color can also work well with some granite countertops and earthier finishes.
I love the idea of SW Grey Heron kitchen cabinets instead of a classic white kitchen. Grey Heron would still keep your kitchen looking fresh and clean, without the risk of it looking too stark. Make sure that you compare the color carefully with other hard finishes such as countertops, backsplash and tile, LVP, or wood flooring before you decide to make the change.
Is an SW Grey Heron bedroom a good idea?
Grey Heron would be a lovely and calming bedroom paint color. Its violet undertones can help a bedroom feel warm and cozy while still looking pretty neutral on the wall. I love recommending Benjamin Moore Collingwood (color review) and Balboa Mist (color review) paints for bedrooms, which are both gray paints with violet undertones. Grey Heron would work well in similar applications.
Is Grey Heron a good color for North-facing rooms?
SW Grey Heron is a wonderful color for North-facing rooms that get cool light. It adds just enough warmth to the room while still looking cool. And unlike a gray color with blue undertones, it won't flash blue on the walls.
In North-facing rooms with lower light, make sure to pair this color with a crisp white ceiling color like SW Extra White (color review) or SW Pure White (color review) to add contrast. In a client's home below, for example, Grey Heron still looks really lovely in their low-light front entryway. We used SW Pure White trim and ceiling paint throughout this home.
Can I use SW Grey Heron for exteriors?
For exteriors, you can get Grey Heron as a trim color, but not as a siding color. Sherwin-Williams hasn't released the Emerald Designer Collection colors for exterior siding yet.
Test very carefully before using Grey Heron for an exterior. It's one of those colors that can get washed out by the sunshine, and it may be too dark to be white and too light to be gray, if that makes sense. It can be nice as a cool white in a really sunny exposure, and look gray in the shade or if your home is up North, in Michigan, New York, or even Canada.
When you pick colors for exteriors, it's important to remember that direct sunlight makes colors look about 5x lighter than indoors. In places with high elevations like Colorado or lots of very bright sun like Florida, colors can even seem 10x brighter!
Project Spotlight: SW Grey Heron Whole-House Color Palette
I love the idea of a Grey Heron whole-house color palette! My clients recently built their home's palette with Grey Heron as the foundation and the transformation in their home is really beautiful.
Using the Palette Throughout the Home
This home originally had a beautiful wood ceiling (pictured below). But since it was damaged, we decided to paint it. We treated the wood ceiling like shiplap and painted it with SW Pure White in a semi-gloss sheen.
The updated white ceiling provided a soft and subtle contrast in colors with the new Grey Heron walls, which provided much more warmth and depth than the original creamy white walls. Grey Heron looks really beautiful with the warm wood floors in this home and even pairs well with the earthy tiles in front of the fireplace.
We continue SW Grey Heron throughout the lower level into the home's entryway and main stairway. We transformed the stairs by painting the handrails and posts with SW Iron Ore (color review) paint and the spindles and trim details with Pure White to match the ceilings.
We also painted the home's built-in bookshelves Pure White to add contrast with the Grey Heron walls and the dark glue-gray fireplace accent wall.
We added accents of darker muted blue slate paint colors throughout the space, which look really lovely with SW Grey Heron's soft greige color. The fireplace accent wall was painted with Sherwin-Williams Granite Peak (color review), a deep blue-gray paint color that really pops on the wall.
The interior front door was painted with a green-gray color. We used Sherwin-Williams Attitude Gray to add warmth and depth to the palette while also keeping the lower-light entryway light and fresh. Trim was painted with SW Pure White.
Which Colors Look Best with SW Grey Heron?
Does SW Grey Heron go with dark paint colors?
Grey Heron looks really lovely when paired with deep gray colors, as well as saturated blue, eggplant and green paint colors. In our client's whole-house color palette, we chose dark gray accent colors with blue and green undertones (Granite Peak and Attitude Gray). These grays looked more colorful than expected when contrasted with the neutral palette. The soft black paint color for the stair handrails (Iron Ore) features soft green undertones that look really lovely paired with Grey Heron walls.
Does Grey Heron go with white?
Grey Heron looks really beautiful paired with crisp white trim and ceiling paint, but it's important to choose white paint carefully. Look for crisp, clean whites or cooler white paint colors. Yellow paint colors or creamy yellowish whites can look dingy with Grey Heron.
Does Grey Heron go with warm accents?
Grey Heron looks really beautiful with warm finishes! The color has just enough warmth from its violet undertones to pair really well with natural wood floors and even earthy tones.
What are the Best Trim and Ceiling Colors For Grey Heron?
The best trim and ceiling colors for Grey Heron are clean white colors or bright off-whites, such as Sherwin-Williams Pure White (sample) and White Snow (sample).
SW Extra White (sample) (one of the most popular trim colors in the United States) looks great with Gray Heron. Just make sure to test your trim and ceiling colors with Grey Heron before painting your space.
I'd avoid warmer off-whites and creamy colors like SW Alabaster (color review) or SW Westhighland White (sample) because they won't offer enough contrast. Creamy colors with strong yellow undertones such as Shell White can also look dingy with Grey Heron's crisp clean tones.
What is the easiest way to sample SW Grey Heron?
You should always sample and test your paint colors. The easiest way to sample SW Grey Heron (and any paint color for that matter) is via SAMPLIZE. Their peel-and-stick paint samples are easy to use and true to color.
There is no mess, and the cost is less expensive than purchasing a sample and a white poster board. Since you don't need to dispose of the paint, it's also environmentally friendly!
With Samplize you can easily see how different shades look on your unique wall.
Get 10% off your Samplize order today by using the code "ColorConcierge10" at checkout. Order today and get samples tomorrow!
The Best SW Grey Heron Alternatives
SW Grey Heron vs SW Repose Gray
We love Repose Gray (color review) because it is so clean and crisp and has the perfect violet-gray elephant tones. But with an LRV of 58, it can be too dark for some spaces. In the past, it was hard to find an exactly lighter Sherwin version of Repose (sample) without going to Benjamin Moore Balboa Mist. Now, Grey Heron has all the qualities that Repose does, but lighter and just as pretty!
SW Grey Heron vs SW City Loft
Sherwin-Williams City Loft (sample) is lighter and warmer than Grey Heron. They both have violet undertones, but City Loft has an LRV of 70, so is lighter. City Loft is also part of the regular Sherwin-Williams collection, so it won't be as expensive as Grey Heron. 
SW Grey Heron vs SW Mortar
Sherwin-Williams Mortar (sample) is another color in the Emerald Designer Collection. While it is also a warm greige paint color, it looks significantly different on the wall. Mortar has an LRV of 74, so is lighter than Grey Heron, and has green undertones that make it warmer.
SW Grey Heron vs SW Agreeable Gray
Agreeable Gray (sample) is warmer and darker than Grey Heron, with an LRV of 60, and has green undertones that can sometimes flash violet. Agreeable Gray looks warmer on the wall and can go a bit fleshy in cool light.
SW Grey Heron vs BM Balboa Mist
Benjamin Moore Balboa Mist (sample) is probably the closest match for Grey Heron. It has an LRV of 67, so is just barely lighter. But they have the same violet undertones and perform very similarly on the wall.
SW Grey Heron vs BM Collingwood
Benjamin Moore Collingwood (sample) is another very similar color to Grey Heron. It's really a darker version of Balboa Mist, with an LRV of 62. It has very similar purple undertones, so adds the same kind of warmth to a room.
Key Learning Points
Sherwin-Williams Grey Heron is a versatile greige paint color perfect for many interior spaces and even whole-house color schemes.
Grey Heron has an LRV of 65, which makes it more light than dark. But it still offers plenty of depth and color to a room.
Greay Heron is a cool version of violet gray undertones.
SW Grey Heron has violet undertones that offer just enough warmth to help the paint look lovely in all kinds of light – even in rooms with low light. Grey Heron looks especially good in North-facing rooms with cool light.
Grey Heron pairs well with clean, crisp white paint colors on the trim and ceiling. Colors like SW Pure White and SW Extra White can work well. Avoid whites with strong yellow undertones, which can look dingy next to Grey Heron.
Remember: NEVER, EVER use paint matches from a different brand than the one specified. Results are poor and there are no standards for the sheens. Even though your painter may truly believe it can be done, don't do it. See results from paint matching here.
No matter what, always test your paint colors. It's a standard best practice.  Whenever I test my paint colors, they are perfect, and when I don't test they turn out wrong. Learn how to test your paint colors here.
Online Color Consulting
Still need help picking the best paint colors?  Discover our Online Color Consulting Package.
If you liked this post, don't forget to pin it!
We love your comments! Please note that the blog is meant as general advice, and it is not possible to give out specific answers to your paint questions. If you want more specific advice, please consider purchasing a color consultation. Thank you for your understanding.
Related Posts