Learn all about Benjamin Moore Collingwood OC-28 gray paint in this color review.
There's a reason Collingwood (also known as Collingwood 859) is one of Benjamin Moore's best-selling gray paints: it's a classic, versatile color that is perfect for bathrooms, bedrooms, and even the whole house.
When a client came to me for help choosing a color for a college apartment bedroom, I quickly settled on Collingwood. This student was lucky enough to get permission from her landlord to paint the walls but wasn't able to change the trim or ceiling paint.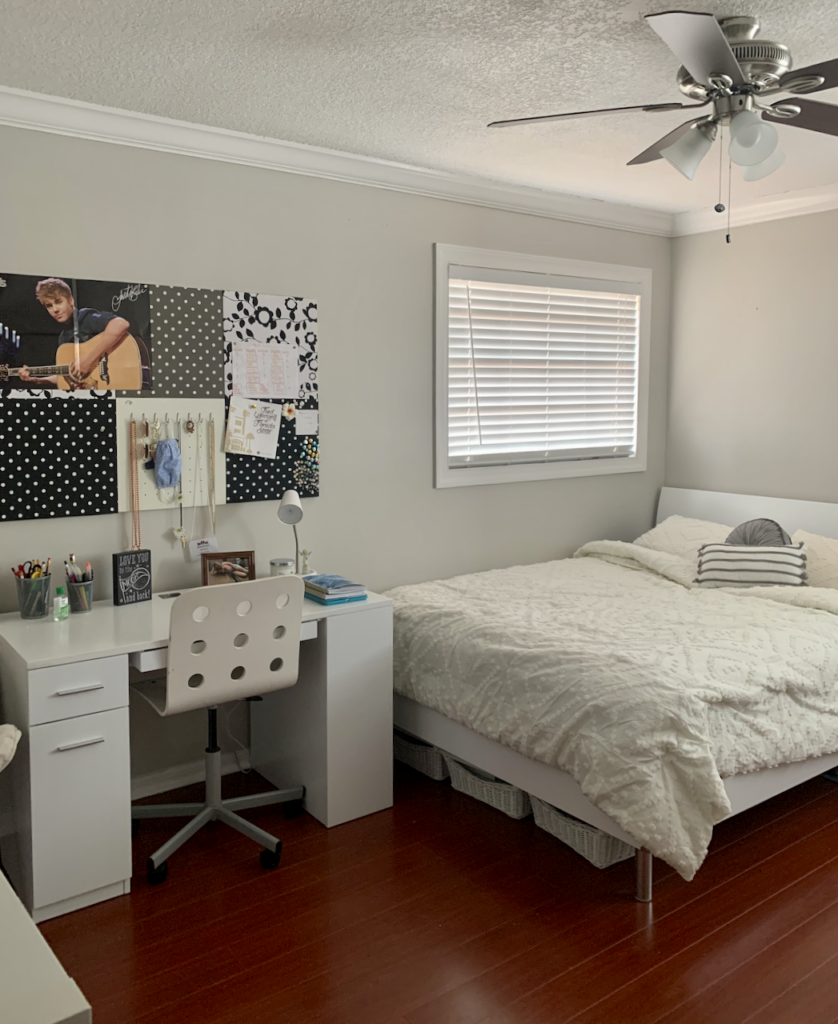 I knew Collingwood would not only pair well with her existing trim color and decor (she was a big Justin Bieber fan if you couldn't already tell!), but it would also be a classic, neutral hue that her landlord could keep even after she moved out.
Collingwood offered quite the transformation compared to the original bright blue and was a really lovely choice for this space.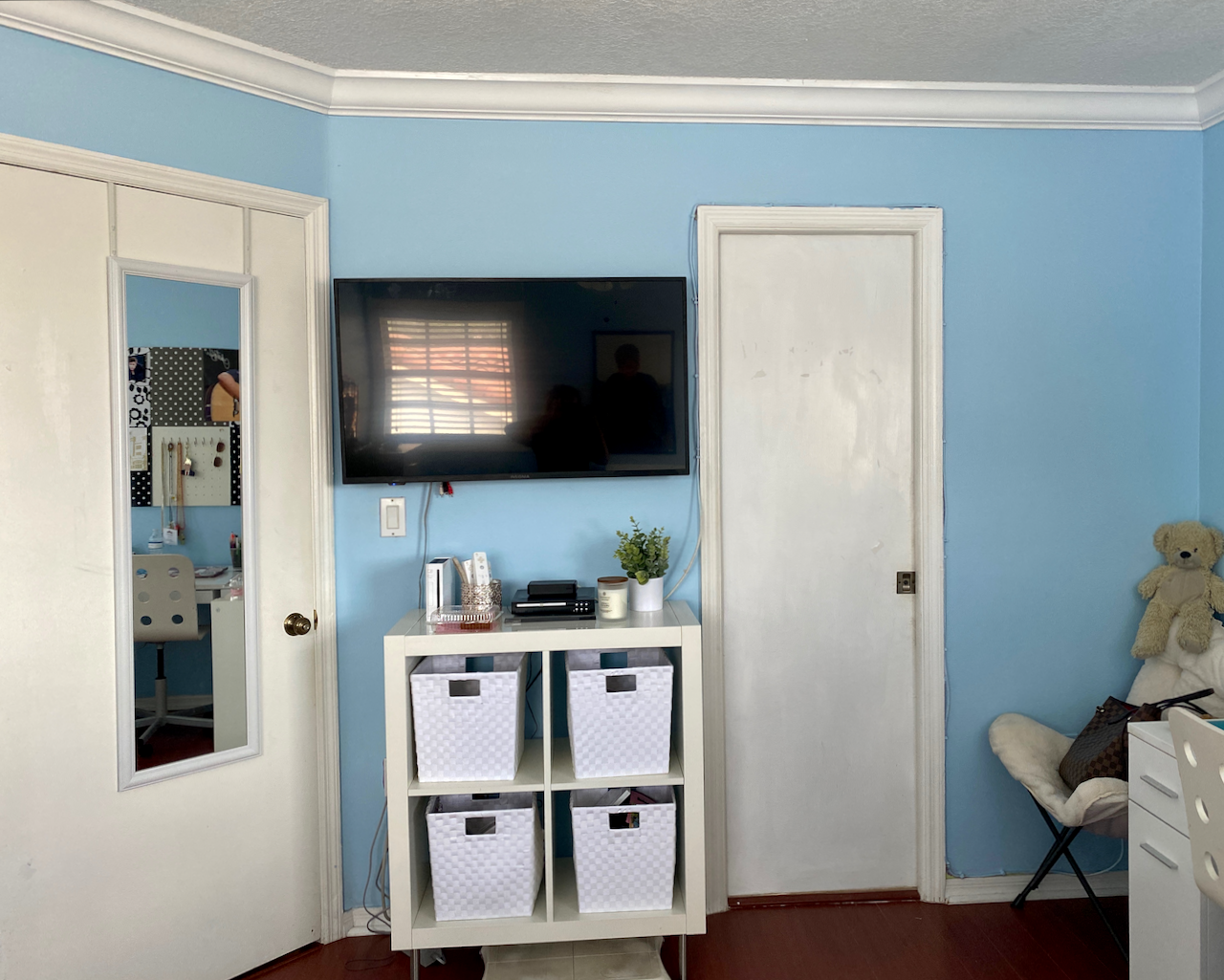 Considering Benjamin Moore Collingwood paint for your own home projects? Keep reading to learn more about this neutral paint color.
*This post contains affiliate links for products I use and love. If you click on some links and make a purchase, I will get a small commission at no cost to you. This helps pay for the costs of the blog so I can continue to offer great content to our readers.
What is the LRV of Collingwood gray?
The LRV (that's light reflective value) of Benjamin Moore Collingwood is 62, which makes it a pretty light color. It's muted, but still has enough pigment to really pop on the wall, especially against crisp, white trim.
Is BM Collingwood warm or cool?
I consider the Collingwood paint color to be warm, although it is pretty neutral. And while it's warmer than some more classic, cool gray paint colors, Collingwood is definitely not greige. It is very clearly gray, and it's dark enough that it works best in a room with a lot of light.
What undertones does Collingwood have?
BM Collingwood undertones are violet, and they're part of what makes this color really special. The undertones are subtle enough that you really don't have to worry about this paint looking purple on the wall.
In fact, unless Benjamin Moore Collingwood paint is paired with a green-gray paint color like Agreeable Gray, Revere Pewter or Edgecomb Gray, the undertones are almost invisible.
You can see in the graphic below how the undertones of this color are much clearer when Collingwood is placed next to green-gray and blue-gray paint colors.
Is Collingwood darker than Balboa Mist?
Yes, Collingwood is just slightly darker. Both Collingwood and Balboa Mist are part of the Benjamin Moore Off-Whites color family. But Collingwood is about one shade darker than Balboa Mist.
When should I use Benjamin Moore Collingwood paint?
There are so many applications for Collingwood gray paint. It's an easy-to-use color that works in just about any room of the house.
Can I use Collingwood as an interior trim color?
While Collingwood is definitely a light, neutral color, I normally wouldn't recommend using it as a trim or ceiling color. You could potentially wrap an entire room in Collingwood, using it on the walls, trim, and ceiling. But I'd rather see Collingwood paired with a crisp white trim paint to really make the gorgeous gray color pop. You can use it as a trim color or an accent ceiling color with a room painted off-white for contrast.
Can I paint Benjamin Moore Collingwood kitchen cabinets?
Collingwood cabinets would be really beautiful! If you want a light and bright kitchen color scheme without using traditional white kitchen cabinets, then Collingwood would be a lovely choice. You could also try using Collingwood on your lower cabinets for a soft tuxedo kitchen cabinet color palette.
Is Collingwood gray good for a north-facing room?
I love using Collingwood paint in a north-facing room. Because north-facing rooms don't get direct sunlight, they tend to have cooler lighting during the day. Collingwood paint is perfect for warming up a north-facing room.
But Collingwood looks glorious in south-facing rooms, too. Honestly, this color is very pretty in just about any lighting (as long as there is a good amount of light).
Is Benjamin Moore Collingwood paint a good bedroom color?
A Collingwood bedroom is really beautiful. In my client's bedroom, Collingwood completely transformed the space.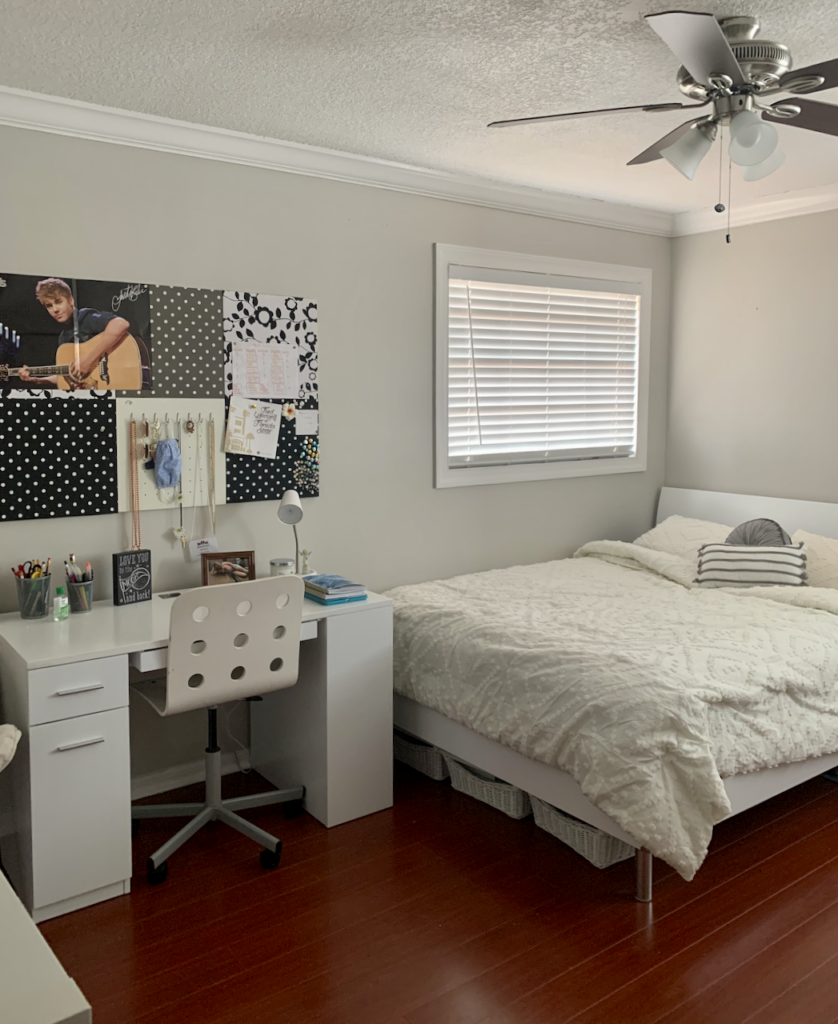 It brightened up the room while also making it feel much more calming and restful compared to the original bright blue. This was really important because it was the space this student used for online courses while sheltering in place back in 2020.
Collingwood paint created a timeless, grown-up space for the 20-something owner that worked really well with the purple accents in her decor.
Is Benjamin Moore Collingwood a good whole house color?
Collingwood is a wonderful whole house color! With an LRV of 62, this paint reflects a lot of light. This means it is light enough to work in a variety of spaces throughout the house without feeling overwhelming.
I love using Collingwood for an open-concept kitchen and living room space or as the foundation for a whole-house color scheme. It pairs really well with warm woods, so looks beautiful in a space with hardwood floors or luxury vinyl plank flooring, also known as LVP flooring.
When should I avoid Collingwood?
Collingwood is incredibly versatile, but there are a few instances in which I tend to avoid this Benjamin Moore gray paint.
Because of the violet undertones, I avoid pairing Collingwood with green-gray paint colors. It's not that Collingwood doesn't look good with green colors (I love pairing Collingwood with the bright, organic greens of house plants, for example).
The bigger problem is that the different undertones of Collingwood and green-gray colors like Revere Pewter or Agreeable Gray end up canceling each other out, sucking the life out of otherwise beautiful colors.
Which Colors Look Best with Collingwood Gray?
Because Collingwood is a neutral paint color, it works really well with many other paint colors. But it's especially beautiful when paired with some specific colors and design elements.
Does Collingwood go with natural wood?
Yes, Collingwood looks wonderful with wood floors, warm bamboo furniture, and other natural wood tones. In my client's apartment bedroom, Collingwood pairs really well with the almost reddish wood floors to completely transform this space.
Does Collingwood go with green paint?
While I don't like to pair Collingwood with green-gray paint colors, I absolutely love to use it with mid- to darker-tone green colors. The green really helps bring out the violet undertones and warmth of Collingwood. Colors like Benjamin Moore Caldwell Green, Peale Green and Blue Spruce would all look really pretty with Collingwood.
Does Collingwood go with blue paint?
Collingwood is really lovely paired with a deep blue color. Benjamin Moore's Van Deusen Blue, Kensington Blue, or Britannia Blue are all gorgeous dark blue colors that work really well with Collingwood gray.
I love the idea of using Benjamin Moore Collingwood gray paint as a main room color and incorporating a deep blue accent wall or even deep blue painted furniture.
Does Collingwood gray go with darker grays?
Absolutely! I love to pair Collingwood with the same color in darker shades. Benjamin Moore Willow Creek is a great example of this. You can see Willow Creek on the dining room walls in this client's home.
Willow Creek could be a nice accent wall color for a Collingwood-painted room, or it could simply be a darker color in a Collingwood-based whole home color palette.
What are the Best Trim and Ceiling Colors For Collingwood?
Because Collingwood is a fairly warm gray, I like to pair it with a crisp white or soft, off-white trim and ceiling color. A crisp, clean white like Benjamin Moore Chantilly Lace or Sherwin-Williams Pure White.
I don't recommend pairing Collingwood with a cream-colored trim and ceiling paint, but it can work with some off-white paint colors. In my client's bedroom, for example, we weren't able to paint the trim. But even though the color was a warmer white, Collingwood looks really lovely with it.
Benjamin Moore Simply White or White Dove paint are good examples of warmer white trim colors that would work well with Collingwood gray.
What is the easiest way to sample Benjamin Moore Collingwood paint?
You should always sample and test your paint colors in any space you're planning on using it.
The easiest way to sample Collingwood gray (and any paint color for that matter) is via SAMPLIZE. Their peel-and-stick paint samples are easy to use and true to color. With Samplize you can easily see how different shades look on your unique wall.
Benjamin Moore Collingwood Gray Alternatives
Collingwood vs. Agreeable Gray
Collingwood and Agreeable Gray have a similar LRV and are fairly similar shades. But the two colors have very different undertones. Agreeable Gray has green undertones and is a warmer gray than Collingwood as a result.
Collingwood vs. Balboa Mist
Balboa Mist is another similar gray paint color, but it is lighter than Collingwood gray. Collingwood and Balboa Mist are actually in the same color family, but Balboa Mist is about one shade lighter.
Collingwood vs. Revere Pewter
Collingwood and Revere Pewter look pretty similar – until you've placed them right next to each other! Revere Pewter has strong green undertones that make this color warmer than Collingwood.
As a reminder, many gray paint colors have undertones that are very subtle unless they are directly compared to other grays, as illustrated in the graphic below.
Collingwood vs. Pale Oak
Benjamin Moore Pale Oak (color review) is a close Collingwood alternative. Pale Oak is a bit closer to a greige and has taupe undertones, which are similar to violet gray. Pale Oak is slightly lighter than Collingwood and just as versatile.
Collingwood vs. Edgecomb Gray
Edgecomb Gray (color review) is another green-gray color that looks very different from Collingwood thanks to its undertones, despite having a similar LRV. Collingwood is slightly darker and cooler.
What Is The Benjamin Moore Collingwood Sherwin-William Equivalent?
One of the best Sherwin-Williams equivalents for Collingwood is SW Repose Gray. Repose Gray has violet undertones just like Collingwood. Repose Gray (color review) is a bit warmer than Collingwood and looks closer to a taupe than a true gray, but they both work well in a wide variety of spaces.
Key Learning Points
Collingwood paint is a timeless, classic gray that brings a touch of warmth to any space it's used in. It can work just as well in a cozy bedroom as it does in an open-concept living room or kitchen.
Collingwood is a warm color with violet undertones and an LRV of 62
It looks especially beautiful in a space with a lot of natural light
Collingwood pairs well with natural wood floors and organic, green plants
It also looks beautiful paired with deep greens and deep blue paint colors
No matter how you plan to use Benjamin Moore Collingwood paint, don't forget to test your paint colors. Check out the SAMPLIZE website HERE. 
And NEVER, EVER use paint matches from a different brand than the one specified. The results are poor. Even though your painter may truly believe it can be done, don't do it. See results from paint matching Here.
Online Color Consulting
Still need help picking the best paint colors? Discover our Online Color Consulting Package.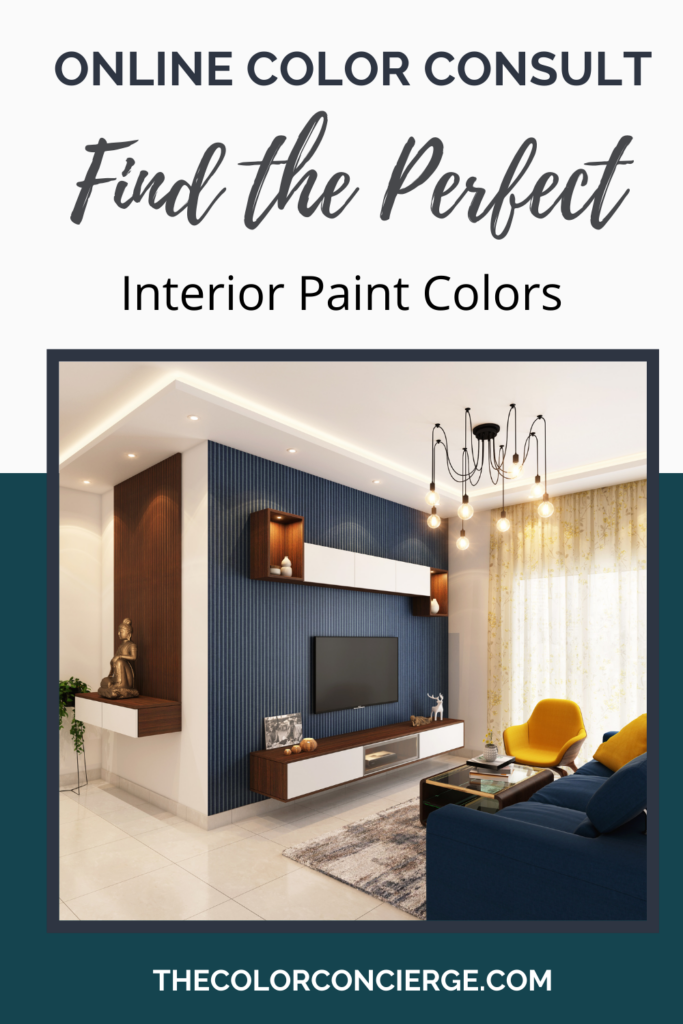 If you liked this post, don't forget to pin!
Related Posts
Benjamin Moore Stonington Gray Color Review
Benjamin Moore Edgecomb Gray Color Review
Sherwin-Williams Agreeable Gray Color Review