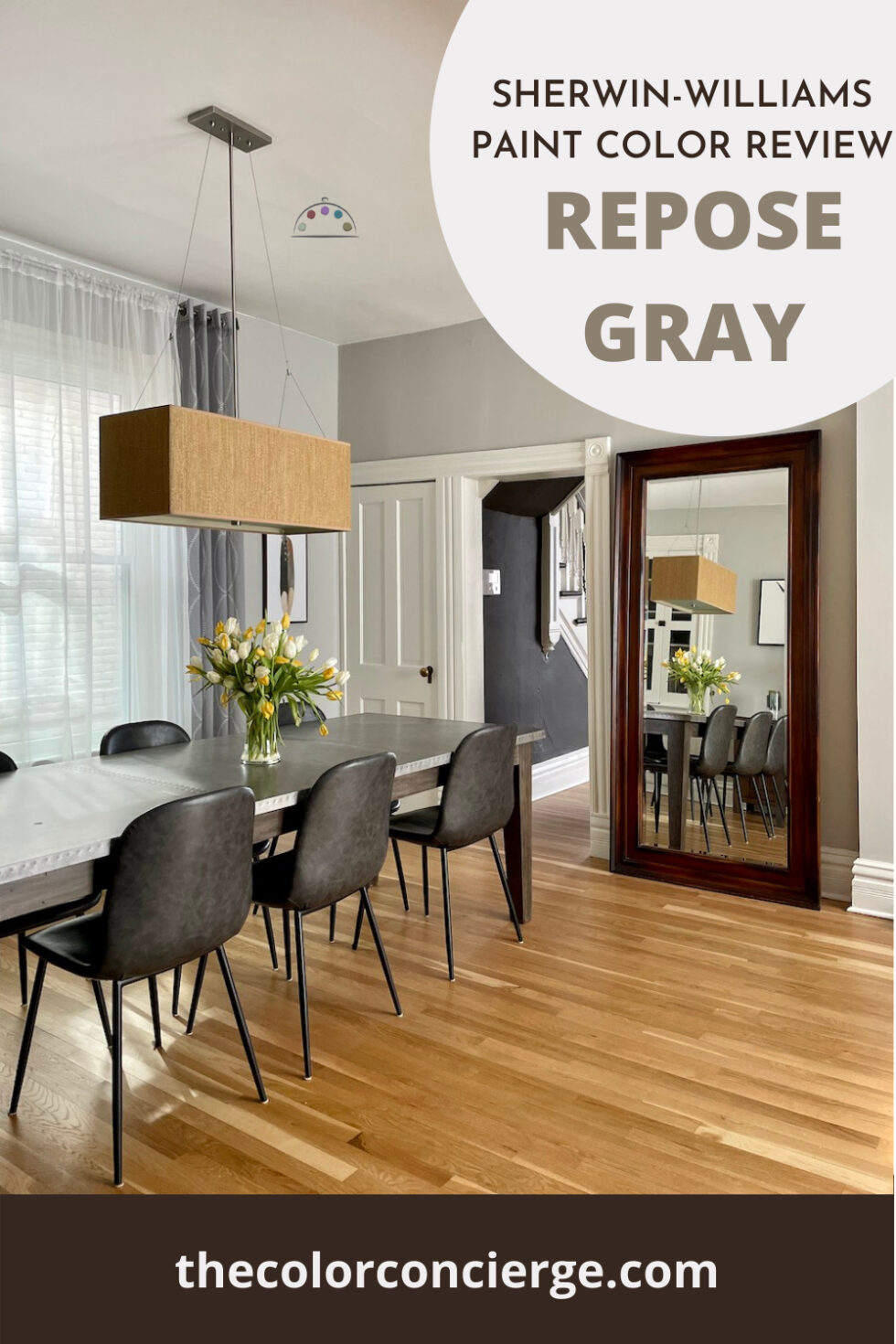 Learn all about Sherwin Williams Repose Gray, a greige paint color in this color review (Sample Here) .  Although this greige color can show warmth with brighter light conditions, it is usually on the cooler side.  Repose Gray has violet undertones.  Grays with violet undertones are the color homeowners most often think of as "gray".  Repose is a versatile neutral that looks best in a light-filled room.   Violet grays are the ones that look like the color of elephants.
For this project, we used SW Westhighland White (Sample Here) as the foundation white for ceilings, trim and doors that were painted white.  Westhighland White is a dark off-white, or even a very light creamy white. We picked this white because there were several cases where we had warm wood in the house and a brighter color would have looked harsh.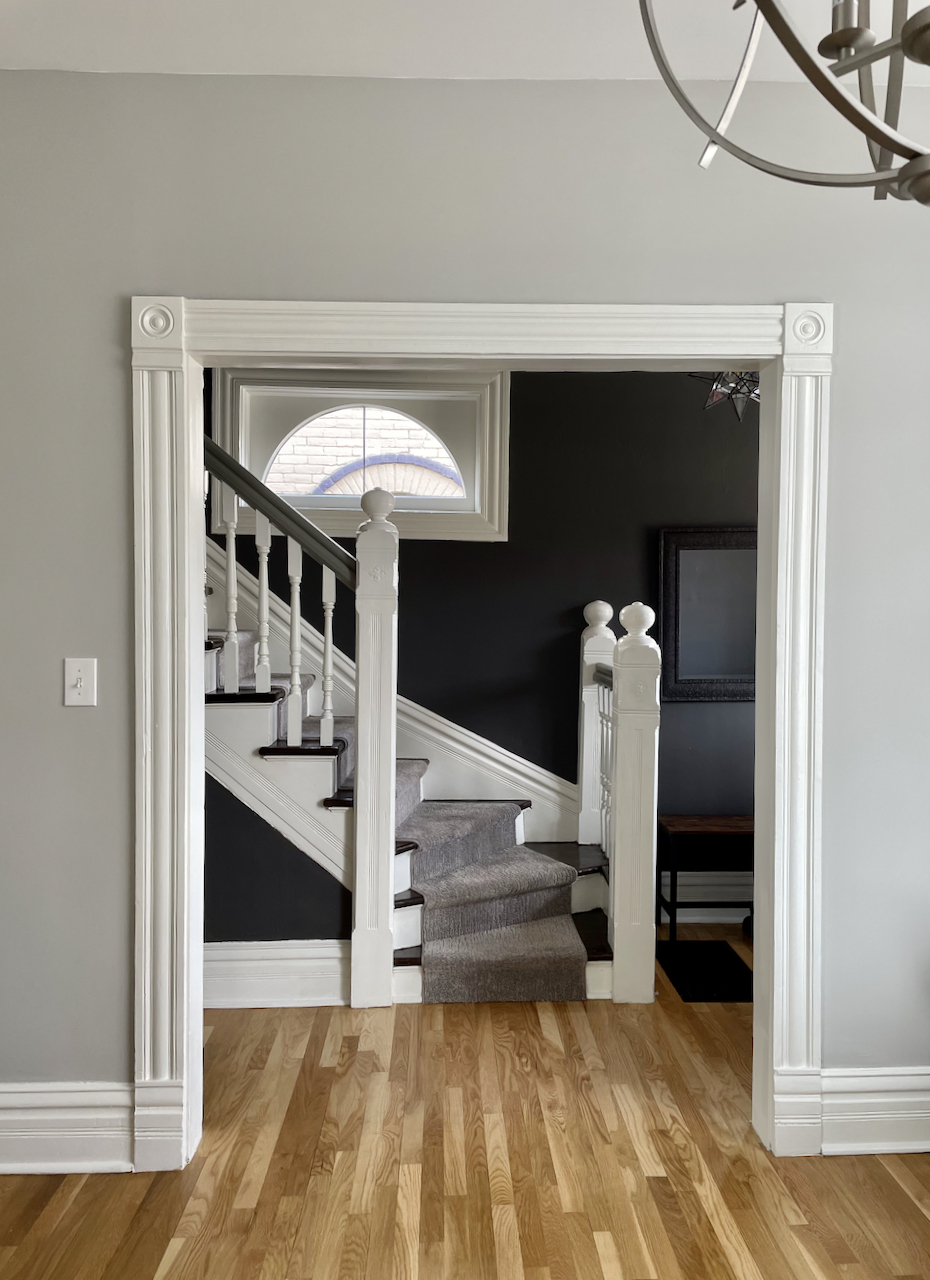 In darker rooms or rooms with low light, it looks cooler, and I prefer to contrast with clean white ceilings and trim.
Both white trim and warm wood tones look beautiful with Repose Gray, and they bring life to each other.  The examples from this project will show how they both look with Repose Gray. As with other violet grays, if you have lots of green foliage outside, its warmth will neutralize the greenery colors so that they don't reflect onto your walls.
The photos in this post are from one of our favorite Color Concierge Projects with another historic home in Denver. None of the photos are color edited, and we don't use any filters in the photos so that you can see what the color looks like in a room.
I love this project as a case study because it has rooms with North, South, East and West facing exposures as well as examples with white trim and warm wood accents.
Is Repose Gray still a popular Color in 2022?
Although whites and lighter greige colors are very popular right now, the quick answer is YES!  This color is an iconic Sherwin-Williams greige paint color.   White wall colors are very popular right now, but they can be cold and difficult to decorate with, so homeowners are going back to warmer neutrals. Not everyone wants a house with white walls.  For those who want a color that shows contrast with trim and ceiling, Repose Gray could be a contender for your home.  The key is to make sure this color pairs well with your countertops, floors, carpets and decor.

This bathroom is adjacent to the bedroom and shows a gorgeous combination of painted trim and warm wood ceilings.  Most of the upstairs had wood trim, but in some places we had to paint it because of its condition.  this room shows a really nice balance.
We always recommend that you test paint colors in your house because lighting can change a color completely. 
In the old days, this meant we painted a large poster board with sample pots and a huge mess.
Now we have SAMPLIZE, 9X14″ Pre-Painted peel-and-stick paint samples.  Check out the SAMPLIZE website HERE.
Can I use Repose Gray for Cabinets?
You can absolutely use this color for cabinets, but I don't have an example from our work.  It is especially beautiful with quartz that has matching undertones.  Compare your samples carefully with counter and backsplash colors.
Can I use Repose Gray for Exteriors?
Repose Gray is a FANTASTIC color for "white" trim for exteriors.   It also makes a great whole-house white paint color, especially in a heavily wooded lot.  The warmth in this greige color will neutralize the green tones from the foliage.  Remember that colors look much lighter outside in the sunshine, and this color will look like a soft white without harshness.
Comparisons With Other Greige Colors
Agreeable Gray vs. Repose Gray
Repose Gray is darker and cleaner than Agreeable Gray (Sample Here).   Agreeable Gray is warmer with a green undertone.  Usually if one of these colors looks great in a room the other will look bad.  Learn more about Agreeable Gray in our Paint Color Review here.
Gray Heron vs. Repose Gray
Between these two, Gray Heron is my favorite and part of the Sherwin-Williams Emerald Designer Edition Collection.  Paint colors in the Emerald Designer Collection start with a white base vs a gray base like the rest of the Sherwin-Williams paint colors.  They both have violet undertones, but Gray Heron is a cleaner, lighter, and crisper version.  Repose is murkier. Sadly, it comes with a higher price tag.
City Loft vs. Repose Gray
If you love Repose Gray but want a lighter version, then pick City Loft (Sample Here)  Both colors have violet undertones and accomplish similar color tasks.  I would say that City Loft is the more modern version.
Revere Pewter vs. Repose Gray
These are two iconic colors, with similar functions.  Revere Pewter (Sample Here) has green undertones, whereas Repose Gray has violet ones.  If one looks great in a room, the other one won't.  They are both crisp and clean but Repose is slightly darker.
Collingwood vs. Repose Gray
If you are looking for the Benjamin Moore version of Repose, then Collingwood (Sample Here) is your color.  It is slightly lighter and cleaner but most people won't notice it in a room.  If Repose looks great, then so will Collingwood.
Which Benjamin Moore Colors are like Sherwin-Williams Repose Gray?
As mentioned above, the very closest is Benjamin Moore Collingwood, though it is slightly lighter.  We never recommend paint matching, especially with light neutrals or white paint colors.  They can shift to green which wouldn't be noticeable until you painted your walls.   Collingwood will give you the same look and feel as Repose Gray, even though they are not identical.
Learn more about matching paint colors here.
Key Learning Points
Sherwin Williams Repose Gray is a gorgeous greige with violet undertones that looks fantastic with bright whites or wood tones.  I would consider this color generally cool.  It is most commonly used as an interior wall color, and sometimes as an exterior "white" trim color.  As you can see in the photo below, the gray looks cooler in the shadow.
No matter what, don't forget to test your paint colors. Check out the SAMPLIZE website HERE.
NEVER, EVER use paint matches from a different brand than the one specified.  Results are poor and there are no standards for the sheens.  Even though your painter may truly believe it can be done, don't do it. See results from paint matching Here.
Online Color Consulting
Still looking for the best white paint color?  Discover our Online Color Consulting Package.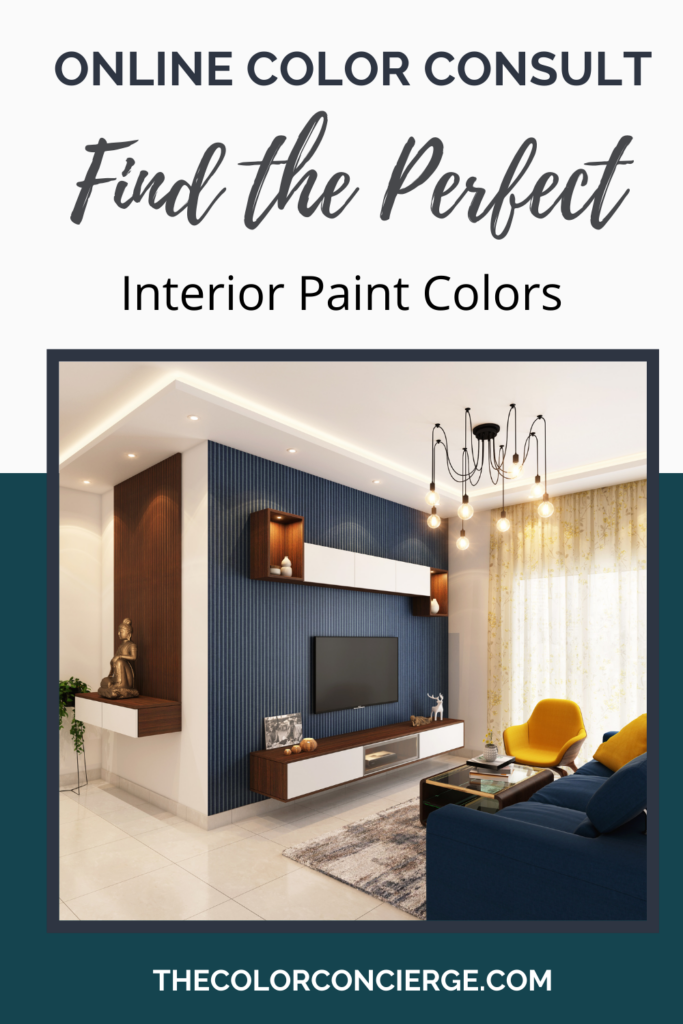 If you liked this post, don't forget to pin!
Related Posts
We love your comments! Please note that the blog is meant as general advice, and it is not possible to give out specific answers to your paint questions.  If you want more specific advice, please consider purchasing a color consultation. Thank you for your understanding.