Learn all about Benjamin Moore Revere Pewter (HC-172) in this paint color review.
Revere Pewter is one of those colors that has been iconic for many years. It's very similar to Sherwin-Williams' popular Agreeable Gray. But frankly, it's even better! It's more crisp and cleaner, even though it's darker than Agreeable Gray.
This paint color works best in a room with lots of natural or artificial light. It can look a bit gloomy in cool light, much like many of the darker greige colors.
Learn more about Revere Pewter paint and discover if this classic color is right for your home in the rest of our color guide. All photos in this post are from a real online color consulting client project.
*This post contains affiliate links for products I use and love. If you click on some links and make a purchase, I will get a small commission at no cost to you. This helps pay for the costs of the blog, so I can continue to offer great content to our readers.
What is the LRV of Benjamin Moore Revere Pewter?
The LRV of BM Revere Pewter is 55, which makes it a medium gray. Since it's over 50, its still considered reflective. It's light enough to use in just about every room of the house, but also has plenty of pigment. As a warm greige, it won't look washed out in bright sunlight – and actually looks best in rooms with lots of light.
What undertones does Revere Pewter have?
Revere Pewter has strong green undertones. It doesn't have the fleshy tones that you sometimes see with Agreeable Gray, which has green undertones with flashes of violet.
Like many gray paint colors, the undertones of Revere Pewter aren't always obvious until it is placed next to a gray with different undertones.
You can see in the graphic below how Revere Pewter (green undertones) compares to Stonington Gray (blue undertones) and Collingwood (violet undertones).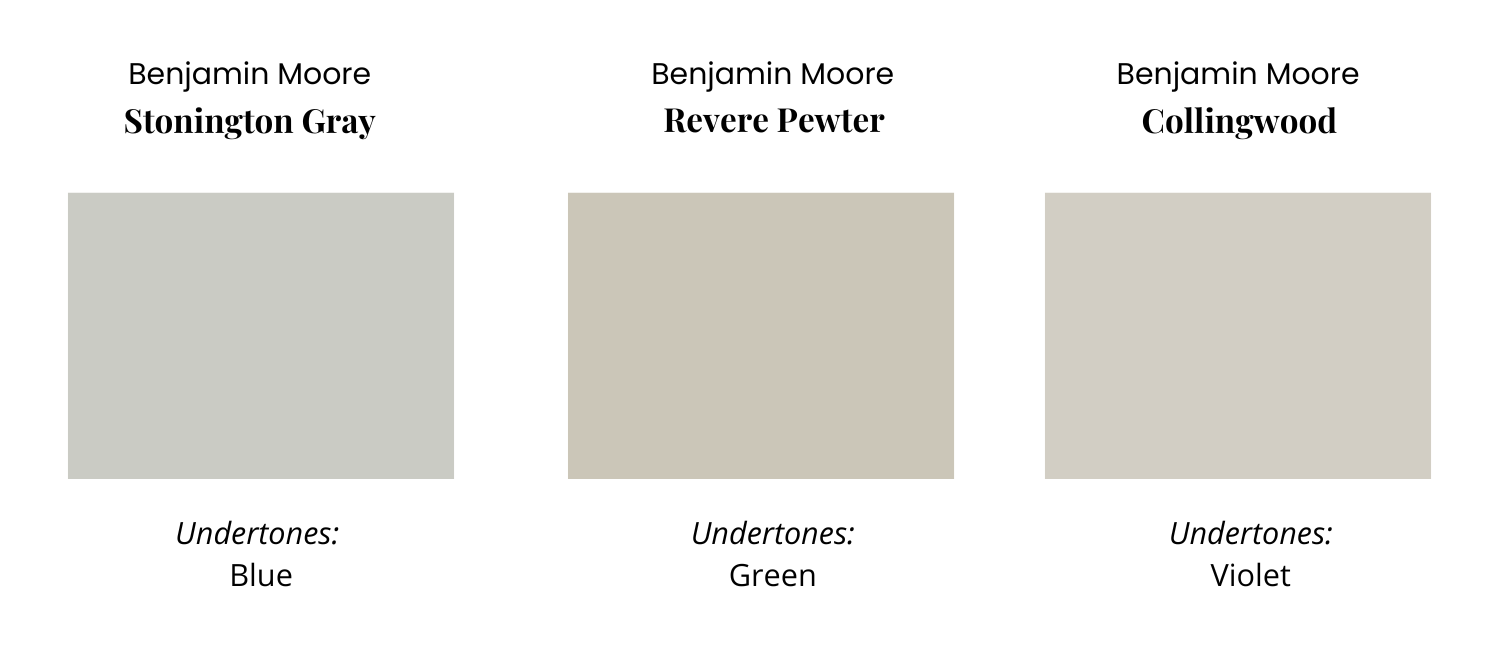 Is Revere Pewter warm or cool?
Revere Pewter is a warm greige paint color, thanks to its green undertones. It looks best in rooms with warm light and pairs well with clean white or off-white trim paint.
When should I use Benjamin Moore Revere Pewter?
Revere Pewter is a classic, versatile gray paint color that can be used in just about every room of the house, from living rooms and kitchens to bedrooms and bathrooms. Explore the best ways to use Revere Pewter in your home.
Can I use Revere Pewter as an interior trim color?
You could use Revere Pewter as an interior trim color and wrap a whole room in this warm gray color. But Revere Pewter certainly looks best when it's used with contrasting white trim.
Can I try Revere Pewter kitchen cabinets?
Revere Pewter cabinets are gorgeous! This is a great option if you want a light and bright kitchen but don't want to go with a traditional white cabinet. Revere Pewter would also look lovely as the lower cabinet color in a tuxedo kitchen design.
In this color consulting client's kitchen, Revere Pewter paint keeps the space looking fresh and updated while also adding warmth and keeping the cabinets from looking too stark against the earthy finishes.
The color pairs well with this home's classic kitchen design elements, tying together the more modern white tile backsplash with its warm granite countertops and tile floors.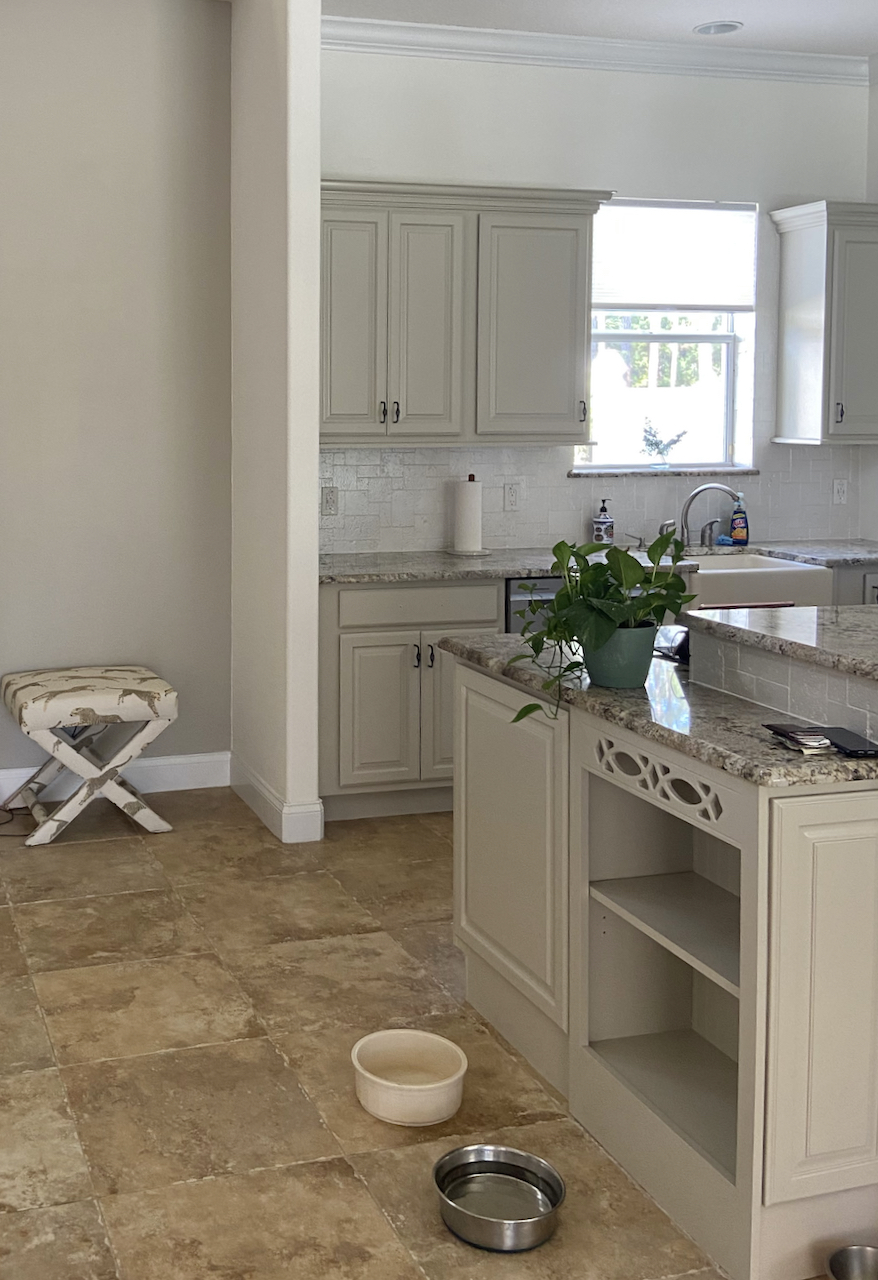 Is a Benjamin Moore Revere Pewter living room a good idea?
Yes, Revere Pewter is a fantastic living room paint color! For this client's living room, they wanted a color that would complement their beautiful stone fireplace. BM Revere Pewter totally fits the bill.
It pairs beautifully with the warm stone and natural wood floors throughout this space. It's light enough that the room feels bright and airy, but still has a good amount of color on the walls.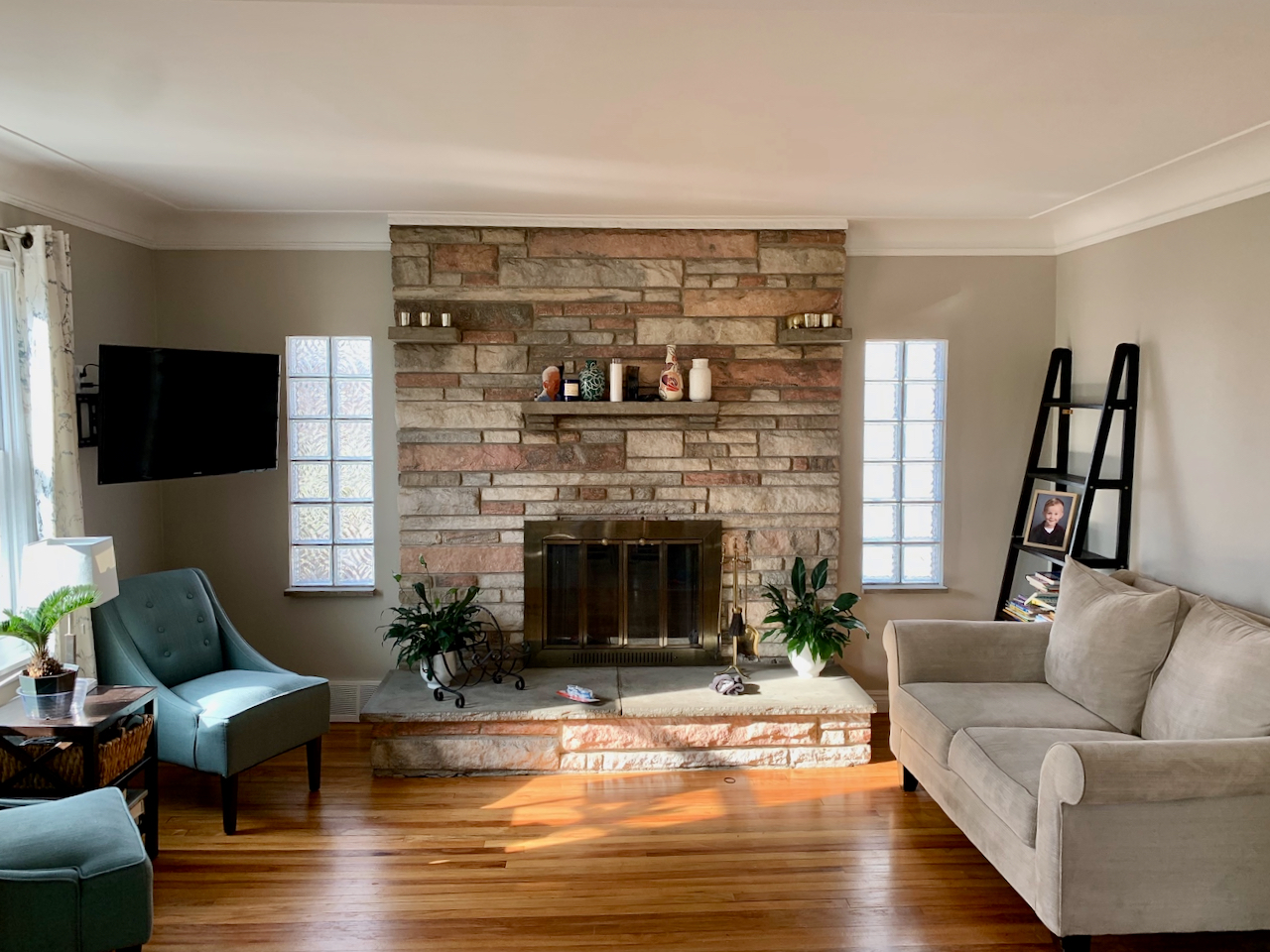 Is BM Revere Pewter a good whole house color?
Revere Pewter could absolutely work as the foundation for a whole house color palette. This light warm greige can be a foundation wall color throughout a home or just one room.
In this client's home, we use Revere Pewter walls in the room next to the kitchen with Revere Pewter cabinets to tie the two spaces together. In an open-concept home like this one, it's a fantastic neutral color that can be used throughout the living spaces.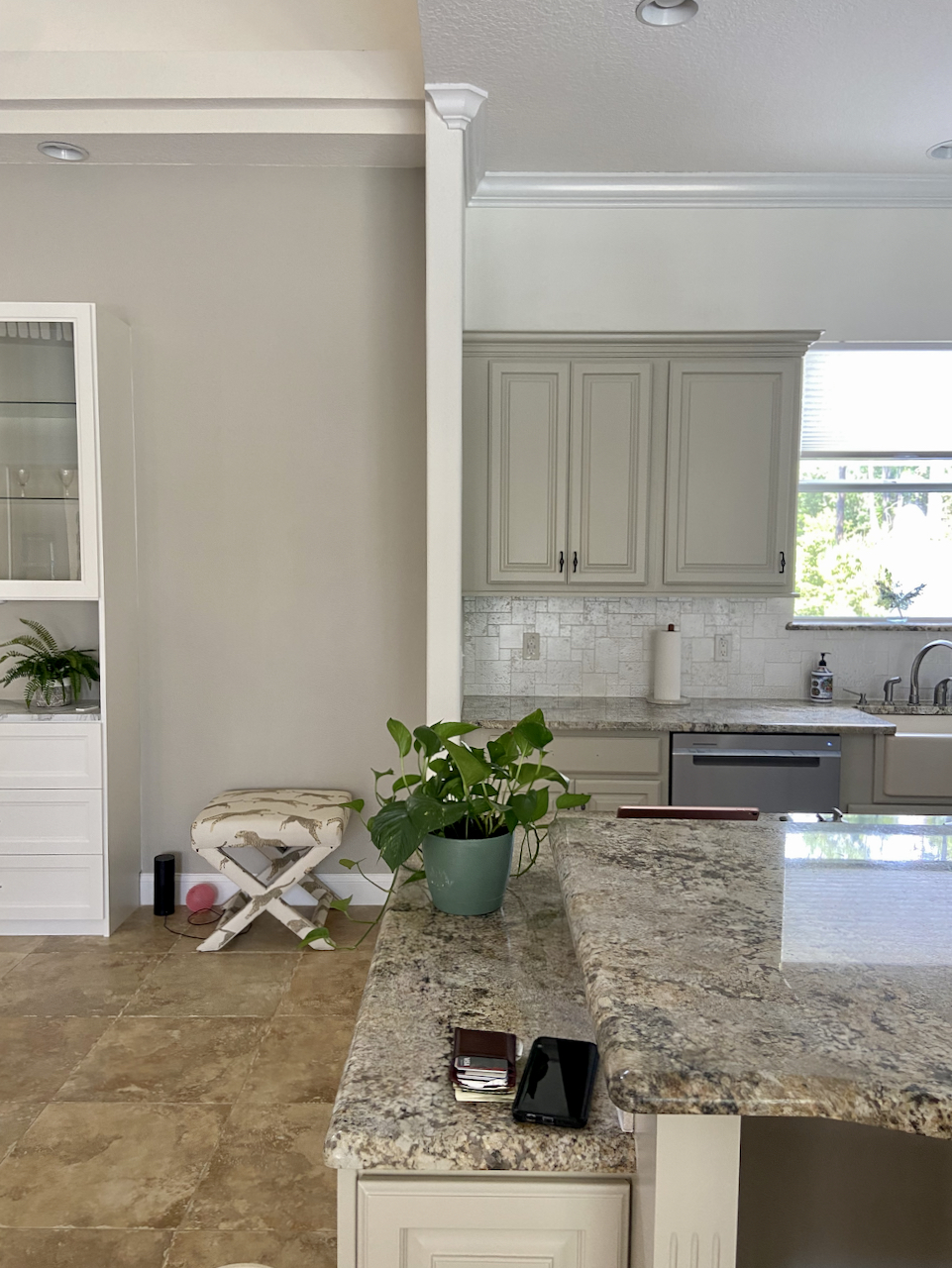 Can I use Revere Pewter for Exteriors?
Yes, you can! Revere Pewter would be a lovely whole-hour exterior color for a homeowner who wants a light exterior but doesn't want to risk using a white exterior paint color that might look too stark under direct sunlight.
But keep in mind – if your home has a lot of green foliage around it, they could bring out the green undertones of Revere Pewter and make your home look greener than you intended.
When should I avoid Benjamin Moore Revere Pewter?
Avoid BM Revere Pewter in rooms with very cool light or a lack of light overall. This color is just dark enough that it may appear a bit gloomy in these kinds of spaces. It really needs a lot of light (natural or artificial) to show its full potential on the wall.
Avoid Revere Pewter in the same room with grays that have violet undertones such as Collingwood, Repose Gray, and Balboa Mist. They can be in adjacent rooms.
What Are the Best Revere Pewter Coordinating Colors?
Revere Pewter is a lovely neutral paint color that pairs well with many other colors and finishes. It looks fabulous with beige colors that have green undertones, like Manchester Tan.
Does Revere Pewter go with blue?
Revere Pewter looks amazing with dark blues and teals like the chairs in the photo below thanks to its warm, green undertones.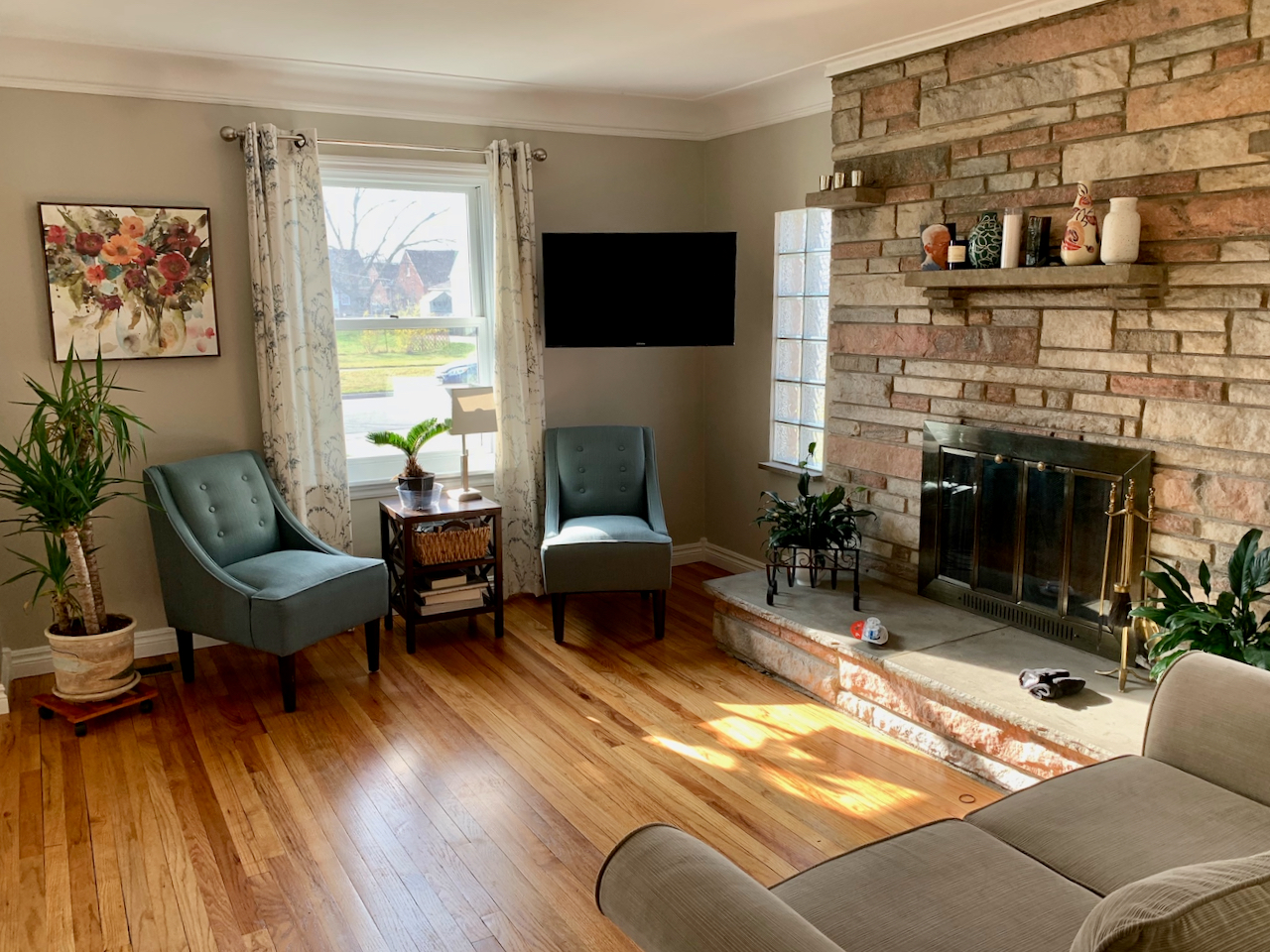 We especially love Revere Pewter with very deep blues like BM Polo Blue, an almost-black navy blue with hints of warm teal. It also looks lovely with mid-tone teals like BM Mount Saint Anne, which is a gorgeous muted blue color.
Does Revere Pewter go with white?
Yes, Revere Pewter can pair well with many white paint colors. It works best with clean white paints that are not too cool and not too warm. Benjamin Moore White Dove is our top pick for a white paint color to pair with Revere Pewter.
Does Revere Pewter go with earthy finishes?
Yes, Revere Pewter works really well with some granites and other earthy finishes, as seen in our client's kitchen and living room featured above.
While many gray paint colors are too cool to pair with earthy finishes, Revere Pewter's warm green undertones coordinate well with the warmth of these finishes. This color also looks lovely with natural wood floors and other wood accents.
What are the Best Trim and Ceiling Colors For BM Revere Pewter?
Use Revere Pewter with clean white and off-white trim and ceiling colors such as Chantilly Lace, Simply White, Cloud White and White Dove. You can go as warm as Swiss Coffee trim paint, but it wouldn't be my first choice.
Revere Pewter Color Comparisons
Not sure if Revere Pewter paint color is right for your next project? See how it compares to other similar colors.
Revere Pewter vs Agreeable Gray
Sherwin-Williams Agreeable Gray is very similar to Revere Pewter, but does look different on the wall. It is lighter than Revere Pewter, with an LRV of 60. And while both colors have green undertones, Agreeable Gray can flash violet and appear fleshier than Revere Pewter.
Revere Pewter vs Skyline Steel
Sherwin-Williams Skyline Steel is another warm gray paint with green undertones. It is darker and warmer than Revere Pewter, with an LRV of 52. Much like Agreeable Gray, it looks fleshier than Revere Pewter.
Revere Pewter vs Repose Gray
With an LRV of 58, Repose Gray is just slightly lighter than Revere Pewter. It has violet undertones, which make it look cooler than Revere Pewter.
Revere Pewter vs Accessible Beige
Accessible Beige is just a bit lighter than Revere Pewter, with an LRV of 58. It has similar green undertones, but is warmer than Revere Pewter and looks much more beige than gray.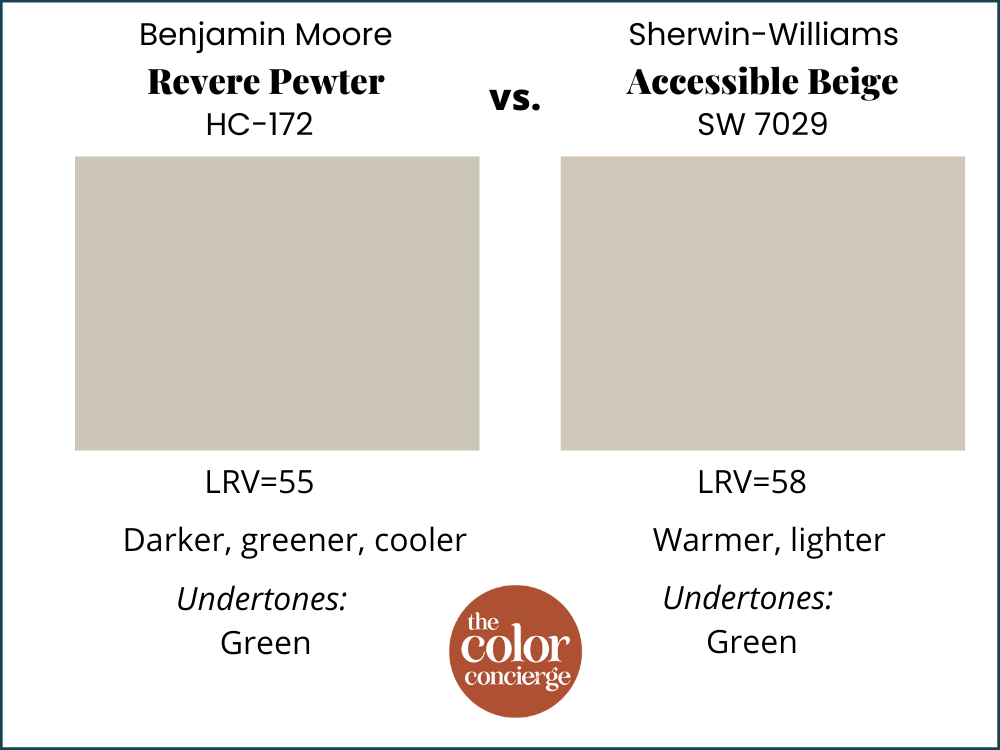 Revere Pewter vs Edgecomb Gray
Edgecomb Gray has an LRV of 63, and is a good bit lighter than Revere Pewter. It is substantially lighter and warmer than Revere. When you compare them, Edgecomb looks beige, but it's not.  Both grays have green undertones.
What is the best way to test Revere Pewter?
As always, don't forget to test your paint colors! The easiest way to sample any paint color is via SAMPLIZE. Their peel-and-stick paint samples are easy to use and true to color. With Samplize you can easily see how different shades look on your unique wall.
If you'd like to test the colors that we mentioned in this post, link below for the Samplize samples:
Key Learning Points
Benjamin Moore Revere Pewter is a warm, neutral paint color that can work in just about any room of the house. It's a great option if you're looking for a foundation color for a whole-house color scheme.
Revere Pewter is a warm, gray paint color with green undertones. It looks best in spaces with lots of warm natural or artificial light and can look gloomy in cool or low-light situations.
Revere Pewter is a beautiful kitchen paint color for either walls or kitchen cabinets. It pairs just as well with clean white subway tile as it does with earthy granite countertops.
This warm, gray paint is also a great option for living rooms and open-concept spaces. It can work well as a foundational wall color throughout an entire home.
Online Color Consulting
Still need help picking the best paint colors? Discover our Online Color Consulting Package.
If you liked this post, don't forget to pin it!
We love your comments! Please note that the blog is meant as general advice, and it is not possible to give out specific answers to your paint questions. If you want more specific advice, please consider purchasing a color consultation. Thank you for your understanding.
Related Posts
Benjamin Moore Edgecomb Gray Color Review
Benjamin Moore Stonington Gray Color Review
Benjamin Moore Classic Gray Color Review