Learn all about Benjamin Moore Manchester Tan (HC-81) in this paint color review.
Manchester Tan by Benjamin Moore is a lovely warm beige paint color that's versatile enough to work in many spaces throughout a home. It is also known as Berber White (955).
While it looks beautiful in spaces flooded with lots of light, it still works in darker rooms – even the basement! Manchester Tan is a timeless color, and pairs well with most warm finishes and decor. It is a beautiful neutral.
For many years, this was a go-to color for designers and homeowners that had countertops and other hard finishes such as granite and earthy tiles. It is still relevant and we recommend it to our clients frequently.

*This post contains affiliate links for products I use and love. If you click on some links and make a purchase, I will get a small commission at no cost to you. This helps pay for the costs of the blog, so I can continue to offer great content to our readers.
What is the LRV of Benjamin Moore Manchester Tan?
Manchester Tan has an LRV of 64. This means it is a fairly light color but still has a good amount of pigment. Since the value is over 50, it means that the color will reflect light. LRV (or Light Reflective Value) measures how light or dark a color will look on the wall.
Benjamin Moore Manchester Tan is a beige color and not at risk of looking like white on your walls, no matter how much light your room has.
What are the undertones of Manchester Tan?
Manchester Tan paint has green undertones. You'll often see this color described as a beige color, although it's difficult to see green in the color.
As with other beige paints, Manchester Tan undertones become especially clear when compared to other beige colors with different undertones.
Beige colors have green, yellow, or pink undertones. Paint colors with green undertones (like Manchester Tan) are the most flexible because they can be paired with either yellow beiges or pink beiges. Yellow beiges and pink beiges are discordant with each other… they just don't match and hurt your eyes. But that is a story for another day.
Consider the difference, for example, between Manchester Tan paint (with green undertones), Powell Buff (yellow undertones), and Muslin (pink undertones).
Is Benjamin Moore Manchester Tan warm or cool?
Manchester Tan is a very warm beige color and has green undertones. It pairs well with other warm colors, including blues and darker beige colors. This family of colors looks fantastic in a low light or North facing room.
When should I use Benjamin Moore, Manchester Tan?
Manchester Tan can work well as a warm, neutral interior paint. Use it in bedrooms, living rooms, and even basements.
Can I use Manchester Tan as an interior trim color?
Normally Manchester Tan is too dark to use as a "white" interior trim color. You can pair it as a trim color for a striking color scheme with darker wall colors such as rich greens or blues, or white wall colors. With the right color scheme, Manchester Tan can also make a lovely color for interior passage doors. This color really looks best when it's paired with the contrast of a clean white trim color like Benjamin Moore Chantilly Lace or an off-white like Cloud White.
Can I try Manchester Tan kitchen cabinets?
Manchester Tan kitchen cabinets would be beautiful! They will look lighter with a shinier cabinet sheen and look just lovely. Manchester Tan could also be used for lower cabinets in a tuxedo kitchen.
Test Manchester Tan in the space you plan to use it so you know how it will look and don't run into any surprises.
Is Manchester Tan a good whole house color?
Yes, Manchester Tan could work really well as a whole-house color! It's light and bright and will shine even in the corners. Years ago, when I started as a color consultant, I asked my cousin if she needed help picking paint colors. Her answer was, "Nope! I have Manchester Tan and it works everywhere".
It's hard to see the green undertones, but the color will shift as the light shifts throughout the room.
Project Spotlight: Manchester Tan Living Room Atrium
This Colorado home is one of the most amazing pieces of architecture that I've ever seen. I was originally called in to pick a paint color for the walls to sell the property. The new owners asked me to come back to finish the consultation for the rest of the house.
As you can see, the house has an indoor swimming pool in the middle of the atrium in the entry, with wide sweeping views of the mountains. This is considered a living room of sorts, which sofas and coffee tables throughout the room.
Manchester Tan looks fantastic with earthy tile, warm woods, and a natural view in the back. It really pulled together this open living area.
We also painted Manchester Tan in the adjacent hallways. Due to a time constraint, the previous owners didn't paint the ceilings, but they worked well with Manchester Tan.
In the photo below, the light is East facing, and the photo was taken in the afternoon as the light was cooling off. The walls are Manchester Tan, and the ceilings were beige with pink undertones. It all worked together with the warm wood windows and carpet.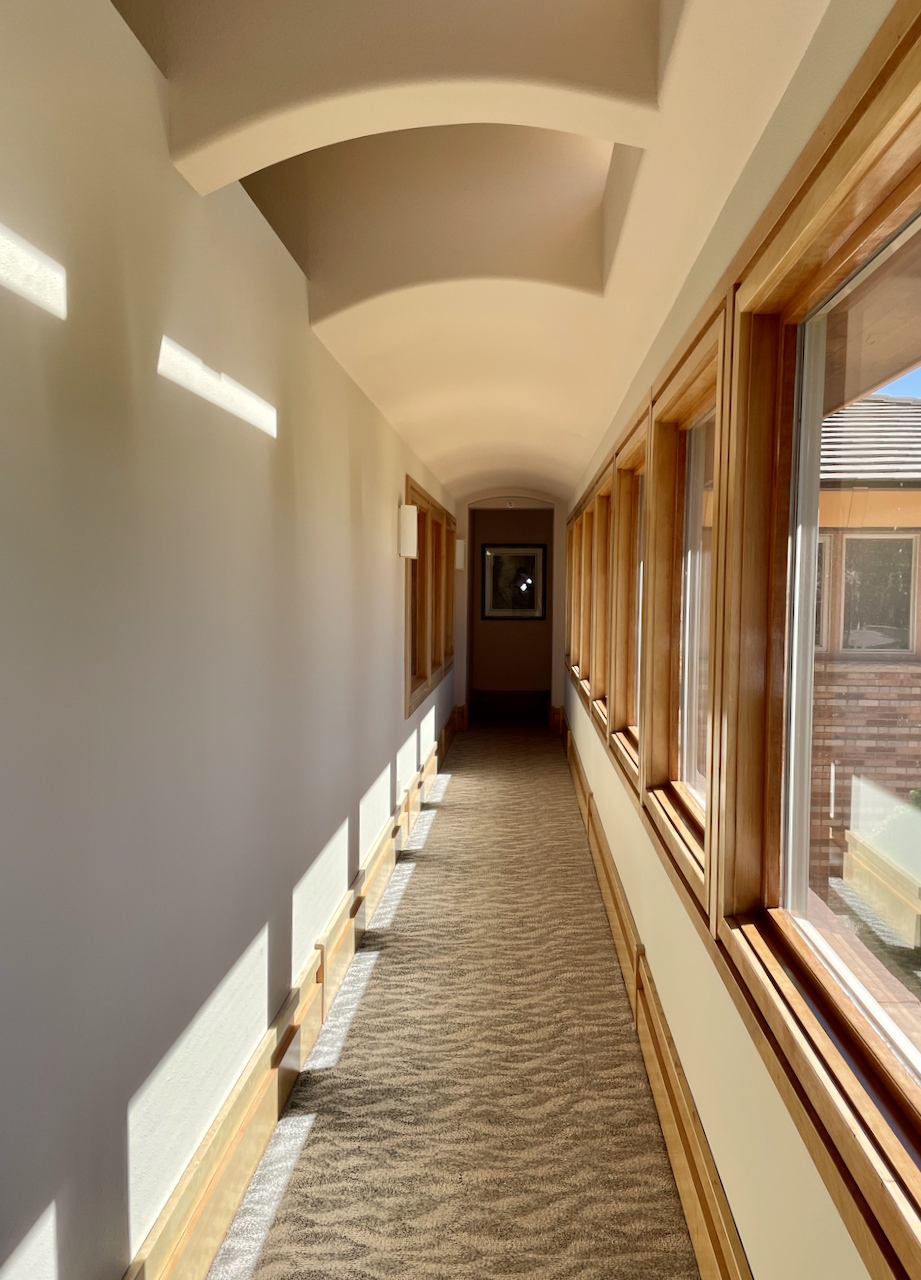 Which Colors Look Best with Benjamin Moore Manchester Tan?
BM Manchester Tan is a really versatile paint color that can work well with a variety of hues, furniture, and decor, including natural wood and plants as pictured below. It looks great with warm woods and earthy finishes.
The painting below is a rich earthy red and looks great with manchester Tan walls. Manchester Tan also works well with dark rich greens such as BM Caldwell Green, and BM Salamander, and navy blues such as BM Hale Navy.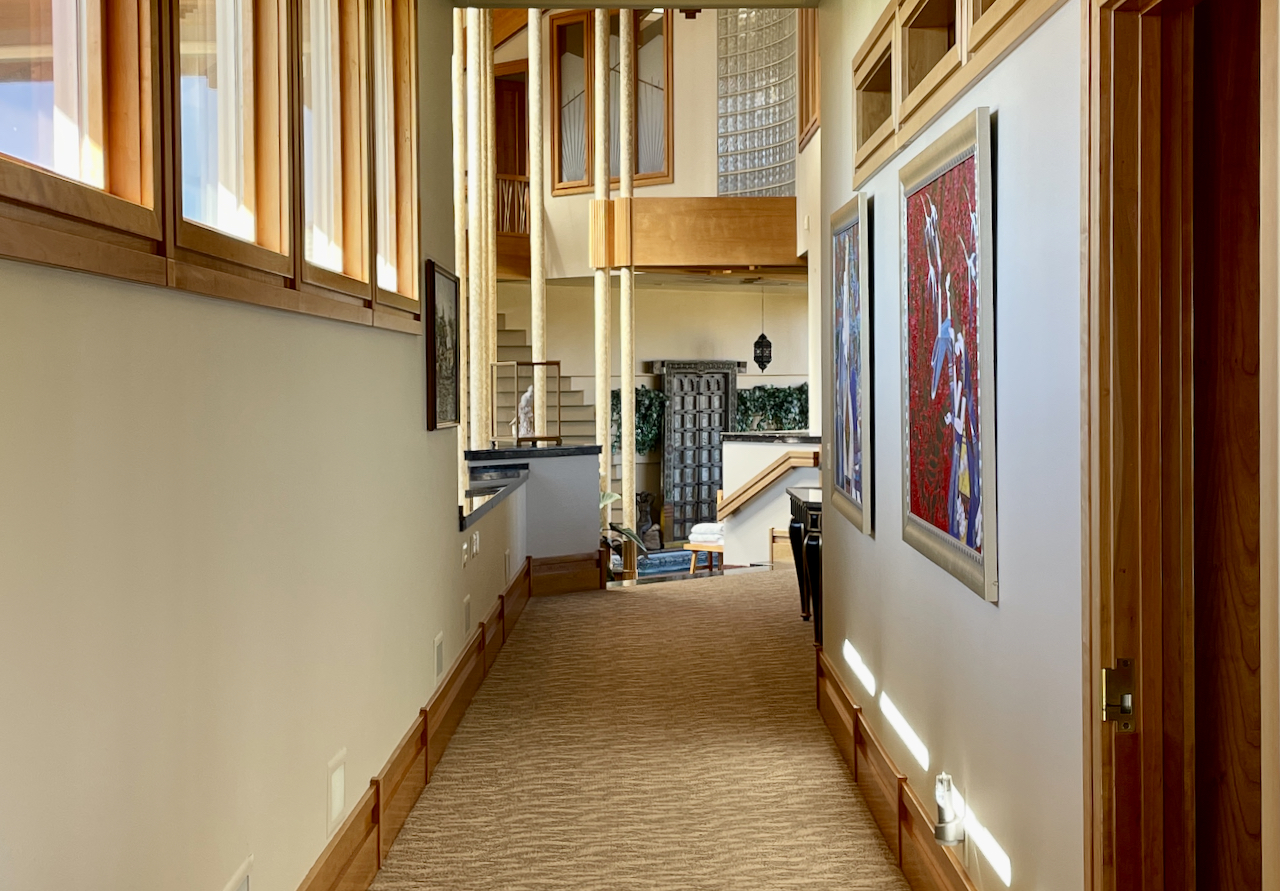 Project Spotlight: Benjamin Moore Manchester Bedroom Paint Color
We painted the walls of the room below with Manchester Tan, for a teenage young man. He is very Zen and loves swords and anything Japanese. This bedroom was East Facing, but it always looked sunny and warm, even in the afternoons.
Manchester Tan was warm and cozy.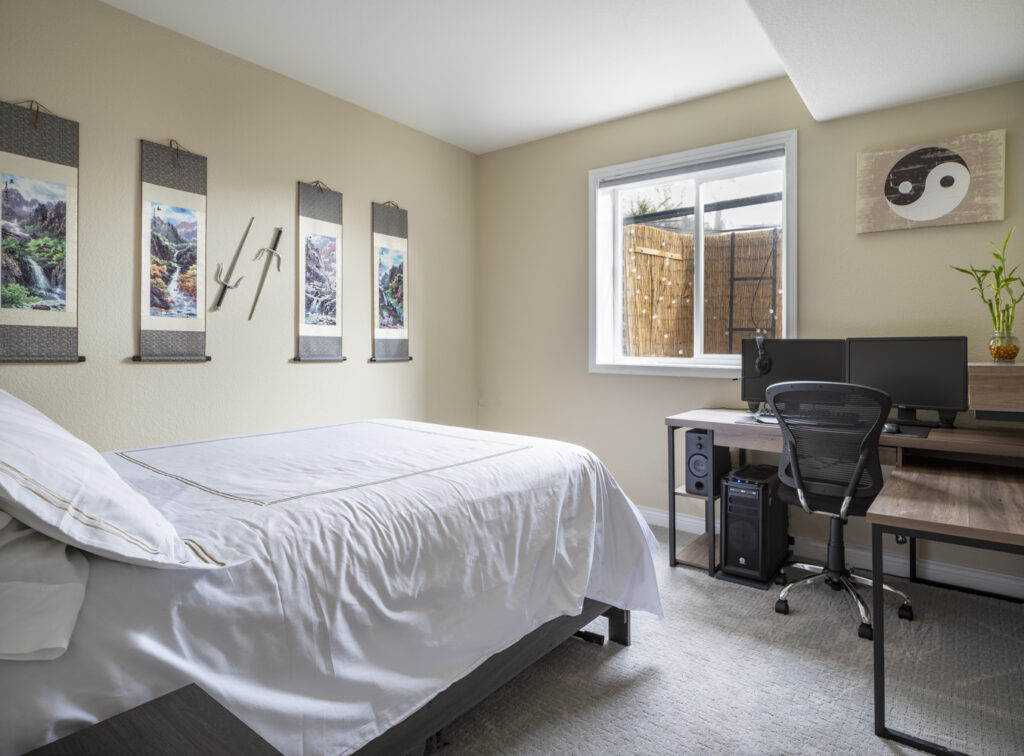 Check out that beautiful window well in the photo above. He lined the window well with bamboo from Home Depot, painted the ladder black, and hung a string of lights. Much better than the original builder-grade corrugator metal.
You can also see how beautiful the art looks with Manchester Tan as the background.
Does Manchester Tan go with white?
Manchester Tan paint looks great when paired with white trim paint. My preference is to use clean whites such as BM Chantilly Lace, and off-whites such as BM Simply White or White Dove. Creamy whites such as BM Swiss Coffee work great, but take care not to pick a trim color that is so warm or dark that it doesn't create a contrast with the color. Very yellow whites don't pair well with Manchester Tan because they get lost with the green undertones in Manchester Tan.
Is Manchester Tan a good carpet color?
It is a fabulous carpet color, in fact, that is the same as the carpet we picked for our home. Here is a bedroom with a Manchester Tan carpet. The best way to pick a Manchester Tan carpet is to take a Samplize swatch with you to the carpet store. Match it to the samples, but make sure you have natural light.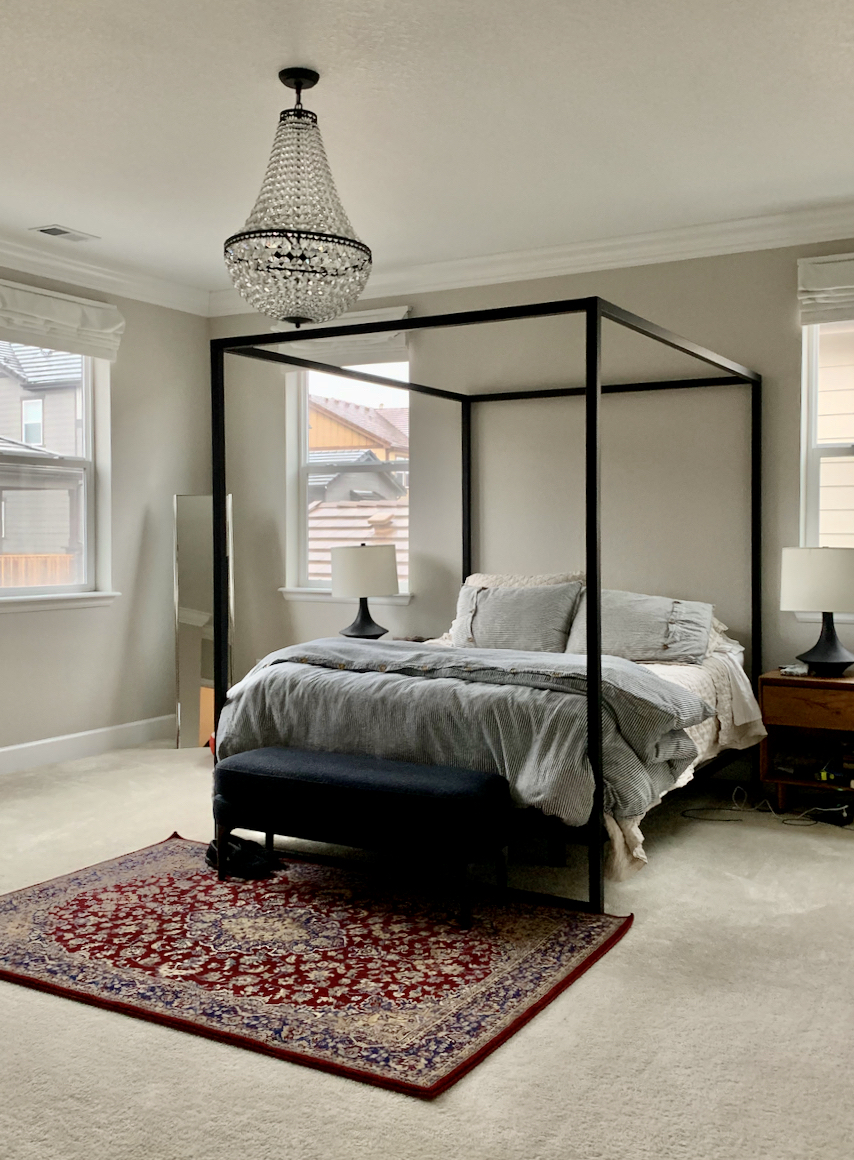 Does Pebble Beach go with gray?
Manchester Tan looks great with green grays such as Agreeable Gray. It also looks good with blue grays (Stonington Gray), but violet grays (like SW Repose Gray) can work, but not my favorite.
Below see a carpet that matches perfectly with Manchester tan, paired with SW Agreeable Gray walls.
Does Manchester Tan go with navy blue?
Of course! Manchester Tan contrasts beautifully with colors such as Hale Navy for a balanced Ralph Lauren look!
The warmth of the green undertones in this beige paint help ensure the whole room is always warm and friendly.
What are the Best Interior Trim and Ceiling Colors For Benjamin Moore Manchester Tan?
As mentioned above, Manchester Tan works best with a clean white and slightly creamy trim paints. Chantilly Lace is a classic, clean white that is very popular for trim and ceiling colors and works well with Manchester Tan walls. Benjamin Moore Oxford White, Snowfall White, and Sherwin-Williams Pure White would also work well. 
Don't forget to test your trim and ceiling paint colors in natural lighting too!
Is Manchester Tan a good exterior paint color?
Absolutely! We love Manchester Tan for exteriors, especially with brick and warm stone. Since the sunshine washes out the color, it looks more like a cream than a tan outside.
Below is a project we just finished for a home in Houston. The stucco is painted Wool Skein, which is the Sherwin-Williams version of Manchester Tan. You will see below that the colors are almost identical.
What is the easiest way to sample BM Manchester Tan?
The easiest way to sample Manchester Tan (and any paint color for that matter) is via SAMPLIZE. Their peel-and-stick paint samples are easy to use and true to color. With Samplize you can easily see how different shades look on your unique wall.
Manchester Tan Paint Color Comparisons
Not sure if Manchester is right for your next project? See how it compares to other similar colors.
Manchester Tan vs. Muslin
Benjamin Moore Manchester Tan is very different than Muslin. With an LRV of 66, Muslin is just barely lighter than Manchester Tan. Muslin has very pink undertones compared to the green ones in Manchester Tan.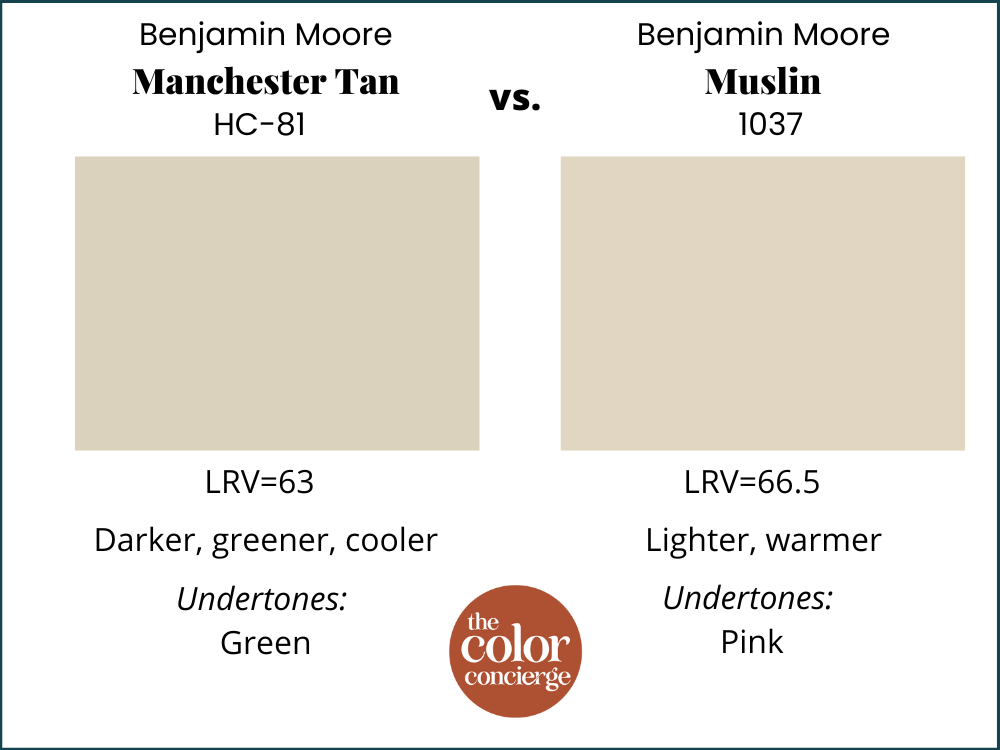 Manchester Tan vs. Wool Skein
Sherwin-Williams Wool Skein is a very close alternative to Manchester Tan. They both have the same LRV, and green undertones, and can be used interchangeably. I do find that Manchester Tan is a bit cleaner, but it's hard to see.
Manchester Tan vs. Canvas Tan
Sherwin-Williams Canvas Tan is very slightly darker than Manchester Tan, which looks cleaner and slightly cooler. Both these colors can look good in similar situations.
Manchester Tan vs. Edgecomb Gray
Edgecomb Gray also has the same LRV as Manchester Tan, but LRV doesn't tell the whole story. They both have green undertones, but where Manchester Tan is warm, Edgecomb is more muted and gray.
Manchester Tan vs. Revere Pewter
Revere Pewter is very different than Manchester Tan, but they are complementary. I love to combine these colors together. You could use Manchester Tan as a carpet with Revere Pewter walls, or vice versa. They also look great in adjacent rooms.
What is the best way to test Manchester Tan?
As always, don't forget to test your paint colors! The easiest way to sample any paint color is via SAMPLIZE. Their peel-and-stick paint samples are easy to use and true to color. With Samplize you can easily see how different shades look on your unique wall.
If you'd like to test the colors that we mentioned in this post, link below for the Samplize samples:
Key Learning Points
Benjamin Moore Manchester Tan is a warm, green-beige paint color perfect for basements, bedrooms, living rooms, and whole-house palettes. It's a versatile color that pairs well with blue and green grays, and all beige colors.
Manchester Tan is a light color that looks beautiful in rooms with lots of light, but still has enough brightness to look great in cool North-facing light as well as low-light situations.
This color works best with clean and off-white trim and ceiling colors, like Chantilly Lace, Simply White, or White Dove.
Manchester Tan paint works really well with other beige paint colors in different shades, including beige colors with pink or yellow undertones.
Avoid yellow adjacent to Manchester Tan. It competes with the yellows embedded in the green undertones.
Online Color Consulting
Still need help picking the best paint colors? Discover our Online Color Consulting Package.
If you liked this post, don't forget to pin it!
We love your comments! Please note that the blog is meant as general advice, and it is not possible to give out specific answers to your paint questions. If you want more specific advice, please consider purchasing a color consultation. Thank you for your understanding.
Related Posts