Learn all about Benjamin Moore Gray Mist (OC-30) in this paint color review.
Benjamin Moore Gray Mist is a warm, neutral paint color perfect for using throughout the entire house. It's a very light greige that some consider a darker off-white, but has enough vibrancy to work well in a variety of spaces, including those with lots of natural light and those with less sunlight.
It coordinates easily with other paint, furniture and decor, so it's a favorite when clients are looking for a neutral paint color to help sell their home or simplify the colors in their home. We used it as the foundation of a whole-house color palette for a gorgeous Denver home recently, and will showcase further down in this article.
Keep reading to learn more about Benjamin Moore Gray Mist and decide if this easy-to-use neutral is right for your next project.
*This post contains affiliate links for products I use and love. If you click on some links and make a purchase, I will get a small commission at no cost to you. This helps pay for the costs of the blog, so I can continue to offer great content to our readers.
What color is Gray Mist by Benjamin Moore?
Gray Mist is a very light greige paint. It looks more like a cream color than a gray. It's a great paint to pick if you want a creamy color that won't look yellow on the wall.
What is the LRV of Benjamin Moore Gray Mist?
Gray Mist is a darker off-white, with an LRV of 74. LRV stands for light reflective value and measures how much light a color reflects when it's on the wall. For reference, pure white has an LRV of 100, so with an LRV of 74 Gray Mist is a pretty light color.
What undertones does Gray Mist have?
Gray Mist has soft green undertones. Much like other gray paints, the undertones are not always obvious depending on the lighting and accent colors used within a space. They become more clear when compared to other gray colors with different undertones. Otherwise, it will look like a lovely and warm off-white.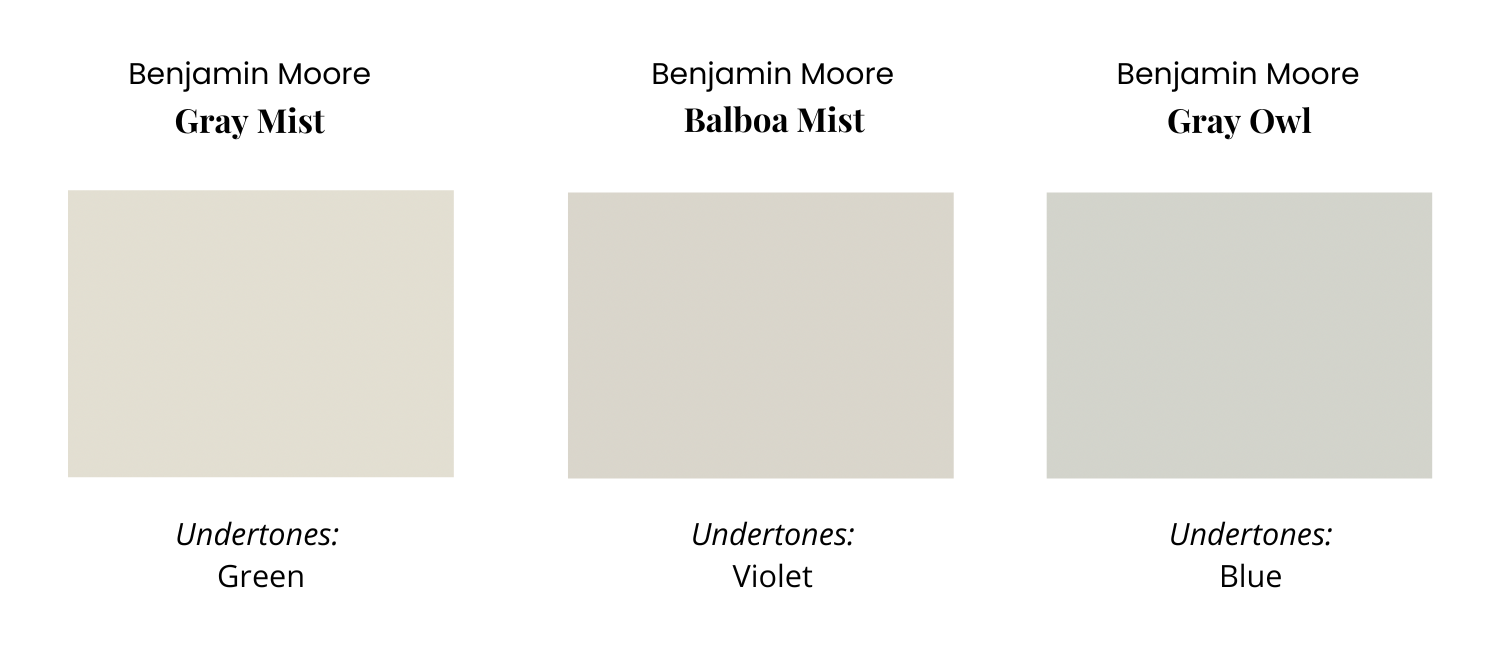 Is Benjamin Moore Gray Mist warm or cool?
Gray Mist is definitely a warm color thanks to its green undertones. While it is technically a light gray, it's a great alternative for a homeowner who wants a warm white wall color but doesn't want to risk a color looking yellow on the wall or looking too washed out in a very sunny room.
What is the difference between Balboa Mist and Gray Mist?
These two colors have a lot of similarities but are really quite different. The LRV of Benjamin Moore Balboa Mist is 67, which makes it a very light greige (much like Gray Mist). But Balboa Mist has violet undertones, which make the colors look very different especially when placed directly next to each other, such as in the graphic above. Balboa Mist is too dark to be an off-white, like Gray Mist.
When should I use Gray Mist?
Because Gray Mist is a warm neutral with soft undertones, it can be used in just about any room of the house. Keep reading for some of our favorite applications.
Can I use Gray Mist as an interior trim color?
Gray Mist is generally too dark to be a "white" trim color and too light to be a gray or greige trim and door color unless you are using it with a very light wall color or have very earthy or dark finishes. We also don't recommend Gray mist to wrap around a whole room because it can look too gray.
Contrast is really what makes this color come to life. Pair Gray Mist wall paint with a brighter white trim and ceiling paint to really make the color pop on the walls. Read on for our favorite trim and ceiling paint colors for Gray Mist.
Are BM Gray Mist kitchen cabinets a good idea?
Gray Mist cabinets would be a really beautiful twist on a classic white kitchen. If you want a light and bright kitchen but don't want traditional cabinets, Gray Mist could definitely work. They would provide just enough pigment to stand out against a clean white subway tile backsplash (one of our favorite classic kitchen design elements) and would look really nice with white quartz countertops.
Should I try Gray Mist exterior paint?
Benjamin Moore Gray Mist is a great option for exteriors if you want to use white paint but don't want it to look too stark in the bright sunlight.
At The Color Concierge, we are always really careful about the white exterior paints that we use. When we need to pick a darker white, we typically avoid cream colors because they lean toward yellow. Instead, we go for a light greige – like Gray Mist.
While the color may look grayer indoors, it will look very light outside and can be used as an exterior body color or trim color. It works much as Benjamin Moore Classic Gray does outdoors – appearing significantly brighter in the sun.
Is Gray Mist a good interior whole house color?
Yes, it absolutely is! Gray Mist is a light neutral that is warm and creamy without looking yellow. It pairs well with wood floors and can be used with many different accent colors. And because it works well in both very sunny rooms and in spaces with less natural light, it can be easily used throughout a home.
Gray Mist was our primary whole-house color in the project spotlight featured below.
Project Spotlight: Gray Mist Color Palette for the Whole House
In this project spotlight, we're going to walk through a real-life example of Benjamin Moore Gray Mist being used in a whole-house color scheme. This project was for some really lovely empty-nester clients of mine. Their kids were finally out of the house and they were ready to update their family home and make it their own.
These clients love the beach and have one of the few houses in Denver with a water view. They wanted to bring more of a coastal vibe to their home, but their current paint colors were not cohesive and not right for their personal style.
Over the years they had fallen into an all-too-common trap: painting their home room by room without much thought about how the colors would actually work together. The goal of this project was to simplify the colors used throughout the home and create a calming, put-together look.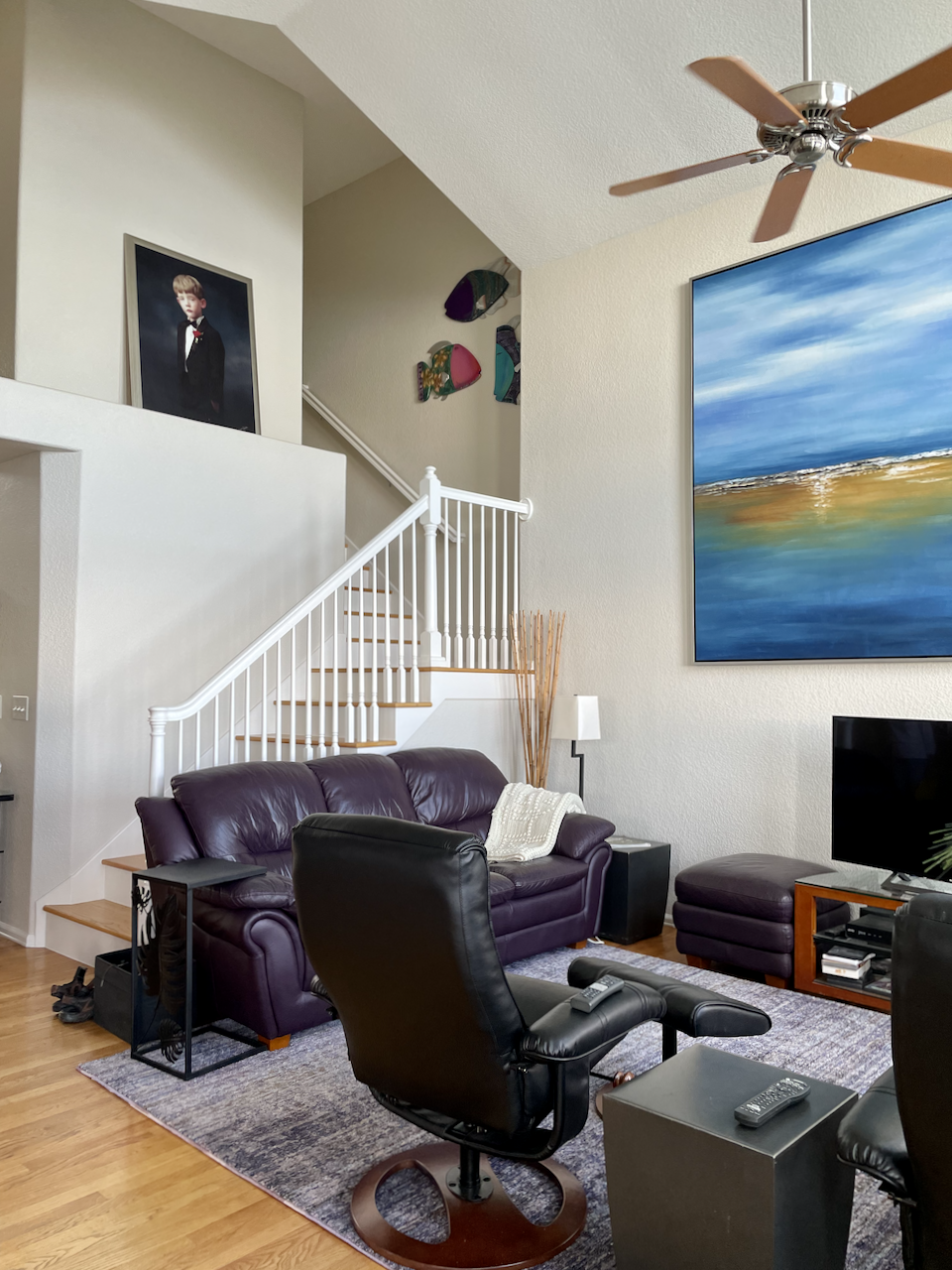 Check out the amazing transformation! This was the before photo.
Gray Mist was a great choice for this family home because it is light on the walls but still rich and a perfect backdrop for their beautiful art. It works equally well in their large, well-lit living room pictured above and in darker spaces like the hallways of this home.
Using Gray Mist as the primary wall color in their open-concept living area with a vaulted ceiling made the space feel much simpler and inviting and really let the architectural details of the space shine. We used White Dove for trim throughout the whole home and painted ceilings Oxford White, a slightly brighter white to lighten up the space.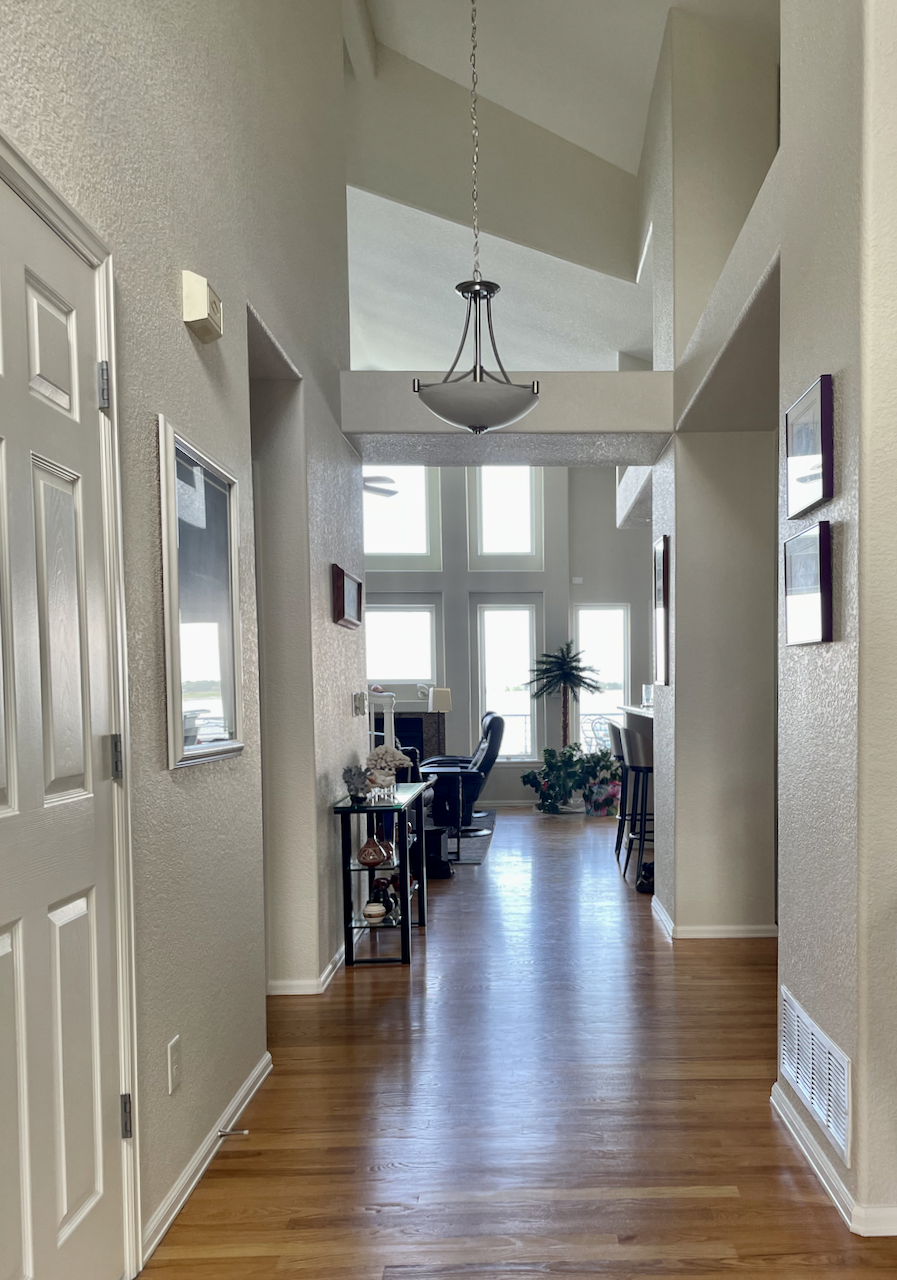 Which colors look best with Gray Mist?
While we loved Gray Mist for this client's whole-house color, we knew we couldn't actually rely on only one hue. Instead, we chose some additional neutral paint colors and a few accent colors to use in different spaces around the home, ensuring they all complemented each other and the flooring, hard finishes, decor, and furniture within the home.
The key to choosing colors that looked good with Gray Mist was to look for paints with similar undertone that were similarly muted. Some of our favorite Gray Mist coordinating colors include:
Benjamin Moore Edgecomb Gray
We knew we wanted to use a darker gray with the same undertones as Gray Mist within this client's home. Edgecomb Gray was a great choice because it's also a greige color with very similar warm, green undertones.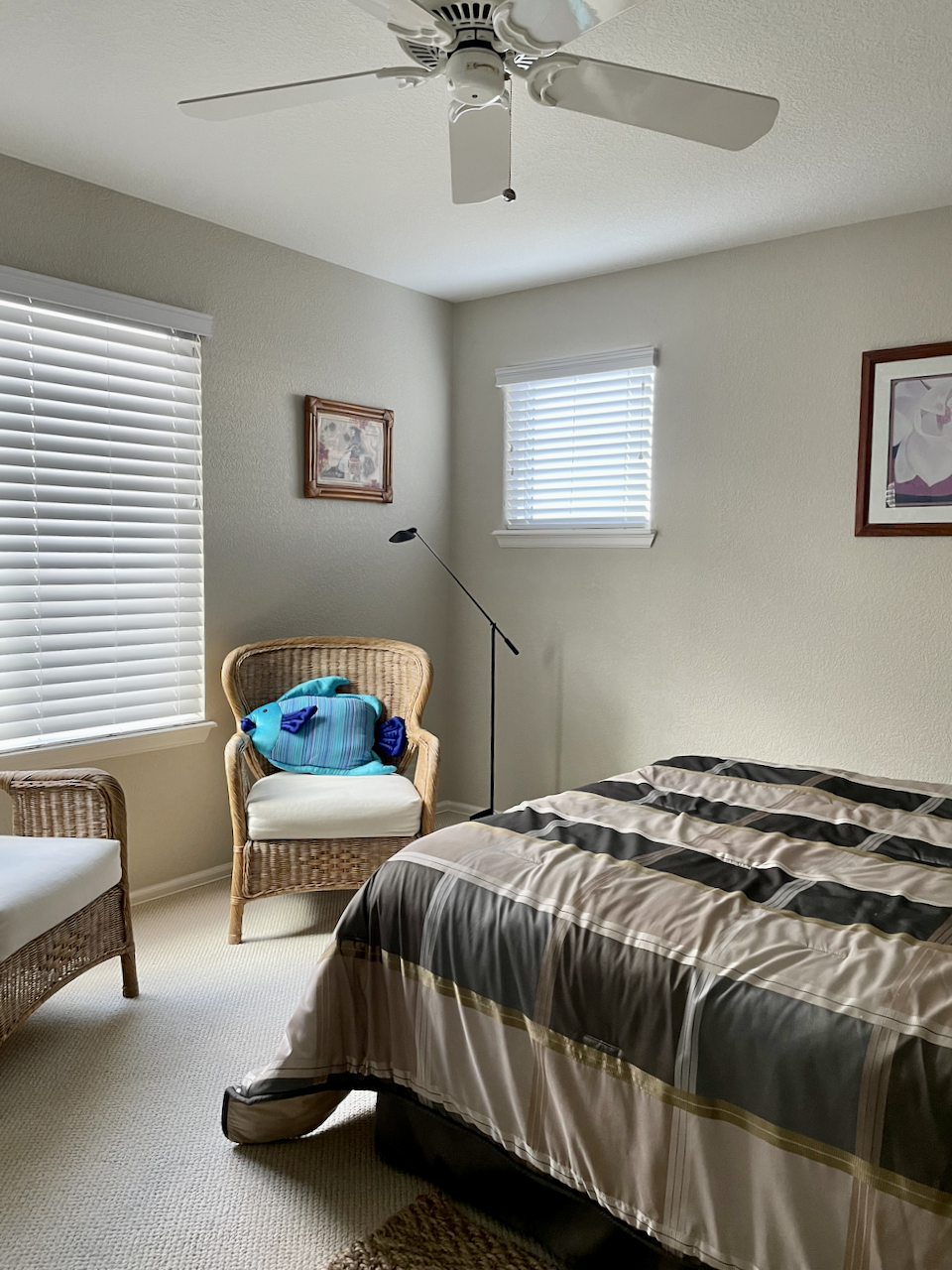 Much like Gray Mist, it pairs well with both earthy finishes and modern, crisp white finishes and works really well in both brightly lit or low-light rooms. Sample Edgecomb Gray here.
Sherwin-Williams Sea Salt
We wanted to incorporate coastal colors into this client's office and also wanted to create a harmonious flow with the Gray Mist, Edgecomb Gray, and warm whites in the rest of the house. Sherwin-Williams Sea Salt was the perfect primary paint color for this space.
It's a popular blue-green paint that is soft and muted. It leans more toward green than blue, offering warmth that helps it coordinate well with the warm grays in the rest of the house. Sample Sea Salt here.
Kensington Blue
We also wanted to use an accent wall within the office, which we painted with Benjamin Moore Kensington Blue. Kensington Blue fits into the Gray Mist color palette perfectly. It's a classic navy blue with lots of gray in it, so it's similarly muted as the rest of the colors in this home.
Together the combination of neutral greige paints, warm white trim and ceiling, and coastal blues come together to create a simple, yet vibrant color palette that feels cohesive and feels like it uniquely belongs to this couple and their home.
What are the Best Trim and Ceiling Colors For Gray Mist?
Because Gray Mist paint is practically an off-white, it really needs a light and bright trim and ceiling color to make it pop. We love using Benjamin Moore White Dove or Oxford White. For this home, we used Oxford White for the ceiling and White Dove for the trim. Consider white colors such as Chantilly Lace, Oxford White, Cloud White, Snowfall White, and White Dove.
White Dove has soft, almost invisible yellow undertones. This warm paint colors really well in darker spaces and in spaces with lots of natural light. This means it looks great anywhere that Gray Mist does, too.
Oxford White (one of my favorite Benjamin Moore white paint colors) is a bit lighter than White Dove. It's a clean white with slightly warm undertones that look really nice paired with gray.
While we normally use the same color for trim and ceiling paint, in this client's home we used White Dove for the trim and this lighter Oxford White for the ceilings. You could use either paint color for all of your trim and ceilings.
We picked a brighter ceiling because whites can look darker overhead and I wanted a crisper ceiling color than White Dove would have given.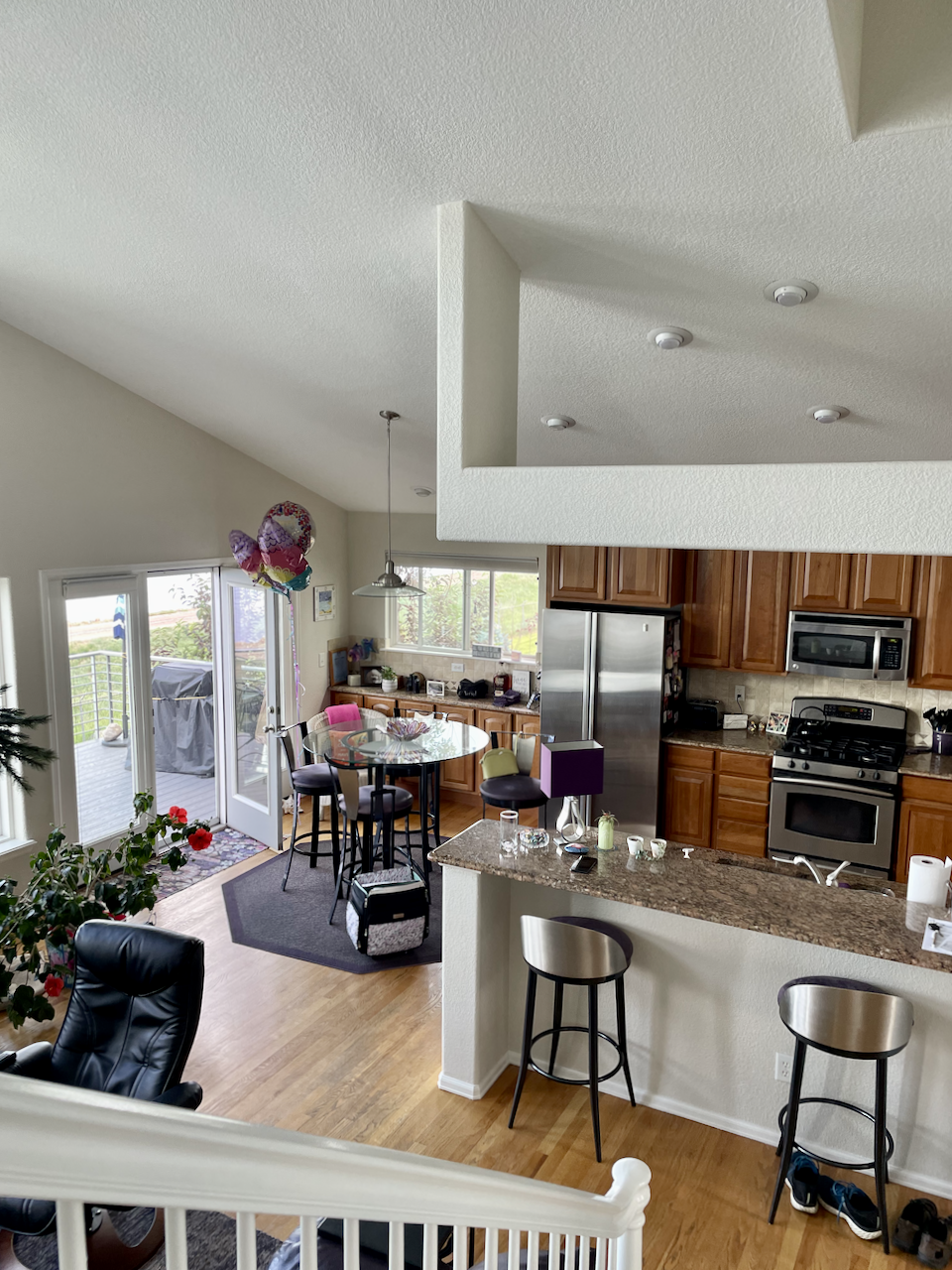 The Best Gray Mist Alternatives
When it comes to choosing gray paint, you have a ton of options. If you've been feeling overwhelmed by all the choices for your next project then look no further. Keep reading for our full breakdown of all the best Gray Mist alternatives.
Gray Mist vs Balboa Mist
Gray Mist and Balboa Mist may seem like similar colors at first glance, but when they are directly compared it's clear they are very different. Balboa Mist has purple undertones and an LRV of 67, making it a bit darker and cooler than Gray Mist. 
Gray Mist vs Pale Oak
Pale Oak has an LRV of 69, so it's close to Gray Mist in terms of its lightness. Pale Oak is also a very light greige but it has soft taupe undertones. Some people use Pale Oak in place of a dark, creamy white. It is darker and warmer than Gray Mist.
Gray Mist vs Classic Gray
Gray Mist and Classic Gray have the same LRV of 74, but Classic Gray is more of a true gray, with subtle green and violet undertones that make it slightly cooler than Gray Mist.
Gray Mist vs Stonington Gray
Stonington Gray is a darker gray than Gray Mist and has strong blue undertones. It looks much cooler than Gray Mist on the wall. It has an LRV of 59 and contains a lot more pigment than Gray Mist, which is lighter and creamier.
Gray Mist vs Fog Mist
Fog Mist has an LRV of 71, so it is slightly darker than Gray Mist. Like Gray Mist, Fog Mist has green undertones. Its undertones are stronger than Gray Mist, however, so it looks greener.
What is the best way to test Gray Mist?
As always, don't forget to test your paint colors! The easiest way to sample any paint color is via SAMPLIZE. Their peel-and-stick paint samples are easy to use and true to color. With Samplize you can easily see how different shades look on your unique wall.
If you'd like to test the colors that we mentioned in this post, link below for the Samplize samples:
Key Learning Points
Benjamin Moore Gray Mist is a simple, versatile color that is perfect for building a whole-house color scheme.
Gray Mist is technically a light greige paint or darker off-white color. It looks more like an off-white in most spaces (especially outdoors)
Gray Mist should be paired with other crisp white colors for trim and ceilings. Don't select whites that are much darker than White Dove, or there might not be enough contrast.
With subtle green undertones, Gray Mist offers a lot of warmth in a space. It's a good alternative for creamy white paint and won't look yellow on the wall.
Online Color Consulting
Still need help picking the best paint colors? Discover our Online Color Consulting Package.
If you liked this post, don't forget to pin it!
We love your comments! Please note that the blog is meant as general advice, and it is not possible to give out specific answers to your paint questions. If you want more specific advice, please consider purchasing a color consultation. Thank you for your understanding.
Related Posts