Explore our expert picks for the best blue-gray paint colors from Benjamin Moore and Sherwin-Williams.
For many years, neutral gray and greige paint was everywhere. Everyone wanted Agreeable Gray walls and colors like Repose Gray (Sherwin-Williams) and Balboa Mist (Benjamin Moore) were showing up in every influencer's home.
And while those colors are still popular (we recommend them to our online paint color consulting clients often!), we've also noticed a growing number of homeowners who want to add a bit more color into their homes. One of our favorite ways to do that is by using blue-gray paint colors.
Blue-gray paint colors are super versatile. They're still neutral enough to be used in many spaces throughout a home – and potentially even as a whole-house paint color – but they provide a fresh burst of color that a typical neutral does not.
Looking for ways to add some subtle color into your home's color scheme? Keep reading for our picks for the best blue-gray paint colors from light to dark.
*This post contains affiliate links for products I use and love. If you click on some links and make a purchase, I will get a small commission at no cost to you. This helps pay for the costs of the blog, so I can continue to offer great content to our readers.
What is a blue-gray paint color?
Blue-gray colors are actually grays that have blue undertones. Some may have a lot of blue in them, while others may be more subtle. Either way, they're a great way to start adding more color into your home.
Depending on where you read about blue-gray paint, you might get a different explanation. Here's how we think about gray paint colors at The Color Concierge for anyone that is a color nerd like me:
Understanding Gray Paint Colors
There are three flavors (or undertones) of gray paint colors. In our practice we don't define gray as an undertone or really see gray as a color. Instead, we think of gray as a muted version of its undertone: either green, violet or blue.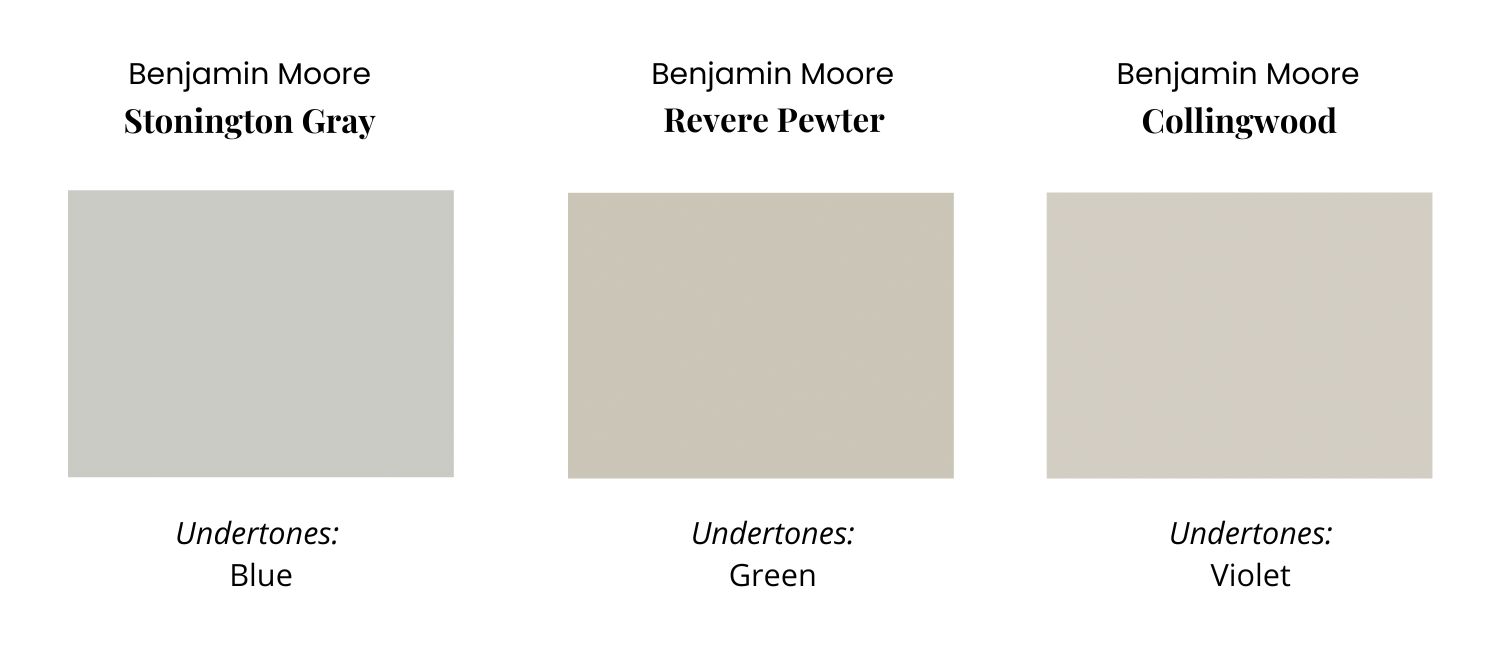 Grays with green undertones are like the color of cement, moss, or warm rocks and stones. Green-grays are always warm. Sometimes they can be so warm that they look almost like a beige color, but when you compare them with beige they are for sure gray.
Benjamin Moore Edgecomb Gray is a great example. On its own, it often looks like a beige. But when compared to Manchester Tan it is very clearly gray.
Grays with violet undertones are the color of elephants. They don't necessarily look purple, but it's the color people most often associate as a gray color. If you've ever painted a room "gray" and it looks like purple, that is what happened – your undertone is showing through.
Grays with blue undertones (also known as blue-gray paint colors!) are the color of the sky. Sometimes we pick a blue-gray if someone wants a room painted blue but doesn't want the color to glow too much on the wall.
Blue-Gray Paint Color Undertones
When it comes to blue-gray paint colors, there are warm blue-grays with a little bit of green in them and cool blue-grays that lean more toward violet.
The comparison of BM Gray Cashmere and BM Stonington Gray below is a great example.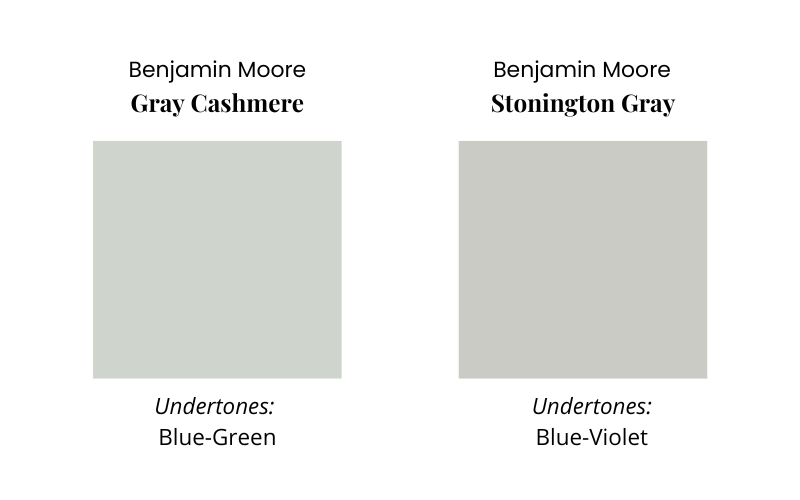 And then we have more colorful blue-grays compared to muted, less colorful ones.
With so many options for blue-gray paint colors, choosing one for your home can feel overwhelming. It's not as simple as just choosing the color you like best. Instead, it's important to learn more about any colors you're considering so you can figure out the one that best complements the lighting, hard finishes, and decor of your room.
3 Best Blue-Gray Paint Colors from Light to Dark
Start your search for the best blue-gray paint colors with these expert picks from The Color Concierge team. This list includes both Benjamin Moore blue-gray paint colors and Sherwin-Williams blue-gray paint colors, organized from light to dark.
Light Blue-Gray Paint Colors
Sherwin-Williams First Star
SW First Star is a cooler blue-gray paint color. It is similar to BM Stonington Gray but a bit more muted, so it looks slightly less blue on the wall. We used this in a condo renovation in Michigan and it came out so beautiful.
With an LRV of 69, SW First Star is light enough and muted enough that it can be used in an open-concept space or even as a whole-house paint color if you want your home to have some color.
If you are looking for a similar Benjamin Moore paint color, consider BM Horizon, another beautiful blue-gray for your bedroom.
Benjamin Moore Gray Cashmere
BM Gray Cashmere is one of the warmer blue-gray paint colors on this list thanks to its strong mix of green and blue undertones. With an LRV of 64.53, this color looks soft and colorful in rooms flooded with light, especially South-facing rooms. In cool, North-facing light the color looks more blue and it looks much grayer at night.
I love the way Gray Cashmere color changes throughout the day based on the light, moving from greener in the morning to bluer and then grayer in the late afternoon and evening.
For the Sherwin-Williams closest match, consider SW Moorestone, one of the Emerald Designer Collection colors.
BM Stonington Gray
Stonington Gray is one of the bluest light blue-gray paint colors on this list. It has strong blue undertones and in cool lighting, it can even be used in place of blue paint for a soft, muted look.
I have such a soft spot in my heart for Stonington Gray because it was the color of the house where my husband and I created our home.
With an LRV of 59.36, Stonington looks more neutral in bright light and can even be used as a whole-house paint color. I used Stonington Gray throughout my former home when getting it ready to sell. It's a really versatile color that can change significantly in different lighting, so it looks different from room to room.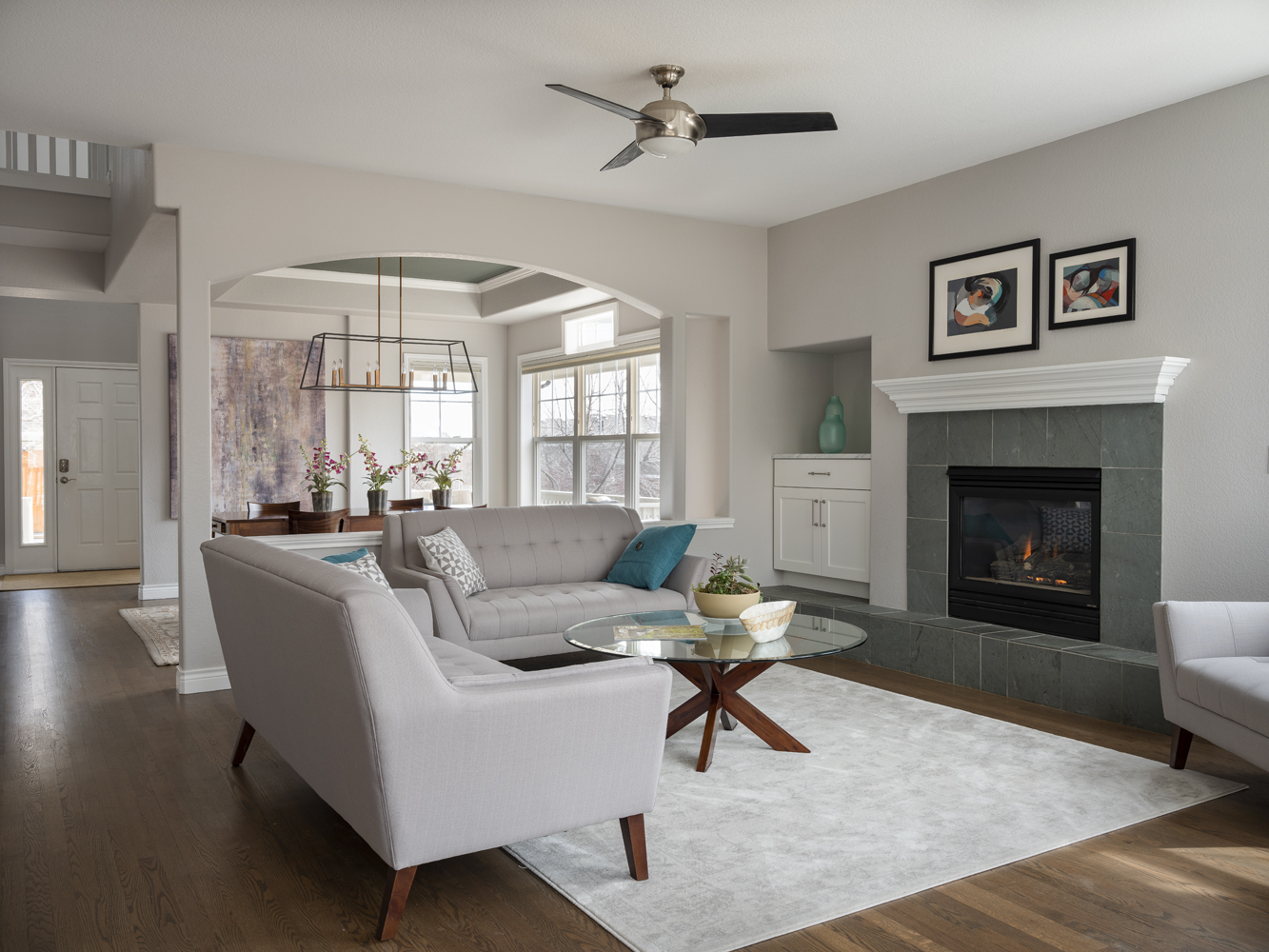 In my living room (pictured above) it looked like a soft, lovely gray. But in my basement (below), it looked very blue on the walls.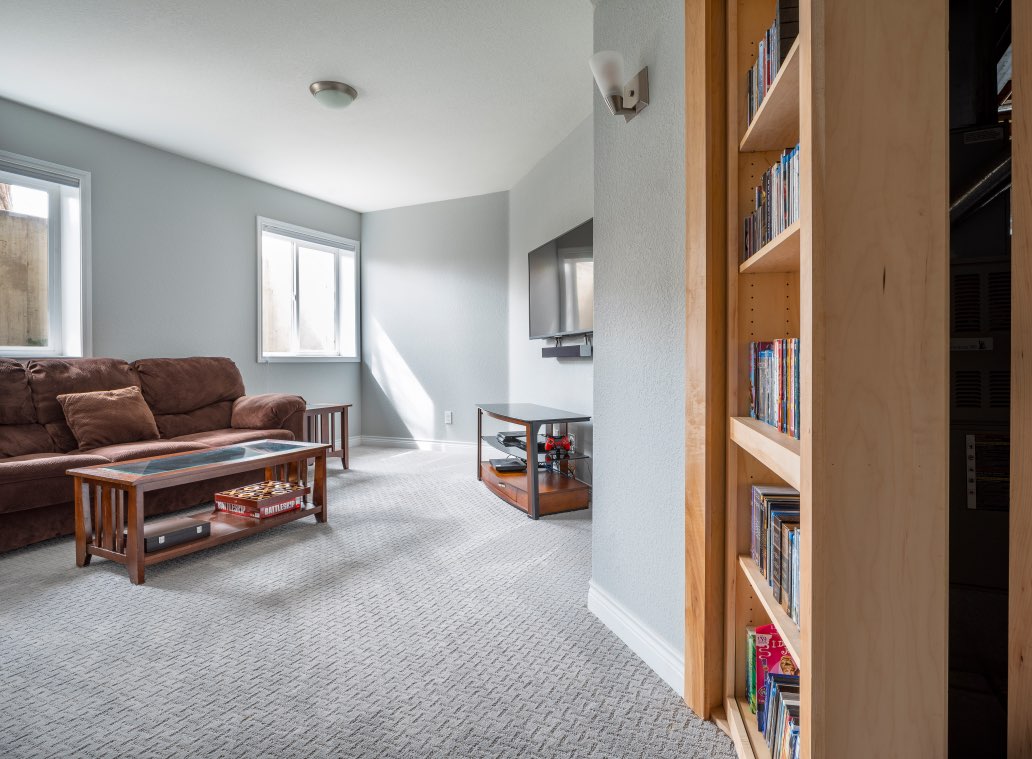 This flexible color is also a fan favorite. The closest Sherwin-Williams color is SW Fortitude, another color from the Emerald Designer Collection.
---
---
Sherwin-Williams Gray Screen
This light blue-gray paint color from Sherwin-Williams has a gorgeous blue undertone that adds a lot of color, especially in cooler light. SW Gray Screen is very similar to BM Stonington Gray and is a really gorgeous option for bedrooms, basements, and other living spaces.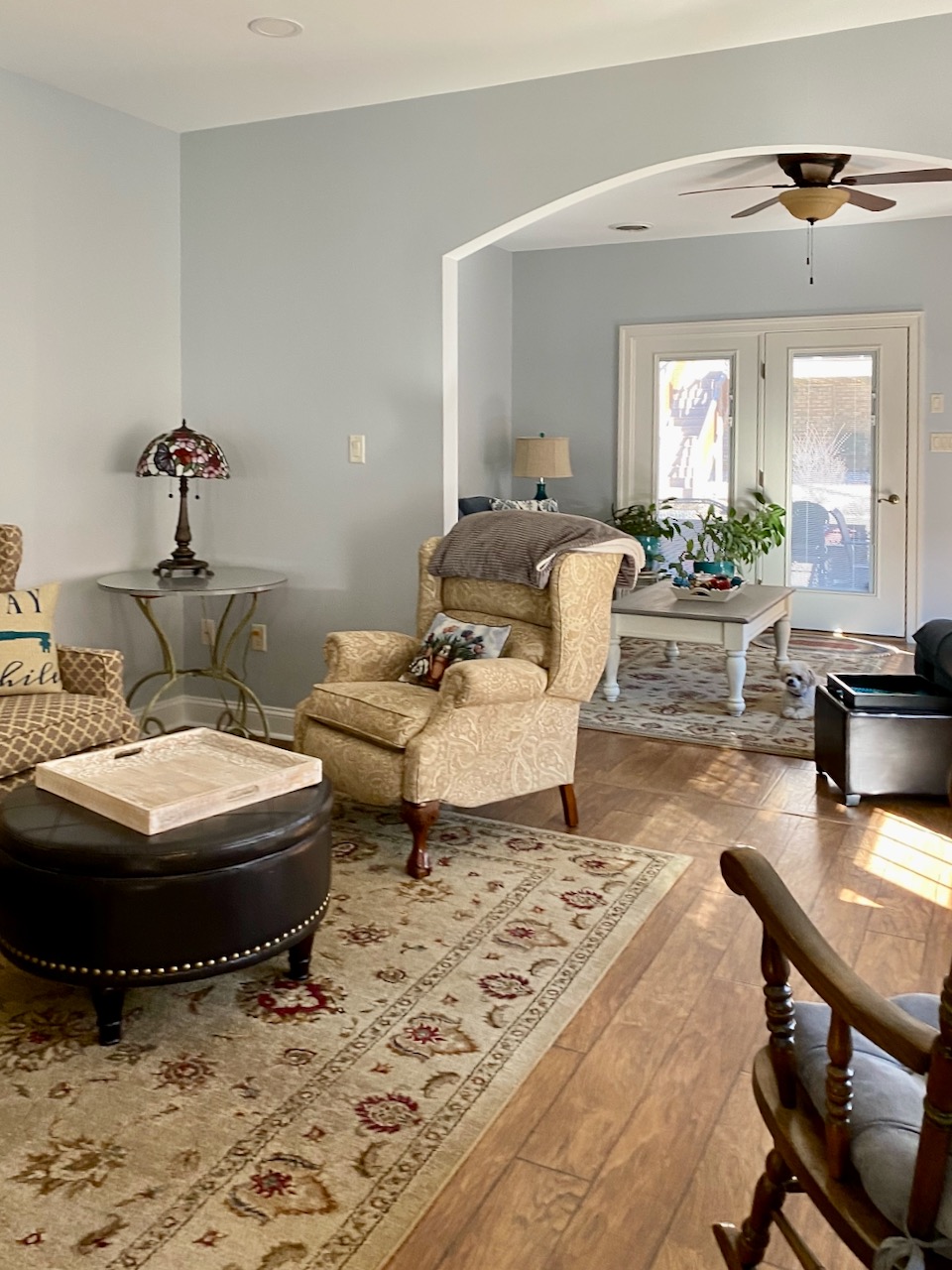 The closest Benjamin Moore color to SW Gray Screen is BM Pebble Beach. Check out the Pebble Beach photo below from one of our projects, spotlighted in the Pebble Beach Color Review and the Best Paint Colors for Basements.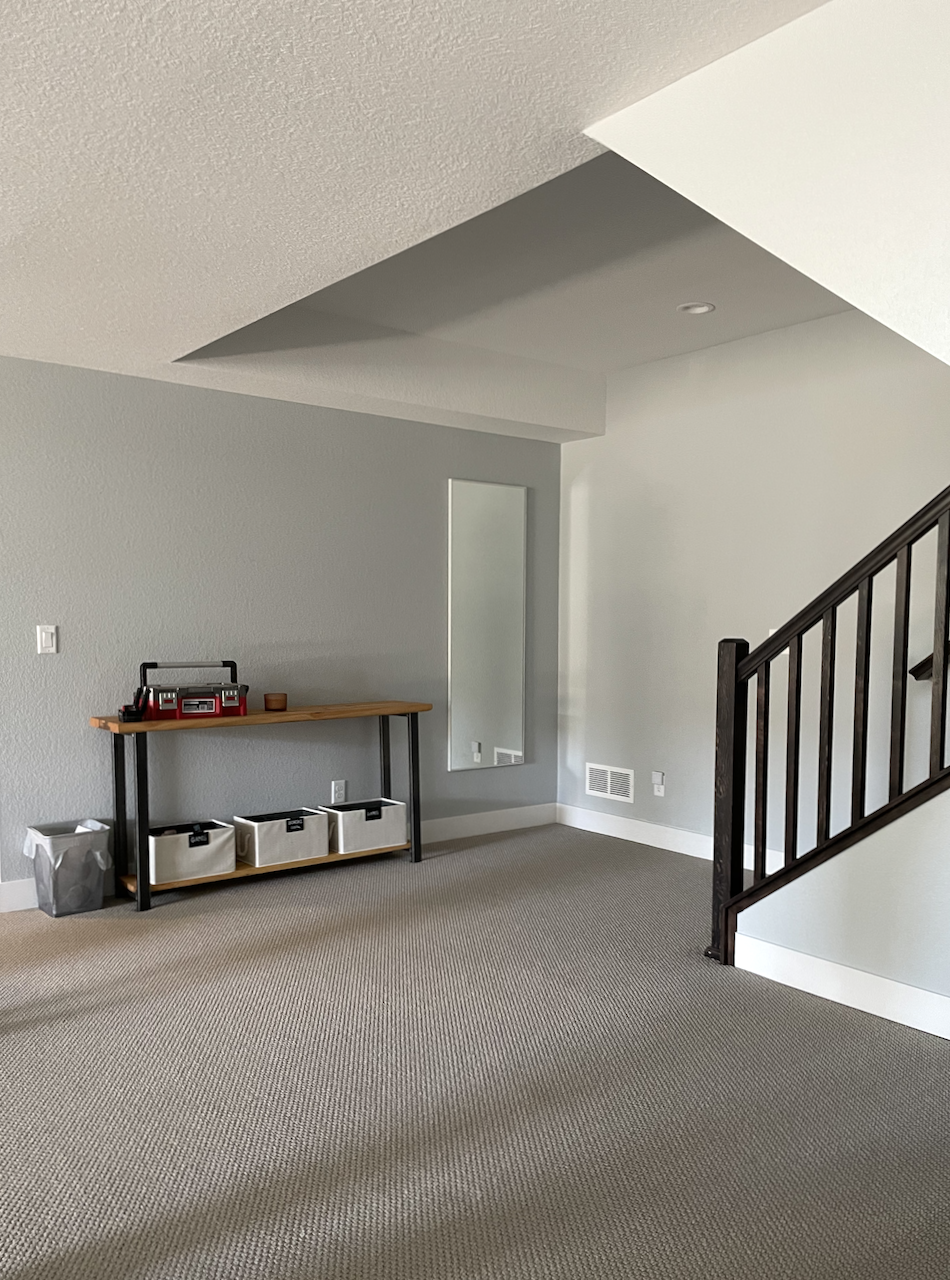 Medium Blue-Gray Paint Colors
Benjamin Moore Coventry Gray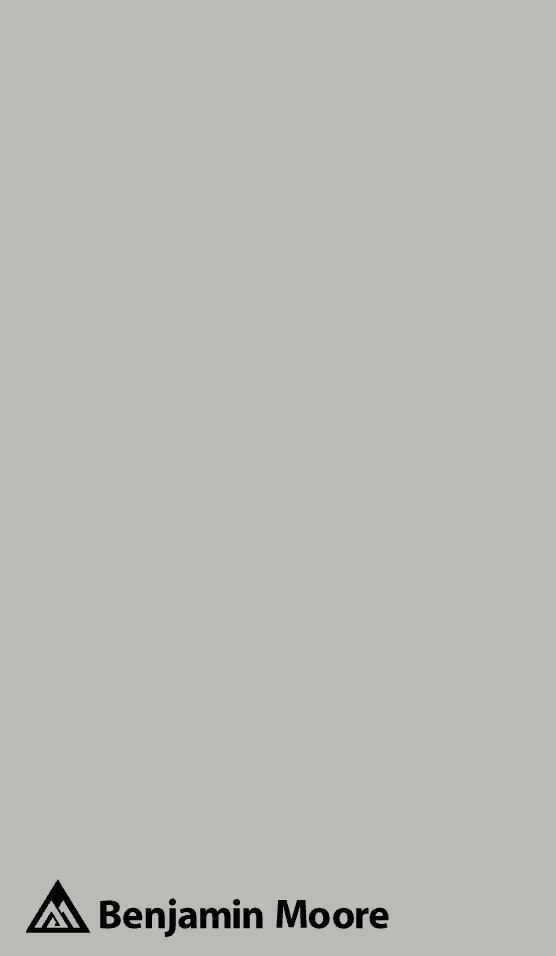 Coventry Gray is a darker version of Stonington Gray. The two colors offer a similar, muted hue and work well in similar applications. Because Coventry Gray is darker, with an LRB of 48.18, I wouldn't recommend it as a whole-house paint color.
But in the right lighting, it can still look soft and lovely. I love the way it looks with the Carrara marble in this client's primary bathroom, and the bedroom.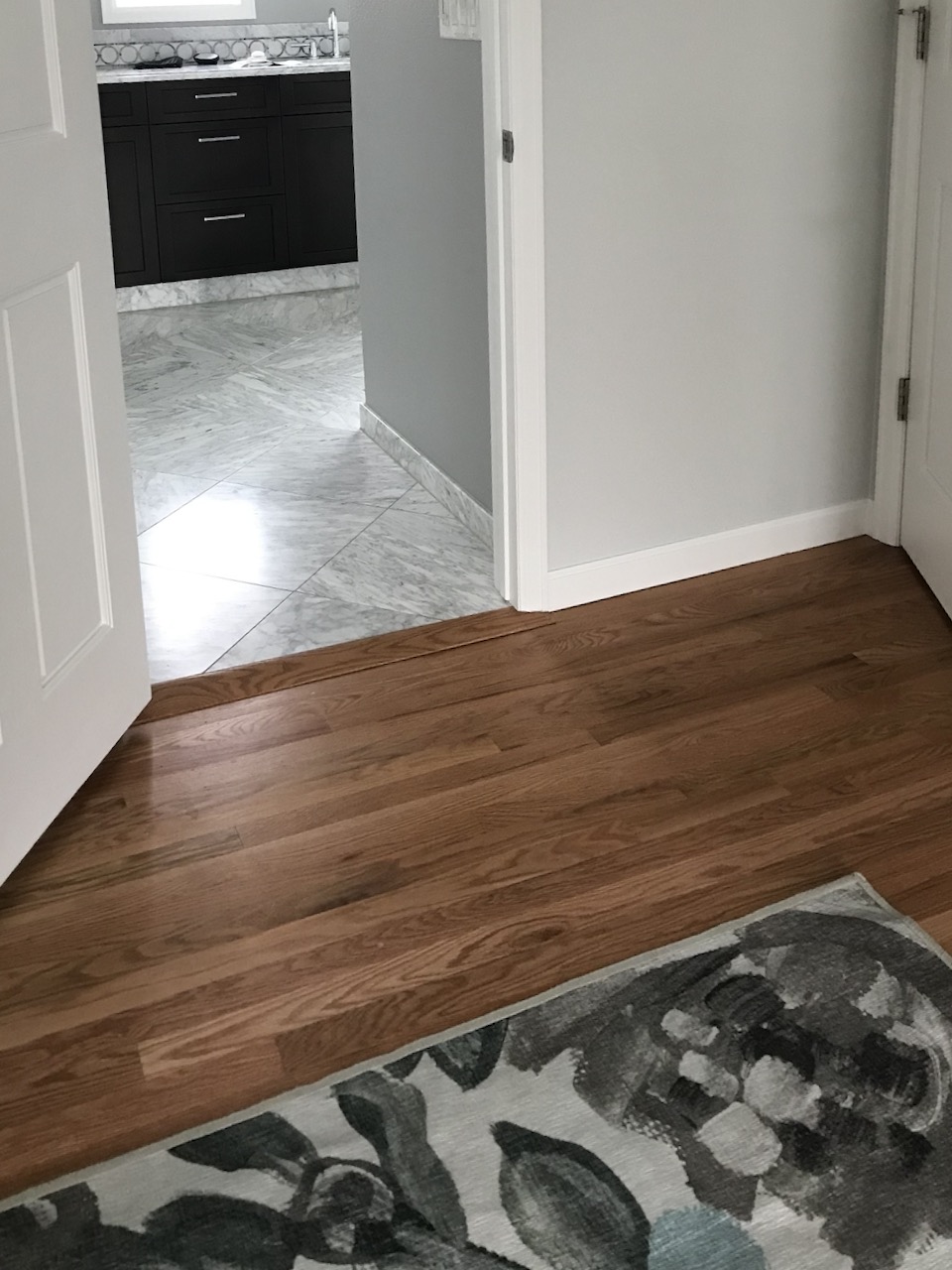 The closest Sherwin-Williams color is SW Gray Clouds.
Benjamin Moore Boothbay Gray
BM Boothbay Gray is a beautiful mid-tone blue-gray paint color perfect for bedrooms, bathrooms and even dining rooms like the one pictured below. With an LRV of 43.26, Boothbay Gray is darker than the light blue-gray colors featured and also has a much stronger blue color that leans toward green.
As a result, this blue-gray paint color helps warm up a space. In the dining room pictured below, it pairs really well with the dark, warm wood furniture and the white wainscoting.
The closest Sherwin-Williams color to Boothbay Gray is SW Eventide, an Emerald Designer Collection color.
Sherwin-Williams Mineral Deposit
SW Mineral Deposit leans more toward the purple side of blue-gray. It is a cool blue with a mid-toned LRV of 43 and is just lovely. It's dark enough that I wouldn't use it for a whole-house color, but it would look beautiful in a dining room, bedroom, or office.
The closest Benjamin Moore paint color to SW Mineral Deposit is BM Subway Tile.
Benjamin Moore Mount Saint Anne
This mid-toned blue-gray is on the colorful side, with warm green undertones in the background. With an LRV of 41.9, this color has a lot of pigment but doesn't look too dark on the wall.
I absolutely love this color for accent walls or even accent rooms. A Mount Saint Anne dining room, for example, would be beautiful. In my client's home pictured below this color looks beautiful as an accent wall in her office.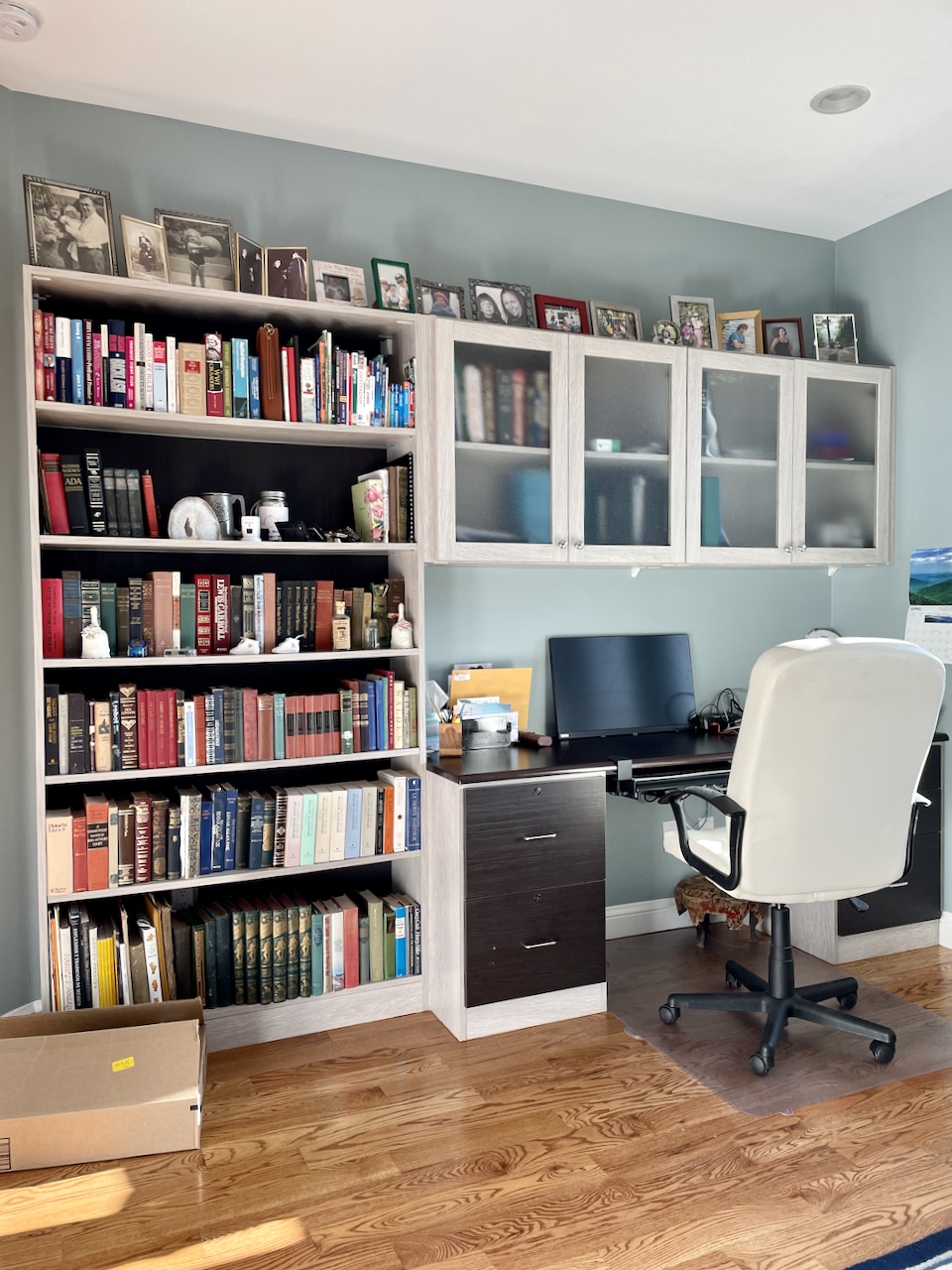 This is a pretty unique color, but the closest Sherwin-Williams color to Mount Saint Anne is SW Breezy.
Benjamin Moore Nimbus Gray
BM Nimbus Gray is a darker blue-gray paint color with strong blue undertones. This color is the perfect example of one we might choose for a client who wants a blue room but doesn't want the color to overwhelm the space.
In our client's bedroom featured below, the light was already cool. If we had chosen a blue paint color it would have been too intense. BM Nimbus Gray offered the perfect pop of color. We loved it so much we even painted the ceiling!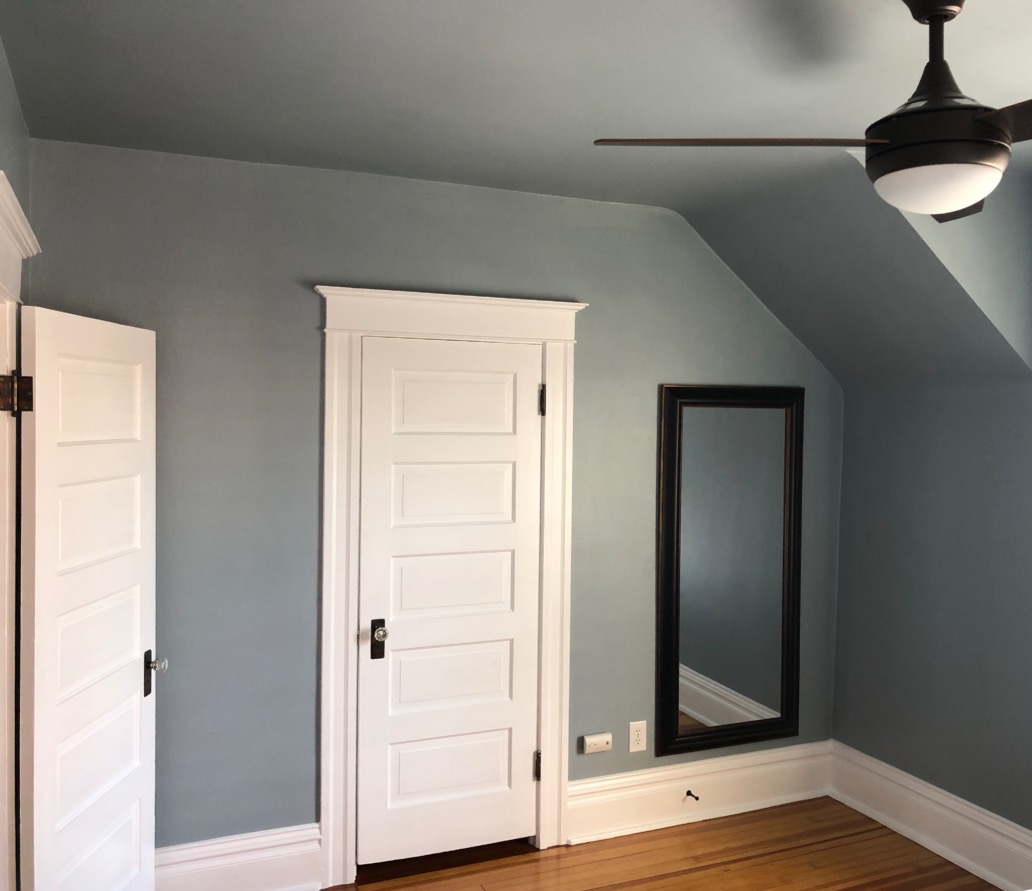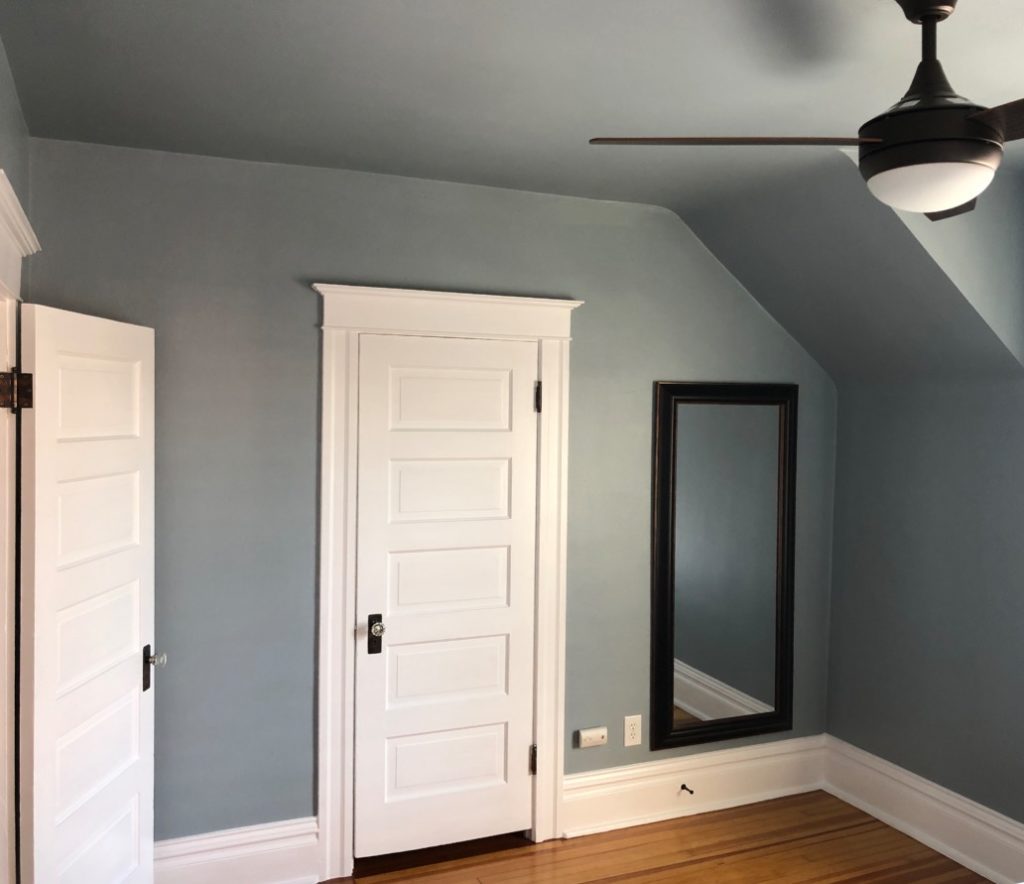 If you want a slightly warmer version of this color, the closest Sherwin-Williams color to Nimbus Gray is SW Dutch Tile Blue.
Benjamin Moore Timber Wolf
BM Timber Wolf is a gorgeous, medium blue-gray paint color with an LRV of 34.74. It reminds me a lot of the popular Chelsea Gray, but has blue undertones instead of green.
This color works really well for interior accents, such as accent walls, interior front doors or even kitchen cabinets. I love the idea of using BM Timber Wolf for lower cabinets with white cabinet uppers.
In the image below, a client's home features a BM Timber Wolf interior front door, which matches with their lower kitchen cabinets. This color has soft blue undertones, and looks closer to a true gray than some of the other blue-gray colors featured.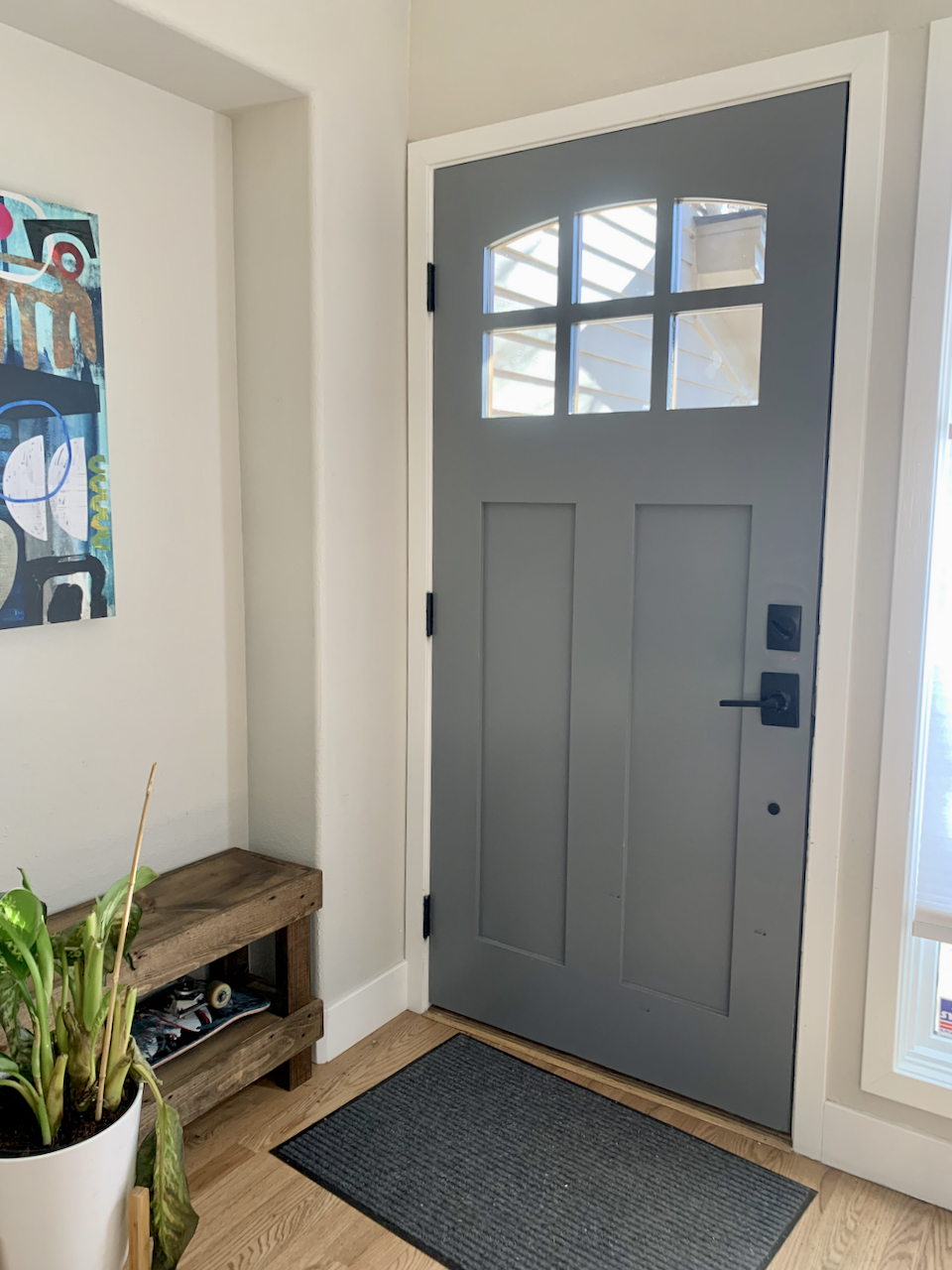 This color is pretty unique. Sherwin-Williams African Gray is the closest color, but it is cooler and leans even more toward blue.
Dark Blue-Gray Paint Colors
Benjamin Moore Britannia Blue
BM Britannia Blue is a rich, muted mid-toned blue-gray paint color perfect for an accent wall or accent room. With an LRV of 18.06, it can be used as an interior or exterior paint color.
Britannia Blue is a warm blue-gray thanks to the softest of green undertones. While it is a fairly muted hue, it still looks plenty colorful on the wall.
Britannia Blue is actually a lighter and more colorful version of Sherwin-Williams Granite Peak, shown next.
Sherwin-Williams Granite Peak
SW Granite Peak is one of my favorite blue-gray paint colors for accent walls and accent rooms. If there were a perfect accent wall blue color, Granite Peak would be it.
Granite Peak is very similar to BM Britannia Blue, but it is darker (with an LRV of 14) and has truer blue undertones that lean violet instead of green.
This master bedroom looks so beautiful with SW Granite Peak walls and ceiling.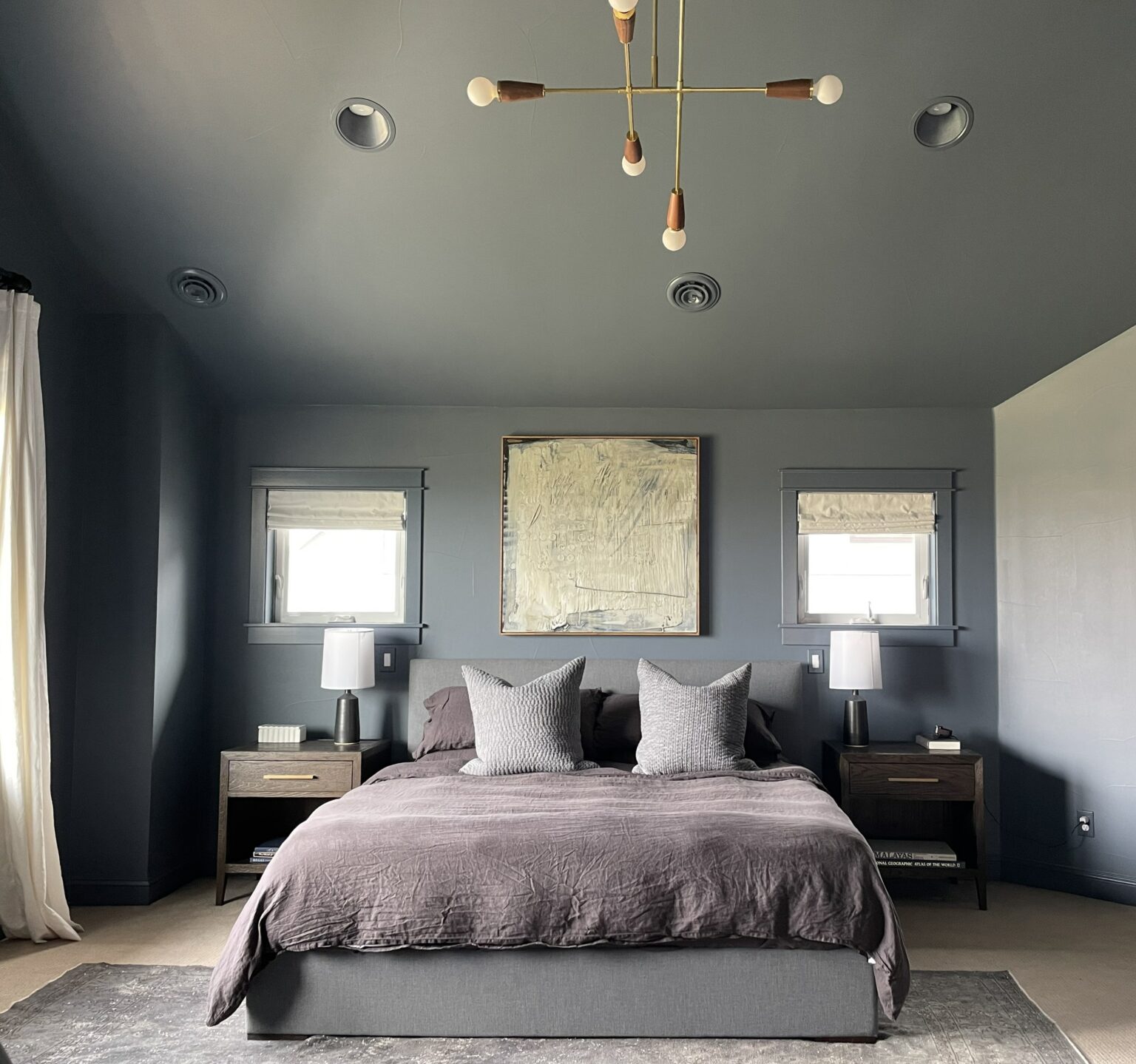 Sherwin-Williams Cyberspace
SW Cyberspace is one of my favorite dark blue-gray paint colors. With an LRV of 6, it's such a dark color that, in some lighting, it can look black. But in reality, it's a very deep blue color.
Cyberspace has plenty of deep charcoal hues mixed in, helping to make the color feel muted and softer on the wall. In our color consulting practice, we've used Cyberspace many times, from exterior paint for siding to interior accent walls, cabinets, and bathrooms.
My master bathroom, pictured below, looks gorgeous with Cyberspace walls, natural wood flooring, and a white vanity.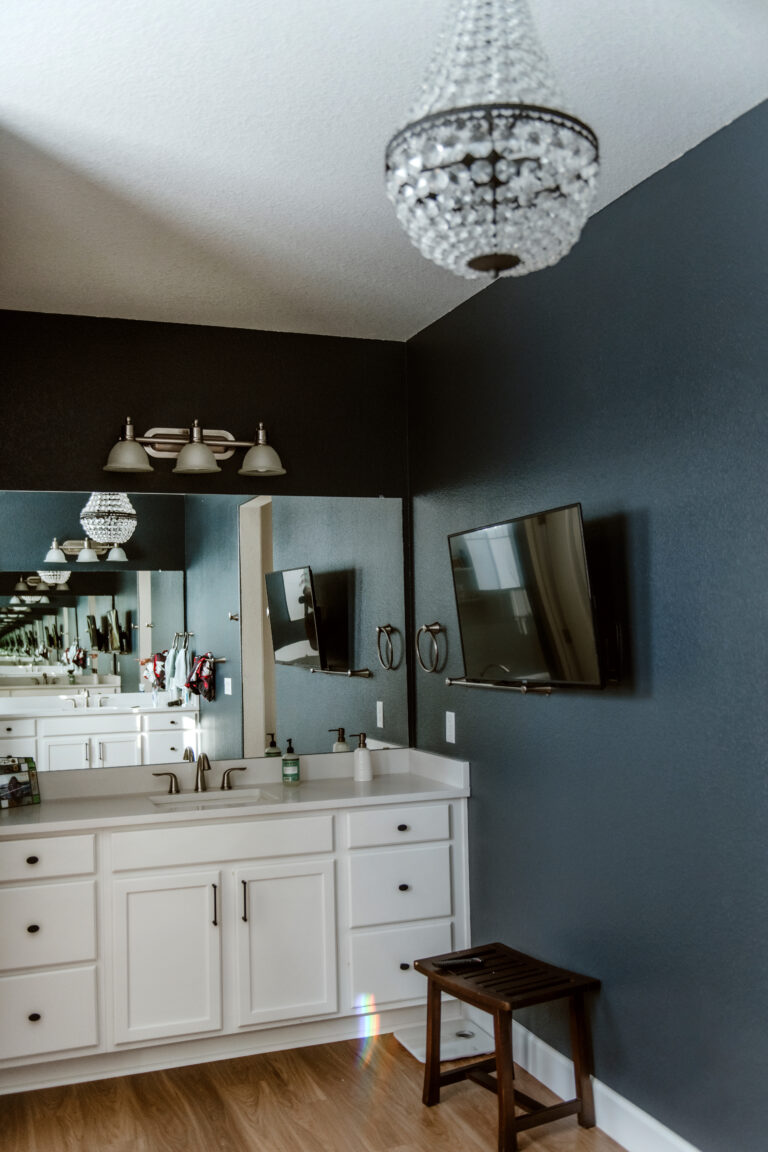 The closest Benjamin Moore version of Cyberspace is BM Westcott Navy.
Best Ways to Use Blue-Gray Paint Colors
Blue-gray colors are so versatile there's not much you can't do with them. But we certainly have our favorite applications.
Light blue-grays work really well as calming bedroom paint colors, but can also be used as whole-house paint colors if they work with the home's lighting and hard finishes.
Medium blue-grays are perfect for whole-room accents within a home, like dining rooms, offices and bedrooms.
Dark blue-grays make beautiful accent walls and can also be used for cabinetry and even as exterior paint colors.
Best Trim and Ceiling Colors for Interior Blue-Gray Paint
I usually prefer brighter whites to pair with blue-gray wall colors. Some of the best options for trim, ceiling, and doors or cabinets include BM Chantilly Lace, BM Simply White, SW Pure White, and SW Extra White.
Can You Use Blue-Gray Paint for Exteriors?
Yes, absolutely! We especially love using medium and dark blue-gray paint colors for exterior projects. Some light blue-grays could work well as blue exterior paint, while others may appear too stark or cold in the bright sunlight.
The home below features SW Cyberspace siding, which looks brighter and bluer outdoors.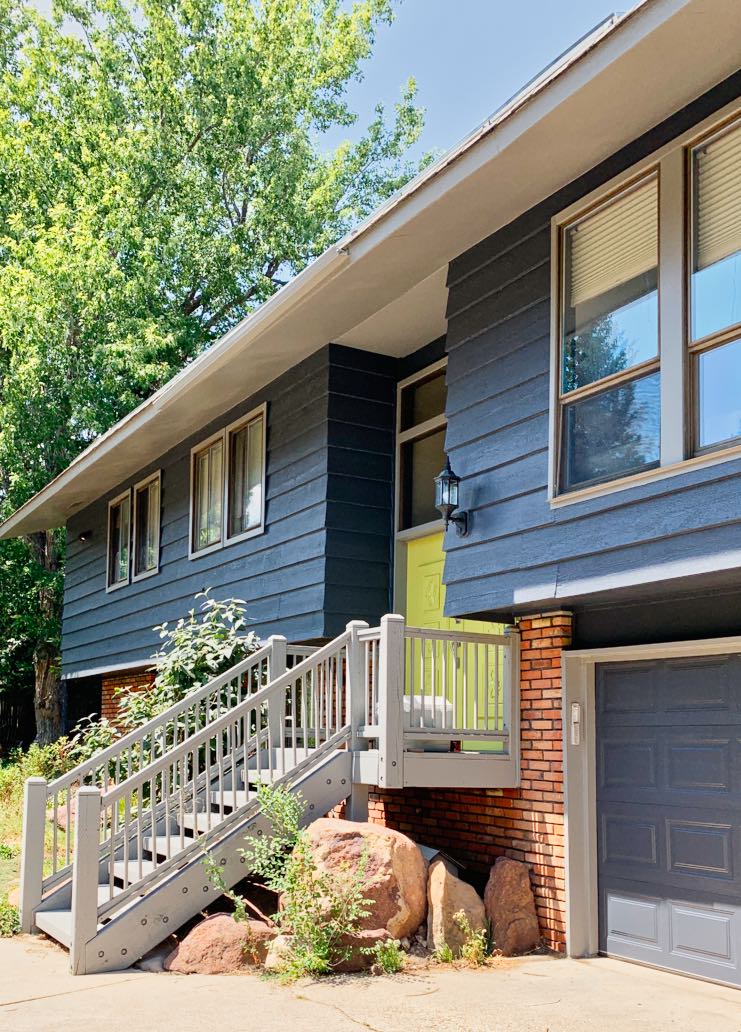 Sample the Best Blue-Gray Paint Colors
Click the links below to sample these paint colors via Samplize:
Key Learning Points
Choosing the best blue-gray paint colors for your home isn't always simple, but it doesn't have to be complicated either. Keep these key learning points in mind when choosing colors for your home:
Blue-gray paint colors are actually grays with blue undertones. Their undertones can lean toward green or violet and they may be more muted or more colorful.
Blue-gray paint colors are perfect for bedrooms, dining rooms, offices, and accent walls. They can also work well for cabinetry and exterior siding colors.
Pair blue-gray colors with brighter white trim and ceilings, such as BM Chantilly Lace, BM Simply White, SW Pure White, and SW Extra White.
Don't forget! Always test your paint colors before painting a whole room! The easiest way to sample basement paint colors (and any paint color for that matter) is via SAMPLIZE. Their peel-and-stick paint samples are easy to use and true to color.
With Samplize you can easily see how different shades look on your unique wall.NEVER, EVER use paint matches from a different brand than the one specified. Results are poor, and there are no standards for the sheens. Even though your painter may genuinely believe it can be done, don't do it. See results from paint matching here.
Online Color Consulting
Still need help picking the best blue-gray paint colors? Discover our Online Color Consulting Packages.
If you liked this post, don't forget to pin it!
We love your comments! Please note that the blog is meant as general advice, and it is not possible to give out specific answers to your paint questions. If you want more specific advice, please consider purchasing a color consultation. Thank you for your understanding.
Related Posts