Learn all about Benjamin Moore Slate Teal (2058-20) in this color review. Slate Teal is a gorgeous, rich, and colorful teal paint. It can be used as an interior or in some cases an exterior paint color. This paint color is like a priceless polished gemstone. It's so beautiful that I painted my home gym with it, and I'm obsessed!
We love using Slate Teal for accent walls or other small accents throughout the house, but there are so many ways you could incorporate this color into your home. This is also a beautiful color for an accent pillow.
Please note that all our photos come from Color Concierge projects in this post. Some of the photos may not be perfect, but we love the way they show the color. Also, we don't color edit the photos so that you can see what these paint colors really look like.
*This post contains affiliate links for products I use and love. If you click on some links and make a purchase, I will get a small commission at no cost to you. This helps pay for the costs of the blog, so I can continue to offer great content to our readers.
What Color is Slate Teal?
Slate Teal is a beautiful dark blue-green paint color (by definition a teal). It can be used for interiors or exteriors. Even though this color is dark, it is still vibrant, and very colorful.
If you plan to use it for interiors, make sure you have lots of natural or artificial light so that you can see the color's true beauty. Without enough light, this color will look black on the wall.
What is the LRV of BM Slate Teal?
Slate Teal is dark and has an LRV of 9. LRV stands for Light Reflectance Value, which is a measurement of how light (LRV=100) or dark (LRV=0) a color is.
What are the Slate Teal undertones?
Slate Teal has green undertones, which are especially clear in rooms with lots of natural or artificial light.
Is Slate Teal warm or cool?
While Slate Teal is a mix of cool blue and warm green tones, its green undertones keep it feeling warm on the wall. This warmth makes it a great option for basements and other darker spaces where you want to use a bold color.
Using Benjamin Moore Slate Teal for Interiors
We love to use Slate Teal for dark accent rooms such as offices or dining rooms, or as accent walls. This color is rich, silky, and gorgeous.
I always recommend that you paint dark walls in the lowest sheen you can tolerate, either Flat or Matte. With a lower sheen, the walls absorb light instead of reflecting light and you're able to better see the true color and all its undertones.
I often get asked if dark walls make a room look smaller, but actually, the opposite is true. Dark walls make the room look bigger because the color recedes, and when you have a white ceiling with a defined interface with the dark color, it makes the ceiling look higher because it draws the eye up.
When using Benjamin Moore Slate Teal interior paint, make sure that you use it in a room with lots of natural or artificial light.
Slate Teal, like so many other dark teal colors, looks fantastic with wood finishes. Make sure that you repeat this color somewhere in the room such as the area rug or the decor.
Is Slate Teal a good color for kitchen cabinets?
I love the idea of BM Slate Teal kitchen cabinets! Dark blue and dark green kitchen cabinets seem to be everywhere right now, and Slate Teal would offer a lovely mix of both hues in your kitchen.
Since Slate Teal is so bright, upper and lower cabinets might be too much. However, this color would work great as the lower cabinet paint color in a tuxedo kitchen cabinet palette.
Should I try a Slate Teal accent wall?
Absolutely! Benjamin Moore Slate Teal was practically made for accent walls. It's a deep, rich color that offers enough warmth to not overwhelm a space. It's a great way to add a pop of bold color to your home.
I originally used this blue-green color as an accent wall alongside Agreeable Gray in my home's basement gym. The two colors bring out the green undertones in each and keep the basement space looking warm.
Is BM Slate Teal a good basement paint color?
We featured Benjamin Moore Slate Teal in our list of the 9 best basement paint colors for a reason – it's really, really lovely in a basement space. Also, please forgive my amateur photography. Even so, words cannot describe how gorgeous this paint color is. This was the only place in the house where I was able to go dramatic like this. Slate Teal is not for the faint of heart, but wow. It looks like a rich beautiful jewel.
While Slate Teal was originally only an accent wall in my basement gym space, I loved it so much that I painted the whole room that color.
My painter accidentally painted the walls eggshell instead of matte, which is what the original accent wall was. I didn't like the eggshell as much since, because it's a basement room, I always have the light on. The light bounces off the walls so you can't see the depth of the color as well.
This is why I recommended above that you use a Flat or Matte sheen when using Slate Teal and other dark paint colors.
Best Trim and Ceiling Colors for Slate Teal
I get asked a lot of questions about using dark paint colors. One of the most common questions is whether you should paint the ceilings white or wrap a dark paint color around the trim and ceiling.
This is really a matter of personal preference, and what you are trying to achieve with the design. For a dark and moody room, then wrap the ceiling and trim. If you want more light and want to make the walls look taller, then paint the ceiling a white color.
In my basement room, we did a combination of both, painting the ceiling bump-out Slate Teal but the actual ceiling a creamy clean white paint color.
Although we prefer creamier whites for trim and ceilings to reduce the contrast, Slate Teal also works well with clean white ceilings and trim. Consider Benjamin Moore White Dove, Swiss Coffee, Simply White, or Chantilly Lace.
In the basement room shown in this post, the white trim is SW Extra White, which is as bright as white trim can get. I'm simply too cheap to repaint the trim and ceiling (like many people), and it works.
When should I avoid Slate Teal?
We don't recommend Slate Teal in rooms with low light and dark ceilings unless you plan to have the lights on all day long. It can also be too bright to use as an exterior siding color.
Slate Teal for Exteriors
I generally don't recommend Slate Teal as an exterior color because it is very bright in the sunshine.
A little bit of this paint color goes a long way outside. It could also look beautiful as an accent in a Victorian Exterior Color Scheme, or an exterior front door.
Would a Benjamin Moore Slate Teal front door work?
A Slate Teal front door would be really fantastic, especially with a white or other light exterior color palette. Slate Teal is a great alternative if you like the idea of a black front door paint color, but want something a little more unique.
BM Slate Teal Alternatives
There are many paint colors that are similar to Slate Teal and that work in similar ways, both interior and exterior.
BM Slate Teal vs. BM Newburg Green
Benjamin Moore Newburg Green could technically be called a teal color, but it's much more muted than you would expect from a teal. Newburg Green is very dark but a bit lighter than Slate Teal, with an LRV of 10.5. It is also much more muted than Slate Teal, with blue undertones and plenty of gray mixed in.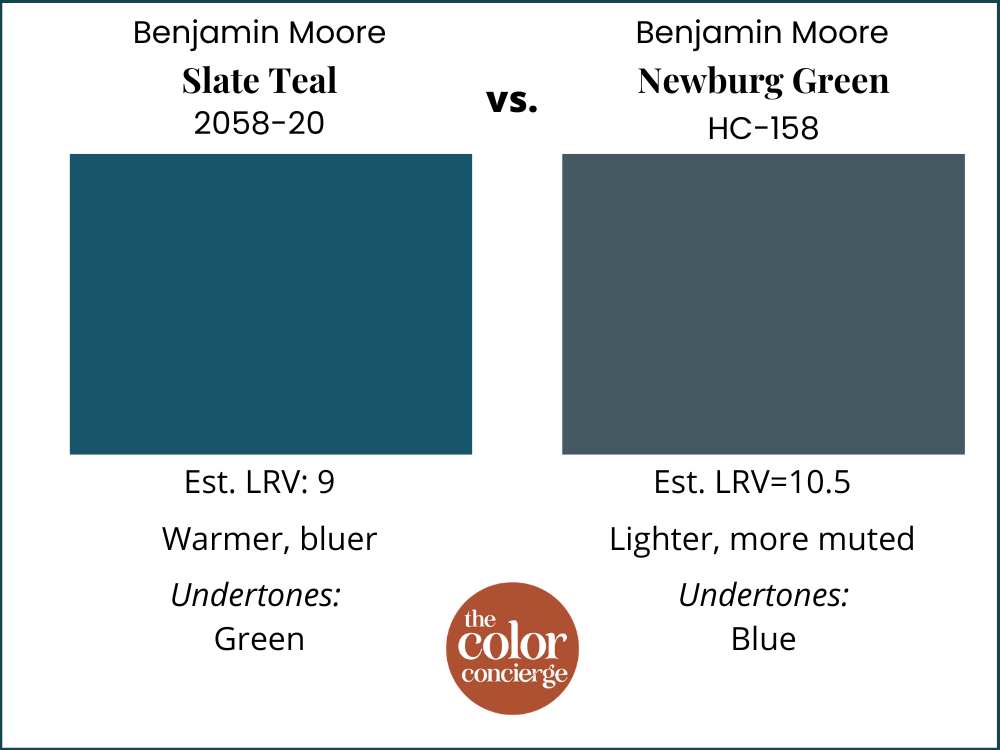 BM Slate Teal vs. SW Still Water
Sherwin-Williams Still Water is another lovely dark green paint color. This color leans much more toward green than BM Slate Teal, but they could still work in similar applications. Still Water has an LRV of 10, so it's just slightly lighter than Slate Teal and it looks greener and more muted on the wall.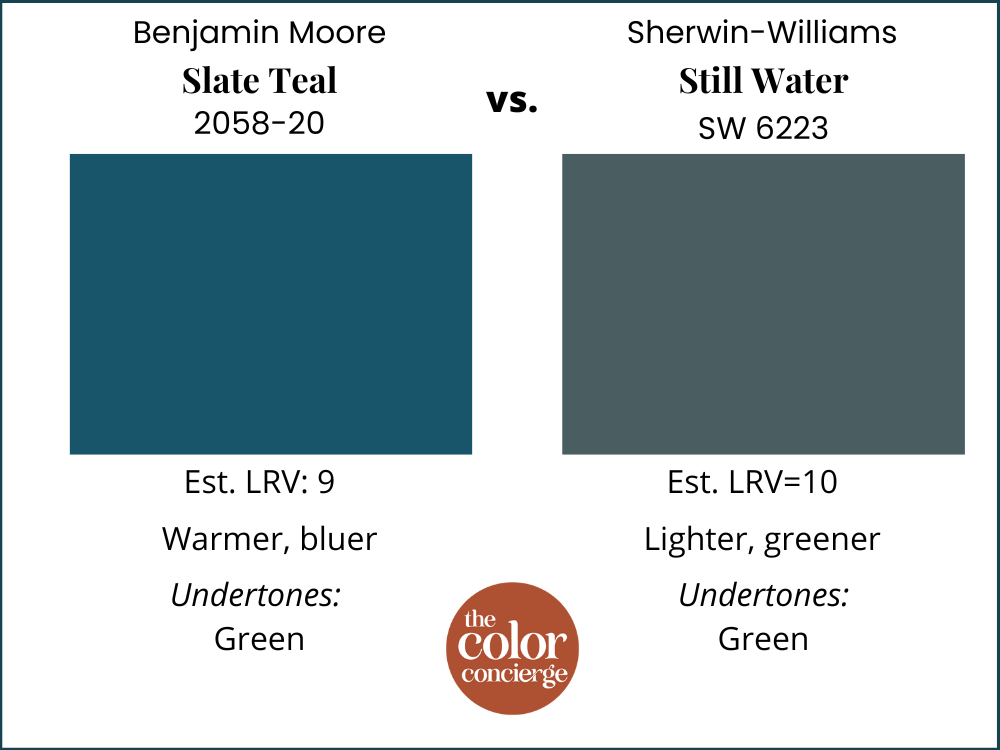 BM Slate Teal vs. SW Moscow Midnight
Sherwin-Williams Moscow Midnight is probably the closest Slate Teal alternative. It is darker than Slate Teal, with an LRV of 5, but has similar green undertones and would work well in similar spaces. Moscow Midnight is a bit more muted than Slate Teal.
Can my painter match Benjamin Moore Slate Teal to Sherwin Williams?
We never recommend paint matching unless you are willing to spend a lot of time going back and forth with the paint company. If you want to match, then make sure you check the paint color with a swatch from Benjamin Moore. Instead, consider SW Moscow Midnight.
Learn about the pitfalls of matching paint colors in our post, Are Paint Color Matches Accurate?
What is the easiest way to Sample Slate Teal?
You should always sample and test your paint colors. The easiest way to sample BM Slate Teal (and any paint color for that matter) is via SAMPLIZE.
Their peel-and-stick paint samples are easy to use and true to color.
There is no mess, and the cost is less expensive than purchasing a sample and a white poster board. Since you don't need to dispose of the paint, it's also environmentally friendly!
With Samplize you can easily see how different shades look on your unique wall.
Key Learning Points
Slate Teal is a beautiful dark green paint color! You can use it for interiors or exteriors. If you use it for interiors make sure you have tons of natural or artificial light so that you can see the beauty in the color. In a dark room, it will look black. For exteriors, it looks great by itself or with red or orange brick or earthy stone.
No matter what, don't forget to test your paint colors. It's a standard best practice. Whenever I test my paint colors, they are perfect, and when I don't test they turn out wrong. Read this post to Learn how to test your paint colors like a pro!
NEVER, EVER use paint matches from a different brand than the one specified. Results are poor and there are no standards for the sheens. Even though your painter may truly believe it can be done, don't do it. Read this post to see results from paint matching.
Online Color Consulting
If you still need help with paint colors, check out our Online Color Consulting packages or an In-Person Color Consultation in the Denver Metro area.
If you liked this post, don't forget to pin!

Related Posts
Benjamin Moore Onyx Paint Review
Benjamin Moore Salamander Color Review
We love your comments! Please note that the blog is meant as general advice, and it is not possible to give out specific answers to your paint questions. If you want more specific advice, please consider purchasing a color consultation. Thank you for your understanding.