Learn all about Benjamin Moore Pebble Beach (1597) in this paint color review.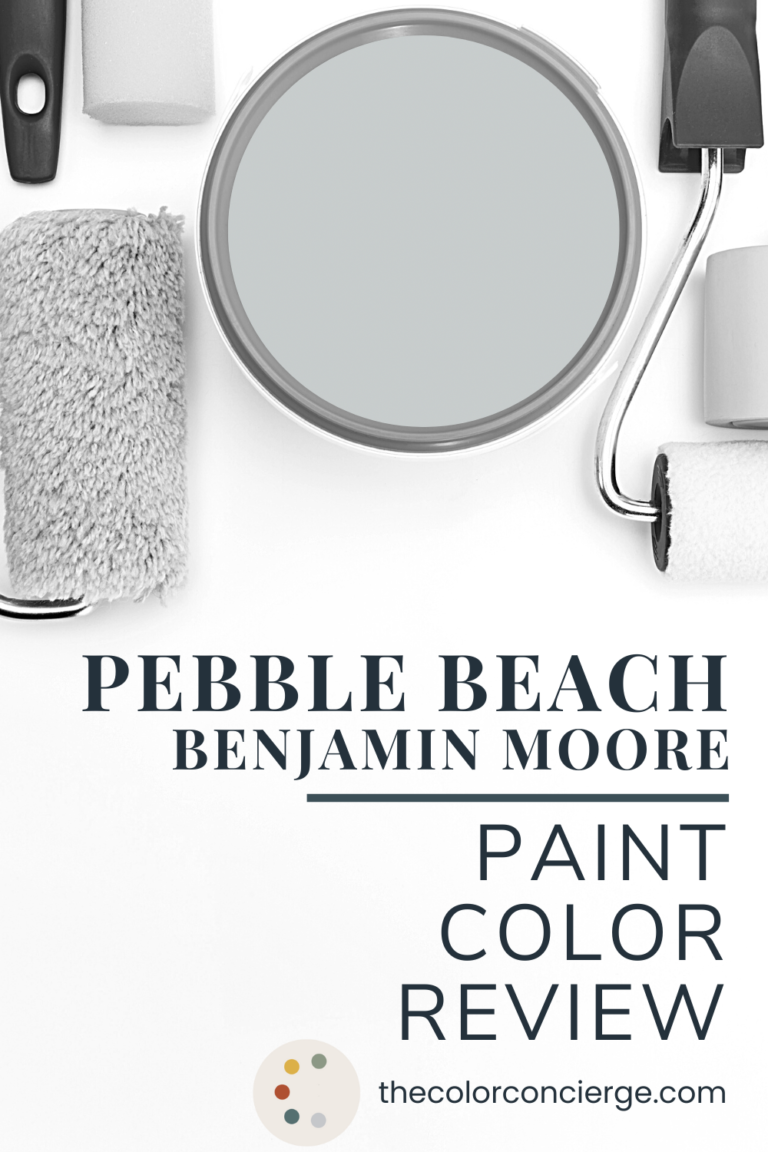 Pebble Beach by Benjamin Moore is a lovely cool blue-gray paint color that's versatile enough to work in many spaces throughout a home.
While it looks beautiful in spaces flooded with lots of light, it still works in darker rooms – even the basement!
In fact, in today's color review, we'll be showcasing several photographs from our client's basement remodel, which featured Pebble Beach paint as the foundation color.
Keep reading to learn more about Pebble Beach and determine if it's the right color for your next project.
*This post contains affiliate links for products I use and love. If you click on some links and make a purchase, I will get a small commission at no cost to you. This helps pay for the costs of the blog, so I can continue to offer great content to our readers.
What is the LRV of Benjamin Moore Pebble Beach?
Pebble Beach has an LRV of 60. This means it is a fairly light color but still has a good amount of pigment. LRV (or Light Reflective Value) measures how light or dark a color will look on the wall. Benjamin Moore Pebble Beach is very clearly gray and not at risk of looking like white on your walls, no matter how much light your room has.
What are the undertones of Pebble Beach?
Pebble Beach paint has blue undertones. You'll often see this color described as a blue-gray color (it is, after all, named for its coastal hue).
Its undertones are especially strong in a certain light, so it can even be used in place of a light blue paint color if you want to make sure the paint doesn't glow on the wall.
This is a color that I might use if someone wanted a blue bedroom, especially in a sun-lit room. We often specify blue-grays for blues so that the color isn't too glow-ey.
Like other gray paints, Pebble Beach undertones become especially clear when compared to other gray colors with different undertones.
Consider the difference, for example, between Pebble Beach paint (with blue undertones), Revere Pewter (with green undertones), and Collingwood (with violet undertones).
Is Benjamin Moore Pebble Beach warm or cool?
Pebble Beach paint is a cool paint color, thanks to its blue undertones. It pairs well with other cool colors, including blues and darker grays. Warm light – such as in a west-facing room – will bring out the warmth of the gray and soften the cool blue undertones. In cool north-facing light, the blue will be more pronounced.
Is Pebble Beach lighter than Stonington Gray?
Yes, Pebble Beach is lighter – but just barely. Stonington Gray has an LRV of 59, so it is only a touch darker than Pebble Beach's LRV of 60. Both colors are gray with cool, blue undertones, but Pebble Beach has slightly stronger undertones so it can appear bluer in certain lighting.
When should I use Benjamin Moore Pebble Beach?
Pebble Beach can work well as a cool, neutral interior paint. Use it in bedrooms, living rooms, and even basements.
Can I use Pebble Beach as an interior trim color?
I don't recommend using Pebble Beach as an interior trim color. While some colors look really lovely wrapped around a whole room – walls and trim – Pebble Beach really looks best when it's paired with the contrast of a clean white trim color like Benjamin Moore Chantilly Lace.
Can I try Pebble Beach kitchen cabinets?
Pebble Beach kitchen cabinets would be beautiful! If you want a light and bright, classic kitchen but want to do something different than all-white cabinets, gray cabinets painted with Pebble Beach could work really well. Pebble Beach could also be used for lower cabinets in a tuxedo kitchen.
Just keep in mind that depending on the lighting of your kitchen and the other colors in the space, there's a chance the paint's blue undertones could really shine through (this could still be beautiful!).
Test Pebble Beach in the space you plan to use it so you know how it will look and don't run into any surprises.
Is Pebble Beach a good whole house color?
Yes, Pebble Beach could work really well as a whole-house color! It's very similar to Stonington Gray, which I used as the foundation for a whole-house color scheme in my former home.
Pebble Beach has enough pigment to look beautiful even in darker spaces (as we'll see in the project spotlight below).
Its blue undertones appear more or less blue based on the lighting of a room, so the color will shift slightly from room to room. While this can be tricky to work with (and a great reason to always test your paint), it can also make for a beautiful whole-house color palette.
Project Spotlight: Benjamin Moore Pebble Beach Basement
Our client selected these paint colors on his own for his remodel back in 2021. This was during the time of post-pandemic supply chain issues that made furniture deliveries take weeks and even months to receive (as evident by the lawn chairs the clients were living with temporarily!).
The clients wanted a consistent color for all of the spaces of this basement remodel project. They wanted to make sure they found a color that was light enough to help the space feel bright, but that wouldn't look washed out or dingy in the shadowy parts of the lower level.
Benjamin Moore Pebble Beach was a wonderful solution! It looks really lovely with the warm gray carpet throughout the space and the accent rug used in the living room really ties all the colors together.
You can see in the image above that the room gets darker as you move from the windows to the stairway, which is deeper into the room. Pebble Beach holds up even in the corners. It's that beautiful!
Pebble Beach Basement Living Room
The living room is the largest space in this basement. Despite being on the lowest level, this room does have pretty large windows. The windows face west, so the room gets flooded with light in the afternoon (when these photos were taken). This warm, golden light helps neutralize the cool, blue undertones of Pebble Beach paint, so the color is less likely to look blue on the wall.
Like many basements, this room has some interesting shapes and architectural elements on the ceiling and by the staircase.
We knew that these would create even more shadows within the room, so we needed a color that wouldn't look dingy or washed out. Pebble Beach totally held up!
Pebble Beach Basement Bedroom
Pebble Beach is a beautiful, calming bedroom paint color. And it works really well in this client's basement bedroom space. The bedroom windows faced east, which get warmer light early in the morning, so the room was in shadow that afternoon and appeared cooler.
You can see how BM Pebble Beach looks bluer in the darker bedroom than it does in the living room with lots of light.
Pebble Beach also pairs really well with the BM Gentleman's Gray accent wall, which has strong blue-green undertones and is warmer than Pebble Beach. The two colors really bring out the undertones in each while still keeping the space fairly neutral.
Which Colors Look Best with Benjamin Moore Pebble Beach?
BM Pebble Beach is a pretty versatile color that can work well with a variety of hues, furniture, and decor, including natural wood and plants as pictured below.
Does Pebble Beach go with white?
Pebble Beach paint looks great when matched with white trim paint. Just make sure to choose cool or clean whites. The blue undertones of Pebble Beach can bring out the undertones in creamier whites and make them look too yellow.
Does Pebble Beach go with gray?
Pebble Beach is amazingly flexible because of its blue undertones. It pairs well with green-grays and violet-grays.
In our client's basement, for example, warm gray carpeting helps make the whole space feel cozier even with cool blue-gray paint on the walls. The gray striped accent rug adds in some darker tones and some blue hues, which really helps tie the whole room together.
Does Pebble Beach go with navy blue?
Definitely! Pebble Beach's blue undertones help it look beautiful paired with navy blue and other blue colors.
It looks especially lovely paired with slightly warmer blue colors, like the Gentleman's Gray accent wall we painted in our client's bedroom. The warmth of the blue-green undertones in this dark gray paint help ensure the whole room doesn't feel too cool.
What are the Best Trim and Ceiling Colors For Benjamin Moore Pebble Beach?
As mentioned above, Pebble Beach works best with a slightly cool white trim paint or a clean white trim paint. Chantilly Lace is a classic, clean white that is very popular for trim and ceiling colors and works well with Pebble Beach walls. Benjamin Moore Oxford White, Sherwin-Williams Pure White or Sherwin-Williams Extra White would also work well.
Just avoid anything too creamy – and don't forget to test your trim and ceiling paint colors in natural lighting too!
Pebble Beach Paint Color Comparisons
Not sure if Pebble Beach is right for your next project? See how it compares to other similar colors.
Pebble Beach vs Stonington Gray
Benjamin Moore Stonington Gray is similar to Pebble Beach in a lot of ways. With an LRV of 59, it is just barely darker than Pebble Beach. Stonington Gray also has similar blue undertones. But Stonington Gray is warmer and more muted than Pebble Beach, which can look brighter on the wall.
Pebble Beach vs Silver Lake
Benjamin Moore Silver Lake is a very close alternative to Pebble Beach. With an LRV of 55, it is slightly darker than Pebble Beach. Silver Lake has similar cool, blue undertones so would likely work well in a lot of the same applications as Pebble Beach.
Pebble Beach vs Agreeable Gray
Sherwin-Williams Agreeable Gray has an LRV of 60, just like Pebble Beach. But the two colors look very different because Agreeable Gray is warmer thanks to its green undertones. Agreeable Gray is more of a greige paint color.
Pebble Beach vs Repose Gray
Sherwin-Williams Repose Gray also has the same LRV as Pebble Beach. But Repose Gray has violet undertones which make it appear much warmer on the wall. When compared, Repose Gray looks more like a taupe than a true gray.
Pebble Beach vs Passive
Sherwin-Williams Passive is probably the closest you could get to Pebble Beach paint in a Sherwin-Williams paint color. Both colors have an LRV of 60, and Passive has cool, blue undertones just like Pebble Beach. Pebble Beach is more colorful, though.
What is the best way to test Pebble Beach?
As always, don't forget to test your paint colors! The easiest way to sample any paint color is via SAMPLIZE. Their peel-and-stick paint samples are easy to use and true to color. With Samplize you can easily see how different shades look on your unique wall.
If you'd like to test the colors that we mentioned in this post, link below for the Samplize samples:
Key Learning Points
Benjamin Moore Pebble Beach is a cool, blue-gray paint color perfect for basements, bedrooms, and living rooms, and whole-house palettes. It's a versatile color that can look blue in certain light.
Pebble Beach is a light color that looks beautiful in rooms with lots of light, but still has enough pigment to work in darker rooms and spaces like basements.
Pebble Beach works best with cool or clean white trim and ceiling colors, like Chantilly Lace, Pure White, or Extra White.
Pebble Beach paint works really well with other gray paint colors in different shades, including both warmer grays and cool grays.
Online Color Consulting
Still need help picking the best paint colors? Discover our Online Color Consulting Package.
If you liked this post, don't forget to pin it!
We love your comments! Please note that the blog is meant as general advice, and it is not possible to give out specific answers to your paint questions. If you want more specific advice, please consider purchasing a color consultation. Thank you for your understanding.
Related Posts
Stonington Gray Paint Color Review
Collingwood Paint Color Review