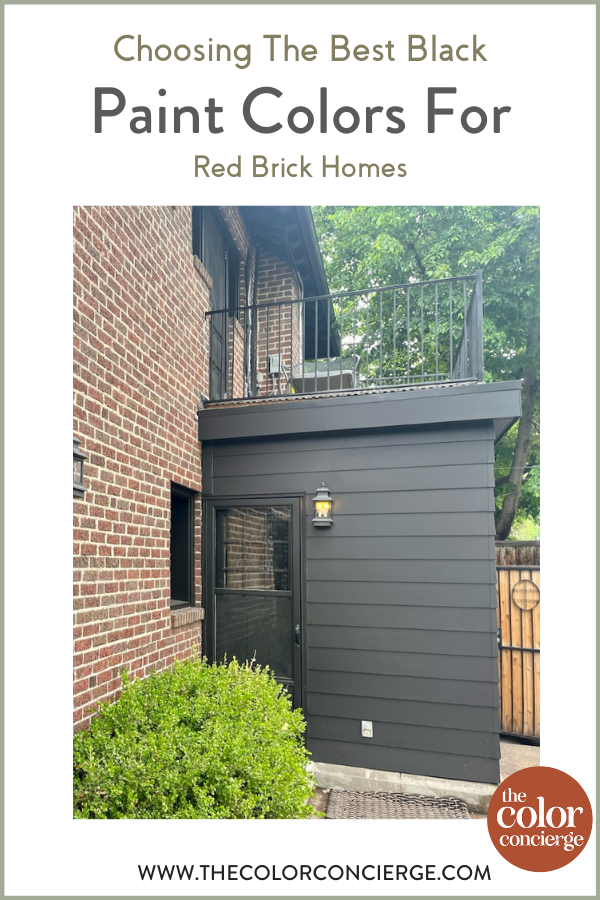 Red brick homes are some of the most classic exterior color schemes in the United States. There have been many different approaches to paint colors that go with red brick exteriors over the years. One of the most popular choices right now is to use dark and moody paint colors with red brick.
At The Color Concierge, we love this combination! While painting over red brick was a popular choice for many years, we're excited to see more and more homeowners embracing the classic look of a red brick exterior.
Using black paint and other dark colors, a timeless red brick exterior can feel really modern and fresh. The black paint color provides a beautiful contrast that makes the red brick glow.
Before we explore our favorite picks for the best colors with red brick, let's explore how to choose a brick house exterior color palette.
*This post contains affiliate links for products I use and love. If you click on some links and make a purchase, I will get a small commission at no cost to you. This helps pay for the costs of the blog, so I can continue to offer great content to our readers.
How to Choose Paint Colors That Go With Red Brick
There are many paint colors that go with red brick, from warm whites and other warm neutrals to black paint and deep blues like we'll be featuring today. If you're planning on using dark paint with red brick, keep these things in mind when planning your palette.
Dark paint colors look great with darker window frames/sashes. You can paint the windows black, charcoal, and even dark gray to keep a harmonious color scheme.
If you have white window frames, consider painting the window trim white, like in the Iron Ore example later.
f you want to specify a white trim color with dark paint, consider a darker, warmer white trim color. You can also use a dark trim color if your windows are dark.
Paint colors look 4-5 times lighter and more colorful outside than inside. A dark gray or black color may look blue, green, or violet depending on its undertones. Consider the undertones when exploring paint colors that complement red brick.
Buy the best quality paint you can afford to make your paint last longer. Dark colors fade faster than light ones but if you pick a high-quality paint it won't matter as much. The longer the warranty the better the paint. Avoid builder-grade paint.
Consider a monochromatic black palette, where all of the surfaces are the same color. You can use a darker black on the windows to add depth.
You can use brown, black, or gray roofs with this type of palette, which is amazingly flexible.
Is it a good idea to paint a red brick house?
It has been a common trend for many years to paint over red brick, often with white or other light neutral paint colors. While this is still a beautiful look, once you paint you can never go back.
You can successfully paint brick, it's just expensive and when properly done, amazingly permanent. The most important step to painting brick is to meticulously clean the brick before you paint and to use a good masonry primer before you paint with color.
The three most common reasons we see for painting brick are:
It is in disrepair. When you paint your brick, it can help protect it.
The brick is really ugly, not just paired with the wrong paint colors.
You just don't like it.
And with all that, you don't have to paint your brick! With the right color scheme, you can avoid the hassle and expense of painting your brick.
What paint color looks best with red brick?
There are many paint colors that look good with exterior red brick, but it's not always easy to find the right exterior color scheme.
A lot of times, when homeowners don't love their red brick exterior it's simply because they don't have the right siding paint or trim paint to complement it.
We love recommending dark, moody paint colors to complement red brick because it easily modernizes a red brick exterior and gives it new life.
Our Favorite Dark Paint Colors That Go With Red Brick
Without further ado, let's explore our favorite black color schemes with red brick.
Benjamin Moore Black Beauty with Red Brick
Benjamin Moore Black Beauty (sample) is a lovely dark and rich warm black paint color. It has an LRV of 5, making it the darkest of the paint colors we're featuring today. The warm undertones help it pair beautifully with warm, red brick.
The client's home pictured below was a project we completed with a Denver client very recently. Before it was painted, all the non-brick surfaces were a cool gray that matched the roof. We felt that a higher contrast would really bring this red brick back to life – and it absolutely did!
We painted all of the surfaces Black Beauty, even the roofline, windows, front door, siding, and columns. This is a simple, gorgeous, and sophisticated look. You need either dark or paintable windows to make it work.
The only surface we painted another color was the front porch ceiling, which was BM Edgecomb Gray.
We painted the front porch ceiling Edgecomb Gray (color review), one of our favorite light paint colors that have warm, green undertones. We like to keep the front porch ceilings light and bright to reflect the white colors inside. Dark front porch ceiling colors can make an interior look dark.
While we could have painted the front door (pictured above) BM Black Beauty to tie into the trim and siding, we decided to keep the gorgeous wooden door to help warm up the palette. The finished look is a really modern take on a classic brick exterior!
You can order Samplize samples for this palette by clicking on the links below:
Sherwin-Williams Iron Ore with Red Brick
SW Iron Ore (color review) is a warm black paint with invisible green undertones. The only time I've ever seen the undertones was in a very bright high altitude location, where undertones can really sneak up on you.
The LRV of Iron Ore (sample) is 6, which makes it a soft black or very dark charcoal. This can work really well as a whole-house black paint color and its warmth helps it pair beautifully with red brick.
We used SW Natural Choice (sample) for the trim on our client's house pictured below because the window frames were white vinyl. It has an LRV of 73, ensuring the contrast with Iron Ore is not too stark.
You can see below how Iron Ore completely transformed this client's red brick house below, especially compared to the light beige paint it was previously painted.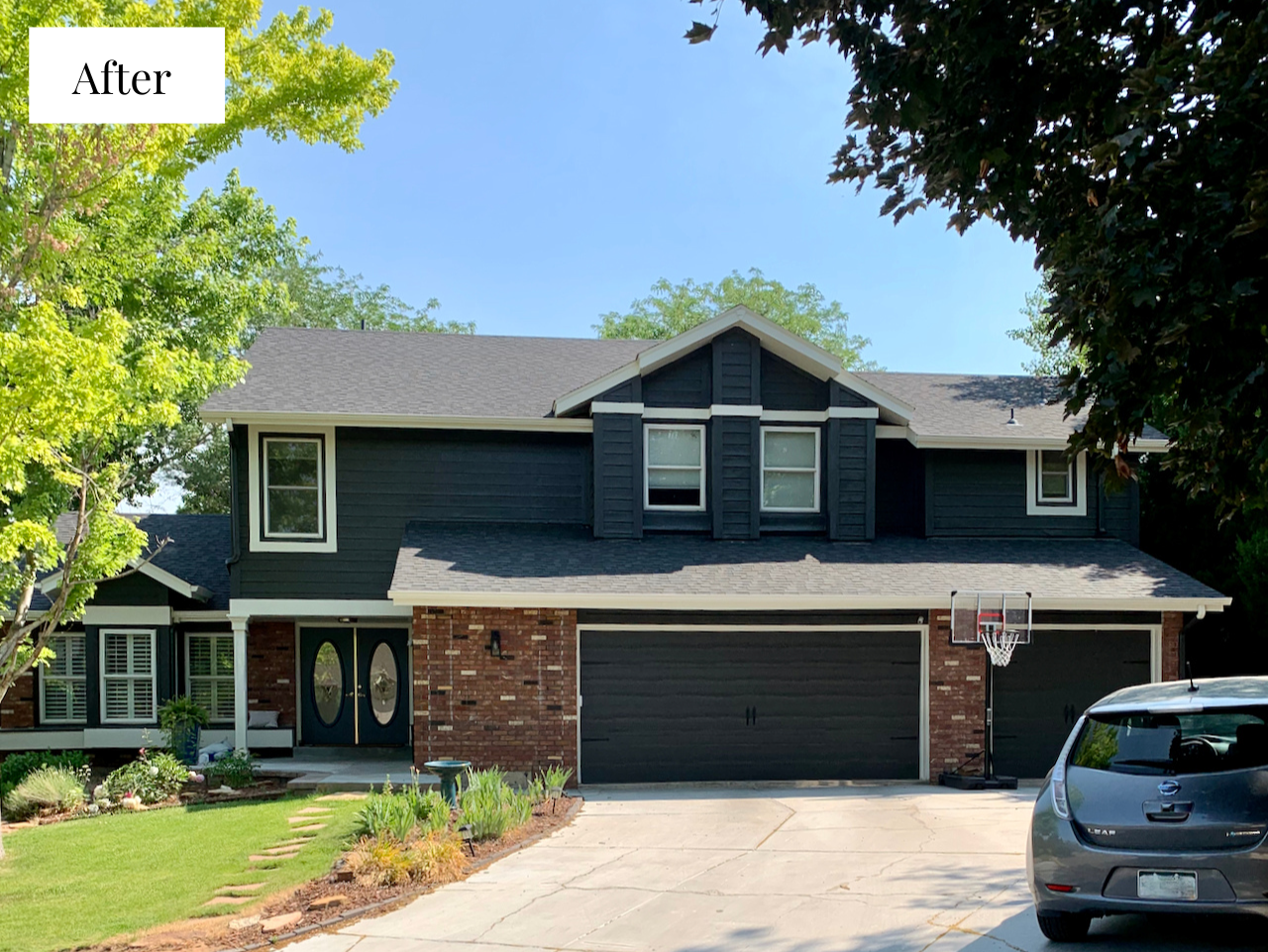 You can order Samplize samples for this palette by clicking on the links below:
Sherwin-Williams Cyberspace with Red Brick
SW Cyberspace (color review) is another one of our favorite colors that go with red brick. It's such a dark color that, in some lighting, it might look black. But in reality, it's a very deep blue color that really comes alive in outdoor light. It's one of the best exterior blue paint colors.
With an LRV of 6 and deep charcoal undertones, Cyberspace is a soft, muted deep blue that adds a touch of cool freshness to a red brick color palette.
We've used Cyberspace (sample) with red brick for two of our clients' homes in recent years. And while they both have Cyberspace and brick, you can see how different lighting and complementary colors create really unique looks.
On the mid-century modern house featured below, Cyberspace is paired with red brick plus a bright BM Sweet Pea (sample) front door and BM Chelsea Gray (sample) trim and windows.
In another client's home pictured below, we paired Cyberspace with creamy SW Westhighland White for the trim (with white windows), which looked really lovely in the bright sunlight.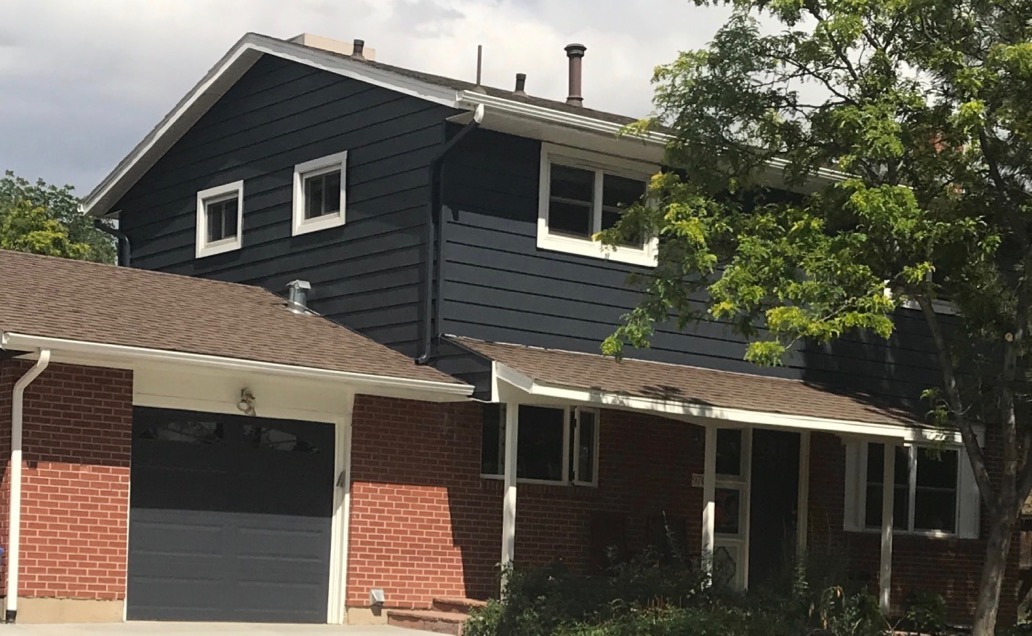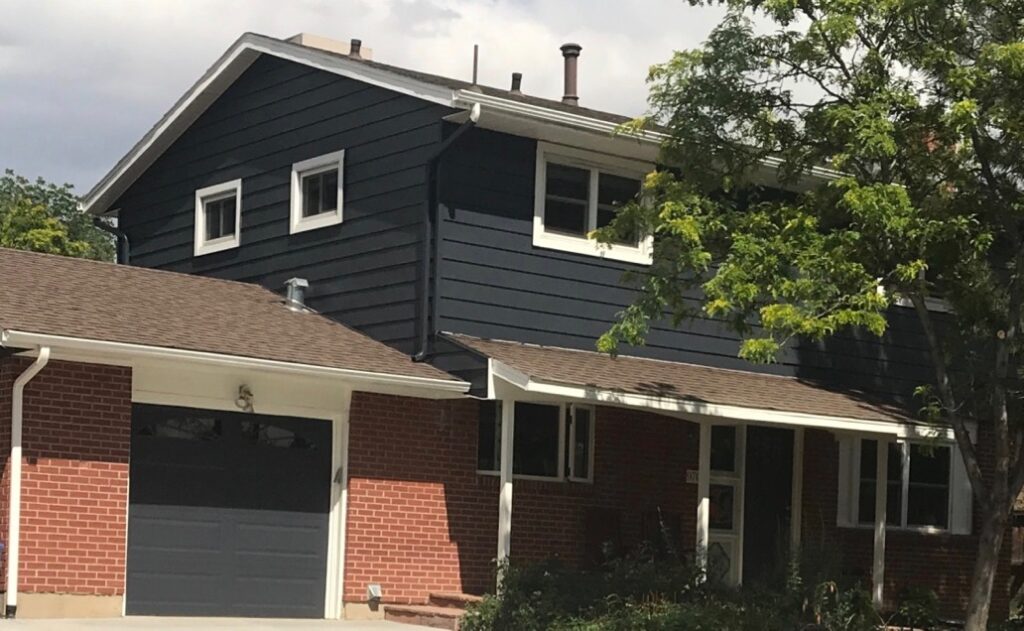 You can see how different SW Cyberspace can look even when paired with similar red brick. On the first home, which is at a much higher elevation than the second home, Cyberspace looks a lot brighter and bluer. On the second, lower elevation home, it looks darker and more like a black paint.
You can order Samplize samples for this palette by clicking on the links below:
Benjamin Moore Cheating Heart with Red Brick
BM Cheating Heart (color review) is a soft black paint color with subtle deep blue undertones. It's a really beautiful option for exteriors with red brick or other warm stone colors.
It's too blue to be black and too black to be gray. It's a complex color that changes in the light throughout the day and looks much brighter outside than on the page.
The LRV of Cheating Heart (sample) is 6.9, making it the lightest black paint featured in this post. But while it is a soft black, we recommend using this color with either black windows, or paintable windows. White vinyl windows could look much too harsh and out of place.
On our client's house featured below, BM Cheating Heart completely elevated the design of the home.
The soft black looks like it was always meant to be with the red brick and transforms the home with minimal paint.
You can order Samplize samples for this palette by clicking on the links below:
Best Way to Test Red Brick House Paint Colors
When you're looking for the best colors that go with red brick houses, it's important to never assume a color you like on paper will look right on your home.
We always recommend that you test paint colors on your house because lighting can completely change the colors.
In the old days, this meant we painted a large poster board with sample pots and a huge mess.
Now we have 9X14" Pre-Painted peel-and-stick paint samples from SAMPLIZE.  Check out the SAMPLIZE website here.
Key Learning Points
If you want to revitalize your red brick exterior and bring new life to your home, using dark body paint and trim paint is a simple upgrade that makes a big impact!
When it comes to using color schemes with red brick, remember these points:
Remember: NEVER, EVER use paint matches from a different brand than the one specified. Results are poor and there are no standards for the sheens. Even though your painter may truly believe it can be done, don't do it. See results from paint matching here.
Online Color Consulting
Still need help picking the best paint colors? Discover our Online Color Consulting Packages.
If you liked this post, don't forget to pin it!
Related Posts:
We love your comments! Please note that the blog is meant as general advice, and it is not possible to give out specific answers to your paint questions. If you want more specific advice, please consider purchasing a color consultation. Thank you for your understanding.