Learn all about Benjamin Moore Cheating Heart in this color review (Sample Here).  This soft black paint color with subtle deep blue undertones is a beautiful option for exteriors with red brick or warm stone colors.  It looks much brighter outside than on the page. It's too blue to be black and too black to be gray.  It is complex and beautiful.  It changes in the light, all day long.
This color is also an excellent option for interior accents.  It's pretty dark so should be used in rooms with tons of light.
Please note that all the photos in this post are from Color Concierge projects.
We even painted the gutters and the downspouts the same color as the body.  The homeowner took it an extra step further and painted the back porch ceilings Cheating Heart.  It looks intentional and amazing!
*This post contains affiliate links for products I use and love.  If you click on some links and make a purchase, I get a small commission at no cost to you.  This helps pay for the blog costs so I can continue to offer great content to our readers.
What are the Best Exterior White Trim Colors for Cheating Heart?
You can absolutely use this color for cabinets.  If you want to use it for both upper and lower cabinets, make sure that you install soft white countertops and a white backsplash to keep the look light and balanced.  You can also use it as a lower cabinet with white upper cabinets.  Ideally, the upper cabinet white should be the same as your white trim color.
What is the easiest way to test Cheating Heart?
We always recommend that you test paint colors in your house because lighting can change a color completely. 
In the old days, this meant we painted a large poster board with sample pots and a huge mess.
Now we have SAMPLIZE, 9X14″ Pre-Painted peel-and-stick paint samples.  Check out the SAMPLIZE website HERE.
Comparisons with Other Black Paint Colors
Cheating Heart vs. Wrought Iron
Wrought Iron is the darker paint color.  They are both soft blacks with blue undertones, but Cheating Heart will look bluer outside.
Cheating Heart vs. Hale Navy
Although they both have blue undertones, Hale Navy is the darker color and a deep rich blue outside.
SW Peppercorn vs. Cheating Heart
Peppercorn is pretty different – it is much lighter and has violet undertones.  They would read pretty similarly, though.
Which Sherwin-Williams Colors are like Cheating Heart?
Sherwin-Williams doesn't have any colors that are close to Cheating Heart, and it is very difficult to copy because of its subtle undertones.    If you want a Sherwin-Williams color, you will need to compromise.
Learn more about matching paint colors here.
Key Learning Points – Cheating Heart
Benjamin Moore's Cheating Heart is a complex charcoal-ish black with blue undertones. It's too blue to be black and too black to be gray.  It is complex and beautiful.  It changes in the light, all day long.  It's gorgeous with red brick outside, and nice as an interior accent in a room with tons of light.
No matter what, don't forget to test your paint colors.  It's a standard best practice.  Whenever I test my paint colors, they are perfect, and when I don't test they turn out wrong. We love to test with SAMPLIZE peel-and-stick samples.  Check out the SAMPLIZE website HERE.
NEVER, EVER use paint matches from a different brand than the one specified.  Results are poor and there are no standards for the sheens.  Even though your painter may truly believe it can be done, don't do it. See results from paint matching here.
Online Color Consulting
Still looking for the perfect paint color?  Discover our ONLINE COLOR CONSULTATIONS!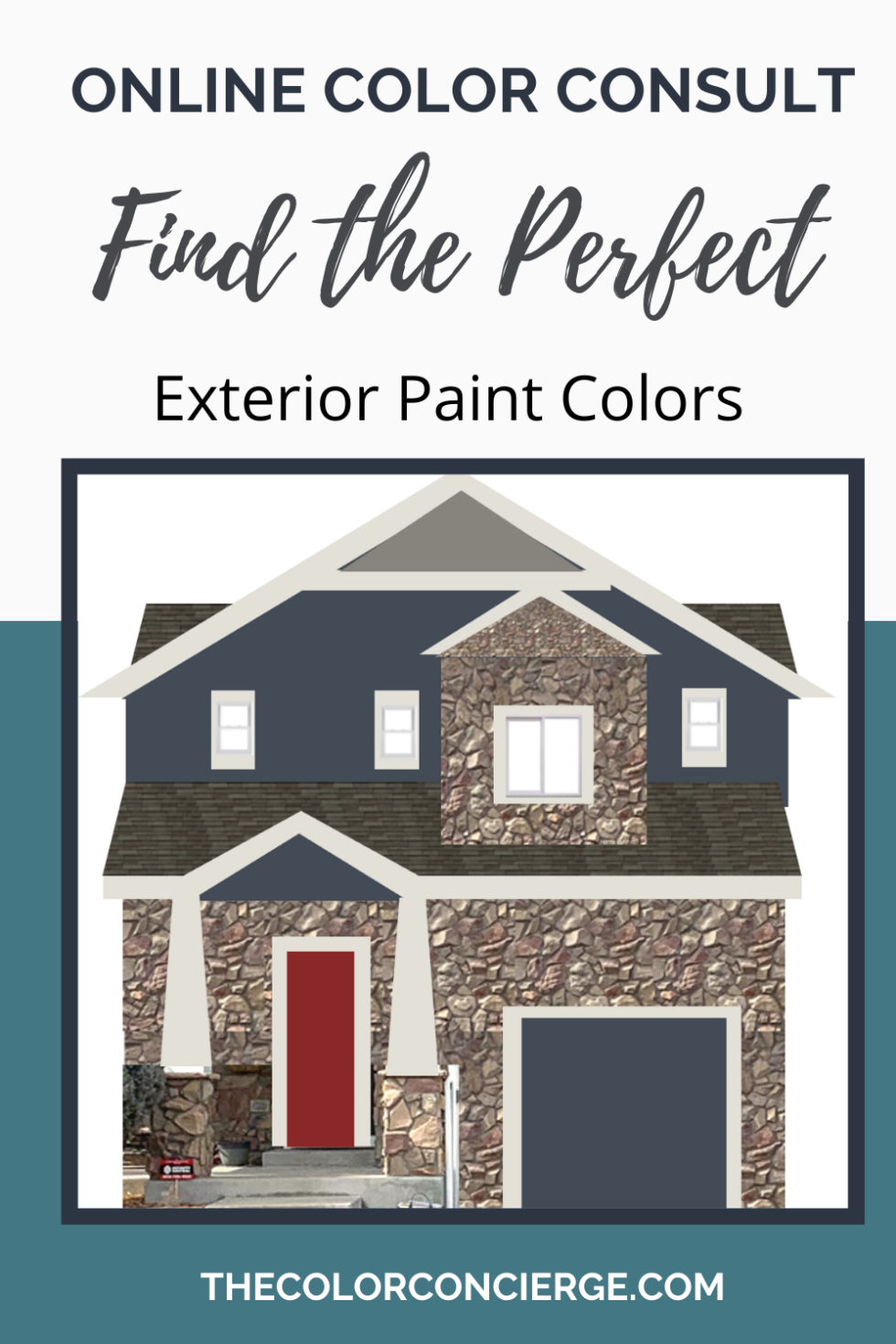 If you liked this post, don't forget to pin!

Related Posts
The Best Blue Paint Colors for Exteriors
Sherwin-Williams Iron Ore Color Review
We love your comments! Please note that the blog is meant as general advice, and it is not possible to give out specific answers to your paint questions.  If you want more specific advice, please consider purchasing a color consultation. Thank you for your understanding.