Sherwin-Williams Gossamer Veil (SW 9165)  is our favorite Sherwin-Williams greige color, hands down,  It doesn't get as much love online as Agreeable Gray (link to review here), but we like it a thousand times more.  Gossamer Veil has similar undertones, primarily green with a flash of violet.
What makes Gossamer Veil (sample here) so amazing (and better than Agreeable Gray) is that it is crisp and clean without the fleshy tones that AG can have in a darker room.  The name says Gossamer, and that's really what the color looks like!  It's sheer and lovely and clean. If you are looking for a warm gray without any strong undertones, Gossamer Veil is your color, and one of Sherwin-Williams 50 Most Popular Colors.
Please note:  All the photos in this post come from Color Concierge projects and are part of our portfolio.  These are not professional photos, and most are customer photos that give a realistic look of the paint color. These photos are not color-edited.
What is the LRV of Gossamer Veil?
The LRV (Light Reflectance Value) is 62 (scale from 1/dark to 100/light), which makes it light-reflecting, and a great color for many residential rooms.  When you see it in person it looks even lighter than you would expect for an LRV of 62.  It really reminds me of Benjamin Moore Classic Gray, which is a much lighter color with an LRV of 74.
When should I use Gossamer Veil?
This paint color is incredibly balanced.  It looks great in light-filled rooms or darker rooms with low light.  It can look fabulous with modern white kitchens with quartz, and make older homes with Tuscan finishes look modern.  Make sure to test this color carefully as with any other before you paint!
This room has primarily Northern exposure, and the color still looks soft, neutral, harmonious, and lovely.  It was an amazing transformation from the previous Tuscan color palette.  The accent wall color over the fireplace is SW Fawn Brindle, a darker version of Gossamer Veil. Note how much more harmonious the fireplace tile looks with this palette.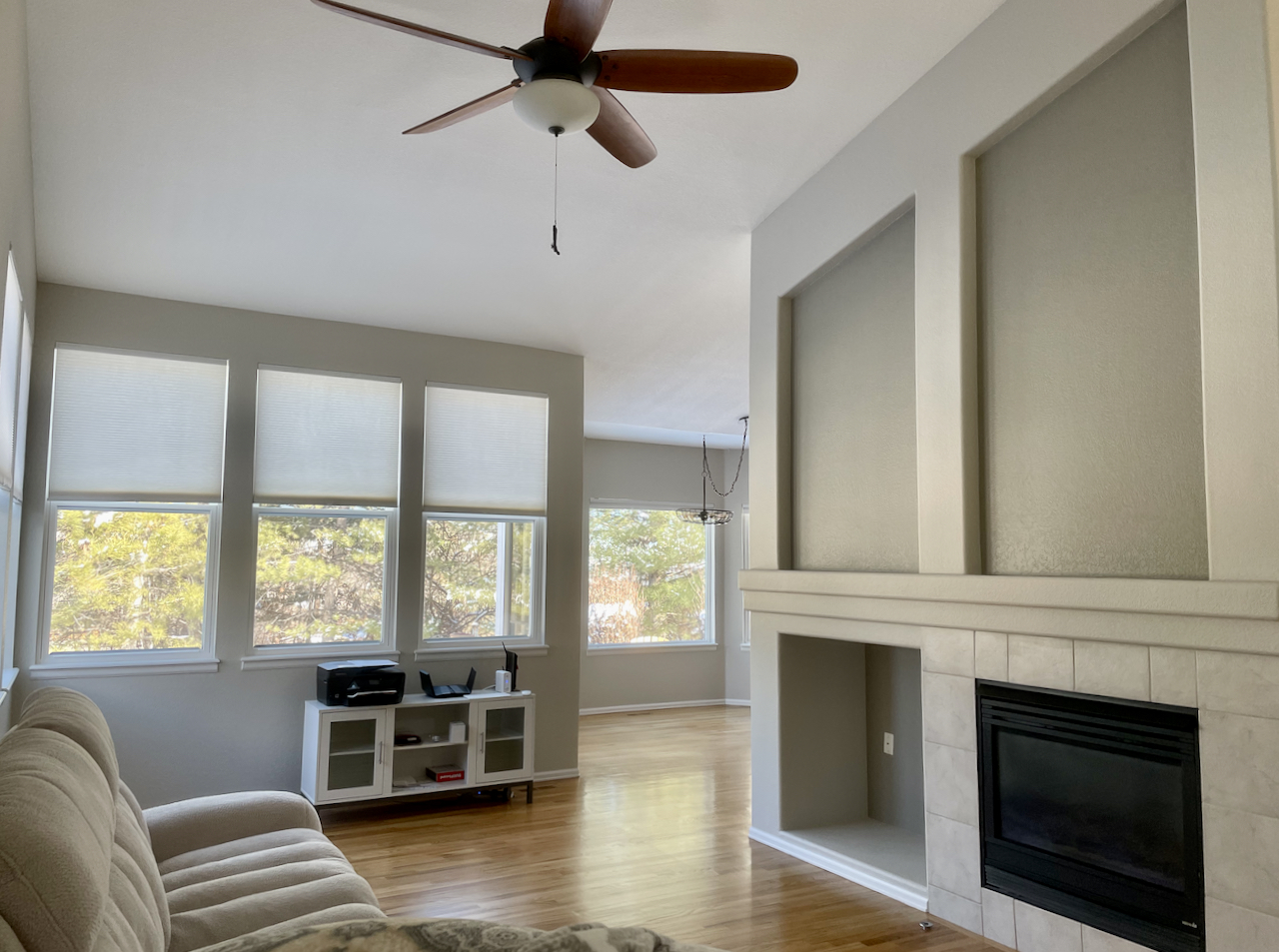 Gossamer Veil vs. Other Paint Colors
Agreeable Gray vs. Gossamer Veil
Agreeable Gray (samples here) is a darker and cooler gray color, with strong green and some violet undertones.  It is fleshier in low light than Gossamer Veil.  Gossamer Veil has similar undertones but is cleaner and brighter.  They can be used in similar situations.
As with Agreeable Gray, Gossamer Veil can be a beautiful color, but only when used the right way.  Paint colors are a tool, and you should pick a color because it looks great in the room, not because the color is pretty.  If it looks great in the room, with your hard finishes and decor, then you will love it!
Gossamer Veil vs. Repose Gray
 Benjamin Moore Repose Gray (sample here) is a much cooler and darker gray color than Gossamer Veil.  Repose has strong violet undertones vs. Gossamer's soft green ones.  I wouldn't use them in the same room, and when one looks good in a room, the other one usually is not an option.
Gossamer Veil vs. Drift of Mist
Drift of Mist is lighter than Gossamer Veil but can feel heavier because it has cool violet undertones.  Drift of Mist (sample here) is a light version of Repose Gray.  I wouldn't use these in the same situations.  If Gossamer Veil looks great in a room, Drift of Mist will not look as good, and vice versa.
Gossamer Veil vs. Bruton White
Benjamin Moore Bruton White is almost identical to Gossamer Veil.  I personally can't tell the difference between the two unless I look very closely. Bruton White (sample here)  might be slightly cooler than Gossamer.   You can substitute them for each other, but as always, test carefully.
What are the best trim and ceiling whites for Gossamer Veil?
Trim and Interior White Doors
We like to use crisp whites such as SW Extra White (sample here), and soft off-whites such as SW Pure White (sample here), SW Alabaster (sample here), or SW Greek Villa (sample here).  If you get much darker than that, the whites start to get creamy, and the "white" color will look yellow.  Avoid creamy whites such as SW Westhighland White and SW Shell White. The trim and doors should be the same white color, and the sheen should be Semi-Gloss.
This stairway was transformed with Gossamer White as the wall color and Extra White on the trim and baseboards.
This before photo shows that the handrails and trim were previously unpainted.  A consistent white trim color looks more harmonious and intentional.
Here is another angle of the fireplace with the Fawn Brindle accents.
Ceilings
For ceilings, we like to use the same ceiling white as the trim white, and painted with a flat sheen.
Can I use Gossamer Veil for Exteriors?
Yes, Gossamer Veil can look like a soft white outside, where the bright sun makes colors 5-10 lighter and brighter in the sunshine.  The "white" trim color below is Gossamer Veil.    The body color is SW Classic French Gray.
You can also use this as a "white" color for a whole-house body-color, especially in a location with bright sunshine such as Colorado, Florida, Texas, or Florida.
When should I avoid Gossamer Veil?
Don't use Gossamer Veil with Creamy Whites, or cool grays with violet undertones such as Repose Gray.  For some reason, they suck the life out of each other.
Which Benjamin Moore paint color is closest to Gossamer Veil?
Benjamin Moore Bruton White is almost identical to Gossamer Veil.   Bruton White isn't a perfect match, but it's close enough that I could use as a replacement for Gossamer Veil in similar situations.
Of course, we never recommend matching paint colors from Sherwin to Benjamin Moore. Learn more about matching paint colors here.
What is the easiest way to test your paint colors?
We always recommend that you test paint colors in your house because lighting can change color completely. In the old days, this meant we painted a large poster board with sample pots and a huge mess.
Now we have SAMPLIZE, 9X14″ Pre-Painted peel-and-stick paint samples.    They are EASY to use, AFFORDABLE ($5.95/ea), and ECO-FRIENDLY –  no messy painting or cleanup without half-used paint samples in your back closet, and they can deliver the NEXT DAY!
Check out the SAMPLIZE website HERE.
The Verdict
Gossamer Veil is a soft, clean, and beautiful paint color.  It is well balanced, and as long as the color pairs well with your decor and hard finishes, it can look great in most light exposures.
NEVER, EVER use paint matches from a different brand than the one specified.  Results are poor and there are no standards for the sheens.  Even though your painter may truly believe it can be done, don't do it. See results from paint matching here.
Online Color Consulting
Are you still looking for the perfect paint color?  
Discover our ONLINE COLOR CONSULTATIONS! Or, explore 8 easy ways to choose paint colors.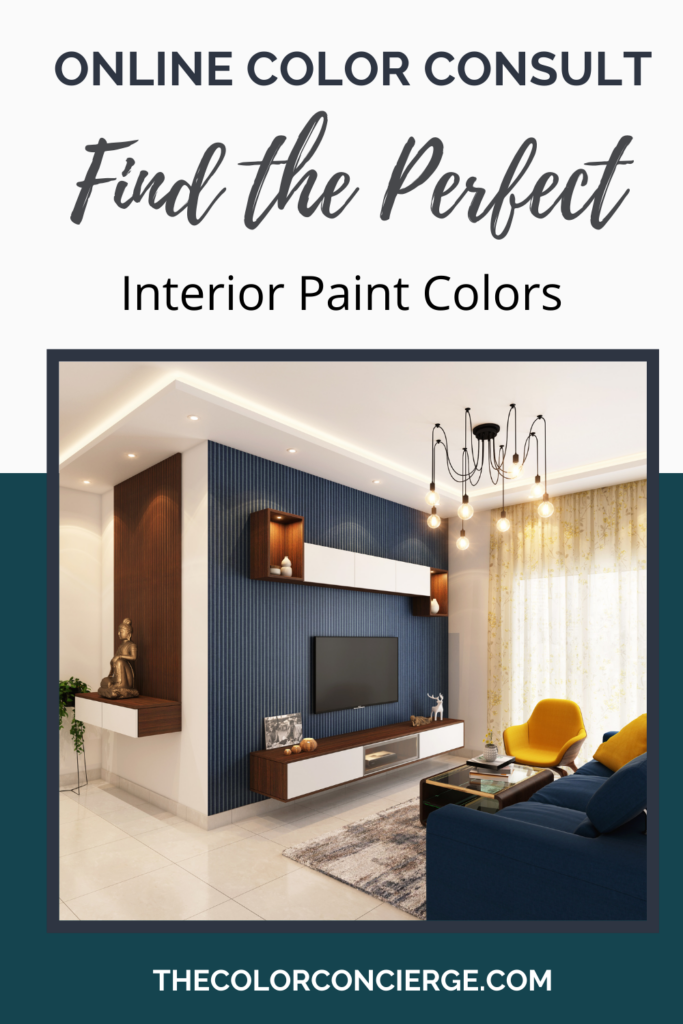 If you liked this post, don't forget to pin!

Related Posts
All About Agreeable Gray – The Good and Bad
We love your comments! Please note that the blog is meant as general advice, and it is not possible to give out specific answers to your paint questions.  If you want more specific advice, please consider purchasing a color consultation. Thank you for your understanding.