This kitchen remodel has twelve timeless kitchen finishes for a remodel that will increase the value of your house.  The kitchen is one of the most beautiful things I have ever seen. It was featured in Colorado Homes and Lifestyles, and one year later, it is still a practical and functional space. The kitchen designer was Second Nature Interiors.
White Kitchen Cabinets with Glass Doors
Kitchen cabinets are the backbone of your kitchen, and white is the most classic color. Choose white uppers if you decide on Tuxedo Cabinets as we did. We chose Greenfield Cabinetry with Glacier uppers to match the true white wood molding colors in the house, and Cyberspace (SW 7076) lower cabinets.  Greenfield Cabinetry offers an affordable option, built from solid wood.  I consider them a moderately priced yet high quality alternative.  If you want a timeless kitchen, you should have cabinets that will last. Otherwise, why bother?
Smart Storage Solutions
KornerKing aftermarket storage solutions for your base corner cabinets are a very smart solution instead of Lazy Susans.  They have drawers and also spin like a lazy susan with storage bins on the side to maximize storage space.
Carrara Marble Counters
These are absolutely gorgeous, and have been used in Italian kitchens for a thousand years. For American homeowners they are either a work of art that gets lovingly cared for, or a complete hassle to maintain.  They are not always as palatable to American designers because of the patina and etching they develop.  My review of the Carrara Marble countertops is here. The cost for natural marble is on the low end of the granite scale. If you don't want the upkeep, you can always choose a quartz version.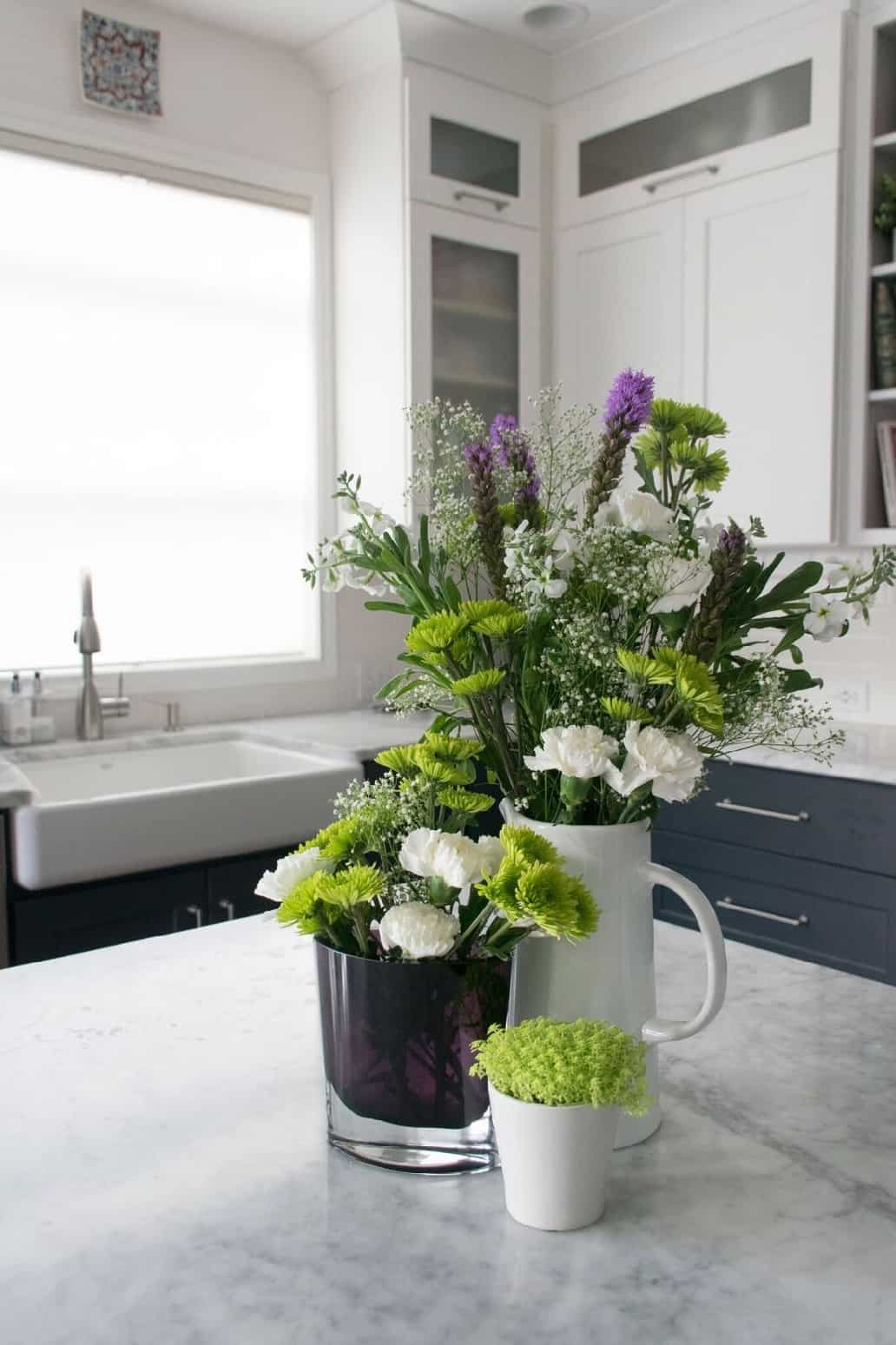 Mid-Toned Brown Hardwood Floors
Mid-toned brown stain is the most classic and timeless color for wood floors. We replaced charcoal tile floors with stained #1 Red Oak hardwood.  The stain was 50/50 Minwax Classic Gray and Jacobean.  Make sure that you test combinations in place on the floor you will stain for exactly the right color.
Mid-toned wood floors are timeless
White Subway Tile
I resisted subway tile as a design choice, but we chose it because we ran out of money. This has become one of my favorite parts of the kitchen, which has Western exposure.  No one ever told me how the glossy subway tile sparkles as the sun hits it in the afternoon.  We used Daltile White Rittenhouse 3X6 Subway tile.
Pendants provide much needed task lighting to kitchen islands.  They are both practical and beautiful! How I adore these Thomas O'Brien Hicks Pendants. They are like jewelry! When they arrived, I opened the box gleefully, and the first thing I saw were the rectangular links on the pendant chain. The links are RECTANGLES!  So beautiful.  I was worried about using them because you see them so often on Pinterest.  I looked through my local Zillow listings, and did not see them anywhere. Best splurge ever!  One of the biggest mistakes that homeowners make is to install pendants that are too small.  Link here for an article on how to choose the best size for your pendants.  Studio McGee has a great article on how to hang pendant lights here.
Cabinet Pulls
We chose Restoration Hardware Asbury Satin Nickel Pulls 6" pulls for the smaller drawers and cabinets, and 8" pulls for the larger ones. I had Restoration Hardware knobs for 18 years in my old kitchen, and repurposed in the laundry room and other bathrooms.  They never showed wear, and I simply got tired of them.  They have another 20 years of life to them. The new pulls will last for at least twenty years. They are solid and beautiful.
Farmhouse Sink
I chose a Kohler Whitehaven farmhouse sink because the design is so practical and gets the person that is doing dishes closest to the sink.  It is big enough to hide all of your dishes, including cookie sheets and roasting pans if you don't get to them.  I clean it with Comet bleach.  I had a Koehler 2-basin sink with the same finish for 15 years, and I scrubbed it with powdered bleach cleanser every day.
Tall Kitchen Faucet
The Kraus KPF-2130 Stainless Steel Pullout Spray Kitchen Faucet was purchased in 2012, and kept for the remodel.  It has been dependable and beautiful, with great water pressure at a moderate price. This was a great purchase, and I bought the dispenser to match. It comes with a limited lifetime warrantee, and they have already replaced the faucet head.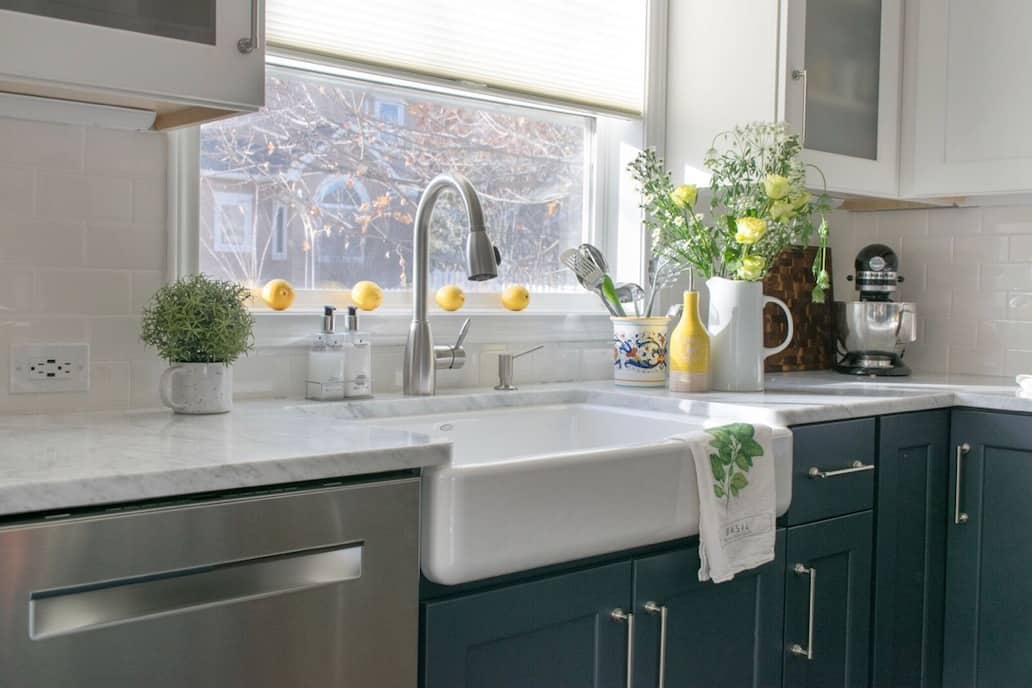 White Ceilings
Ceilings were painted with Benjamin Moore Chantilly Lace (OC-65) with flat finish, to match the Greenfield Cabinet Glacier White color. The white-on-white transitions between ceiling and crown molding add subtle texture.
Electric Outlets Installed Low
These should be low on the backsplash to keep plugs hidden, and include USB ports for modern devices.
Stainless Steel Appliances
Many have predicted the end of stainless steel for appliances, but it is here to stay.  Stainless looks beautiful with Carrara marble.  We picked all stainless appliances, and I expect them to be stylish for long after they wear out.  I picked Kitchenaid refrigerator, oven/microwave combo and cooktop, and a Bosch dishwasher.  You can use white, but only if it's the right color for the kitchen.  Stainless will go with anything.  Except for cooktops, avoid black appliances.  They really darken a kitchen.
The Verdict
If you have any doubts about how classic these timeless kitchen finishes are, take a look at this ubiquitous kitchen from "Something's Got to Give", a classic movie from 2003.  It is as beautiful today as it was then.
Online Color Consulting
If you still need help with paint colors, check out our Online Color Consulting packages or an In-Person Color Consultation in the Denver Metro area. We even offer paint color consulting services to help choose cabinet paint color.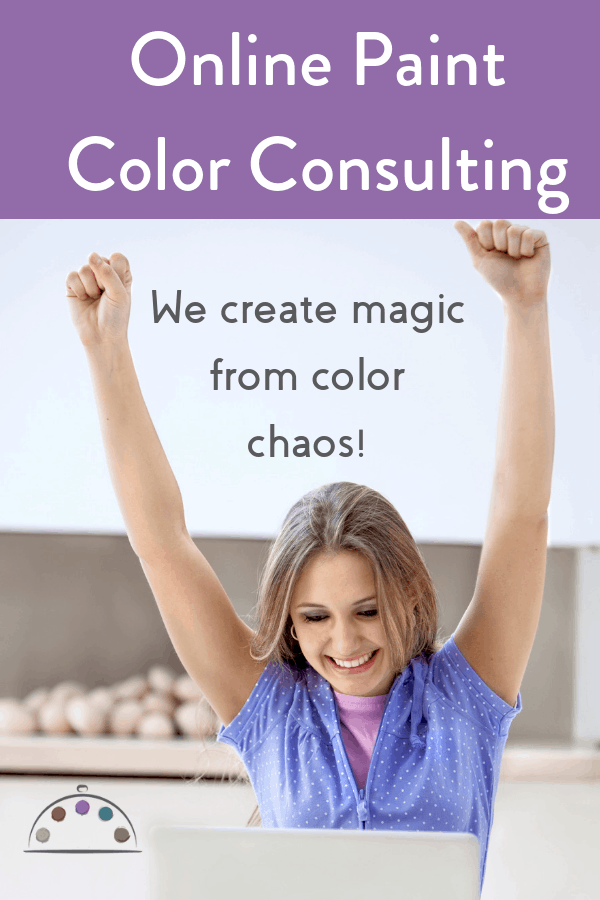 Credits:
Kitchen Designer:  Megan Daughtry with Second Nature Interiors, Boulder, CO
Carrara Marble Fabricator:  Colorado Stone, Longmont, CO
Stone Distributor:  The Stone Collection, Denver, CO
Hardwood Floors:  Hardwood Floorwerx
Contractor:  Cumberland Construction, Boulder, CO
Painter: New Morning, Inc., Boulder, CO
Related Posts
Top Kitchen Color Trends for 2019
3 Ways to Style Your Farmhouse Sink with Colors
6 Secrets About Carrara Marble Counters You Never Knew