Carrara marble counters are amazing, and I loved them in our last kitchen.  After living with them for two years, I had no regrets.  They are simply beautiful, and their imperfection makes them look loved and lived in.
Marble countertops are a classic choice for a timeless kitchen. In this post, we discuss why Carrara marble counters are the best choice for bakers, how to fabricate and install them for success, cleaning guidelines, how to fix chips, and the best matching colors for paint and countertops.
Italian homeowners and restauranteurs have been using Carrara marble for tables and counters for thousands of years, and when you visit Italy, they are everywhere. One of my favorite Carrara marble examples is in Pizzeria Locale in Boulder, CO. They use beautiful Cararra Marble for their tables and pizza counter.
The pizza counter is used and abused all day long, and I fell in love with it.  Before I saw this workhorse restaurant marble countertop, it was really hard to see what "etching" and "chips" would look like.
I asked the waitress how they clean it, and she said she was diligent about wiping up spills, but chips do happen, and all it does is add to the personality and patina of the finish.
They clean with soapy water and wipe with clean dishtowels. Carrara marble counters are one of the least expensive stone countertop options because of the plentiful supply.
Quartz makes a good replacement, but it doesn't have the cool feel of marble, and it's just not the same. Marble is perfect for bakers that make pies and bread because of the cold surface temperature.  
Marble counters stay cold, for better baking
Marble is a dense, hard stone, so it conducts heat differently than other surfaces.   It has a high thermal mass, which means it can keep its temperature easier than other materials.
The counters actually stay at room temperature which feels cold to the touch because it is cooler than body temperature. This is important because marble is an excellent surface for baking and kneading pie and bread dough.  The marble can absorb heat from the dough without getting warm itself.  Plus, it feels really good when you touch it.
How you finish and fabricate marble is important
Choose a honed finish to minimize the visual impact of etching.  You will occasionally end up with an etched finish, from spilled wine, lemon, vinegar, or any other acid.  The contrast will be much less with a honed finish than with a polished finish. Choose an eased edge for a simple finish.
Chips will not be as obvious and will seem like part of the plan. Have your marble fabricator seal the stone with a 15-year marble sealer.  You will probably need to seal it again, but this is not a place to save money.
Clean with soapy water for best results
For everyday cleaning, I wipe the counters down with a wet paper towel – I don't trust sponges because of potential bacterial contamination. Then, dry with a clean soft kitchen towel.  Water is the universal solvent, and does an amazing job for daily clean-up. I clean with soapy water weekly and rinse with water. Fill a plastic spray bottle with water and a tablespoon of dish soap.
Spray onto the counters, and wipe with a wet paper towel.  Dry with a clean soft kitchen towel.  There are marble cleaners on the market, but I really prefer the most natural alternative to avoid build-up on the surfaces. In the case of marble, simple soap and water are more effective anyway.
DO NOT use acidic cleaners with vinegar, orange, lemon, lime juice, or any other acidic ingredients because it will etch the marble surface. Occasionally I find a stain from tomatoes, oil, or even curry.  I can easily remove stains with a baking soda and water paste that I leave overnight.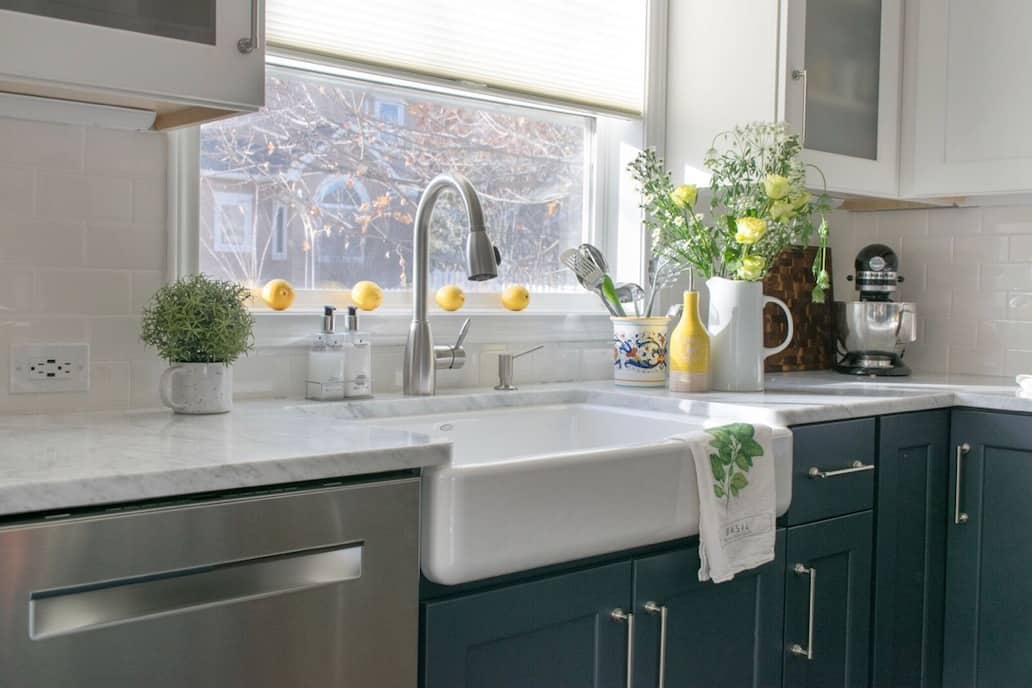 Protect your counters
Use trivets or oven pads to protect marble counter surfaces.  Marble is heat resistant (like quartz or granite), but accidents can happen if there are temperature extremes between the surface and a pot. Don't forget coasters to protect from drinks.  As I tell my family, this is a house, not a fraternity. As with any other hard surface, use cutting boards to protect from knives.
Carrara marble chips/dents aren't a big deal compared to quartz or granite surfaces.
Chips happen with every hard counter surface.  Unlike granite or quartz, I don't need to call in a fabricator or buy expensive kits to fix the damage.
I can simply sand the edges and consider it character.  After seeing the beautiful counters at Pizzeria Locale, I'm very happy to just sand the rough edges and accept that chips will happen.  If I'm lucky, my counter will one day look like the counters at Pizzeria Locale.
Cool colors for walls and cabinets look best with Carrara marble counters, but you can style them with any color!
Best Complimentary Colors
The best neutrals for marble are cool grays such as Benjamin Moore Stonington Gray (HC-170), and Wickham Gray (HC-171). Avoid warmer neutrals such as greige, beige and warmer taupes.
The best whites are blue whites such as Benjamin Moore White Diamond (OC-61) and true whites such as Chantilly Lace (OC-65). Off-whites can work too if they are not too warm or dark.  Stay away from darker and warmer whites and creams.
Blues and blacks such as Benjamin Moore Hale Navy (HC-164), Carbon Copy (2170-10), Onyx (2133-10), and blue-greens such as Gentleman's Gray(1061-20) are the best colors for cabinets.  When it comes to styling, you can use marble to showcase anything!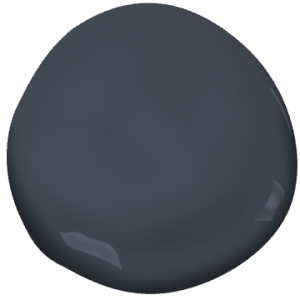 Articles about Marble Countertops
In case you want to read more about marble and haven't decided to install them yet, you can research the following articles:
Key Learning Points
Carrara marble counters were perfect for a busy kitchen with our blended family of 5 teenagers and young adults.
They were used constantly for many uses, from baking, cleaning, and cooking to using the island counter as a home office. For homeowners, Carrara marble Counters are either a work of art that gets lovingly cared for, or a complete hassle to maintain.
Marble counters are not as desirable for homeowners that expect their counters to look as new as the day they were installed because of the patina and etching they develop.
Online Color Consulting
If you still need help with paint colors, check out our Online Color Consulting packages or an In-Person Color Consultation in the Denver Metro area.
Did you like this Post? Don't forget to Pin!