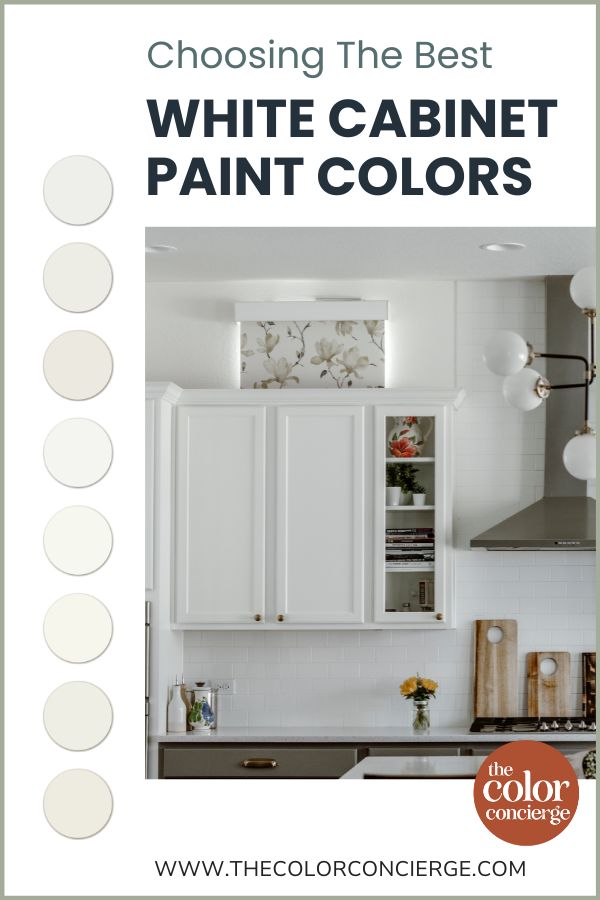 While kitchen color trends have gotten bolder in recent years, white kitchen cabinets are still the most popular choice for homeowners. They have always been considered a timeless and classic choice. So it's no surprise that one of the most common questions we get is about how to choose the best white paint for kitchen cabinets.
In today's post, we're reviewing several of the white paint colors that homeowners most often consider when painting their cabinets. From crisp, cool whites to warm, creamy off-whites, there are so many options when it comes to painting kitchen cabinets white.
The secret to navigating all the choices is to find the white kitchen cabinet paint colors that are right for your unique home.
Keep reading to learn more about choosing cabinet paint and explore some of our favorite white paint colors for kitchens (blog post).
*This post contains affiliate links for products I use and love. If you click on some links and make a purchase, I will get a small commission at no cost to you. This helps pay for the costs of the blog, so I can continue to offer great content to our readers.
How to Choose White Paint Colors for Cabinets
With so many white paint colors to choose from, it can be overwhelming to find the color that is right for your kitchen cabinets. The key is to consider a few key factors:
Existing Trim Color
The cultural convention is to match white cabinets to the white trim in your kitchen, where possible. You can go slightly warmer or slightly cooler, but the key is that they need to be similar. Sometimes it's hard to get it perfect, but try to get it close.
Counters and Flooring
While it may seem like white goes with everything, that's really not the case when it comes to white paint colors. In the kitchen, it's important to choose a white cabinet color that will look good with your flooring and your counters.
Generally, cooler and crisp whites look best with Carrara marble and modern quartz. Note: when we reference Carrara marble and Calacatta marble throughout this mean, we mean the natural stone not quartz countertops named "Carrara" and "Calacatta." Even though the countertop can be beautiful, the quartz versions usually look nothing like their real-life stone counterparts.
Most quartz is natively a warm color because of the resins they use to fabricate the material. The very white quartz collections are actually bleached, which is why they are more expensive. The warmer the white, the better it balances with earthy countertops and granites.
Backsplash
Your backsplash (if you have one) might be even more important than your countertop when it comes to choosing among paint colors for cabinets. When you have a backsplash, it is often the first finish that people see when they walk into your kitchen, so it's important that it coordinates with your cabinets.
The Best White Paint for Kitchen Cabinets
Now that you've learned more about how to choose a cabinet color, let's explore some of the most popular white paint colors for cabinets from Sherwin-Williams and Benjamin Moore.
Best Sherwin-Williams White for Cabinets
Sherwin-Williams has some really gorgeous white paint colors (blog post) that are perfect for kitchen cabinets. These are a few favorites:
Sherwin-Williams Extra White Cabinets (SW 7006)
Extra White (blog post) is a very crisp white with blue undertones. It's also one of Sherwin-Williams' most popular paint colors. Many houses in North America use Extra White as a white trim color, so it can be a good choice for cabinets if you have that color trim.
In our client's home picture below, the cabinets and trim are both painted with Extra White.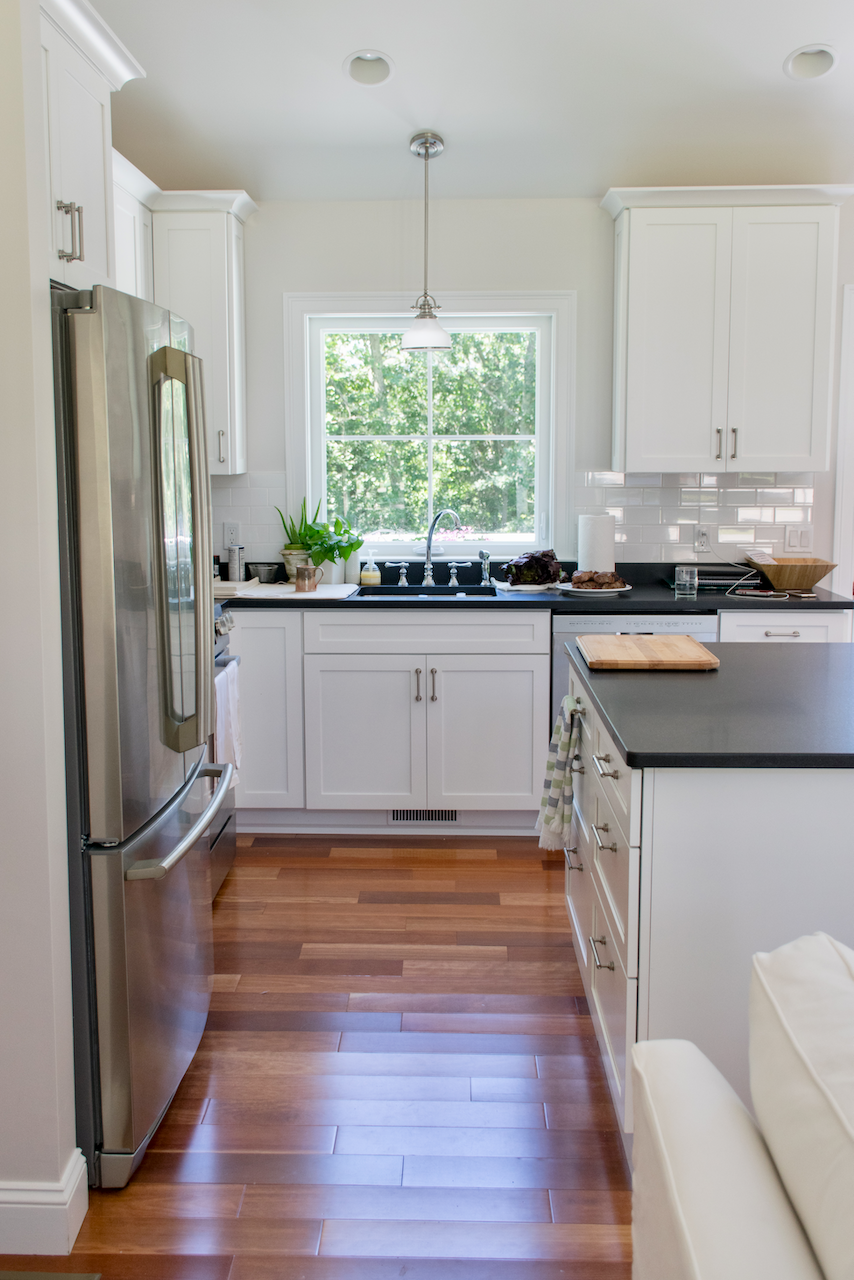 Because SW Extra White is so crisp, it's important to use it with crisp, clean quartz counters, Carrara, and other cool marbles and white backsplashes. Pairing SW Extra White cabinets with black countertops is also a classic kitchen look.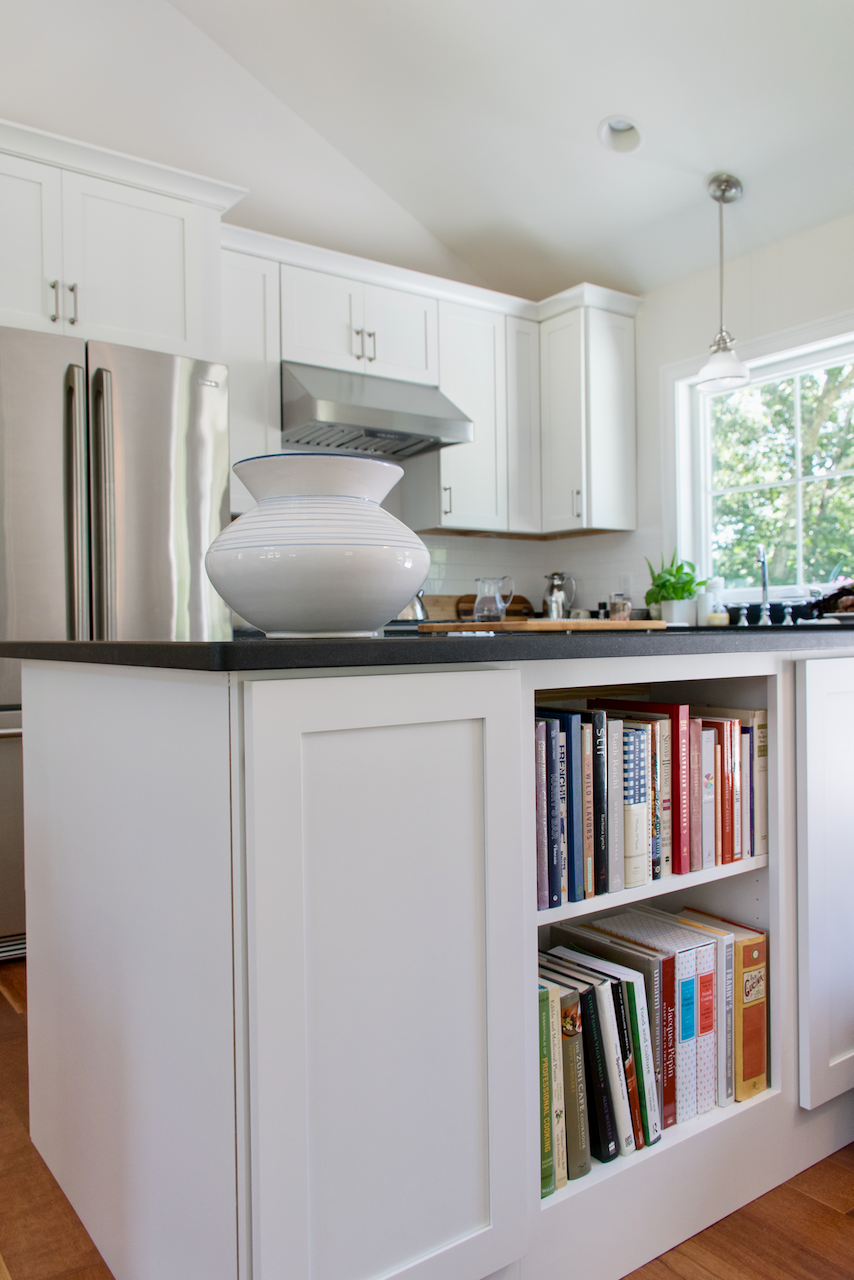 SW Extra White Tips & Tricks:
Use with: Carrara marble counters, other cool marble counters and crisp, clean quartz countertops, black countertops, and accents, warm wood finishes, crisp white subway tiles
Don't use: With creamy quartz, earthy granites (or really any granites), or warm marbles such as Calacatta marble.
Sherwin-Williams Pure White Cabinets (SW 7005)
SW Pure White (blog post) is another popular color from Sherwin-Williams. It is a crisp, off-white paint color that is almost clean (but not quite). It has soft, yellow undertones that keep it from looking too harsh despite being pretty crisp.
Because this color is neither too cool nor too warm, it's flexible enough to use with most white quartz countertops, clean white subway backsplashes, and soft warm Calacatta tile. It's also flexible enough to use with Carrara Marble.
The cabinets below are from Mastercraft Cabinets and the White Icing cabinet color matches exactly to Pure White.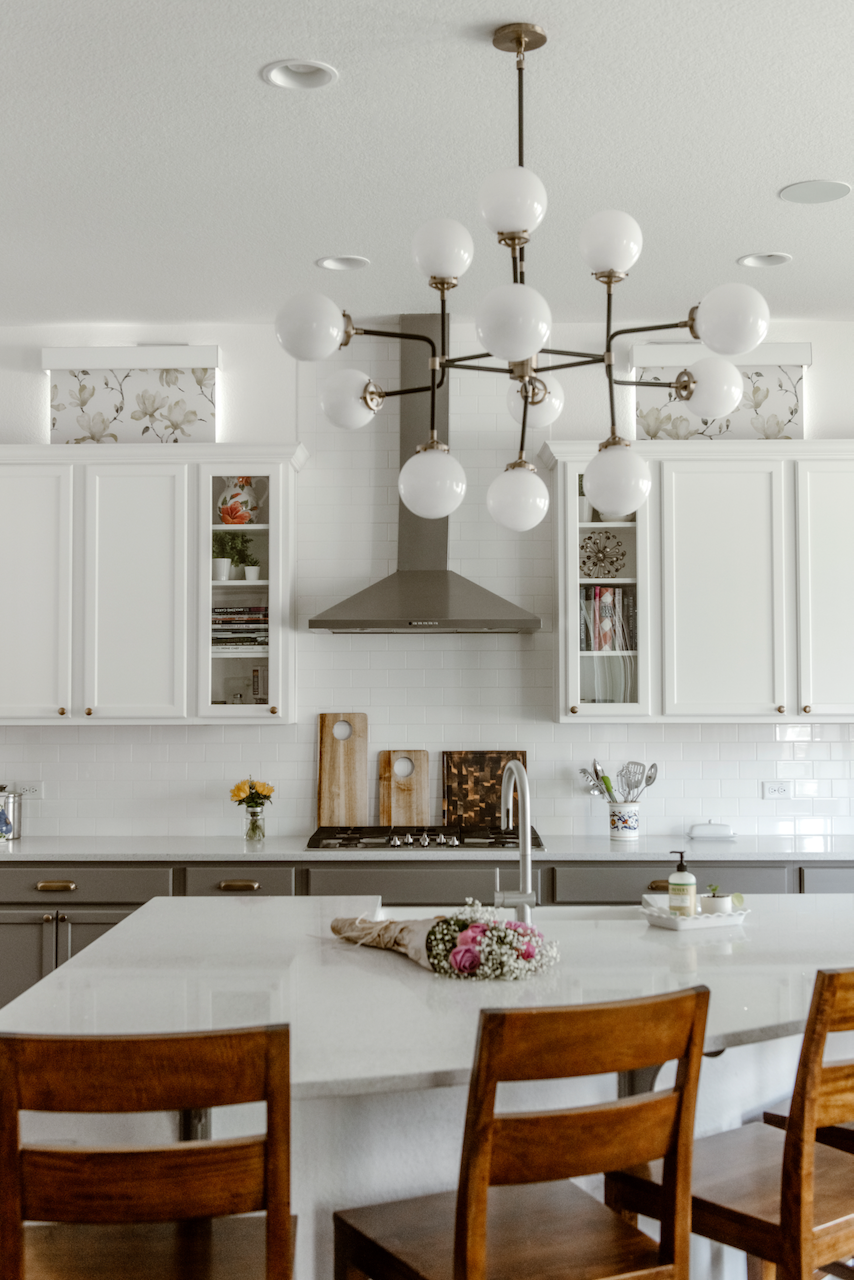 SW Pure White Tips & Tricks:
Use with: Carrara marble counters, light quartz countertops, clean white subway tile, and soft warm Calacatta tile.
Don't use with: Earthy granite counters
Sherwin-Williams Alabaster Cabinets (SW 7008)
SW Alabaster (review) is a warm off-white that is fairly muted with yellow undertones. It's very similar to Benjamin Moore White Dove (which is also one of the best white paints for kitchen cabinets). 
As a cabinet paint color, Alabaster adds lots of warmth to a space and works perfectly with granite countertops and other earthy finishes. While it can work with most quartz countertops, it's also a great solution for granite.
When paired with earthy colors, it looks more like crisp white paint than off-white or cream. In my client's kitchen pictured below, SW Alabaster perimeter cabinets look really lovely with the granite countertops, earthy backsplash, and SW Pewter Green island.
SW Alabaster Tips & Tricks:
Use with: Warm wood floors, granite countertops, earthy finishes, clean white tile, quartz countertops, and colorful accents. Classic black countertops, or even warm dark brown countertops
Don't use with: Very cool white paint or finishes (Alabaster may look too yellow).
Best Benjamin Moore White for Cabinets
There's a reason we've dedicated multiple posts to the best Benjamin Moore white paints – there are so many beautiful options! If you're painting kitchen cabinets white, these are our top picks:
Benjamin Moore Chantilly Lace Cabinets (OC-65)
BM Chantilly Lace (review) is a clean white color because it has no warm and invisible very slightly blue undertones. This color can really brighten up a kitchen, but it's important to use it in a space that already has a lot of light. Otherwise, it could look gray or dingy.
If you have white quartz, real marble, and other crisp finishes, Chantilly Lace is a beautiful cabinet color.
In the kitchen below (from my old house), the upper cabinets are from a manufacturer but match EXACTLY to Chantilly Lace. Our trim and ceiling were already Chantilly Lace, so these cabinets were the perfect match.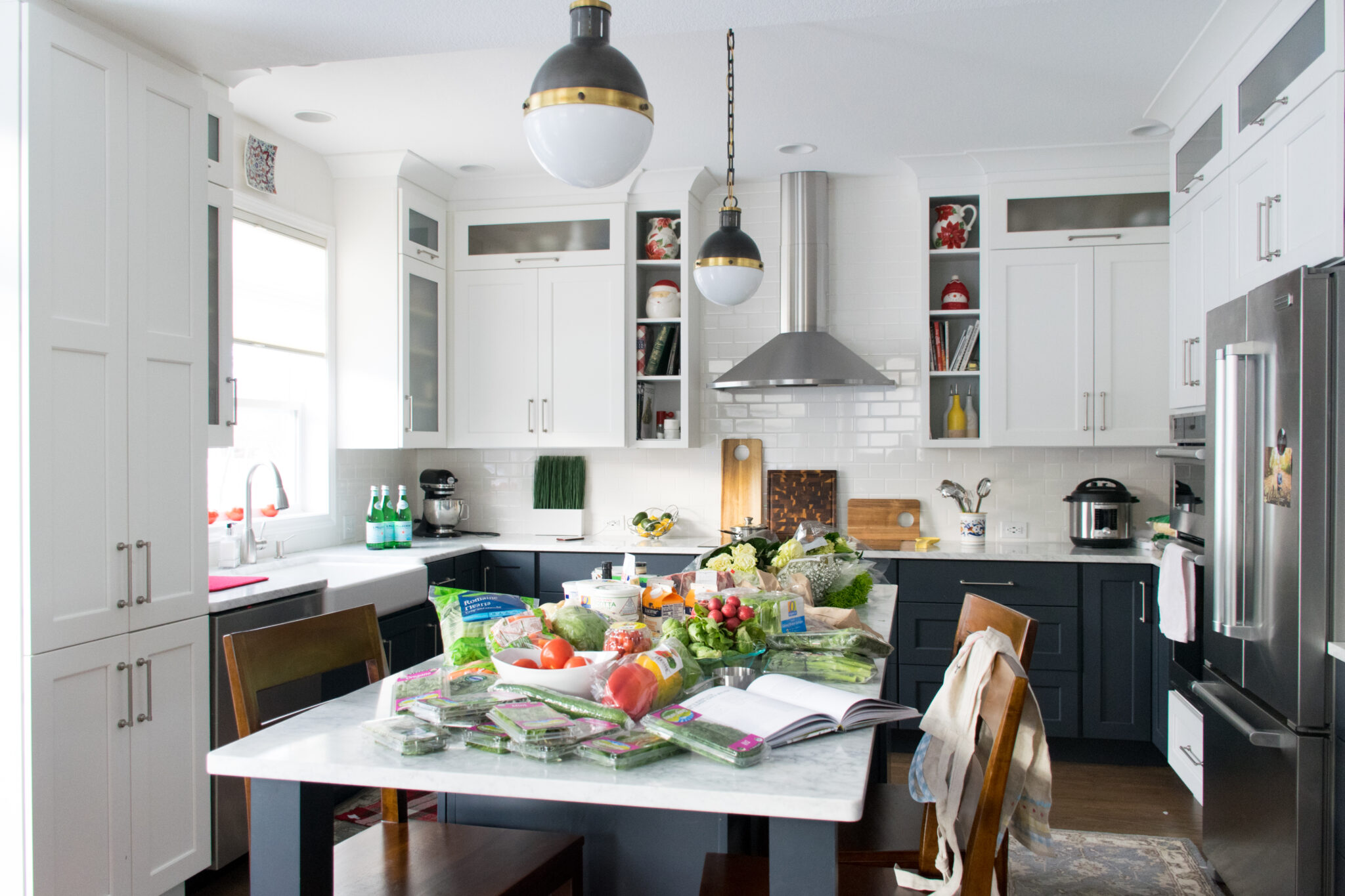 BM Chantilly Lace Tips & Tricks:
Use with: Carrara marble counters, crisp grays, blacks, and clean colors. The best granite is honed absolute black. Works well with off-white quartz colors.
Don't use with: Dark earthy colors or granite countertops. Could end up looking like a primer. Be careful about using this color with quartz countertops. Because of the quartz manufacturing process, most of their whites are off-white or creamy. Does not look its best with creamy quartz. Don't use darker creamy trim colors such as Swiss Coffee.
Sample BM Chantilly Lace here.
Benjamin Moore Snowfall White Cabinets (OC-118)
BM Snowfall White (review) is a really intriguing white color. It's very slightly warm. I call it a crisp off-white because it's too warm to be a clean white.
Snowfall White is near the top of the list of the best white paint for kitchen cabinets in a dark room. There is some yellow in the color, but if the room is darker you won't see it. It will just look light and lovely.
This color looks great with most quartz countertops. It is too crisp for most earthy granites and may be too warm for cool marbles or quartz.
BM Snowfall White Tips & Tricks:
Use with: black countertops, quartz countertops, and dark rooms
Don't use with: earthy granites, cool marbles, cool quartz
Sample BM Snowfall White here.
Benjamin Moore Simply White Cabinets (OC-117)
BM Simply White (blog post, review) is one of Benjamin Moore's most iconic white paint colors. It's versatile, bright, and warm with yellow undertones and works very well in darker rooms.
Using Simply White (blog post, whole-house palette) when painting kitchen cabinets adds enough warmth to ensure the room doesn't look too cold. It also pairs really well with natural wood finishes, like in my client's kitchen below.
BM Simply White Tips & Tricks:
Use with: Clean or earthy colors, blacks or browns, Calacatta marble.
Don't use with: Cool whites or finishes such as Carrara marble counters. Stay away from cream colors for ceilings or trim.
Benjamin Moore White Dove Cabinets (OC-17)
BM White Dove (blog post) is a really balanced color that is very versatile. It's an off-white paint color with subtle yellow undertones., so it works well in homes with earthy Tuscan finishes but can also work with more modern crisp white finishes.
White Dove looks good with some earthy granites, but it's important to test carefully. If the whole room (including the walls) is earthy, White Dove may look stark. Make sure to consider the whole palette when using this color.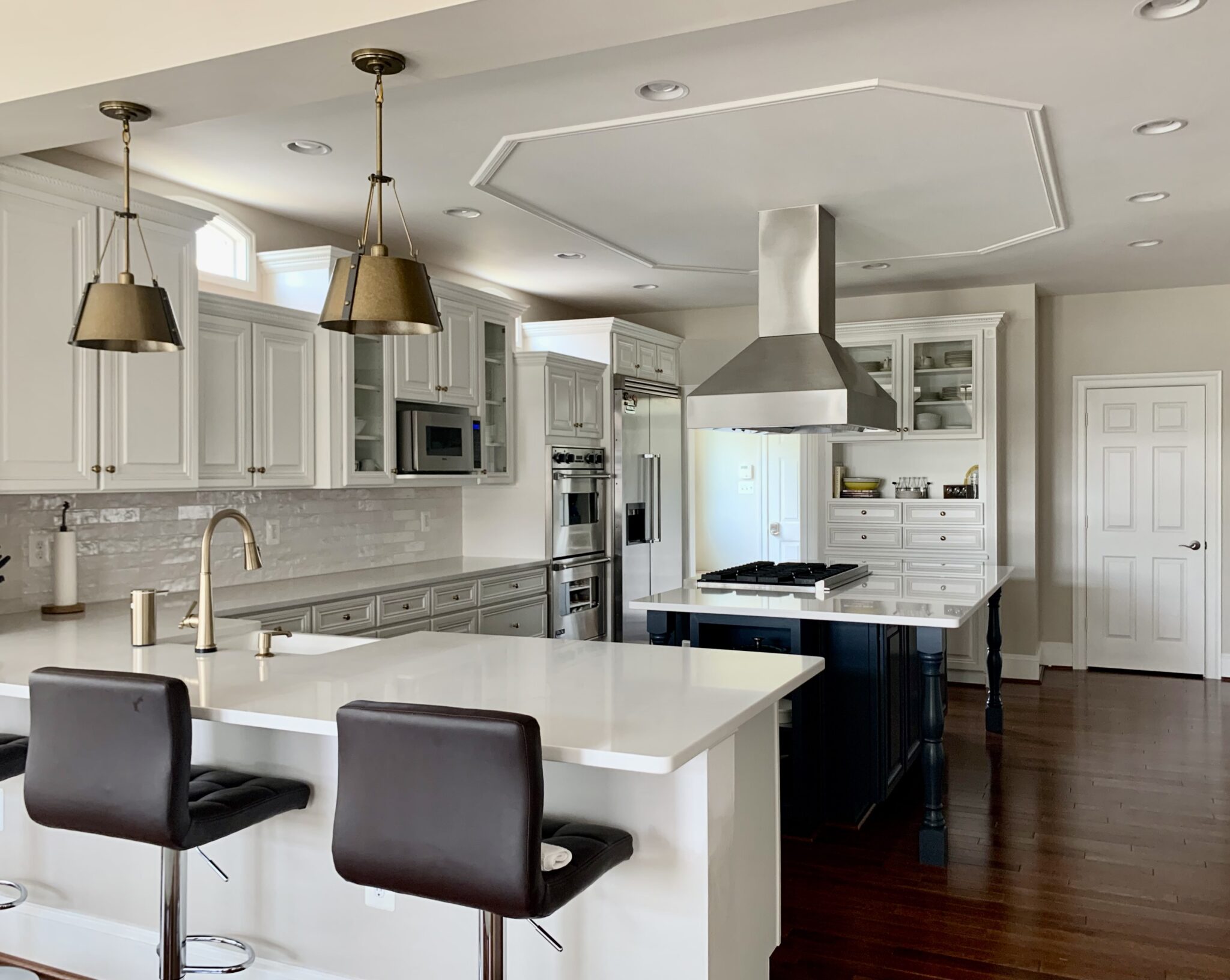 White Dove is also a great cabinet color with any quartz or granite countertop or if you have a dark room or a north-facing room with cool light.
BM White Dove Tips & Tricks:
Use with: Earthy Tuscan colors, muted colors, browns, creamy quartz, or Calacatta marble. Good white for dark rooms or north-facing exposures.
Don't use with: Cool whites like BM Decorator's White, SW Extra White, or finishes such as Carrara marble counters.
Benjamin Moore Swiss Coffee Cabinets (OC-45)
BM Swiss Coffee (blog post) borders between an off-white and a creamy white. It's warm and beautiful, and we often use this as a white cabinet color to update dated kitchen cabinets with granite materials.
You can also use Swiss Coffee cabinets for a darker or North-facing room with cool light. If you have a room with low light, use a lighter white paint color for the ceiling and trim to add contrast.
BM Swiss Coffee Tips & Tricks:
Use with: Earthy Tuscan colors, muted colors, browns, creamy quartz, or Calacatta marble. Good white for dark rooms or north-facing exposures.
Don't use with: Clean whites such as Chantilly or Oxford White. Avoid cooler white paint colors like SW Extra White or BM Decorator's White. Avoid cool marbles or finishes such as Carrara marble counters.
The Best Sheen for Cabinet Paint
Once you've selected your cabinet paint color, it's important to choose the correct paint sheen. The best sheen is usually the same that you'd use for your trim.
Although many people assume they should use semi-gloss for cabinets, that is usually too shiny. Instead, choose a Satin sheen, which would be similar to or slightly shinier than eggshell.
My favorite cabinet paints are Benjamin Moore Advance (because it's self-leveling) and Sherwin-Williams Emerald Trim Paint. No matter what type of paint you use, be sure to follow their application directions carefully, including recommendations for pre-paint prep.
Read our full guide to paint sheens to learn more.
Key Learning Points
When painting kitchen cabinets white it's important to consider your entire kitchen, from the floors and countertops to the amount of natural light.
When possible, paint your kitchen cabinets the same white paint color as your trim. There are exceptions to this rule, so always make sure to test your paint carefully.
Pay attention to your countertops and other hard finishes when looking for the best white paint for kitchen cabinets. Cool whites typically don't work well with granite countertops, while warmer whites may look off with marble or quartz.
White paint can look dingy in dark rooms or rooms with cool lighting. If your kitchen is dark, make sure to choose a warmer white that will hold up in lower light.
Remember: NEVER, EVER use paint matches from a different brand than the one specified. Results are poor and there are no standards for the sheens. Even though your painter may truly believe it can be done, don't do it. See results from paint matching here.
No matter what, always test your paint colors. It's a standard best practice. Whenever I test my paint colors, they are perfect, and when I don't test they turn out wrong. Learn how to test your paint colors here.
Online Color Consulting
Still need help picking the best paint colors? Discover our Online Color Consulting Package.
If you liked this post, don't forget to pin it!
We love your comments! Please note that the blog is meant as general advice, and it is not possible to give out specific answers to your paint questions. If you want more specific advice, please consider purchasing a color consultation. Thank you for your understanding.
Related Posts