The following was the before photo.  The dated slate tile floors were replaced with a gorgeous LVP floor.  Pinning disabled for the "Before" photo.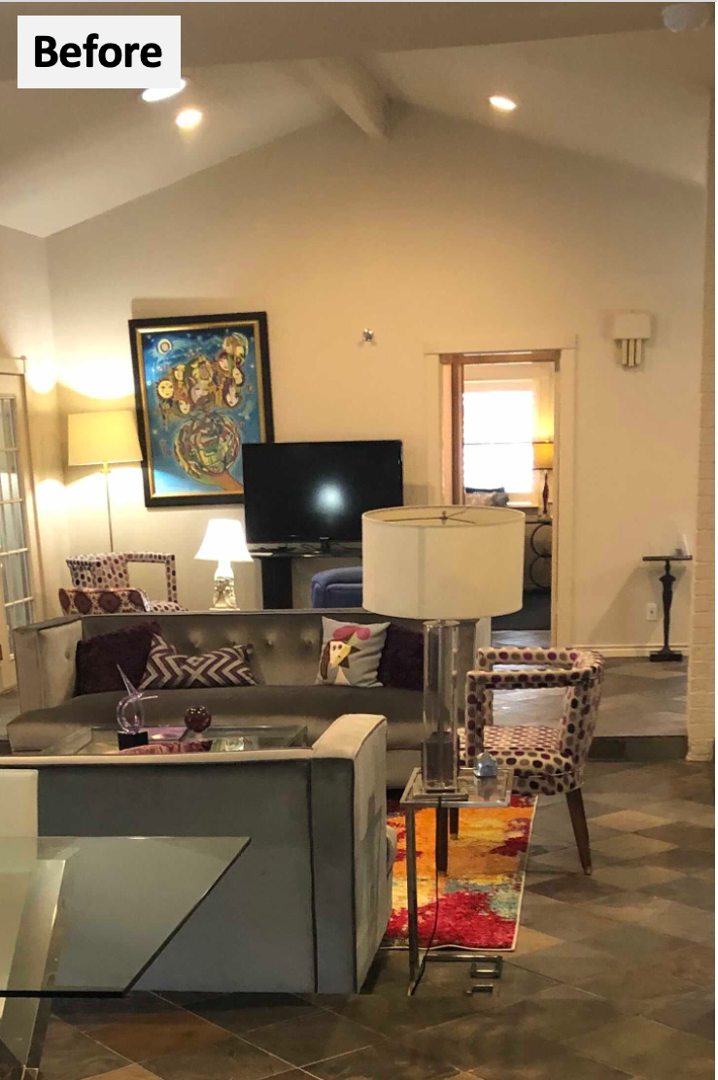 Cloud Cover LRV
Cloud Cover has an LRV of 81.8 which makes it a soft white bordering on a light greige.  This off-white paint color has invisible violet undertones.  LRV is short for Light Reflectance Value, which is a measurement of how light (LRV=100) or dark (LRV=0) a color is.
What are the best trim and ceiling colors to pair with Cloud Cover?
This photo shows Cloud Cover walls and BM Oxford White trim (satin sheen), brick columns and fireplace (flat), and ceiling (ultra-flat).  I love the way the homeowner decorated with warm wood finishes and a new LVP floor.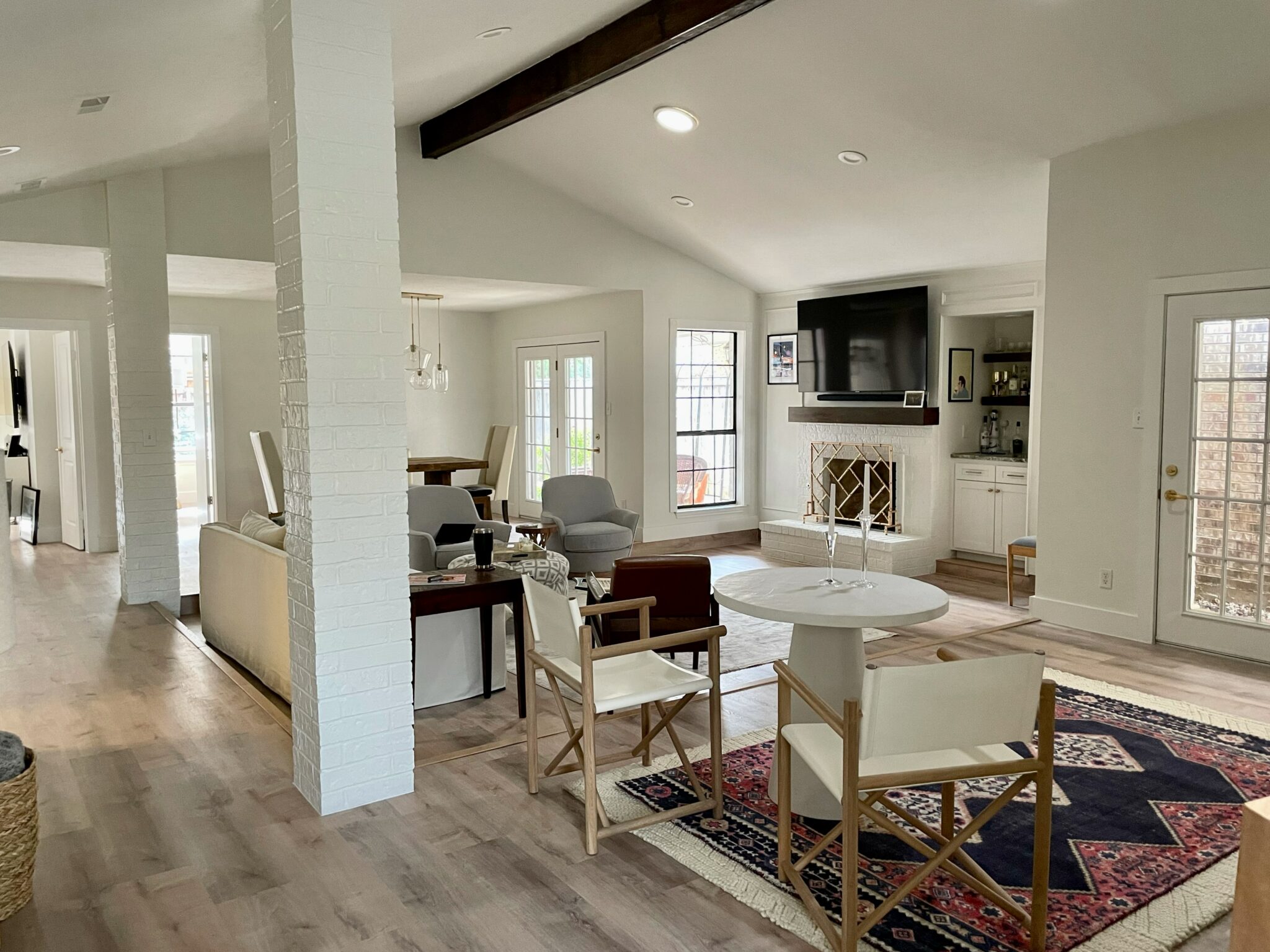 We recommend clean whites for the trim and ceiling such as BM Chantilly Lace or BM Oxford White.  Also, consider off-whites that are lighter than Cloud Cover such as BM Snowfall White and BM Cloud White.  I like to use matching trim and ceiling whites in a room, lighter than the wall color.
For trim and ceilings, don't use blue-white colors such as BM White Diamond or BM Decorator's White because they are too cool will look discordant with Cloud Cover.  Cloud Cover is tricky – it looks cool, but it's warmer than you think.
We do not recommend whites with heavy yellow undertones with Cloud Cover.  BM White Dove, BM Simply White and BM Swiss Coffee will look very yellow as trim and ceilings when paired with Cloud Cover walls.
Can I use Cloud Cover for exteriors?
If you are looking for a crisp white exterior, Cloud Cover is fantastic because it's a darker white than expected.  It looks best as a "white" body color, or a trim color if you are looking for a very bright option.  Remember that colors look 5-10 times brighter outside, so this color will keep from looking harsh.
When should I use Cloud Cover?
You can use Cloud Cover In just about any room, but it really shines in North facing rooms, rooms with wood trim, or in rooms that have shadows.  It is fabulous in rooms with lots of sunshine too.  It looks best in houses with modern finishes, and especially with white quartz because its undertones are very similar to most quartz whites.  It isn't doesn't look great with pink beige earthy terra cotta tile.  Avoid this color in rooms with earthy Tuscan finishes.
Cloud Cover, as with other off-whites and light greige colors is a great tool to enhance architectural details.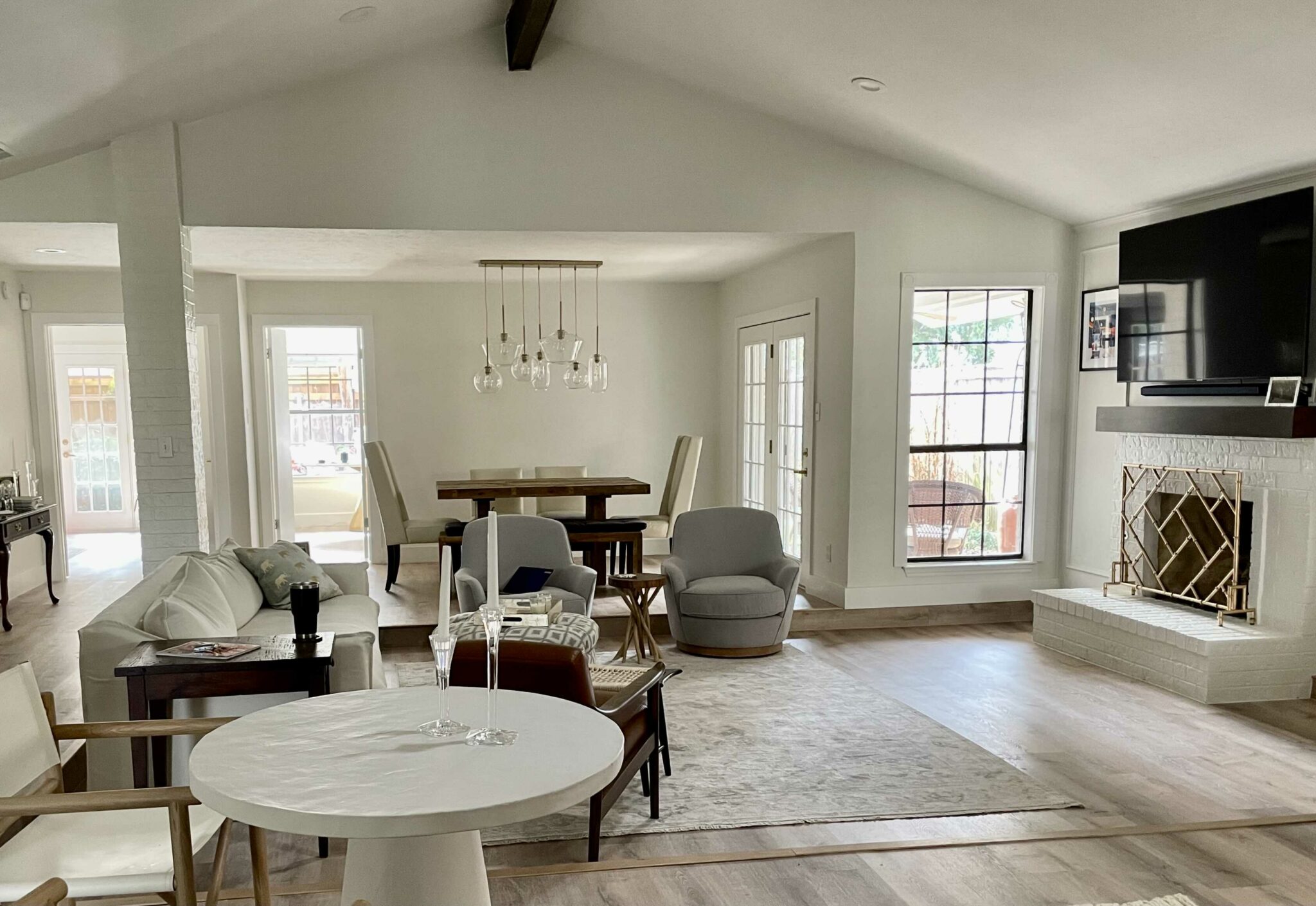 Cloud Cover is a great white paint color for exteriors.
When should I avoid Cloud Cover?
We don't recommend Cloud Cover for exteriors because it's too bright and stark when you take it outside.  Also, since it's a low pigment paint color (that's what makes it beautiful inside), you would need more coats to get enough coverage.  If you want a bright white for your exterior, consider SW Pure White instead.  It has more pigment and will look similar to Cloud Cover outside.
Cloud Cover should not be used as a trim and ceiling color because it's too dark.  For most situations, avoid Cloud Cover for cabinets because it's too dark to be white and too light to be a greige.
Can my painter match Benjamin Moore Cloud Cover to Sherwin Williams?
The answer is NO. Not unless you want your house painted light green.  That's what seems to happen when they try to match.  Instead, consider SW City Loft as a SW replacement for BM Cloud Cover.
Learn more about matching paint colors here.
The Verdict
Cloud Cover is a beautiful and versatile off-white paint color! You can use it in bright rooms, medium lit rooms and even darker rooms.  Avoid Cloud Cover as a white cabinet, trim or ceiling color.
No matter what, don't forget to test your paint colors.  It's a standard best practice.  Whenever I test my paint colors, they are perfect, and when I don't test they turn out wrong. Learn how to test your paint colors here.
NEVER, EVER use paint matches from a different brand than the one specified.  Results are poor and there are no standards for the sheens.  Even though your painter may truly believe it can be done, don't do it. See results from paint matching here.
Online Color Consulting
If you still need help with paint colors, check out our Online Color Consulting packages or an In-Person Color Consultation in the Denver Metro area.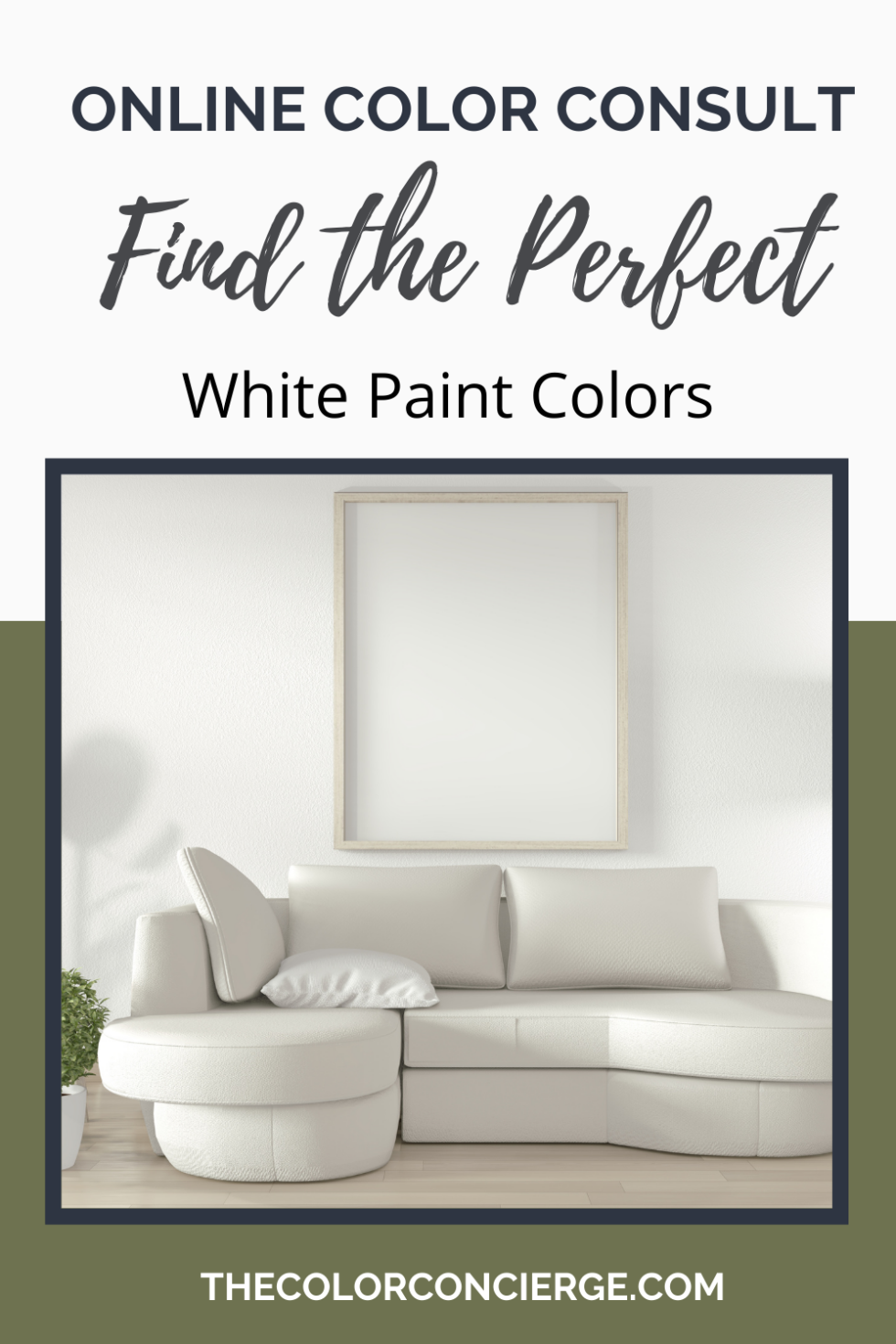 If you liked this post, don't forget to pin!
Related Posts
The 6 Best White Paint Colors For Dark Rooms
Our 5 Favorite Benjamin Moore Whites
Benjamin Moore Simply White Color Review
Benjamin Moore Cloud White Color Review
Benjamin Moore Chantilly Lace Color Review
We love your comments! Please note that the blog is meant as general advice, and it is not possible to give out specific answers to your paint questions.  If you want more specific advice, please consider purchasing a color consultation. Thank you for your understanding.