This post is a First Light color review for Benjamin Moore's 2020 Color Of The Year.  It is beautiful luminescent pink that sometimes looks cool and others warm. This paint color review shows how we used First Light and what we learned. This positive review is a big deal coming from me because I hate pink. We talked about First Light in our Paint Color Trends for 2020 post.
I love to experiment with colors in my house to see how they behave.  As with any color, you need to pick the right placement.  Even the most beautiful color can look heinous in the wrong place.  The first place I tried First Light was on the inside of my front door.  It reflected pink onto the facing wall in a really bad way. The color still looked gorgeous, so I didn't give up.
Next, I tried it on the lower half of my powder room walls, and it was just as gorgeous as I had expected!  Lower walls are painted with First Light (2102-70), upper walls are SW Agreeable Gray (SW7029), and the trim and doors are painted Extra White.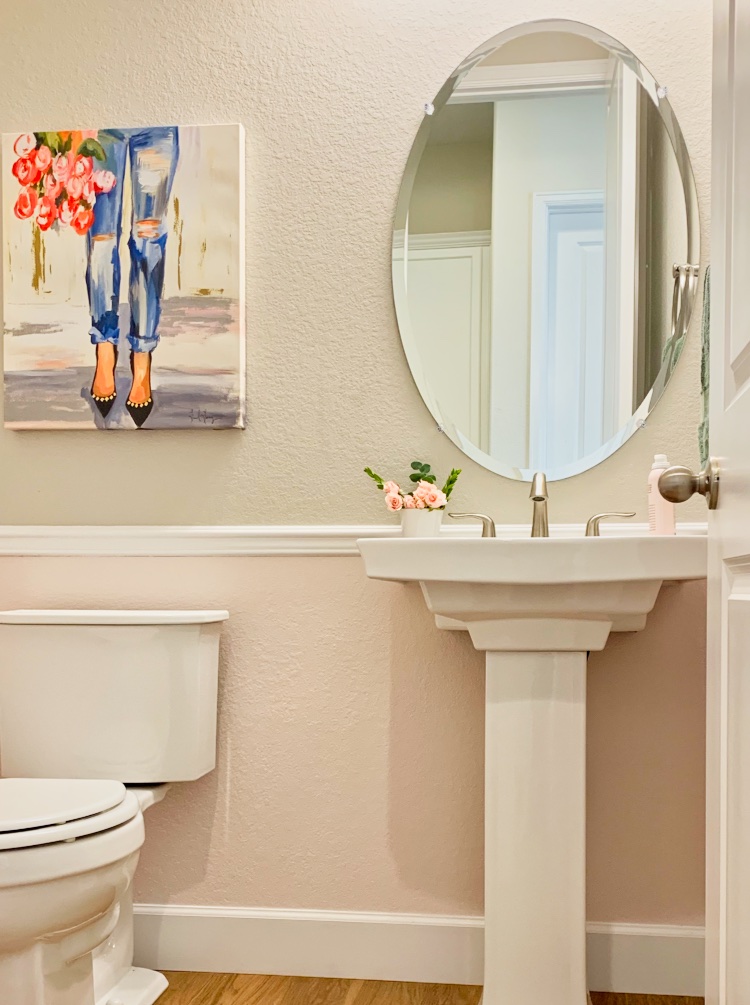 First Light is beautiful, but contrary to what I've seen in some other reviews, it is not a color that goes everywhere. This is what I learned about First Light and how to use it:
Use clean and crisp whites or off-whites for trim and ceiling color. 
Excellent trim color choices are Oxford White (CC-30), Chantilly Lace (OC-65), Simply White (OC-117), Snowfall White (OC-118), or Extra White (SW7006).
Don't use darker whites or cream colors for trim and ceiling colors.
First Light is so light (LRV=77) that it won't contrast well with darker off-whites or creams such as White Dove, Swiss Coffee. Also, creams that have a lot of yellow in them look discordant with pink. The combination just looks as if you made a mistake.
Consider pairing it with complementary colors.
Soft greens and blue-greens with a similar intensity such as Benjamin Moore Mt. Saint Anne and Sherwin-Williams Sea Salt look great.  First Light also looks great with grays that have green undertones such as Agreeable Gray (our powder room) and Thunder (Benjamin Moore's example photo).
Repeat the paint color with your decor so that it looks put together.
Add a throw pillow, art, a soap dispenser or a towel that has a similar color.
Don't use First Light as an accent wall or door, especially in a white room. 
With an LRV of 77, it reflects light and will reflect onto the opposite wall like a movie projector.  I learned this the hard way when I painted the inside of my front door with First Light.  It didn't look good.  If you are going to use First Light, commit to it. paint all four walls, or as in my case, pick the walls under a chair molding.
Pair with wallpaper.
First Light looks sharp when the color is repeated in the wallpaper.  Install the wallpaper above or below a chair rail, or on the headboard wall. Here is a mood board with a gorgeous wallpaper from Rebel Walls.
Use First Light in rooms with any exposure (north, south, east or west). 
It has enough warmth for north-facing rooms, and will glow in a South facing room.  It won't appear dingy when the light is low in rooms with East or West exposures.  Looks great in a windowless room as long as it has warm lighting.
The Verdict
First Light is a beautiful color (even though it is pink!), and if you love pink, this will be a fan favorite.  Pair it with white or off-white trim, and complimentary greens, green-grays and blue-greens in the same room.  Avoid use as an accent wall, especially with adjoining white walls.
Always test your paint colors before you paint!  Learn how here.
Online Color Consulting
If you still need help with paint colors, check out our Online Color Consulting packages or an In-Person Color Consultation in the Denver Metro area.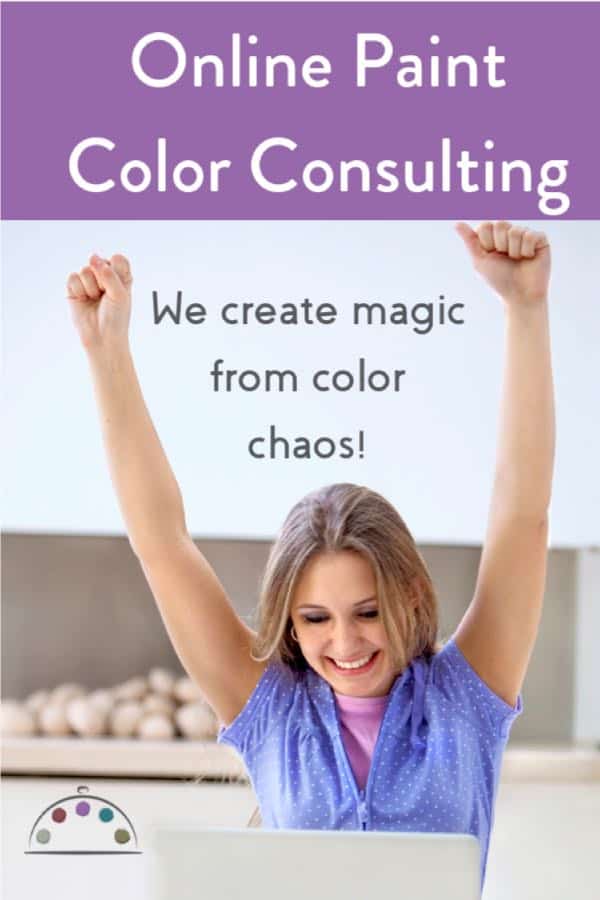 If you liked this post, don't forget to pin!